Compare the pros and cons of Propane vs. Electric Smokers and determine which one is right for you! 
We also show you some of our favorite smokers in each category.
Charcoal smokers make some great food and can be a lot of fun to use.
But let's face it, they aren't exactly the most convenient option if you want to do a lot of smoking on a regular basis.
That pretty much leaves you with two other options:
Propane Smokers
Electric Smokers
The bad news is it's not an easy decision
The good news is we've explored some of the major pros and cons of propane vs. electric smokers to help you decide which one is right for you.
Propane Smokers
Check Out this Masterbuilt Propane Smoker on Amazon
With the booming popularity of propane gas grills in this country, this is a style of smoker you are likely to feel quickly at home with when comparing propane vs. electric smokers.
Especially if you're a fan of King of the Hill.
The only woman I'm pimping is sweet lady propane! And I'm tricking her out all over this town.

- Hank Hill
But we digress.
It's a very conventional method of smoking, and obviously uses propane gas as its fuel. Just plug your propane tank in at the bottom and open 'er up!
The gas feeds an open flame at the bottom of the smoker. This heats up the smoking wood chip tray which is below a tray of water which is used to provide moisture and even, indirect heating.
Then above the heat, wood, and water tray are the racks for your meat where all the magic happens.
This bottom-to-top smoking setup is also sometimes known as a vertical smoker, or a cabinet smoker.
Propane Smoker Pros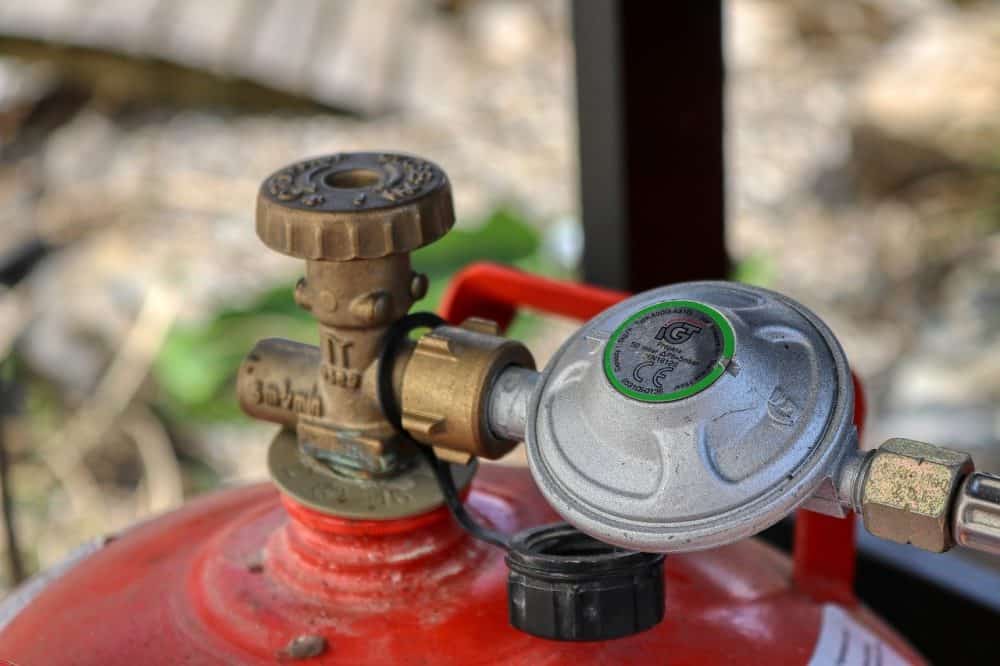 Now you know how propane smokers work, but what's so great about them?
Well, a lot, actually.
Portability
Much like charcoal setups, propane smokers are pretty easy to use just about anywhere.
You don't have to worry about plugging it into an outlet, so you can take a propane smoker as far as you can carry it. (Although some of them can get pretty heavy)
This means you can easily take your small propane smoker out to a campsite or other remote area and use it when or wherever you please.
Ease of Troubleshooting
With no onboard computer and fewer "moving parts", it's usually easier to troubleshoot than an electric smoker.
If the smoker isn't working, there's really only a few things that could be wrong with it.
Price
Here's the biggest reason why most propane lovers prefer their gas smokers: They're a lot cheaper compared to their electric counterparts.
If you look at a comparably sized electric and gas smoker, you'll notice the gas one is almost always cheaper (we'll see this later).
However, your propane fuel costs with these smokers will be higher than your electric costs with the other kind so keep that in mind too.
They Can Get Up to Higher Temperatures
This is kind of a Pro AND a Con.  When comparing propane vs. electric smokers though, you need to think carefully about temperature ranges.
While propane smokers are capable of reaching much higher temperatures than their electric counterparts, they aren't' very good at smoking at very LOW temperatures like you might need for smoking cheese.
While propane smokers can get up to 500 degrees F, most conventional bbq smoking happens in the 220-275 degree F range, so this isn't exactly a necessary feature.
If however, you may want the option to:
Cook at higher temperatures
Be able to crank the heat when your hungry guests arrive and speed up the process
Put a nice finishing sear on the outside of whatever you are cooking
In those cases, that extra temperature boost may just come in handy.
Propane Smoker Cons
Of course, it's not all puppies and rainbows in the land of propane smokers. There are some downsides to them that also need to be covered.
Harder to Use
If you're relatively new to the smoking world, propane smokers might cause you some headaches.
Learning how to use a propane smoker takes a bit of time and energy. Every propane smoker has their own personality and even small tweaks can drastically change the cooking temperature.
You will need to spend some time learning how to dial it in just right to get the results you want if you choose a propane vs. electric smoker.
Need More Attention
You cannot "set it and forget it" like you can with an electric smoker.
While they take less attention than charcoal smokers, you WILL need to keep an eye on them and make tweeks throughout the cook to keep your temperature where you want it.
If you like the idea of letting the smoker do all the work, or enjoy fancy LCD screens and automatic shut off features, then a propane smoker probably isn't for you.
If that's the case, then you may want to keep reading about the Pros and Cons of Electric Smokers.
Electric Smokers
Check Out this Masterbuilt Electric Smoker on Amazon
Electric smokers are like the Teslas of the BBQ world.
Ok, not quite.
But, when comparing propane vs. electric smokers, you will soon find with most electric smokers all you have to do is press a couple of buttons then walk away while it does all the work.
You'll find both analog and digital options on the market, but both are very easy to use.
Heating elements do all the work in these machines when the smoker is plugged into an outlet. As long as you have electricity, you can have smoked meat!
Electric Smoker Pros
Let's review some of the selling points of electric vs. propane smokers.
Cheaper to Run
Propane smokers need propane to run (duh). The problem is that propane isn't cheap – especially when compared to electricity. Electric smokers are cheaper to operate over time because they have a cheaper fuel source.
Easy to Use
Electric smokers are significantly easier to use than propane, and a great option for beginners.
Most electric smokers have a large display with lots of automatic temperature adjusting and automatic shut off features, much like a conventional oven.
If you like to EAT smoked foods but don't necessarily love the process of COOKING smoked foods, then an electric smoker may be right for you.
Cold Smoking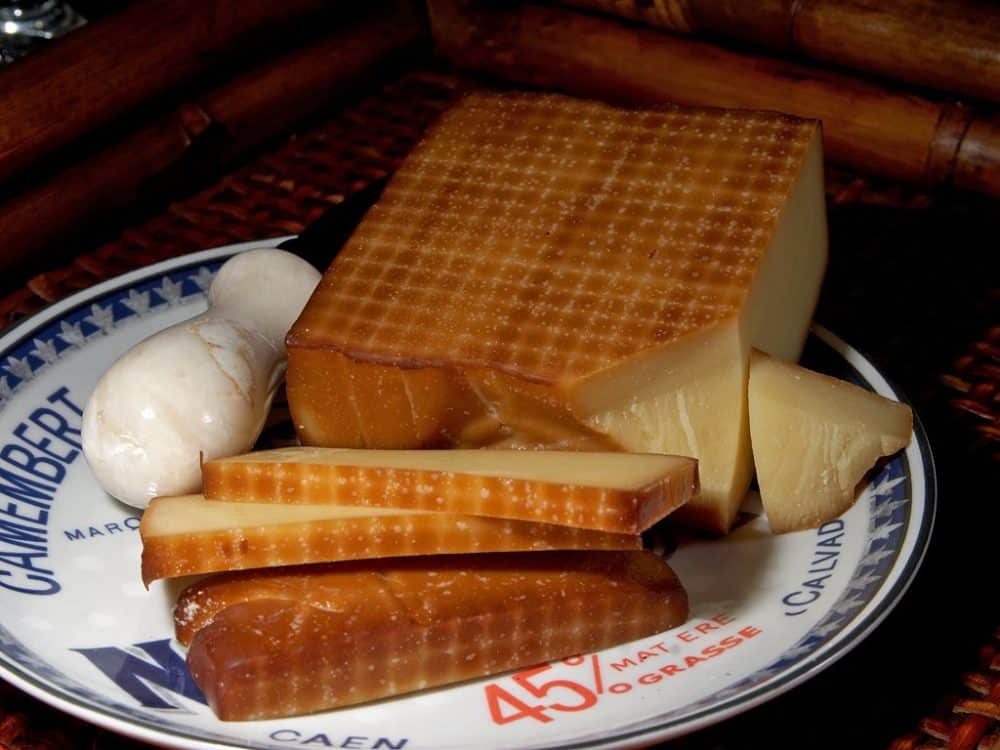 One of the great benefits of electric smokers is their ability to produce smoke while maintaining the low temperatures needed for cold smoking.
If you are interested in smoking cheese or making cold smoked salmon or jerkies, then you will definitely be interested in this feature.
Electric Smoker Cons
As good as electric smokers can be, they do have a few downsides.
Longer to Heat Up
Just like an electric range vs a gas range, an electric smoker does take longer to heat up than a propane smoker.
If you don't mind taking a few minutes to preheat your smoker though, then this should not be too much of an issue to consider.
Portability
Electric Smokers need, well, electricity to operate.  So keep that in mind depending on where you plan to primarily use your smoker.
An electric smoker will also need to be used in a dry, covered area because rain and electricity don't really mix too well.
Authenticity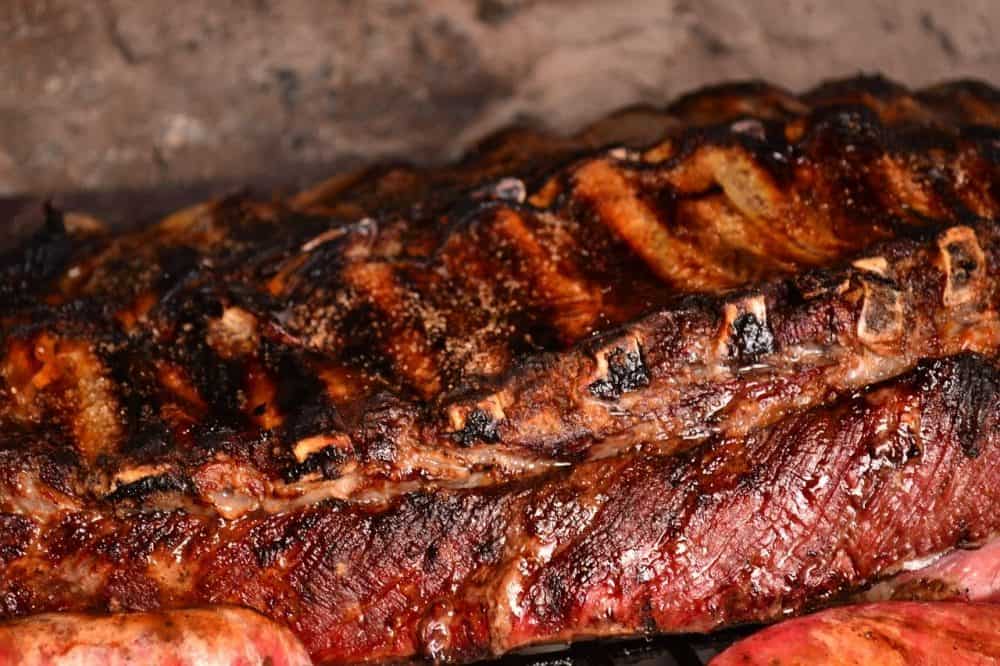 It might not mean a lot to some people, but it's worth mentioning.
To some BBQ experts, electric smokers don't give you that authentic smokiness that charcoal or propane smokers will.
You will also never get that coveted pink "smoke ring" prized by the BBQ elite.
While electric smokers will cook your food well and make it taste smokey, some argue you will never get that extra layer of favor created by the combustion that happens with gas and charcoal heat.
More Expensive
Another downside is the cost.
You'll see specifics in a later section, but electric smokers usually cost more than their propane brethren.
Propane vs. Electric Smokers: Which is Better?
So on to the million-dollar question:
Which one is better?
Who wins the propane vs electric smoker duel?
The answer really depends on who is asking.
Propane Smokers
If you want a more affordable and portable option, with an authentic taste but that requires a little more hands-on TLC while using– the propane smoker is the right option for you.
Electric Smokers
On the other hand, if you want an easy-to-use option and don't mind paying a little extra upfront, then you'll benefit from an electric smoker.
So now, let's review three of our favorite options for propane and electric smokers.
Our Favorite Propane Smokers
If you're sold on propane vs. electric smokers, let's review three of our favorites (in no particular order).
First is the COS-244 by Cuisinart, a big name in the smoking world. This rack is 450 sq. inches and stands at 20 x 20 x 46 inches overall. There are two doors to access this generously sized smoker.
Not only can you control the temperature, but you can also control how smoky you want the meat. This is one of those vertical smokers that does it all, despite its small rack size.
Next is the MB Series by Masterbuilt. This propane smoker has a 792 sq. inch rack and is 18 x 23 x 32 inches overall.
This guy has a bunch of automatic features built-in that you won't find at this price point. It's easy to use compared to other propane smokers, and it's got a huge rack!
Camp Chef Smoke Vault 24″
Last is the Smoke Vault by Camp Chef. It has a 600 sq. inch rack and has overall dimensions of 30.5 x 25 x 17 inches – not sure why they would call it the 24", maybe a broken tape measure?
This fella has two cooking grids, a jerky rack, and three damper valves. The thermometer is easy to use and read, and the design is straightforward.
Our Favorite Electric Smokers
Now let's look at some of our favorite electric smokers.
First up is the Bradley Smoker BTDS108P. This electric smoker offers 858 sq. inches of rack and it's 17 x 14 x 39 inches overall.
This option has a huge capacity – six racks to choose from. It's super user friendly and has easy-to-use buttons on the display.
It's a bigger machine which means it's harder to lug around, but it's worth it for the extra cooking space.
The Char-Broil Deluxe is made by one of the leaders in this space. This smoker is 1,000 sq. inches and stands at 16.5 x 23.4 x 40 inches.
You might not be able to reach high temperatures or cook a lot of meat at once, but it's super easy to use.
On top of that, it only weighs 50 pounds which makes it really portable and easy to store.
Finally, the Masterbuilt 20070910 30". It offers 730 sq. inches of rack space and overall dimensions of 18.1 x 19.4 x 34.9 inches.
This might be the best smoker for beginners. It has four racks, a sleek design, and a simple display with buttons on it.
Looking for More Grills, Smokers, and Accessories to Add to your Collection?
Check out some of our favorite brands and styles of grills, smokers, and cooking accessories to add to your list!
Smokers
Grills
Accessories
What Food Can I Smoke in an Electric or Propane Smoker?
Looking for some more smoky inspiration?
So glad you asked.
Check out some of our other great recipes of smoked and grilled food to try out at your next outdoor BBQ!
Trash Can Turkey - OK, technically not made on a grill but one of the most fun ways there is to cook a Turkey...at over 700 degrees in only 2 hours!  You've got to check it out!