Our favorite cold smokers available on the market today, along with a detailed Buyer's Guide to help you choose the BEST cold smoker for your needs!
Food can bring people together in a way nothing else can - Yotam Ottolenghi
From the beginning of recorded history, humanity has always preserved and stored food. Contrary to popular opinion, we'd already discovered a number of different ways to increase the lifespan of food long before the invention of tins and refrigeration.
We are, at heart, an inventive and curious species and when we had to hunt and forage for food, we soon discovered how important it was to ensure that it lasted. If it didn't, we couldn't eat and if we couldn't eat, we'd die.
Preserving food was as important, if not more so, to our ancestors as it is to us today. The fact that we're still here shows that we knew what we were doing before industry, technology, and science took everything in hand and began to do it for us.
While we're content to look to the future and become more than we are, we can still learn a thing or two from the past by embracing tradition and the way we used to do things.
The History of Cold Smokers
While it's almost impossible to identify when the process of cold smoking was invented, where it originated, and who came up with the idea to first attempt it, in culinary circles, it's widely agreed that it's been around, and part of our dietary lexicon, for a while.
And while a while (try saying that ten times in a row) isn't exactly a definitive timeframe, thanks to the farmsteads and the grand estates of old having their own smokehouses, we can be pretty sure that a while means centuries rather than decades.
That said, it's important to realize that cold smoking isn't a way of cooking or preserving food by itself. It's a process used in conjunction with previously cured and preserved meat to add an extra depth of flavor to it.
What Types of Food Get Cold Smoked?
However, meat isn't the only food that benefits from cold smoking, and some of the other fare that benefits from the process, such as cheese and nuts, doesn't need to be cured before being cold smoked.
Check out this great recipe for Smoked Gouda using ANY type of grill or smoker!
Thanks to the rise in popularity of other food preparation pastimes like barbecuing, cold smoking is experiencing something of a renaissance, and it's a process that anyone can learn, enjoy, and master with the right equipment.
Finding that right equipment though can put a dampener on anyone's day, and is almost enough to put you off trying to expand your gastronomic skillset.
That's why we've done it for you and have tracked down, and tried, five of the best cold smokers currently finding favor with foodies, so that all you have to do is fire up your grill and get ready to start cold smoking.
Want to learn more about how cold smoking is done?  Check out this great video from Alchemy Kitchen!
Our Top 5 Best Cold Smokers

OUR TOP PICK
You know what we just said about firing up your grill? Forget it, you don't need it with the Smoke Chief. It's an all in one smoke generator that you just plug into the mains, add a little fuel to, switch on and it'll do the rest.
Whether you're at home, camping, or just tailgating, as long as you can find a mains adapter, you can run the Smokehouse Products Cold Smoke Generator.
The Smokehouse Products uses barbecue wood pellets to make its cold smoke. One cup of pellets, placed on the heating element in the Generator, will easily produce up to three hours worth of smoke based fun.
And for once, the "batteries" are included as this smoker comes with everything you'll need to start smoking included in the box. Just fire it up and let the smoke flow.
A freestanding unit, the Cold Smoke Generator also comes with the necessary attachment so that, should the mood take you,  you can fix it to your grill and add another weapon to your barbecuing arsenal.
You don't even need matches or a lighter to start the whole process, as the Smoke Chief is the electrically powered smoker that's designed to prevent generations of amateur chefs from ending up in the emergency room with second and third-degree burns.
Pros
It runs entirely off the mains. You just need to plug it in, put the fuel in, and start smoking like a professional. The Smokehouse Products Generator is straightforward and easy to use technological bridge that links the old world and the new. And it'll transform even the most amateurish of amateur home chefs into smoking royalty in a matter of hours.
Did someone say hours? That's right, we did and fortuitously, that's how long you'll be able to smoke for with this generator with just one cup of pellets.  How many hours? We're glad you asked because, in the Smokehouse book of Cold Smoking Rules, one cup of fuel is equal to three hours of smoking.
One of the things that we love about this generator is that it starts making smoke almost as soon as you switch it on. It's a fast cold smoking machine that keeps the smoke flowing as long as it has to fuel to burn.
Cons
You're going to need a rack, a pit, a grill, or a container to hold whatever it is you're going to smoke, as the generator doesn't come with one. While it has everything you'll need to use it in conjunction with your grill, you might need to get a little creative with your container to connect the Smoke Chief to it in order to make the most of this cold smoke making monster.  
It's not made to run in the wild unless you can hook it up to some sort of generator. Being powered by electricity does have some drawbacks and the outdoor life is the bugbear that's most likely to trip it up. Without electricity, it's dead in the water.
Smoke Daddy Magnum P.I.G. Cold Smoke Generator
WORKS IN HOT OR COLD: A cold smoke generator uniquely able to perform great in cold or hot temperatures so you can smoke anything from cheese to brisket

ATTACHES TO EXISTING UNITS: Attaches to just about anything, such as grills or your existing smoker, to pump out high quality smoke and get that extra smoke flavor

BUILT TO LAST: Made from heavy gauge SCH 40 6061 precision machined aluminum for a proper seal and long life and includes a stainless steel cleaning brush
Snapping at the heels of the Smoke Chief is Smoke Daddy's P.I.G., another freestanding, wood-fired cold smoker that'll make all of the barbecuing hairs on the back of your grilling arms stand on end.
Unlike the Smoke Chief though, the P.I.G. does things the old fashioned way with fire and a little easy to learn cold smoking know-how.
Made from lightweight, tougher than a gang of hungry Hell's Angel's aluminum, the P.I.G. is easy to keep stoked up with fuel and as long as you keep adding wood chips, it'll keep making smoke. That's right, we said wood chips.
The P.I.G. doesn't use pellets as Smoke Daddy insists that they don't make the same kind of good quality smoke as chips do.
And because they want your cold smoking experience to be everything that it can be, they made sure that their cold smoker would only work with what they consider to be the best fuel to make smoke with.
The P.I.G. also comes with a fully adjustable air pump so that you can vary the amount of air the wood uses to burn and by doing so control the amount of smoke it produces.
One P.I.G. full of wood chips should, according to Big Daddy, produce anything up to four hours worth of smoke. That's a lot of smoke from surprisingly little wood.
Pros
Big Daddy calls it the P.I.G. for a reason. It makes a lot of smoke and when we say it makes a lot of smoke, we mean that it makes a LOT of smoke. 
If you ever get tired of cold smoking, don't worry. The Big Kahuna can also be used as a hot smoker. It has one foot in both smoking words and is equally at home in either.
We have to admit it, we're kind of taken with the adjustable air pump that it comes with. Knowing that we can fully control the amount of smoke that we can produce with the BIg Kahuna is like getting an extra couple of pickles in a Wendy's burger. It's the sort of pleasant surprise that you're going to absolutely, and thoroughly, enjoy.
Cons
Some reviews say it's a freestanding cold smoker, others point out that it isn't. We had to get inventive to make it fully freestanding and we suspect that you will too, as it's primarily designed to be mounted to a grill.
Then there's the air pump. If like us, you're creative and do the whole freestanding thing, it's not an issue. However, if you're a traditionalist and want to mount it to your grill, you're going to need to find somewhere to put the air pump, and grills and barbecues aren't exactly the easiest things to attach a shelf or a stand to. But cold smoking is the mother of invention and will encourage you to get creative in all sorts of new and exciting ways. Especially is you're using the Big Kahuna.
Big Daddy makes a thing out of claiming the Kahuna is an ideal overnight smoker, just light it up, let it make smoke, and hit the sack. Thing is, we can't figure out how that works, as one full Kahuna makes four hours of smoke, which means that, if like us you like to get your full eight hours in, you're going to need to get up at least once during the night to keep it smoking. We're not sure how Big Daddy's math works, but as we were never any good at adding, dividing, and subtracting, we're sure that they've figured out a way of doing it. And just because we can't puzzle it out, it doesn't mean that you can't.
It's time to move into the realm of purpose-built barbecue and grill mountable cold smokers, and the Smokemiester Cold Smoker seems to be at the top of every amateur, and even professional, smoker's wish list.
Easy to install and even easier to use, this is the cold smoker that one happy user said "makes heaven happen on Earth"; which as far as we're concerned is the kind of publicity and praise that money just can't buy.
Made to create up to eight hours of smoke from one full tank of gas (and by a tank of gas, we, of course, mean four cups of the wood pellets that it burns to make smoke), the Smokemiester fits on, and to, any standard grill or barbecue.
Then when you're done using it, you just unscrew the top and the bottom and wipe it clean with a brush.
It's an incredibly simple and straightforward way to start cold smoking using the grill or barbecue that you already have. Just fit it, load it and you're making smoke for eight hours. Smokemiester has made something that sounds, for the uninitiated at least, like it could be incredibly complicated into something that's fun and easy to use.
Pros
It just fits straight on to your grill. You load it, you light it and it'll make eight hours worth of smoke. Then you wait for it cool down, unscrew the top, brush it clean and the Smokemiester is good to go again. It's the model of cold smoking simplicity and efficiency.
We subscribe to the school of thought that believes you should always listen to whatever people who have already used something have to say about it and the reviewer who said that the Smokemiester "makes heaven happen on Earth" summed this cold smoker up better than we ever could. What more would you ever need to know about it?
Cons
Installing the Smokemiester can, if you're not the handiest of handymen, be a little stressful and there are some grills that it works like a dream with and some that it just refuses to cooperate with. Our advice? Find out which camp your grill falls into before ordering the Smokemiester. A little research can save you a lot of heartache.
We were amazed to learn, when we began our cold smoking journey, that there's an almost endless variety of cold smokers that are made to suit almost every pocketbook, no matter how big or small they are.
The biggest shock for us though was that the more budget-friendly a cold smoker is, the easier it is to use. And cold smokers don't get any easier, or more undemanding, than the Cave Tools Pellet Tube
You just load it up with wood chips, light them, place it on a covered grill along with whatever meat, cheese, or whatever else it is that's being cold smoked, and it'll happily get on with making smoke for eight hours. Eight hours of smoke from one tube full of chips? Sign us up, we're sold. We'll take two.
If we're honest. We'd probably take three as the Cave Tools Smoker Box costs just under twenty dollars. That's a fraction of the price of other cold smokers, and as long as you've already got all of the necessary grilling and barbecuing kit, or even a purpose-built smoking box,  this is all the cold smoker that you'll ever need.
Pros
Made from heavy gauge stainless steel, the Cave Tools Smoker Box won't rust and it'll be as strong, durable, and sturdy in twenty years time as it is the first time you use it. A lifetime of smoking fun for under twenty dollars? That's our kind of crazy.
It comes, via the app that you'll be given access to when you order it, a catalog of recipes and ideas to start you on your cold smoking journey. Just when you think the Cave Tools Smoking Box can't get any better, they go and find another way to make your outlay seem like the best twenty dollars you'll ever spend.
But that's not all, as the Cave Tool Smoking Box has a double identity, and works equally well as both cold smoker and a hot smoker, so you can dip your toes into the whole smoking word for just twenty dollars. We know we keep pushing how much, or rather how little, it costs but that's because this stress-free, simple to use cold smoker that'll last a lifetime costs less than a couple of slices at Coney Beach.
Cons
We've got absolutely nothing. Apart from a few reviews where the users found it difficult to make smoke with, there's no bad news about the Cave Tools Smoke Box. The simpler something is, the less there is that can, and does, go wrong with it.
While it's going to be pretty difficult to beat or compete with the Cave Tools Smoke Box, the Amaze Maze gives it a good run for its money. This passive cold smoke generator uses sawdust that's packed into the box and then lit to produce a staggering amount of smoke that works as either a hot or cold smoker.
As we brought up the amount of smoke that it'll produce, we'd better elaborate and fill in some more details. When it's fully loaded with sawdust, the Amaze Maze will generate up to eight hours of slow-burning smoke.
If you want to increase the amount of smoke that it'll produce, you just light it from both ends to double its smoking capacity.
And like the Smoke Box, all of that cold smoking power can be yours for a frighteningly small amount of money. In this case, around thirty dollars, which for a cold smoker isn't just affordable, it's an absolute bargain.
Pros
Eight hours of cold smoking fun for under thirty dollars? At that price, it would be rude to leave it on the shelf.
It's fuelled by sawdust, and the more sawdust you stuff into it, the more smoke it'll produce.
Cons
Some reviews have highlighted that it can be difficult to find the sawdust that you're going to need to fuel this cold smoker. We're guessing that those reviews were referring to finding the sawdust locally because we went online to see if we could order it and it was incredibly easy to find.
It feels a little flimsy, but as long as you're careful with it, the Amaze Maze should provide years and years of long, lazy, smoke-filled adventures.
Choosing the Best Cold Smoker: A Buyer's Guide
What is Cold Smoking?
While we've already covered this, we figured it couldn't hurt to talk about it again.
Cold smoking is a process of adding extra flavor to already cured or preserved meats or foods that don't need to be cured before being exposed to the cold smoking process - primarily cheeses, salt, and nuts.
Additionally, cold smoking also helps to preserve food as smoke dries it out and thus increases its lifespan.
During the time food is exposed to the cold smoking process, the levels of antioxidants and antimicrobials present in it increase which also aids the preservation process and increases the longevity of whatever is being smoked.
What Foods Can Be Cold Smoked? 
Traditionally, the foods associated with cold smoking are fish and sausage, mainly salami. Smoked salmon, which is regarded as a delicacy the world over,  is probably the most well-known beneficiary of cold smoking and the one product of the process that most people will, at some point in their life, become familiar with.
As there's an inherent risk with cold smoking, just as there is in any food preparation, long-standing advocates of the process recommend that the best way to begin is by smoking cheeses and nuts, which vastly reduces the chances of anything going wrong.
Start small, and gradually work your way up to more conventional foods when you've begun to master cold smoking.
As with everything else in life that's worth doing, learning to cold smoke is all about taking baby steps and learning in your own time and at your own pace.
Myths and Rumours
As long as you carefully follow all the guidelines and long-established cold smoking wisdom, the possibility that you'll poison anyone is almost non-existent.
Urban mythology continues to propagate the rumor that amateur cold smoking inevitably leads to botulism and should be avoided like the plague. That's simply not true. If it were, the human race would have died out centuries ago.
Be careful, take all of the necessary precautions, and closely follow in the footsteps of the cold smokers who have gone before you and you should be absolutely fine.
That's why the best advice for any, and all, potential cold smokers is to avoid meat and fish until they're confident that they know, and thoroughly understand, what they're doing. Practice, as some wise soul once intoned, makes perfect.
Which Cold Smoker is Right for Me? 
That entirely depends on the level of your experience and whether or not you want to use a cold smoker alongside a grill or a barbecue. If you do want to use a cold smoker to bolster your grilling and barbecuing skills, then we'd recommend the Cave Tools Smoking Box.
At around $20, even if you decide that cold (or even hot) smoking isn't something that you're going to pursue in the long term, it won't be the end of the world and you're not going to suffer a significant, or lasting, financial loss.
If you're a little more adventurous and want to really flex your cold smoking muscles and are determined to doggedly develop your cold smoking prowess come hell or high water, then your cold smoking future probably lies in the hands of the Smokehouse Products Smoke Chief.
It's the cold smoke generator that will enable you to practice your art wherever you can plug it in.
Whichever cold smoker you end up choosing, remember that there's a world of smoked food waiting for you to make your mark on it. Be careful, have fun, and don't go up in smoke.
So What Food Can I Smoke Right Now?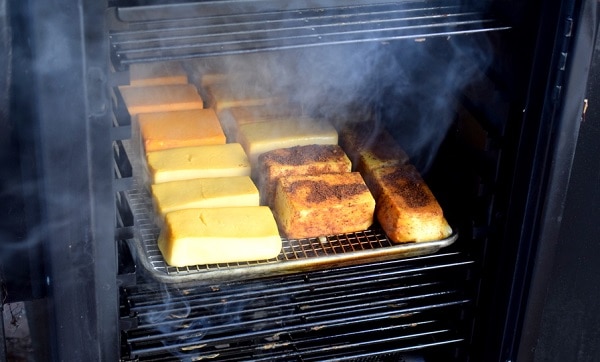 Looking for some more smoky inspiration?
Check out some of our favorite recipes of smoked and grilled food to try out at your next outdoor BBQ!
Trash Can Turkey - OK, technically not made on a grill but one of the most fun ways there is to cook a Turkey...at over 700 degrees in only 2 hours!  You've got to check it out!
Looking for More Grills, Smokers, and Accessories to Add to your Collection?
Check out some of our favorite brands and styles of grills, smokers, ad accessories to add to your list!
Smokers
Grills
Accessories