Take a look at 5 of our favorite infrared grills for 2023 and also a few things to consider when purchasing an infrared grill.
Everywhere you look these days, it seems like infrared technology is making its way into grilling and outdoor cooking.
Whether its a single infrared searing burner, an entire infrared grill, or an infrared cooking oven, you can't ignore the fact that is becoming more a more popular in the outdoor, and for that matter, indoor, cooking world.
An infrared grill uses infrared radiation to heat the food directly at higher temperatures, reducing cooking times and potentially shortening the set-up and clean-up processes we'd all rather do without.
Because there is no actual flame or combustion happening, an infrared grill can greatly reduce the risk of flare-ups and fire hazards.
For this reason, we have even include some great INDOOR models on our list to consider.
Infrared grills are even more energy-efficient and tend to distribute heat more evenly.
If you think an infrared grill could be right for you, look no further. We've compiled a list of the five best infrared grills on the market to help you make the perfect choice.
Here are our Top 5 Best Infrared Grill Picks
Want a conventional style infrared grill to use outdoors?
The Char-Broil Tru-Infrared 3-Burner Cart Style Gas Grill makes for a safe and stylish outdoor cooking experience.
At a combined 24,000 BTUs for the main burners with a 10,000 BTU side burner, this grill cooks your food thoroughly and keeps your sides warm, while the infrared technology means a reduced risk of flare-ups.
The 450 square inches of grill space leaves room for plenty of food and the porcelain-coated grates are rust-resistant and durable.
The mounted temperature gauge allows you more control over the temperature inside the grill.
The design is also clever and practical, including a swing-away warming rack for extra space.
The stainless steel finish and wheels for mobility make this grill both an attractive and practical choice, perfect for social gatherings or family barbecues.
All you need to assemble the grill is a 7/16" wrench.
Pros: 
       

Stylish

       

Plenty of cooking space

       

Easily maneuverable
Cons:
       

Small grill holes are difficult to clean
Want to take an infrared grill on your next campout?
The Solaire Everywhere Portable Infrared Propane Gas Grill could be just what you're looking for.
Small, portable, and easy to assemble, this grill lets you cook in style, wherever you are – simply attach a 1-pound propane bottle (sold separately) and get cooking!
At just 15 pounds and measuring only 20 ×13.5 × 8.25 inches with the lid down, this grill should be no trouble to pack or maneuver.
That makes it perfect for camping trips or taking over to a relative's house. Despite its small size, the grill's 20 gauge stainless steel build means it is strong and durable.
While the grilling space is relatively small at just 140 square inches, 14,000 BTUs of power ensure your food is well-cooked.
Additionally, the grate is specially designed to keep flare-ups to a minimum and improve flavor.
The specific and easy-to-follow cooking instructions included with the grill will help you to get the best out of this small-yet-powerful piece of equipment in no time!
Pros:
       

Portable

       

Easy to assemble

       

Specialized grill improves flavor
Cons
Camplux Propane Infrared Steak Grill, 1600℉ Fast Efficient Heating
Extreme 1600℉ Flash Heating - This innovative 10,000 BTU propane gas grill can raise the temperature to 1600℉ within 2 minutes with its Radiant Technology, the extreme temperatures will cook the steak, ribeyes within 5 mins. You can enjoy sizzling your shrimp, skewers, salmon fillets in seconds. It can cook anything with the simple move in and out, you can always stay home and enjoy a picn
Ever wished you could cook steakhouse-quality meals from the comfort of your own patio?
While not technically a grill per se, for true lovers of steak and other seared meats, the Camplux Propane Infrared Grill ticks a lot of boxes.
Heating up to an impressive 1,500°F, with a total BTU rating of 8,500, the Inferno will cook thick cuts of meat quickly while perfectly searing the outside, much like the large broiler ovens used in many high end steakhouses.
It's easy to use and clean, with a simple push ignition and removable components.
The position of the grill tray is adjustable relative to the burner, so you can cook your steak exactly how you like it.
Because of its compact size, only one steak can be cooked at a time; however, the increased cooking speed (just 2 minutes to cook a 1" thick steak medium rare) makes this less of an issue.
Due to the intense heat, this grill is only suitable for outdoor use.
If you are SERIOUS steak lover who wants to cook yours the way to pros do, this is the best infrared grill for you.
Pros:
       

Heats up quickly

       

Easy to operate

       

Easy to clean
Cons:
       

Limited grill space (1-2 people)

       

Some reported issues with the durability of screws and lights
Ok, we know, this website is called Mad Backyard, not Mad Indoor Kitchen.
But sometimes the weather just does not cooperate and you want a high quality backup to grill indoors.
And we found one that ain't your parents George Foreman Grill.
If you're looking for a simple and efficient infrared grill to use indoors, the Philips Smoke-less Indoor BBQ Grill might be the one for you.
This grill is easy to use, making it perfect for beginners as well as everyone who's just looking for a hassle-free cooking experience.
At a consistent temperature of 446°F, the electric grill uses infrared technology to cook food quickly and thoroughly with no need to adjust the temperature or get to grips with any complicated settings.
Running at 1660 Watts, this grill also uses heat-reflection technology, which helps reduce the inconsistencies in heating which are common in standard charcoal or gas grills.
The simple cord and power switch fixture enable a quick and easy set-up with no need for any propane gas.
The focused infrared heating means that the drip tray stays cool, minimizing smoke and potential burning.
The grid is made of non-stick aluminum, making both the cooking and cleaning process easier – just wipe clean after use or load into the dishwasher.
Pros:
       

Smokeless

       

Easy to operate

       

Easy to clean

       

Take the cooking indoors OR outdoors
Cons:
       

Very bright infrared lighting makes checking on food difficult

       

Potential for grease build-up when cooking fatty foods
Here is another great find in the Infrared Broiler category like the Northfire Inferno above.
Don't let its name deceive you – this grill may be perfect for steak, but it's also ideal for cooking a variety of different foods, with separate cooking areas for meats, vegetables and seafood.
Whether you're in the mood for ribeye steak or corn on the cob, this grill gets the job done.
The grill turns on easily thanks to its push-button ignition and quickly heats up from 200°F to 1500°F thanks to an impressive flow capacity of 9000 BTU/hr.
The temperature is adjustable according to your cooking needs, which makes for a flexible and efficient cooking experience.
The multiple connection options allow for the use of most ⅜" propane hoses. Meanwhile, the foldable, dustproof panel ensures that the grill stays clean when not in use.
It is made of premium stainless steel, perfect for withstanding the elements during cookout season.
In terms of size, this grill is ideal for individuals or couples looking to branch out from traditional grilling technology, and cook foods like they do in the country's best steakhouses. 
Pros:
       

Heats up quickly

       

Multiple connection options

       

Dustproof panel

       

Ideal for a range of different foods
Cons:
       

Limited grill space (1-2 people)

       

Interior rails are not removable and can be difficult to clean
Not Seeing One You Like?  Check Out These Additional Top Infrared Grill Picks!
Buyer's Guide to Infrared Grills
When buying an infrared grill, there are a handful of things to keep in mind before you click the 'Buy' button.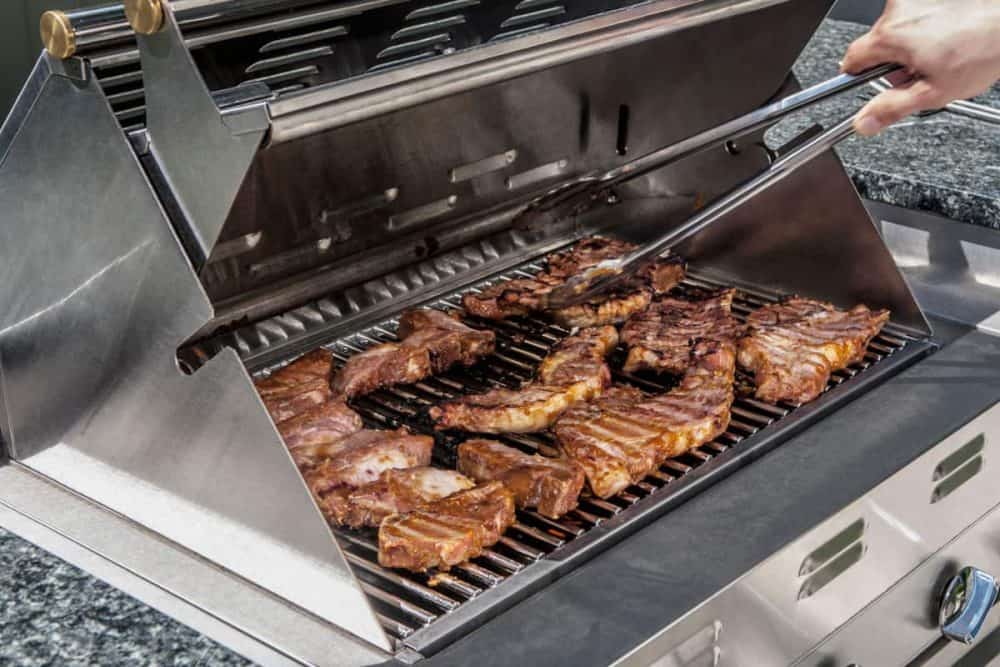 Placement
The first thing to consider when selecting an infrared grill is where you'll be cooking.
If you would like to cook inside, it is very important to select a grill that is specifically designed for indoor use.
For indoor use, it is also advisable to choose a grill that produces minimal smoke.
If you'll be cooking outside, you will need to consider the durability and rust-resistance of the grill to ensure that it won't be damaged.
Stainless steel will be your best option. Choose your location, and make sure to but a good weatherproof cover too.
Grill Settings
If you don't have much experience cooking with a grill, it's a good idea to select one with simple settings that don't need too much adjusting.
On the other hand, if you like to experiment with different methods or know that you'll be cooking a variety of foods, you might want to opt for a wide and adjustable temperature range with more settings.
Food Requirements
Some grills are better suited to cooking certain foods than others.
If you're likely to be cooking thick cuts of meat and searing them at high high temperatures, you'll want to make sure that your new grill can reach high enough temperatures to cook these through within a reasonable time frame.
The best way to determine this is by looking at the advertised BTUs, and maximum temperature ranges.
The general recommendation for a powerful infrared grill is between 50 and 80 BTUs per square inch.
Additionally, if you will be catering to different dietary requirements, make sure that your grill has separate heating zones for meat, seafood and vegetables.
If you are going to be grilling vegetables, ensure that your new grill has a lower heat setting to cook them more gently.
Size
Depending on how many people you're cooking for, you may need to take grill space and size into consideration.
For larger family or social events, a sizable grill with at least 400 square inches or more is preferable.
It means less waiting for your guests, which has to be a good thing.
For smaller gatherings, individual cooking, or if you're looking for a grill that you can move around, aim for under 300 square inches of grill space.
Still not sure what size infrared grill to get?
Check out our step by step guide on how to determine the best sized grill for your needs.
Portability
If you're looking for a grill to take with you on your travels, for example, on holidays or camping trips, you should check the dimensions and assembly requirements to make sure the product is portable and easy to assemble.
Check that you can power it with liquid propane if you won't have access to electricity.
The weight will also be an important factor here, as you need to be able to lift the appliance safely.
Cleaning
Ideally, you should always choose a grill that is easy to clean.
Look for ceramic or porcelain plating on grates, as this makes for an easier cleaning process.
This is especially important if you will be cooking fatty foods, as these tend to leave the most grease and residue behind.
For the easiest cleaning experience, try to find grills marketed as 'wipe-clean' and look for an included cover to avoid any accumulation of dirt, rust, and debris when the grill is not in use.
Durability
The durability of your infrared grill is very important, especially if you're going to be using it outdoors.
Stainless steel components are ideal as they are strong and rust-resistant, minimizing potential damage from wind or rain exposure.
Style
Whether your new grill is going to be inside your home or out on your patio, a sleek and stylish piece of equipment is always a plus.
Stainless steel is best in this respect because, as mentioned above, it is strong and resistant to damage and rust, as well as being easy to clean.
Luckily, the glass and ceramic plates typically found in infrared grills also lend a shiny, aesthetically pleasing quality to the appliance so you can barbecue in style!
Frequently Asked Questions about Infrared Grills
How does an infrared grill work?
An infrared grill heats your food through infrared radiation, or heatwaves.
In the case of an infrared grill, these heatwaves are given off by a conductive object (glass, steel or ceramic) which is heated by either electricity or gas.
Because infrared grills produce more direct heat, as opposed to the hot air released by a standard charcoal or gas grill, your food will cook more efficiently.
Are infrared grills safe?
Yes, infrared grills are safe to use.
The word 'radiation' has some scary connotations, but don't worry!
Infrared grills do not produce radioactive rays, and therefore won't pose a health risk or interfere with the molecular structure of your food.
In fact, infrared grills are generally safer to use than other grills due to the reduced risk of flare-ups.
That being said, an infrared grill can still pose a burn or fire risk, and as such, should always be handled with care by a responsible adult.
Are infrared grills healthier?
Far from being more dangerous, an infrared grill may actually be healthier for you than a charcoal grill.
Heresy, right?
But cooking with charcoal can produce carcinogens which are dangerous for consumption. Infrared grills reduce this risk. 
Are infrared grills more energy-efficient?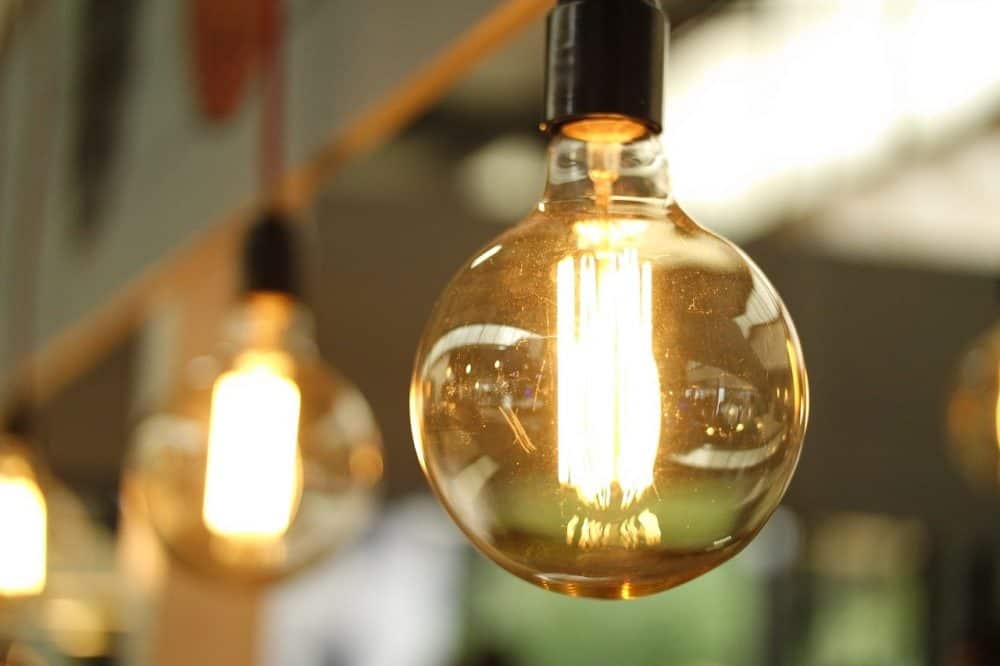 Yes, infrared grills tend to be more energy-efficient than other types of grills for two reasons:
Infrared grills heat up more quickly, and therefore do not waste as much energy during pre-heating.

Because an infrared gril

l does not have an exposed flame, it loses heat less readily.
So, if you're looking for a more energy-efficient method of grilling your food, infrared technology could be perfect for you.
How will an infrared grill affect the taste of my food?
Taste, of course, is subjective.
Many people enjoy cooking with charcoal because of the residual smoky taste, which you won't get from an infrared grill.
However, there is evidence (although the claims are debated) to suggest that an infrared grill might actually make your food taste 'better' than a charcoal or standard gas grill!
Because of the high direct heat of an infrared grill the drippings are said to actually vaporize and be reintroduced back into the food through steam, rather than being lost to the bowels of your grill.
This is why many brands claim the ceramic plates often used in infrared grills protect the meat from being dried out during cooking.
The high, even heat also makes them ideal for cooking foods like steak.
What food can I cook on an infrared grill?
You can cook a wide range of foods on an infrared grill.
Because of their fast cooking times, infrared grills are ideal for cooking meats, but a grill with adjustable heat settings and/or separate cooking zones will also allow you to cook vegetables and seafood at appropriate temperatures.
Whatever your tastes or dietary requirements, infrared heating technology can help you achieve efficiency and excellent flavor.
Are infrared grills more expensive?
Generally speaking, an infrared grill will cost more than a charcoal or purely gas-powered appliance.
However, if fast cooking times, thoroughly-cooked food, minimal preparation and easier cleaning are your priorities, you may find that the price difference is worth it for the results.
How do I clean my infrared grill?
This will vary depending on what your grill is made of, so always check the instructions.
Start by heating up your grill to turn food residue into ash. Metal components can then usually be cleaned using a non-abrasive cleaning product and a wire brush.
For the infrared heating component(s), a softer, nylon brush should be used to avoid damage.
Infrared grills should be deep cleaned at least twice a year, but you may need to do it more frequently depending on the design of your grill and how often you use it.
Aside from deep cleaning though, make sure to wipe down grates and grill trays with a brush or cloth after each use to avoid any build-up of bacteria.
Should I Buy an Infrared Grill?
If you're willing to spend more for high-quality, energy-efficient results, and if hosting a cookout with minimal preparation and cleaning sounds like a dream come true, an infrared grill is likely to be a lasting and worthwhile investment for you!
Infrared Grill Recipes
Looking for some inspiration?
Check out some of our favorite grilling recipes as well as some smoker recipes below that can be modified to work on an infrared grill using a smoker box or pellet tube smoker.
Trash Can Turkey - OK, technically not made on a grill but one of the most fun ways there is to cook a Turkey...at over 700 degrees in only 2 hours!  You've got to check it out!