We recently tested out our newest pellet grill, the Z Grills 700D3, and put together this in-depth review.
Find out what we really liked and what could still be improved upon with this mid-priced Z Grills pellet grill!
***Disclaimer: We received this pellet grill from Z Grills free of charge in exchange for giving our readers an honest review.  All claims made below about this grill are only our own personal opinions after testing it out.***
Brand and Pricing
If you've spent any time researching pellet grills in the last couple years, you've likely come across the Z Grills brand of pellet grills.
We had seen them featured on several other BBQ websites so we were excited to try one out for ourselves when given the opportunity.
We received a Z Grills 700D3 pellet grill to review, which is one of their mid-priced and mid-sized models.
At the time of this writing, its price is on pace with some similarly sized Pit Boss models, and about half the price of many similarly sized Traeger models.
Click HERE to see the latest pricing on the Z Grills 700D3 pellet grill.
Assembly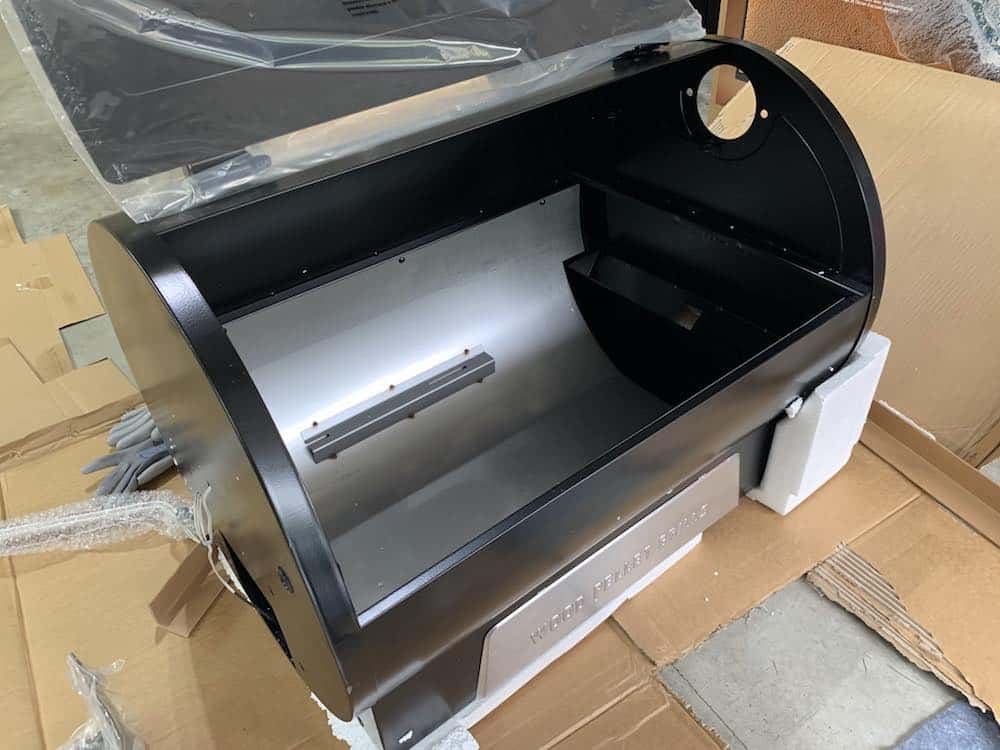 The Z Grills 700D3 pellet grill arrived in two boxes, rather than a single large one, which did make it easier to move everything into the garage and unpack to assemble.
We were actually pretty impressed by the ease of assembly.
Having just recently assembled a Pit Boss Pro Series 1150, which took two people and about 3 hours in total, assembling the Z Grills 700D3 was a much simpler task by comparison.
One adult can easily assemble to Z Grills 700D3 by themselves, with maybe a second person to help for just a minute when attaching the hopper assembly to the cooking chamber.
We liked that Z Grills included all the tools you will need right in the hardware packaging, including even a small phillips screwdriver!
The assembly was fairly streamlined using the included phillips head screwdriver and then pretty much the same screw for almost every step.
And an added bonus...NO allen wrenches!
This made it easier to keep moving rather than constantly trying to find the right particular tool and fastener for a particular step.
Almost every step used a phillips head screw and only a few used a bolt, but they included a properly sized wrench as well, so no hunting through the ratchet and wrench sets was necessary.
We had our Z Grills 700D3 Pellet Grill put together in just over an hour with one person.
Features and Construction
Next let's talk about some of the features you will find on the Z Grills 700D3 pellet grill and how well it appears to be constructed.
We won't go into every detail about pellet grills work in general.
If you need to learn more about that, make sure to check out our extensive article on how pellet grills work HERE.
PID Controller and LCD display
The Z Grills 700D3 pellet grill has a fairly straightforward LCD display and PID controller.
The term "PID controller" refers to the computer inside the controller the Z Grills pellet grill uses to automatically adjust its fan speed and the auger feeding pellets to the firepot in order to maintain a constant temperature.
The LCD display shows you both the target temperature on top and actual current temperature on the bottom, and also has readings for the two included meat probes you can plug in to keep an eye on your food temperature as well too.
Unfortunately the 700D3 model has no WiFi or Bluetooth capabilities like some other Z Grills models now have, but we did find the LCD screen fairly easy to read from 10-15 feet away, even on a sunny day.
For temperature selection, there is a manual knob to turn giving you fixed temperature increments of roughly 25°F from 180-450°F.
There is a also a Power button and a Feed button which, similar to the Prime button on a Pit Boss pellet grill, lets you manually feed pellets to the firepot.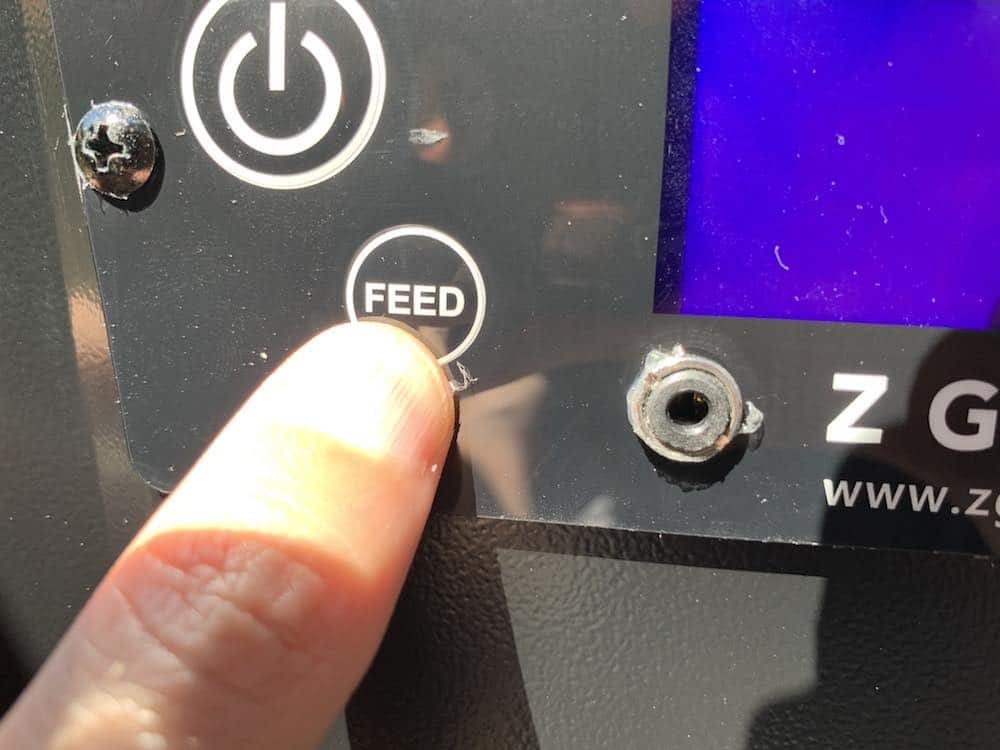 The Z Grills user manual suggests you can use this feature to quickly increase the fuel to the fire pot and help maintain your heat before opening the lid.
Cooking Area and Grill Grates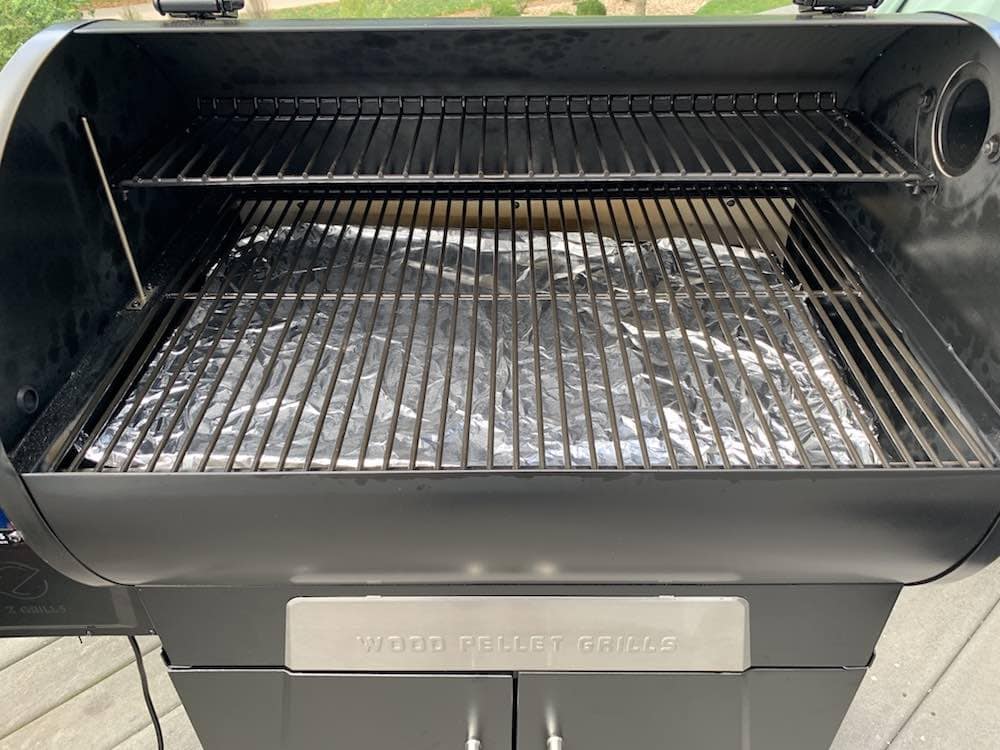 The Z Grills 700D3 is a mid-sized pellet grill with 504 sq. inches of cooking area on the main grate and 193 sq inches on the upper rack.
The main cooking grate comes in at 26"x19.4".
This definitely gives you enough room comfortably for three racks of spare ribs (or more if you use a rib rack), or two large pork butts or three smaller ones.
And as we'll show in the Temperature Consistency section below, the actual cooking temperature on the top rack is fairly similar to the bottom rack so you really can cook your food evenly up there as well if you have a lot of food you need to squeeze on.
While a small or medium brisket may fit comfortably, a larger full packer brisket might be a bit of a squeeze until it shrinks down a little part way through the cook.  (Fear not though, check out how we make large beef briskets work even in small electric smokers HERE.)
If you are looking to cook multiple giant pieces of meat at once or cooking for a really large crowd on the regular, we'd recommend taking a look at one of the larger models such as the Multitasker 11002B which should fit those larger briskets very comfortably.
The grates themselves are a thin porcelain coated steel.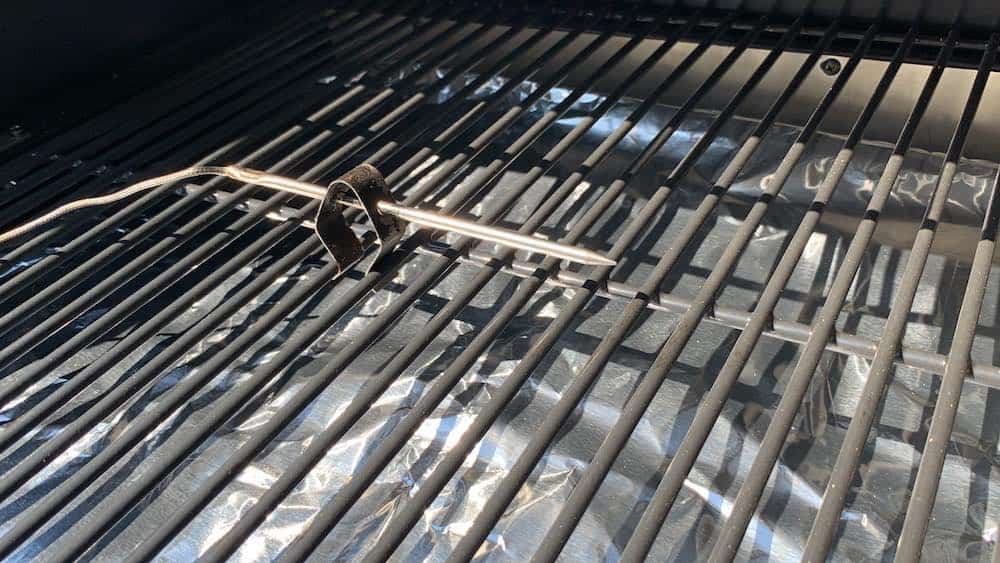 While they aren't as heavy duty as the cast iron ones you may find in a Pit Boss Pro Series, they are also much lighter, and easier to clean and put in and take out of the grill.
You also only have to grab one single grill grate for the whole pellet grill compared to 3 or 4 in some Pit Boss models.
Click HERE to see the latest pricing on the Z Grills 700D3 pellet grill.
Internal Components
One of the most surprising things we found for a pellet grill in this price range was how even the heating was and we'll get into this in more detail below.
Part of that we believe has to do with the heavy duty heat baffle that's included to be positioned over the fire pot.
Heat Baffle
While some components of the Z Grills 700D3, such as the lid or the cooking racks we wished had been a little more heavy duty, we acknowledge they didn't skimp on the heat baffle.
The Z Grills heat baffle is a heavy duty piece of steel constructed to do one thing: Block and disperse the direct heat from the firepot to give you true INDIRECT heating all over the pellet grill.
The heat baffle, working in conjunction with the larger (but thinner) steel drip pan that's placed over it, gives you two layers of heat dispersion which really work out well.
Anyone who follows our recipes knows how important INDIRECT heating is when it comes to slow smoking great BBQ.
Unfortunately with some models of pellet grills, especially those with only a single layer of heat dispersion such as the Pit Boss Pro Series grills, you get a hot spot right over the fire pot and have to avoid placing food there or risk it overcooking.
With the Z Grills 700D3 pellet grill we found this not to be the case at all, and felt confident putting our food right over the firepot without worrying about it getting too hot there.
Drip Pan
We liked the size of the drip pan as it really covers the entire inside of the grill so it not only helps diffuse the heat but makes clean up pretty simple.
The Z Grills user manual suggests wrapping the drip pan in aluminum foil before cooking to limit cleanup time later.
This was nice to see as some other brands with only a single layer of heat diffusion where the baffle is ALSO the drip pan discourage the use of aluminum foil since the single layer can get so hot next to the fire pot.
Ash Pot
The only thing we didn't like about the internal components was that there is no quick cleanout option for the ash pot as you find on some Pit Boss and Traeger models.
The only way to clean out the ash pot is by removing the grill grates, drip pan and heat baffle and then vacuuming out the left over pellet dust with a shop vac.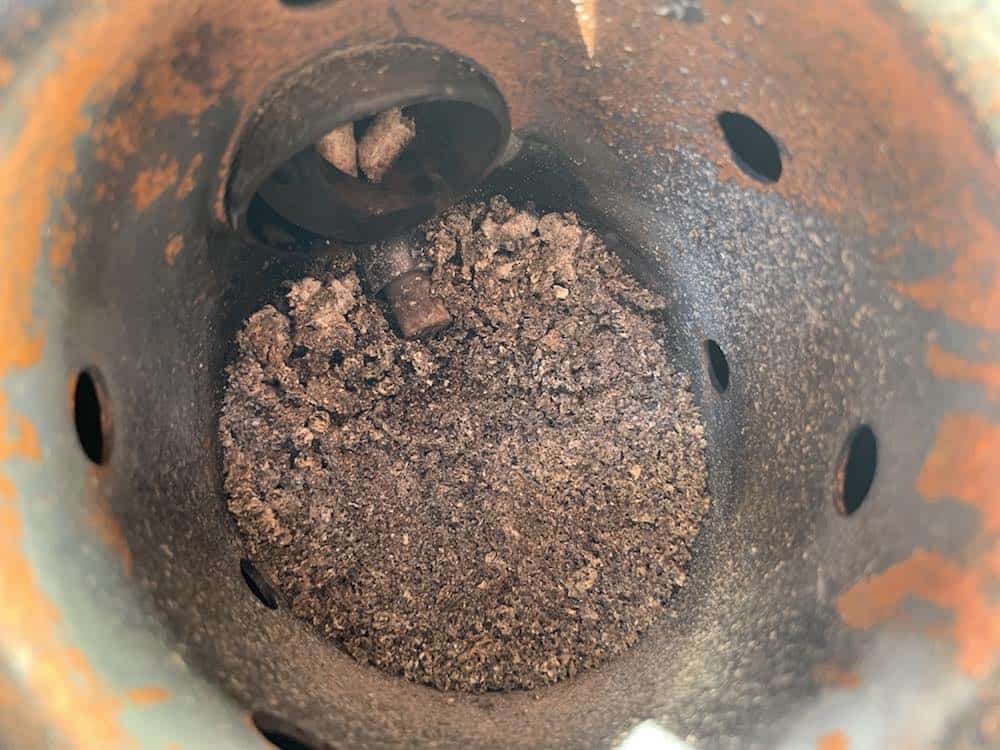 We used this mini shop vac after a couple of cooks and found it worked really quick getting the job done.
Even pellet grills with a quick release ash pot like the Pit boss Pro Series 1150 and 850 need to be cleaned out with a shop vac at some point to get the extra pellet dust and ash out of the bottom chamber.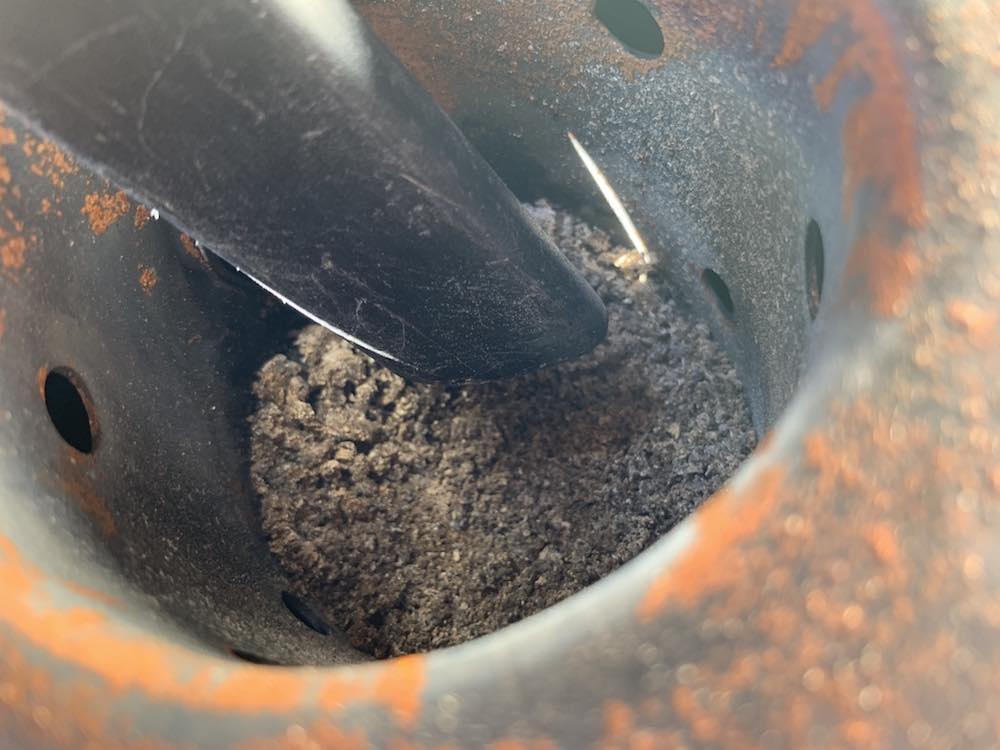 So it's not really a matter of IF you will need to use a shop vac to clean your pellet grill, but HOW OFTEN you will need to.
So not really a huge deal when you consider this but something to keep in mind when comparing pellet grills.
Hopper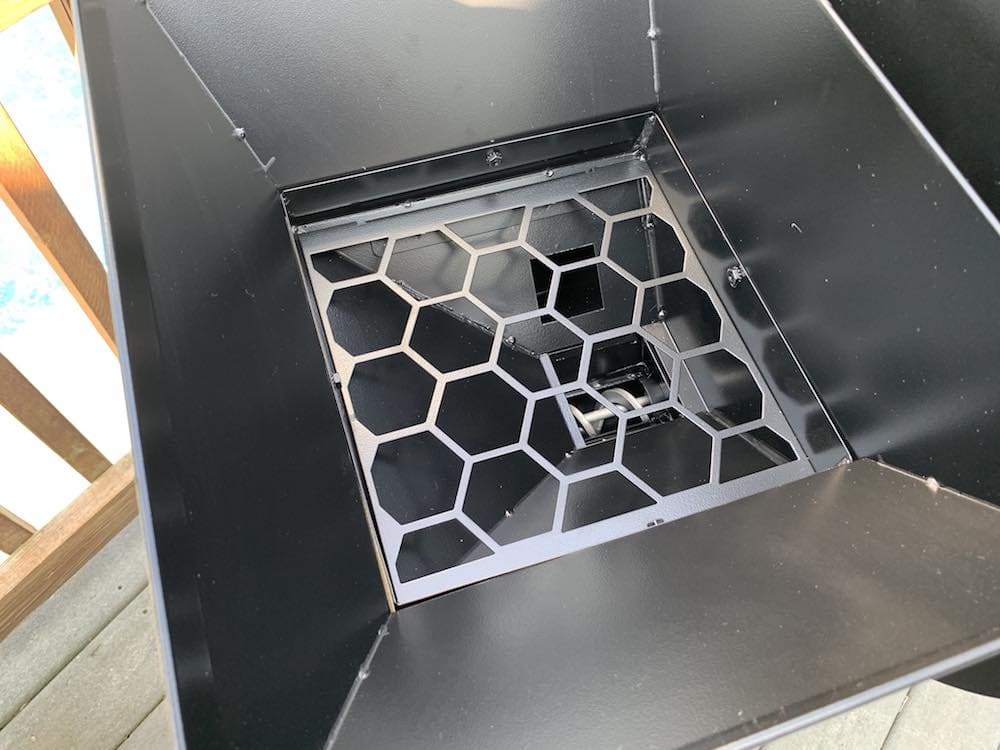 The hopper on the Z Grills 700D3 has a 20 lb capacity, so it will run for quite a while once fully loaded with pellets, especially at lower temperatures.
While it would have been nice to have a viewing window on the side of the hopper to keep an eye on the current level of the pellets without having to open the lid, we didn't find this to be too much a of problem.
One little feature we DID like about the hopper was that Z Grills placed the safety grid (which inhibits you from accidentally putting your fingers into the rotating auger) further down into the hopper so that most of the pellets sit on TOP of the safety grid rather than below it, while still keeping your fingers safely away from the rotating machinery.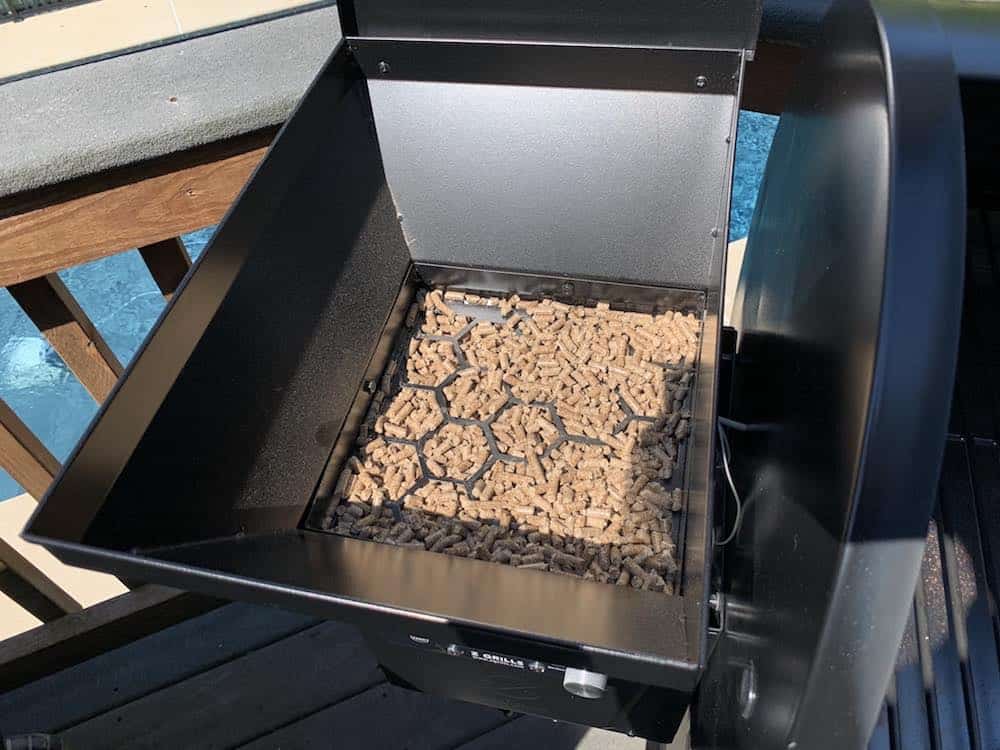 This made it easier to move around the pellets and mix up multiple blends together such as a few pounds of hickory with a few pounds of cherry.
On other models, where the safety grid is at the top, we've needed to use a paint stick in order to stir pellets around or get stubborn pellets stuck on the ramp down into the auger.
Click HERE to see the latest pricing on the Z Grills 700D3 pellet grill.
Storage/Shelving
One downside to the Z Grills 700D3 is the lack of shelving, both on the sides or on the front.
The top of the hopper is about the only place you'll find to set something down unless you have another table nearby.
We missed having a flip up front shelf as this makes it easier to transfer heavy, greasy BBQ to a cutting board or foil tray without dripping on the deck or patio.
And a side shelf, especially one positioned over the exposed grease bucket, possibly with some hooks for a couple BBQ tools, would have been a nice feature as well.
However, the Z Grills 700D3 does come with a decent storage cabinet under the grill where you can keep some items.
They recommend in the user manual keeping your pellets under there, however, we always recommend keeping your pellets INDOORS, in an airtight pellet storage bucket like these popular Oklahoma Joe pellet storage buckets we use.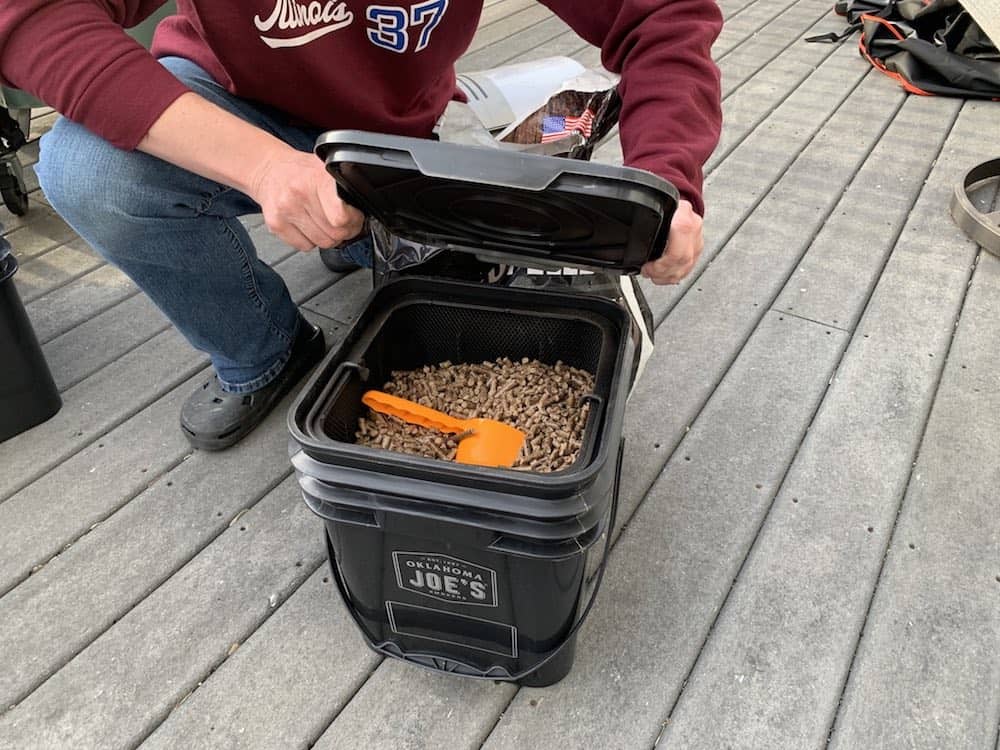 This will keep the pellets dry and away from humidity and severe temperature swings that can cause them to swell with moisture and not burn well.
Oklahoma Joe's Pellet Bucket Kit, Black
Store up to 20 pounds of hardwood pellets in the heavy-duty plastic pellet bucket.

Wire-mesh filter separates wood dust from the pellets for a clean burn

Heavy-duty plastic scoop to easily transfer pell
Temperature Probes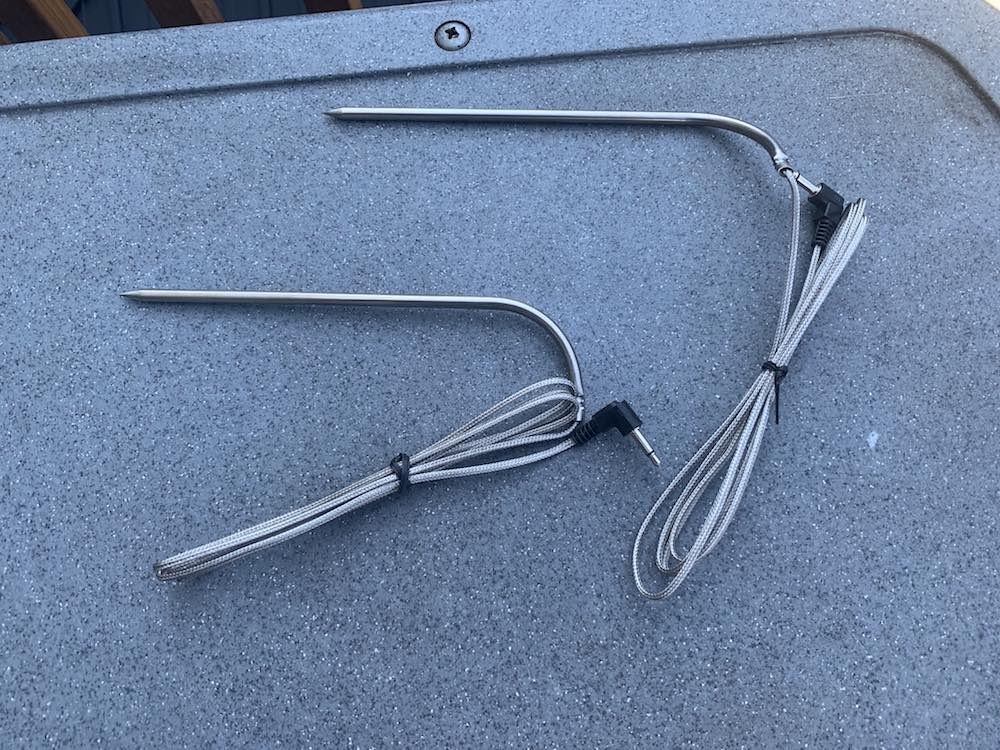 The Z Grills 700D3 comes with 2 meat probes for temperature monitoring right on the LCD display.
These are nice feature to use on larger roasts or a pork butt or brisket where you need to closely monitor the internal temperature of your meat throughout the cook.
And having two probes makes it easier to monitor two different pieces at once.
The only downside like we mentioned is that this particular model does not offer an app or WiFi capabilities to sync and monitor these temperatures from your phone, so you will need to watch the display itself to keep an eye on things.
If you prefer a leave-in thermometer you CAN monitor from your phone on ANY grill or smoker while visiting with guests or doing other stuff, then check out one of our favorites, the MEATER leave in thermometer.
It is extremely accurate and has an incredible 165 foot bluetooth range and works right with your smartphone so you don't need to carry a separate controller around with you like many other remote thermometers require.
It's got a great free app that is constantly being updated and even has an algorithm to predict how much longer your type of meat will take to cook based on cooking temperature, target temperature, and current internal temperature.
It's like a GPS for your meat!
Cover
One nice bonus is that this grill does come with a cover included so you can get started right away without worrying about also ordering a cover for your new grill before putting it outside.
For an included cover, it is actually pretty decent.
We liked the thickness of the material and good strong stitching at the seams.
Our only complaint is that it is fairly form fitted to the Z Grills 700D3, making it a little bit of pain to ge on and off without knocking off the grease bucket or worrying about ripping it on the pointy edges of the hopper.
There's also no bottom straps to cinch it around the base and secure it tightly so it just kind of sits straight on the grill which may not be the best thing on a very windy or rainy day.
We typically like the Sun Value brand of grill covers because they are heavy duty, have straps to cinch up the bottoms, AND usually have handles and a zipper making it easier to get them on and off quickly
We will likely soon be replacing the included Z Grills cover with THIS ONE from Sun Value for this particular model.
Temperature Performance of the Z Grills 700D3 Pellet Grill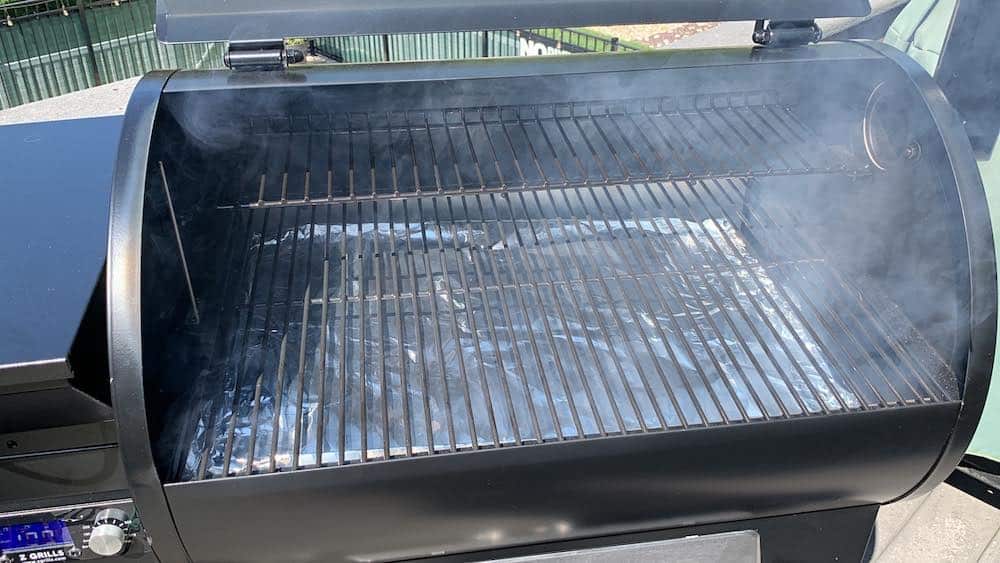 Now that we've talked about the construction and various components of the Z Grills 700D3 pellet grill, let's dive in and talk about its performance!
Make sure to check out our detailed instructions on how to start a new Z Grills pellet grill for the first time before cooking on it.
***Also, we should note we used only Z Grills brand Cherry Wood Pellets for all of this as well to try and keep everything specific to their brand and fair for testing purposes.***
Time to Startup
One thing that can be frustrating for new pellet grill users coming from the world of gas grilling is how long it seems to take pellet grills to do anything.
From start up, to preheating, to increasing the temperature, relative to their rabbit fast propane powered cousins, pellet grills can seem like a slow moving turtle.
Always keep in mind that pellet grills are not designed for speed but for consistency, longevity, and accuracy of cooking temperature without having to babysit them.
So those are the things we are most concerned about when testing out this grill.
That said, we still wanted to see about how long it would take this particular pellet grill to start up and preheat from powered off to ready to smoke some food.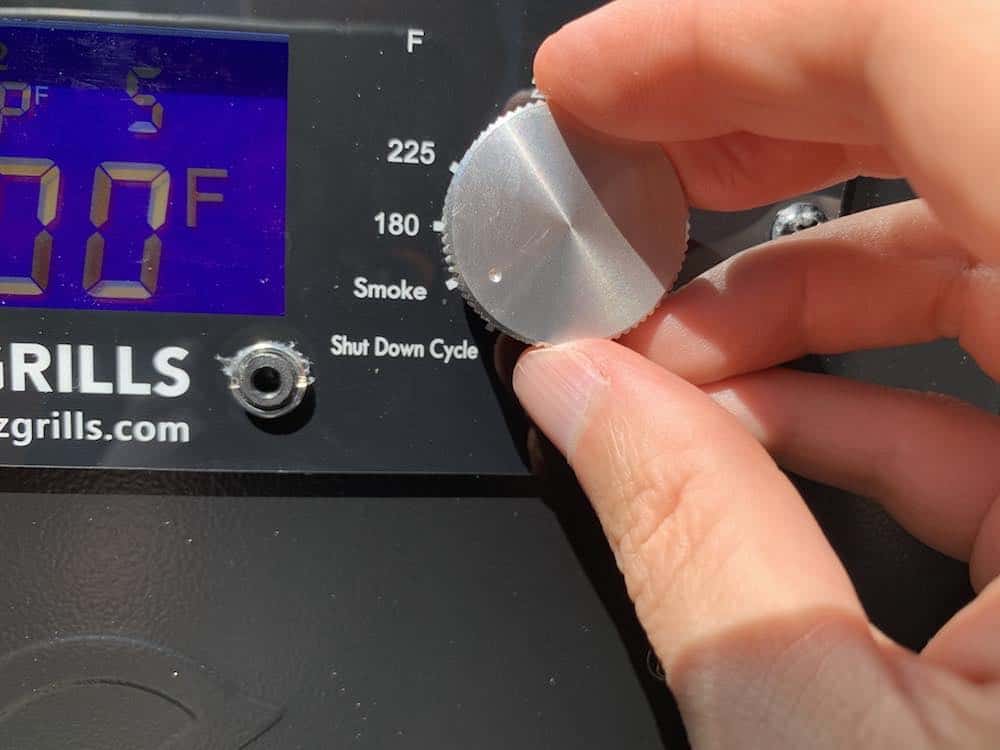 Keep in mind we tested this grill out on a 90°F day in direct sunlight, so your results may vary depending on the outside weather.
Our auger was already primed with pellets from the initial burn off we had done the day before per the initial startup instructions included in the user manual.
After powering on and turning to the Smoke setting per the startup instructions, it took about 3 minutes to start seeing the white startup smoke, and about 3 more minutes for the smoke to dissipate and for us to hear the roaring fire sound in the fire pot down below.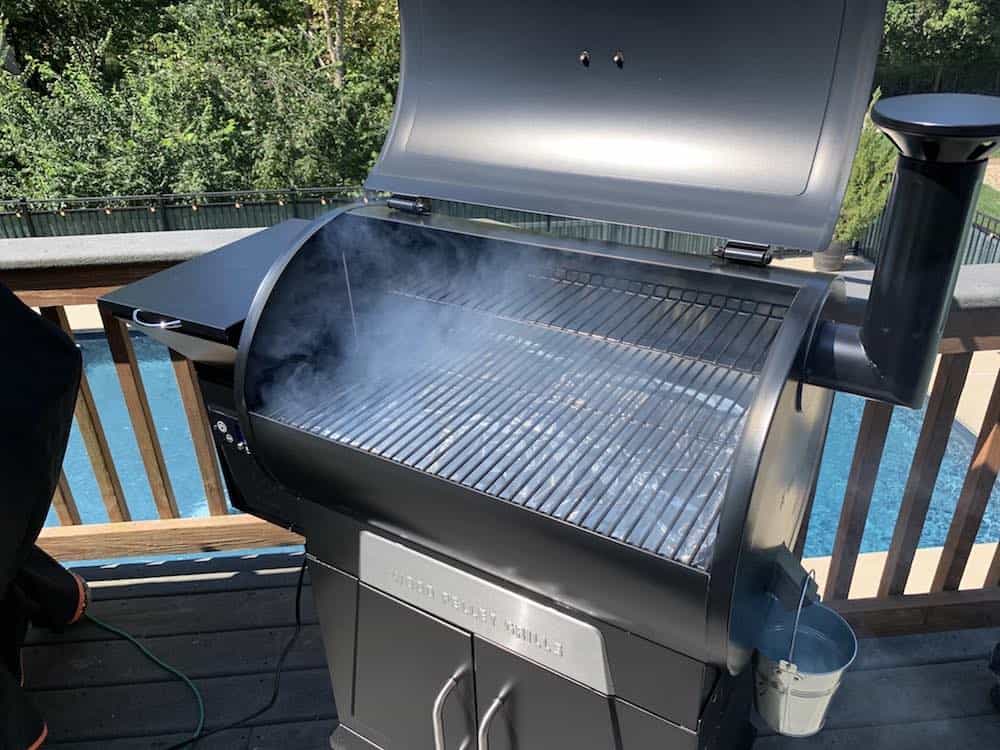 At this point we closed the lid, the internal temperature read about 145°F, and we turned the temperature dial to 225°F.
The Z Grills 700D3 took about another 6 minutes to come up to this temperature on that 90°F day.
So, on a hot summer day, plan for this grill to take about 12 minutes total to run through its startup process and come up to a low and slow cooking temperature of 225°F.
Click HERE to see the latest pricing on the Z Grills 700D3 pellet grill.
Temperature Range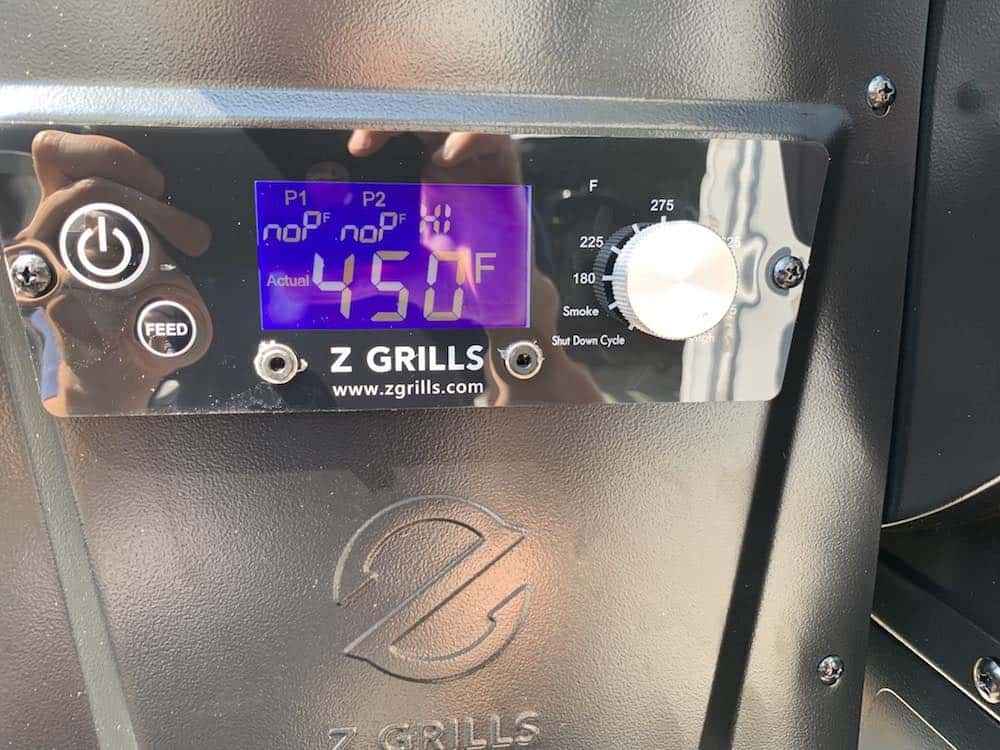 The Z Grills 700D3 has a temperature range from 180°F to 450°F which they label as "HIGH" on the far right of the dial.
In reality we got temperatures up close to 480°F when we let it rip on the HIGH setting for about 20 minutes on the hot day we tested it.
It will be interesting to see how it performs on the HIGH setting on a cold winter day in a few months time, but the grill gave every indication during our testing it can get pretty hot when left on that setting.
The temperature dial starts on the "Smoke" setting which is used to startup and initially preheat the grill and when we left it on that setting the Z grill went to 250°F and stayed there, without much more noticeable smoke than when we had it on the 180°F or 225°F settings.
It would be nice for novice pellet grill users if there was a more thorough explanation in the user manual about this setting and how to use it.
We have previously discussed the difference between the smoke setting and other settings on a Traeger pellet grill, so you can read up more on that here if you want to learn more about the Smoke Setting on pellet grills in general.
Time to Increase Temperature
Next we wanted to see how long it would take the Z Grills 700D3 pellet grill to increase in temperature from 225°F to 350°F.
Once we had stabilized at 225°F for about 10 minutes we noticed the fan has slowed substantially and the grill had gotten much quieter overall which was nice.
We could hear the fan come on a little now and then just to help maintain the small fire in the firepot keeping the grill at 225°F.
When we turned the knob to 350°F we could hear the fan instantly go up in speed giving us a nice feedback response that the grill was kicking inot a higher heat gear.
It took the 700D3 only about 10 minutes to go up from a stabilized 225°F to 350°F on that hot day.
We then turned the control knob up to HIGH and the grill took about another 10 minutes to reach 450°F.
While not as fast as a charcoal or gas grill can react, this seemed like a reasonable amount of time for a pellet grill for us.
Many of our recipes such as a smoked sirloin roast or smoked ribeye roast require smoking the beef low at first and then searing it at higher temperature for the last few minutes.
So we like a pellet grill than react quickly and rise in temperature for the final searing stage when we need it to.
Temperature Consistency and Accuracy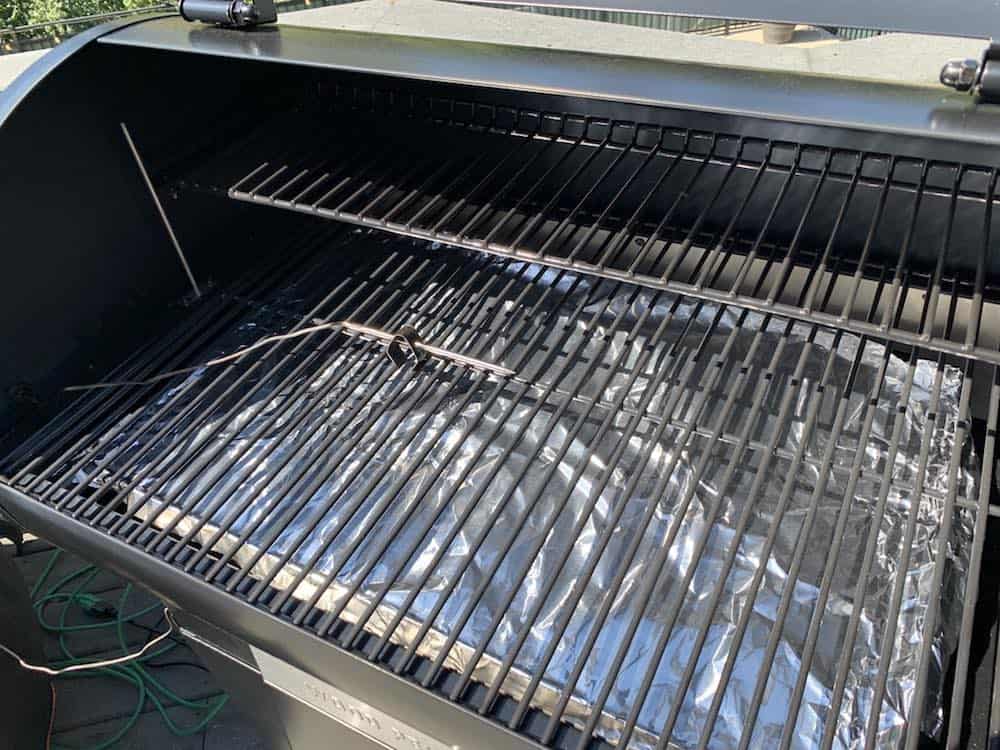 Next we looked at temperature consistency and accuracy across various places on the grill grates at two different temperatures.
First we turned the temperature on the control panel back down to 225°F and let the Z grills 700D3 cool back and stabilize there for about 20 minutes before putting our test probes in the cooking chamber.
We found on such a hot day we really needed to open the lid to help the grill cool down as it was not budging from the 350°F-400°F after being on the HIGH setting for about 20 minutes before turning it down.
Temperature Readings at 225°F
Once the grill had stabilized at 225°F and was reading that temperature steadily on its own internal temperature readout, we placed our thermometer in the chamber in 11 different places to test the consistency of the heat output.
As we mentioned before, on many pellet grills you will see the center above the fire pot get much hotter than other places on the grill.
You can see in the picture below what our average temperature reading was during 10 minutes at various locations on the Z Grills 700D3 with the temperature set to 225°F using our Thermopro Probe thermometer.
As you'll notice the temperatures in general were ALL a little hotter by at least 5°F than the 225°F the grill was set to.
However, this may have been due to calibration issues between our testing thermometer and the one that comes with the grill.
While this accuracy issue is hard to know who's at fault for sure, what's actually more important is comparing the consistency of the temperature findings on various locations of the grill.
As you can see, the Center Left was the coolest part of the grill and the temperature readings increased as we moved towards the front or back of the grill grates and also as we moved to the RIGHT on the grill grates.
This makes sense as the heat from the firepot moves out from under the baffle and them makes its way towards the edges of the drip pan that the front and back would be hotter than the center.
The air in the chamber also moves from left to right and out the smoke stack so it would also make sense that the right side was a little hotter since that's the direction the heat is travelling.
Lastly, we tested the upper rack and found the temperatures to pretty consistent with those on the bottom rack, so YES, you CAN cook on the upper rack, it's not just for "warming" like you might find on a gas grill.
It's important to understand as you are using any new grill which areas are hotter than others.
You can use this knowledge to place large pieces of meat or thicker ends of a large piece of meat towards the hotter side of the grill.
Overall we had 18°F temperature variance from the coolest center left region to the hottest bottom right region the 700D3 when set to 225°F.
18°F is actually really good as we've used a number of pellet grills, some of which have a variance upwards of 50°F directly over the fire pot.
Click HERE to see the latest pricing on the Z Grills 700D3 pellet grill.
Temperature Readings at 350°F
We then increased the cooking temperature on the control panel to 350° and let is rise and stabilize there for about 20 minutes as well.
You can see below our temperature findings in different locations on the grill averaged across 10 minutes in each location.
Even at a higher temperature, you can see the same results mostly held true with the center left being the coolest part of the grill and the top AND bottom rights being the hottest.
Overall at 350°F we had a cooking temperature variance of only 16°F across the entire grill.
So even at higher temperatures, not bad at all...actually quite impressive.
Again, we attribute this consistency to the dual heat dispersing of the heavy duty heat baffle AND the large area drip pan working in conjunction to even out the heat dispersion across the entire grill.
Overall we were very impressed with the temperature constancy of this grill.
Temperature Overshoots?
One issue we did want to briefly mention is sometimes the Z Grills 700D3 would overshoot its targeted temperature by quite a bit when we set it and then came back to it.
As we mentioned, it was a very hot day.
However, a pellet grill with a good PID controller should accommodate for this and still make the needed adjustments to stabilize at the targeted temperature.
For example, when we turned up the temperature from 225°F to 350°F the second time, we walked away for the 10-15 minutes we thought it would take to come up and when we came back the grill was actually running at about 385°F.
We watched it for another 10 minutes and saw it continued to stay right at 380-385°F even though it was set to 350°F.
It wasn't until after we opened the lid for about a minute and let the grill cool down to 350°F this way and then closed the lid did it finally stabilize at this temperature.
So something to possibly watch for on this model.
Later on that day when it was a little cooler outside and we were cooking some smoked bone-in chicken thighs and increased the temperature in the same way to crisp up the skin at the end, we did NOT have that problem again.
Cooking on the Z Grills Pellet Grill
Lastly, what good would a pellet grill review be without actually cooking some food on it?!
We decided to christen the Z Grills 700D3 with some smoked bone-in chicken thighs as we thought this would be a nice simple meal to test its cooking capabilities in two different temperature ranges.
We started the seasoned skin-on chicken thighs at 225°F for an hour to add some smoky flavor.
We then increased the temperature to 350°F for the last 20-25 minutes to help crisp up the skin and render the fat underneath.
Always remember...nobody likes rubbery chicken skin.
We'll have the full recipe for our Z Grills Smoked Chicken Thighs posted soon.  But let's just say they came out pretty delicious.
We didn't need to rotate the chicken around for even cooking, they all cooked at roughly the same rate, and the 700D3 performed nicely by quickly rising in temperature right when we needed it too.
The chicken had a nice subtle smoky flavor form the Z Grills brand Cherry wood pellets we used and was definitely not overpowering.
If anything I almost wished for a little MORE smoke flavor from those pellets but more testing will be needed in that regard.
Cleanup was pretty simple as we wrapped the drip pan before hand and simply peeled it back and threw it away once the grill cooled down.
The grill grate as we mentioned is pretty lightweight and easy to clean up and put back in the grill and close up and have ready for the next cook!
Final Thoughts on the Z Grills 700D3 Pellet Grill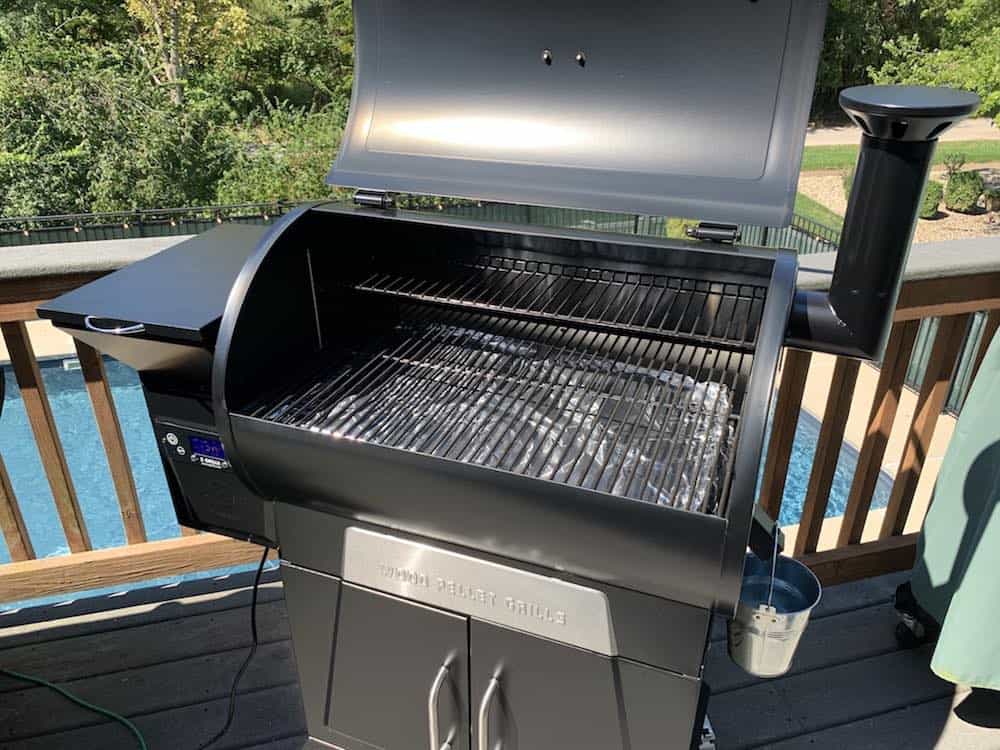 So the Z Grills 700D3 is not the biggest or heaviest pellet grill on the market.
But it DOES get up to temperature fast thanks to its smaller size and stays pretty accurate around the ENTIRE cooking area thanks to the heavy duty heat baffle/drip pan combination.
There are a few features we missed on it like WiFi for keeping an eye on temperature when we were away form the grill and some shelving to make handling trays and cutting boards around the grill easier without needing a separate table.
But thankfully, it's also priced very competitively.
Check the most current pricing on the Z Grills 700D3 Pellet Grill HERE.
It's a very easy to use, entry level pellet grill that gets the job done without a ton of bells and whistles, and we plan to make many more meals on ours.  Especially on weeknights when we need to get the grill up and going fast without a lot of fuss!
Pros
Ease of assembly and ease of use
Storage Cabinet
Good Heat Dispersion and Temperature Consistency
Quick Responsiveness to Temperature Adjustments
Easy to Clean Up
Cons
Lighter weight construction
Lack of Shelving
Lack of Quick Access Ash Pot Clean Out
No Bluetooth or WiFi Capabilities
Mediocre Cover Included (but at least it comes with one)
Temperature overshoots at times?
Other Pellet Grill Models to Consider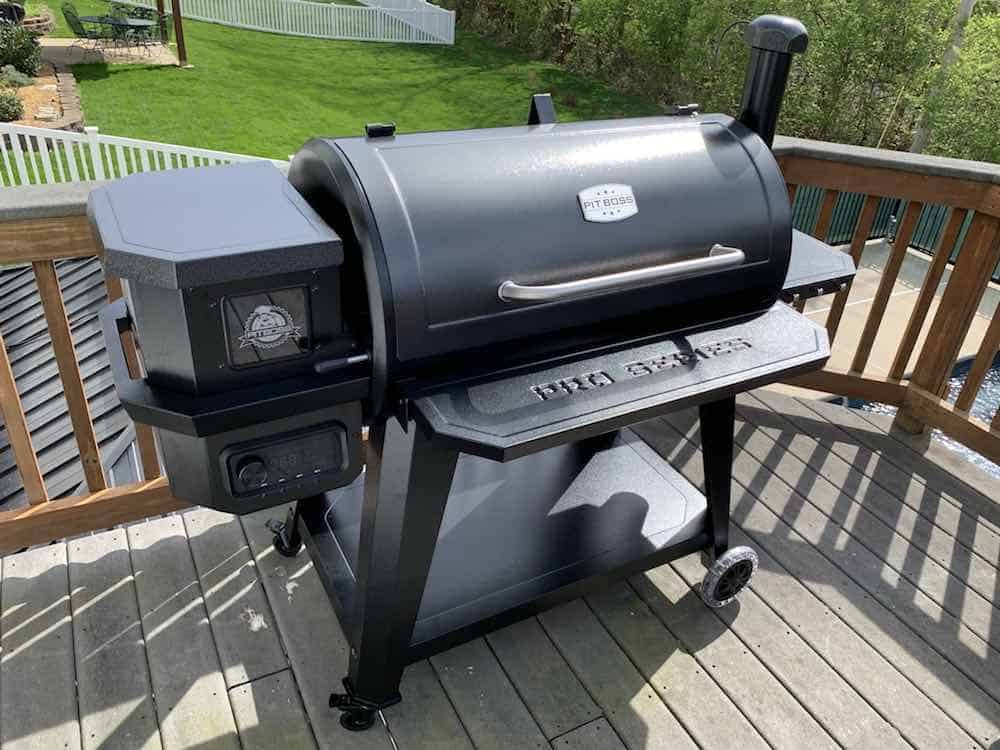 There are plenty of other models on the Z Grills website to consider if you are looking for a different size or a model with more additional features.
The Z Grills Multitasker 11002B is a larger pellet grill with both WiFi capabilities and a large front shelf.
We are also fans of Pit Boss pellet grills such as the PB820 and the PB1150.
While many Pit Bosses can get up to higher temperatures than the Z Grills 700D3, we have found they aren't as consistent with temperatures around the entire cooking area so you need to watch for hot spots.
And if you are just looking for a quality, easy to use smoker that can maintain a "Low and slow" temperature all over the cooking surface, this may not matter as much to you.
If you are interested in some higher end models, make sure to check out the Traeger brand of pellet grills as well.
We recently compared the different models in the Ironwood series head to head and you can read all about that HERE.
The Traeger Ironwood and Timberline series are two of their biggest sellers.
Lastly, if you are looking for a smaller workhorse option that won't break the bank, make sure to also check out the Camp Chef brand of pellet grills as well.
We've been surprised at the pricing of many of their models such as the Smoke Pro SG that are still able to include features like extra shelving, quick release ashpot cleanout access, and even WiFi.
Image
Brand
Title
Buy

Top

Top

PIT BOSS
PIT BOSS PB820D3B Wood Pellet Grill, 820 Square Inches, Mahogany
Check Price on Amazon

Top

Top

PIT BOSS
PIT BOSS PB1150G PG1150G Wood Pellet Grill w/Cover and Folding Front Shelf Included, 1150 sq. inch, Black
Check Price on Amazon

Top

Top

Traeger
Traeger Grills Ironwood 650 Wood Pellet Grill and Smoker with WIFI Smart Home Technology, Black
Check Price on Amazon

Top

Top

Traeger
Traeger Grills Ironwood 885 Wood Pellet Grill and Smoker with WIFI Smart Home Technology, Black
Check Price on Amazon

Top

Top

Camp Chef
Camp Chef 24 in. WIFI SmokePro SG Pellet Grill & Smoker - WIFI & Bluetooth Connectivity (Black)
Check Price on Amazon

Top

Top

Camp Chef
Camp Chef SmokePro DLX Pellet Grill w/New PID Gen 2 Digital Controller - Bronze
Check Price on Amazon