Learn how to smoke bratwurst on any grill or smoker and why this is the BEST way to cook this delicious German sausage at your next backyard cookout.
Check out our recipe for smoked bratwurst with beer braised onions below!
Whether you've got a gas grill, a Traeger or Pit Boss pellet grill, or even a Masterbuilt electric smoker, we've got you covered!
If you have ever experienced a German Christmas market, like the fantastic Christkindlmarket that appears to pop up seemingly out of nowhere each year in downtown Chicago, then you likely have stumbled across an authentic bratwurst stand.
With its open fire and smoked sausages cooked to perfection, the smoke and smells attract visitors from all over the market, drawn to the sizzling sounds of smoked sausages and mouth watering aromas.
There is nothing quite like the taste of bratwurst sausages. Although you can quick grill or even oven cook them, you will not experience the same authentically smoky taste as if you smoke them first.
In this article, we will discuss what a bratwurst sausage is, and why it is one of the best types of sausages in the world.
We will give you a step by step guide on how to smoke your bratwurst to perfection, and some of the best smokers to get the job done.
What Is Bratwurst?
Bratwurst is a type of German sausage that is mainly made from pork and often contains either venison, beef, or veal.
Bratwurst sausages differ from standard sausages because they do typically contain more than one meat.
They are usually seasoned with ginger, coriander, and nutmeg which gives them their uniquely recognizable flavor.
There are variations of bratwurst however and in Germany, there are many regional differences in the sausage.
At some German markets there are more than thirty different types of bratwurst available to buy!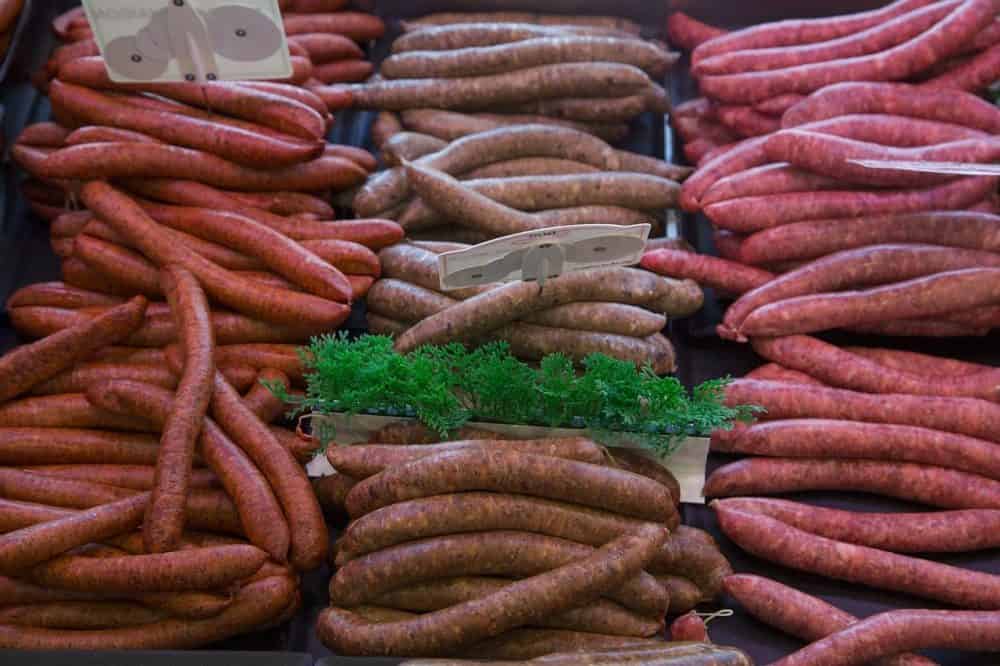 They were created in the region of Franconia in Bavaria and gained in popularity from there.
Bratwurst is not only found in Christmas markets but, much like the cheeseburger in America, is an extremely popular fast food in Germany!
How To Smoke Bratwurst
Although most people default to grilling bratwurst, one of the best ways to cook bratwurst is to smoke it.
As the heat of the smoker is a lot less extreme compared to the direct heat of a grill, it will help your bratwurst to cook evenly, absorb a smoky flavor, and possibly taste even better.
While there are multiple types of smokers you can make your bratwursts in, no matter which you use, you will want to ensure that your smoker is fired up and preheated.
The perfect temperature to cook your bratwurst is around 225℉.
Anything above this heat has the potential to burn the bratwurst and could cause them to burst.
If your bratwurst burst then a lot of the delicious flavor will escape.
CHECK OUT How to Smoke Brats on a Pellet Grill for tips specific to pellet grills!
What is the Best Wood to Smoke Bratwurst?
When choosing a good smoking wood for brats, we recommend a heavier scented wood like Mesquite or Hickory to stand up to the strong flavors of the bratwurst.
Save the milder fruitwoods for more delicate proteins like chicken and fish.
You can use larger chunks in a charcoal smoker, fill a pellet tube with wood pellets, or, the easiest option, fill a smoker box with wood chips and place it right on your gas grill setup for indirect cooking.  No need to soak.
It will take some time for your bratwurst to reach the 165℉ they require to be safe to consume.
We highly recommend using an instant read meat thermometer to help you keep an eye on the temperature of the meat.
At 225 deg F, thawed bratwursts will take about two hours to cook. This will allow them to reach the safe temperature slowly and cook throughout.
Waterproof Digital Instant Read Meat Thermometer with 4.6" Folding Probe and Backlight
【SO EASY TO USE】Works right out the box! KULUNER digital thermometer with foldable 4. 6 Food grade stainless steel probe and auto-on/off function, open the probe to turn on, fold the probe to turn off.EASY to use, storage and carry. With the included battery you can start using the thermometer right away. It's the perfect solution for grilling, baking, deep frying, making candy, or uses it to test the temperature of your Liquid, beer, wine, tea, coffee, milk, soup, etc.
Ideally, you do not want to be opening and closing your smoker too often.
If you are checking on the progress every fifteen minutes or so, a lot of the much-needed heat will escape your smoker and the overall temperature will decrease.
Also resist the urge to repeatedly poke every brat with your instant read thermometer throughout the cook.
Much of the delicious juice will be lost through these holes you have poked.  Wait until about an hour and a half in and the pick ONE brat to be the test subject.
Your bratwurst will turn a lovely golden brown color when they are ready to be eaten and have reached the desired temperature.
At this point, you can take them right off the smoker and serve, OR, you could throw them on a hot grill for 30-60 seconds a side if you want a darker, crispier exterior on them before serving.
How To Serve Bratwurst
You can serve bratwurst in many different ways. The most common way to eat bratwurst in the U.S. is with grilled onions and mustard on a bun, similar to how you would eat a hot dog.
Check out our recipe that includes delicious beer braised grilled onions at the bottom of this article that go GREAT on top of brats.
If you want a more substantial meal, you could serve it with fries and a side salad too.
Alternatively, you can serve them with a potato salad, mashed potatoes, vegetables, or even sauerkraut or smoked cabbage.
Summary And Product Recommendations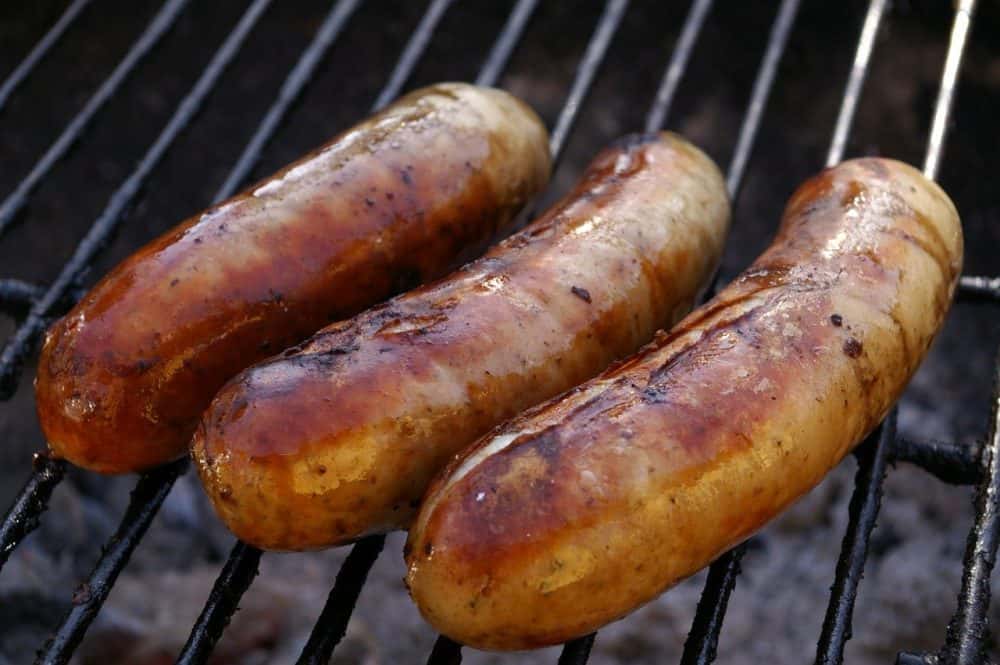 As you can see from the guide above, smoking bratwurst is actually relatively easy.
They are the perfect addition to a summer barbeque if you are looking to get out of the hot dog and hamburger rut.
The key thing to remember is your temperatures:
Your smoker should consistently be at 225℉.
Your bratwurst needs to reach an internal temperature of 165℉ to be safe to consume.
Let them cook for around two hours and until golden brown and there you have the perfect bratwurst!
If you want to cook the perfect bratwurst, but need to purchase some of the equipment and tools mentioned above, we have some great recommendations for you.
Z Grills supply fantastic grills and smokers that are perfect for cooking bratwurst. We have highlighted one of our favorite grill and smoker combinations below.
This grill is perfect for smoking and has a large temperature range.
It allows you to smoke food low and slow as well as do high heat grilling.
Being made of steel it is durable and enhances your food with a smoky flavor. It also includes all of the utensils you need to cook your bratwurst.
This tube smoker is the perfect purchase if you already own a grill and want to take advantage of the long burning times of wood pellets.
It is easy to use and provides up to five hours of smoking, which is more than enough time for you to cook your bratwurst!
Just fill it with your favorite wood chips and let it do its thing!
Other Smoker Recipes
Looking for some inspiration?
Check out some of our other favorite smoked recipes below!
📖 Recipe
Smoked Bratwurst with Beer Braised Onions
We slow smoke our bratwurst for maximum juiciness and then serve them up with some delicious buttery beer braised onions.
Whether you've got a gas grill, a Traeger or Pit Boss pellet grill, or even a Masterbuilt electric smoker, we've got you covered!
Equipment
Smoker

Wood Chips or Chunks, preferably Mesquite or Hickory

Long Handled BBQ Tongs

Instant Read Thermometer

Wide Shallow Saute Pan

Cutting Board

Chopping Knife
Ingredients  
Beer Braised Onions
5

Large Yellow Onions

see next recipe below

1

can

Beer

4

tablespoon

Salted Butter
Instructions 
Braising the Onions
Place the onions in the Saute Pan

Pour beer into saute pan until it is about an inch high in the pan and turn to medium high heat

Stir the onions around until they are mostly covered by the beer. Simmer uncovered until all the ber has evaporated and absorbed into the onions, about 20-30 minutes.

Add butter to onions and reduce heat to medium-low. Cook uncovered, stirring frequently 45-60 minutes until onions have caramelized and are a rich golden brown color.

Remove from heat and serve over the smoked bratwurst. Onions can be gently reheated over medium-low heat in the pan if they cool too much before the brats are ready to serve.
Smoking the Bratwurst
Light your grill or smoker and bring the temperature up to 225° F.

Lightly coat the skin of the brats in olive oil to keep them from drying out and splitting while cooking.

Once the grill or smoker is at 225° F. Add your smoking wood. this can be a wood chunk added to the hot charcoals, or wood chips added to smoker box. Close the lid, limit the oxygen consumption into the smoker and keep the temperature around 225° F.

Once smoke is actively being produced, put your bratwursts on the grill or smoker, AWAY from the heat source so that they are being cooked INDIRECTLY. Close the lid and continue to maintain the temperature.

Once the brats have reached 165° F internally using an instant read thermometer, you can remove them from the grill, likely after about 60 minutes.

If you wish to have a crispier exterior, you can throw the brats on a hot grill for 1-2 minutes per side just before they reach 165° F to finish them without overcooking.

Serve on a bun with the braised onions, or sauerkraut, or any other favorite condiment!
Nutrition