5 of our favorite knives designed specifically for cutting meat, along with a few details to consider when purchasing a meat cutting knife.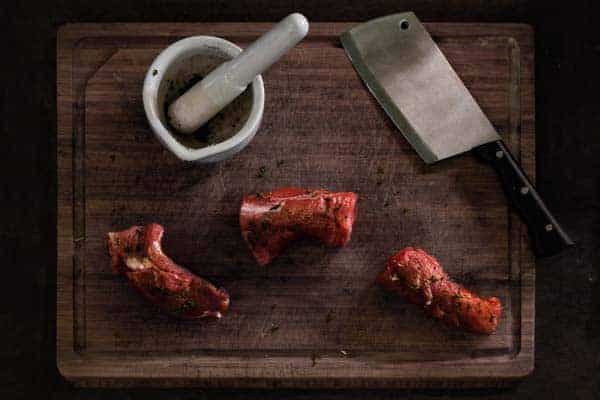 When you are grilling, smoking, or cooking over an open pit, you need the right accessories and tools to get the job done.
You don't have to be a butcher or a professional chef to appreciate a high-quality knife that allows you to glide through the meat you're cutting, bringing a new level of ease and efficiency to your meal prep.
Whether you're looking to impress or just improve your carving technique, having the right tools is a game-changer, and in the food industry that means choosing a knife that is sharp, easy to wield, and cuts through tougher foods like meat with ease.
The right knife saves you time, money, and effort, and reduces the amount of food wasted by letting you make the most of your meat cuts.
With so many different ways of preparing meat, from prime rib to steak, ham to turkey, there are numerous types of knives that allow you to perform different techniques, which we'll cover in more detail in the Buyer's Guide below.
If you already have some experience with knives and simply want to find out which is the best choice for cutting meat, see our Top Pick below.
In a Hurry?
Skip ahead to read about each one individually OR
Check out our Top 5 Meat Cutting Knives here:
Knife
Title
Prime
Buy

Top

Top

Top

Top

Mercer Culinary Millennia Granton Edge Slicer, 14-Inch, Black

Prime

Eligible

Check Price on Amazon

Top

Top

Top

imarku Chef Knife - Pro Kitchen Knife 8 Inch Chef's Paring Knife with Ergonomic Handle

Prime

Eligible

Check Price on Amazon

Top

Top

Meat Cleaver,7 inch Vegetable and Butcher Knife

Prime

Eligible

Check Price on Amazon

Top

Victorinox Swiss Army Cutlery Fibrox Pro Butcher Knife, 10-Inch

Prime

Eligible

Check Price on Amazon
DALSTRONG Cimitar Knife -"The Reaper" - 14" - Extra - Long - Gladiator Series

Prime

Eligible

Check Price on Amazon
Here is a great video introduction to knives from Aaron Oster of Echo & Rig – Las Vegas' premiere Steakhouse and Butcher Shop!
Our Top 5 Best Knives for Cutting Meat 
Mercer Culinary Millennia Granton Edge Slicer, 14-Inch, Black
Ergonomic Handle – a combination of Santoprene for Comfort and polypropylene for durability

Textured finger points provide slip resistance, grip, and safety. Protective finger guard.

The highest quality Japanese steel allows for easy blade maintenance and rapid sharpening for a razor-sharp edge
A trusted brand in the culinary world, Mercer knives have become synonymous with high-quality, and their Millennia knife is no exception.
This 14-inch blunt tip knife is featured as Amazon's Choice, with an impressive 4.8 out of 5 stars and over 18,000 customer reviews. 
You can use this super-sharp, Granton edge knife for a range of purposes, from cutting thin slices of meat to doorstop wedges of bread.
It makes light work of poultry meat such as chicken breast without any bits sticking on its edge, meaning there is nothing to remove from the blade between slicing.
Fat and juices from the meat run into the grooves of the knife, however, which creates more contact between the meat and the blade for smoother slices. 
It has an ergonomic handle made from Santoprene and Polypropylene to provide both comfort and durability and is lightweight in your hand at only 8.7 ounces. It is also slip-resistant due to the textured finger points, and a protective finger guard reduces the potential for accidents.
The durability of this knife is guaranteed, as the one-piece blade is made of superior quality, high carbon Japanese steel that is resistant to rust and corrosion.
Whilst the blade itself is easily sharpened, it is important to follow the care instructions in order to maintain the quality of this knife. 
Pros 
High-quality materials used for blade and handle 

Trusted brand

Granton edge ensures easy slicing

Slip-resistant
Cons 
The handle is not safe for dishwasher use

Price varies depending on color choice
imarku Chef Knife - Pro Kitchen Knife 8 Inch High Carbon German Stainless Steel
High-carbon stainless steel blade-It is manufactured from high-quality stainless steel that maintains its functionality for a long time. And to boost its sturdiness, the steel contains 0.6-0.75 carbon. This makes it two times as hard as other knives in its class as they contain about 0.3% carbon

Multi-functional knife-The gyutou knife is classified and designed to be multipurpose knife for professional applications .It cuts,dices,slices,chops and also cuts meat off bones. It comes with a HRC( Rockwell Hardness Scale) of 56-58 which makes it among the tough knives in its class
The Imarku Chef's Knife is another great multi-functional knife designed to suit a range of purposes. It can chop, slice, cut, and dice several types of food without issue, and as it's a paring knife, it excels at cutting raw meat away from the bone. 
The handle adds to the professional quality of this knife and provides maximum user comfort as it is made from an Africa-originating material called pakka, known especially for its strength and durability.
German engineering enhances the 8-inch blade's effectiveness and it is made from high-carbon stainless steel, as well as an additional 16-18% of chrome which provides it with a shining, glossy finish. 
In addition to its attractive design, the size and weight of this knife make it a user-friendly choice and it feels well-balanced in the hand even after extended periods of use.
The saying "you get what you pay for" doesn't apply here, as you get a top-quality multi-purpose knife at an affordable price.
Pros 
Safe for dishwasher use although hand washing is recommended

Minimal rusting due to its chrome finish

Lifetime warranty
Cons 
Not suitable for cutting frozen food

Blade requires resharpening relatively often
Meat Cleaver,7 inch Vegetable and Butcher Knife
Premier Meat Cleaver➦An ideal Gift for any Home or Professional Kitchen Cook,High-quality Carbon Stainless Steel greatly improves the hardness of the Cooking Knife at 58-60 RHC. The chromium, molybdenum and vanadium metal elements have good special properties for the strength, hardness, anti-rust and sharp about this cleaver.

No-slip Ergonomic Handle ➦Ergonomically designed handle is Full Tang, which can prevent the blade of this chefs cleaver from falling easily, help you get good hold feeling and non-slip effect. The kitchen cleaver butcher knife is a great beauty, impeccable performance this strong design with a good strength, durability.
The blade on this Aroma House meat cleaver has a high-quality cutting performance and can cut through meat without issue. It is recommended that you hone the blade at least every 2-3 months to retain the sharpness of the blade.
The handle is designed to be non-slip and is full tang, which means the blade runs the entire length of the knife to strengthen the point of attachment and increase its durability.
It is also balanced meaning it feels more comfortable in your hand, although it may take time to get used to if you haven't used a cleaving knife before.
If you're looking for a heavy-duty knife that will get through almost anything, a meat cleaver knife is a perfect choice. It allows you to cut, de-bone, and cleave tough meats, as well as being able to cut through bone and fruits with a harder exterior such as coconut.
It is unsuitable for more delicate cutting needs, however, and is a more expensive option than a multi-purpose knife.
Pros 
Ergonomic handle

Full tang handle for extra durability 

Lifetime warranty

Rust-resistant
Cons
Victorinox Swiss Army Cutlery Fibrox Pro Butcher Knife, 10-Inch
BUTCHER WITH EASE. The perfect tool to help you finish even the largest butchering jobs with ease. Crafted with high carbon stainless steel, this knife is conical ground and ice tempered to ensure long-lasting sharpness.

EASY HANDLING. This knife features an ergonomic Fibrox Pro handle for a non-slip grip -- even when wet. This exceptional knife is weighted and balanced for easy handling and comfort.

KNIFE DIMENSIONS. Stainless steel blade -- 10 in length. Meets the strict National Sanitation Foundation (NSF) standards for public health protection.
Victorinox is a brand known for being a good value for money, and this Victorinox knife is a great choice for anyone needing to butcher larger pieces of meat but still wants an all-purpose kitchen knife for a reasonable price.
Made from stainless steel, the straight, hollow-ground edge has been laser-tested and can cut through larger pieces of meat and bone with minimal effort.
Its extra-strong durability is compounded by being ice tempered and conical ground, which ensures the 10-inch blade stays sharper for longer. 
The ergonomic handle is made from fibrox and reduces the chances of the knife slipping.
It is only partial tang, however, and the knife can be tricky to wield when cutting smaller pieces of meat due to its 10-inch blade. 
Pros
NSF certified 

Built-in finger guard

Fibrox handle

Lifetime guarantee against product faults
Cons
Can be difficult to handle at first

Requires regular honing
DALSTRONG Cimitar Knife -"The Reaper" - 14" - Extra Long -
Designed to masterfully achieve nose to tail sectioning and portioning of even the largest cuts of meat, the Gladiator Series 14" Extra-Long Butcher & Breaking knife glides effortlessly through large game meats such as moose, elk, deer and more, as well as smaller cuts of beef, pork, poultry and fish.

The scalpel-like curved blade edge is designed to create leverage to complete cuts in a smooth, single motion without sawing, allowing even the busiest of butcher's to work faster, longer. Expertly slice through flesh, break through-cartilage and sinew and trim fat with ease.
The most expensive, but most fun to use, option on this list is the Dalstrong butchers breaking knife, a must-have in any professional chef's arsenal.
This powerful cimeter knife makes light work of breaking down large pieces of meat and glides through steak with ease. It's also great for trimming beef fat, cutting pork, fish, and poultry. 
The hollowed-out grooves featured on both sides of the blade catch the fat and juices of the meat as it runs which is beneficial when slicing thin portions of meat like ham or poultry, due to it causing less contact between the blade and the meat during cutting. 
It's size and design ensure this is an extra durable knife and it has a full steel tang, although this protrudes slightly above the wooden handle which can cause some discomfort after a while.
The handle is made from pakka wood giving this knife a sleek, professional look, and its 10-inch blade creates leverage to minimize effort when cutting larger pieces of meat. 
Pros 
Long blade for easy leverage

Beautifully designed 

Laminated pakka handle 

Professional quality performance 
Cons 
Expensive 

The steel tang extends beyond the handle
Best Knife for Cutting Meat Buying Guide
Types of Knives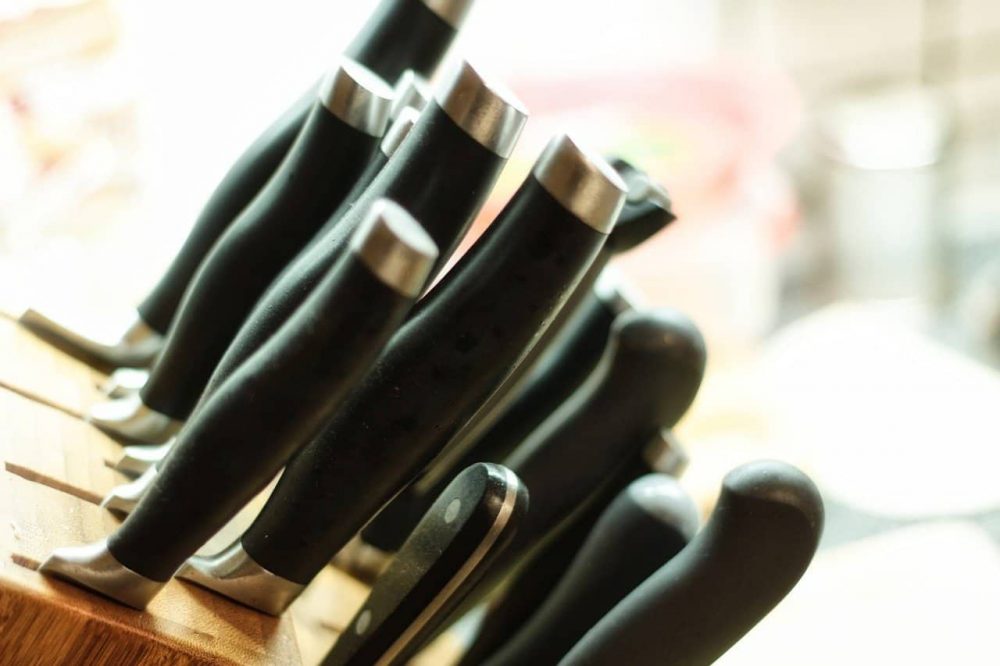 There are some knives that are designed to suit a number of different purposes, but it can also be valuable to have a specialty knife that does one job, really well.
In order to choose the best knife for cutting meat, is important to take into consideration the type of meat you'll be using it for as well as whether you're prepping raw meat or slicing it when cooked. 
Chef's Knife
A chef's knife is a great, all-purpose knife that chops, slices, or minces a variety of food items, and a deba knife can also be used on multiple foods, such as fish, meat, and tough vegetables.
Meat Carving Knife
A meat carving knife is the MVP of any roast dinner, as it can carve or slice through large meats such as ham or poultry without difficulty. Typically a pronged fork will be used to steady the meat while you carve, and the knife will be wider and shorter than knives designed for slicing. 
Butcher Knife
When prepping raw meat, a butcher knife will work best if you're trimming or sectioning larger pieces. A boning knife will separate meat from the bone, and a breaking knife can cut through cartilage, smaller bones, and skin. You can also use a cleaver knife to cut through thicker pieces of meat and also bone.
Scimitar Knife
To cut and trim your steaks, a cimeter or scimitar knife will work best, and a flank and shoulder knife can be used to create flank steaks. The Japanese gyuota knife is also designed for cutting beef.
Other Knives
A paring knife, a slicing knife, and a utility knife are all smaller types of knives and can be used respectively for more delicate jobs like slicing smaller cuts of meat, slicing cooked meats and fish, and slicing cured sausages such as salami.
The blades of a slicing knife are narrower with a longer length, and they tend to be extremely sharp. 
Types of Knife Edges
Straight-edge knives are typically used for slicing, dicing, cutting, and chopping as they provide a smoother cut, which is great for cutting through meat.
Granton edge knives are also used for meat, as they allow you to slice thin portions and help the meat to release during cutting for smoother cuts.
Knives with a hollow ground edge can be used to prepare sushi-grade cuts of meat and are particularly useful for skinning meat or removing sinew. 
Serrated knives are typically less suited to cutting meat, as they tear through food, although this is great for slicing bread or fruit.
However, you can find serrated knives that are wider and more scalloped which don't tear the meat as much and also retains some of the meat's juices.
Knife Handles
If a knife doesn't fit comfortably in your hand, it's going to make cutting meat much harder and can be potentially dangerous, as it increases the risk of the knife slipping.
Handles can be made of different materials that determine the practicality as well as the look of a knife. 
Wood handles are comfortable to use, but although they add an attractive design element to any knife, they can be less durable than other materials and are not as sanitary. 
Stainless steel is more durable but offers a poorer grip on the handle due to the material's smooth surface. It's easy to clean, as are plastic handles, but these tend to crack over time making them less hard-wearing. 
Santoprene is arguably the best type of handle for meat cutting knives, as it offers high slip resistance and are built to last thanks to the strong durability of the material.
Keeping Your Knives Sharp
Even the sharpest knives will become blunt over time and with general use. A dull blade will make it harder to cut through the meat you're working with as it can snag going through, meaning your slices will be more coarse or uneven.
As well as being more difficult to use, a blunt knife can be potentially dangerous for the user, so it's important to know how to keep them sharp. 
The easiest way to keep your knives in pristine condition is to ensure you only use them for their designated purpose. Using a paring knife for butchering, for example, will likely blunt its edges, as well as doing a poorer job of cutting through the meat.
Storing your knives properly will protect the blade when not in use, and washing them by hand (being careful not to lose a finger in the soapy water!) protects them from being damaged by the heat and detergent of a dishwasher. 
Honing Rods
You can purchase a honing rod, also known as sharpening steel, to realign the metal of the blade's edge without shaving off too much metal. To do this, use your dominant hand to hold the knife, which should be at a 20-degree angle to the rod in your other hand.
Prices pulled from the Amazon Product Advertising API on:
Product prices and availability are accurate as of the date/time indicated and are subject to change. Any price and availability information displayed on [relevant Amazon Site(s), as applicable] at the time of purchase will apply to the purchase of this product.
Keep the tip of the rod elevated above the handle, and always remember to keep your fingers away from the blade. The movement should incorporate hand, wrist, and arm action in a fluid motion as you move your knife across the top of the rod from the lower end of the knife to its tip. 
To repeat this movement on the other side of the blade, start again from the bottom of the rod. Once you have done both sides, you have completed what is called a revolution, and it is recommended that you do between six and eight of these before using your newly-sharpened knife.
Whetstones
You can also use a whetstone or sharpening stone to give blunt knives a new lease of life, by grinding the edge of the blade against the rough side first from tip to hilt and repeating a few times on both sides of the knife.
Next, turn the whetstone over to the finer side and repeat the process.
Prices pulled from the Amazon Product Advertising API on:
Product prices and availability are accurate as of the date/time indicated and are subject to change. Any price and availability information displayed on [relevant Amazon Site(s), as applicable] at the time of purchase will apply to the purchase of this product.
Whetstones require some practice to master, and certain types of knives, such as Japanese or Sashimi knives, must be held at different angles to the standard 20-degrees and require different levels of force.
Honing rods are therefore an easier way to sharpen knives and are a better choice for the less experienced chef. 
NSF Certification
The National Sanitation Foundation was established in 1944 as a non-profit organization with the aim to establish and uphold food safety standards for the benefit of public health.
You can have peace of mind knowing that no harmful chemicals were used in products that are NSF accredited, as this certification ensures that only FDA approved materials were used in the manufacture of foodservice products.
They have to meet strict regulatory requirements and NSF testing for issues such as material safety, construction, design, and the performance of the product. This protects your food from contamination, and NSF certified products are designed so they don't promote a build-up of bacteria. 
To know whether or not a product is NSF certified, check to see if it has the NSF logo, or alternatively, you can browse the official list of all NSF certified products on their website. 
Frequently Asked Questions 
Is it better to use a honing rod or a whetstone to sharpen meat-cutting knives?
Both sharpen knives with great effect, so the main difference is in how easy they are to use. A honing rod is easier to sharpen knives with, although there is a lot of guidance on the angle and level of pressure that should be used for specific knives on a whetstone. 
What is a Rockwell scale rating? 
The Rockwell scale rating indicates the durability of a blade. A high rating means the steel edge remains sharp, although this can mean it is more brittle. Lower ratings tend to be found on blades intended for rough use, as it means they are less prone to chipping or damage. 
How should I clean my knives?
It should be stated in the product specification whether or not a knife is suitable for dishwasher use. However, washing your knives by hand is still recommended as the hot water and detergent used in a dishwasher can damage the knife. 
Our Favorite Meat Recipes
Looking for some inspiration?
Check out some of our favorite grill and smoker recipes below where you can easily start using those new quality meat cutting knives!
Trash Can Turkey - OK, technically not made on a grill but one of the most fun ways there is to cook a Turkey...at over 700 degrees in only 2 hours!  You've got to check it out!