Looking to enter a BBQ competition for the first time?
Check out our favorite competition smokers and also a guide on how to build your own!
Scroll through your cable guide any time of day and, more than likely, you will come across yet another BBQ competition show.
Competitive BBQ is bigger than ever, and if you want to take take your outdoor cooking game to the next level and compete, you are going to need a competition smoker.
With so many different types of competition smokers out there – varying in price, size, portability, and functionality – picking the right competition smoker for you will all depend on what you want your smoker to do.
Today we've decided to narrow down on some entry-level, yet competition-ready, smokers that you can take your first local BBQ competition without needing to buy a trailer or take out a mortgage to pay for.
Here are a few top-rated competition smokers to get you started on your search for the perfect smoker for you!
In a Hurry? Check out our Favorite Competition Smokers Here:
Or skip ahead to read about each one individually.
Competition Smokers
Pit Boss 71220 Kamado BBQ Ceramic Grill Cooker, 22"
Featuring a heavy ceramic body the kamado is the ideal environment for efficiently burning charcoal

The cast iron top tamper gives you full control over air flow allowing you to set the perfect cooking temperature

The solid bamboo side shelves are sturdy and fold down for easy storage

Dual tier cooking grates provide even more space to make the most of the encapsulated heat
The Pit Boss competition smoker is a top choice for grill lovers everywhere.
Not only does this competition smoker give you abundant space for your meat, but you can also cook, bake and grill with the Pit Boss.
With thick ceramic walls, this all-in-one competition smoker will lock the moisture into your food, enhancing the flavor for a perfect bite every time.
ou will have complete control of the airflow with the cast iron top tamper, allowing you to set the cooking temp with precision. And with two side shelves made of solid bamboo, you have your prep area right where you need it.
Dyna-Glo DGO1890BDC-D Wide Body Vertical Offset Charcoal Smoker
Six height-adjustable cooking grates accommodate various sizes of food, giving 1890 square inches of total cooking space with 25-pounds capacity per grate.

Porcelain-enameled steel charcoal chamber is designed to keep briquettes stacked tightly for improved burn efficiency.

Charcoal and ash management system with charcoal chamber, grate and sliding, removable steel ash pan. Designed to handle large amounts of ash for hours of maintenance-free cooking

Vertical design lends itself to naturally rising heat, achieving greater efficiency and improved smoke flavor. Offset design keeps direct heat away from the food, allowing for slow cooking.

Smoke stack features an adjustable flue for additional flavor and temperature control.

Built-in, stainless steel thermometer. 'Smoke Zone' indicates ideal temperature for infusing smoke flavor and an easy-to-read gauge helps you achieve perfectly smoked foods.

Dimensions: 21 × 43.3 × 50.2
A vertical competition smoker is perfect for absorbing every bit of smoky flavor, and the Dyna-Glo Offset smoker does not disappoint, using wood chips and charcoal for endless flavor.
With six adjustable grates and 1176 square inches of total cooking area, this competition smoker can smoke foods of all sizes.
The offset function keeps the food away from direct heat, giving you tender, evenly cooked meat every time.
The charcoal chamber is porcelain-enameled and keeps the briquettes stacked tight, improving their burning efficiency.
Smoke Hollow 26142E 26-Inch Electric Smoker with Adjustable Temperature Control
Includes 1500-watt heating element with fully adjustable temperature control

Two (2) chrome-plated cooking grids are included and can be Adjusted to variable heights

Full range heat indicator

Side handles and cool-touch spring wire door handle with latch system

Porcelain coated water pan

Porcelain coated chip tray

1.3 cu.Ft. Cooking capacity

36.5 x 19 x 1
This competition smoker offers affordable simplicity, especially as a backup or secondary smoker to add to your competition arsenal.
The Smoker Hollow electric smoker will give you consistent and even smoking every time with its integrated thermostat temperature control inside the fully insulated body.
Using the digital control will allow you to get the exact temperature and even heat distribution and smoking, with an 800 watt heating element.
Other Competition Smoker Options
Here are a few of our other favorite and highest performing competition smokers currently available:
Weber 22-inch Smokey Mountain Cooker, Charcoal Smoker
Your purchase includes: One Weber 22-inch Smokey Mountain Cooker, Charcoal Smoker + Cover

Item overall dimensions: 23 W x 24 D x 48.5 H. Item weight: 68 lbs

Cooking Grid Dimensions 21 ½ X 21 ½. Main Grilling Area 363 Sq. Inches. Total Grilling Area 726 Sq. Inches

Easy assembly required, instructions avaialable in User Guide attachment.
Oklahoma Joe's Longhorn Reverse Flow Smoker
1,060 total Square inch cooking surface- 751 Square inches in the main chamber, 309 Square inches in the firebox chamber

Reverse-flow smoker employs a Series of 4 baffles to guide heat and smoke through the main chamber delivering an even and delicious result

Removable baffles and optional smokestack locations for a customizable setup. Number of Grates: 4

Firebox chamber features large stainless Steel fuel basket and clean-out door for easy ash removal

Heavy-gauge all-steel construction, porcelain-coated cooking grates and multiple dampers for easy heat and smoke cont
Dyna-Glo Signature Series DGSS1382VCS-D Heavy-Duty Vertical Offset Charcoal Smoker & Grill
Features five chrome-plated cooking grates and a total cooking space of 1382 square inches

Heavy-Gauge Steel Body Construction. The temperature gauge features a smoke zone which indicates the ideal temperatures for infusing the perfect amount for smoking flavor. Also, the cool to touch handles, allow you to access fuel and food safely.

Cool-touch spring lid grip provides safer access to food

Stainless temperature gauge with Smoke Zone indicates the ideal temperature for infusing smoke flavor

Oversized steel wheels for mobility before and after
Build Your Own Smoker
You can buy your competition smoker, or you can take on the task of building your own.
Check out our own recent STEP-by-STEP tutorial on How to Build your own Oil Tank Smoker HERE.
There are all different kinds of DIY competition smokers, but one of the most common one is the Drum Smoker.
The Drum Smoker is made from a 55-gallon steel drum and is easy to make and use.
Do not be fooled by their DIY status; they work incredibly well.
You can now find DIY Drum Smoker kits that come with all the pieces you need, minus the drum.
The concept of building a drum smoker is straightforward; take a 55-gallon drum and drill holes into it and place a charcoal basket inside with a grilling grate.
Using plumbing valves as air inlets as the finishing touch, you have yourself your very own competition smoker.
Ensure you have all the proper tools before starting; power drill, hardware (nuts, bolts, etc.), and a propane weed torch.
The Drum
An easier option if you don't already have a clean oil drum or barrel already is just to buy ther COMPLETE kit like this one:
18-½ in. Classic Pit Barrel Cooker Package
Includes 8 stainless steel hooks to hook-n-hang your meal and a standard grate for grilling and searing

Included coal basket is sized for the ideal amount of charcoal for the perfect cook

Unique design makes the PBC simple to operate, producing consistently impressive results with minimal hassle compared to other cooker options

Minimal assembly required to get cooking

Package includes everything you will need to get started: 2 Hanging Rods, 8 Stainless Steel Hooks, Standard Grill Grate, Charcoal Basket, and Hook Remover Tool (Seasonings Not Includ
If you want to buy the the pieces individually though, purchasing a new and non-lined drum is your best option.
This ensures no previous materials have been left on the drum and able to seep into your food while smoking.
These drums can be found at hardware stores and online.
If you choose to get a used drum for your competition smoker, be sure you know what kind of material it held before; never use drums that have held toxic materials.
Organic oils are the best-used drums to find because they will not have an interior liner – you will be unable to remove it by hand.
Clean your drum using dawn dish soap to cut through any oil and grease. And then, scrub it again.
Check out our COMPLETE Tutorial on How to Properly Clean an Electric Smoker HERE.
If your drum does not come with a lid and is sealed on both ends, cut one end off 3 inches from the "lid."
Curve the edges of the open end of the drum in by hammering them in with a hammer or rubber mallet, so the lid fits nicely over the rest of the drum.
Burn That Barrel
To ensure the proper removal of any excess paint or oil that your scrub did not remove on the outside, use a weed torch to burn off anything left over.
Season and Smoke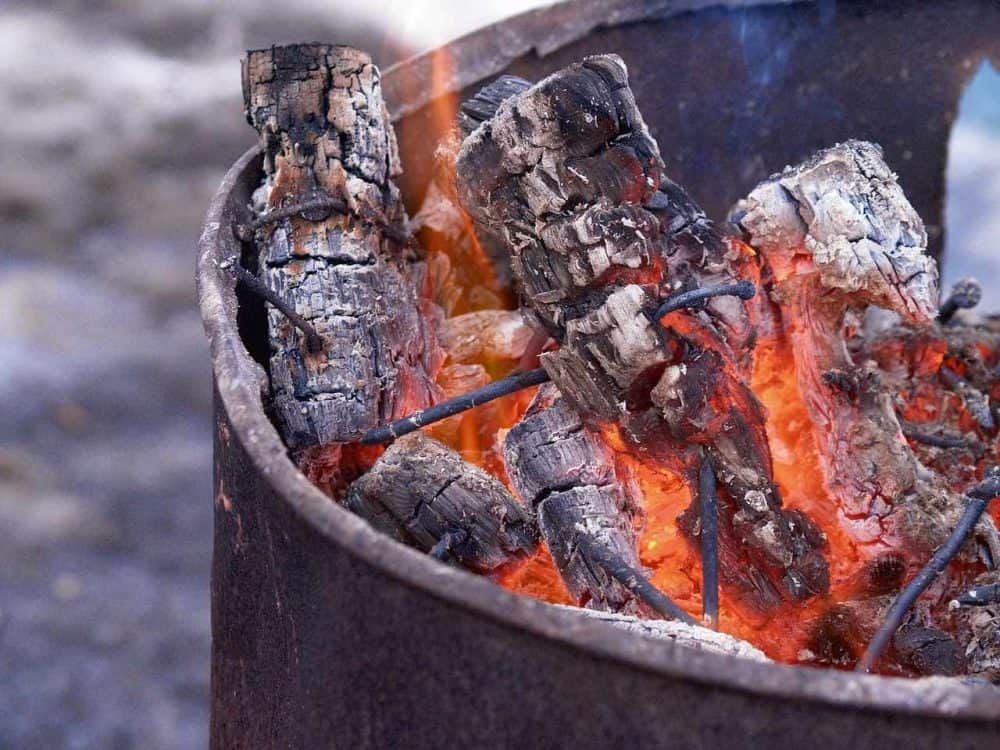 As with ANY new smoker, you need to season it well before cooking food in it.
Before drilling into your drum, take a decent amount of lard and coat the inside of the drum.
Then, empty a 5lb bag of charcoal – lit – into the drum. This will season and coat the inside of the drum and protect the metal from corroding over time.
Paint the outside of your drum with heat resistant paint for a more polished finish for your competition smoker, add handles on both sides, and the lid for easy access.
Air Intake
Drill a 3-inch hole near the bottom of the drum and attach a 3-inch metal cap with a nut and bolt – a lock-tightened nut is needed here. Install three of these around the bottom of your drum, evenly spaced apart.
Installing the Grate
Bolt 4 3-inch L-shape brackets spaced evenly to the inside of your drum and level them out using ¼-inch bolts; this will support a 21" grill grate perfectly.
Fire and Water
In order to season your new smoker you are going to need a big load of lit charcoal.  And using a charcoal chimney starter is the easiest way to get a big batch lit.
Don't own a charcoal chimney starter?
Check out these 3 EASY Options to quickly make your own DIY Charcoal Chimney Starter at home out of things you probably already own.
Fill a cast-iron pan with water, and place on top of your starter adds moisture while an old baking sheet or pan can be used to catch your ashes.
You can put your wood and charcoal in a chimney charcoal starter, or you can look into finding or building a charcoal basket.
Looking for More Grills, Smokers, and Accessories to