Learn how to make smoked oysters on any grill or smoker following our step by step instructions and recipe below.
Whether you've got a gas grill, a Traeger or Pit Boss pellet grill, or even a Masterbuilt electric smoker, we've got you covered!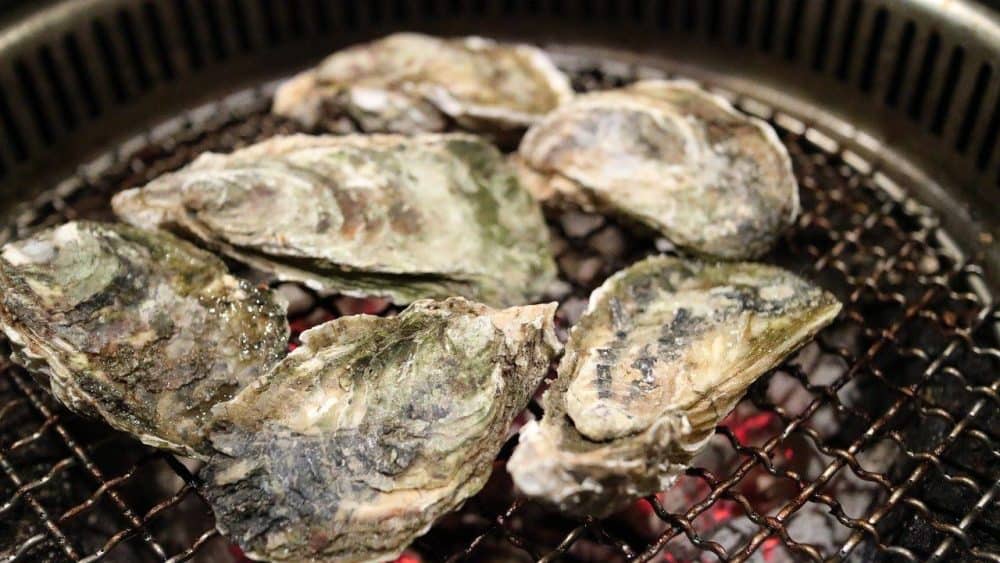 Most people know the traditional oyster preparations.
Maybe you've enjoyed oysters raw on the half shell or baked oysters Rockefeller.
While these are both tasty options in their own right, what about cooking oysters on a smoker?
Smoked Oysters are delicious and can be prepared in any number of ways to be eaten by themselves or added to another dish such as a pasta or dip.
We're not talking about those funky smoked oysters in a can here.
We are talking about buying some fresh oysters, firing up the grill or the smoker, and getting busy making a new delicious appetizer or entrée for you and your family to enjoy.
Let's get started!
Buying your Oysters to Smoke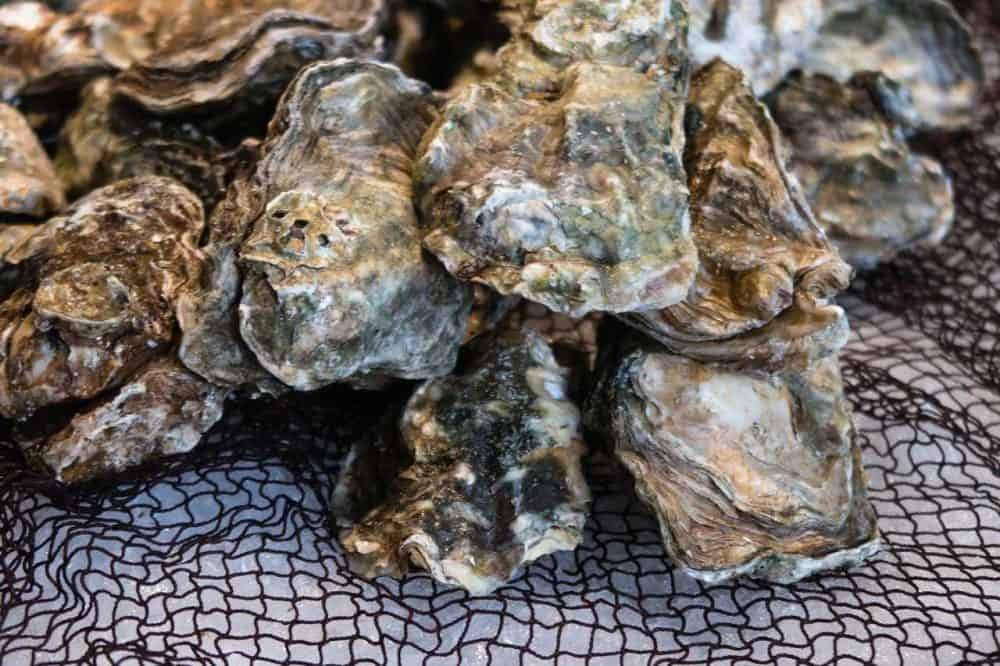 First, you'll need to purchase and prepare your oysters for smoking.
We always recommend visiting a LOCAL seafood market in your area that specializes in selling fresh, quality seafood.
Yes, the prices will be a little higher than down at the big chain supermarket, but when making gourmet seafood such as oysters at home, you really want to focus on quality.
You can always feed the family some Chef Boyardee later in the week to make up for it, so don't skimp on price for now!
Figure out your crowd size or how many you need for the recipe you adding them to...and then purchase a few more than you think you may need.
This is in case you want to enjoy a couple raw while you're cooking, or in case people eat more than you anticipate!
You'll also want to put a couple to the side after you finish smoking them for...you know...taste testing and quality control. 😉
Preparing your Oysters to Smoke
You'll want to wash, shuck open, and season your oysters right before you put them on the grill or smoker.
Here is a great video on how to shuck oysters at home from America's Test Kitchen:
As you can see, you'll want to use a good quality oyster shucking knife to make your life easier.
Give it a try and take your time, with a little patience and practice you will have all your oysters opened up and ready to be seasoned.
If you really can't get them open, some people recommend to throw them in a post of salty boiling water for about 2-3 minutes or until they start to open up.
Take them out with a strainer, let them cool and drain slightly, then use your oyster shucker to open them up the rest of the way.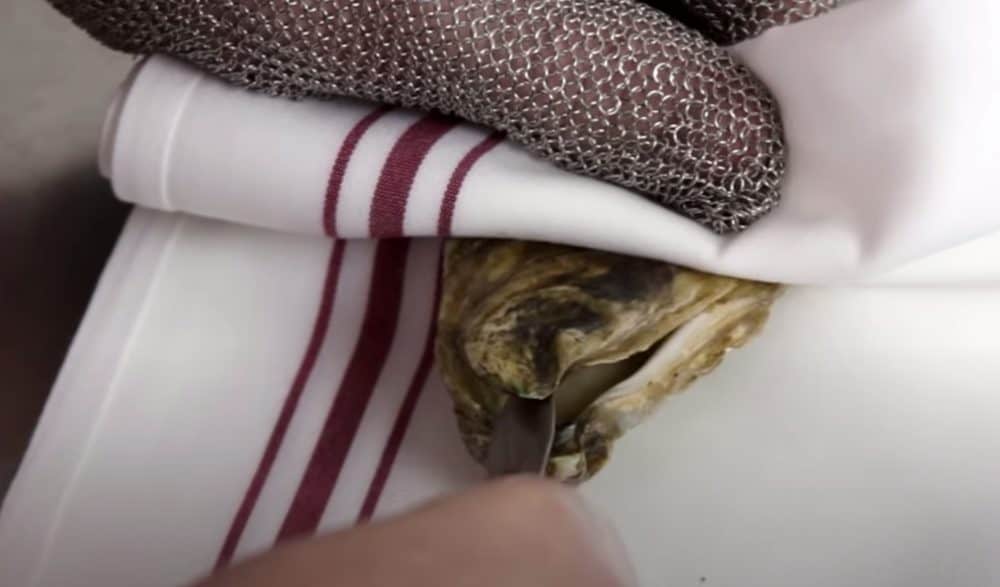 Seasoning will be up to your personal preference but we recommend keeping it simple with salt, pepper, and maybe a little garlic or a small amount of your favorite seafood seasoning mix.
We are actually big fans of a little Chef Paul Prudhomme's Seafood Magic sprinkled on our smoked oysters.
.
Choosing your Oyster Smoker
If you own a smoker, preferably a gas or charcoal one, go with that.
Electric smokers will work fine too, and pellet grills like Traegers and Camp Chefs are fantastic options for smoking oysters and other kinds of shellfish low and slow..
If all you have is a propane GRILL, then you'll want to use a smoker box or pellet tube smoker.
We recently went into detail how to setup your propane grill for smoking in this article if you are interested in learning more.
Check out our "how-to" article here for tips on setting up and using a smoker box on a gas or charcoal grill.
You can also use a Pellet Tube Smoker for a longer smoking time if needed. Check out this article for a FULL list of our favorite pellet tube smokers.
The Best Type of Smoking Wood for Smoked Oysters
This is a personal preference, but we prefer the milder flavors imparted by fruitwoods such as apple, cherry, and peach wood when smoking oysters.
If you don't have much experience using a variety of smoking woods, stick with one of those.
Other mild options that aren't fruitwoods include Alder, Beech, Oak, and Cedar, which are all common woods used for smoking seafood.
Strong woods such as hickory and mesquite will likely overpower the delicate flavors of the oyster and end up being all you taste.
Save those for your next brisket or pork shoulder.
Remember too, it doesn't take much to impart a lot of smoke flavor into shellfish, seafood, and poultry, so go easy on the amount of wood you use.
How to Smoke Oysters in a Smoker or Pellet Grill
Let's look at how to set up your smoker to cook your oysters, whether you own a charcoal, propane, or electric smoker.
How to Make Smoked Oysters in a Charcoal Smoker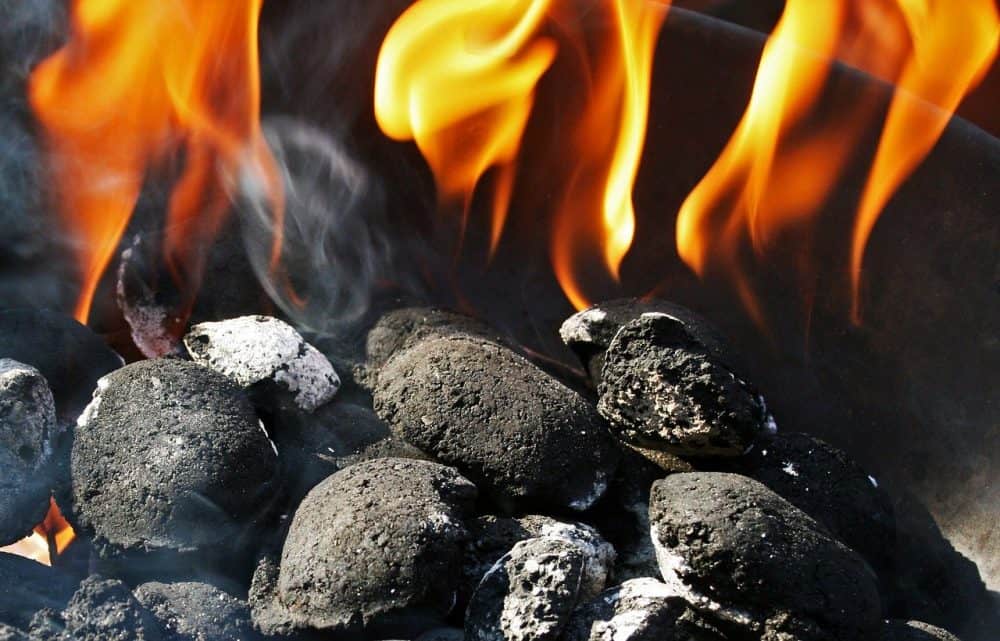 Light a charcoal chimney full of coals and then add them to the bottom of your smoker.
This will not be a long smoke so you won't need nearly as many coals as you would expect for ribs or a pork shoulder.
Clean and grease your cooking grates and fill you water pan if you have one.
Let the temperature rise to about 200 degrees and then add your chosen wood. We recommend using wood chunks rather than chips on your charcoal smoker.
Dampen the bottom vents and let the wood begin to smoke and the temperature rise to about 225 degrees.
Place your oysters on the half shell carefully on the cooking grates being mindful not to let any meat slide off the shells.
Replace the lid and use the bottom dampers to keep the temperature in the 200-250 degree F range.
How to Make Smoked Oysters in a Propane Smoker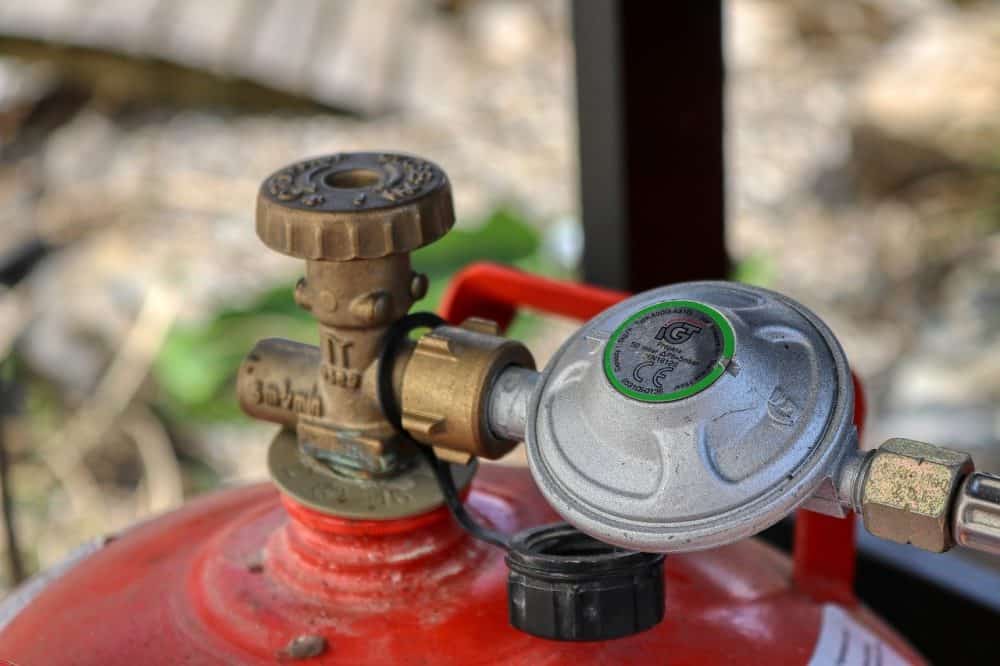 Open up the valve on your propane tank and the intake valve on your propane smoker.
Light the burner and bring the temperature up to about 200 deg.
Fill you water bath and your smoking tray with your wood of choice for smoking.
Once the temperature is about 225 deg F and your wood is cleanly smoking put your oysters, on the half shell, onto the cleaned and greased trays of the smoker.
Be careful not to let the slippery oyster meat come out of the shells.
Adjust your propane flow to keep the temperature in the 200-250 deg F range while the oysters cook.
How to Make Smoked Oysters in an Electric Smoker
Turn on your electric smoker and set the temperature to 225 deg F.
Add the wood of your choice to the smoking tray and fill the water bath if it has one.
Once the smoker is up to temperature and actively smoking, pace your oysters, on the half shell on the cleaned and greased cooking trays, being careful not to let any oyster meat slide off the shells.
Close the door to the smoker and keep it at 225 degrees F.
How to Make Smoked Oysters on a Pellet Grill
Check out this Z Grills Pellet Grill on Amazon
Pellet grills like the ones from Traeger and Camp Chef are great for smoking tilapia.
Fill the pellet hopper with your choice of smoking wood pellets.
Plug in the pellet grill, turn it on and let it run through its start up process.
Then turn the temperature to 225°F.
When the pellet grill has come up to temperature, place your oysters, in the half shell, directly on the grill grates or in a grill basket with the pellet grill set up for indirect heat.
Never used a pellet grill like a Traeger or a Camp Chef before? 
Read our ultimate guide to pellet grills to learn why they are so easy to use and how to set one up for success every time.
Here is also a list of our Favorite Pellet Grills for 2021 priced under $500!
How to Smoke Oysters on a Gas Grill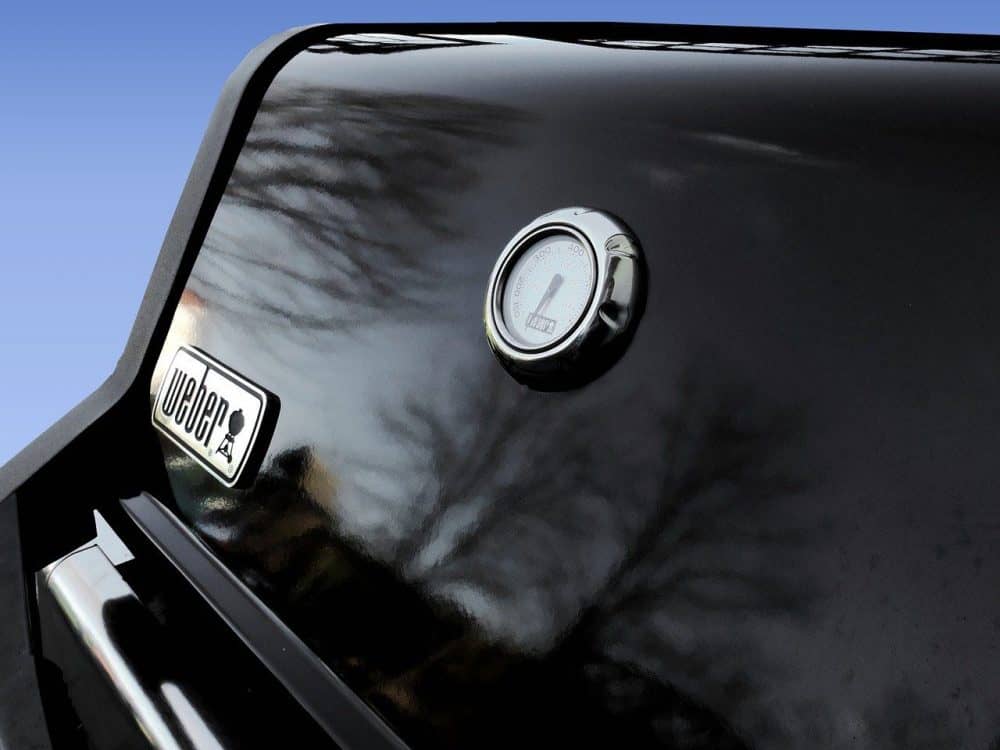 If you are smoking your oysters on a grill, you'll want to first get out your smoker box and fill it about ¾ full with your chosen wood chips. No need to soak in water.
Fire up the burners or get the charcoal lit and set it up for indirect cooking. You will only need a small amount of charcoal or burners lit since we are going to be cooking low and slow.
Clean and grease your cooking grates well.
Get the temperature to about 200-250 degrees and then place your smoker box.
Once the box begins smoking you can place your oysters on the grill, again, not directly about the heat source but indirectly off to the side.
We are setting the oysters up to be cooked indirectly like an oven filled with smoke, not like a hamburger sizzling over hot coals.
Place them down on the half shell, shell side down obviously, and be cautious not to let the delicate oyster meat slip out of the shell if you cut the muscle attachment when you shucked them.
Cooking Time for Smoked Oysters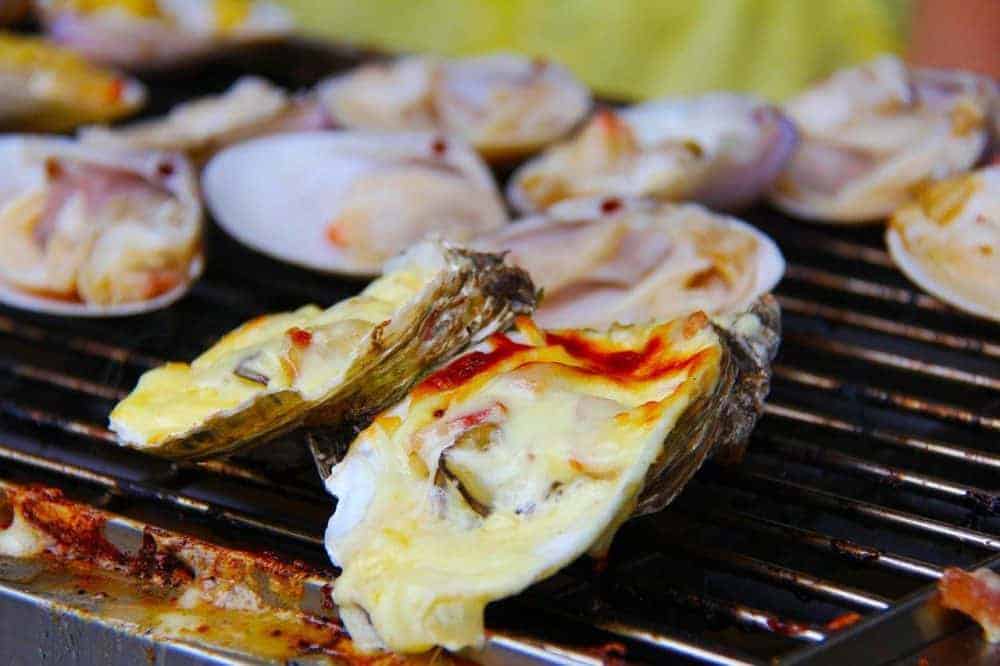 Regardless of your method for cooking, the oysters should take about 30-40 minutes to cook if you are keeping your smoker or grill temperature around 225 degrees F.
Make sure to check them for doneness and smoke them for 10 additional minutes if they don't appear firm.
If you prefer to check doneness with an instant read thermometer, the oysters should reach an internal temperature of 140 deg F according to the ISSC.
Carefully remove the hot oysters from the grill to a serving platter.
Feel free to add a fun white wine sauce with some butter, garlic and lemon, but make sure to serve them quickly while they are still fresh and hot!
You can also incorporate the smoked oysters into another recipe such as smoked oyster dip or smoked oyster pasta.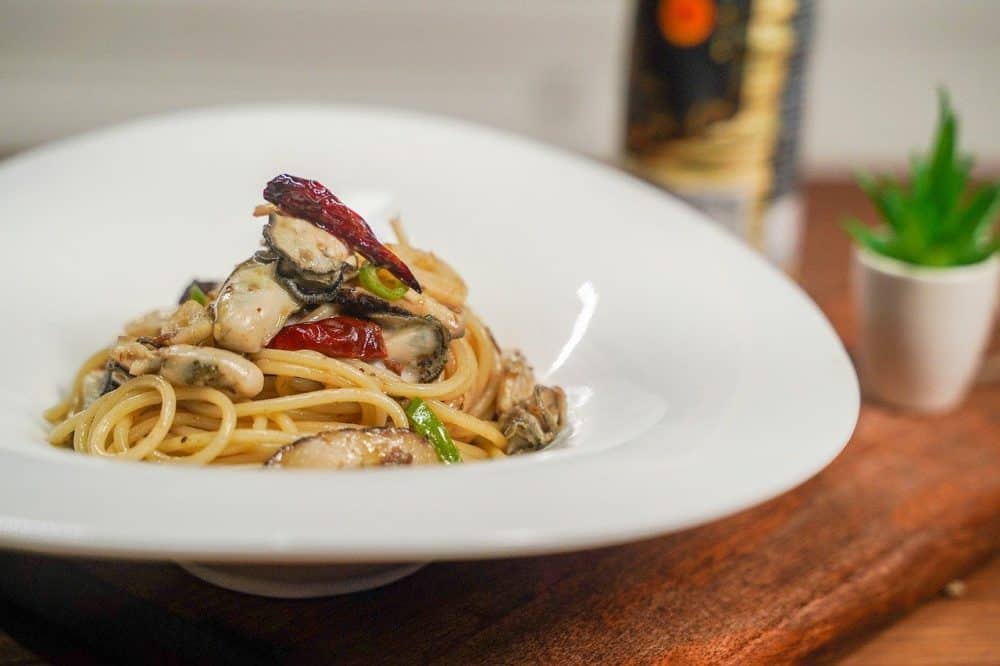 Smoked Oyster Pasta with Anchovies
What Other Food Can I Smoke on a Grill or Smoker?
Looking for some more smoky inspiration?
So glad you asked.
Check out some of our other great recipes of smoked and grilled food to try out at your next outdoor BBQ!
More Smoked Seafood
Smoked Beef
Smoked Lamb
Smoked Pork, Turkey, and Chicken
Other Odds and Ends
Trash Can Turkey - OK, technically not made on a grill or smoker but one of the most fun ways there is to cook a Turkey...at over 700 degrees in only 2 hours! 
You've got to check it out!
📖 Recipe