We look at several easy ways to smoke gouda at home either indoors or outdoors.
Then we show you how to serve this delicious smoked cheese in a variety of creative ways!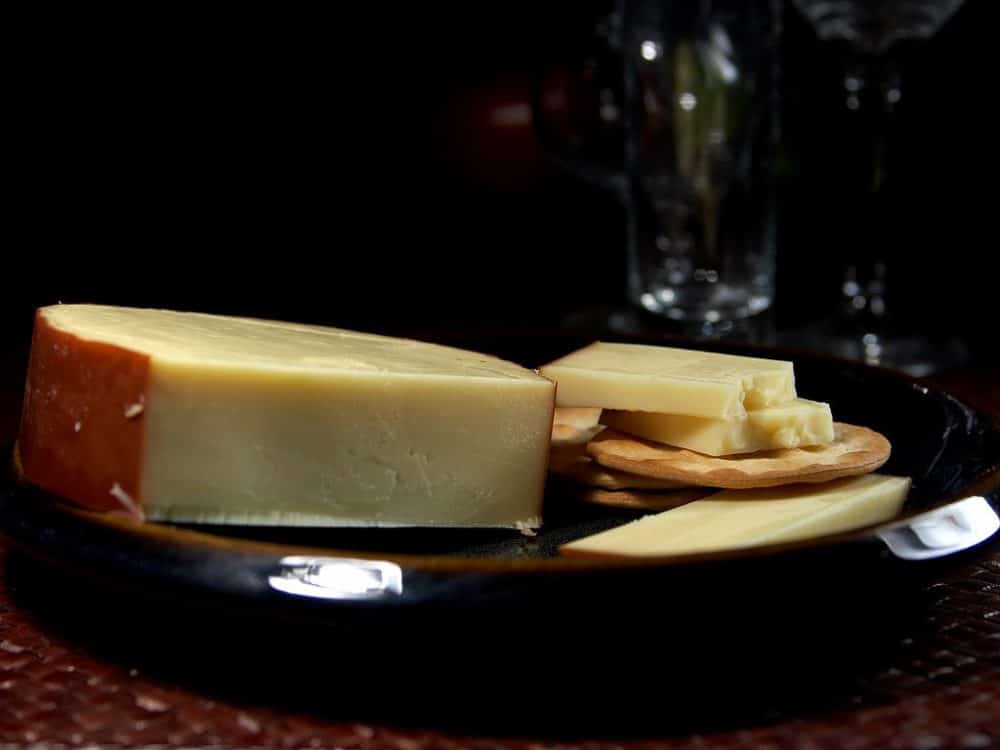 I love cheese.
Unfortunately, my wallet has never been as happy as I am when I find a really good fancy one.
This is why I was overjoyed to discover just how criminally easy it is to make gourmet smoked gouda at home.
The best part is that you can start with the cheapest grocery store cheese and wind up with something that you'd swear came from a high end cheese shop.
Just follow my foolproof directions below.
What is Smoked Gouda?
First off, what is this stuff?
Smoked gouda, as weird as it sounds, is gouda cheese that has been smoked the same way you'd smoke meat or fish.
While most people naturally associate smoke with fire and heat, smoked cheeses like gouda are actually made through a process called cold smoking.
Cold smoking ensures that you get plenty of flavorful smoke over the product without losing your cheese through the grate of your grill.
Smoked gouda can be made using a few items that you probably already have and a few you can order online and have before the weekend.
You can make it on a gas or charcoal grill outside, or inside using an electric smoker.
Here's a great video by Cowboy Kent Rollins to get you started going over the basics of smoking cheese:
How to Make Smoked Gouda Indoors
Ok, so while we usually focus on outdoor cooking recipes around here, I understand not everyone has a backyard where they can easily fire up a grill.
But pretty much every reader has a kitchen where they can do a little indoor magic.
Indoor smoking tools allow you to also smoke your cheese without having to leave comfort of your air conditioning in the summer, or brave the snow out to your grill in the winter.
There are a couple of great tools available that make it really easy:
Use a Smoking Gun
A smoking gun is an awesome little gadget designed for cold smoking smaller sized foods indoors with very little cleanup involved.
Start by putting your cheese in a food storage bag or a lidded container.
Then, add wood chips to the smoking chamber of your gun, insert the nozzle into the container and power it up.
Smoking this way should take between 30 and 60 seconds, but check the instructions of your specific gun and adjust accordingly.
This method is perfect for small quantities.
Tabletop Indoor Smoker
Electric smokers designed to use indoors, like this tabletop version from Presto, allow you to smoke food indoors without setting off all the fire alarms.
Pretty cool.
Simply put your wood chips in the included smoking cup, then place the cheese inside the smoker and set it to the cold smoking setting.
Make sure your cheese is placed away from the heating element to prevent melting. Smoke your cheese for about thirty minutes to an hour.
How to Smoke Gouda Outdoors
The other option is to take the entire operation outdoors and use your patio equipment to add smoke flavor to your favorite gouda.
I like to smoke cheese outdoors because it allows me to do a larger quantity at once.
You can also smoke multiple kinds of cheese at once to later sample and discover your favorite kind, or save for various recipes.
This usually works best on a cold morning or evening to help keep the temperature of your smoker low.
Do not attempt this on a sunny summer afternoon.
How to Smoke Gouda in an Electric Smoker
Electric smokers usually have included shelves so that you can smoke several items at once.
The automatic thermostat means that you can carefully select the temperature.
Even with the temperature dialed in as low as possible, I'm still always careful to keep cheeses, particularly soft cheeses like gouda, high and away from the heating element.
Run the smoker on the lowest possible temperature to create smoke and monitor the cheese closely while it is smoking.
Adding ice to the water bowl can also help keep temperatures in the safe zone.
You do not want your cheese getting over about 90 degrees.  This is best to do in the shade on a cold day, so that the sun and outside temperatures do no affect your smoking temperature.
Cold Smoking Gouda on a Charcoal Grill or Smoker
Smoking on a charcoal grill or charcoal smoker is a little more complex, but still a lot of fun.
Often, it is easier to use a smoke tube or smoker box to fill the inside of your grill with smoke, or you can place a wood chunk right on the charcoal. We go over in depth how to use smoker boxes here, and pellet tubes here and here if you want to learn more.
We don't recommend ever placing wood chips directly on hot coals. And soaking them in water won't help either, contrary to popular advice.
They will usually ignite and create an acrid flavor rather than smolder and smoke like they will in a smoker box.
If you have used a smoker box before, check out our how-to guide here on smoker boxes, and here on how to smoke on a gas grill the right way.
To ensure that your cheese gets smoked without getting too hot, fill your smoker water pan, or an aluminum cake pan if working on a grill, with ice, then place a small cooking grate over the top.
Add about 6-12 lit briquets pushed up against the side of the bottom of the grill, and let them burn down to embers.
Place your wood chip filled smoker box or wood chunk on top of the burning coals.
Then, put your grill grate in on the highest level above the embers and put your ice and grate assembly on the opposite side of the embers with the cheese sitting above the ice.
The idea is to burn only enough coals to create smoke, while keeping the inside temperature low enough around the cheese so that it doesn't melt.
Adjust your dampers to keep the wood smoking for one to three hours, depending on the intensity of the smoke flavor you want.
Monitor your cheese and add more ice to the water pan or cake pan as needed throughout the smoke.
Cold Smoking Gouda on a Gas Grill or Propane Smoker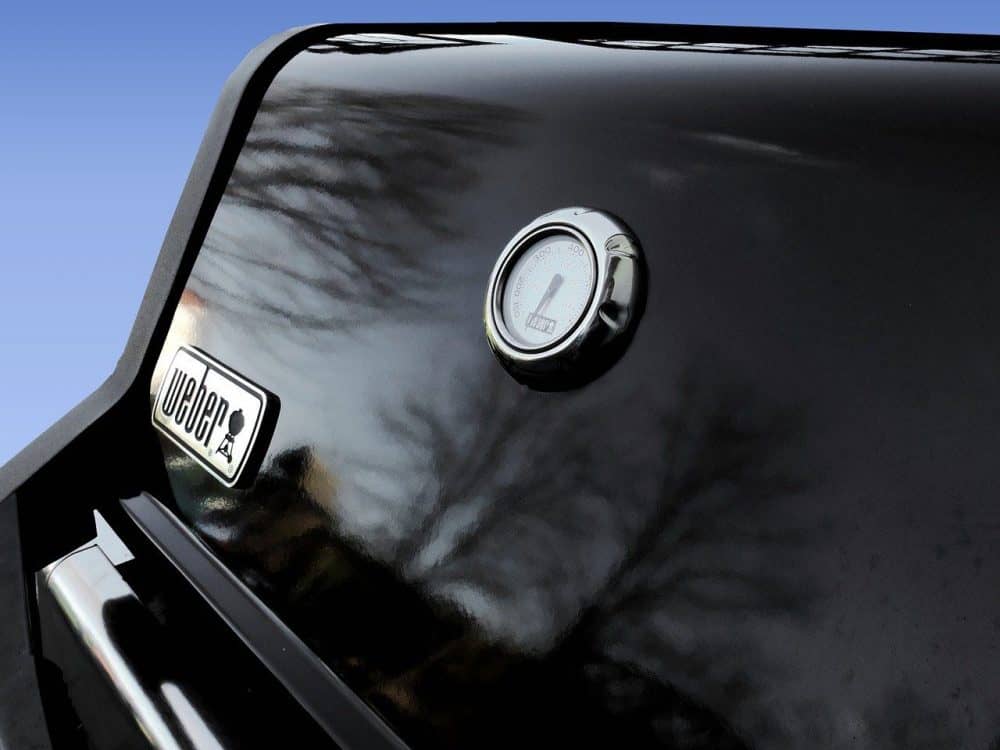 Gas Grills and Propane Smokers usually get too hot to use as a heat source for cold smoking, but they still can make great containers.
Put an electric hot plate inside your gas grill on the cooking grates over to one side, or at the bottom of your propane smoker chamber.
Then, fill up a smoker box or create your own by filling an aluminum pie pan with wood chips.
Seal the tin with foil, then poke about half a dozen holes in it.
Place your smoker box directly on top of the electric hot plate and turn it up just high enough to start creating some smoke, but no higher.
Place the top grate back in, then put your cheese in the grill or smoker as far away from the hot plate as possible.
You can also use the aluminum cake pan filled with ice method described above to further insulate your cheese from the heat.
Smoke for one to three hours.
Finishing Your Smoked Gouda Cheese
Whether you start with indoor smoking or outdoor, the next step is the hardest one:
Wait.
You should now store your smoked gouda for anywhere from a few days (adequate) to a couple of weeks (so much better).
While you can technically eat your cheese immediately, I guarantee you are not going to like it.
Eat your cheese too soon and you'll have acrid smoke flavor on the surface, and zero smoke flavor below.
First, wrap your smoked cheese in parchment paper so it can breathe. Leave it in the fridge for a couple of days.
Then, transfer your cheese to vacuum sealed bags or a well-sealed Ziploc bag.
As hard as it is to refrain from trying a sample, store it for a couple of weeks.
The reason to store it is that you want to give the smoke time to really permeate and "even out" in flavor through the cheese.
Uses for Smoked Gouda
Smoked gouda is great on its own on a cheese plate, on a cold sandwich like ham and cheese, or as the main component of the best grilled cheese you've ever eaten.
If you want to try it in recipes, substitute it for regular cheese in any one of these:
Smoked gouda mac and cheese
Smoked gouda grits
Smoked gouda queso
Smoked gouda mashed potatoes
Smoked gouda dip
What meats pair with smoked gouda?
A milder smoked gouda goes great with stronger flavored meats like sausage.
You can use a smokier gouda with meats like chicken or turkey, since the flavors won't compete with each other.
What wine pairs with smoked gouda?
Lighter, fruitier reds like Pinot Noir complement the rich flavor of smoked gouda well.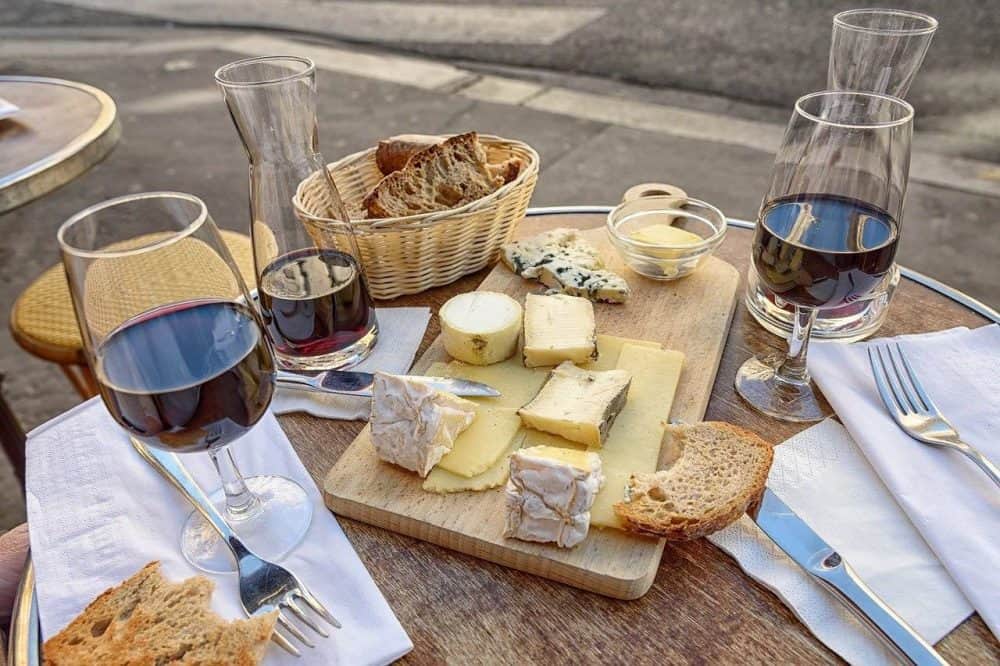 Can You Use Aged Gouda?
When you are selecting the best cheese to smoke, you are able to get away with purchasing much less expensive cheese than you would think.
You can create some incredibly rich and complex flavors using very basic, inexpensive cheeses.
If you do want to try smoking an aged gouda, keep the smoking time on the short side so that the flavor isn't too overpowering.
How Long does Smoked Gouda Last?
Unfortunately, smoking your cheese is not going to prolong its shelf life.
Smoked cheeses last as long as fresh ones.
For a young gouda, that's usually two to three weeks in the fridge.
However, you can get a couple of months out of a properly wrapped and stored aged gouda.
What Other Food Can I Smoke?
Looking for some more smoky inspiration?
Check out some of our other great recipes of smoked and grilled food to try out at your next outdoor BBQ!
Trash Can Turkey – OK, technically not made on a smoker but one of the most fun ways there is to cook a Turkey…at over 700 degrees in only 2 hours!  You've got to check it out!
Smoked Gouda Cheese Indoors or Outdoors
Several easy ways to smoke gouda cheese at home either indoors or outdoors.
Equipment
Smoker

Smoking Gun

Smoking Box
Ingredients
2

lbs

Gouda Cheese

1

Bag

Wood Chips
Instructions
Using a Smoking Gun Indoors
Put cheese in a food storage bag or container

Add wood chips to the chamber of your smoking gun and then turn it on.

Use the gun to fill the container with smoke and then close or put on the lid.

Place the cheese in the refrigerator and let it absorb the smoke flavor.

Do not serve for 1-2 weeks or else the exterior will taste acrid and overly smoky. Give the flavor time to permeate and mellow out in the cheese.
Using a Smoker Outdoors
This is best done on a cool or cold day.

Fill your wood tray or smoker box with your chosen smoking wood chips. Or if using charcoal, find one good wood chunk.

Fire up your smoker and set it to smoke at its lowest possible temperature. For electric, choose a low temperature on the dial. For charcoal and gas, use only a couple coals or one burner on very low respectively.

Place the cheese on top pf an aluminum tray filled with water and covered in aluminum foil to help keep the temperature of the cheese down.

Keep the cheese and foil pan as far away from the heat source as possible.

Smoke your cheese for 20-45 minutes. Remove from smoker and place in a airtight container in the refrigerator.

Do not serve for 1-2 weeks as the smoky flavor needs time to mellow.