Learn why a pellet tube smoker is a great BBQ gift and see our Top 5 Picks for the best pellet tube smokers on the market!
Pellet Tube smokers let you smoke on ANY grill, even gas grills and great for cold smoking things like cheese and chocolate without melting them.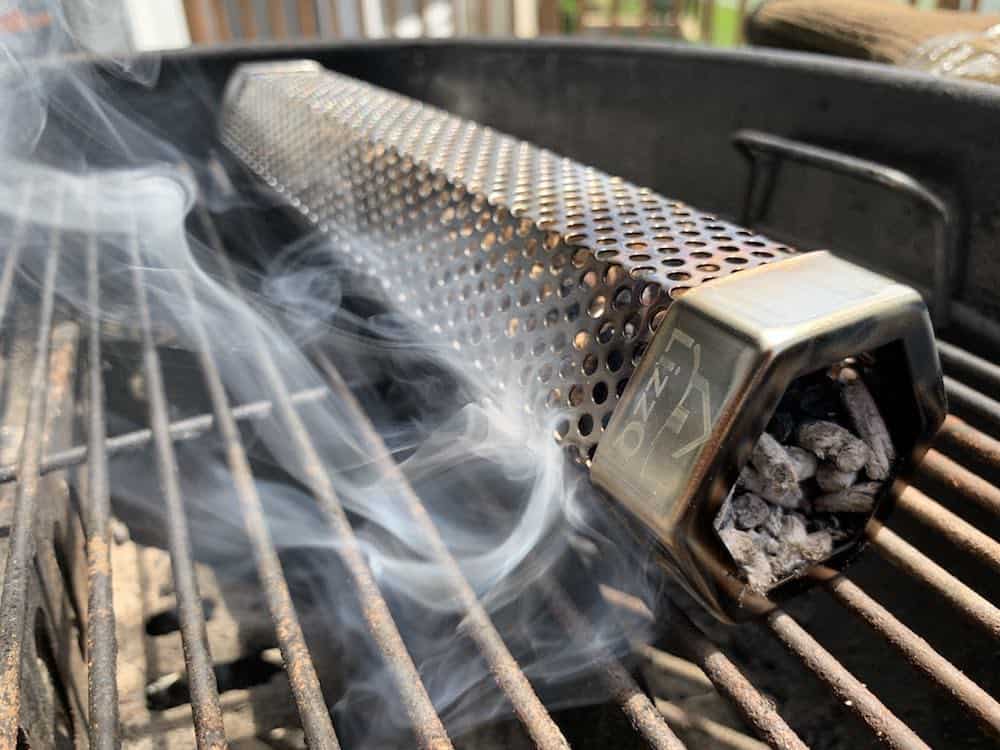 So you want to take a stab at smoking some real BBQ but don't have a high quality smoker?
Well you are in luck because many accessories available today make it easier than ever to smoke food right on your existing grill.
Yes, you can even smoke on your gas grill.
One of the BEST options available on the market today is the Pellet Tube Smoker.
Whether you just want to add a little smoky flavor to your food while it cooks, or setup for an all day low and slow smokey bbq session, a pellet tube smoker can help you to do this.
They also work great for cold smoking foods like chocolate and cheese that will melt if you tried smoking them in the typical way.
Wood pellets are normally used in a pellet grill, such as the ones made by Traeger and Pit Boss, and you can learn all about them here.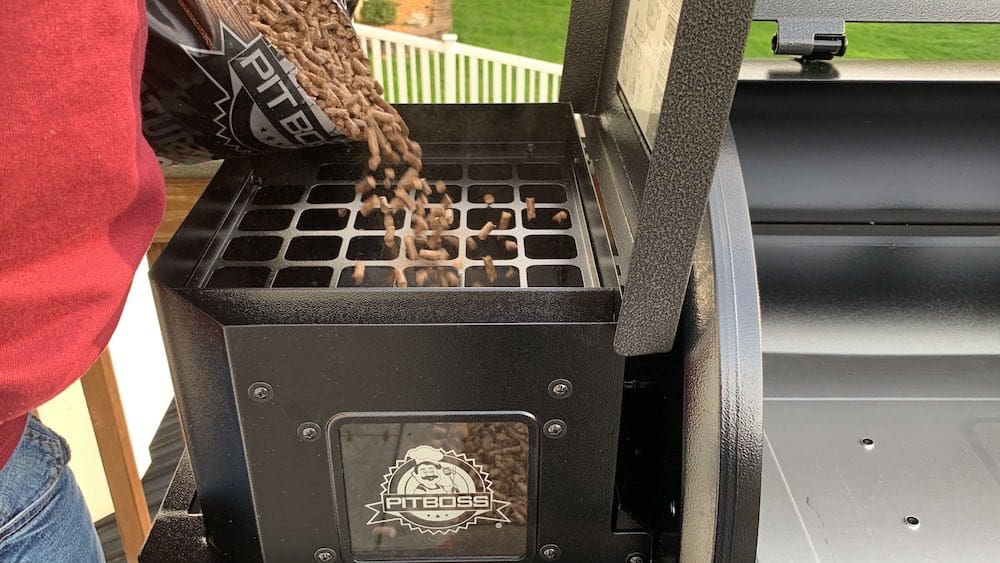 There are a lot of different pellet smoker tubes on the market, so it can be a little bit difficult to figure out exactly what you want, and what the differences between them are.
Thankfully, we've got you covered.
Read on to find out about the best pellet tube smokers.
We've also written a handy Buyer's Guide to help you to narrow down your decision. 
Keep in mind in order to light the pellets in the pellet smoker tube you WILL also need a culinary butane torch.
This is the only way to get them hot enough to stay ignited and produce the smoke you need.
We especially like this one from Bonjour for lighting our own pellet tube smoker.
BonJour Chef's Tools Butane Culinary
Kitchen torch, made from die cast aluminum; powered with standard butane fuel containers

Culinary torch body features a fuel level indicator window so you know when its time to refill

Offers a variety of uses including caramelizing sugars, browning meringue, or melting cheese on onion soup grati
The Best Pellet Tube Smokers
All Durable Pellet Smoker Tube 12" Hexagon Stainless Steel + Brush - Up to 5 Hours of Billowing Smoke
Ideal Design and Style; our durable pellet smoker tube is built of the highest grade Stainless Steel material to the highest quality standards; the large 12 inch capacity, its hexagonal shape and perforated design allow the pellets to stay lit and provide constant smoke for up to 5 hours.

Works on any Grill;the smoker tube is lightweight and easy to handle. It is compatible with any charcoal, gas, electric grill or smoker; portable; you can take it anywhere; Makes a great gift.

Easy to Use; just fill it with your favorite wood pellets or chips, light with a propane torch and place in your grill or smoker; unlike your circular smoker tubes that roll over this hexagonal tube will stay in place.
If you're looking to add a little bit of extra flavor to your meats, look no further than the All Durable Pellet Smoker Tube.
This nifty little device is the perfect choice if you want a cost effective option that will last you a long time.
There are a lot of things to love about this pellet tube smoker!
The pellet tube smoker has been carefully crafted out of high grade stainless steel which means it's incredibly durable.
It has a hexagonal shape, meaning you have the flexibility to easily position it right aganst your heat diffusers down under your grates if you wish. It also won't roll away very easily on the grill grates like some cylindrical pellet smoker models might.
This pellet tube smoker has a decent 12 inch capacity, allowing you to store quite a bit of pellets inside for an extra long cook without having to refill.
They claim it can still produce smoke even after 5 hours of constant heating.
This tube is pretty versatile, able to work with a range of different grill types, from electric to gas, charcoal grills to smokers.
It's a pretty easy to use this tube, as it's lightweight and portable enough for you to take it pretty much anywhere.
The product comes with a 1 year warranty, and will provide you with a delectable wood smoke flavor that you and any barbecue guests are sure to appreciate.
Pros
Flexible positioning due to hexagonal shape - it doesn't roll around

Durable

1 year warranty

Smokes for up to 5 hours
Cons
It's diameter is a little small according to some reviews.
Carpathen Smoke Tube - Pellet Smoker - Ideal for Smoking Cheese,
Fish
, Pork, Beef, Nuts - 12" Stainless Steel Made
♨ Superior & Complete Smoker tube Kit: 1 Smoke tube, 1 Smoking Guide with Amazing Delicious Recipes and Smoking Tips digital format, 1 Meat Temperature Chart digital format, 1 Marinade, Rubs and BBQ Sauces Guide digital format, 1 pellet tube smoker User Guide Hard Copy + 1 Canvas Bag for Easy Storage!

♨ Cold Smoke Made Easy: Whether you have a Traeger or Weber Grill, a Masterbuilt, Yoder or Big Green Egg Smoker, the smoke tube for pellet grill will turn any regular cooker into a cold smoke generator without any modification. Especially good for gas or electric grill owners who know how hard it is to get a deep smoke flavor comparing to their friends charcoal smoker. And thanks to its reduced size its portable enough to take and use it anywhere other smokers cant.
This complete pellet tube smoker kit comes with a meat temperature chart, some rubs and a marinade, a barbecue guide in digital format, a smoking guide with smoking tips, and a bunch of recipes.
Oh, and don't forget about the pellet tube smoker itself
The Carpathen Pellet Smoker Tube 12" can help transform your current cooking device into a full blown smoker.
This smoker provides a good size, the extras already mentioned, all at a pretty competitive price.
It's also stupidly simple to use, and all you have to do is fill the smoker tube up with food grade wood pellets and then place it over a burner.
The tube offers users a magnificent 5 hours of smoking, allowing you to really add life to that family barbecue.
Furthermore, this is a long lasting accessory, that also comes with a full refund guarantee if you are not happy.
Pros
Long lasting

Comes with lots of other accessories

Full refund guarantee

Compact
Cons
It could do with a few more metal stips in order to make it easier to adjust the smoke level
LIZZQ Premium Pellet Smoker Tube 12 inches - 5 Hours of Billowing Smoke
✅ This accessory is designed to WORK IN ANY GRILL (gas, electric or charcoal) and with any smokers.

✅ The pellet smoker can produce smoke for UP TO 5 HOURS which is perfect for both hot and cold smoking pork, ribs, cured meat, hot dogs, sausages, chicken, cheese, lamb, fish, nuts, fruit, corn, bacon and more.

✅ This smoking tube is MADE FROM STAINLESS STEEL 304 which is safe, durable and easy to clea
No matter what kind of grill you have, the LIZZQ Premium Pellet Smoker Tube is the ideal pellet tube smoker to help you create that delicious smoky environment you are after.
The tube is able to provide you with 5 hours worth of smoking time, which is great for cooking jerky, ribs, brisket, and pork shoulder.
It also works great with a whole bunch of different kinds of wood pellets.
Again, the hexagonal shape gives you the flexibility to place it down close to the burners and heat diffusers in your grill.
Not only this, but this tube smoker has been made out of high quality stainless steel, so it's pretty durable according to the large number of reviews on Amazon.
Pros
Cons
Pellet Smoker Tube, 12'' Stainless Steel BBQ Wood Pellet Tube Smoker for Cold/Hot Smoking,
【BILLOWING SMOKE AND BIG CAPACITY】 The pellet smoker tube has massive density diffusion holes on its body. So the smoker tube can let air come in, diffusing smoke efficiently and evenly to your food. The perforated design and hexagon shape of tube smoker allow the pellets stay lit the best and fully burn to provide constant smoke. With a length of 12 inches large capacity, the wood pellets smoker tube is capable of holding enough pellets and will produce abundant quantity of smoke up to 5hrs.

【IMPROVED DESIGN AND STAINLESS STEEL MATERIAL】 Unlike traditional circular smoker tube, the special hexagonal smoker tube can stay steadily and will not roll on grill grate. Open cap at one end is for easy filling and lighting. Closed cap at other end keeps pellets inside. The whole smoker tube is made of high standard 304 grade stainless steel that is anti-rust and heat-resistant. With excellent workmanship, the smoker tube is very durable and will not be broken or bent after long-time use.
This pellet tube smoker from lanney is perfect for creating delectable meats for your annual family barbecue, or even for a 4th of July get together.
This device has a great density diffusion hole which means that you will get just the right amount of air flow. 
The device features a hexagonal shape, and a perforated design that means that the unit can keep lit for longer amounts of time.
It has a decently sized capacity and it measures at 12 inches long, so it's able to hold more than enough pellets to create a good smoke for as much as 4 hours.
You can use it with a whole range of different wood pellets, such as hickory, cherry, pecan, mesquite, and standard wood chips.
This will allow you to create all sorts of different flavors for your food. You can also use it to smoke other things, such as fruits, nuts, cheese, vegetables, sausages and more.
The unit can be used with a bunch of different kinds of grills, such as charcoal, gas, pellet, electric and more.
All you need to do is put the wood pellets inside of the smoker and then put it up against the inner wall. It's also very durable due to the high quality 304 stainless steel construction.
Pros 
Cons
Some reviews claim the vents could be bigger to allow for better airflow.
BBQFAM 6" EZ Smoker Tube
EZ Smoker Tube is the original hexagonal stainless steel smoke tube. Our hexagonal design holds more pellets than all others and most importantly allows for maximum air flow which leads to longer and cleaner smoke.

Excellent Gift Idea, whether you're treating yourself or someone else. You will not be disappointed by giving the EZ Smoker Tube as a gift. As our gift to you, we include our 3 popular EZ e-Books at no additional charge (over $10 if purchased on Kindle). They will be sent to you via Amazon messaging, so they'll be in your inbox before your EZ Smoker Tube arrives.
Last but certainly not least on our list is the BBQfam Pellet Smoke Tube.
This impressive little device has a hexagonal shape once again, and is wide mouthed and easy to fill.
The main issue with this device is that it's only 6 inches large, but that's not necessarily going to be a problem for everyone.
Otherwise, it's a very compact device that's perfect for smaller BBQs that may not fit a full 12'' sized model.
If you fully fill up the tube with wood pellets, you can expect it to burn for roughly 2 hours or so. 
The unit is able to work with a range of different wood pellets - in fact, you could even mix and match the wood types if you like.
The smoker also comes with 3 different eBooks that will give you a whole host of different smoking recipes in case you're low on inspiration.
It's also pretty durable so it should last you for quite some time.
Pros
Durable

Compact

Comes with an ebook with more recipes
Cons
6 inch size means you can't use it for as long as larger models.
Finding the Best Pellet Tube Smoker: A Buyer's Guide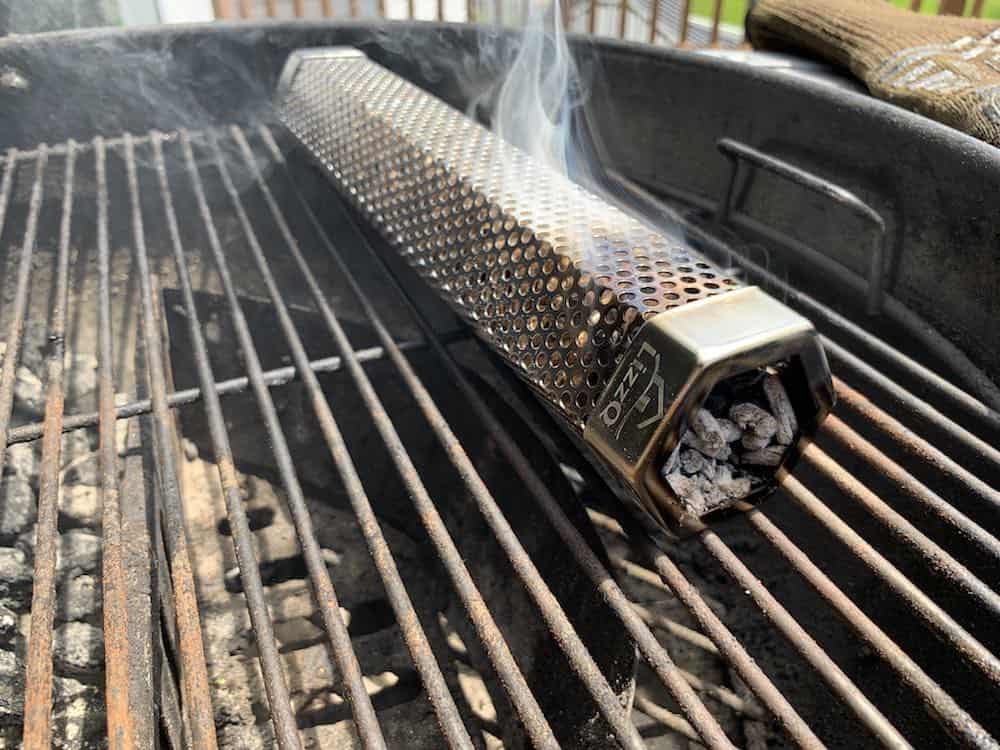 Why Use a Pellet Tube Smoker? 
Pellet tube smokers are a handy accessory to have, and we have previously gone over in depth how to set them up to smoke on a gas grill here. 
This allows you to take advantage of the benefits of hardwood pellets for smoking without even owning a pellet grill. 
While its not safe to throw wood pellets in your electric smoker or right on top of hot charcoals, you CAN safely use them in a pellet tube smoker on a gas grill.
Pellets are much denser and more compressed than wood chips, which you would use in a smoker box.  Because of this, they burn much slower and, pound for pound, produce a lot more smoke during a long cook.
Benefits of a Pellet Tube Smoker
To start with, you can actually use a pellet tube smoker to cold smoke foods like jerky and cheese.
One particular challenge when it comes to cold smoking is often being able to expose your food to the smoke without actually heating it up.
This can cause a whole range of issues, like melted cheese making a big mess all over your grill.
If you have a pellet tube smoker, you have a portable device that you can set far away from the cold food, and you can even keep some ice and water trays in between your food and the tube. 
In addition, having a pellet tube smoker will allow you to be able to convert your gas grill into a smoker.
A gas grill is not traditionally able to give you that nice smokey flavor that you may want in barbecued food like you would get from a barrel or vertical smoker.
Having a pellet tube smoker completely eliminates this issue, allowing you to create not only traditional BBQ, but a variety of smokey food like prime rib, ham, bratwurst, and even a thanksgiving turkey without needing to purchase a pellet grill.
How Does a Pellet Smoker Tube Work?
It's actually pretty easy to use a pellet tube smoker
First,, fill up the pellet tube using wood pellets, not chips. 
The pellets require more oxygen to smolder than chips, and chips in the tube smoker will likely just ignite, causing an unwanted fire on or worse, IN your grill. 
For wood chips, use a smoker box like this one:
Place the pellet smoker tube upright on the grill with the open end facing up.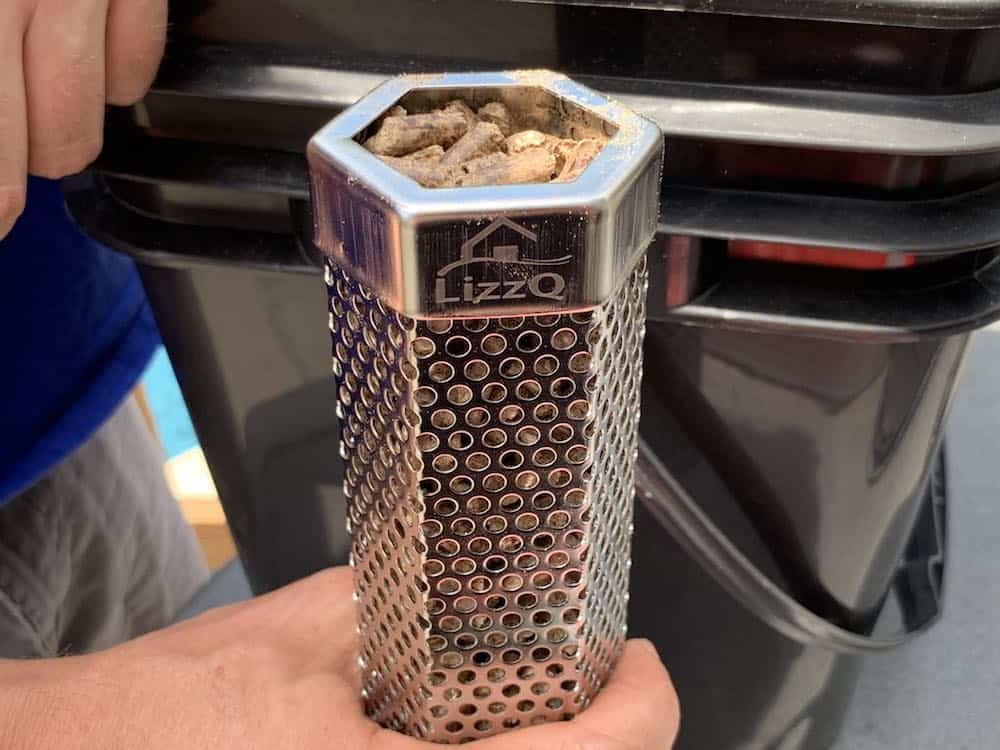 Next you will need to light the pellets on the top for about 15-30 seconds with a butane torch.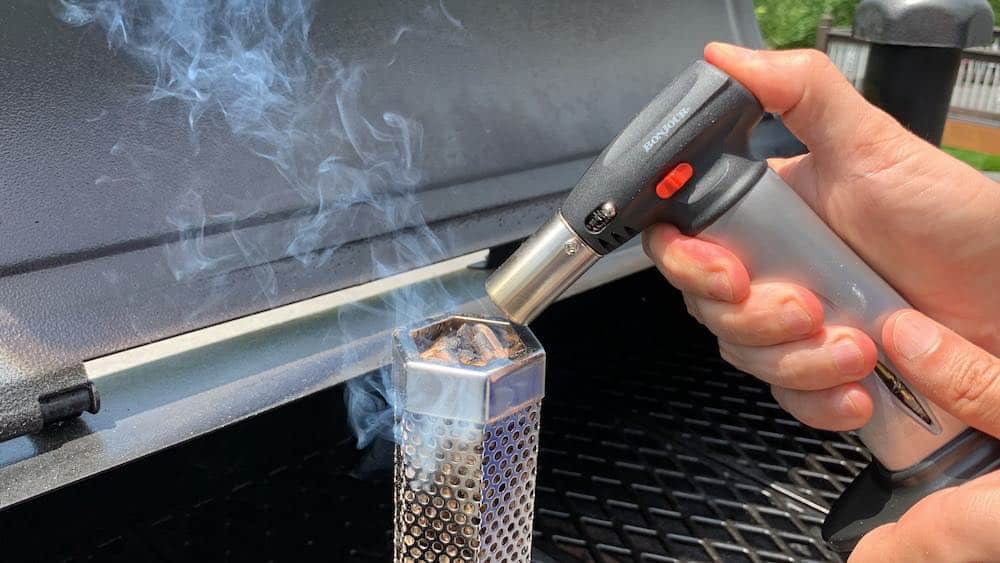 Note again that you can't use a standard cigarette lighter - it has to be a butane torch.
Sondiko Butane Torch, Refillable Lighter with Safety Lock and Adjustable Flame
►Safe&Durable - With safety lock prevents accidental ignition and a wide set base helps to prevent it falling over. Long angled nozzle and burn-free finger guard keep your hand safely away from the flame. Made with durable Aluminum alloy body for long lasting use.

►Refillable&Easy to Operate - Refill the kitchen torch with any brand of butane(Butane Gas Isnt Included), simply slide the security lock to open, light up with Piezo Ignition Technology. It is a portable&mini torch that you can take it for many outdoor activities like camping and BBQ.
Heat one end of the pellets in the tube until they are thoroughly ignited and there is a visible flame burning.
Keep the pellet smoker tube where it is and let that flame burn for about 5-10 minutes to thoroughly ignite the pellets.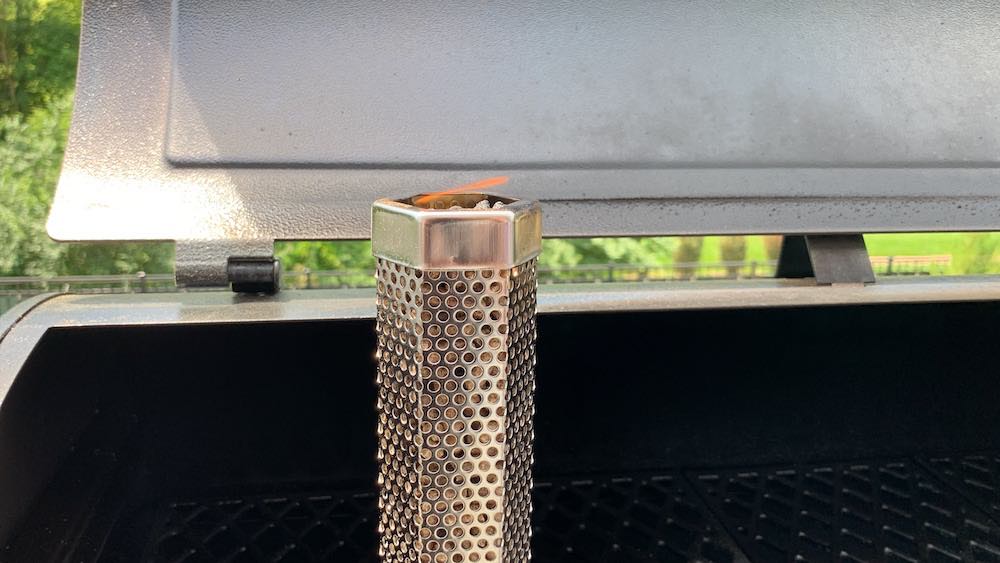 Then you can blow out the active flame and the pellets will continue to smolder almost like charcoal.
Wearing a good pair of heat resistant BBQ gloves, because the pellet smoker tube WILL be HOT, carefully lay the smoker tube down horizontally on the grill grates.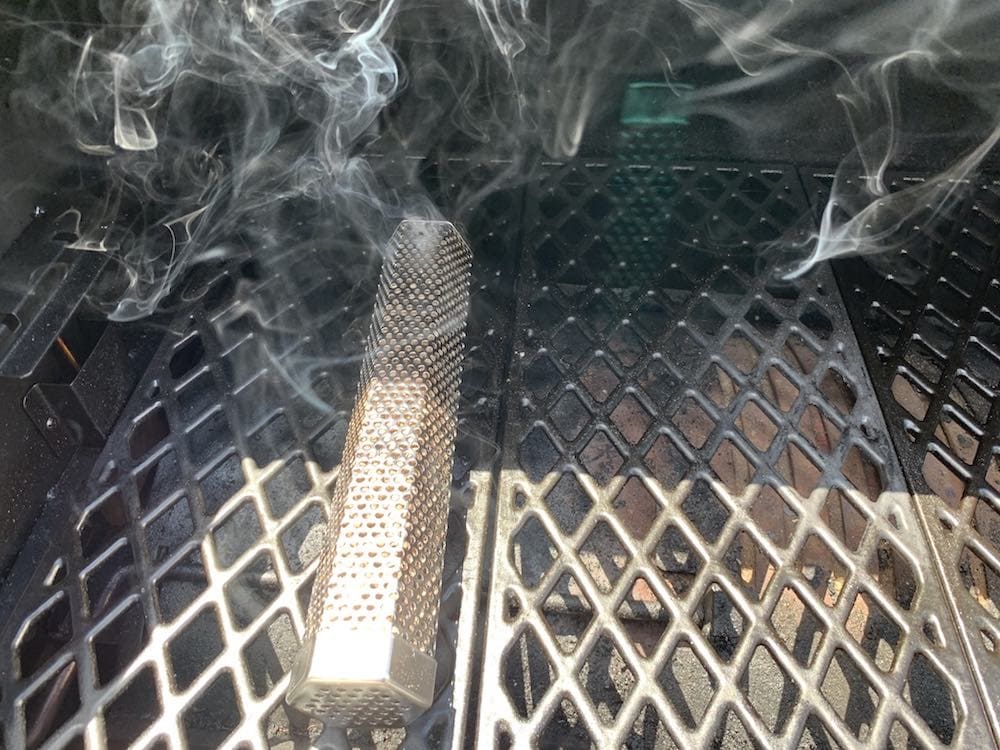 For best results, don't place the pellet smoker tube right over DIRECT heat while you cook your food or else it may ignite all the rest of the pellets in the tube and they will burn too quickly.
Things to Consider Before Purchasing a Pellet Tube Smoker
There are a plethora of different pellet tube smokers on the market, and first glance they all tend to look very similar.
So it can sometimes be a little bit of a challenge to choose the best one for what you need.
With that being said, there are some things worth knowing to make sure that you make the best possible decision for you.
Weight and Size
You can get pellet tube smokers in all sorts of different sizes, from a minuscule 4 inches all the way up to the more commonly seen 12-inch models.
Generally, if the tube is longer it means that you can put more pellets in and as a result, the smoking times are longer.
Most people tend to prefer getting a large smoking tube because it will give you more flexibility with smoking time.
With that being said, a smaller tube can be great for a smaller grill, or for when you are camping out and want to bring a small accessory along with you. 
Construction
It's easy to look at a lineup of pellet tube smokers and think they are all exactly the same. This is certainly not the case.
While each model will work along the same principles to provide you with that delicious smokey goodness, you need to check the reviews to learn more about their weight, durability, construction material, and results.
You tend to find that most of the common smoke tubes are made out of stainless steel, but not all of them compare in terms of quality.
Stainless steel is a pretty decent material, as it's easy to work with, lasts a long time, resists corrosion and is fairly lightweight.
You should also think about the holes inside of the tube. These holes will basically influence how quickly the pellets are going to burn.
If the holes are huge or if there are too many holes then the material is going to burn too fast as the oxygen levels are too high.
In addition, the pellets are more likely to fall through the holes. There needs to be a middle ground between holes that are too big and too small. 
Also think about the tube's shape.
Hexagonal is best because it won't roll away on the grates and gives you the flexibility to easily position it up against the heat diffuser plates inside the grill.
Length of Burning Time
This can largely depend on the size of the tube and the size and quality of the pellets, but smoke pellet tubes generally run between 2 to 5 hours.
All foods absorb different amounts of smoke so be sure to plan ahead how much smoke you want to impart on your food.
Pork and beef will withstand a lot more smoke than chicken and seafood for instance before turning an acrid flavor.
How Do You Clean a Pellet Tube Smoker?
After a long cook, a pellet tube smoker can get pretty dirty!
If you don't clean it in between uses it may end putting an unpleasant taste into your foods when you use it again.
Thankfully, it's pretty easy to clean a smoke tube.  Some even come with a handy cleaning brush.
First, make sure you allow the tube and any remaining wood pellets to completely cool down. 
Like charcoal briquets, wood pellets contain a lot of compacted fuel and therefore can take a long time to completely burn down.
Resist the urge to drop it in a bucket of water as this can be very dangerous at worst and at least damage your hot metal pellet tube.
If pushed for time, move it carefully with long handled tongs to an airtight kettle grill with all the vents closed in the way you would extinguish hot coals.
Once the tube and its contents are sufficiently cooled, dispose of any of the remaining wood pellets or chips that haven't been used.
It should be noted that while there are some smoke tubes that are dishwasher safe, not all of them are so it's important to check that first.
Even if the tube is dishwasher safe you should get rid of any excess dust by getting a cleaning tool or an old toothbrush and giving it a little scrub.
If your tube is not dishwasher safe, simply wash it in warm soapy water then dry it thoroughly before you put it away.
Pellet Tube Smoker Recipes
Looking for some inspiration?
Check out some of our favorite smoking recipes below that can easily be done on a gas grill with a pellet tube smoker.
Trash Can Turkey - OK, technically not made on a grill but one of the most fun ways there is to cook a Turkey...at over 700 degrees in only 2 hours!  You've got to check it out!