We compare some of the best grilling gloves on the market to help you find the perfect gift for yourself or the grillmaster in your life!
Operating a grill sometimes feels like heading out to battle, where things could get tough without the right equipment.
And just like you wouldn't take a knife to a gunfight, trying to work a hot barbecue grill with the wrong kind of gloves may not turn out in your favor.
Confused by all the options on the market though?
No worries.
Before diving into our best grilling glove picks, let's take a look at the different kinds of grilling gloves out there and what they do best.
Types of Grilling Gloves
Silicone Gloves
Usually made of food-grade silicone, these gloves work best at handling your briskets and ribs. While silicone gloves are little awkward and don't insulate your hands as well as other gloves, they make up for it by being incredibly easy to clean.
Fabric Gloves
Molded from heat-resistant fabric, they come lined with silicone inserts or strips on the palms to provide that extra grip.
Although they are good at holding grill grates, hot logs, and utensils, it's best if you don't use them to handle food directly. These gloves aren't as non-stick and easy to clean as their silicone counterparts.
Leather Gloves
Old-fashioned but versatile, leather grill gloves are best for handling grills, moving hot utensils, or simply poking at smoldering logs.
However, as they are hard to clean and not very ergonomic, keep them away from hot food. Leather gloves also tend to stiffen up after years of use.
Synthetic Gloves
These gloves, usually comprising a rubber or silicone body lined with fabric, let you handle tongs, utensils and even food very easily.
Just like their silicone counterparts, they are easy to wash with soap and water, and some provide insulation up to some incredibly high temperatures. The downside is that using them while still wet could leave you nursing some burnt fingers.
Our Top 8 Grilling Glove Picks
Type: Silicone
Heat-resistant up to 425 degrees, these silicone gloves provide protection to both your hands and wrists, whether you are taking hot items fresh off the grill or reaching into hot water to open a tight jar.
The BPA-free silicone gloves also feature reinforced finger webbing to prevent tearing.
Pros
Balance of thickness and weight make them handy at the grill
Can wash them easily and use immediately afterward
Prompt response from customer service in case of a complaint
Cons
Some felt heat seep in through their thinner parts
Not as easy to work with as fabric gloves
Type: Leather
Made of pliable suede to ensure easy grasping, these smart-looking gloves from award-winning cookbook author Steven Raichlen extend over 18 inches to protect the whole arm.
Rated up to about 475 degrees Fahrenheit, they can handle tasks like lighting coals, using tongs, and poking inside the smoker with ease.
Pros
Rated at 475 degrees Fahrenheit
Easy to use despite being made of leather
Classy looking with a great brand value
Cons
Can't be exposed to heat for long periods
Not machine-washable
Type: Fabric
Insulated with materials similar to Nomex and Kevlar, these gloves are thick but lightweight and do a wonderful job at barbecues.
They don't catch fire or melt when exposed to an open flame, making them ideal for use on campfires, fire pits, and fireplaces.
Protects your hands from extreme heat, up to 932 degrees Fahrenheit!
Pros
Non-inflammable nature makes accidents unlikely
Silicone grip surface prevents containers from slipping from your grasp
Drop them into the washing machine for easy cleaning
Crazy high heat resistance up to 932 degrees F.
Cons
Some had problems getting gloves their size
Certain parts of the glove may conduct heat
Type: Silicone
These gloves can handle heat as high as 425 degrees Fahrenheit with ease, and if your mobile phone rings in the middle of your work, you can cool it off in a bucket of water just as fast.
Slick with meat juices? Hold them under the tap just as you would with your hands. What's more, they come with a handy meat shredder, a silicone basting brush, and three ebooks with 344 recipes.
Pros
Can be washed and reused in mere seconds
Comes with meat shredder, basting brush and ebook with 344 recipes
Reasonably priced with a money-back guarantee if not satisfied
Cons
Some found the gloves slippery
Meat shredder may be hard to clean
Type: Synthetic
This product from Viboos fits perfectly on most hands while long cuffs protect the forearm and wrist, so you don't have to worry about accidentally burning yourself.
Given that they are made of Aramid, which can handle heat levels up to a whopping 1,472 degrees Fahrenheit, you can rest assured that your hands are in very safe -- well -- hands.
What's more, their liquid-resistant nature prevents oils and hot juices from seeping in.
Pros
Long-lasting in a color that prevents gloves from aging badly
Can handle insane heat levels up to 1,472 degrees Fahrenheit
Patterns on the gloves make holding on to utensils easier
Cons
Some users complained of holes appearing after continuous use
Occasional reports of heat seeping in through the gloves
Type: Silicone
If you thought that maybe there's no one-size-fits-all glove, you might be surprised. This product from Northlander can protect most hands from temperatures ranging from -104 degrees Fahrenheit to as high as 446 degrees Fahrenheit.
Their insulated double-layer cotton interior design comfortably tides you through your grilling, and once the work's done, you can hang them up for storage in the kitchen with the aid of a convenient fabric ring.
Pros
Cotton layer inside the gloves ensures an easy fit for hands of all sizes
Can handle heat levels up to 446 degrees Fahrenheit
Nonstick, non-toxic and very easy to clean once the grilling is done
Cons
Some found the gloves too big despite the easy-fit assurance
Not suitable for very hot temperatures
Type: Leather (Combination)
A three-layered glove comprising cowhide split leather on the outside, a heat-resistant composite product at the intermediate level, and soft-insulated cotton lining inside, the WZQH leather gloves can stand up to 932 degrees Fahrenheit of heat with ease.
Extra-long sleeves measuring up to 7.5 inches protect your hands and forearms from the hot coals in your barbecue grill while the Kevlar stitching provides additional security.
Pros
Three-layered construction to prevent heat from reaching your hand
Durable and flexible, in comparison to similar products
Kevlar stitching to ensure that gloves don't burst at the seams
Cons
Like other leather gloves, can't be machine-washed
Some complained that the material isn't consistently thick in all areas
Type: Synthetic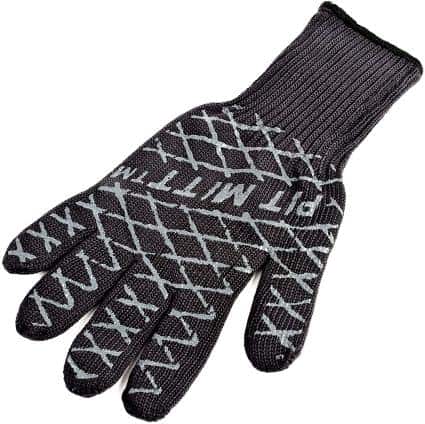 The first thing that strikes you about the Pit Mitt glove is how it manages to withstand temperatures up to 475 degrees Fahrenheit despite being as thin as it is.
Made of Aramid fiber, which was first developed for the aerospace industry, it acts as the ultimate barrier between you and the hot surfaces around your grill.
And while individual fingers grant greater dexterity, the silicone coating on the surface of the glove ensures a better grip on things.
Pros
Single glove that's reversible for use on both hands
Aramid fiber provides excellent protection from the heat
Glove extends to 13 inches, protecting wrist and lower arm
Cons
May conduct heat even when slightly wet
Can only be hand washed
Best Grilling Gloves: The Verdict
We decided there cannot be a definite winner on this list of barbecue gloves, given how they all come with their own unique advantages.
While the Viboos grilling gloves work best at resisting extremely high heat (up tp 1,472 degrees Fahrenheit!) for the outdoor cook who wants something a little simpler, Pit Mitt does a good job of achieving a fine balance between being heavy-duty everyday use.
However, neither can match the charming Steven Raichlen Suede Grill Gloves in the looks department, and the silicone gloves beat them all at easy washability. We would say it's an all-round tie.
Our Favorite Grilling Recipes
Looking for some inspiration?
Check out some of our favorite recipes below that can easily be done on a grill or smoker.