Learn how to smoke a beef brisket on a Pit Boss pellet grill following our detailed instructions and recipe below!
Smoked Beef Brisket is the ULTIMATE barbecue dish to feed a large crowd, and is especially easy and fun to cook on a Pit Boss, but it can also easily be adapted for ANY pellet grill.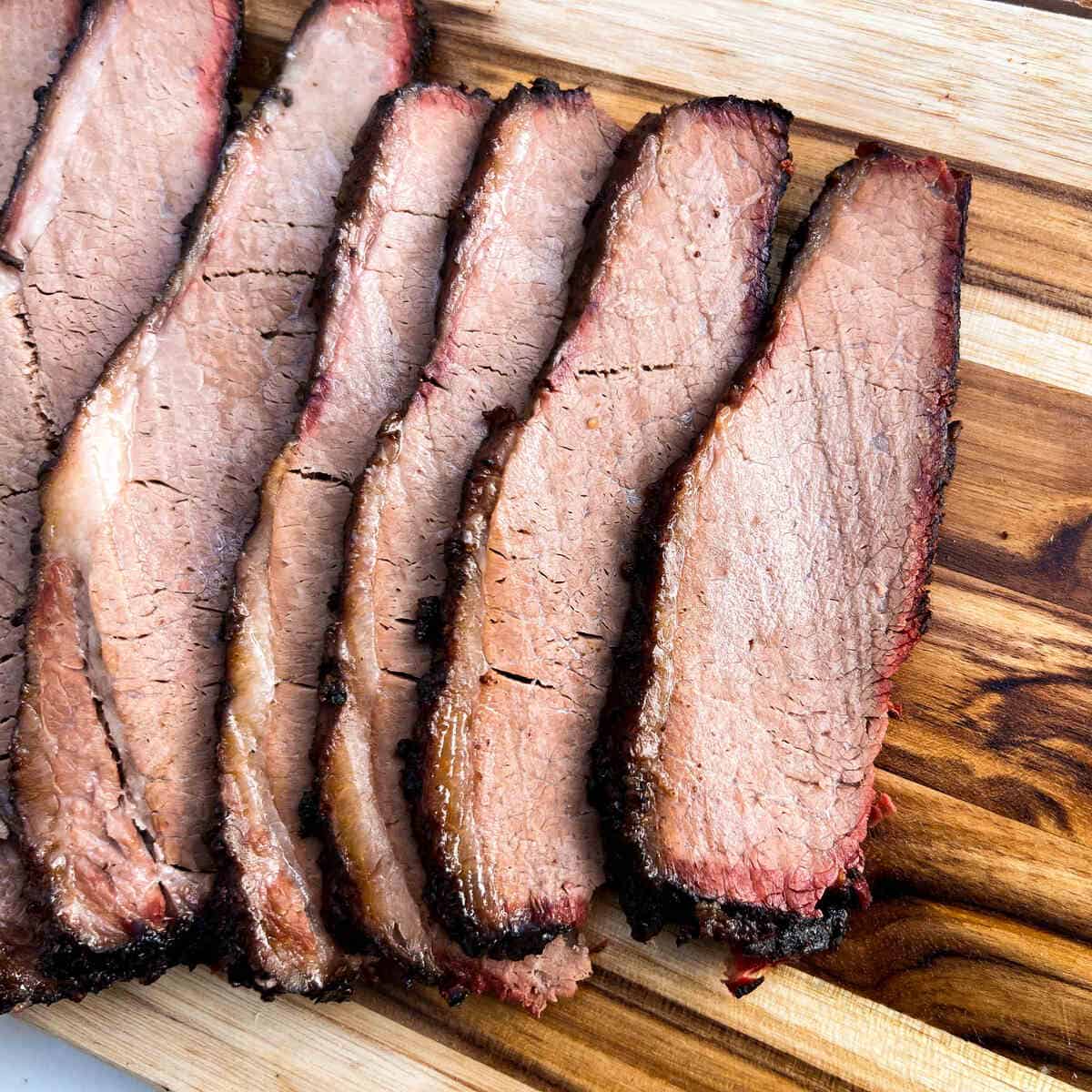 Jump to:
What is a Beef Brisket?
A beef brisket comes from the pectoral (chest) muscle of the steer.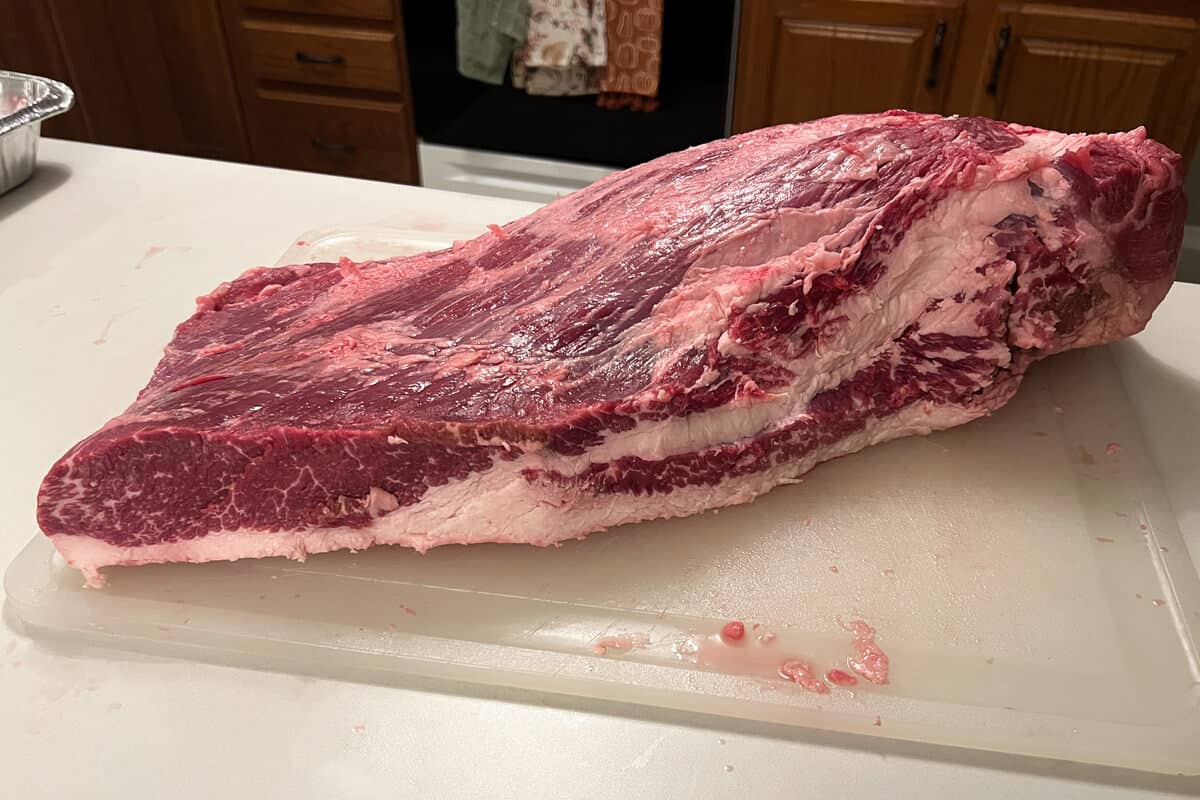 Like the chuck roast and the pork butt, which come from the shoulders of the steer and hog respectively, this muscle on the front of the animal gets quite a workout during the life of the steer, helping to hold the animal upright for its entire life.
Have you ever seen a cow sitting down?
Hence why it is usually cheaper per pound than say a ribeye steak or filet mignon, which are cut from the tenderloin muscles of the steer on its back which don't get put to work nearly as much.
But have no fear, with a little love and care, we can turn this workhorse cut of meat into a delicious, fall apart tender beef brisket that you and your whole family will enjoy!
Video
Rather WATCH than read? Check out our video on our YouTube Channel:
What Kind of Brisket Should I Smoke?
We strongly recommend smoking a WHOLE PACKER brisket on your Pit Boss and here's why.
A whole packer brisket contains two parts:
The Point
The Flat
The point is a smaller, well, pointier section that is also fatty and delicious, but rarely if ever eaten or sold just by itself except for when its made into burnt ends.
The flat, on the other hand, is the classic looking rectangular section of brisket you see sliced in all the pictures.
Unfortunately, the flat is also much leaner and more likely to dry out when cooked by itself without the point attached to balance it out.
You will see many major retail chains and grocery stores selling 4-6 lb brisket flats by themselves in the regular meat case alongside chuck roasts and cubed stew meat.
This is not what you want.
Go to one of the big warehouse club stores like Sam's or Costco, or better yet, your local independent butcher, and get yourself a full-size brisket, sometimes called a Full Packer Brisket.
It will be big.
You know you are getting a good full size brisket if it is anywhere in the 12-18 lb range.
The extra fat from the point will help the brisket hold up MUCH better during the long smoke on the Pit Boss.
Trim the Brisket
You'll notice one side will have a thicker white "Fat Cap" on it.
It's OK to leave some of this in place but ideally trim it down to about ¼ inch of thickness.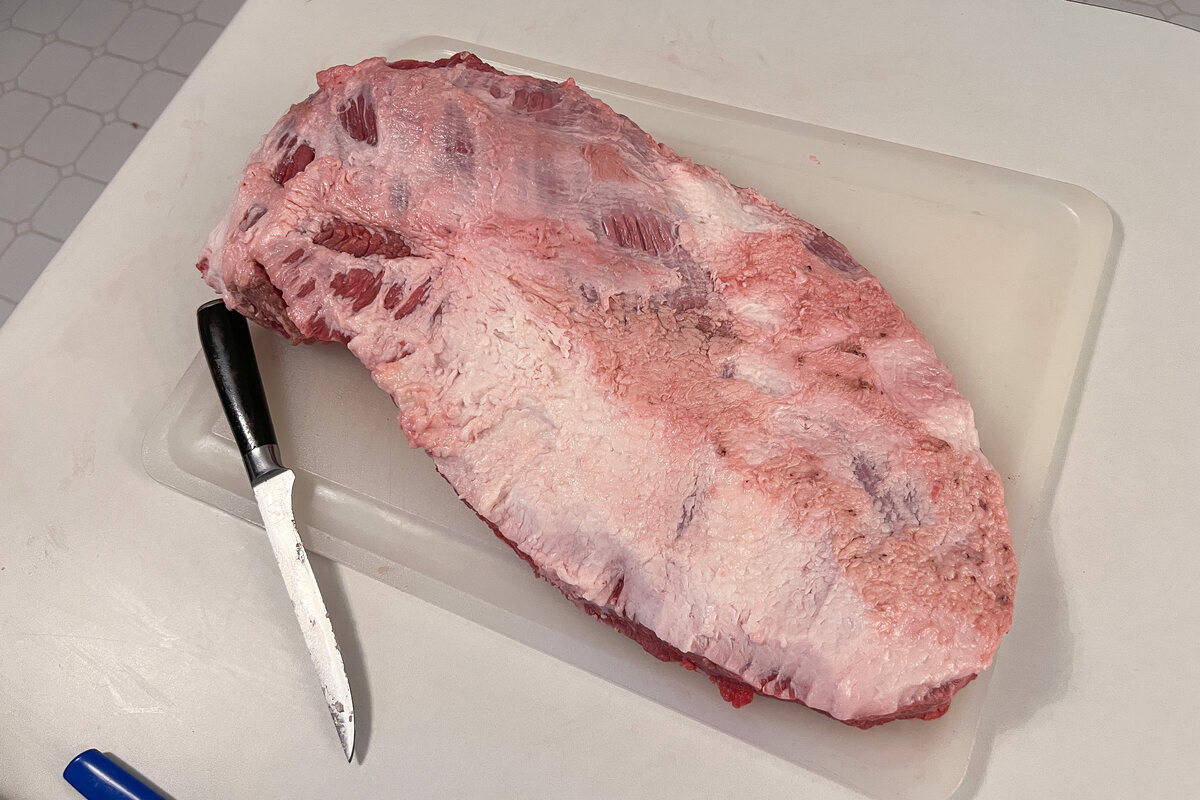 Leaving a little exterior fat from the fat cap is OK.
However, you don't want to leave any big hardened thick chunks on the exterior.  They will not render away and nobody wants to eat that.
We are big fans of this boning knife for trimming our briskets and other large roasts.
Our Favorite Rubs
Unlike our Pit Boss Pulled Pork, which pairs well with sugary BBQ rubs, beef is usually better suited for more straightforward salt and pepper style seasoning.
You can add a little cayenne for extra heat or garlic and onion powder for additional flavor, but go easy on the rubs that are heavy in sugar content.
We are big fans of Holy Cow rub from Meat Church on smoked beef, especially brisket and chuck roast, because it is heavy on flavor, and has no sugar.
We use it exclusively on our Hot and Fast Version of our Brisket, because we don't want any sugar to burn.  But today, since we are smoking slower and at a lower temperature, its ok to also add a little rub with some sugar in it if you wish.
We like the The Gospel rub from Meat Church for a little added sweetness.
After trimming the fat, cover the brisket in a thin layer of cooking oil, yellow mustard, or Worchestire sauce.
Be generous with the amount of rub you put on.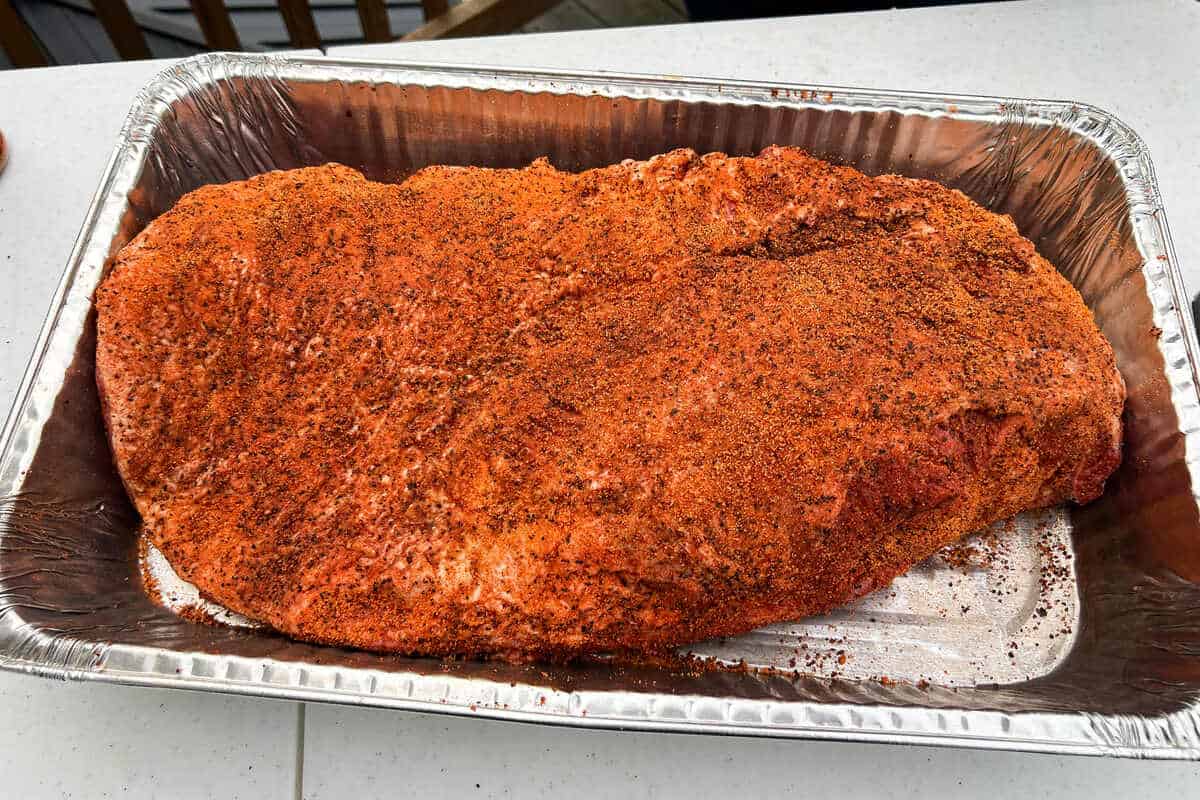 Then you can let the rub set on the meat for about 30 minutes, OR, wrap the brisket in plastic wrap and put it back in the refrigerator overnight to smoke the next day.
Choosing Wood Pellets
You have a lot of freedom when it comes to choosing the right wood pellets to smoke your Pit Boss beef brisket
Mesquite and hickory will give a more aggressive smoke flavor.
Alternatively, you can also go for a milder smoke flavor by choosing oak or fruitwood pellets. Pecan, apple, beech, alder, and cherry all give great results on beef brisket.
Don't forget you can mix them up too to create your own custom blend.
That's one of the great things about a Pit Boss pellet grill!
For a straightforward smoke right out of the bag, we are big fans of Bear Mountain Gourmet Blend.
For the best results, store your unused pellets in a sealed room temperature container like this 20 lb pellet container rather than in the Pit Boss hopper outside.
Pellets do not last forever, but will definitely last a LOT longer if stored indoors in a quality airtight container.
Start up the Pit Boss
We have previously covered how to season a Pit Boss, how to start a Pit Boss, as well as how to troubleshoot the smoke level of your pellet grill.
So if you need a good overview on how to use your Pit Boss for the first time, check those articles out first!
Adding a Firebox for More Smoke Flavor
We like to add even more smoke flavor to meat made on our pellet grills by creating a small firebox with charcoal and real wood chunks.
For brisket, we like using hickory wood.
For full instructions on how to set up your firebox, including a video showing you exactly how to do it, head over to Lighting a Firebox for More Smoke Flavor.
Another option to adding extra smoke flavor is to use a pellet tube.
Smoking Temperature
Set the temperature to 200°F, and let the Pit Boss come up to temperature.
Our method is to start very ow and slowly increase the cooking temperature 20°F or so every 3-4 hours.
As thw brisket warms up and fat negins to render, you can get away with cookign at a higher tmeperature.
For smoking a 15 lb brisket we will typically cook at:
200°F for about 4 hours
220°F for about 4 hours
240°F for about 4 hours
270°F once wrapped
These are just generalities, but it gives you an idea of how we slowly increase the temperature as we cook.
Once we wrap the brisket we will turn the temperature up to 270°F and this will be highest we go.
Cooking Time
A general rule of thumb is about 1 hour of cooking time per pound of brisket.
This includes the wrapping time but not the rest time.
To start, place the thicker end to the left, which is normally the hotter side of a Pit Boss pellet grill.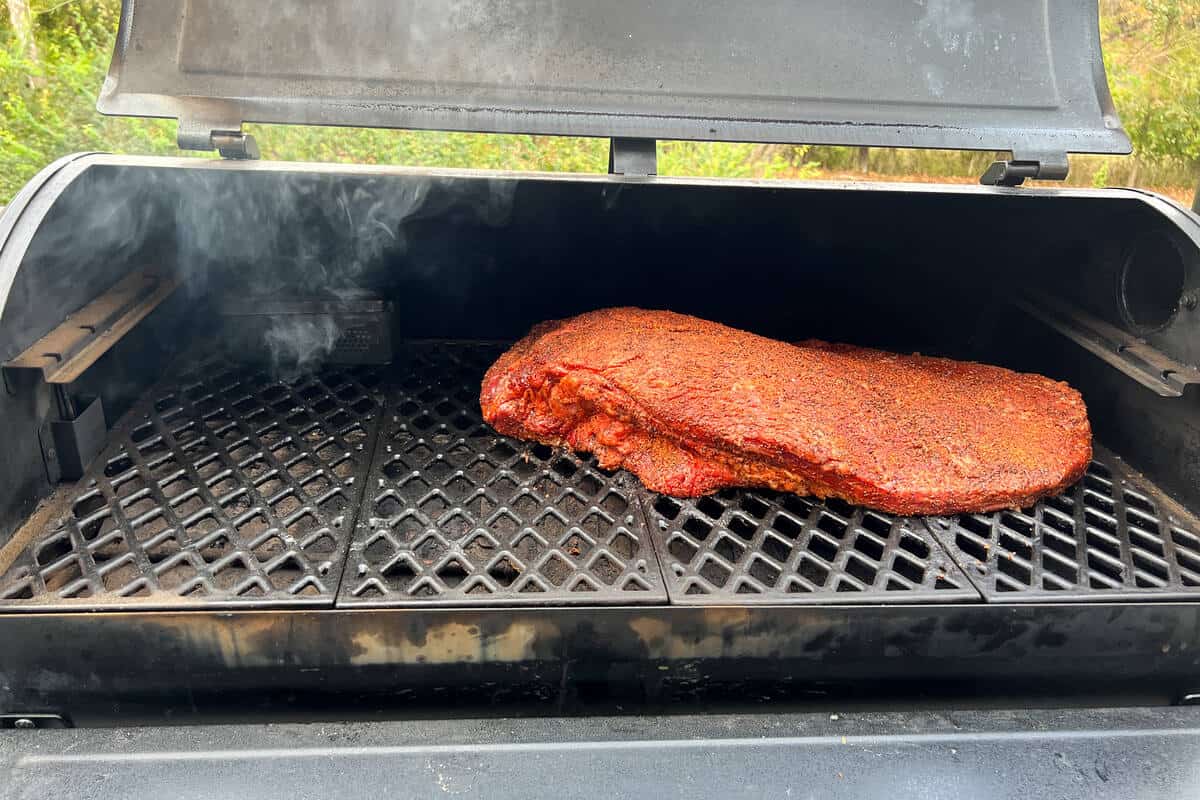 Place a temperature probe, if you have one, into the center of the brisket.  Otherwise, you can spot check later with an instant read thermometer.
Always use insulated BBQ gloves when rotating or moving the brisket around.
When cooking on a Pit Boss, since the heat comes mainly from below, we like to start our briskets "Fat Side Down".
This will protect the "Meat Side" of the brisket when it is most vulnerable to drying out in the beginning before any fat as rendered.
We the like to flip the brisket over and cook in the traditional "Fat Side Up" manner once the brisket has been on about 6-8 hours, or the internal temperature has risen above 130°F.
This is the point at which the internal fat will begin to melt more and help protect the meat side.
Once the brisket has shrunk a little you can transfer it to a wire rack backing sheet combo to help protect the bottom even more from the heat of the Pit Boss.
We are going to wrap our brisket in butcher paper once the bark on the fat side is a nice dark color, and gives easily to pressing like soft butter rather than pushing back like rubber.
This typically happens once the internal temperature has reached 170°F, but there is no hard and fast rule about this.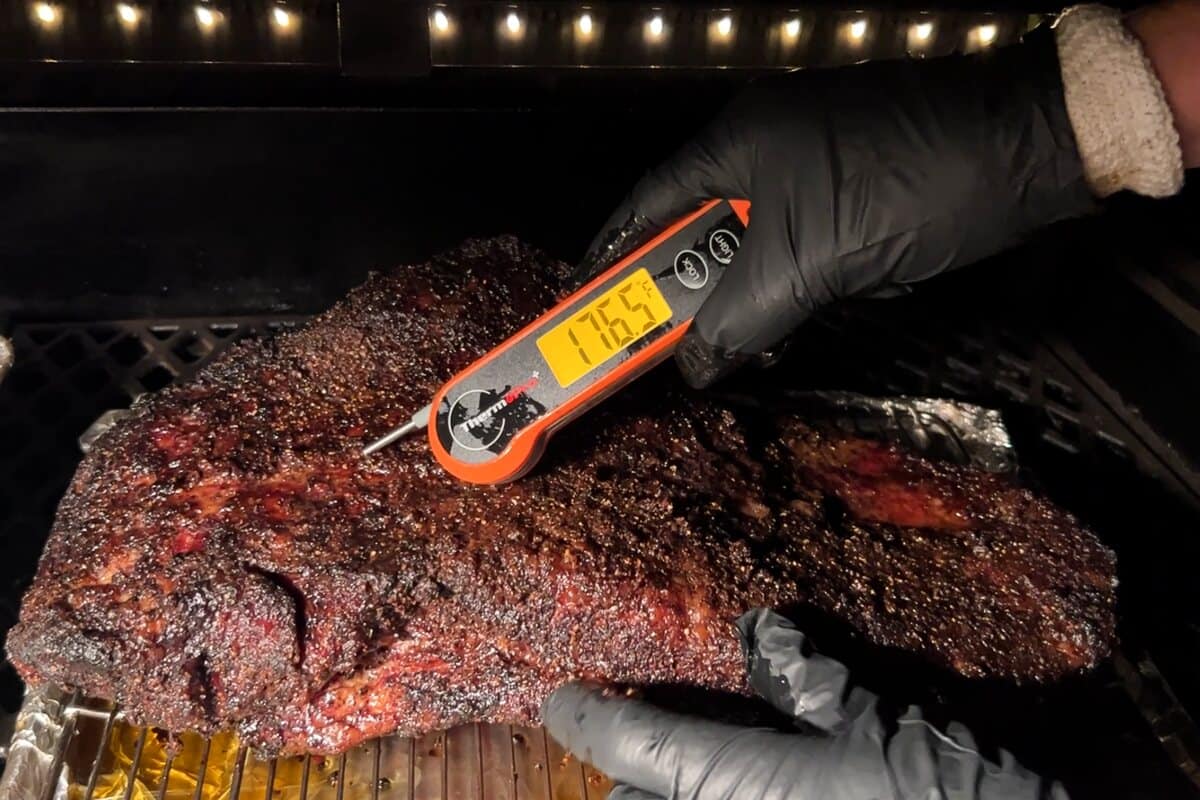 Wrapping in Butcher Paper
We prefer to wrap our brisket in food grade butcher paper rather than aluminum foil.
It will allow the bark to breathe more and maintain a nice crust and color, rather than getting mushy on the outside like a pot roast.
The purpose of wrapping is to help the brisket along through "The Stall" which is a point in the cooking process where all the collagen needs to break down inside the brisket in order for it to become extremely tender.
Wrapping will help speed this along and also help keep the outside from drying out and while it happens.
You can add some melted Wagyu Beef Tallow to the meat side of the brisket to help braise it a little while it continues to cook.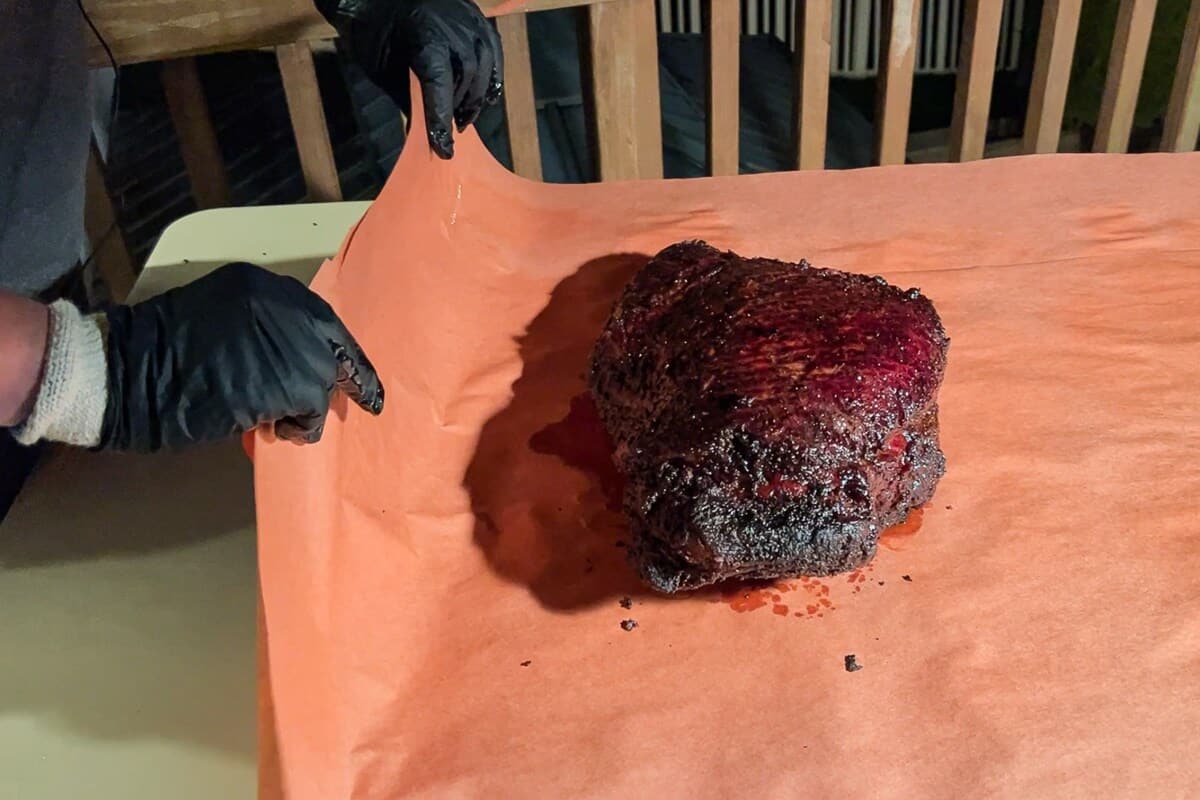 Wrap around the brisket 2-3 times tightly with the butcher paper and then replace your temperature probe.
Place the meat back on the smoker, and let it continue to cook.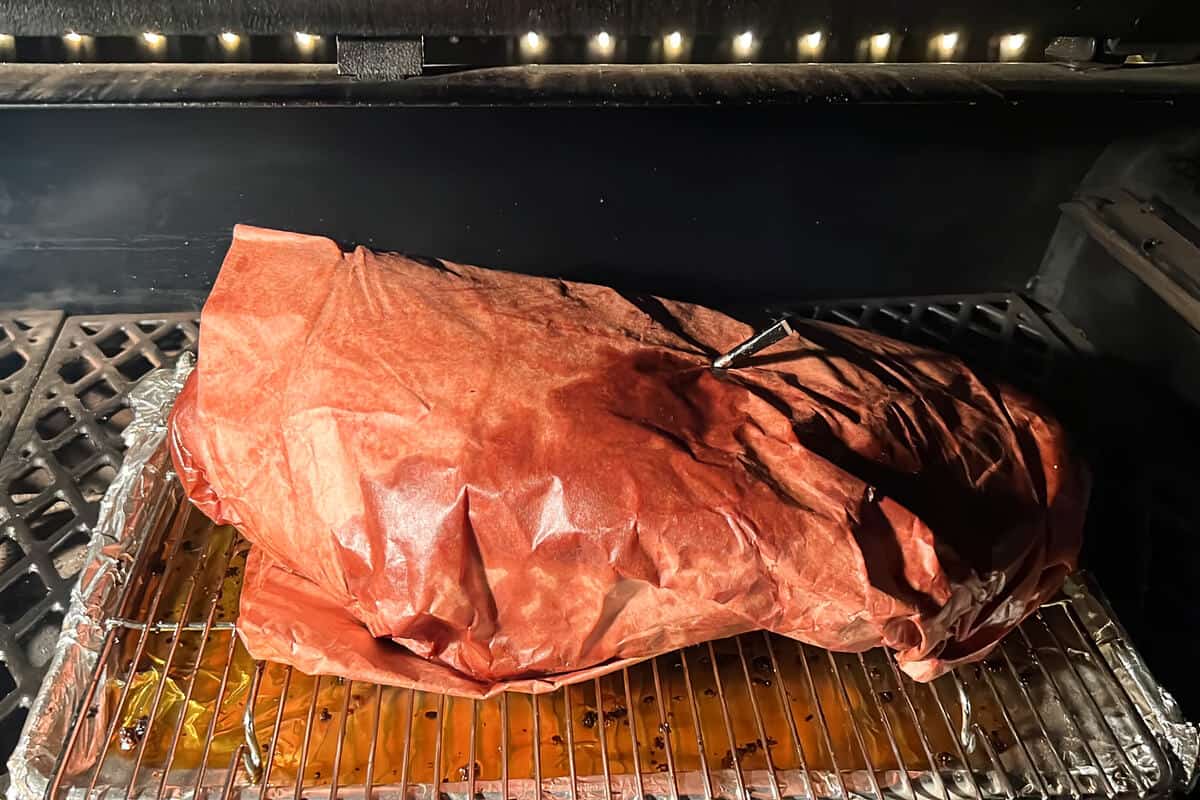 Checking Doneness
Leave the brisket wrapped until it gets to your target temperature range of 200°-205°F or what's known as "Probe Tender."
This is where the probe of your instant read theremometer feels like its going through soft butter with almost no resistance.
Don't rush it!
You've come this far and patience is the name of the game here.
It will not be as tender as it can be even if you take it off at 190°F.
If you don't yet own an instant read thermometer, it's going to be hard to really know exactly when that brisket is done cooking on the pellet grill.
If you don't yet own an instant read thermometer, ThermoPro makes a good one.
While we have used and recommended ThermoPro for years, lately we have also become big fans of the MEATER leave in thermometer.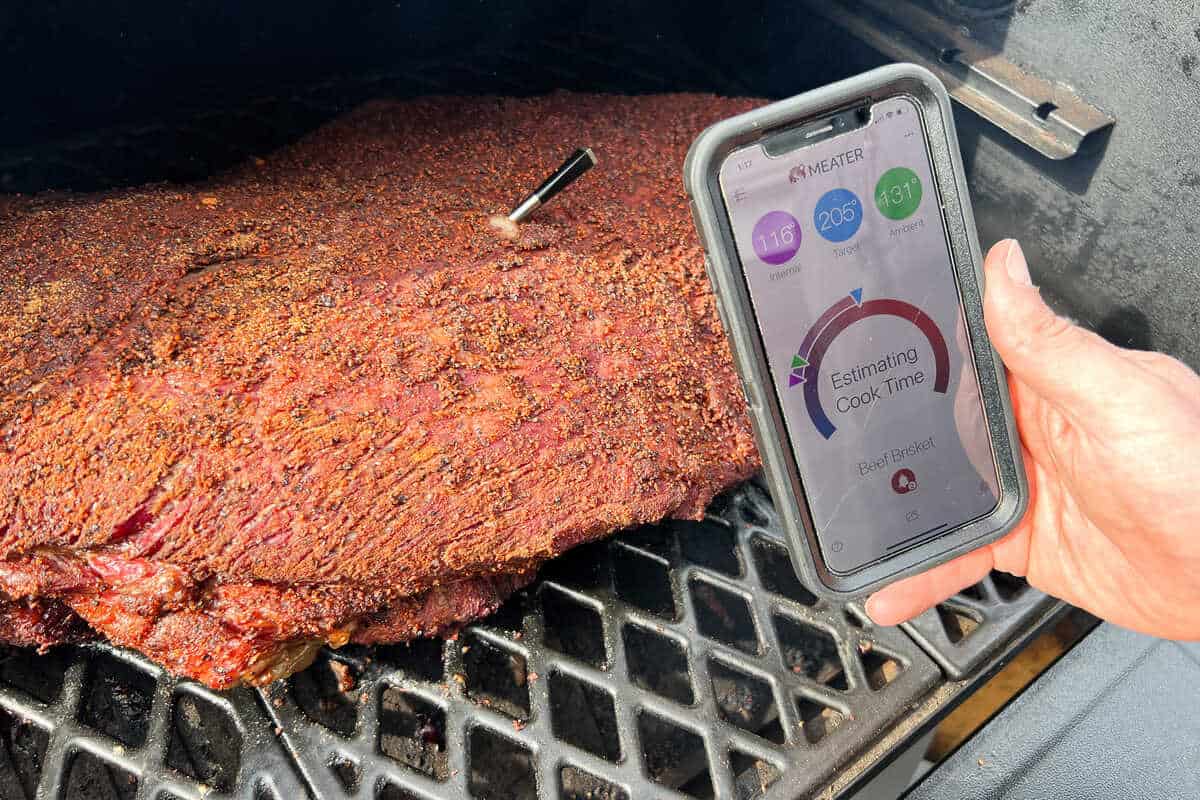 It is extremely accurate and has an incredible 165 foot Bluetooth range and works right with your smartphone so you don't need to carry a separate controller around with you like many other remote thermometers require.
It's got a great free app that is constantly being updated and even has an algorithm to predict how much longer your type of meat will take to cook based on cooking temperature, target temperature, current internal temperature.
It's like a GPS for your meat!
Hold the Finished Brisket in an Oven
One of the most important parts of smoking a beef brisket is the rest period after its finished cooking.
Some people rest their brisket sin. cooler wrapped in towels, however, we like the thermal consistency of a warm oven instead.
Once the brisket is probe tender, remove it from the Pit Boss and keep it wrapped in the butcher paper. Keep it on the wire rack baking sheet combo but place it on the counter to cool slightly before putting it in the oven.
Preheat your oven to 170°F, usually the lowest setting on the temperature dial.
If you place it directly in the warm oven, we've found it can stay at too high of a temperature for too long and overcook.
Once the internal temperature of the brisket has come down to 170°F, place it in the oven, still wrapped.
170°F will keep the brisket at a food safe temperature while more of the collagen and connective tissue continues to break down, but without overcooking the brisket.
You can hold the meat here for anywhere from 2-10 hours, but we find about 6-8 hours to be ideal.
Then remove the brisket from the oven, let the internal temperature come down to about 135-140°F, and then unwrap and slice to serve.
Slice and Serve
Always wait to slice your Pit boss smoked brisket until IMMEDIATELY before your guests are ready to eat.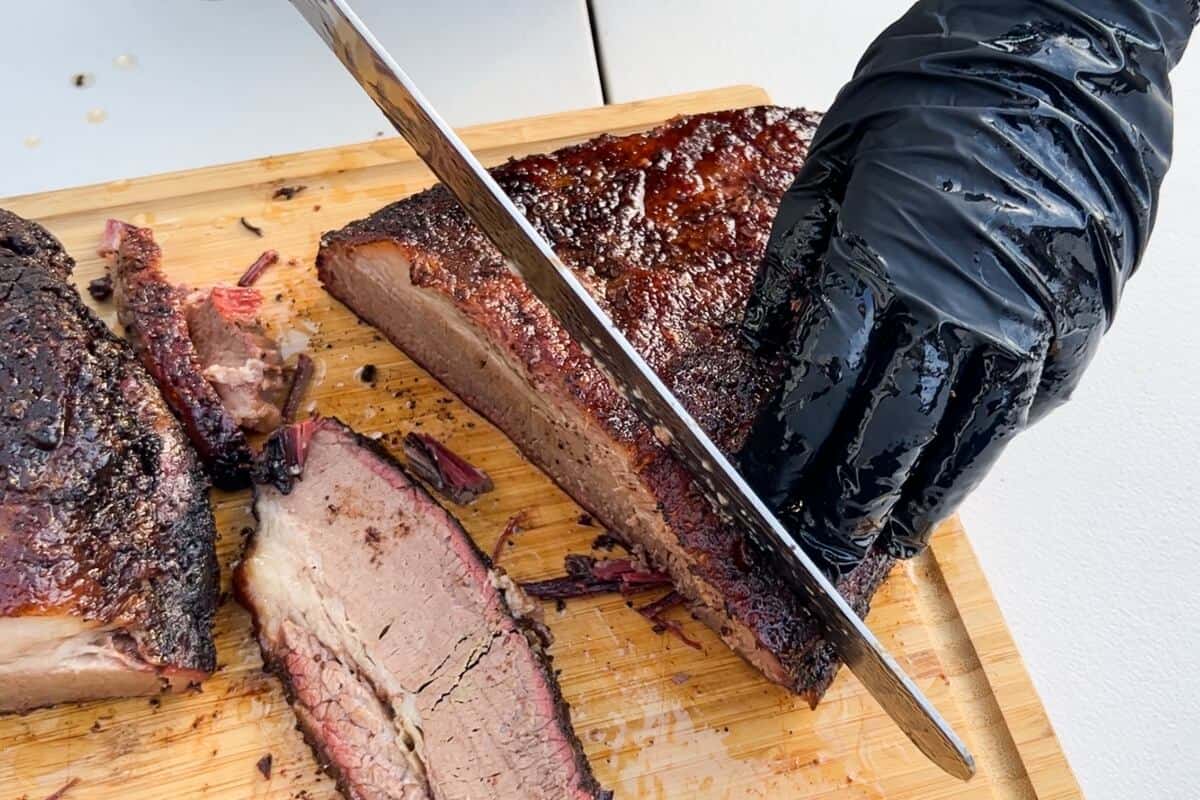 Brisket notoriously dries out within 20-30 minutes of being sliced, no matter how good a job you did cooking it, so don't blow it at the last minute by pre-slicing the whole thing!
Only slice as much as your guests are eating and then save the rest in its whole form for now or at least cut into smaller hunks you can slice up later.
We like to slice down the middle to speaparte the sections of the point and the flat.
Make sure when you begin slicing you are slicing AGAINST the grain.
Unfortunatly, the grain of the point and the grain of the flat run in perpendicular directions.
But you can check out our video to see exactly how we do this.
Make sure to use a good meat slicing knife so that your slices are even and easy to make.
We are big fans of the MAIRICO Brisket Slicing Knife. It works great for slicing meats like brisket, chuck roast, ham, and even sweet potatoes!
The edges of the point can be cut into cubes to make burnt ends if you wish which are delicious!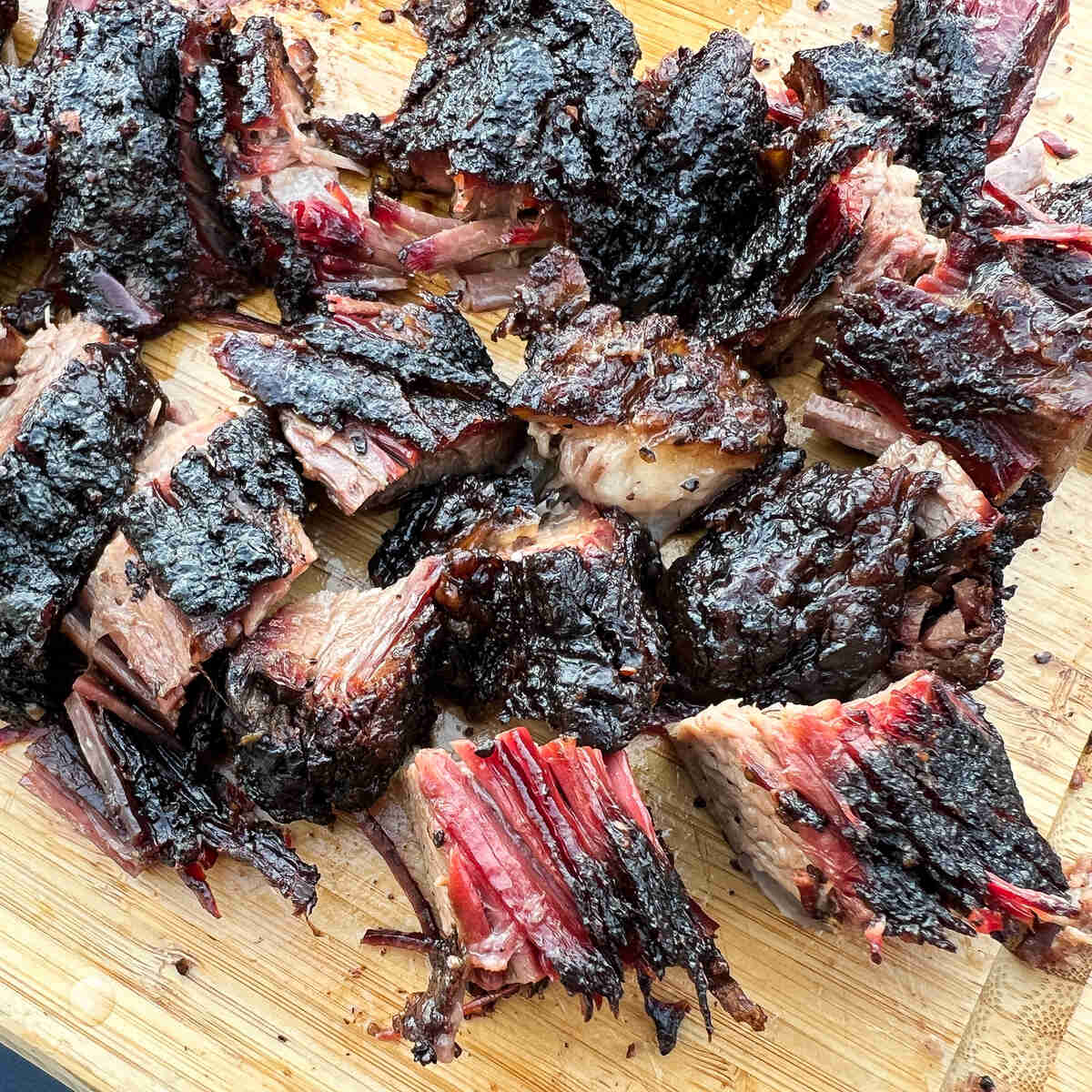 📖 Recipe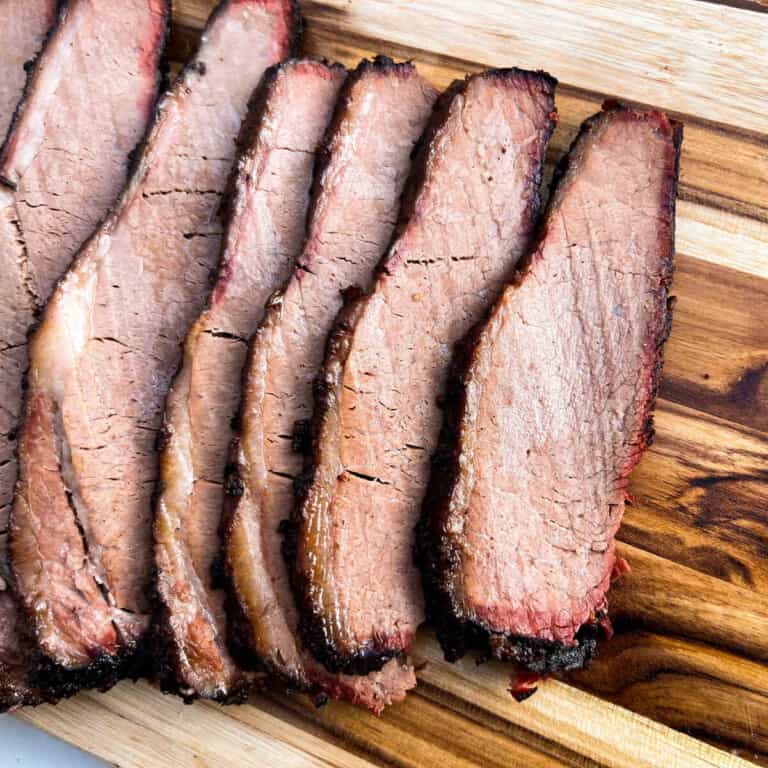 Pit Boss Smoked Beef Brisket
Learn exactly how to smoke beef brisket on a Pit Boss pellet grill following our detailed instructions and recipe below!
This is a great BBQ dish to feed a crowd, and especially easy to do on a Pit Boss!
Equipment
Pit Boss Pellet Grill

Wood Pellets

preferably hickory, apple, and/or cherry

Aluminum Foil Trays

Plastic Wrap

Internal Meat Thermometer

Heavy Duty Aluminum Foil

Large Cutting Board

Meat Slicing Knife

Large Cutting Board
Ingredients  
1

Whole Packer Beef Brisket

12-18 lbs

Worcestershire Sauce
Rub
½

cup

Kosher Salt

use more or less if needed depending on brisket size

2

tablespoon

Smoked Paprika

1

tablespoon

Black pepper

1

tablespoon

Garlic Powder

1

tablespoon

Onion powder
Instructions 
Prepare the Brisket
Trim any excess hard pieces of fat from the meat side of the brisket, as well as any fat along the edges.

Trim off any thin areas of the flat, rouning it out into a U-Shape and making sure the edges are all thicker than the width of a finger.

Trim the fat cap to allow more fat to render out to about ¼ inch of thickness.
Apply the Rub
Apply a thin layer of Worcestershire Sauce to the entire exterior of the brisket.

Mix the rub ingredients well and apply generously to the entire exterior.

Wrap in plastic wrap and place in the refrigerator for up to 2-3 hours while you prepare the smoker to allow the rub to penetrate the meat.
Start the Pit Boss Pellet Grill
Add your chosen pellets to the hopper, start the Pit Boss pellet grill, and let it run through the start up cycle.

Set the temperature to preheat to 200°F.

Fill an aluminum pan with water pan if you want to add extra moisture, and place it on the far left side of the Pit Boss. You can also place it on the bottom grates and cook the brisket on the top rack above it if the brisket will fit. .
Smoke the Brisket
Remove the plastic wrap and place the brisket on the Pit Boss, with the fat cap DOWN, and the thicker end pointing to the left.

Place an internal temperature probe into the center of the brisket.

Close the lid, cook the brisket for about 3-4 hours, and then increase the temperature of the Pit Boss to 220°F.

Spray the brisket as needed to keep the edges from drying out with a combination of apple cider vinegar and water.

Continue to cook another 3-4 hours, or until the internal temperature has reached 135°F, and turn the temperature up to 240°F.

Turn the brisket over now so that the fat side is UP. Place the brisket on a wire rack over a foil lined baking sheet for extra protection of the meat side from below.
Wrapping
Once the bark is a dark color and gives to pressing like soft butter, rather than feeling like rubber, it's time to wrap. This will usually happen around the 170°F internal temperature mark.

Carefully remove the brisket and place on the end of 2 overlapping strips of wax-free butcher paper.

Wrap the brisket tightly around all sides.

Replace the temperature probe and place the brisket back on the Pit Boss, still on the wire rack backing sheet combo.

Turn the cooking temperature up to 270°F.
Resting
When the internal temperature of the brisket has reached about 205°F, and feels "probe tender", remove the brisket from the Pit Boss and keep wrapped.

Let the brisket rest o the counter for about 60 minutes until the internal temperature comes down to 170°F.

Then place the wrapped brisket in an oven set to WARM, or about 170°F, for 6-8 hours.

Remove the brisket form the oven, and keep wrapped on the counter until it comes down to 135-140°F internally.
Slicing and Serving
Unwrap the brisket and place on a large cutting board. Slice against the grain of the flat in about ¼ inch slices. Slice against the grain of the point as well and serve immediately.

Save extra brisket unsliced to retain the most moisture.

Slice the burnt ends into chunks if desired.
Nutrition
Calories:
861
kcal
Carbohydrates:
4
g
Protein:
113
g
Fat:
40
g
Saturated Fat:
14
g
Polyunsaturated Fat:
1
g
Monounsaturated Fat:
19
g
Cholesterol:
337
mg
Sodium:
6936
mg
Potassium:
1937
mg
Fiber:
1
g
Sugar:
1
g
Vitamin A:
699
IU
Vitamin C:
2
mg
Calcium:
50
mg
Iron:
11
mg