What to look for when choosing among the best campfire grilling racks and a list of our favorites to take on your next camping adventure.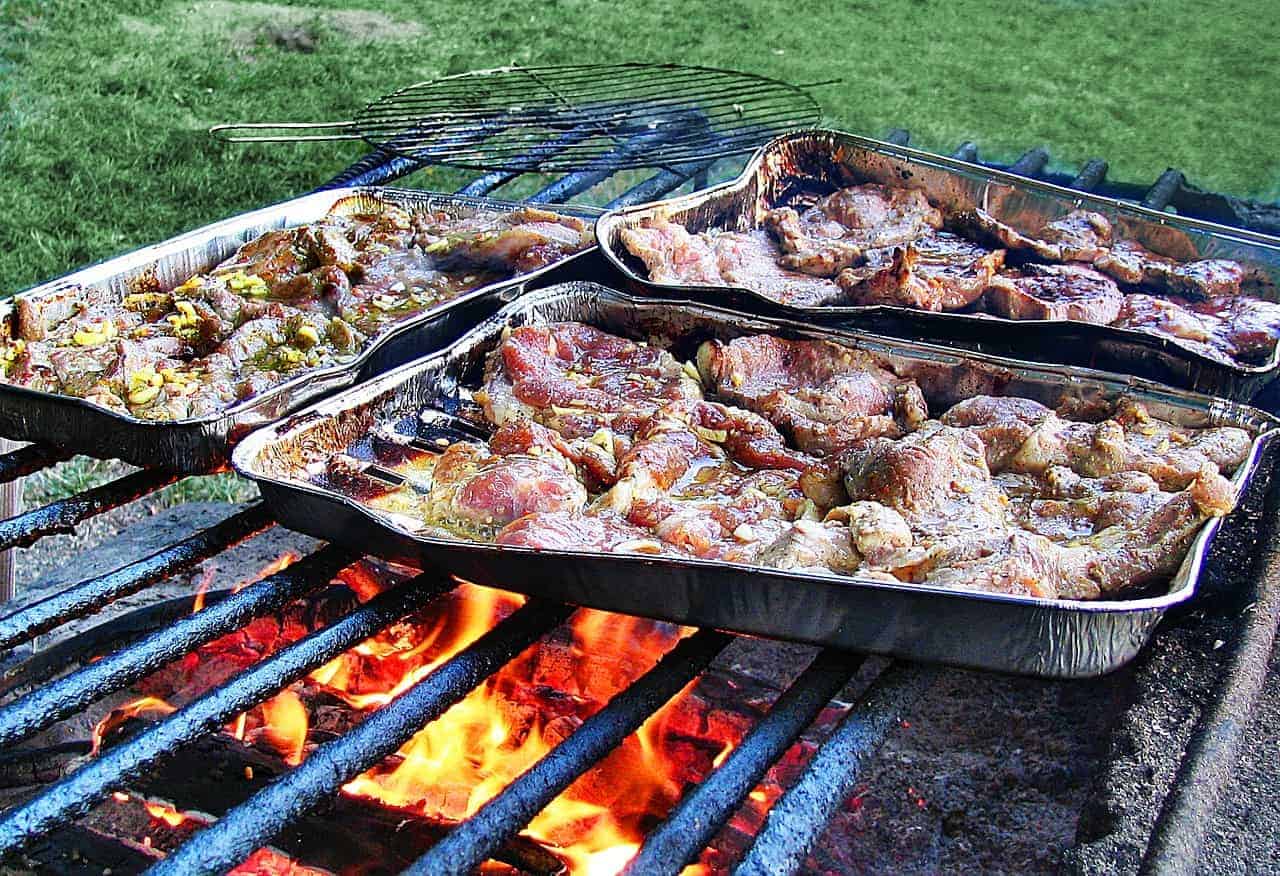 Ready to take the family or your scout troop on a great outdoor adventure, compete with cooking food right over a roaring campfire?
Then you've come to the right place!
Previously, we've be spent time looking at the best home cooking pits and fire pit accessories.
However, cooking over a real campfire, out in the wilderness, with 10 hungry scouts or family members watching your every move, can leave you frustrated and disappointed if you are not using the right grilling rack.
Campfire grilling racks provide you with a sturdy, even surface to cook your food on.
Lightweight and foldable, most of the best campfire grilling racks make portability and ease of setup a priority – whether you are going for a short trip or extended adventure.
Choosing the Best Campfire Grilling Rack
Buying the best campfire grilling rack can seem difficult at first because there are so many options.
Some considerations in deciding what kind of campfire grilling rack you want to purchase include taking a look at:
How you plan to use your campfire grilling rack
How often you will use it
How far you will need to hike with it
For how many people you will be grilling
How much money you want to spend
With so many different grilling racks out there, it is important to consider different features when looking for the right one for you.
Campfire Grilling Rack Type and Design
There are three standard grill types that campfire grilling racks come in: swivel grill, table grill, and flat grill.
Swivel campfire grill grates have two main pieces to them:
The grate itself
A strong stake
Drive the stake into the ground beside your firepit and support it with stones to keep it from leaning.
These campfire grilling racks are handy because you have adjustability to the height and angle you are cooking your food.
You can also quickly swing your food out from above the fire when it is finished cooking or if there are any greasy flare ups.
Table style campfire grilling racks have strong and foldable supporting legs that hold the food grates over the fire.
The rectangle grate provides a flat surface for balanced cooking, however, you must lift the entire grilling rack away from the fire in order to make any adjustments.
These campfire grilling racks are easy to transport and perfect for providing sturdy and level cooking over small fires on flat ground, but may prove difficult if you have rocks or uneven obstacles around your campfire.
Flat grill grates are similar in design to the table grill grate, except these campfire grilling racks do not have legs.
Instead, flat grill grates can be positioned with separate supporting stakes, fire bricks, or fire rated concrete blocks.
Without the heavy legs included, flat grates are incredibly light and easy to transport, however, they may be a little more awkward to set up and position exactly the way you want them without having to "Macgyver" them in some way.
Size & Weight
The surface size of your campfire grill rack will be dependant on how you plan to use it and for how many people you plan to be cooking for.
If you are a solo camper, then you likely do not need a large grill.
Size will also play a factor in portability– a larger size campfire cooking grill often means it is heavier and bulkier to transport, especially greater distances for multiple days.
You also need to consider the size and type of fire you plan to cook over.
Each type of grilling rack is designed differently for cooking over different fire areas.
Make sure you do not get a campfire grilling rack that is too heavy to carry. If your campfire grilling rack is too heavy for you to carry by yourself, you should look for something a little smaller or lighter.
Material
If you are going to invest in a campfire grilling rack, it is important to ensure you are getting the best quality and durability for your money without sacrificing portability.
Because campfire grill racks face extreme temperatures, high-quality steel is the best lightweight material to choose compared to something like cast iron.
Making sure each piece is welded tightly to the steel body of the campfire grill rack will help in getting a long life out of your grill.
Cost
When factoring in the cost for your budget, you need to make some decisions on what you are willing to compromise for cost, and what is a deal-breaker when it comes to buying your campfire grilling rack.
Some grills are more expensive than others, depending on the specific features and styles you are looking for. Remember, though – you often get what you pay far.
Once you have determined what kind of grill you want, it is time to start shopping. Here are a few of the top-rated campfire grilling racks to start you off.
Our Favorite Campfire Grilling Racks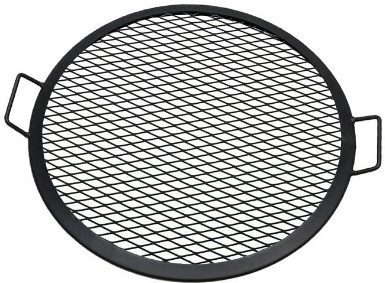 This campfire grilling rack  from Sunnydaze is perfect for basic campfire grilling.
It is designed in a circular shape to fit right over the top of a campfire.
Measuring 30 inches in diameter, the X-Marks campfire grilling rack provides you with ample grilling space for an average sized crowd.
Strong, steel handles provide you with a durable way to transport your grilling rack.
The mesh pattern allows for easy cooking and keeps small bits of food from falling into the fire.
If you are looking for a high quality swivel style grill for cooking sausages, steaks, or veggies, then the Titan campfire grilling rack is the one for the job.
The grate is wide and comes with a stable pole for adjustable cooking positions, depending on the size of your fire.
Whether you are cooking over an open fire or the top of a fire pit, this campfire grilling rack comes through every time. It is also equipped with a handle, which makes this grill easily portable as well.
The Texsport heavy duty campfire grilling rack is a strong and durable table style grill, without a doubt.
The steel of this high-quality grill is welded with care to ensure this campfire grilling rack lives up to its heavy-duty reputation, yet is still easy to carry while camping. With a heat resistant finish, the Texport is guaranteed to last.
Foldable legs make it easy to pack this campfire grilling rack on any camping trip.
The strong mesh and legs on the Texsport heavy duty campfire grilling rack provide increased support to allow you to cook not only your campfire favorite, but you can also use other camping cookware on it as well, making this campfire grilling rack a must-have in our books.
The only thing you may have trouble with is picking which size to get – you'll have three to choose from!