Learn how to prepare and smoke a turkey using a pellet grill, and why it is hands down one of the best (and fool proof) ways to smoke a turkey at home!
If you've ever done a smoked turkey, you know that it's an amazing way to prepare what can otherwise be a pretty lackluster meat.
You may have tried cooking turkey outdoors on a gas or charcoal grill, but you probably don't make smoked turkey very often.
We spent some time recently comparing propane and electric smokers, but unfortunately, neither of these options work too great for turkey.
That's because with propane, you have to babysit your bird for hours on end, making sure the temperatures never get too high or your wood chips get too low.
And while electric smokers do offer "set it and forget it" convenience, they rarely come in sizes large enough to practically accommodate big pieces of meat like a full packer brisket or a full size turkeys.
However, one option we are fans of is the the fast-and-scorching-hot-under-a-trash-can-method….yes really.  But it's tough to add smoke flavor with this method, which is what we are trying to accomplish here.
That all changes when you add a pellet grill to your outdoor cooking equipment mix. With many very affordable and simple to operate pellet grill options on the market, like these ones from Zgrills, you get the best of all worlds.
We at Mad Backyard are particular fans of the new ZPG-1000D model.
Z GRILLS-1000D
By utilizing automatically adjusting cooking temperatures like an indoor oven, while also getting the smoking and meat flavoring benefits of combustion from an outdoor wood smoker, you really can have it all.
This is the missing hardware that makes smoking delicate meats like turkey 100% easier and can easily turn smoked turkey into a regular indulgence!
How a Pellet Grill Works
In order to cook ANYTHING well on a pellet grill, you need to first have a basic understanding of how it works.
A pellet smoker has a cooking chamber where pumped in air circulates, heating your food up with convective currents.
***New to using a Pellet Grill?  No Worries!
Hop over and check out this complete guide to understanding how a pellet grill works first if you are interested in learning more.  We'll be here when you get back!***
Depending on the model, you add hardwood pellets to a cooking chamber at the bottom or in a side hopper. You might see this area is referred to a burn pot or fire pot depending on the brand, they're all the same thing.
We are big fans of Bear Mountain Hardwood Pellets because they are compatible with most pellet grills and provide a nice clean, even burn and smoke flavor.
We particularly like using the Apple pellets for chicken and turkey.
Then, the food you want to smoke sits on grill grates up by the top of the chamber. Every time the fuel runs low, more wood pellets are dispensed from the hopper over by the cooking chamber.
There's an auger that pushes your pellets down the chute at regular intervals. All of this is handed automatically.
Features like smoke and temp control offer set it and forget it convenience.
Instead of being in and out of the house constantly trying to figure out when or whether to add more wood or to adjust the air flow, you just program the unit and give it time to do its thing. It's just a matter of the right ingredients, add ons and equipment.
Looking for a Reasonably Priced Pellet Grill? 
Check out this article for a review of our Favorite Pellet Grills available for UNDER $500.
Here is an informative video from Zgrills on how their specific line of pellet grills that we love work:
Choosing Your Turkey for Pellet Grill Smoking
First choice is the bird that you are going to smoke for your meal.
When it comes to turkey, bigger isn't always better. For food safety reasons, go with a bird that is 15 pounds or less.
Save the massive 22-pounder for spatchcocking on your monster grill midwinter. For now, you want something that will cook evenly in its whole form, without taking the entire day.
A breast can often be finished in 2-3 hours, while a whole bird may take 4-5 or more. It all depends on the size of the bird and your preferred cooking temperature.
To Brine or Not to Brine
Wet Brining
One turkey prep method you'll read about a lot is brining.
At its most basic, this is just soaking your bird overnight in a solution that includes salt, water and some aromatics.
But, what does it do?  Well, the salt naturally penetrates the bird overnight and helps to not only flavor the meat but help it retain moisture throughout the cooking process.
Do you need to brine your turkey before you smoke it?
The answer is, it depends.
If you have a supermarket turkey that's been injected with a brine solution, don't bother brining at home. It won't do anything.
You can tell if your turkey is already brined because the label will say something like "moisture enhanced with up to X% solution of turkey broth, salt, sugar" what have you.
If, on the other hand, you have a natural bird without additives, you could take the time to brine it.
You can use one of the many brining recipes online (Alton Brown's is a classic) or save a bit of effort with a premade turkey brining solution.
This Brine Kit from San Francisco Salt Co. is an easy-all in-one solution.  It also pairs well with apple wood smoke.
Organic Turkey Brine Kit – 16 oz. Apple Sage
A JUICY, FLAVORFUL TURKEY STARTS WITH A GREAT BRINE - Brining adds moisture and flavor, yielding a tender and delicious turkey

ORGANIC & KOSHER CERTIFIED - Apple Sage Turkey Brining Kit is Certified Organic and Kosher and does not contain any MSG, Soy, Gluten, Dairy, or anti-caking agents.

BPA FREE BRINING BAG - 16oz Brining Kit is ideal for Turkeys 18-22lbs.
Brining for a good 24 hours before you smoke it will yield a more flavorful, juicier bird, so the time in the brine can be worth it.
Dry Brining
However, a much easier way to achieve similar results is by dry brining your turkey instead.
Simply coat the inside and outside of the rinsed and dried bird with kosher salt and pepper and store on a drying rack set on top of a baking sheet in the refrigerator overnight.
Wipe off the excess salt left on the outside with a wet paper towel before you cook, and then season with all your non-salt herbs and seasonings.  The bird is plenty well salted at this point from the salt penetrating overnight.
With dry brining, you get all the benefits of salt penetration and moisture retention without having to deal with a giant bucket of salty raw turkey water when you're done!
How to Smoke Your Turkey on a Pellet Grill
With a pellet grill, this is the easy part!
Just plug in the grill, choose your bird, decide whether to brine or not, then add your wood pellets.
Set the temperature to about 325 degrees, and let the grill come up to temperature.
While you technically CAN cook your turkey "low and slow" at 225-250 degrees like traditional pork and brisket barbecue, you will never get crispy skin because the fat will not render at these low temperatures.
A good pellet grill like the ones from Zgrills will automatically maintain their temperatures by adding more wood pellets when they need to.
So set your turkey in the cooking chamber and let the pellet grill do its thing!
Rotate hourly for even cooking.
No need to baste, this will prevent crispy skin and slow the cooking process.  If you brined, your turkey will stay moist, don't worry.
You'll want to check periodically for doneness.
Your bird is ready to eat when you hit an internal temperature of 165 to 170 on your instant read thermometer.
If you don't yet own an instant read thermometer, it's going to be hard to really know when that turkey is done on the pellet grill.
One of our go-to and very affordable favorites is this waterproof model made by Kuluner.
Prices pulled from the Amazon Product Advertising API on:
Product prices and availability are accurate as of the date/time indicated and are subject to change. Any price and availability information displayed on [relevant Amazon Site(s), as applicable] at the time of purchase will apply to the purchase of this product.
Let the bird rest for about 15-30 minutes before carving and serving so that the juice stays in the meat where you want it.
Best Wood for Smoking a Turkey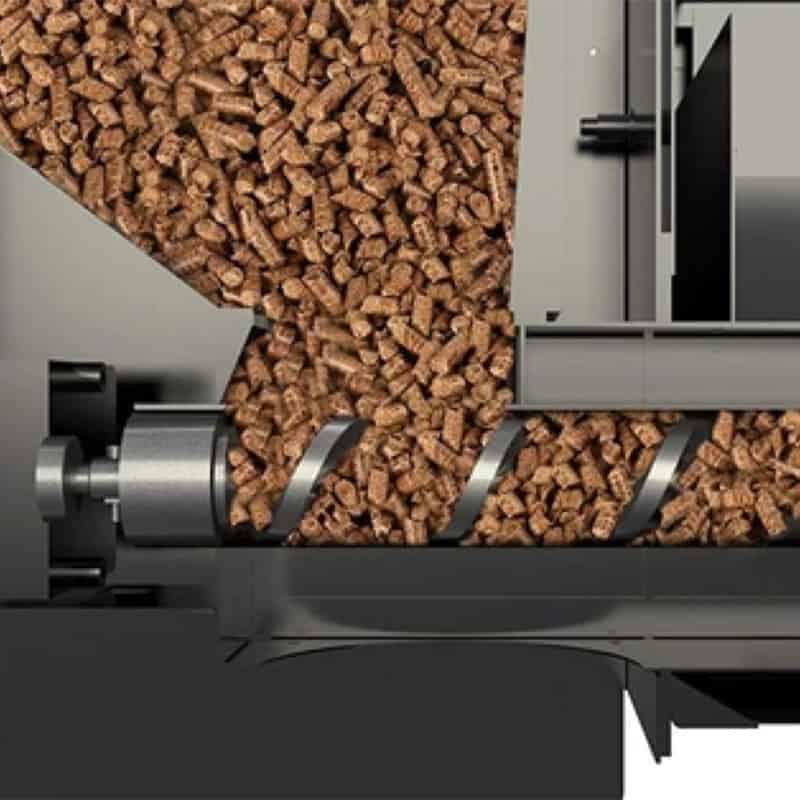 You have a lot of freedom when it comes to choosing the right wood to smoke your turkey.
Mesquite and hickory will give a much more aggressive smoke flavor. This is perfect for turkey you plan to use on sandwiches or eat in smaller portions with a lot of sides.
You can also go for a milder smoke flavor by choosing oak or fruitwood pellets. Pecan, apple, beech and cherry all give great results.
Prices pulled from the Amazon Product Advertising API on:
Product prices and availability are accurate as of the date/time indicated and are subject to change. Any price and availability information displayed on [relevant Amazon Site(s), as applicable] at the time of purchase will apply to the purchase of this product.
For fun, you can choose your woods seasonally, using beech and cherry in spring and summer and pecan and apple into the fall and winter.
Make sure you purchase pellets that are sized correctly to work in the hopper of your particular pellet grill, like these ones from Zgrills.
Accessories That Enhance Your Grilling Experience
Foolproof smoked turkey starts, of course, with a high quality grill.
Choose one with the space and features you need to optimize your experience. From there, you can go as simple or fancy as you want.
A good digital thermometer is also a must. Pulling your smoked meat at just the right temperature is key to a high quality meal.
While instant read thermometers are great fo a quick spot check of different parts of the turkey, dual Probe Wireless models let you track your turkey's overall progress without ever leaving your lawn chair!
Our go-to model is this one by ThermoPro.
ThermoPro TP08S Wireless Digital Meat Thermometer for BBQ Grill with Dual Probe
300ft remote range and hassle-free setup: Wireless meat thermometer monitors your food and grill temp up to 300 feet away.

Dual probes for food and BBQ: Meat thermometer oven safe with highly accurate stainless steel food probe and oven/ grill/ smoker temperature probe, to allow you to monitor both food and ambient temperature simultaneously,

High accuracy and wide temperature range: Cook anything with ease with wide and accurate temp range: 32°f to 572°f (0°c to 300°c) and high accuracy of 1. 8°f ( 1°c
Some good grilling tools are the next thing you need.
Quality, long handled tongs make it easy to maneuver your meat. I also like to have a pair of silicone oven mitts to get my hands on what I'm cooking more easily.
For a COMPLETE list of our favorite insulated BBQ Gloves, check out this article here.
And, of course, a variety of wood pellets and brine mixes always helps!
Cleaning Your Pellet Grill
Pellet grills remain carefree during use as long as they are well maintained in between cooks.
After  you use your grill, take the time to scrub down the grill grates. Remove any residue from inside the lid. Scrape down all the other parts, too, to remove debris.
Don't forget the grease chute and your thermometer.
Finally, vacuum out any ashy residue that might clog the grill. Then, rinse down and reassemble.
Pellet Smoking Your Thanksgiving Turkey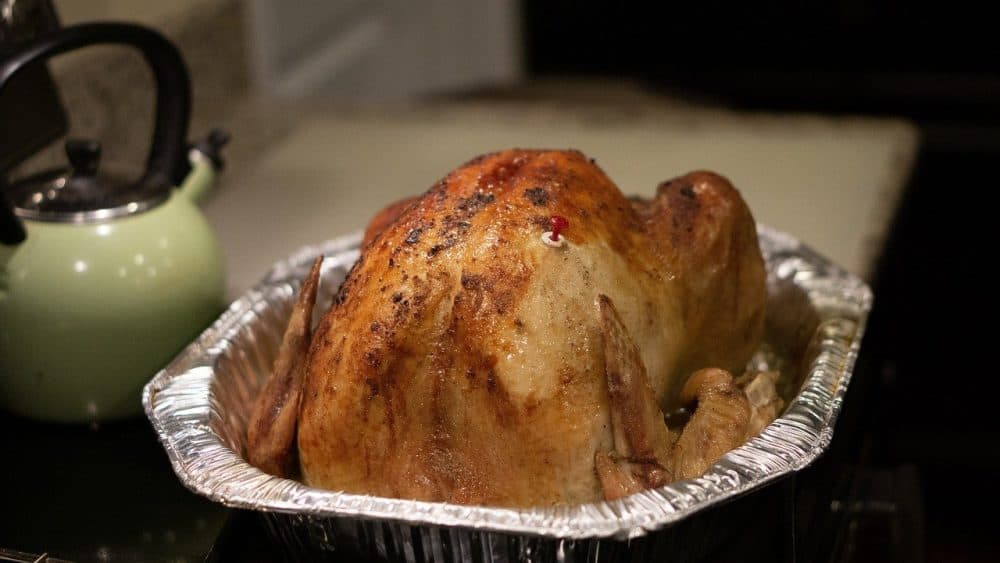 If you're like me, you think all year long about the majestic beast you'll put on the table for Thanksgiving dinner.
Plan well ahead and do a test run or two in the summer and early fall so that everything goes great on the big day.
For fall, consider brining with seasonal flavorings like sage and thyme. Then smoke on a fruitwood like pecan or apple.
Trash Can Turkey – The hottest, fastest, most fun way to cook a turkey
Looking for another FUN way to make Turkey?
Check out this RIDICULOUSLY FAST AND FUN method for cooking a full sized turkey in only 2 hours!  Click HERE NOW.
Other Fun Pellet Grill Recipes
Looking for some more inspiration?
Check out some of our favorite recipes below that can easily be modified to be done on a pellet grill.
Pellet Grill Turkey
Learn how to prepare and smoke a turkey using a pellet grill, and why it is one of the best ways to smoke a turkey at home.
Ingredients
1

Whole Turkey

Thawed and NOT pre-brined

1

Cup

Kosher Salt

Herbs and Seasonings

to taste

Wood Pellets
Instructions
Wash and pat dry your turkey, removing any giblets from inside the cavity.

Place the Turkey on a wire rack on top of a foil lined baking sheet

Dry Brine your turkey overnight by covering the inside and outside with a thin coating of Kosher salt and placing in the refrigerator.

The next day, gently wipe off any excess salt remaining on the outside of the turkey. Add any additional non-salt seasonings and herbs.

Load your pellet grill hopper with your prefered wood chips and turn on your Pellet Grill. Set the temperature to 325-350 deg and setup for indirect heat if applicable.

Place the turkey in the pellet grill, and flip and rotate every every hour.

Cook 3-4 hours, depending on the size of your turkey, until the breast reaches an internal temperature of 165 degrees F, and the thighs reach an internal temperature of 175 deg F on an instant read thermometer.

Remove from the pellet grill and let rest 15-30 minutes before carving and serving.