Learn how to use cedar planks for grilling the right way. Check out our 10 tips for using cedar planks to take your grilling to the next level!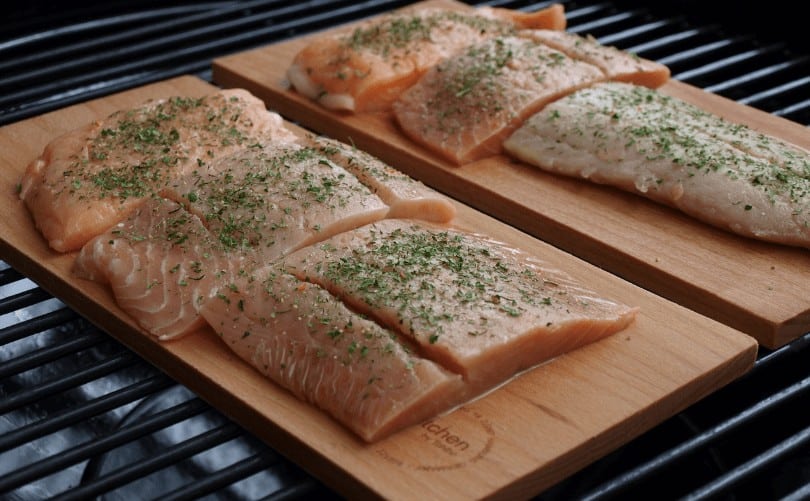 Grilling your favorite foods like salmon, scallops, or shrimp on a cedar plank gives you a deep, woodsy flavor that isn't achievable with many other types of cooking.
As a matter of fact, cooking on a cedar plank is not a new trend. It was widely used by the Native Americans in the Pacific Northwest for years.
They used it specifically to secure fish and other food to a surface, preventing them not only from falling into the fire, but also for adding that signature smoky flavor.
Well, this cooking tradition on cedar planks has never been outdated. It remains one of the easiest cooking methods for seafood on the grill, especially when you want to add that smoky, woody flavor.
You can even consider grilling mild white meats like chicken and pork, as well as vegetables and fruits with it.
Many folks use cedar planks for cooking vegetables like asparagus or summer squash mixed with onions, peppers, and mushrooms using a very little quantity of oil.
Another benefit is that cedar planks infuse steam, helping the food stay moist and tasty.
So, if you're already planning to buy a few planks for one your backyard barbecue parties, take some time to learn some of the basic information you should know regarding cedar planks.
Choosing, and then using cedar planks to grill does require some research.
Why? Let's find out.
Choosing Cedar Planks for Grilling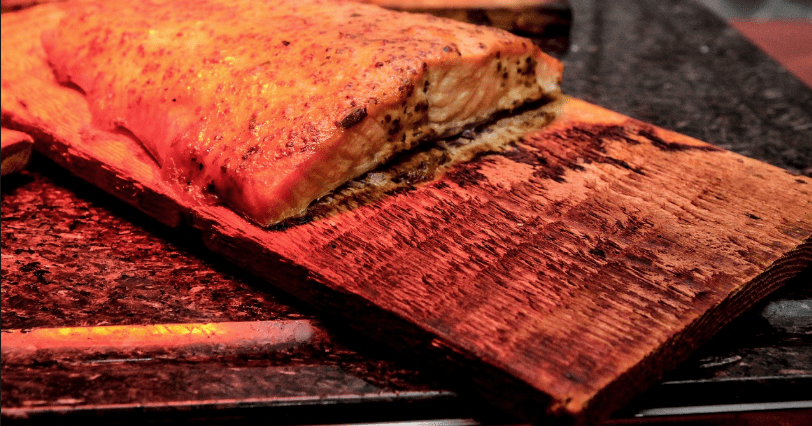 There are so many grilling products on the market these days, it sometimes feels overwhelming to decide on what best suits your needs.
Buying a culinary grilling plank from a specialty cooking store will cost you more than buying a high-quality cedar board at a lumberyard.
You just need to make sure that whatever board you buy is UNTREATED.
If you decide to purchase cedar planks from the store, be sure to choose only food-grade wooden planks. These wooden planks are not treated with any chemicals and are sanded down for a smooth surface.
It is okay if the wood of your cedar plank is smooth or textured. But it is important to try and find cedar planks that don't come with too many knots. You'll only need a few knots for the grease and oil to settle.
Another important factor to consider is that cedar planks for the grill should be at least ½ inch thick.
You'll be able to reuse them more easily if they are thicker.
We recommend that you select a plank that is large enough to suit your cooking needs. A typical plank comes in a rectangular shape and is about 13 x 7 inches in size.
Consider the types of foods you maybe cooking on it and how much space you will need.
Also consider how MAY planks you will want on hand.  It is best to segregate different boards for different meats.  Separate boards for seafood and shellfish from chicken so you don't cross contaminate your flavors from use to use.
No one wants salmon flavored chicken breasts.
10 Tips for Grilling with Cedar Planks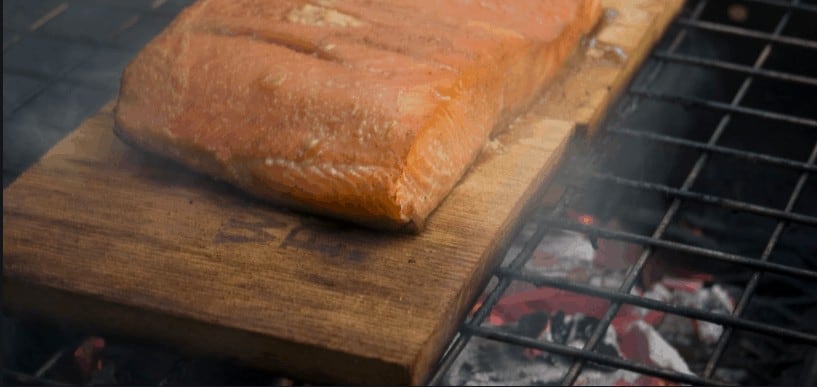 Using cedar planks following these tips not only enables you to add a unique flavor to your food but will also help with the presentation of the food.
If you plan to use the cedar planks for grilling, soak them for around one to twelve hours before grilling your food on them, depending on size and thickness. This will prevent the wood from burning and will also keep your food moist. Make sure that the planks are completely immersed. You can fill a couple of inches of your sink with warm water and submerge the planks by placing something heavy on top. This will prevent the cedar planks from floating to the surface.
You can use salted water to soak your planks. If you wish to add an extra dimension of flavor, consider using fruit juice, beer, apple cider, or cooking wine instead.
Brush the plank as well as the food that you are planning to grill with oil; this will prevent the food from sticking to the planks.
To enhance the flavor and avoid warping, cure your new cedar planks by placing them on the grill and heating them for two minutes on each side. Be sure to close the lid when you do this.
Place the cedar planks over the direct heat of your lit coals if you are using a charcoal grill. For a gas grill, first, preheat the grill on high, clean your grates well, and then bring the heat down to medium once you start cooking.
Your metal grill grates conduct heat much faster than wood. So, plank-cooked foods will take more time to cook than other grilled foods. Be sure to allow enough time for your food to cook properly. You can also cook with indirect heat to increase the longevity of your planks, or, if you want a less intense woodsy flavor. Fire one burner on your grill, place your food on the opposite side of the grates, and close the lid.
Once your salmon or any other fish is up to temperature, remove them from the hot boards,  They will continue to overcook if you remove the boards from the grill but leave the food on the wood. You can use a good instant food thermometer to find when the thickest part of your filet has reached at least 145 degrees F.  For poultry, make sure it reaches 165 deg F.
After removing the food from the cedar planks, turn the planks over and let the grill burn off any leftover food bits for 2-3 minutes.  Turn over and scrape the planks as soon as possible. This is the fastest, and most sanitary way to clean your boards after cooking.
Let the planks cool first, and then soak the planks in a container of warm water. Do not use any soap. Remove from the water, wipe clean, and let them air dry. Be sure that your cedar planks are dried completely before storing them.
If your planks are charred during grilling, you will still be able to reuse them a few times. If the wood is blistered completely, it is best to break up the cedar planks and use them as smoking chips instead.
Following these tips will make grilling with cedar planks a breeze and add to your ever expanding arsenal of grilling methods.
What Other Food Can I Make on my Grill?
Looking for some more smoky inspiration?
Check out some of our other great recipes of smoked and grilled food to try out at your next outdoor BBQ!
Trash Can Turkey - OK, technically not made on a grill but one of the most fun ways there is to cook a Turkey...at over 700 degrees in only 2 hours!  You've got to check it out!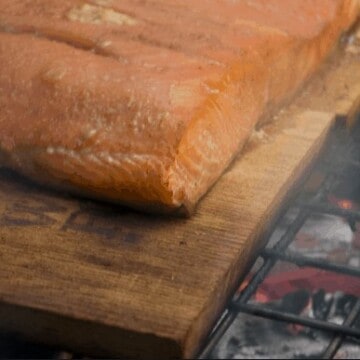 How to Use Cedar Planks for Grilling
Learn the RIGHT way to use Cedar Planks for Grilling your favorite foods like salmon, shrimp, chicken, and fish!
Ingredients  
4

Untreated and Soaked Cedar Planks

8

tablespoon

Oil

1

Large pan of Water
Instructions 
Fill your clean sink or a large pan with a few inches of warm water and submerge your planks, weighing them down with a heavy bowl. Leave for 4-24 hours, the longer the better.

You can use salted water, fruit juice, wine or beer to experiment with added flavors.

Remove the cedar planks from the water and dry the surfaces thoroughly with a clean dish towel.

Brush both sides of the plank AND your food with oil to prevent the planks from sticking to the grill and the food from sticking to the planks.

Place the planks on the hot direct heat of the grill for 2 minutes on each side to help cure them before cooking.

Add additional oil if necessary and then put your food on the planks.

Close the lid of the grill and continue to cook until your meat reaches a food safe internal temperature, flipping the food on the plank as necessary. (145° F for salmon, 165°F for chicken).

After removing the food from the planks, flip the planks over and turn heat up to high to help burn off any residual food from the planks and disinfect.

Turn off the heat, let the planks cool while you enjoy your meal.

Once the planks have cooled, place them in a bath of warm water to soak. Do not use soap as this will soak into the wood and get into your food the next time you use them.

Remove from the water, wipe clean, and air dry them thoroughly for 24-48 hours before storing.
Notes
Always use food grade, UNTREATED cedar planks.  It is normal for them to produce steam during cooking if you soaked them beforehand.  DO NOT place on the grill without first soaking in water or else they will smolder and smoke, and possibly ignite.