We've put together a handy compilation of ideas to inspire you before you start building an outdoor cooking station.
There's a lot to consider so let's get started!
The backyard.
Your outdoor oasis just steps away when you need it to be.
Now more than ever, people are opting for the staycation in Puerto Backyardia over traveling.
Adding an outdoor cooking station will transform your backyard into a next-level outdoor living space; giving you endless entertainment options for not just guests, but for you to enjoy as well.
START PLANNING
Deciding where your outdoor cooking station will be located is the first step in determining what your station will look like.
Placing your outdoor cooking station close to your house provides shelter from the wind and allows quick and easy access to the indoors and existing gas and plumbing lines.
You will, however, have to be sure there is proper ventilation for your outdoor cooking station to avoid smoke from getting into the house while cooking.
Space and size may also be a limitation so close to the house.
Placing your outdoor cooking station further away from your house as a stand-alone entertainment space gives you more freedom and options, though it does come with its challenges.
More open to the elements means creating a structure to protect your outdoor cooking station.
You may also need to create an even foundation to allow for more appliances and features. Access to existing utility lines may prove more difficult as well.
SCOPE AND BUDGET
Next, determine the features you want to have in your outdoor cooking station and how much it will cost. It's always recommended to consult a professional – especially when working with gas lines and appliance installation.
Make sure you include installation costs for these things and what features you will be adding when making your budget.
DESIGN
Designing your outdoor cooking station will require technique, knowledge, and skill that may be out of your scope; a contractor will be able to measure and create a blueprint of your station, as well as place your appliances.
These are important steps to give you a proper outline and scope of your project.
Appliances
When selecting appliances for your outdoor grilling station, stainless steel is a great option;t hey are more durable against the elements, making them last longer outside.
Take extra consideration into the design If you plan on putting a tv or speakers in your outdoor grilling station, the functionality of the appliance - made for outdoor use, screen glare and temperature regulation and safe water placement.
Consider a cover for when you are not using the space for extra protection.
Flooring
Building an outdoor grilling station may mean you need to incorporate flooring.
If you have an existing wood deck, make sure the structure can support the structure and appliances.
Outdoor matting and rugs will also help protect concrete or brick from greasy spills and stains..
Depending on the material - such as tile, pavement, or cobblestone, you will need a professional to install it.
There are other materials like deck planks and tiles that are made from vinyl or other composite materials that are easier to install and DIY friendly.
EON 12"x24" Deck and Balcony Tiles
No organic material making it impervious to rot, insects, mold, mildew

Engineered polymer, realistic natural wood tones and texture

Easy to install, just snaps together, no sanding, no staining, no painting required
Outdoor Coverage
Pergola Reviews on Amazon
Protecting your outdoor cooking station is just as important at the station itself.
A permanent structure like a pergola or gazebo will allow you to enjoy your outdoor cooking station all year.
However, if you are only looking to use your outdoor cooking station seasonally, a less permanent option like a large parasol or patio umbrella may suffice.
Check out a full list of our favorite hardtop gazebos HERE, and our favorite backyard shade ideas HERE!
Grills and Smokers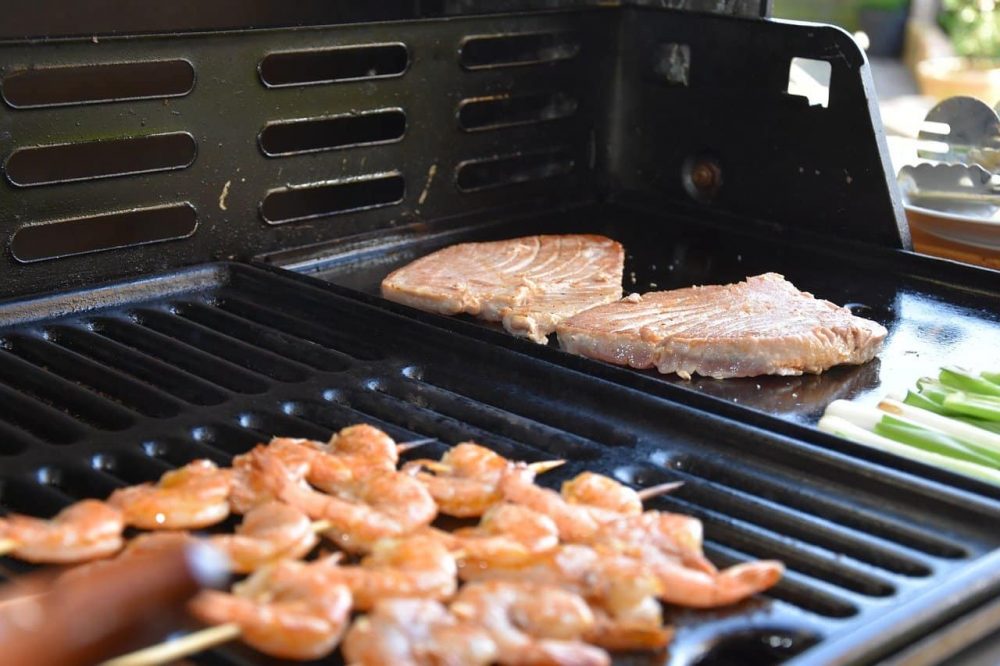 Ah, the center of attention at last.
You will need to decide what the best type of grill (or grills) and/or smokers will be for your outdoor cooking station.
Consider gas or electric grill, smoker types, etc.
Your desired main function and space will determine the best appliance for your outdoor cooking station.
Grills
Check out our Favorite Pellet Grills Under $500
as well as our Favorite Gas Grills UNDER $200
Smokers
Check out our Favorite Entry Level Smokers for Beginners
as well as our favorite Vertical Smokers that don't take up much space
and our favorite Competition Style Smokers for Larger Cookouts.
Bar
An outdoor cooking station doesn't have to be limited to just cooking – transform your outdoor space into a complete entertaining area with an outdoor bar.
Determine if this piece will be a stand-alone feature or if your cooking space will blend seamlessly with a beverage station.
A bar fridge will be a key component, as well as a storage area for your wine and spirits and a place for glassware and bar utensils.
Alternatively, you can save some money with a stylish outdoor drink cart instead of a refrigerator.
Lighting
Outdoor lighting for your cooking station needs to be well thought out, as you experience the limitations of outdoor structures.
Building lighting into cooking and prep areas, as well as cabinets and backsplashes, can help you get around that; some newer appliances and grills even have lighting built right into them.
Strip or wired LED lighting is a rather inexpensive option; these LED strips can be easily installed almost anywhere to allow the right kind of lighting in a spot that may be otherwise difficult to illuminate.
Seating
Whether you choose to have a few high-top counters and stools or an elaborate open-air dining room, choosing the right seating and furniture for your outdoor cooking station will help you determine the kind of space you want to have.
If you are one to entertain on a large scale, you might consider a full outdoor furniture set.
Regardless of your choice for furniture, make sure you choose the right material for outdoor use.
Countertops
Stainless steel, stone, or granite is the most recommended material for your outdoor cooking station, with stainless steel being your less expensive option.
Though wood has a desirable rustic look – it will not weather well against the elements.
Storage & Cabinetry
Not only will adding cabinetry to your outdoor grilling station give you a polished and sophisticated look, but it provides a very practical purpose of kitchen storage for your space.
However, just like the appliances, you must ensure you are getting the appropriate product for outdoor use.
External use wood cabinetry can be used, but stainless steel or masonry cabinets will give you better longevity and functionality.
Looking for More Grills, Smokers, and Accessories to Consider for your Outdoor Cooking Station?
Check out some of our favorite brands and styles of grills, smokers, and cooking accessories to add to your list!
Smokers
Grills
Accessories