Learn how to measure for a patio umbrella the right way to find the perfect one for your space!
We consider size, style, and function as well as the size of your patio and the size of your table to help you measure and find just the right sized patio umbrella.
Let's go!
We all love being outside, spending time in the sun, enjoying the fresh air, but often times we do need some shelter from the sun and a patio umbrella is the perfect solution.
Measuring for, and then finding the right patio umbrella can make a huge difference in how happy you are with your patio and how much time you actually end up using it.
Patio Umbrella Measurements and Typical Sizes
Before you can measure for what size patio umbrella you need, you must first understand how umbrellas themselves are measured and categorized.
Diameter
Patio umbrellas are measured in a few different ways.
The first is the diameter, or length across the umbrella when it is extended.
First you take the measurement of the length of one of the rib arms from the center to the tip.
This measurement is then doubled to give you the full diameter of the umbrella you are measuring.
A patio umbrella with a three foot long rib arm for example is considered a 6 foot umbrella, one with a four foot rib arm is an 8 foot umbrella and so on.
Height
Another common way that patio umbrellas are measured is by the height, or length of the pole.
This helps to determine how they are going to be placed and used.
An umbrella that is going to be placed ON a table for example is going to have a shorter pole than one that is going to (more commonly) go THROUGH a table into an umbrella stand or buried into the ground directly.
Common Patio Umbrella Sizes
Some common sizes (diameters) of patio umbrella are:
6 feet
8 feet
9 feet
11 feet
There are some that are larger but they are likely going to need to be specially ordered or specially made.
These are just some common sizes, you can get smaller umbrellas and larger ones, depending on what you need.
Patio Umbrella Styles
There are a few different styles of patio umbrella as well to consider.
There are the conventional table umbrellas that are meant to be placed in a stand and that can articulate and move to be directly over the table, at an angle, and more.
There are crank umbrellas, umbrellas that are self opening, and really popular today for large spaces are the cantilever umbrellas that cover a HUGE area while keeping the base out of the way.
Taking time to make sure that your umbrella type fits your function is the biggest issue outside of just  measuring for the perfect sized patio umbrella.
Why You Need to Measure for a Patio Umbrella
Patio umbrellas are a great way to make those super scorching days a bit more bearable.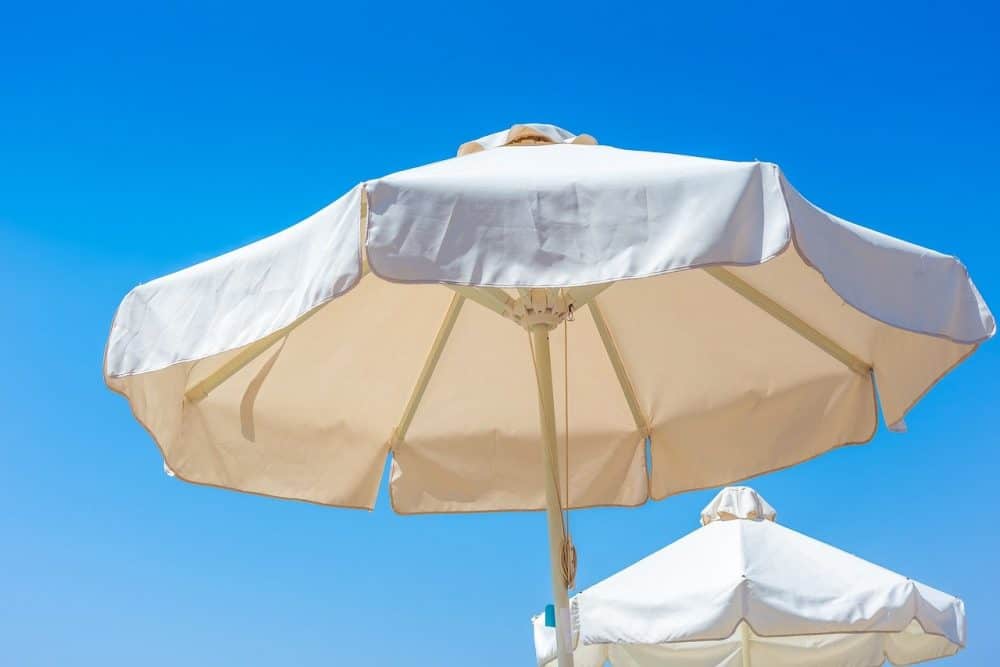 The sun is a great thing, we need it for vitamin D and to help our food grow, if we are deprived of sunlight we can become ill, we can suffer mentally, and we can become unhealthy.
UV rays can damage the skin and cause skin cancer, a patio umbrella makes it possible to get out and enjoy the sun, without the harmful effects and does provide some relief from the heat when you are outside.
A patio umbrella is a fantastic addition to any patio or outdoor space and can make it more useful to those that might not want to be directly under sunlight or that just want some shade to relax in.
Patio umbrellas are varied in size, shape and overall materials, making selecting the right umbrella harder than you might imagine.
How to Measure the Perfect Sized Patio Umbrella for Your Space
There are some different methods that you can use to determine what size umbrella is going to work best for you and for your space.
Buy based on table size
Buy based on overall space
Buy based on function
1. Measuring for a Patio Umbrella Based on Table Size
If you are going to be placing your patio umbrella in a table, the size of the table is a direct indication of the size of umbrella that you need.
If you have a table that is 30 to 36 inches in diameter, a 6-8 foot umbrella is going to be large enough to shade the entire table without being too large for the table to hold it and to remain upright and sturdy.
If you have a round table that is 38-48 inches, you need a 9-11 foot umbrella, and if you have a table that is 54-60 inches in diameter, you will need an umbrella that is 11 feet or larger.
To summarize:
< 38" Table = 6-8 foot Umbrella
38-60" = 9-11 foot Umbrella (the most common sizes)
> 60" = 11 foot Umbrella (or larger)
Buying based on the table you will be using the umbrella with is a great place to start and can help you better understand what your table can handle without being overbalanced.
Shopping for umbrella based on table size is also going to give you an idea of what amount of shade you are going to get from each size of umbrella.
2. Measuring for a Patio Umbrella Based on Patio Size
Another thing to keep in mind when buying a patio umbrella is the size of the space where it is going to be placed.
When figuring out how to measure for the perfect patio umbrella, consider where you are going to place it.
If the space where you are placing your umbrella is very compact and very cramped, you likely need to get a smaller umbrella in the 6-8 feet range.
If you have a larger space to fill you can buy a larger umbrella that is going to help cover more space and provide more shade.
Some great umbrellas today use booms and heavily counterweighted bases to provide a HUGE amount of shade for a large gathering area on your patio.
Consider possibly getting 2 or 3 umbrellas if your space if very large and make sure they are positioned so as not to hit each other when fully opened.
How you are placing the umbrella also makes a difference.
For those that are placing an umbrella on a table you need to consider the table, as mentioned before, and if you are placing your umbrella in a stand you do need to make sure you are getting the right size stand to be able to support both the weight and size of the umbrella.
The larger the umbrella, the more likely it is to tip over if the base is not large enough.
Luckily there are some very easy ways to keep a patio umbrella from falling over.
For large counterweighted cantilever style patio umbrellas make sure to account for the amount of space the BASE will need and where the base will be positioned relative to your patio furniture.
3. Measuring for a Patio Umbrella Based on Function
Another method for measuring that you can use is based on what you are going to be using the patio umbrella for.
If you are trying to use it for a specific area or a specific overall use, you want to make sure you are getting an umbrella that is going to fit.
For a table for instance you should use the measurement of the table, for a stand or for your yard you should measure the space.
You can also measure your umbrella by how many people you can put under it.
If you have a large number of people that are going to be under the umbrella, you obviously want a larger umbrella.
Up to five adults can comfortably fit under a 10 foot umbrella for instance.
Taking the time to make sure that you have a large enough umbrella based on need can make such a huge difference.