6 of our favorite backyard shade solutions for your deck or patio. Enjoy your outdoor space again, even on those hot summer afternoons!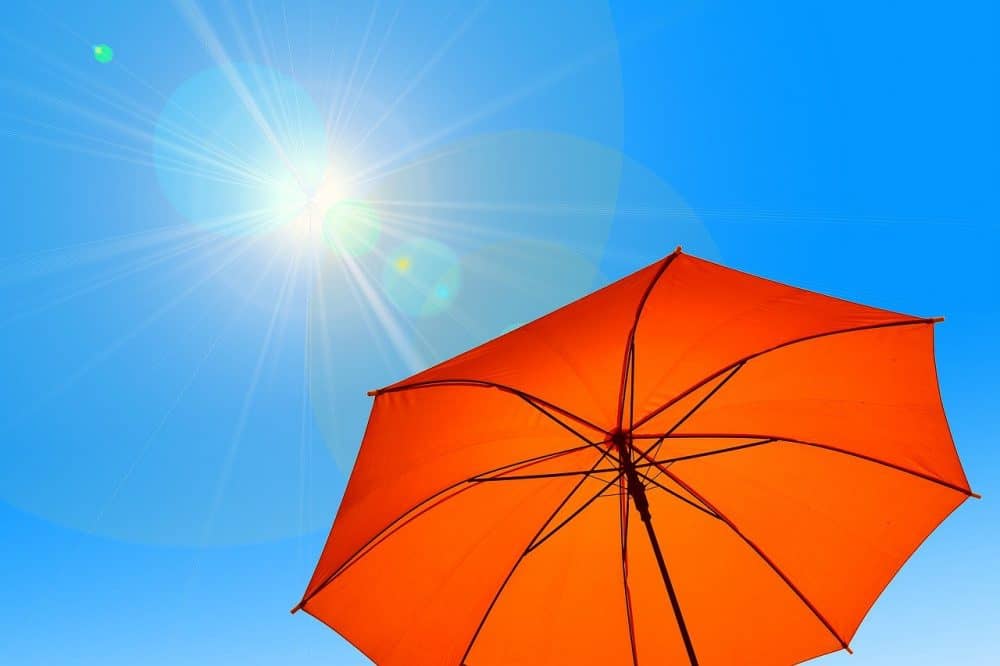 Have you ever tried to throw a party on your beautiful patio or deck, only to find all your guests begin making their way inside as the afternoon sun relentlessly beats down on their heads?
Maybe you ventured outside with a book to enjoy the fresh air, only to find yourself heading back to the cool A/C as sweat beads started to drip on the pages.
Just like today's modern outdoor heaters let you enjoy the patio into the cool evening hours, there's no reason you shouldn't be able to entertain guests or relax on your patio on a sunny August afternoon.
Here are 6 great shade solutions for decks or patios, so that you can enjoy your outdoor space any time of day.
What better to start with than the umbrella, one of humankind's simplest solutions to the harsh overhead sun. But this product from Sunnyglade isn't quite as humble as its everyday counterpart.
With sizes ranging from 9 to 11 feet, it is massive enough to spread gloriously over a table, four chairs, or even en entire patio set.
While its thick polyester material ensures complete protection from harm, its convenient crack-and-tilt mechanism allows for adjustment of the umbrella's angle to whichever side the sun may be at any given time.
The cherry on top?
As many as 24 energy-efficient LED lights studded on the ribs of the umbrella to light up the party long after the sun has set.
Pros
Thick, water-repellent polyester material held up by eight steel ribs
Convenient crank opens and closes system with handy push-button tilt
24 colorful LED lights, three each on each of the eight steel ribs
Air-vented umbrella top enhances stability in breezy weather
Cons
Some users complained about the plastic adapter on the umbrella
Reports of lights not working on stray occasions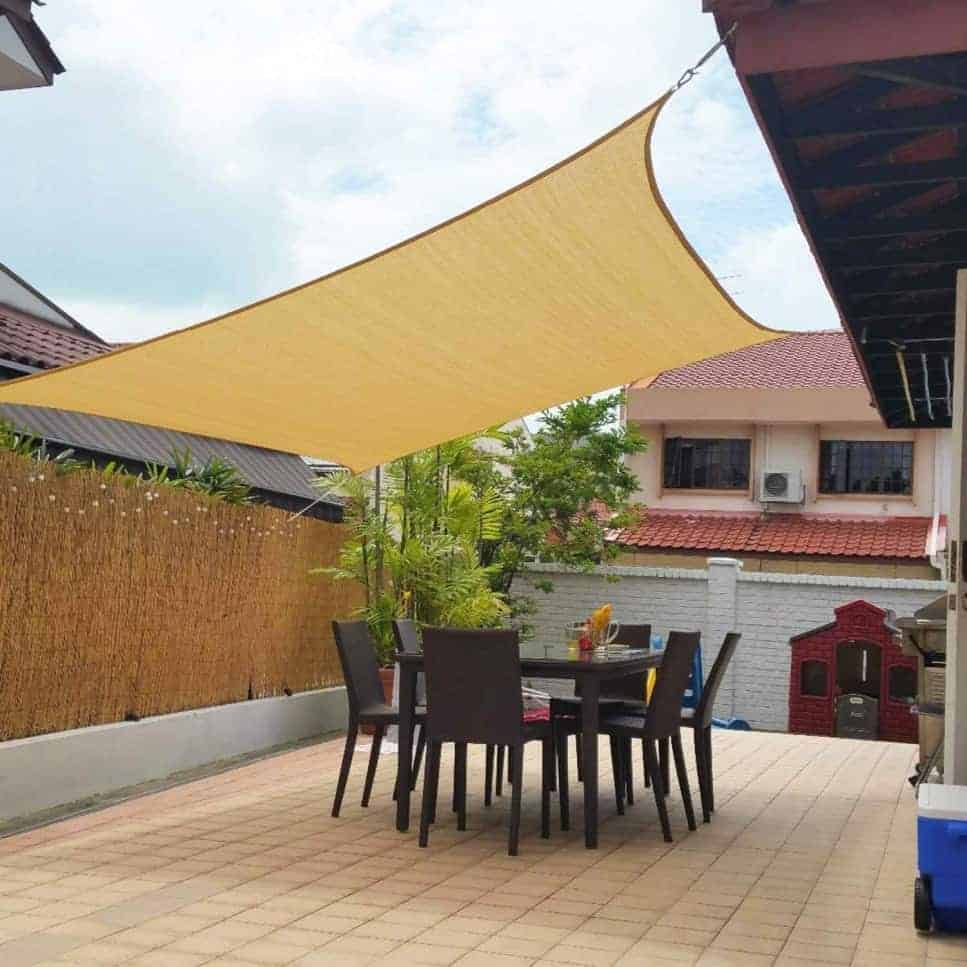 So, maybe you have a lot of friends who like turning up for lunch on your patio, or perhaps just a family too large to fit under one 11-foot umbrella?
What you need is this rectangular shade sail from Artpuch to ensure that nobody is left out in the sun.
Made of 185 gsm high-density polyethylene, it blocks the harmful rays of the sun without trapping any hot air beneath. The durable stainless steel D-rings in each corner of the shade sail allows for attachment to any sturdy connection point.
Pros
Breathable fabric allows cool air to pass while blocking sunlight
Strong seams and durable stainless steel D-rings for durability
High-density polyethylene blocks up to 98% of ultraviolet rays
Available in six colors, from gray to green, and 12 different sizes
Cons
Porous fabric does not offer protection from the rain
Some found the sun sail a little too stretchable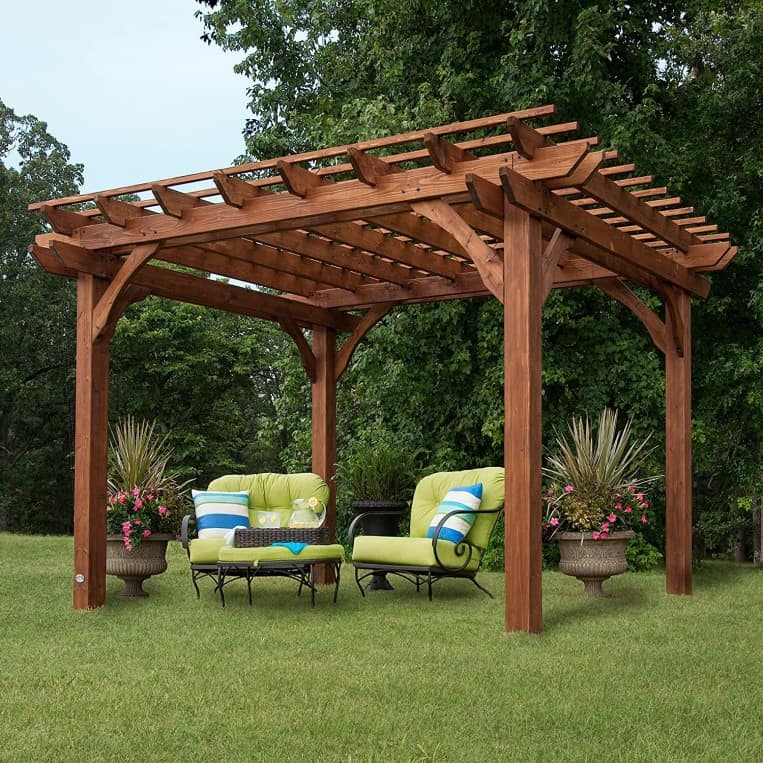 Maybe you want something a little more permanent than a sail shade, and what's the point of having that green thumb if you can't show it off to guests?
This cedar pergola from Backyard Discovery comes pre-cut, pre-stained, and ready to be set up on your patio for those magical Mediterranean evenings you envisioned.
The crisscrossed beam pattern overhead gladly allows for crawling vines and roses, conjuring visions of lush vineyards, while 63 square feet of interior space provides plenty of room to relax.
Don't care for plants? Let the sun peek through the wooden slates overhead, gently warming you instead of beating down mercilessly.
Pros
Made of 100% cedar with a one-year warranty against manufacturing defects
Sculptured wooden beams give strength as well as flair
Decorative foot covers hide anchors securing pergola to the ground
Pre-drilled holes make the pergola easy to assemble
Cons
Some users had problems with assembly directions and the hardware kit
Wood pieces arrived with deep scratches on occasion
One of the problems with the sun is that it simply refuses to stay in place. The roof of the pergola may be overhead, but it won't be long before you find that its shade has moved a few degrees away, leaving you hot and sweaty again.
And what about those looky lou neighbors? If you are searching for an option to provide both shade AND privacy, then you may want consider these outdoor curtains from Nicetown.
Made with triple-weave technology that gives the curtains an opaque quality, they ensure comfort as well as privacy on your patio.
And what if they get dirty like all outdoor things eventually do? Just machine wash the curtains, they won't complain.
Pros
Waterproof and fade-resistant, curtains keep both the sun and rain out
Triple-weave technology ensures complete opacity, allowing complete privacy
Thick fabric prevents warmth from escaping on wintry days
Cons
Some users did not find the curtains heavy enough for windy conditions
If you have pets, could turn out to be a hair magnet
While curtains can help protect your patio from the elements as well as prying eyes, a few reviews didn't appreciate how much they flap around in the wind.
Well, this roll-up patio shade from Tang may address that very concern.
Its fabric -- made of 165GSM polyethylene -- provides up to 90% protection from ultraviolet rays while being permeable enough to let the air in.
Want to step into the house for a bit? Simply tug on the cord to watch the patio shade roll up conveniently out of the way.
Pros
Polyethylene fabric keeps the sun out but lets the air in
Keeps the patio warm when the weather is cold and windy
Available in brown, gray and beige
Responsive customer service and free replacement of broken or missing parts
Cons
A few users claimed that they had to hire professionals to install the shades
Some may find the fabric a little too thin
You like your patio just the way it is most of the time, open to the world without any sail shades or pergolas playing spoilsport, but that doesn't discount the need for occasional protection on especially scorching days.
How about something more temporary then?
This product from Alvantor can go from being a round disc weighing a little over 14 pounds to becoming an outdoor pop-up canopy tent that can comfortably accommodate your family in a matter of minutes!
What's more, the tent's easy portability makes it the perfect accessory for trips to the beach or the countryside.
Pros
Provides protection from ultraviolet rays, bugs and more
Can be folded down to a comfortable 39.3 inches
Easily accommodates patio furniture and even a barbecue grill
Can be weighed down with sandbags on particularly windy days
Cons
Not waterproof, so it will not work on rainy days
Folding the tent after use will require some strength
Things to Consider Before Going for an Outdoor Shade Purchase
There are several things you should keep in mind before you go shopping for a pergola, sail shade, or even curtains for your patio. We answer a few commonly asked questions, so you don't end up being confused by the options out there.
Which fiber should your outdoor curtains be made of?
The best fabric for outdoor curtains is polypropylene or Olefin, a pigment-dyed fiber that's resistant to ultraviolet rays, easy to clean, and fairly economical.
It dries up quickly and does not fade easily in direct sunlight.
Nicetown's polypropylene outdoor curtains are made of triple-weave technology, which will help provide your outdoor space with some much-needed privacy too.
Do I need a base for my outdoor umbrella?
All free-standing outdoor umbrellas need a base that's heavy enough to keep them grounded in bad weather.
While the weight of the base hinges on how big the umbrella is, 50 pounds would be the absolute minimum for a free-standing one.
The 9-foot Sunnyglade lighted patio umbrella, for instance, would require a base weighing 90 pounds to ensure that it remains standing through wind or high water.
How about a pop-up canopy tent that works in both rain and snow?
While the pop-up canopy tent featured above is meant for use in the summer, a close cousin -- the Alvantor Winter Screen House -- may be just what you need for use during the winter or the occasional rains.

Completely transparent, its water-proof PVC material allows for excellent warmth retention while protecting against the rain and wind. Comes with a one-year guarantee.
Backyard Shade Ideas: The Verdict
You may have the prettiest patio in the neighborhood, but without a little shade, you may not be able to make full use of it in the sunniest months.
With so many fun options available today, you should be able to find something that provides the exact area you want to cover and the exact degree of sunlight you want streaming in.
If you use your patio mostly for lunching or just sitting around a table, a 9-foot umbrella should be enough to provide for your needs.
But if lounging around on your luxurious outdoor wicker sofa surrounded by pretty landscaping if your idea of relaxation, you may want to give that pergola a thought.