Check out some of our favorite modern patio furniture picks for 2023. Also a few things you should consider before investing.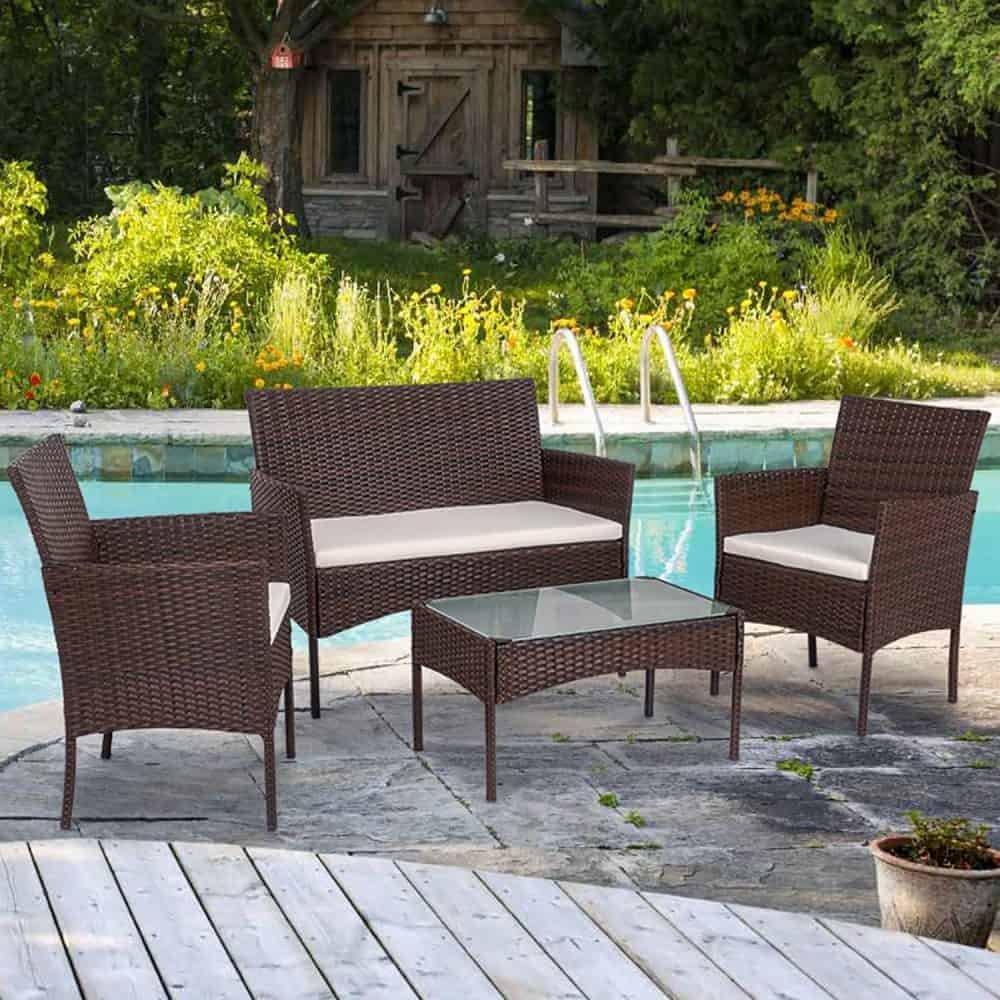 Autumn will be here before long, and you may soon find yourself wondering why you didn't spend more time lounging about and enjoying cold beverages on your patio while it was still warm and sunny all day long.
Hang in there, because the end of summer doesn't necessarily have to mean giving up on your outdoor space. Install a fire pit, electric, or gas patio heater to counter the cold winds as they start blowing.
Very soon, you will have a cozy little corner in your backyard to spend the evenings singing campfire songs or watching an outdoor projector with friends and family.
That said, those creaky outdated chairs that currently populate your patio just won't do.
You will need to buy some modern patio furniture, and here are a few things you should consider before investing.
Points to Ponder when Choosing Modern Patio Furniture
Buy Furniture Suited to your Patio Space
There are a few questions you will need to ask yourself before whipping out your credit card.
One, do you have room on your patio for large pieces of furniture, and two, do you even need them? For instance, if you have a deck or balcony with limited space, an outdoor dining set may be a bit of an overkill.  Maybe check out a modern cocktail table with a couple high bar stools instead (see our favorites below).
An ideal patio should have enough space for guests to move around, maybe even break into an impromptu dance if the right song comes on and crowding it with a disproportionately gigantic table might just deter them.
Make your Patio Match your House's Mood and Style
Design is important. The patio is an extension of your house, and it must not detract greatly from the overall mood you have developed indoors.
For instance, if your interiors are largely muted and neutral, a conversation set with colors borrowed from a circus tent would probably feel a little out of place on your patio.
Then again, you don't have to go for something that looks exactly the same as your living room furniture either.
Mix, match, and strike that perfect balance between looks and comfort.
Wood, Metal, or Synthetic?
This is one question that no patio owner can escape nor ignore, given how each of these materials come with their own set of problems.
Wood can splinter in the heat, metal rusts in rain and humidity, and extreme cold may make your synthetic furniture brittle.
So, anybody planning on buying new furniture for their patio would be advised to check if their potential purchases are protected against the particular elements in their region of the country.
Our Top Modern Patio Furniture Picks For 2023
Seating
Some autumn afternoons are best spent lounging under the sun with your partner, reading a book with a glass of red wine nestled in your hand.
The Lokatse Home conversation set, comprising two attractive chairs coupled with cushioned ottomans (which can double as individual seaters) and a coffee table, is made for these very moments in your life.
Fashioned out of high-quality wicker that's both fade resistant and UV protected, it will be a long while before you have to get a replacement.
Pros
Durable, with a sturdy metal frame and UV-protected wicker
Ottomans can double as individual seaters if required
Cushions come with zippers to make washing covers easier
Simple but classy design that will enhance your patio's looks
Cons
Some users say assembly instructions are inadequate
Cushions, while attractive, could have been thicker
If you have more folks coming in for that barbecue party, this chic set of two wicker patio chairs, a loveseat, and a coffee table may just fit the bill.
Made of all-weather PE Rattan wicker and powder-coated steel frames that ensure overall stability, this set marries functionality with style to ensure that your patio becomes the envy of the neighborhood.
Its cushions are thick and soft, and the sheer roominess of the seats lets you stretch to your heart's content.
Pros
Accommodates four people on two patio chairs and a loveseat
Made of reinforced materials that won't wear easily
Coffee table glass tempered to discourage accidental breakage
Easy to assemble, damaged parts will be exchanged free of cost
Cons
Ottoman lovers won't be happy
Cool Bars and Cocktail Tables
Calling your best friend over to reminisce about old times to the accompaniment of Kenny Rogers' Lucille on the radio?
This quaint bar table from Christopher Knight Home, when paired with bar stools like these from Keter, would be your best bet when you don't have a lot of company on the patio.
Made of cast aluminum that's been proven to stand the test of time and weather, it features timeless grillwork that won't detract from your patio's otherwise modern decor.
Pros
Durable aluminum that can stand up to the weather
Muted bronze finish goes well with modern furniture
Allows for fitting a patio umbrella
Easy to assemble with the included mini wrench
Wide tabletop affords adequate space for drinks, snacks and more
Cons
Lack of a center arm to stabilize the patio umbrella
Some users said it felt a little wobbly
Alternatively, how about a beer and wine cooler that doubles as a cocktail table at your barbecue party?
Well, Keter has just the thing for you. With the lid down, this product made of weather-resistant resin acts like a 7.5-gallon drinks cooler with a storage capacity of up to 40 cans of beer.
Pull it up, and you get a smart-looking cocktail table that could well become the topic of conversation for the rest of the evening.
Pros
7.5-gallon cooler keeps up to 40 beer cans cold for hours
Pop-up plug in the bottom makes water easy to drain
Made of sturdy weather-resistant resin
Easy on the wallet for a multipurpose product
Cons
A few users complained of tabletop failing to lock in place
May feel too low for some
Accessories and Protection
The cushions on your patio furniture should be comfortable as well as weather-resistant, and this set from the house of Quality Outdoor Living fulfills both requirements while looking great at the same time.
The olefin fabric covering on the cushions is UV and water-resistant, and, what's more, it can be easily cleaned with a rag and mild soap solution.
Pros
Polyurethane foam support in the seat cushion for extra comfort
Comes in 22 different designs to suit any mood
Zippered seat cover can be removed for cleaning if required
Olefin fabric cover protects cushion set from both rain and heat
Cons
Some users reported discoloration after a few weeks
Did not fit patio chairs on rare occasions
Protected as your patio furniture may be from the elements, the same cannot be said for those using it.
Enter the Sunnyglade outdoor table umbrella, equipped with a sturdy powder-coated aluminum pole and a polyester canopy that's waterproof, long-lasting, and stylish all at once.
With a diameter of nine feet, it is wide enough to safeguard four to six people gathered around a mid-sized table from the sun and the rain.
The icing on the cake? An easy crank-open function with push-button tilt.
Pros
Has a thick polyester canopy for complete protection
Easy to assemble, with just two pieces to put together
Sturdy build, proven to last for years without complaint
Sober color and designs go well with modern patio furniture
Cons
Some reported problems with the tilting function
May break in strong winds
Modern Patio Furniture - The Verdict
Getting the right furniture for your patio isn't easy, and there will be some compromises made. While the design is important, we believe that comfort is one factor you should not hold back on.
Having the best-looking patio in the neighborhood makes little sense if the cushions are moldy, the umbrella flies off like a javelin whenever it gets a little windy, and your chairs are awkwardly shaped.
By that logic, your budget is also something you should consider stretching if it means getting furniture that's going to last a while.
Your wallet may feel a little lighter right now, but it is sure to thank you in the long run.