We looked at 6 awesome outdoor benches with storage options for your pool or patio area that provide stylish seating and storage for your next outdoor party!
Last time, we found some great patio coolers that double as party tables.
So what other outdoor items can save space and pull double duty?
The outdoor bench that also has a storage option!
A combination of a seating unit and a storage box, it can be used to keep all the useful yet unsightly things you desperately need within arm's reach on your patio while enhancing its overall seating capacity.
So, have you decided on an outdoor bench with storage yet? If not, here's our list of the best you can get this season.
Made of weather-resistant resin with an appealing wood-like texture, this quaint outdoor storage bench will make you wonder how you have been managing without it for so long.
Unlike real wood, it simply refuses to peel or dent while providing 70 gallons of lockable hidden space for storing everything from outdoor patio cushions to beach towels and pool accessories.
Got more guests than expected at your barbecue party? With a weight capacity of 771 pounds, the Keter Eden outdoor storage bench can easily seat three people.
Pros
Provides for up to 70 gallons of lockable hidden space
Weight capacity of 771 pounds to seat up to three people
Made of waterproof resin, which looks like wood but is twice as durable
Cons
Some complained about the parts not snapping into place easily
Possible rough edges may have to be sanded down
Rating: 4.5/5
Now, this outdoor storage deck box is sturdy and durable enough to live up to its name. Made of high-density polyethylene and held together by powder-coated hinges, it ensures weather-resistance that will keep up to 116 gallons of your patio goods from cushions to garden tools safe from the sun, rain and snow.
The lockable spring-hinge lid opens wider than 90 degrees but won't slam shut on unsuspecting fingers, making the deck box safe to have around pets and children. As for seating capacity, it can handle up to 600 pounds without creak or complaint.
Pros
Durable product designed to last for years on your patio
High-density polyethylene and waterproof lid make it rain-resistant
Controlled spring-hinge motion makes it safe for pets and children
Cons
Assembling the storage deck box may be difficult
Some users reported minor design faults
Rating: 4.6/5
A 71-gallon storage bench made of ultraviolet-resistant resin, the Duramax 86600, may be just the thing you need to store cushions and tools after you are done using them.
As its color does not fade, you don't have to repeatedly paint or treat it like the other pieces of furniture on your patio. With an attractive gray woodgrain finish and a shape that's both simple and non-obtrusive, it won't stick out like a sore thumb either.
Pros
Weather-resistant quality keeps contents dry and in perfect shape
Doubles as a convenient two-seater with a couple of cushions on top
Generous 71-gallon capacity at a relatively low price
Cons
Some users felt that the material could have been thicker
Recessed rectangular handles may make the box a difficult haul
Rating: 4.5/5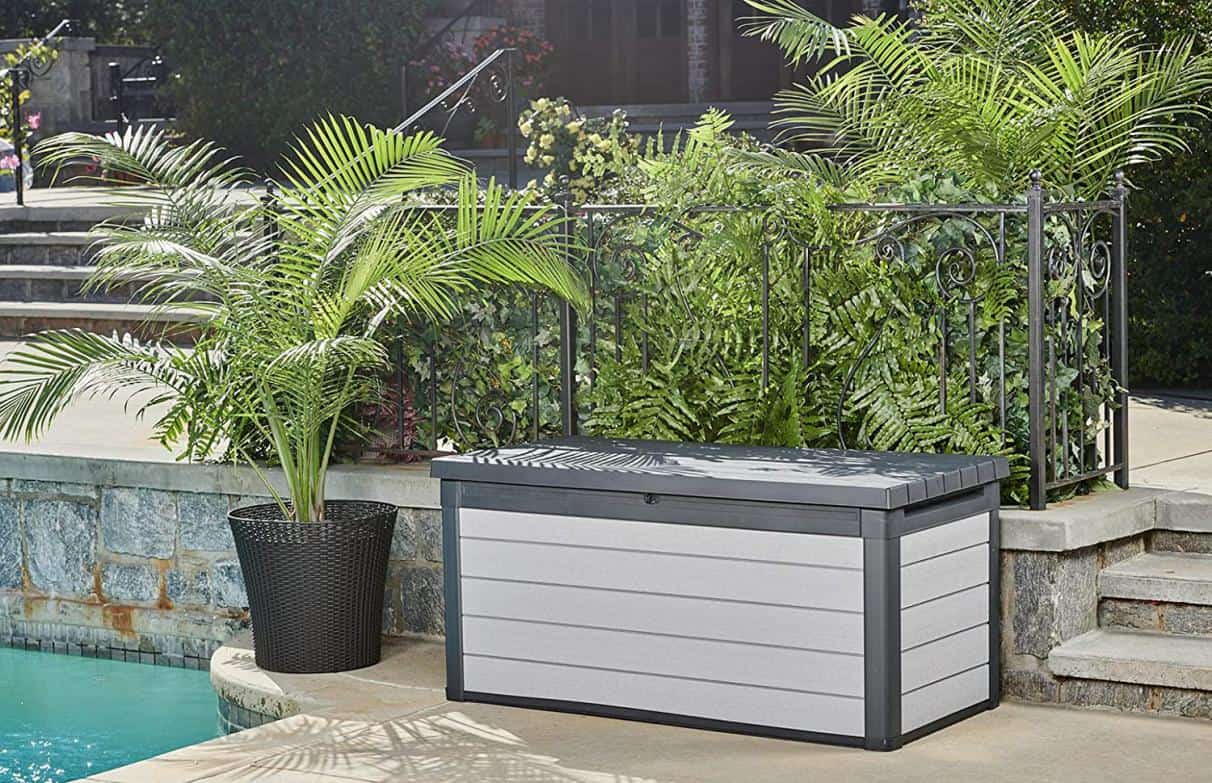 Tired of toys and tools cluttering up your patio? Woke up the previous morning to find all your cushions soggy from an unexpected shower? The Denali deck box from Keter could be the one-stop solution for all your woes.
Made of weather-resistant resin, its 150-gallon storage can accommodate everything you throw into it. And with looks so classic, your guests may just end up brawling for a seat.
Pros
Soft-close mechanism reduces the risk of finger injury
Comfortable bench seating with a weight capacity of up to 660 pounds
Easy to assemble with simple illustrated instructions
Cons
May be a little too large for smaller patios
Stray complaints of parts arriving damaged
Rating: 4.7/5
With 16 cubic feet of storage capacity, the weather-resistant Rubbermaid Extra Large Deck Box ably contains everything you may need at hand on your patio while providing seating space for up to three adults.
The box's double-wall construction resists leaks, dents, and moisture, ensuring its durability for years to come. Worried about setting it up? The panels of this hybrid storage box snap together with the greatest of ease, and you need only the most basic of household tools for the rest.
Pros
Storage space of around 121 gallons, so your patio remains uncluttered
Double-wall construction resists leaks, dents, and moisture
Provides enough seating space for three adults, works as a serving table too
Cons
Some users claim that it does not seal tightly enough
Does not have hydraulic lid support
Rating: 4.5/5
Another quality product from Keter, the 110-gallon Borneo Resin Deck Box, provides more storage space than the Eden Outdoor Storage Bench but stops short of being a giant like the Denali Deck Box.
Made of the same weather-resistant resin as most storage boxes but with an appealing rattan texture, it promises to go perfectly with the wicker furniture already on your patio.
While the hydraulic pistons attached to its lid ensure the safety of children and pets, its sturdy nature -- with a weight capacity of 484 pounds -- allows comfortable seating for two without the slightest fear of the box crumbling into itself.
Pros
Appears like rattan wicker, but doesn't peel or dent
110-gallon capacity allows for ample storage space
Hydraulic lid support negates the risk of injury to children and pets
Provides comfortable seating space for two
Cons
Some users did not find tools included in the package
Rough edges may need to be cut off
Rating: 4.⅘
Things to Consider Before Buying an Outdoor Storage Bench
While buying an outdoor storage bench may seem like a simple enough task, you may just end up making a disappointing choice if you are not careful. Here are our responses to a few frequently asked questions by customers.
Should I go for a wooden, plastic, or resin storage bench?
If appearance is the sole criterion on your list, wooden storage benches will make the most sense. However, durable wooden products are very expensive, and it's very easy to get misled into buying a kind that starts rotting mere weeks after purchase. Plastic deck boxes are both durable and inexpensive, but they may not look good on your patio. Resin, in our opinion, makes for the most long-lasting deck boxes while scoring high on both looks and affordability.
What size should I be looking for?
It depends on the size of your patio as well as what you intend to put in there. While small storage benches can hold up to 50 gallons, which would mean a hose, towels, or outdoor pillows, medium-sized ones with 51 to 99-gallon capacity can do better with a hose, gardening supplies or a full set of cushions.
Large and extra-large benches, with a capacity of 150 gallons or more, can obviously provide for much of your outdoor storage needs. That said, do not get a storage bench that's too big for your patio.
Should I get a storage bench with a hydraulic lid?
Investing in a little safety is always a good thing, especially when you have children or pets around the house. Hydraulic stays not only allow for the lid to remain open while you are filling it up with things but also ensure for a soft closing action so that it does not bang shut on little fingers or paws that might come in the way.
It should be noted that most storage bench lids are built to support the weight of two or more adults, and may, therefore, be quite heavy.
Outdoor Storage Benches: The Verdict
While all the storage benches on this list are great in their own right, our pick of the lot would be the Keter Denali Storage Bench.
With its classic design and 150-gallon storage space, this multipurpose bench can do a lot to keep your patio tidy while looking great at the same time.
With a weight capacity of 660 pounds, it can comfortably seat up to three adults even as the hydraulic lid ensures the safety of everybody around it.
The icing on the cake? It's easy to assemble, so it won't be long before you can start enjoying your new acquisition.