Learn how to hang string lights or Christmas lights without using nails on almost ANY surface!
Put that hammer away, let's take a look at 5 simpler solutions…
Nothing compliments that new patio furniture or gazebo quite like some great ambient lighting.
And these days, string lights are where it's at.
If you want to avoid using nails when hanging string lights, either indoors or outdoors around the pool or patio, you actually do have a lot of options these days.
Here are five different solutions that you might find helpful when hanging lights in different areas of your property.
5 Easy Ways to Hang String Lights Without Nails
#1: Roof Perimeter | Winner: Gutter Hooks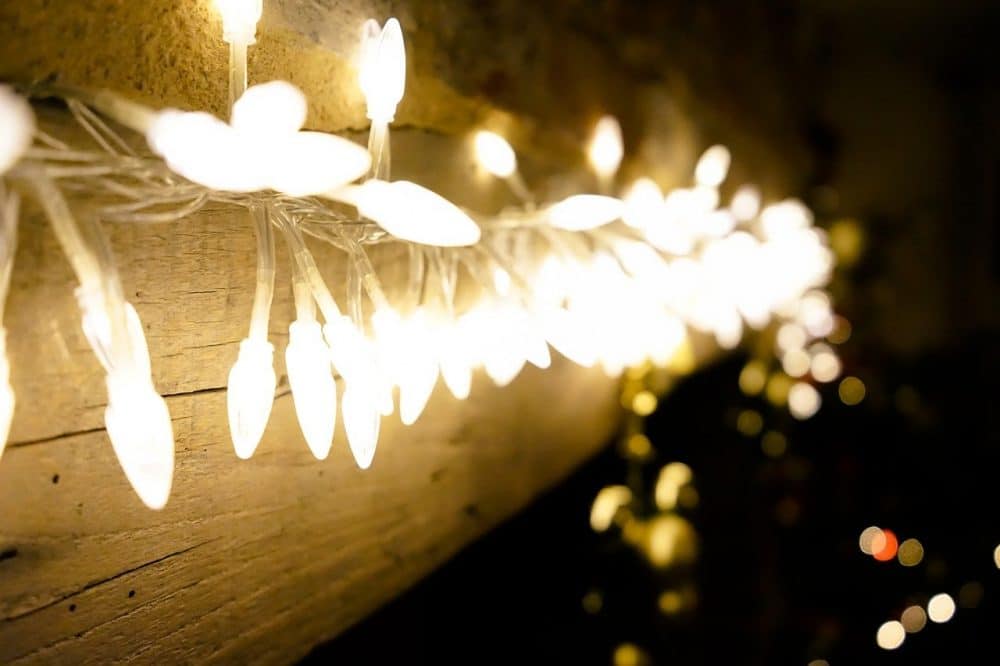 If you're hanging lights near the edge of your roof, then gutter hooks are the perfect option. These are specially-made, S-shaped hooks that clip right into your gutters like these ones from Ponwec.
They don't do any damage, require any drilling, nor disrupt the function of your gutters. Your gutters are also sturdy enough to hang lights without issue.
Make sure you pre-run the lights to see where you'll put the plug-end of the lights. Try to end up with your plug as close to an outlet as possible.
Since the hooks aren't fastened in place, they'll sometimes slide around on their own. This isn't a huge problem, just keep it in mind.
#2: Smooth Walls and Surfaces | Winner: Adhesive-Backed Hooks
If you have a smooth wall or other surface like a patio cover or hard shade that you want to hang them from, then adhesive-backed hooks, like these outdoor rope light hanging clips from Command are probably right for you.
These are plastic or metal hooks that have a double-sided adhesive on the back of the housing.
With most options, you just peel the plastic from the double-sided adhesive and press them firmly to the wall or surface.
This option is great because it gives you full flexibility to pick and choose exactly where you hang your lights.
This option won't work as well for brick, stucco, or concrete walls. If there's a lot of texture to the wall, these hooks may not stick or they'll quickly fall down.
Make sure to buy ones rated for outdoor use if hanging them outside where they can get cold and wet.
#3: Fences, Decks, and Gazebos | Winner: Zip Ties and Twist Ties
Hanging your lights along the perimeter of an outdoor fence or gazebo?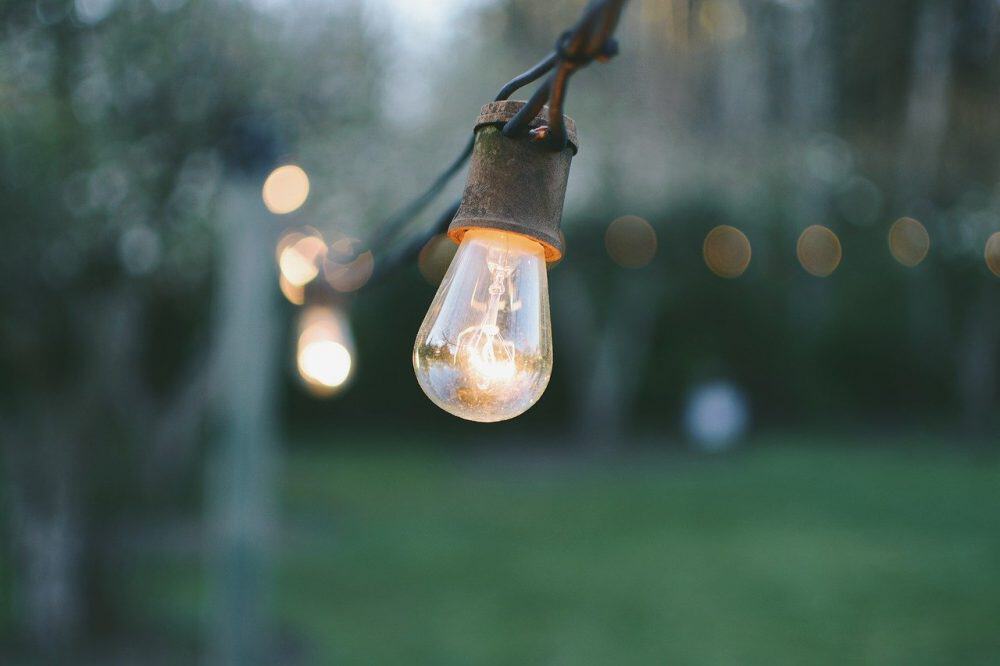 Small zip ties or even twist ties like they provide in the produce section of a grocery store may work well in these situations.
You can find a whole spool or twist tie material that you can cut off as you need it for a very inexpensive price.
These are great for using on plants and foliage as well without damaging the plants.
Twist, tie, and drape your string lights over foliage, greenery, or any structures you have outside in the area. There's really no restrictions to where you can place and hang the lights in this instance.
If you go with zip ties, make sure they are long enough to wrap fully around whatever you are securing your lights to.
Also, try to find ones that are not permanent, but reusable like these ones.
This way you can easily unzip them, move them around, and reuse them if needed without having to cut them with a razor blade.
Get creative with where you put the lights and the different patterns that you use to display them!
#4: Roofs | Winner: Shingle Tabs
Another option for you to try if you are hanging them near, or ON your roof are shingle tabs.
These are another specialty piece of equipment designed to fit right under your shingles.
They are L-shaped pieces of metal that have two tabs on one of the surfaces. These tabs will slide between two of your shingles.
The result is a flat piece of metal with a slot in it for your hanging pleasure.
Oftentimes, these shingle tabs are designed for certain bulbs (usually C7 or C9) to fit directly into the slot. You'll most likely find that your string lights have either one of these bulb sizes.
This option is low-impact, sturdy, and reliable. You won't have to fumble with any extra equipment as long as you use shingle tabs and space them appropriately.
#5: Rough Concrete and Brick Walls | Winner: Hot Glue Gun
Using a hot glue gun is a great way to hang string lights without nails to almost any surface imaginable.
Now, keep in mind this option is a little more permanent and the lights are harder to move around once you commit to where you glue them.
However, this option will like work the best on flat rough surfaces like porous concrete where there is nowhere to attach a zip tie or a way stick an adhesive backed hook.
What are Hot Glue Guns?
If you're not familiar, hot glue guns heat up and extrude glue through a metal nozzle. The glue quickly cools down and hardens, adhering items to one another.
There are hot glue guns that are rated for outdoor use which is perfect for this application. You can use this option for either bulbless or bulbed string lights. In either case, you'll give the gun 5 to 10 minutes to heat up.
Hold the lights how you want them to look and apply a little bit of glue to the string, pressing it firmly against the surface you want it to stick to.
If you have bulbed string lights, avoid getting glue on the lights so you don't end up with foggy bulbs.
Use as many or as few applications of hot glue along the string of lights for your desired outcome.
Unscrew the Bulbs First
If you're using large-bulbed string lights, you might wind up unscrewing the bulbs first.
You can then hot glue the base or the T-connection of the light to the wall. With the bulbs unscrewed, you're ensuring that you don't fog up the glass.
This doesn't really matter if you have small LEDs on your string lights.
How to Hang String Lights on an Aluminum Patio Cover
Despite all these great products being available to you, sometimes the best way of how to hang string lights on an aluminum patio cover, umbrella, or gazebo without using nails is by using the structure itself.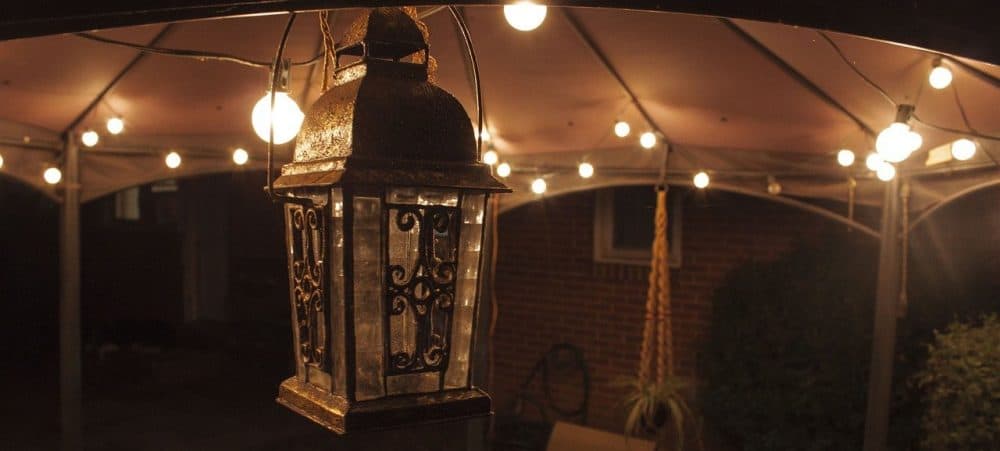 Depending on the brand and design, you should have plenty of posts, joists, and possibly supporting hooks hang your string lights from.
You can dangle, wrap, and suspend the lights between the different pieces of your patio cover. If you're decorating the inside of your patio, then you can string the lights between vertical joists in the cover.
The cover will protect the lights from wind and rain so there's no need to even fasten them – just grab a ladder and get creative.
In most cases, wrapping and using the parts of the gazebo itself will allow you to hang your string lights without drilling holes or using potentially damaging adhesive.
If there is no way to do this on your gazebo or patio cover, then go back and look at the zipties solution mentioned above or one of the other solutions instead.
More Inspirational Patio Ideas
Need some more inspiration for your deck or patio?  Check out a collection of our favorite lists and How-to's to make sure have the coolest patio (or deck) on the block!
Furniture and Accessories
How to Choose the Best Patio Lounge Furniture for Your Outdoor Space
Buying Modern Patio Furniture? A Guide to Fabrics and Materials That Will Last Past Labor Day
10 Best Patio Coolers for 2021
Choosing the Best Outdoor Bench with Storage Options: 6 Great Finds!
Choosing the Best Wood for Outdoor Furniture: Top 5 Wood Types & Care Tips
Coverings
Backyard Shade Ideas: 6 Fun Shade Solutions For Your Deck or Patio
Our Review of the 7 Best Hardtop Gazebos for 2021
Aluminum vs Wood Patio Covers: What are the Differences?
Building an Outdoor Cooking Station? 12 Items to Consider
Heaters and Firepits
10 Best Electric Patio Heaters for 2021
The Best Natural Gas Patio Heaters for 2021
The Best Wood Fired Pizza Ovens for 2021
The Best Fire Pit Accessories You Need for Your Backyard
Natural Gas Fire Pits You'll Love in 2021: Our Top 5 Picks
Rectangular Fire Pit Buying Guide
Cleaning