Our favorite gas grills available for under $200. We also include a detailed buyers guide for choosing the best gas grill under $200.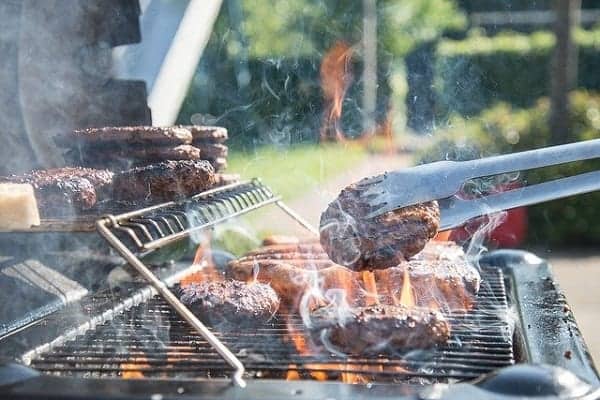 Propane gas grills are almost the standard these days in the American backyard. 
The propane grill is the practical weekday workhorse that fires up fast and gets a whole bunch of food cooking quickly for a big crowd.
Burgers, brats, steaks, and vegetables, the propane grill can handle them all.
However, a quick internet search and you will soon find out they come in a WIDE range of price points, with some luxury models priced over $10k!
Of course, these grills are fantastic, but is there anything reliable on the opposite end of the spectrum?
Well you are in luck.
Whether you're looking for that first starter grill or an inexpensive backup, secondary, or portable addition to your existing arsenal, we have found our top 5 gas grills for less than $200.
To help you a little further, we have also included a handy buyer's guide containing our top tips for choosing the best product. 
Best Gas Grills Under $200
OUR TOP PICK
Char-Broil Classic 360 3-Burner Liquid Propane Gas Grill with Side Burner
Dimensions: 24.1 D x 51.2 W x 43.5 H | Weight: 80 lbs

170 square inch porcelain-coated swing-a-way rack for warming | 360 square inches of cooking space over porcelain-coated grates

8,000 btu side burner provides a secondary cooking space for sides or sauces

Three stainless steel in-line burners for cooking performance

Porcelain-coated steel lid and firebox stand up to weather and the eleme
The Char-Broil classic liquid propane gas grill has a 360 square inch cooking surface which is ideal if you are catering to larger groups of people, as it can cook a decent amount of food at once.
Designed with a 170 square inch swing-away cooking grid, you can keep the food warm before serving so that everyone can enjoy a tasty and hot meal.
With the addition of three stainless steel in-line burners, you will be experiencing the best cooking performance from your grill.
Thanks to its durable and robust design with a porcelain coated lid and firebox, your grill is going to withstand the harsh weather conditions and elements from outdoors particularly well. 
Situated either side of the grill are two metal shelves that provide additional space if needed and also a convenient area for prepping your foods before cooking them on the grill. 
Pros
Designed with wheels, it is easy to maneuver this grill to different areas of your outdoor space if needed.

The 360 sq inch cooking surface provides plenty of space for cooking a decent amount of food for larger groups.

Courtesy of the metal sides you have additional space to prepare your food before cooking.

Durably designed, this grill is going to endure harsh outdoor conditions and weather particularly well.

Impressively, this grill is relatively easy to assemble allowing for a hassle and stress-free process.
Cons
Unfortunately, there isn't a setting that allows you to regulate the temperature of the grill.
Weber Q1000 Liquid Propane Grill, Titanium
One stainless steel burner produces 8500 BTU-per-hour to heat 189 square-inch total cooking area

Porcelain-enameled cast-iron cooking grates and cast aluminum lid and body

Fully assembled out of box. Dimensions - lid closed (inches): 14.5H x 27W x 16.5D inches

Push-button ignition and infinite control burner valve settings. Fuel type - Liquid Petroleum Gas (disposable cartridge sold separately)

Uses disposable 14.1 or 16.4 oz. LP cylinder (sold separately). Grill must be preheated with burner on high for 10 to 15 minu
The Weber Liquid Propane Grill has an 8500 BTU rating and a 189 Square inch cooking surface.
Despite being more compact, this grill still boasts a generous cooking space with the capacity to cook for a smaller group of people at once.
Constructed with a cast aluminum body and lid and porcelain enameled cast iron cooking grates, this is a durable grill and the lid helps to protect the interior of the grill when it isn't in use. Impressively, this grill is likely to be easier to clean after use too. 
Grills can often appear to be a little difficult to assemble, however, this Weber Liquid Propane Grill comes fully assembled out of the box so you don't have to do any work yourself, simply set up and begin grilling. 
The push-button ignition means that the grill will be ready to go in the simple click of a button. Impressively, this is a versatile grill that can be used from the convenience of your home or even taken with you on day trips or vacations to cook on the go.
What greater accompaniment to your outdoor adventures than knowing that you can enjoy some tasty food afterward.
Pros
This is a relatively lightweight grill that is small enough to take with you on the go.

Constructed using aluminum this is a durable grill that is going to see you through many uses without deteriorating in quality.

Courtesy of the removable catch pan, this grill is easy to clean after use.

Impressively, this grill comes out of the box fully assembled so there is less work involved on your behalf, simply set up and get cooking.

This grill heats up relatively fast so you aren't going to be waiting long before beginning to cook your food.
Cons
This grill is a little inconsistent when heating up with some areas heating faster than others. Ultimately this may mean you have to wait longer to begin cooking.
When it comes to a gas grill you can't go wrong with a portable grill, thus combining the ease to clean with convenient portability.
This gas grill has a BTU rating of 11,000 and a cooking surface measuring 225 square inches. A perfect choice if you are looking for a grill to take with you on the go. 
Impressively, this grill has been designed with two adjustable burners for precise temperature control, ultimately ensuring that all of your food is cooked thoroughly before serving.
This also allows you to alter the temperature of each side of the grill depending on the food that you are cooking.
Designed with a removable water pan that catches the grease from your meats, there is going to be a reduced amount of residue following use. As this part is removable it can be cleaned thoroughly before your next use.
Thankfully, the grill can be ignited by simply pressing the insta-start ignition button which accounts for matchless lighting and provides greater convenience if you are traveling with your grill and don't have matches to hand.
Pros
This grill is available in two different color options which effectively cater to different preferences. 

The two different temperature zones provide you with greater control allowing you to cater the temperature to the foods that are cooking on each side.

Conveniently, this grill is easy to set up for a hassle-free process.

Impressively, you can interchange between the grill or griddle depending on what you are cooking.

With a 225 square inch cooking surface, this grill is an ideal choice for catering to smaller groups.
Cons
Some individuals may find this grill a little difficult to ignite. 
MASTER COOK 3 Burner BBQ Propane Gas Grill, Stainless Steel 30,000 BTU Patio Garden Barbecue Grill with Two Foldable Shelves
❤ STAINLESS STEEL BURNERS: This propane gas grill has 3 Stainless Steel burners, can put out 30,000 BTU-per-hour with integrated piezoelectric ignition system, quick start up with the push &turn of a control knob

❤ FEATURES: The whole Stainless steel control panel with chromium plating control knob makes this propane gas grill more study and delicate, a stainless steel handle and a built-in stainless steel thermometer on the cover lid, two foldable tables and two heavy duty wheel casters for storage and moving
If you are looking for a substantially built, yet inexpensive, grill look no further than the MASTER COOK 3 propane gas grill.
This grill has a BTU rating of 30,000 per hour. With a 339 square inch cooking surface, this is a spacious grill with a decent capacity to cook for larger groups of people.
Additionally, this grill also has a 132.8-inch grill area for warming your food to ensure that it is at the perfect standard for serving. 
This grill can ignite quickly and easily courtesy of the push and turn control knobs.
Impressively, durability has not been ignored during the construction of the grill, the entirety of the grill has been constructed using stainless steel making it sturdier and more resistant to daily wear and the harsher conditions that it may be exposed to if kept outside.
Thanks to the handle and the wheels, this grill is easy to maneuver to other areas of your outdoor space if needed.
Either side of the main unit, you will find two shelves that come in handy for storing your utensils and tools or preparing the food before cooking. 
Pros
The wire cooking grids are intended to make this grill much easier to clean after it has been used.

This is an ideal grill if you are going to be cooking for larger groups of people at once. 

Designed with two side shelves you have extra space available to store your utensils or prepare your food before cooking.

Thanks to the wheels and handles, this grill is easy to maneuver if needed.

Durably designed with a stainless steel exterior, this grill is going to withstand frequent use very well.
Cons
The shelves sometimes struggle with holding heavier meats due to their lightweight stainless steel construction. 
Blackstone Flat Top Gas Grill Griddle 2 Burner Propane Fueled
Product 1: RESTAURANT STYLE COOKING - With 524 sq inches of flat top grilling, This griddle is perfect for breakfast, lunch and dinner. Cook eggs, pancakes, Quesadillas, grilled cheese, steak, Potatoes, Teppanyaki style foods and more. Also enjoy a bottom shelf and one side shelve for food storage and prep

Product 1: TRANSPORT WITH EASE - Easily wheel around your yard or transport from your backyard to the campsite thanks to the removable griddle top, fold up legs and two wheels.
With an impressive 470 square inch cooking surface, you can cater to a large group of people. the Blackstone Outdoor Flat Top Gas Griddle.
First, off the grill itself is easy to assemble allowing for a hassle-free process.
Once, it has been assembled you can then begin cooking some tasty food for the family to enjoy. To ignite the grill, you simply need to push the battery-powered igniter button for immediate start-up and then you can begin cooking right away. 
The griddle style cook surface gives you the flexibility to make everything from pancakes to perfectly seared steaks and burgers. Feel free to throw on some shrimp stir fry or chopped vegetables without losing one morsel of food.
This grill has been designed with durability in mind. The steel frame, burners, and cooktop are robust enough to withstand daily use very well and they are also going to be much easier to clean after the grill has been used too.
Pros
This grill has an impressively spacious cooking surface measuring 470 square inches.

The grill top is removable for easy portability or you may prefer to transport the grill using the wheels.

This is a versatile grill with adjustable heat zones giving you the option of warming some foods while waiting for the rest to cook.

The wheels lock into place so it is going to remain in a secure position when you are cooking.

The push-button allows you to ignite the grill easily.
Cons
This grill can sometimes take a lengthy amount of time to heat to its full potential. 
Best Gas Grill Under $200: A Buyer's Guide
Before investing in your gas grill there are several factors that we would recommend you consider to ensure that you select the best grill for your needs.
Aside from the cost of the grill, it is also important to consider the build quality and performance of the grill. 
We have listed some criteria below that we would recommend you consider as this will ensure that you invest in the best grill that is going to satisfy all of your cooking needs.  
The Size
The size of the cooking surface that you require is largely dependent on the number of people that you are going to be cooking for.
If you have a larger family, or often find yourself cooking for bigger groups of people, the size of the cooking grill is going to be highly influential on the product that you end up purchasing.
A grill that is too small is going to have insufficient capabilities of cooking for larger groups, however, a larger grill is likely to be a little more expensive and is more than likely to require more time to heat up to cook all of your foods thoroughly.
The BTU Rating
You are likely to have noticed that we have referred to a BTU rating multiple times throughout each of our product reviews.
This simply refers to the British Thermal Units and is a total measurement of the heat output and fuel that is consumed by your grill per hour.
However, this is mainly a measurement regarding the efficiency of your grill and doesn't refer to the temperature that your grill is expected to reach.
A high BTU rating doesn't mean that you are purchasing a hotter grill.
While the BTU rating is important it is necessary to pay closer attention to other factors such as the performance and quality of your gas grill. 
The Build Quality
When you purchase any product, regardless of the amount that you pay you expect it to be of good quality as this will ensure that it is going to withstand frequent use particularly well.
Of course, it is important to remember that grills from a cheaper price range are likely to be made from cheaper materials which may deteriorate faster when subject to frequent use.
However, a strong and robust construction will ensure that the grill isn't going to get damaged easily.
Portability
While most gas grills are intended for outdoor use, it isn't necessarily the case that it is going to remain in the same spot of your outdoor area.
A grill with wheels is going to be much easier to transport to different areas of your outdoor space, e.g a sheltered area from harsh weather conditions, etc.
You may also prefer a grill that you can take with you on day trips or vacations and so a smaller sized grill is going to be more convenient to transport. 
Cleaning the Grill
Gas grills by nature are a little easier to clean up than say a charcoal kettle grill or smoker where you need to empty all the ash occasionally. 
Of course, there is still going to be mess from the grease of the food, etc, however, if you clean the grates and grills thoroughly after use there is going to be a reduced build-up in this mess. 
Price
Our focus throughout this guide has been finding the best gas grills under $200.
Many of the basic features you need in a gas grill can be found in a quality model at this price point. 
If you start to find your price creeping higher and higher stop and ask yourself if you really need those features that come with the more expensive grill.
The Additional Accessories
Some gas grills will be equipped with additional accessories such as a warming rack to keep the food warm while you wait for the rest to cook.
Others will have shelves that provide extra space for storage if needed and also provide a convenient place for preparing your food before cooking on the grill.
Always good to check if your grill comes with a cover as many do not, just to make sure you are comparing apples to apples when deciding between two grills and their prices..
The Durability
Your gas grill is likely to be stored outside which means that it is subject to a range of adverse weather conditions from wind, rain, and harsh sun.
Even with a cover, your grill needs to be durable enough to withstand these conditions without quickly rusting and deteriorating in quality.
Some may be made from more durable and robust materials than others and it is important to consider this before purchasing your gas grill. 
The Cooking Zones
You will find that some grills are particularly versatile with different temperature settings.
Some will have different zones that can cook at different temperatures, e.g some zones will remain warm without cooking the food any further.
This comes in particularly handy if you have a food that is going to be ready at different times as you can set the temperature of the areas to suit the food that you are cooking.
Frequently Asked Questions about Gas Grills under $200
Are Cheap Gas Grills Worth It?
While more expensive grills tend to be stronger contenders when it comes to reliability and durability...like most things in life...many times you are just paying up for a specific brand name grill that does a lot of advertising.
There are usually many less expensive alternatives available that perform just as well.
A "cheap" grill is a worthy purchase if you have a restricted budget but still want to enjoy the tastes of outdoor cooking.
As long as you select a durable, good quality grill you are likely to enjoy multiple uses from your purchase. 
How Long Will an Inexpensive Gas Grill Last?
Several factors can influence how long your grill is going to last.
Of course, this is largely dependent on the number of burners that your grill has.
However, it is also influenced by how well you maintain the grill. Covering your grill when it is likely to be subject to harsh weather conditions is going to prevent it from becoming damaged.
On average a gas grill is thought to last around 5 to 10 years, when subject to regular year-round use. 
Gas Grill Recipe Ideas
Looking for some smoky inspiration?
Check out some of our great recipes of smoked and grilled food to try out at your next outdoor BBQ!
Trash Can Turkey - OK, technically not made on a grill but one of the most fun ways there is to cook a Turkey...at over 700 degrees in only 2 hours!  You've got to check it out!