The best types of wood for outdoor furniture, along with some great finds in each category.
Also learn how to best care for your wood after you purchase it to make sure it will last and look great for many years to come!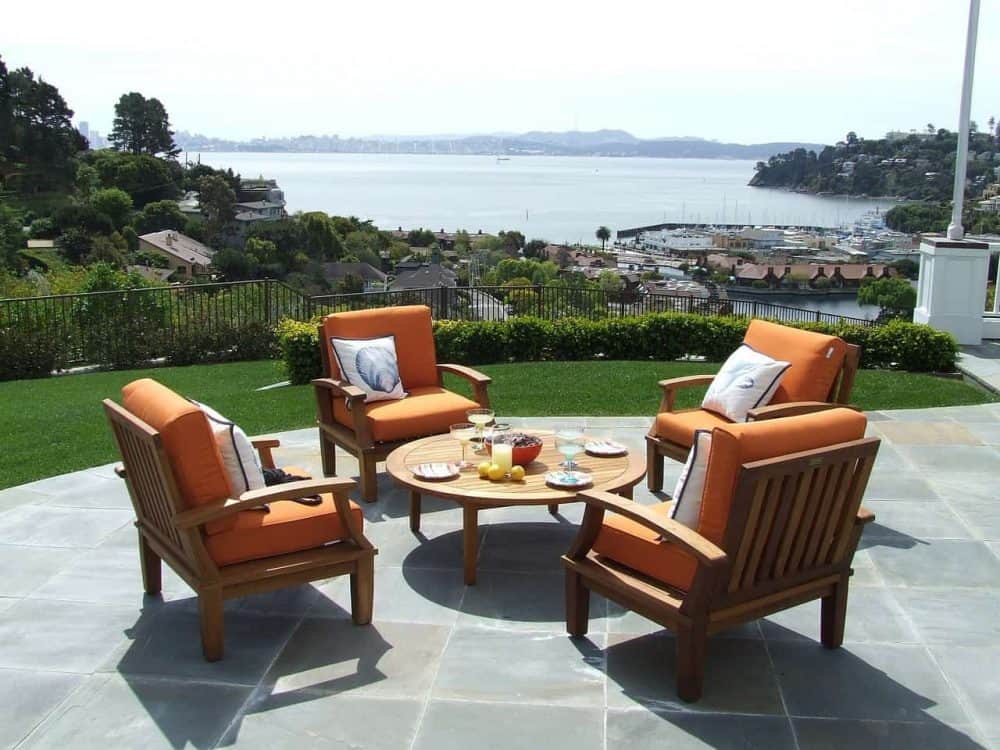 There's more to picking the best wood furniture for your outdoor patio than just aesthetics and cost.
Those tables and chairs are going to be sitting out there for days on end, subject to the vagaries of the weather, and we know you don't want to be investing in another set for many years to come.
You need wood that will stand up to rot, termites, and the elements (though not necessarily in that order) while still maintaining its integrity when you drop on it like a sack of potatoes after a hard day at work.
So, let's start by looking at the best wood for outdoor furniture, before moving on to maintenance and care.
The Best Types of Wood for Outdoor Furniture
Teak
The fully-assembled patio stool bench from Ala Teak.
A hardwood that's strong enough to withstand rough use as well as extremes of heat and cold, teak is the first pick for many. Famously resistant to termites, its water-resistant properties made it the wood of choice for shipbuilders through the centuries.
What's more, teak's hardy qualities do not come at the cost of beauty. Take, for instance, this gorgeous stool from Ala Teak. With a highly attractive color and grain, it can either be left outside to assume an elegant silvery-gray shade or oiled regularly to retain the warm golden glow it first came with.
Pros
Durable, with a proven ability to withstand extreme weather changes
Resistant to most kinds of wood-devouring pests, including termites
Water-resistance makes it ideal for regions with heavy rainfall
Naturally attractive to look at, and needs minimal maintenance
Cons
A rare wood, and thereby expensive in comparison to others
Acacia
These patio chairs from the Walker Edison Furniture Company do very well outdoors.
If you want furniture that's both attractive and comparatively affordable, look no further than acacia.
With interlocking grain patterns and hues that range from light to reddish-brown, it can impress even the most discerning eye.
Furniture built with the wood, such as these patio chairs from the Walker Edison Furniture Company, is naturally resistant to scratches, dents, and the vilest of pests.
While not as low maintenance as teak, it will stand by you for a lifetime with some care.
Pros
Durable and attractive, but not as expensive as teak
Sustainable product due to worldwide availability
Resistant to accidental damage, rotting, and pests
Cons
Acacia furniture doesn't do well near fire pits and other heat sources
Darkens when exposed to too much light and air
Shorea
Unik Always 2 Piece Patio Swing and Stand Seating Set
Rot-resistant red mangrove wood Natural red wood finish

Rust-resistant stainless steel hardware Roomy seat to stretch out and relax

Stand dimensions: 82.25W x 33.25D x 70.5H in.

Made of highly durable Shorea wood Resists weather, rotting, and moisture
Shorea's weather-resistant nature makes it ideal for outdoor furniture like this swing from Unik Always.
Shorea is seen as the closest alternative to teak in terms of heft, hardness, and density, but is way more affordable.
The wood's high oil content makes it resistant to rot, insect infestation, and environmental factors. While small cracks may develop on the surface over time, they do not affect its structural integrity.
Most importantly, shorea's tight-grained nature makes it a very versatile wood for carving as well as making attractive outdoor furniture, such as this two-piece patio swing from Unik Always.
It does not demand a lot in terms of maintenance either, other than some seasonal cleaning and oil application.
Pros
Durable like teak, but not nearly as expensive
High oil content makes the wood resistant to pests and weathering
Tight grain makes it ideal for carving
Cons
Small cracks may develop on the wood's surface over time
Will acquire a silver-gray patina if not treated regularly
Eucalyptus
Eucalyptus side table from Amazonia Rome.
For a wood that's synonymous with oil, eucalyptus makes for great outdoor furniture.
And interestingly, this very abundance of oil is the very cause for its well-documented resistance to moisture, pests, and heat.
The wood has a light grain pattern, as can be seen on this side table from Amazonia Rome, and is tantalizingly soft to the touch. As for the color, it comes in a beautiful reddish shade that darkens with age. Talk about aging well!
Pros
Wood's oil-rich nature protects it from heat, moisture, and most pests
Soft texture makes it ideal for comfortable outdoor seating
Has a beautiful reddish color that only gets better with time
Cons
Extreme cold may cause eucalyptus wood to crack
Not suitable for those allergic to eucalyptus oil
Redwood
Redwood Rolling Cart Swivel Cast Iron Wheels with Brakes
Lee Displays custom hand-made wooden outdoor patio furniture: Wooden Rolling Cart with 4 Black Iron Castors Wheels and Brakes. Made from Re-purposed Redwood, planed and cleaned for outdoor patio backyard & garden use. The table will naturally weather over time to look gorgeous in your patio backyard and gardens! Built by hand in the USA & Built to last.

Great Accessory for the outdoors! Built with shelving on the lower section for garden supplies or glassware. Gardening with ease and potting your favorite flowers for your front yards, hedges, lawns, and backyard patio gardens. Versatility and style you can only get from a custom handmade furniture product in the US! Add a rustic rolling table cart into your patio furniture.

DIMENSIONS: Total Height - 34in Total Width - 48in Depth - 28in 2 - Swivel Cast Iron Casters w/ Brakes 2 - Rigid Cast Iron Casters Weighs approx. over 55lbs.
Redwood's light quality makes for great movable furniture, such as this rolling cart from Lee Display.
Redwood is another great choice for outdoor furniture, given how well it scores on both looks and durability. A type of softwood that's resistant to both insect attack and rot, it is stable enough to resist cracking and warping due to moisture more ably than others in its category.
The wood's natural color and grain also make for attractive furniture, as is evident from this high-utility rolling cart from Lee Display.
Pros
Natural tannins make redwood an attractive option
Light in weight, redwood furniture can be moved around easily
Resists wear and tear and remains undeterred by weather extremes
Cons
Costs more due to its low availability
Requires periodic cleaning and varnishing
Caring for Your Furniture
Any kind of wood, no matter how durable or resilient, needs some care and occasional maintenance for protection from weathering and pest attacks. Here are some tips to ensure that your outdoor furniture stands by you through the years.
Treat Your Furniture Well
Always place your glass on a coaster to prevent those ugly white rings from forming on the surface of your wooden tables, and keeping hot vessels directly on it is a definite no-no.
Invest in insulated trivet mats like these from ME.FAN and your furniture will thank you for it.
Avoid Environmental Damage
Your furniture may be tough, but don't put it to the test.
When you are not using your chairs and tables, bring them into the shade and away from heat sources such as fire pits.
If you have an open patio, you may want to invest in a shade sail from Sunny Guard.
Need some more shade inspiration for your patio?  Check out a complete list of our FAVORITE Backyard Shade Ideas!
Clean and Cover Scratches
While it's advisable to dust your furniture frequently, you will occasionally need to go the extra mile.
Rub spots and especially sticky patches with a mild detergent solution.
Or better still, use Weiman Furniture Wipes, which will not only clean your precious acquisitions but also remove blemishes on the wood while adding a protective scratch-resistant layer.
Polish and Oil
You would also do well to occasionally rub your furniture with Howard Feed-N-Wax Wood Polish and Conditioner, which provides the wood with a refreshingly soft luster and a protective coating of Carnauba Wax and Beeswax.
If you have furniture made of dense wood like teak or mahogany, a little application of teak oil — like this one from Watco — will work wonders.
The Best Wood for Outdoor Furniture - The Verdict
So, the patio furniture has been delivered, and you are just finished setting up your patio. So, the job's done, right?
Well, wrong.
Owning wooden furniture is like being in a relationship, and it is sure to fall apart if ignored for too long.
But if you try understanding your wood and put some effort into maintaining it year after year, it will happily grow old with you!
Other Inspirational Patio Ideas
Need some more Inspiration for your patio?  Check out a collection of our favorite lists and How-to's to make sure have the coolest patio (or deck) on the block!
Furniture and Accessories
Buying Modern Patio Furniture? A Guide to Fabrics and Materials That Will Last Past Labor Day
10 Best Patio Coolers for 2021
Choosing the Best Outdoor Bench with Storage Options: 6 Great Finds!
Coverings
Backyard Shade Ideas: 6 Fun Shade Solutions For Your Deck or Patio
Our Review of the 7 Best Hardtop Gazebos for 2021
Aluminum vs Wood Patio Covers: What are the Differences?
Heaters and Firepits
10 Best Electric Patio Heaters for 2021
The Best Natural Gas Patio Heaters for 2021
The Best Wood Fired Pizza Ovens for 2021
The Best Fire Pit Accessories You Need for Your Backyard
Natural Gas Fire Pits You'll Love in 2021: Our Top 5 Picks
Rectangular Fire Pit Buying Guide
Cleaning