Check out our 5 Best Electric Roasters for 2023, as well as a handy Buyer's Guide for what to look for before purchasing one!
Whenever I have nothing better to do, I roast a chicken - Jeffrey Steingarten 
Life, as Ferris Bueller once famously mused, moves pretty fast.
He was right, and in the time since the King of the Slackers shared his inner philosophy with the world, the frantic hustle and bustle of everyday existence has not only gained momentum, it's continued to accelerate.
Time may be our enemy, but we have all found our own ways to sit down and break bread with it. 
Even though the world has sped up and reduced the amount of time that we get to spend with each other, we've learned to appreciate the moments that we do get to interact with our families and friends more than ever.
The traditional ways, in which we used to spend evenings and weekends with those we love and cherish have changed.
But just because they've changed, it doesn't mean that they've disappeared or vanished completely. The future may have stolen our time, but it's also given us the tools to use it more wisely.
One of the first casualties of modern living was the family meal.
The slow, tenderly, and lavishly prepared dinners that used to take a day to cook and an evening to eat.
Nobody has the time to devote to that sort of prohibitive preparation and execution anymore, or so conventional wisdom would have us believe.
The truth is, there's a far more efficient, easy, and time-friendly way to cook, prepare, and enjoy a family meal.
With an electric roaster.
Forget about conventional ovens, they belong in the past, the only way to adapt to tomorrow is by embracing it and letting technology take center stage.
That's why we've chosen the five best electric roasters that are dominating the culinary world so that, again, like us, you can choose to make the most of the time available to you.
Cooking with Electric Roasters
So what can you do with an electric roaster?  Well, maybe it's easier to ask what you CAN'T do.
For example, here is a great video from Keeping it Real in the Kitchen that will teach you how to make a large batch of roasted corn on the cob in an electric roaster oven!
Here's our TOP 5 Best Electric Roasters
OUR TOP PICK
Proctor Silex can trace their roots all the way back to Philadelphia's nineteenth-century textile industry, but for the last century, they've been bringing the latest developments in kitchen technology into American homes.
They made the first electric glass coffee maker, the first pop up toaster, and they invented, designed, and manufactured the first electric roaster on our list.
Made from stainless steel, the Proctor Silex Roaster Oven has an arched lid to increase it's already impressive roasting capacity and can, according to Proctor Silex, cut the time it takes to prepare an average family meal in half. 
Durable, easy to clean, and use, it's every kitchen's best friend and when it's not been charged with cooking dinner, it'll still look good on any countertop.
Functionality and adaptability are the key ingredients of Proctor Silex's success, as it can cook stews, vegetables, soups, and heat up almost anything that you need it to.
It's primary purpose though, is roasting and it can easily roast and prepare whatever meat you want it to, all the way up to a twenty-four-pound turkey!
Knowing that just made our Thanksgiving a whole lot easier, and now we're actually looking forward to cooking for the family this year.  
Featuring an easy to lift rack, the Proctor-Silex has also mastered the art of baking and can produce delicious cakes, bread, and desserts.
If it can be baked, the Proctor-Silex can bake it. In fact, we're pretty sure that there isn't anything that this incredible electric roaster oven can't cook,
Pros
By reducing the average amount of time that it takes to prepare a family meal by half, it makes the most of what little time we have and for that reason alone the Proctor-Silex has steamrollered its way to the top of our list.

We adore functionality and versatility and this electric roaster is the epitome of both. It bakes, it heats, it boils and it roasts. What could you ask from any electric roaster?

If its eye-watering cooking capacity and the fact that it's so easy to clean hasn't made you reach for your pocketbook or purse, we'd be incredibly surprised. We had to be physically prevented from adding it to our shopping cart and running to the checkout. 
Cons
The lack of a glass lid means that you're going to be solely reliant on the timer to judge and gauge cooking times. The fact that you can't see whatever it is you're roasting and cooking while you're cooking it is a little off-putting, but it's something that we're willing to put up with given the Proctor-Silex's price. 

Some reviews have pointed out that the quality of the oven isn't all that it could be. While said complaints are few and far between, it would be remiss of us not to point them out. It's always better to be armed with too many facts than too few.
Oster believes that entertaining should be easy and want to ensure that every meal is memorable and delicious.
It's a little presumptuous to think that we'll be able to recall every dinner that we sit down to eat, but it's an admirable sentiment that we can easily get behind and run with.
That said, Oster's claim might not be as far fetched as we first assumed, as their twenty-two, quart electric roasting oven is a jaw-dropping technological miracle that might just propel any meal it makes into the halls of legend.
Even though it won't save you as much time as the Proctor-Silex will, the Oster Roasting Oven will still cut your cooking and preparation time by a third and can roast, slow cook, and bake a startlingly large menu.
Variety lies at the heart of the Oster's life, and when it's finished cooking, this marvelously durable electric roasting oven is devastatingly easy to clean.
All of that though, and everything else that the Oster can do, pales in comparison when it's let loose and allowed to do what it was designed to do; roast.
Able to roast, and baste, turkeys up to twenty-six pounds, the Oster is the electric roasting oven that you don't want your extended family and friends to know about.
If they do find out that an Oster has taken pride of place in your kitchen, they'll all show up for Thanksgiving, and having sampled the Oster's fare, there's a pretty good chance that they'll never leave.
Pros
You can forget about using a basting spoon or ever having to baste a turkey ever again. The Oster electric roasting oven does it for you. As comforting and inviting as that thought is, we can't help but wonder if it's the first stage of the machine invasion, and conquest, of Earth. As wonderfully delicious and delightful as a self-basting oven sounds, it's also a little frightening.

It's no slouch in the time-saving department and will cut meal preparation and cooking times by up to a third. And it's also thirty-six percent more efficient than most of its competition, so the Oster won't just help you to make the most of your time, it also helps you to save money by reducing your electricity bills. 
As well as having a "Keep Warm" setting that'll make sure your meals stay hot until you're ready to sit down and eat them, the Oster also has a variable temperature setting that adds a degree of flexibility to meal planning and preparation. 
Cons
Do you remember when you were little and your parents told you not to touch the oven because you might burn yourself? Well, that's good advice when it comes to using the Oster. It doesn't just get hot on the inside, it can get a little too warm on the outside as well.

It also suffers from, according to some very angry reviews, a small number of manufacturing errors.  Apparently, there's no such thing as the middle ground with the Oster. You'll either get a good one or a not so good one. If that's a risk that you're willing to take, and for sixty dollars who wouldn't take that risk, then get ready to start roasting the Oster way.
Nesco is dedicated to becoming the key ingredient in both the big and small details of life, and that's why they're committed to crafting the functional and affordable kitchen appliances.
They proudly proclaim that this is the same electric roasting oven that grandma used to use to cook the Thanksgiving turkey.
It's just been given a twenty-first-century make-over so that it, and you, can keep up with all of the demands of modern life.
Able to handle turkeys up to twenty pounds, take on soups, stews and chilis with ease and bake up a storm, the Porcelain Cookwell is an electric roaster all-rounder that any family can depend on. In fact, it'll do just about everything except play fetch and broil.
But it's shortcomings are far outweighed by what it can do. And what it can do is everything that you'll need it to do.
Using a patented "Circle of Heat" element to ensure an even distribution of heat throughout the oven, the Nesco's Porcelain Cookwell pot is fully removable and easy to clean - it's even, in keeping with its twenty-first-century makeover, dishwasher safe.
The old world has finally caught up with the new and its proud to wear a Nesco nametag.
Pros
Unlike the other electric roasters on our list, the Nesco comes in a variety of colors. If you don't like red, the Nesco Porcelain Cookwell is also available in white and silver.

It isn't the cheapest electric roaster on our list, but it won't shatter your bank balance either. 

It may not seem much, but the fact that its removable porcelain pot is dishwasher safe proves that Nesco really does have their eye on the future. And if you use a dishwasher,the Nesco makes life even easier. And who doesn't like that?
Cons
Reliability seems to be a reoccurring problem with a lot of electric roasters, and Nesco is just as susceptible to its all-encompassing electric roaster fault grasp as their competition.  There aren't many bad reviews of the Porcelain Cookwell, but the ones that have reared their ugly heads, are absolutely horrible.  Which should give you electric food for thought if you're thinking about adding a Porcelain Cookwell to your kitchen.
EaZy BrandZ creates innovative ovens and electric roasters that use their patented Oberdome technology, that doesn't just cook and bake faster, it uses a uniform heat to create a completely even temperature dispersal.
It may not share the same sleek, counter-top good looks that its competition possesses, but that doesn't matter as the energy-efficient EaZy BrandZ electric roaster is just at home on a camp-site or on a hunting or fishing trip as it is in the kitchen.
Fast to heat and easy to clean, while it can't cook stews, soups, or help you to produce a hotter than the surface of the sun chili, the Oberdome has a trick up its sleeve that none of its rivals can match.
It's also a pizza oven, and as any parent will happily testify, pizza has been the saving grace of, and peacemaker in, far too many family disputes.
Pros
That Oberdome technology delivers everything it promises it will and so much more. It's fast, incredibly efficient, and slices through cooking times like a hot knife through butter. 

It cooks pizza. That's all you'll need to tell any teenager to get them to swarm all over the EaZy BranDz Oberdome. 

The Oberdome is just as at home on road trips and camping adventures as it is in your kitchen. It's a universal electric roaster
Cons
It lacks the functionality of a lot of its rivals and its culinary repertoire is more than a little limited. We expected more from the Oberdome and so will you. Unless you have a pizza obsessed teenager or two, in which case this is the only electric roaster that they'll even entertain.
The last choice on our list is another of Proctor Silex's world-beating electric roasters.
While it doesn't have the same roasting capacity as the first choice on our list, this oven is more portable and thanks to its buffet roasting plates is a little more versatile.
Which makes it ideal for cooking for, and feeding larger, gatherings of family and friends. 
Even though it can only handle an eighteen-pound bird, it's variable temperature controls and design make it just as easy to clean as the other Proctor Silex model on our list.
And thanks to it being much lighter and more compact, it can also double up as a camping oven.
What really impressed us though, was the buffet serving trays which open up a world of infinite cooking possibilities.
It was made to handle parties, family get-togethers, and all kinds of celebrations and can, and will, step up to the plate and handle all of them in its electrical stride.
The Proctor Silex may not be familiar with 'The Rocky Horror Show' but it certainly subscribes to its central philosophy, albeit with a slight, kitchen based twist; Don't dream it, just cook it.
Pros
It's the perfect electric roaster to keep a party going and can easily keep pace with as many guests as you want to invite. 

Compact and light, it's a portable electric roaster that's just as happy to live on your kitchen counter as it is on the open road.

It won't leave a dent in your pocketbook and will win a place in your heart with the culinary avenues and possibilities that its buffet plate makes it possible for you to travel down and pursue.
Cons
Apart from the minor inconvenience of having to invest further money in a roasting rack, the only issues we could find with the Proctor Silex were the same that plagues all-electric roasters. Sometimes, they're just not as reliable as we hope they'll be.
Best Electric Roaster - A Buyer's Guide
So, that's it, five of the best electric roasting ovens to welcome the future in with.
However, before you decide which electric roaster you're going to sail into tomorrow with, there are a few things that you might want to consider and think about before committing yourself to your roaster of choice.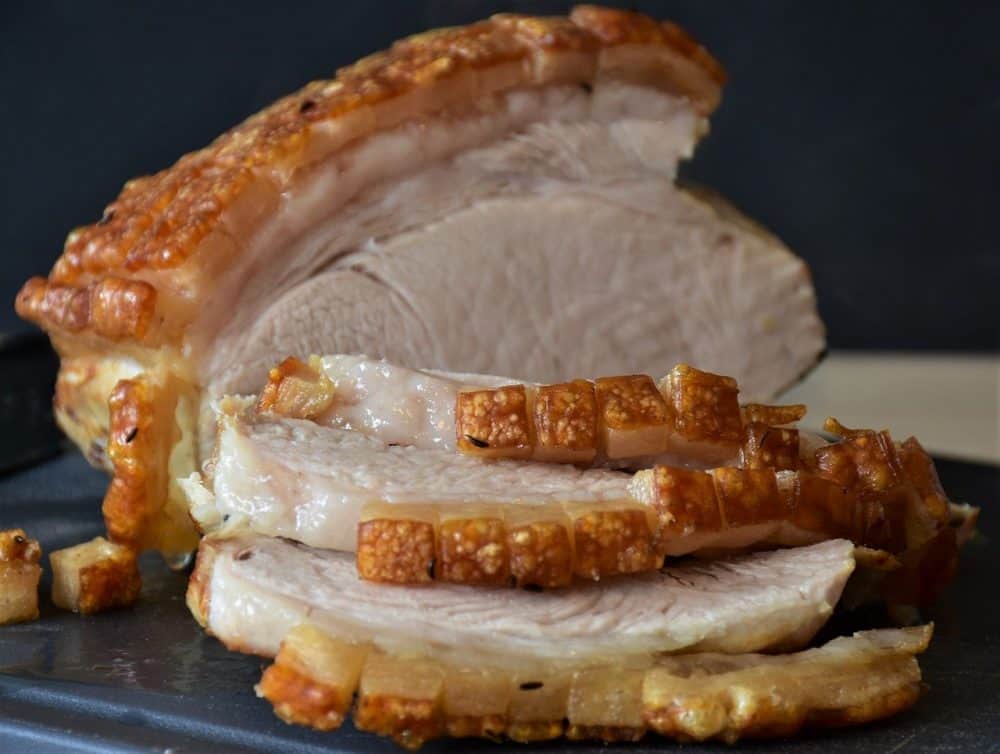 Capacity
We've used, for the most part, what we refer to as the turkey scale to try and give you a clear picture of the capacity of each of the ovens on our list.
It's an easy scale to use, turkeys are universally measured in pounds, and as you've undoubtedly sat through a number of Thanksgivings, you'll have a pretty good idea of size according to weight thanks to, well the turkey scale and your experiences with turkey.
The weight limit, or more accurately the capacity, of the oven, doesn't just apply to turkeys. It's meant to provide a clear indication of the volume of food that you can cook, roast, or bake in each oven.
Electric roasters aren't limited to just roasting meat, and the weight limit (capacity) doesn't apply to just meat. It's meant to be used as an indication of the size of the meal that the oven is capable of handling.
The greater the turkey weight an oven can roast, the more capacity it has, and the more capacity it has, the greater the volume of food it can comfortably cook. It's pretty straightforward when you think about it and an easy way to judge the weight and size an electric roaster can safely cope with.  
The Versatility Factor
One of the first questions you should ask when you look at or consider, with any electric roaster is "What can it do and what will it do?" It's something that we like to call "The Versatility Factor". 
An electric roaster needs to do more than its name suggests it will, because let's face it, no-one is going to buy an electric oven just to roast meat.
Thanksgiving and Christmas are great, but they only come around once every year and if you're going to spend some serious money on an electric roaster, you're going to want to use it more than twice a year.
And you're going to want to use it for more than just roasting birds.
That's why it's important to find out what a roaster can do. We know it can roast, but what else can it do? 
Can it bake? If so, what can it bake? Bread? Desserts? Cookies? Cake? Biscuits?
Most of the roasters on our list can bake all of those things, but it's worth digging a little deeper to make sure that the oven in question can bake everything that you'll want it to.
Maybe you're a stews and soups kind of person, or an amateur chili connoisseur who likes to push the heat and taste envelope as far as you can.
If that's the case, then all of the ovens, bar one, on our list should acquiesce to your cooking demands and the one that doesn't? Well, that's got its own party trick that makes it a one in a million electric oven in its own right. 
It's also worth noting what sort of trays and extras each oven comes with, as the former will play a role in dictating what it can cook and the later will add a number of additional strings to your oven's cooking bow.
Details are everything and you can't know too much when you choose your oven. Knowledge is roasting power. 
Speed and Power
One of the major benefits of using an electric roaster is the amount of time that it'll save you, in the kitchen.
We know that time is a premium that none of us can afford to waste, so the less time it takes an electric roaster to cook a meal, the more appealing it's going to be. But speed isn't everything. You'll also want to examine how efficient and power-friendly the oven is. 
Think of it like this -  a Dodge Hellcat will get from A to B faster than almost any other road car, but the amount of gas it'll use to travel between those two points makes it an incredibly expensive way to travel.
The same thing applies to your electric roaster. It might cook your meal in half the time it would take a conventional oven to cook it, but how much electricity will it need to consume to do that? 
Efficiency is paramount to an electric roasters design and while most manufacturers tend to pay close attention to the amount of power an electric roaster needs and try to minimize that crucial requirement as much as possible, some don't.
So take a close look at the efficiency ratings of each oven before you buy it, as a little research now will save your pocketbook later. 
Which Electric Roaster Is Right For Me?
We can't make that decision for you. While we can point you in the right direction by showing you the best roasters that money can buy,  we can't make that final leap for you.  The roaster you want depends entirely on what you need.
Do you need it to be a multi-purpose family oven that'll cook, roast, bake, and more? Are you looking for a pizza maker that'll double up as an electric roaster?
Is power usage and efficiency as important to you as the functionality of an oven? And how many people are you going to need the oven to cook for? 
Think about the answers to all of those questions, decide what you want your oven for and what you want it to do, then take another look at our list, because we guarantee that there's an electric roaster on it that will do everything you want, and need, it to do. 
Looking for More Grills, Smokers, and Accessories to Add to your Collection?
Check out some of our favorite brands and styles of grills, smokers, and cooking accessories to add to your list!
Smokers
Grills
Accessories