Learn how a pellet grill works and the pros and cons of using one compared to a propane or charcoal grill.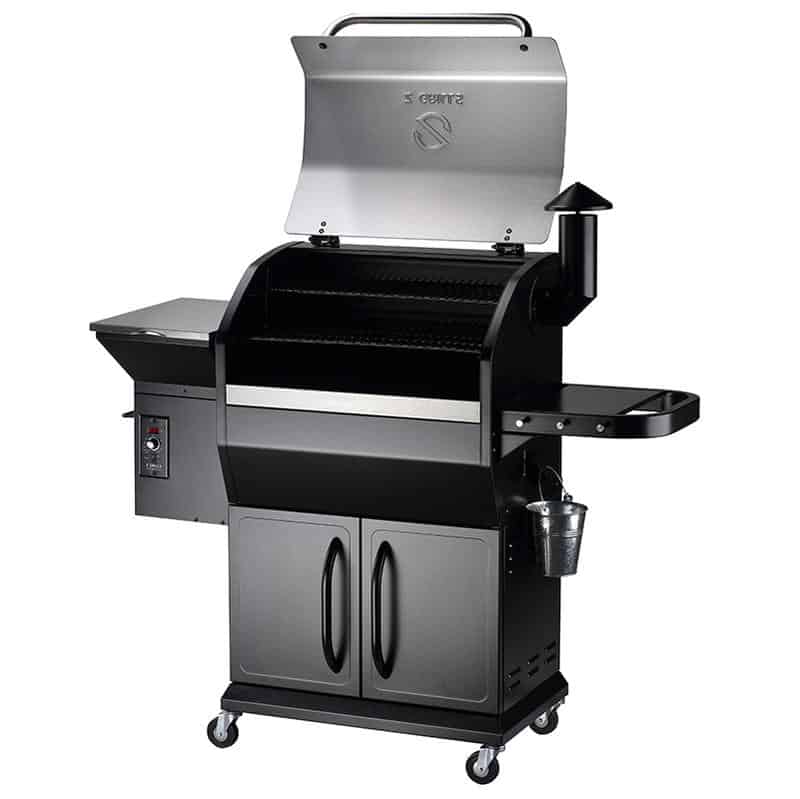 New to Pellet Grills? You probably are not alone.
This increasingly popular style of grills uses wood pellets made from a variety of wood types to create the heat and smoke needed to combine your love of grilling and smoking in one easy to use appliance.
Parts of a Pellet Grill
Knowing how a pellet grill works first starts by knowing the parts of the pellet grill.
Hopper
The pellet hopper is the box that stores the pellets before feeding them to the heat source. It can be either a large or small box, usually located on the left side of pellet grill above the temperature controls.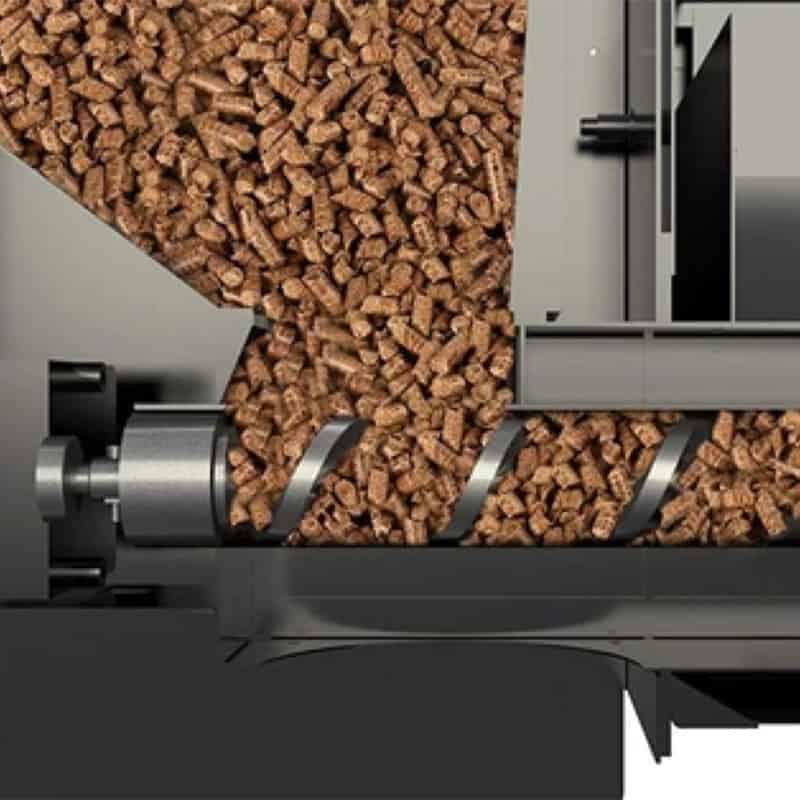 Auger
At the bottom of the hopper, the pellets are pulled towards the heatsource, or firepot, by an auger.  With a Zgrills pellet grill for instance, this is an automatic process that happens inside the grill at a rate based upon the temperature you have set on the controller.
Firepot
Once the pellets reach the firepot, the are ignited.  Some brands of pellet grills use a propane flame, while others, like zgrills, use a super hot electric heat rod to instantly ignite the pellets.
On a quality pellet grill, a circulation fan will then distribute the smoke and heat created evenly up to the cooking surface where the food is cooked.
Controller
A digital controller can be found on the side or the front of a good automatic pellet grill, which controls the internal temperature of the pellet hopper.
By controlling the rate of the pellets being fed to the firepot, usually along with an automatic internal fan, pellet grills are incredibly stable at maintaining a constant temperature.
Other Parts of a Pellet Grill
Inside the pellet grill will be a cast iron grate – perhaps more than one, to help with heat diffusion. Cast iron is the preferred material compared to steel in pellet grills because steel is lighter and less durable; it does not last as long as cast iron.
The heat shield and grease tray can be found at the bottom of the grill, underneath the grate.
The pellet grill will also come equipped with a grease bucket, firebox, start ignition, and a chimney to release the excess smoke.
How to Use a Pellet Grill
Loading the Hopper
The first step in pellet grilling is to fill the pellet hopper with your pellets.
Typically, any type of wood pellets will do; however, part of the fun of bbq is choosing your favorite wood type, so put some thought into it based on previous experience.
Some pellet grills have specific pellet sizes that can only be used with their appliances so make sure to check the manufacturer's recommendations before you buy.
Set the Pellet Grill Temperature
Quality digital pellet grills like those from Traeger and Zgrills allow you to set not only the temperature, but the cooking time for your meat as well.
Cooking at a lower temp for a longer period is ideal for smoking large cuts of meat you would normally have to put in a dedicated smoker.
The nice thing about a pellet grill is you can also turn up the heat and get the same wood fired flavors of a smoker on those smaller steaks and chops you want to sear too.
Automatic Control
These digital controls will automatically regulate the rate of pellet burn and the use of the induction fan to give you a nice "set it and forget it" temperature.
The digital controller will control the auger, which will then move the pellets, rotating the pellets slowly from the hoper over to the firebox.
The pellets will then burn to create both the heat and smoke needed for the cooking process. The internal fan will keep the wood smoke moving around in the pellet grill, giving you complete smoke coverage of your meat.
You get the automatic temperature control benefits of an electric smoker, with the natural combustion of real wood and the versatility to also use it is a high heat grill.
How does a Pellet Grill compare to Propane and Charcoal Grills?
Pellet Grill vs. Propane Gas Grill
Most people are familiar with how a propane gas grill works.  Open the tank, light the burner, and set your burner intensity.
This is great for direct grilling, however if you are hoping to do lots of low and slow cooking of large cuts of meat like brisket and pork shoulder, you may want to consider a pellet grill.
However, keep in mind even the best pellet grills will have a tough time reaching the sky high temperatures a high powered propane grill is capable of.
But if versatility and space saving is important to you, consider a pellet grill to cover all your smoking and basic grilling needs.
Pellet Grill vs. Charcoal Grill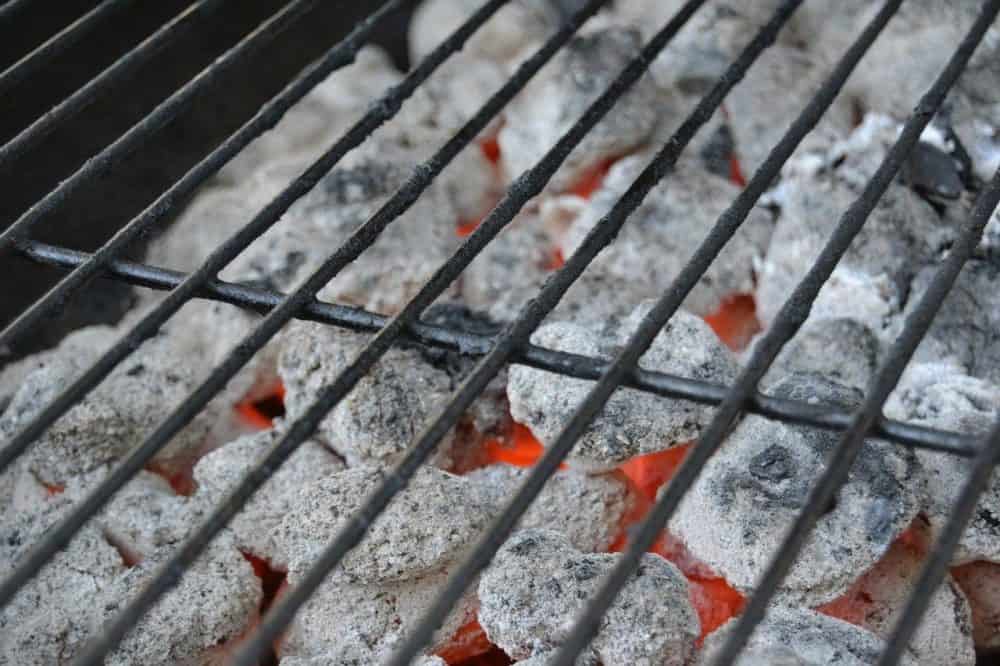 Charcoal is the OG of the smoking and grilling world, and you'll never hear us knock it around here a Mad Backyard.
If you've got the time and the inclination, nothing beats lighting up a charcoal chimney and getting ready for a great cookout.
However…if you are looking for a great automatic solution you don't need to babysit, or something quick and easy to fire up on a weeknight, then a pellet grill may be the answer.
All of a sudden smoking pork, poultry, brats, and even steaks, just got a whole lot simpler when you're short on time and energy, or worse yet, out of charcoal.
Pros of Using a Pellet Grill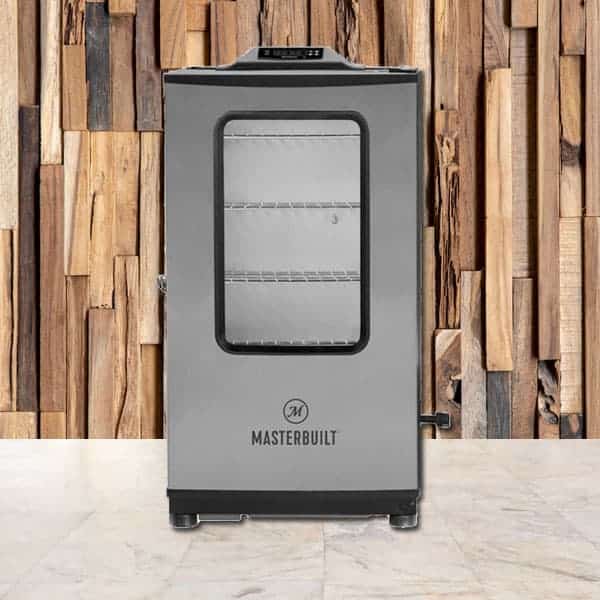 Cons of using a Pellet Grill
Pellet Grill Recipes
Looking for some inspiration for your pellet grill?
Check out some of our favorite recipes below that can easily be modified to be done on a pellet grill.
Trash Can Turkey – OK, technically not made on a grill but one of the most fun ways there is to cook a Turkey…at over 700 degrees in only 2 hours!  You've got to check it out!
How to Use a Pellet Grill
Learn everything you need to know about how to set up a pellet grill and how to use one to make some GREAT food!
Ingredients
5

lbs

Wood Pellets

compatible with your brand of pellet grill
Instructions
Load the hopper with your choice of wood pellets. Make sure to always keep at least 5 lbs minimum in the hopper. 1 lb will cook for about 1 hour on average.

Plug your pellet grill into the electric outlet. Make sure the dripping bucket is in place to catch any grease.

Turn on the pellet grill and set the pellet grill temperature. This will usually be via a digital controller on the side of the pellet grill.

As the pellets begin to burn smoke will naturally be created as well.

Clean your grates off with a good bristle free grill brush.

Add your food to the pellet grill and cook until finished.

Turn off your pellet grill. Once cooled, empty your grease bucket and clean your grates again.

Replace cover on the grill.