Learn how to cook perfectly smoked pork chops on a pellet grill!
Whether you are using a Traeger, Camp Chef, Pit Boss, or any other brand of pellet grill, we've got you covered.
Get ready for the juiciest, most delicious BBQ smoked pork chops you've ever cooked before, and they are super easy to cook as well!
Let's Go!
How a Pellet Grill Works
In order to cook ANYTHING well on a pellet grill, you need to first have a basic understanding of how it works.
***Completely New to Using a Pellet Grill?  No Worries!****
Hop over and check out this Complete Guide to Understanding How a Pellet Grill Works first if you are interested in learning more.  We'll be here when you get back!***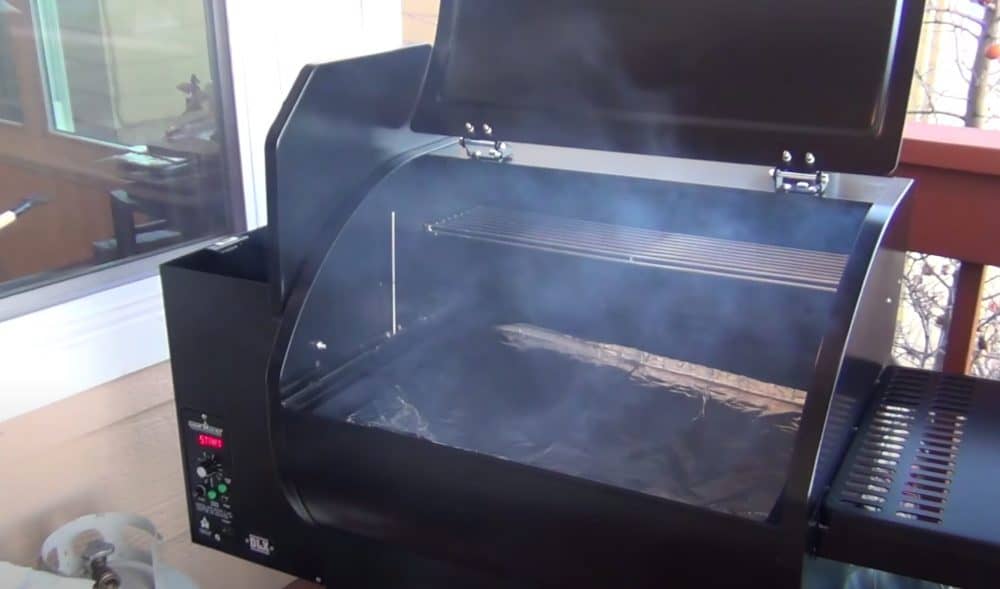 First, you add hardwood pellets into a side hopper. The pellet grill automatically feeds these small wood pellets via an auger mechanism to a fire pot where they are burned up, providing both heat and smokey flavor.
The pellet grill automatically controls the flow of pellets depending on your temperature setting so that you maintain an even temperature throughout the entire cook.
A MUST for making great BBQ, no matter the temperature.
We are big fans of Bear Mountain Hardwood Pellets because they are compatible with most pellet grills and provide a nice clean, even burn and smoke flavor.
Instead of being in and out of the house constantly trying to figure out when or whether to add more wood or to adjust the air flow, you just program the unit and give it time to do its thing.
It's really just a matter of choosing and preparing the right ingredients, picking the right temperature, and smoking your hot and fast brisket for the right amount of time!
Looking for a Reasonably Priced Pellet Grill? 
Check out this Review of our Favorite Pellet Grills Available for UNDER $500!
How to Prepare Pork Chops for a Pellet Grill
Bone-in vs. Boneless
As long as you cook your pork chops to the right internal temperature, AND NO FURTHER, they should come out great, no matter if they are bone-in or boneless.
Now, some people enjoy the flavor that bone-in pork chops impart on the meat, and also claim they are less likely to "dry out" as quickly and harder to overcook.
Actually, we think this is because bone-in pork chops thend to be a little thicker than boneless ones, s they hold up better to the smoking process and retain more mositure.
But trust us, you can overcook any of them, no matter the thickness or whether they are bone-in.
All else being equal, thicker bone-in pork chops WILL take a little longer to cook on a pellet grill and likely retain a little more moisture.
So if you can, look for some thick cut bone-in chops for your pellet grill.
Best BBQ Rubs for Smoking Pork Chops
We love a good straightforward BBQ rub on our pork chops, and there's none better than Blues Hog in our opinion, especially their Sweet and savory rub.
Blues Hog Sweet & Savory Seasoning
Made with the highest quality of sugars and spices

Offers a sweet flavor profile with a light smoky taste followed by a kick of heat

Excellent on beef, chicken, pork, fish, wild game, mixed with ground meats and veggies- Especially on ribs!
It's got just the right amount of sugar and salt ratio but without much heat to bother any guests who are particular about that sort of thing.
They make some great BBQ sauces too.
If you want a great BBQ rub with a little more HEAT, check out Three Little Pigs Kansas City Rub instead.
This is another great BBQ seasoning you can't go wrong with on pork.
Sprinkle a fair amount of one of these rubs, or your own favorite BBQ rub and let the pork chops sit for about 20 minutes before putting them on pellet grill to smoke.
This will let some of the salt penetrate the meat and also pull some moisture out to create a nice glaze on the exterior that the smoke LOVES to adhere to.
For an even DEEPER flavor into your smoked pork chops, put the rub on the night bfroe, wrap them in plastic wrap and keep them in the refrigerator overnight.
The next day, remove the plastic wrap, sprinkle a little extra seasoning to replace any that came off stuck to the plastic wrap and THEN put them on the pellet grill.
You'll have great BBQ flavor all the way to the center of your smoked pork chops.
The Best Wood Pellets for Cooking Smoked Pork Chops on a Pellet Grill
Pork chops pair well with any fruitwood such as apple or cherry, as well as hickory and maple if you want to use those distinctive flavors in your pellet hopper.
Mesquite can be a little strong for pork chops, save those pellets for your steaks and beef roasts, unless you want to just mix a little in with some other pellet varieties.
For our smoked pork chops, we are big fans of Bear Mountain Cherry Wood Pellets.  Feel free to mix them in with some hickory or any other smoking wood pellet you want to try out.
How to Cook Smoked Pork Chops on a Pellet Grill
Now that the pork chops are seasoned, all that's left to do is cook them!
With a pellet grill, this is the easy part!
Just add your chosen pellets to the hopper, plug in and start the pellet grill.
Let the pellet grill go through its start up process and once it has come up to temperature and stopped producing the thick white "start- up" smoke, put the pork chops directly on the grill grates.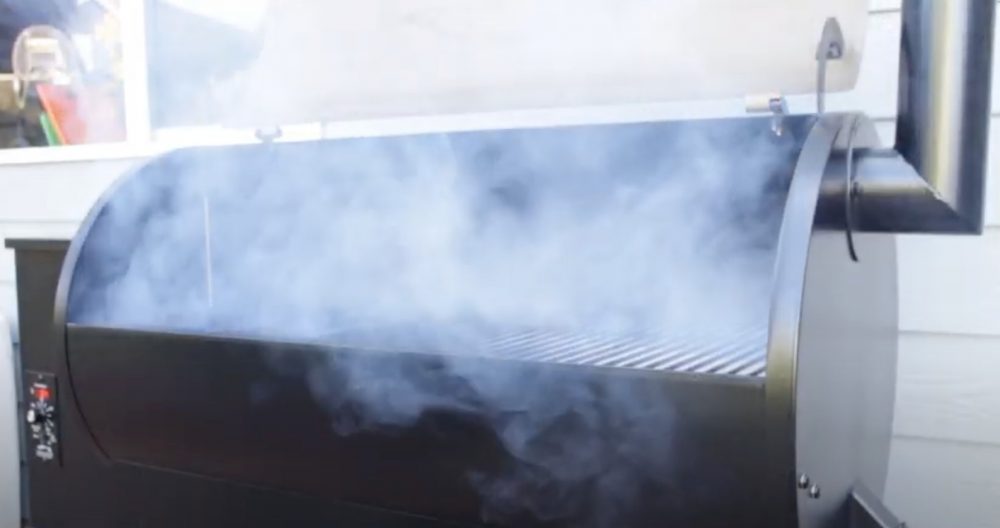 If your pellet grill has an option to open holes or vents in the drip tray and get some more DIRECT heat, you can feel free to do this.
The smoked pork chops will cook a little faster and you'll get a little more sear on the meat.
If you don't have this option, or would just prefer to just cook them indirectly and get some more smokey flavor, that works well too!
What Temperature do you Cook Smoked Pork Chops on a Pellet Grill?
Set the temperature to 300°F, and let the grill come up to temperature.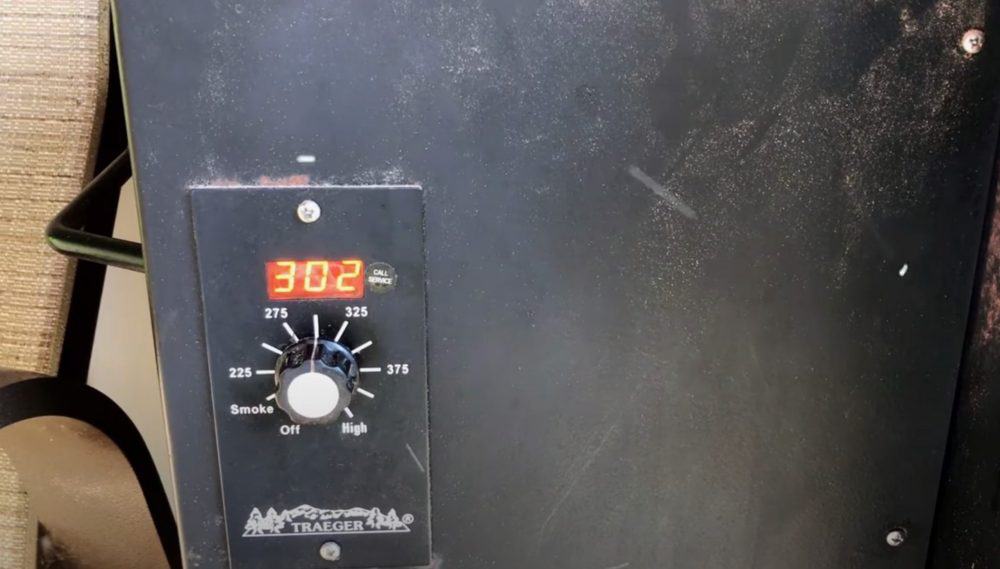 Because pork chops are cut from the LOIN of the hog, they have very little fat on them.
Unlike pork belly or even pork steaks, which are cut from fatty areas of the hog, pork CHOPS do better cooked at higher temperatures like 275-300°F where they can finish faster before they dry out vs.s the traditional "low and slow" cooking temperatures we use for for fattier meats in the 225°F range.
How Long does it Take to Cook Pork Chops on a Pellet Grill?
Put your pork chops in the cooking chamber and let the pellet grill do its thing!
Always use insulated bbq gloves when rotating or moving the pork chops around.
If you are using any DIRECT heat in your pellet grill as mentioned above, the smoked pork chops will take a little less time to cook, and will benefit from being flipped about every 10 minutes.
If you are cooking completely INDIRECTLY, then there is no need to flip your pork chops during the cook.
At 300°F, your pork chops will take between 25-45 minutes to cook depending on how thick they are, whether they are bone-in or boneless, and whether you are setting up your pellet grill to provide any direct heat.
In order to know when they are TRULY done, always use a good instant read meat thermometer.
More on that below.
How Can I Cook with MORE Direct Heat on a Pellet Grill?
Pellet Grills work great for smoking large cuts of meat like brisket, pork butt, and ribs, and maintaining a near perfect consistent air temperature, much like the best competition smokers promise to do.
The downside sometimes is their ability to sear at high heat like you would over direct coals or a propane gas burner.
In order to get the best of both worlds, we recommend coupling some Grill Grates with your pellet grill.
Grill Grates are specialty...well...grates that sit right over the existing grates on your pellet grill that help capture and direct all that ambient heat and give you a nice searing station in the corner of your pellet grill.
15" Grill Grate Sear Stations for Pellet Grills (SS15)
Total Width is 15.375.

Includes THREE 15 Long GrillGrates, GrateTool and User Guide.

EVEN HEAT: No more hot spots or cold spots

NEVER RUSTS: Made from highly conductive hard anodized aluminum.

GET KILLER SEAR MARKS ON YOUR PELLET GRILL: GrillGrates concentrate and amplify the heat of your pellet grill allowing you to actually grill and not bake on your pellet grill.
How do you Know When Pork Chops are Done on a Pellet Grill?
You will want to cook your pork chops on the pellet grill until they reach an internal temperature of 145°F as measured with an instant read thermometer.
If you don't yet own an instant read thermometer, it's going to be hard to really know exactly when that pork chops are done cooking on the pellet grill.
One of our go-to and very affordable favorites is this waterproof model made by Kuluner.
Pork chops will overcook very quickly above and beyond this temperature, so watch them carefully as they get close 145°F and remove them promptly from the pellet grill.
Pro Tip: Don't stack them or cover them in aluminum foil or anything once you remove the smoked pork chops or they will continue to overcook from their own residual heat.
Place them spaced apart on a plate and give them about 5-10 minutes to rest before serving.
Saucing your Smoked Pork Chops
Additionally, you can brush some of your favorite BBQ sauce like Blues Hog on the pork chops as they are smoking on the pellet grill.
Wait until they are about ½ way through cooking, brush some on one side, wait about 5-10 minutes, the brush some on the other side.
This will give the sauce time to caramelize and adhere to the meat, which is much better than slopping it on right out of the refrigerator once the pork chops are cooked. (Don't do this.)
More Fun Pellet Grill Recipes!
Looking for some more inspiration for things to cook on your pellet grill?
Check out some of our favorite recipes below that can easily be modified to be done on a pellet grill.
More Smoked Pork, Turkey, and Chicken
Smoked Seafood
Smoked Beef
Smoked Lamb
Other Odds and Ends
Trash Can Turkey - OK, technically not made on a pellet grill or smoker but one of the most fun ways there is to cook a Turkey...at over 700 degrees in only 2 hours! 
You've got to check it out!
📖 Recipe
Smoked Pellet Grill Pork Chops
Pork Chops seasoned in a BBQ rub and then smoked to perfection on a pellet grill.
Equipment
Pellet Grill

Wood Pellets - Hickory, Cherry or Maple recommended

Instant Read Meat Thermometer

Grill Tongs or Spatula
Ingredients  
4

Thick cut Bone-in Pork Chops

Your Favorite BBQ rub

Your Favorite BBQ sauce

(optional)
Instructions 
Apply the BBQ rub to your pork chops on both sides and let the rub "soak in" for about 20-30 minutes while you start up your pellet grill.

Fill the hopper with pellets, turn on and run the pellet grill through the start up process, clearing out th white "start-up" smoke.

Turn the heat on the pellet grill to 300°F. If your pellet grill has the option to open any holes or vents in the drip pan for more direct heat, go ahead and do this.

Once the pellet grill is at 300°F, place the pork chops in the cooking chamber on the grill grates, over the direct heat is applicable.

Close the lid, if using any direct heat, flip the pork chops about every 10 minutes until they are finished cooking.

Optional: After about 10-20 minutes, brush the pork chops with BBQ sauce and close the lid. After 10 minutes, flip and brush the other side.

When the internal temperature of the smoked pork chops have reached 145°F, remove them from the pellet grill.

Let the pork chops rest for about 10 minutes before serving to let the juices distribute.
Nutrition