Learn how to make smoked halibut on ANY grill or smoker!
Halibut is a deliciously flaky, delicate, whitefish that tastes GREAT when smoked.
It's also incredibly easy to prepare and to smoke, whether you are using a pellet grill like a Traeger, Camp Chef, or Pit Boss, an electric smoker like a Masterbuilt, or just a conventional propane grill like a Weber. 
Seasoning your Halibut for Smoking
Halibut  is like a blank canvas when it comes to seasoning.
You can go gentle and delicate with a simple salt, pepper, garlic, marinade lie in our recipe below.
Mix the spices with some olive oil in a ziploc bag and let it marinate for about an hour while you get your smoker set up.  You can also add in some smoked paprika for color and depth of flavor.
Alternatively, you can go a little bigger and use a spicier BBQ rub like our current favorite Three Little Pigs Kansas City BBQ Rub.
Three Little Pigs Touch of Cherry BBQ Rub
Three Little Pigs Kansas City Touch of Cherry BBQ Seasoning is their Most Unique Offering

Sweet Cherry Flavor Enhanced with a tasty combination of sugar, brown sugar, salt, garlic, onion, spices, and natural cherry and smoke flavor

Helps create a sweet caramelized flavor on your favorite meats
Best Wood Choices for Smoked Halibut
Because we are only smoking the halibut fillets for such a short period of time, you can really get away with any kind of smoking wood of your choosing.
If you want to keep it simple and straightforward, choose a lighter smoking wood like oak, apple, or peach.
Middle of the road?  We really like hickory or cherry for smoking halibut.
And if you want a full in your face mesquite flavor, well, use mesquite.  But prepared for it to possibly overpower a lot of the tilapia flavor.
But if you want a more delicate flavor, then go lighter with some conventional wood choices.
You can also experiment with cooking your halibut on cedar planks for some added wood-ey flavor.
Check out our complete guide on how to grill with cedar planks HERE.
Best Times and Temperatures for Smoked Halibut
What is the Best Temperature to Smoke Halibut?
We are going to set up the smoker for indirect cooking at 250-275°F.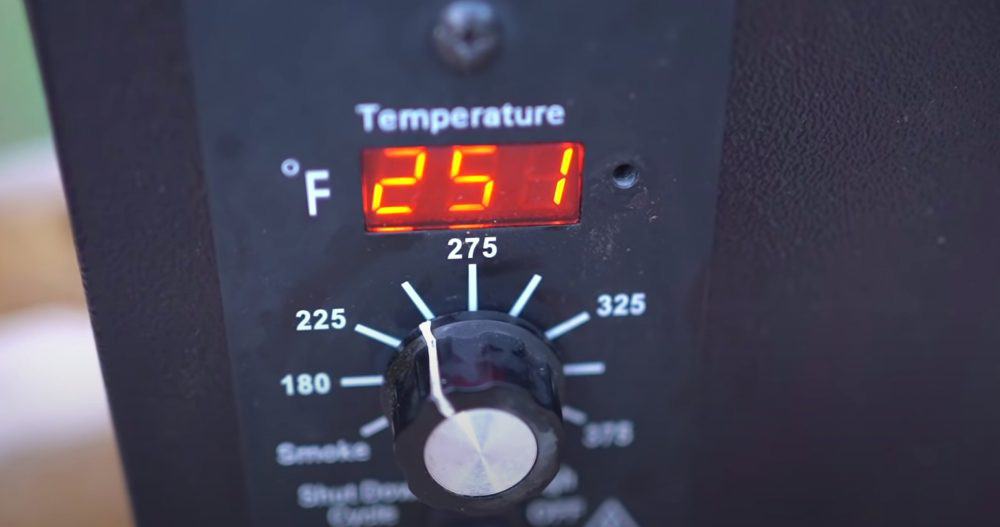 Because halibut is so lean, anything lower tends to dry out the fish before it cooks completely.
Anything higher and it cooks too fast to absorb any smoke flavor before its finished.
Target Internal Temperature for Smoked Halibut
You HAVE to use a good instant read meat thermometer to know where the internal temperature is of your halibut filets, especially because they will cook relatively FAST!
We are particular fans of this one from ThermoPro because of its durability and affordable price.
We are targeting a final internal temperature of 145°F on the halibut to know that it is finished cooking. 
How Long Does it Take to Smoke Halibut?
At 250°F, the typical halibut filet will take about 45-60 minutes to cook and come up to 145°F internally.
This gives it plenty of time to absorb a good amount of smoke and really develop some great flavors on the smoker.
Setting up your Smoker for Halibut
Optional: Use a Grill Basket or Grill Mat
Because halibut is more delicate than other cuts of meat, you may be more successful if you place the filets in a grill basket rather than directly on the grill grates.
We are particular fans of the ORDORA Portable Grill Basket because it comes with its own handle, making it much easier to manage and move lots of delicate food around with one quick motion.
Another option is to use a grill mat, which are becoming increaisngly popular in many BB circles.
Our personal favorite is the PhatMat Non Stick Grill Mat.
Just throw it down on your grill to keep your fish (or any other food) from falling through. It keeps your grates really clean, and when you are done, you just throw it right in the dishwasher!
PhatMat Non Stick Grill Mats Mesh - Set of 2
? GRILL LIKE A BOSS - Our heavy duty mesh design allows your barbeque masterpiece to fully absorb those awesome smoky flavors.

? NO MESS - Never grill on a nasty grill grate again! These bbq mats for grill keeps all your barbecue creations from falling through the grates! Nonstick, easy clean up, reusable, washable and dishwasher safe!
Vertical or Offset Charcoal Smoker
Read Char-Broil Reviews on Amazon
Fill your firebox or lower charcoal basin with a few handfuls of unlit charcoal and create a small hollowed out depression in the center where you can add your lit briquets.
If your smoker comes with a water pan, like the Weber Smokey Mountain, fill the water pan as well to help stabilize the temperature and add moisture to the cooking chamber.
Light a charcoal chimney about ¼ way with charcoal and wait about 15 minutes for it to fully ignite.
You will not need too many briquets here because we are only smoking the halibut for about an hour at the most.
Fill your water pan first, then add the lit briquets to the center depression you created.
Keep the dampers about ½ way to ¾ open until the cooking chamber temperature reaches about 225°F.  Then slowly close them down until they are just barely open and you are maintaining a temperature of 250° F.
Place 1 chunk of your chosen smoking wood on top of your lit charcoal once the smoker is up to temperature and put your halibut on once the smoker is actively producing smoke..
Want to see a list of our FAVORITE Vertical Smokers for 2021?  Check it out here!
Propane or Electric Smoker
See Masterbuilt Reviews on Amazon
Propane and electric options are some of the easiest smokers for beginners to start with.
For Propane: Open your gas valve and light the bottom burner. Adjust it to keep the temperature constant at 250° F.
Need a refresher? Check our our Complete Guide to How to Use a Propane Smoker HERE.
For Electric: Plug your electric smoker in, open the vents, and turn the temperature to 250° F.
While it comes up to temperature, add smoking wood chips, not pellets, to the smoking wood tray.
Fill the water tray if there is one.
Place your oiled and seasoned halibut fillets on the rack and close the door.
Debating whether to buy a propane or electric smoker?  Check out our COMPLETE Comparison Guide HERE.
Pellet Grill
Check out this Z Grills Pellet Grill on Amazon
Pellet grills like the ones from Traeger and Camp Chef are great for smoking tilapia.
Fill the pellet hopper with your choice of smoking wood pellets.
Plug in the pellet grill, turn it on and let it run through its start up process.
Then turn the temperature to 250°F.
When the pellet grill has come up to temperature, place your seasoned halibut directly on the grill grates or in a grill basket with the pellet grill set up for indirect heat.
Never used a pellet grill like a Traeger or a Camp Chef before? 
Read our ultimate guide to pellet grills to learn why they are so easy to use and how to set one up for success every time.
Here is also a list of our Favorite Pellet Grills for 2021 priced under $500!
Gas or Charcoal Grill
Check out the Weber Spirit on Amazon
On a gas or charcoal grill you will likely need to use a smoker box filled with wood chips, or a pellet tube smoker filled with wood pellets.
Think you need a fancy smoker to smoke food at home? 
Think again. Great smoked food can be made right on your current gas or charcoal grill!
Check out our Ultimate Guide to Smoking on a Gas Grill HERE.
If you are unfamiliar with these gas grill smoking devices mentioned above, no worries, we have you covered!
Read everything you need to know about smoker boxes here, and see a selection of our favorite pellet tube smokers here.
In the case of halibut, we would opt for just using the smoker box filled with some wood chips since we will be cooking for no longer than 45-60 minutes
Set up your gas or charcoal grill for indirect cooking with the burners or a small amount of lit briquets on one side and plan for your halibut to be on the other side.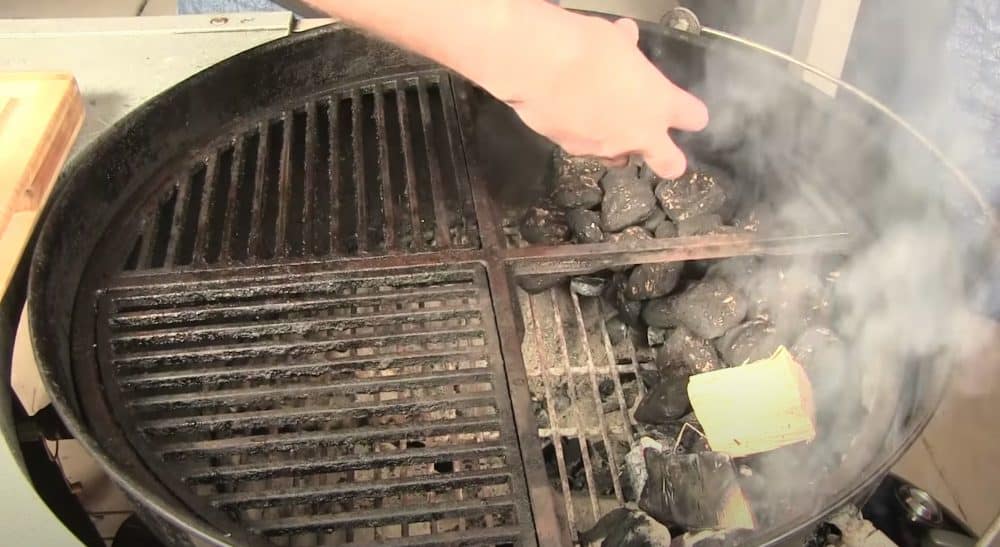 Once the temperature of your grill is around 250°F, place your smoker box or pellet tube smoker over the coals or lit burners and once smoke begins coming out, place your halibut on the opposite side of the heat.
Make sure to oil the grates on the indirect side well so that the fish does not stick.
Monitor your Grill Temperature
Almost every grill and smoker will have some sort of temperature gauge on them.
Now, if you are using a pellet grill or electric smoker, you should be able to pretty accurately dial in your desired temperature of 250°F with the turn of a dial.
This is what makes them so convenient.
If, however, you are using a charcoal or propane grill/smoker, you can't rely on the cheap lid mounted temperature gauge that come installed on them.
We have found these can sometimes be up to 30˝F off from what the true actual temperature of your smoker at the grill grate level is.
This is unacceptable.
This is why you will always see competition cooks, and backyard chefs who know their stuff, using wireless digital probe thermometers to keep track of both their meat AND their cooking chamber.
And even if you have a fancy pellet grill like a Traeger or even an electric smoker, it can't hurt to double check how accurate your temperature settings are to the true temperatures you are getting.
We are big fans of the ThermoPro Wireless Digital Meat Thermometer series.
ThermoPro TP08S Wireless Digital Meat Thermometer
300ft remote range and hassle-free setup: Wireless meat thermometer monitors your food and grill temp up to 300 feet away

Dual probes for food and BBQ: Meat thermometer oven safe with highly accurate stainless steel food probe

Food and ambient temp alarm: Set your desired food temp and HI/LOW temp range for your grill or smoker to know when to add more fuel
Best Ways to Serve Smoked Halibut
Your smoked halibut fillets should be served immediately after removing them from the smoker.
No need to rest or wait to eat!
For drinks, a crisp white wine like chardonnay or riesling pairs nicely with the white fish if you kept the seasoning simple.
If you went big and bold with a sweet and spicy BBQ rub like Three Little Pigs, you might do better pairing your halibut with a crisp beer like an American pale ale or a Belgian White Beer.
📖 Recipe
Smoked Halibut with Garlic BBQ Marinade
Smoked halibut fillets marinated with garlic and barbecue spices and then smoked to perfection.
Whether you are using a pellet grill like a Traeger,Camp Chef, or Pit Boss, an electric smoker like a Masterbuilt, or just a conventional propane grill like a Weber, we've got you covered. 
Equipment
Grill, Pellet Grill, or Smoker

Wood chunks or a pellet tube smoker with pellets or a smoker box with wood chips

Grill Tongs or Spatula

Instant Read Thermometer and/or Leva in Temperature Probe

Ziploc Bag

Filet Knife

Cutting Board
Ingredients  
2

lbs

Halibut Fillets

rinsed, patted dry, cut into (4) ½ lb portions

6

tablespoon

Olive Oil

4

cloves

Minced and crushed fresh garlic

(can substitute 1 teaspoon garlic powder)

1

tablespoon

Kosher Salt

1

tablespoon

Smoked Paprika

½

tablespoon

Dark Brown Sugar

1

teaspoon

Black Pepper

½

teaspoon

onion powder
Instructions 
Marinate the Halibut
Combine the oil, garlic, salt, paprika, sugar, pepper, and onion powder in mixing bowl and then put into a large ziploc bag.

Add the halibut to the ziploc bag and move around until fully coated in the marinade. Add additional olive oil if needed to coat all surfaces of the fish.

Place the bag in the refrigerator for 1 hour.
Set up the grill, pellet grill, or smoker
Light or turn on your smoker or pellet grill and set up the temperature to 250°F. If using a grill, set up the burners or charcoal on only one side for indirect cooking.

Brush the grill grates with oil to keep the fish from sticking or use a grill mat.

Add your wood chunks directly to the firebox of a smoker, or use chips in a smoker box, or pellets in a tube smoker on a gas grill.
Smoking the Halibut
Once smoke is being produced, put your halibut filets in the smoker, or on the grill AWAY from the direct heat.

Cook the halibut continuously at 250°F, without flipping, until it reaches an internal temperature of 145°F. This should take about 45-60 minutes.

Remove from the grill or smoker and serve immediately.
Nutrition