Learn how to make perfectly cooked bratwurst on a pellet grill!
Whether you are using a Traeger, Camp Chef, Pit Boss, or any other brand of pellet grill, we've got you covered.
Get ready for the juiciest, most delicious brats you've ever cooked before, and they are super easy to make on a pellet grill.
Let's Go!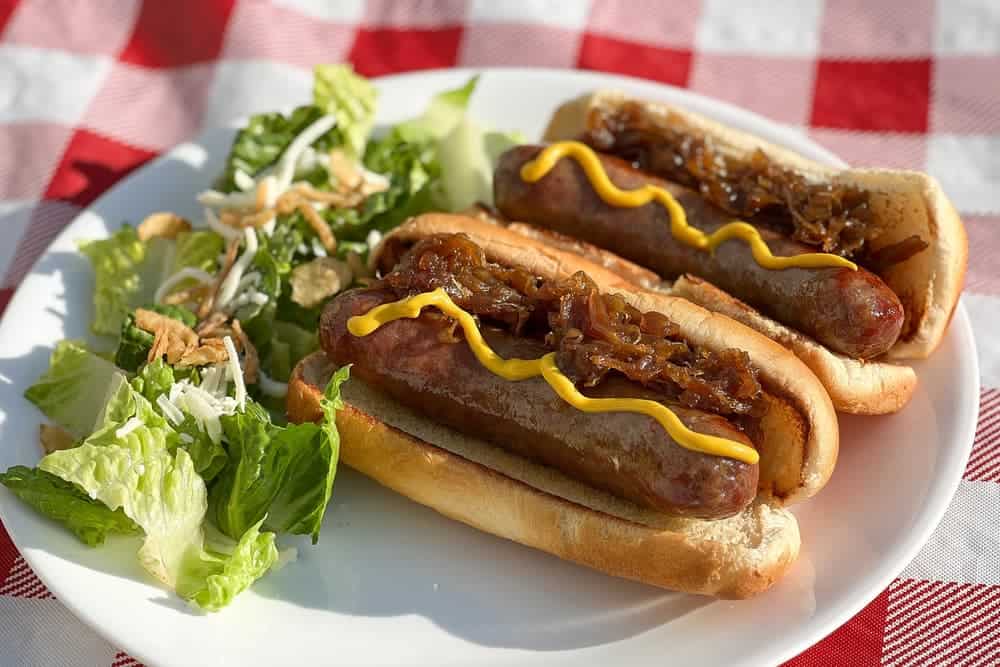 How to Prepare Bratwurst for a Pellet Grill
Oil up your Brats
All your brats need is a tiny coating of oil, either olive or canola, rubbed on them prior to putting them on the grill.
This lubricates the casing and not only keeps the skin from sticking to the grill, but also drying out and bursting when the brats inevitably expand under the heat of your propane grill.
Then Do NOTHING Else
No, seriously.
Oil them up a little and THAT's it.
Some recipes call for you to poke holes in the brat casing so they don;t burst, however, this is not recommended as you lose a lot of flavor and juices this way.
Whether you are cooking brats in a smoker, on a propane gas grill, or in a pellet grill like we are today, our goal is to slowly raise the temperature of the brats so that they don't split open during the cook.
What About Beer Braised Brats?
Much conventional wisdom says that brats are so thick that if you just throw them on a hot grill you run the risk of the outside burning while the inside is still raw.
To counteract this, many people opt to partially pre-cook the sausages before grilling.
While there is nothing technically WRONG with partially pre-cooking your brats in a bath of beer and onions (please don't ever use just water), it really isn't necessary, and could actually make your brats taste...well...less like brats.
Many, including myself, argue the flavor LOST from the spices and juices leaving the bratwurst outweighs the flavors GAINED from the beer and onions.
Keep in mind, unlike brining a ham or your thanksgiving turkey, where you are putting a BLAND piece of meat into a HEAVILY SEASONED brine to try and absorb flavor, here you are doing just the opposite.
You are putting a HEAVILY SEASONED sausage into a relatively BLAND bath of beer and onions.
As the brats and the beer get to know each other during the cook through osmosis, guess who loses more flavor?
But have fun drinking that warm brat flavored onion beer!
If you are really looking for some beer and onion flavor check out our recipe for beer braised onions that you can add to your pellet grilled brats AFTER they finish cookinh!
The Best Wood Pellets for Cooking Brats on a Pellet Grill
When choosing a good smoking wood for brats, we recommend a heavier scented wood like Mesquite or Hickory to stand up to the strong flavors of the bratwurst.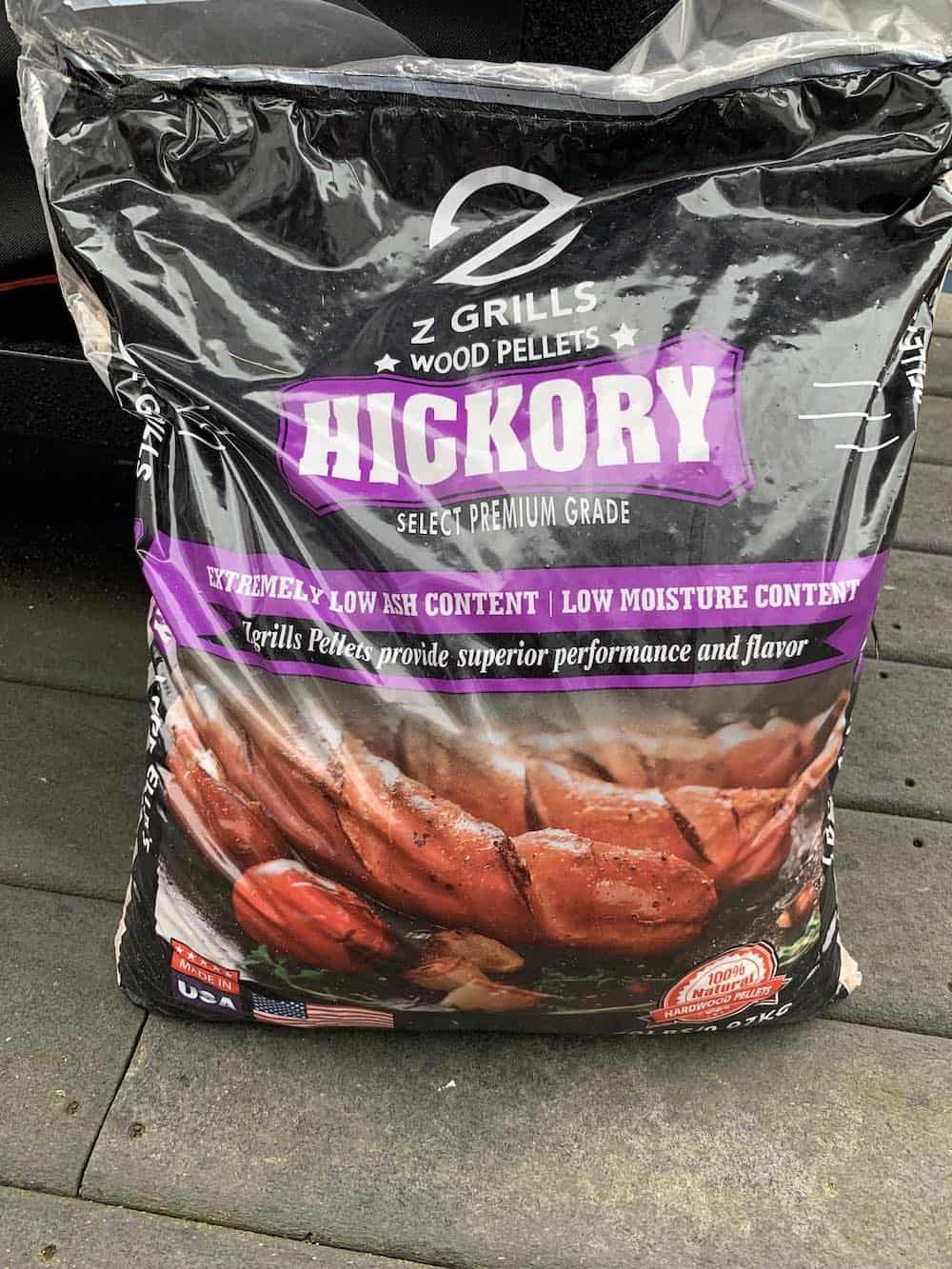 Save the milder fruitwoods for more delicate proteins like chicken and fish.
Mesquite can be a little strong on its own, even for heavily seasoned bratwurst sausages, so mix it in with your hickory or a even fruitwood pellets rather than using it 100% on its own.
For our pellet grilled bratwurst, we are big fans of Bear Mountain BBQ's Gourmet Blend.  Feel free to mix them in with some hickory or any other smoking wood pellet you want to try out.
Bear Mountain BBQ 100% All-Natural Hardwood Pellets - Gourmet Blend
Bear Mountain BBQ Gourmet Blend | Balanced sweet, smoky flavor | Perfect go-to mixture for any meat, fish, poultry or vegetable

Made from 100% All-Natural premium hardwood - no binders, fillers or additives

Use with all outdoor pellet, gas, charcoal or electric grills and smokers

20 lb Bag, Made in the United States
In order to cook ANY kind of food well on a pellet grill, you need to first have a basic understanding of how it works.
***Completely New to Using a Pellet Grill?  No Worries!****
Hop over and check out this Complete Guide to How a Pellet Grills Work first if you are interested in learning more. We'll be here when you get back!***
If you're new to your pellet grill and need a refresher on how to get it started, check out the article that matches your particular pellet grill:
How to Start a Z Grills Pellet Grill
How to Start a Traeger Pellet Grill
How to Start a Pit Boss Pellet Grill
How to Start a Camp Chef Pellet Grill
How to Cook Brats on a Pellet Grill
Although most people default to grilling bratwurst, one of the best ways to cook brats, as we've shown previously is actually to smoke it.
And thankfully, with a pellet grill, applying smoke and cooking with lower indirect heat is easy to do!
Just add your chosen pellets to the hopper, plug in and start the pellet grill.
Make sure it is set up for INDIRECT heating.
You can also place a water pan UNDER the brats to add even more moisture to the cooking chamber and reduce your risk of the casings bursting.
Let the pellet grill go through its start up process and once it has come up to temperature and stopped producing the thick white "start- up" smoke, put the oiled up brats directly on the grill grates.
What Temperature do you Cook Brats on a Pellet Grill?
The perfect temperature to cook your bratwurst is around 225-250℉.
Anything above this heat has the potential to burn the casing on bratwurst and could cause them to burst.
This usually happens when the outside casing crisps up and shrinks from the high direct heat before the inside has risen in temperature.
As the inside of the brat then rises, the expanding meat and juices have nowhere to go so the casing ruptures.
If your bratwurst burst then a lot of the delicious flavor will escape.
On the other hand, if you cook them relatively low and slow, your casing can EXPAND along with the interior as it rises in temperature, keeping all those delicious flavors where they belong: Inside the brat.
How Can I "Reverse Sear" my Brats on a Pellet Grill?
You will still get a nice browning on the outside from the extra cooking time, even at "low and "slow" temperatures."
But if you really want to, you can reverse sear the brats in a cast iron pan or right over direct heat on your pellet grill if it offers that option for the last minute or two before you serve them.
At this point, the brats have fully expanded you run a much lower risk of them bursting.
How Long Does it Take to Cook Bratwurst on a Pellet Grill?
Your brats should be cooked to 165°F internally on the pellet grill in order to be safe to consume.
We are particular fans of this one from ThermoPro because of its durability and affordable price.
At 225-250°F, thawed bratwursts will take about 1.5-2 hours to cook. This will allow them to reach the safe temperature slowly and cook throughout without bursting.
If you are in more of a hurry, you CAN probably get away with raising the temperature to 275-300°F, as long as you are cooking indirectly and you've oiled the casing of your brats very well.
This should cut your cooking time by about a third, however, make sure to always use a good instant read thermometer to know for sure.
How To Serve Pellet Grilled Bratwurst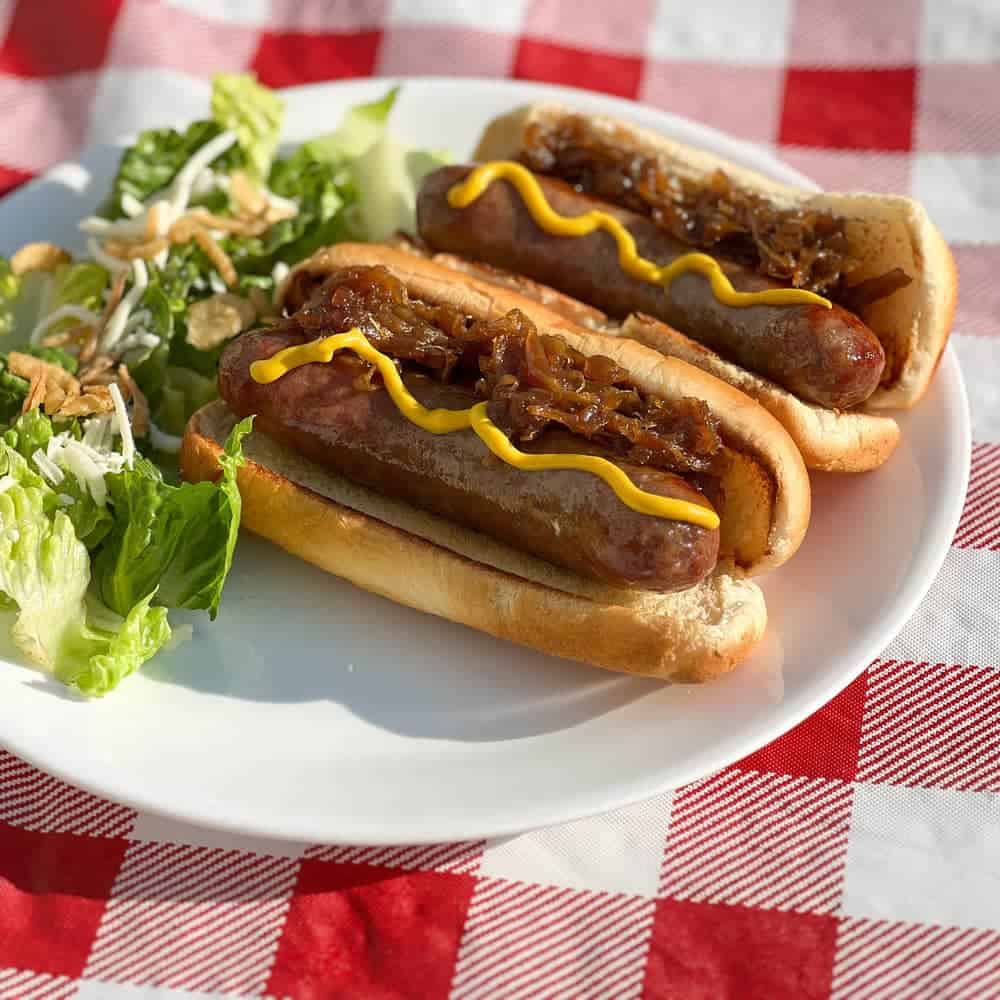 You can serve bratwurst in many different ways.
The most common way to eat bratwurst is with grilled (or caramelized) onions and mustard on a bun, similar to how you would eat a hot dog.
Check out our recipe for delicious beer braised grilled onions here that go GREAT on top of brats.
Some of our favorite picnic sides include Smoked Potato Salad, Smoked Deviled Eggs, and Smoked Cornbread.
📖 Recipe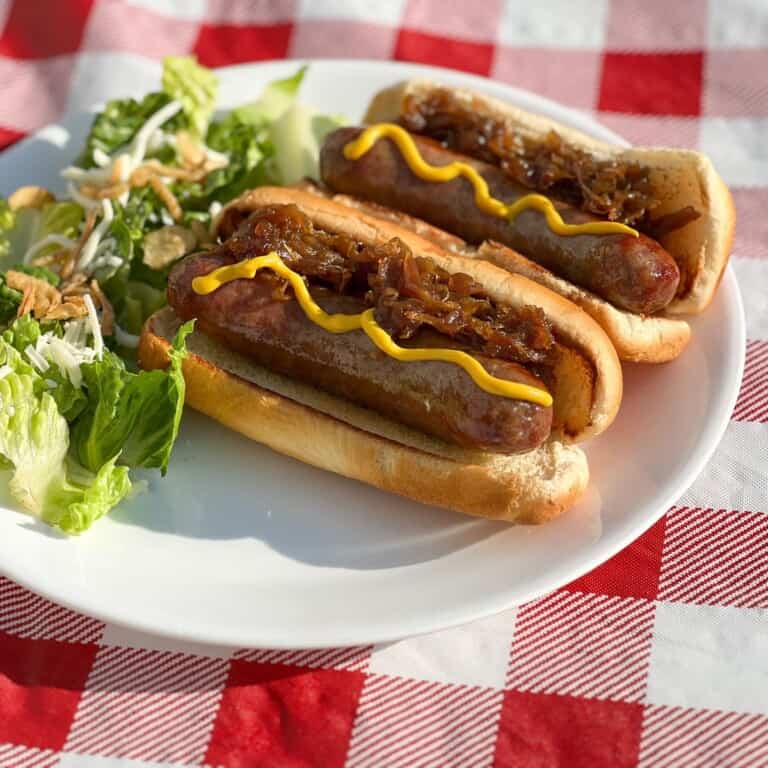 Pellet Grilled Bratwurst with Beer Braised Onions
Brats perfectly cooked on a pellet grill such as a Traeger, Camp Chef, or Pit Boss.
Slow roasted and then optionally topped with buttery beer braised onions.
Equipment
Pellet Grill

Wood Pellets, preferably Mesquite or Hickory

Basting brush

Aluminum foil pan

Long Handled BBQ Tongs

Instant Read Thermometer

Wide Shallow Saute Pan

Cutting Board

Chopping Knife
Ingredients  
Beer Braised Onions
5

Large Yellow Onions see next recipe below

1

Can

Beer

4

tablespoon

Salted Butter
Instructions 
Braising the Onions
Slice 5 Large Onions

Place the onions in the Saute Pan

Pour beer into saute pan until it is about an inch high in the pan and turn to medium high heat

Stir the onions around until they are mostly covered by the beer. Simmer uncovered until all the beer has evaporated and absorbed into the onions, about 20-30 minutes.

Add butter to the onions and reduce heat to medium-low. Cook uncovered, stirring frequently 45-60 minutes until onions have caramelized and are a rich golden brown color.

Remove from heat and serve over the bratwurst. Onions can be gently reheated over medium-low heat in the pan if they cool too much before the brats are ready to serve.
Grilling the Brats on the Pellet Grill
Fill the hopper with pellets, start the pellet grill, let it run through its start up process, then set the temperature to 225° F.

Lightly coat the skin of the brats in olive oil to keep them from drying out and splitting while cooking.

Once the pellet grill is up to temperature, put your bratwursts on the grill grates away from any direct heat. You can even place them on the upper rack above an aluminum foil pan of water. Close the lid.

Once the brats have reached 165° F internally using an instant read thermometer, you can remove them from the pellet grill, likely after about 1.5-2 hours.

If you wish to have a crispier exterior, you can throw the brats on a hot grill for 1-2 minutes per side just before they reach 165° F to finish them without overcooking.

Serve on a bun with the braised onions, or sauerkraut, mustard, or any other favorite condiment!
Nutrition