5 of our favorite grill covers for the classic Weber Genesis, along with details to consider when buying a cover for your propane grill.
You've forked out hundreds for your Weber Genesis Grill, so we bet you probably want to keep it in tip-top condition!
To protect your investment from all the elements, you are going to need a grill cover.  
A good grill cover will keep rain, sun, dust, and frost off your grill which prolongs the life of the grill itself. A cover also means you spend less time cleaning dust, droppings, and debris off your grill and more time actually cooking! 
Some would say that covers are an unnecessary luxury, we think they are more of a preventive, life-prolonging purchase.
Ultimately, a grill cover will save you money in the long run as it extends the lifespan of your grill.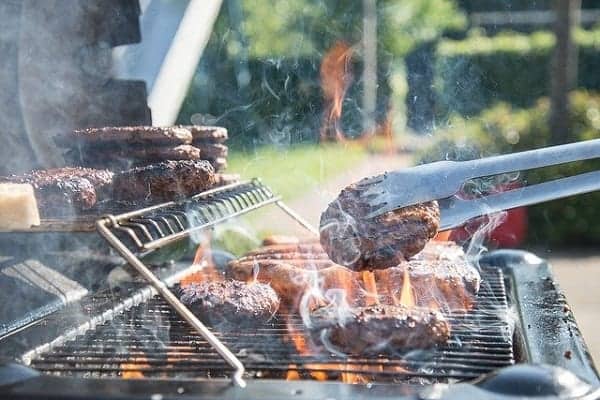 We've collected five of the best grill covers that are suitable for Weber Genesis grills and created an overview and analysis of the construction and features.
You'll be able to use this information to choose the best cover for your needs.
Our Top 5 Grill Covers for the Weber Genesis
OUR TOP PICK
If the reviews are anything to go on, this cover outperforms Weber's own grill covers.
What more can you ask for? 
Made from a high grade, newly developed polyethylene, this cover is strong, durable, and totally waterproof.
The lining is made from 600D polyester which gives an added layer of waterproofing whilst also protecting your grill from scratches and scuffs. 
The seams are double stitched to give it an extra tear resistance while the polyester material provides unbeatable waterproof protection and UV protection. 
Fastened by two long velcro straps on the sides, you can tighten the cover to fit as snuggly as you wish.
As an added bonus, this grill comes with a set of utensils valued at $22. You will receive a grill brush, a set of tongs, and a thermometer to use at your next BBQ.
Both the cover and the utensil set are covered by a 36-month no worry aftersales policy so in the unlikely event you are dissatisfied they will sort out the problem. 
Pros 
Tough and durable.

Easy to use.

Fits grills with a width of 59 inches.

Includes a utensil kit. 

Excellent UV and waterproof protection.

Great price.
Cons
No venting which may be an issue for humid areas.
Here's a great video detailing and showcasing some of the covers mentioned in this article:
EDITOR'S CHOICE
This is an excellent alternative to the official Weber covers. Made from Oxford 600D polyester, it offers a tougher, more durable protection compared to similarly priced polyester covers. 
The lining is treated with vinyl oil making it softer and less likely to scuff your grill. It also makes the product more supple and less prone to cracking.
Cracking often happens when polyester dries out repeatedly and is a common problem with covers. The addition of vinyl oil helps to alleviate the issue.  
The seams are double-stitched making them more durable and less prone to ripping.  The stronger polyester outer material also makes this cover more resistant to abrasion damage.
This is a great feature if you store your grill against a wall or other surface. 
Because of the covers, supreme waterproofing, you can simply hose it down to clean it off without worrying about soaking the interior. 
Pros
Secure fit with velcro straps. 

Durable and weatherproof material. 

Easy to clean.

Fits the Weber Genesis E series.

Double-stitched seams for anti-rip protection.

Excellent price. 
Cons
Some buyers report that the material is prone to sun fade.
BEST VALUE
Made by Weber, this cover is specifically designed to fit the Weber Genesis series. It is a polyester cover with UV inhibitors woven into the fabric to resist fading as it protects your grill from the sun. 
The cover uses two velcro straps to adjust the snugness of the cover and users are very pleased with how it stays in place even during high winds. 
The Weber cover comes with a three-year limited warranty and lifetime customer support. Many buyers have purchased this cover to replace their previous Weber grill cover after a significant period of use.  With this in mind, it seems like you are looking at a product that should last a good few years. 
There is no vent on this model but the company description refers to it as breathable. Probably because the bottom edge is not secured to the grill. This is actually a good thing because it will let any trapped moisture out. 
Pros
Made by Weber for Weber Genesis Grills. 

UV inhibitors used in fabric to reduce sun fade.

Velcro fastenings for a secure fit. 

Fits grills of up to 59".
Cons
Some users report the material is thinner than previous Weber grill covers. 

Reports of cracks and wearing during harsh conditions.
RUNNER UP
Armour Covers Grill Cover is a little bit different to the others on this list. First of all, it is a light gray cover instead of the more common black.
This may be a turn off for you but if you don't mind what color your cover is, then you will definitely love the extra features on this cover. 
There are a number of fastening options with this cover. It has a buckle strap that goes under your grill to prevent the cover from blowing off.
This is a little more tricky to fit than the usual velcro side straps, but there's no denying that it is secure. 
This cover also has an elasticated hem to tighten the bottom of the cover and prevent it from flapping in the wind. We love this feature as it stops rain or snow sneaking in under the hem. 
Vents are fitted to the front and rear to allow condensation and moisture to dissipate. This is good news for those of you who have to suffer through humid summers. The seams of the vents are taped to stop water leaking in.
The handles on the sides make fitting and removing the cover a breeze and the dimensions of the cover are just right so you won't be wrestling with it when you cover up your grill. 
Like the Weber branded cover, you get a 3-year warranty with this grill cover. The company stand behind their products and promise to put right any issues straight away. 
Pros
Low cost. 

Vents for removing condensation. 

Handles for easy fitting and removing.  

Double fastening system for extra security. 

3-year warranty.

Suitable for 59" grills.
Cons
Thinner material than other covers. 

The buckle strap is in an awkward position.
RUNNER UP
This is a larger cover suitable for Weber Genesis II E 410 and E 435 grills. It is 66" in length so would be too large for other Weber Genesis models.
This cover is made from vinyl and is a true heavy-duty grill cover. It is fully waterproof and has UV inhibitors in the fabric so it will keep its deep black color for a good few seasons. 
The cover has is dust-proof, waterproof, and scratch-proof and has a laminite lining to avoid scuffs on your grill.
Fitted with a host of great features, this cover provides maximum protection for your grill. The velcro side straps provide a secure fit to weather strong storms while the handle on the top make removing the cover an easy process. 
The velcro straps are lower than on other models which you might find slightly annoying, but they certainly do their job. 
Sold with a 90-day money-back guarantee and a 12-month warranty, you can have a bit of a safety net to fall back on should you find any issues with the cover. 
Pros
Durable vinyl material. 

Fits larger Weber Genesis grills.

Fully waterproof. 

UV inhibitors in fabric. 

Handle for easy use. 

Velcro straps for secure fastening. 
Cons
The velcro straps are low to the ground.

Some users report quite a snug fit in certain areas.
Best Grill Covers for the Weber Genesis - Buyer's Guide
Choosing the best cover for your grill is key to prolonging the longevity of the grill. There are three key things to consider when choosing your cover; size, material, and fastenings.
We've created this buyer's guide to explain what you should look out for in each of the key categories and give you all the information you need to make your perfect purchase.
Size
Unless your grill cover comes from the manufacturer and is specifically designed for your grill, you will need to be very careful about the dimensions of the cover you buy. Too small and the cover won't fit, too big and it'll be too lose to keep the elements out. 
The current Weber Genesis II range has nine different models but seven of those models have the same dimensions. The other two models also share dimensions. This makes it a lot easier to identify what size grill cover you need. Just find your model below and check out the sizing. 
47" H x 59" W x 29" D = E 310, E 315, E 330, E 335, SE 310, SE 330, SE 335

47" H x 65" W X 29" D = E410, E435
If you have an older model, make sure to measure your grill.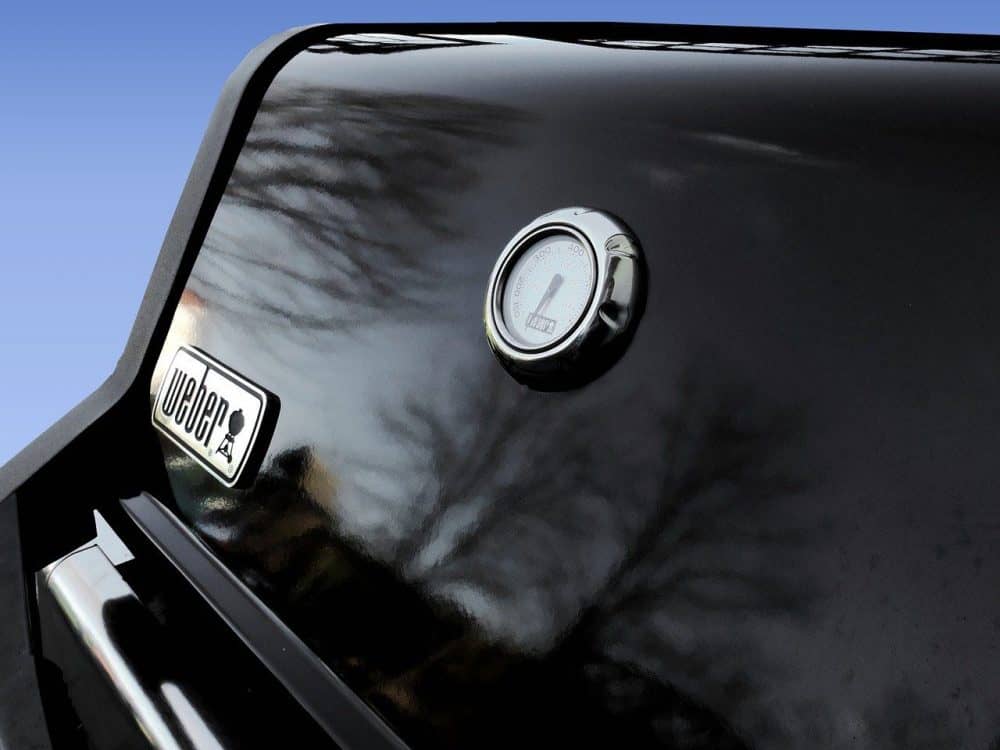 Grill Cover Material
This is where you are going to see the biggest difference between covers. Generally, the thicker the material the more durable and protective it will be.
There are three main materials used for grill covers these are polyester, vinyl, and canvas. 
Canvas
Canvas is a great looking, sturdy material but a major downside is that the material is not waterproof. Often canvas covers are coated in waterproof solutions but these need to be topped up to maintain the waterproofing. 
Vinyl
Vinyl is a newer entry to the cover market but is quickly establishing itself as the go-to material. It is sturdy and waterproof and offers UV protection too. At the moment, vinyl is still a fairly expensive option compared to polyester and canvas. 
Polyester
Polyester is a plastic material that is waterproof and cheap to produce. The market is full of polyester covers that provide excellent cover and protection from the elements.
The issue with polyester is that it is not as durable as canvas or vinyl. It is less resistant to tearing and cheaper polyester covers offer lower UV protection. 
Polyester is currently the most popular cover material and there are lots of models to choose from. 
Fastenings
It's easy to get yourself tied up in knots when trying to work out what fastenings you need for your grill cover as there are so many different options available. 
The most common fastening option for Weber Grill covers is velcro straps along the side which tighten under the two side trays to stop the cover blowing off in the wind.  
Some models also include an elasticated hem that can tighten around the base of the grill to keep the lower part more secure. 
The great thing about velcro straps or elasticated hems is that even if you buy a non branded or generic make cover, you should be able to adjust it to suit your grill. 
Other types of fastenings such as hooks or ties are more fiddly and aren't always suitable for every grill. 
Bonus Grill Cover Features
Sometimes covers have little added extras which really make them stand out. Below is a list of extra features you may come across in your search and a brief explanation of their usefulness. 
Air vents - With the best will in the world, grills that are kept outdoors are going to get slightly wet. Some covers counteract this by including air vents. This means that the grill can dry out when the rain has gone and you can avoid the dreaded rust. 
Inner linings - Most covers have a different material on the inside of the cover. In cheaper covers, this is usually simply a less abrasive polyester to prevent scratches. More expensive options can include fleece or similar soft materials. While these softer linings do help prevent scratching and can reduce the damage done by impacting objects, they also tend to attract critters looking for somewhere warm to snuggle in the winter. 
Handles - useful for removing and fitting the grill cover though by no means essential. 
Pockets - can allow you to keep utensils and tools with the grill though they sometimes collect rainwater. 
Frequently Asked Questions about Weber Genesis Grill Covers

What size grill cover do I need? 
We talked briefly about sizing in the buyer guide so make sure to check that out too. 
A good rule of thumb is to allow about two inches of excess on your grill cover. If you buy a cover that matches the dimensions of your grill exactly, then you will really struggle to get it on and off. 
Any larger than two or three inches and you will end up with lots of excess material that lets more of the elements in. 
So if you have a 59" grill, you want to be looking at covers that are 60-62" to make sure you can get them on and off. 
Do I need to cover my Weber Grill in summer? 
Even in summer, you should consider covering your grill to protect it from water spots, sun fade, and birds or insects. It just makes your life that much easier as you don't need to spend time cleaning away debris or mess. 
If you live somewhere hot and humid, you might want to leave the cover off every so often in order to prevent moisture from collecting under the cover. 
Can you put a cover on a warm grill? 
Putting a cover on a hot grill is a big nope! Most covers are not flame retardant and even if they are they can still melt at high temperatures. 
Warm grills are a bit of a gray area. How warm is warm? Generally, if you can hold your hand on the lid then it is cool enough to put your cover on. 
If you are still wary, then it is totally fine to leave the cover off overnight and replace it the following morning. Make sure to wipe off any rain or moisture that may have collected overnight before you cover your grill.
What Can I Make on my Weber Grill?
Looking for some grilling and smoking inspiration?
Check out some of our great recipes of smoked and grilled food to try out on your Weber at your next outdoor BBQ!
Trash Can Turkey - OK, technically not made on a grill but one of the most fun ways there is to cook a Turkey...at over 700 degrees in only 2 hours!  You've got to check it out!