Want to get more smoke flavor on your pellet grill?
This innovative technique combines real wood chunks with charcoal in a portable box that can be positioned on any grill, including a pellet grill.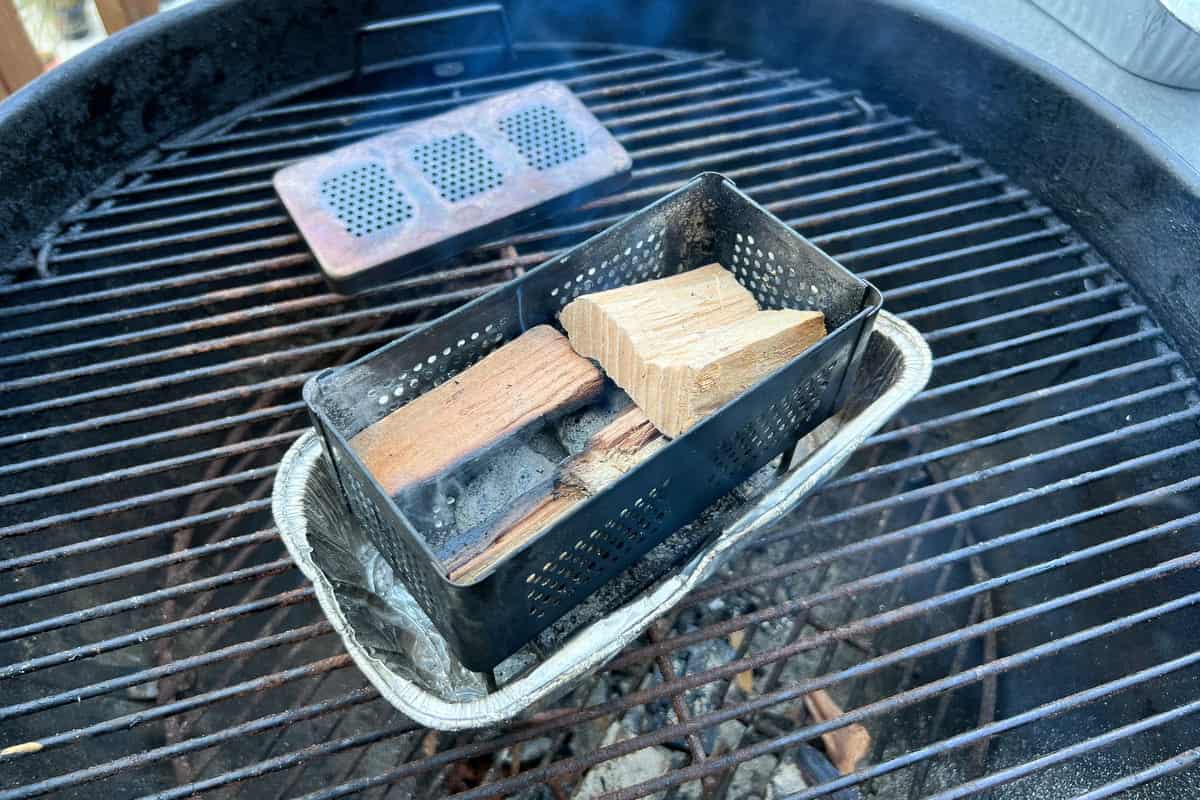 We love pellet grills for their convenience and ease of use. We like to say that the best grill is the one you will use often, and we find ourselves turning to our pellet grills most times.
One of the major complaints we hear from pellet grill owners is that they find it difficult to get good smoke flavor using their pellet grill.
To address this shortfall, we developed this simple hack for turning a small smoke box into a firebox that burns charcoal and real wood chunks.
We will guide you through the process of creating the firebox to achieve that highly sought-after wood smoke flavor, while still taking advantage of the pellet grill's temperature control and convenience.
In our opinion, it's the best of both worlds!
Jump to:
Key Takeaways
Enhance pellet grill smoking by creating a small firebox with charcoal and wood for authentic flavor.
Flip Professional Smoke Box offers unique size, shape, and air intake for improved wood-burning smoke experience.
Proper handling and setup of the smoke box ensures optimal temperature control and safety while smoking on a pellet grill.
Video
Check out our video to see how we finally got stick burner flavor on our pellet grill!
Lack of Smoke Flavor from a Pellet Grill
One of the drawbacks of wood pellets is that they don't release the same amount of gaseous compounds you get when you smoke with real wood, whether it's logs, wood chunks, or even wood chips.
There are ways to get more smoke flavor on your pellet grill by using a pellet tube smoker and better quality pellets, but we still found ourselves longing for that smoky flavor we get from our Weber Smokey Mountain and our Big Green Egg.
If you've ever smoked in an offset or charcoal smoker, you know there's a difference in the smoke flavor you get on these types of smokers versus a pellet grill.
Offset smokers work by utilizing a firebox on the side of the cooking chamber that many people start with charcoal to get their heat. Then they put hardwood logs on top to burn and create the smoky flavors and aromas they're trying to add to the food.
On a charcoal smoker, you burn a small bed of charcoal at the bottom and then add small wood chunks to create the same effect. Check out our video to see how this is done.
By burning full pieces of real wood, you get more interesting flavors and gas compounds released than you do from smoking with pellets only.
This had us wondering how we could achieve this type of smoke flavor on our pellet grill.
The Smoke Daddy Heavy D is a heat diffuser that sits on top of the firepot. It has a compartment for real wood chunks to burn from the high heat of the surrounding metal right over the firepot for 2-3 hours of extra smoke.
While this is a great option for some, we find this product is quite expensive and inconvenient because it rests under the flame broiler and grates.
We wanted an inexpensive and easy way to add more real wood smoke flavor.
Science of Wood Burning
Our first experience smoking meat was using a wood chip smoker box on our propane gas grill. This type of box requires a flame source to ignite and smolder the chips and create smoke.
An electric smoker works in much the same way, except that you load the wood chips into a metal tray that gets really hot, causing the wood chips to smolder and create smoke.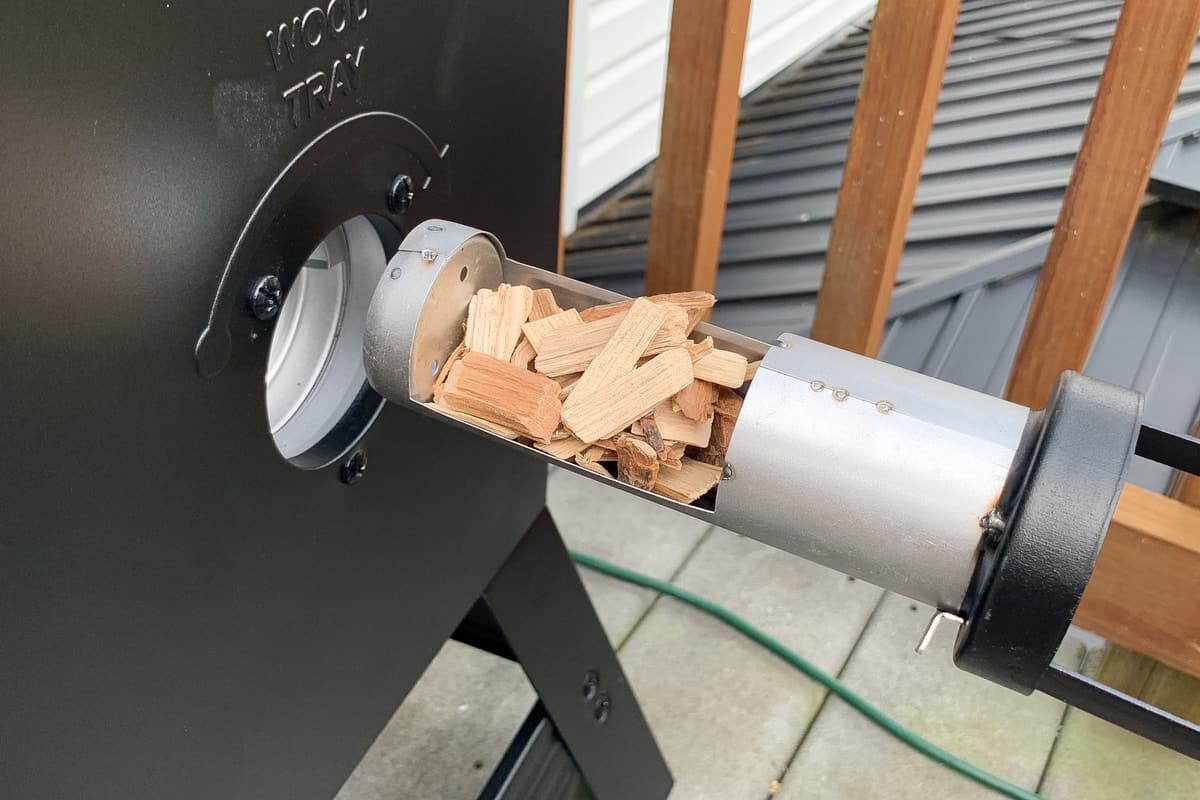 Our first thought was to try filling a smoker box with wood chips on the pellet grill.
Unfortunately, unlike on a gas grill where you can easily get lots of heat from one of the propane burners, it's hard to find a spot on the pellet grill that will keep the smoker box hot enough in order for the wood to start burning and smoldering.
This article from foodfirefriends.com explains wood smoking science in more detail. 
Briefly, wood starts smoking at around 500°F and will initially create what is known as "dirty smoke," or big noticeable white plumes of smoke in the 500-700°F range. The best smoke for BBQ is created ABOVE this range, when the wood itself gets into the 700-1000°F range.
If you have your pellet grill set 270°F with indirect heat, there's nowhere in the cooking chamber that will get hot enough to ignite the chips inside the smoker box.
Even putting the box directly on the flame broiler over the firepot only gets us up to about 300 to 350°F.
On a pellet grill like our Pit Boss Pro Series 1150 that has a direct heat option, you can get those high temperatures, but that defeats the purpose of low and slow BBQ cooked with indirect heat.
We need to find a way to deliver constant high heat to our wood. This will cause the wood to release those good smoky flavors and compounds, similarly to what happens in an offset or charcoal smoker, while still allowing for low and slow cooking on our pellet grill.
The Flip Professional Smoke Box
We came across a product called the flip smoker box.
It is marketed as a combination smoker box and pellet tube smoker. This means you can choose whether to load it with wood chips and use it like a smoker box or fill it with pellets, light it with a butane torch and use it like a pellet tube smoker.
Because of its unique size, shape, and airflow qualities, we developed a hack to turn it into a firebox that burns charcoal and real wood chunks!
Wood Chunks vs. Wood Chips
Compared to wood chips, wood chunks burn more slowly and provide smoke for a longer period of time, sometimes up to a couple hours, without having to reload. In contrast, wood chips smolder out quickly, usually in under half an hour. 
Good quality smoking wood chunks also tend to have pieces of bark, sap, and other compounds that you won't see on wood chips. This will give us a variety of more interesting smoky flavors.
Air Flow
Great barbecue smoke is created by having the right combination of temperature and oxygen to the burning wood.
With too little oxygen or too low of a temperature, you get dirty white smoke. This doesn't matter as much for shorter time frames, but on longer cooks it can create off-putting flavors on your food.
With too much oxygen and too high of a temperature, the wood will just ignite and become a raging fire.
While this is ok in an offset smoker, we don't want to have an active fire burning inside our pellet grill outside of the firepot for both safety and temperature control reasons.
The flip smoker box has more air intake holes on all sides than a traditional smoker box.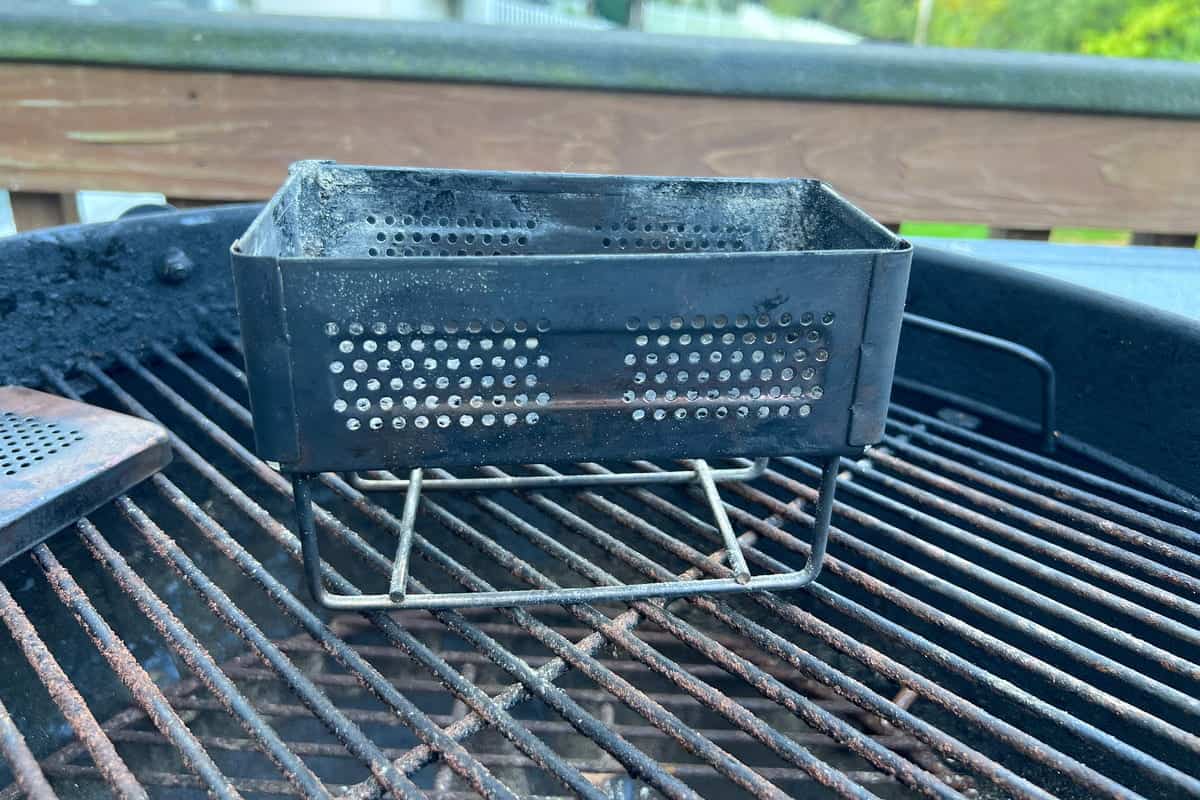 These holes allow more oxygen flow to create a healthier burn for both our charcoal and our wood chunks, while still limiting air flow enough to keep everything from just igniting into flames.
Flip Box Stand
The flip box also comes with a little stand making it easier to use a fire starter underneath to ignite the charcoal inside the smoker box.
After doing multiple tests with the smoker box, we discovered the fastest and easiest way to get it started to use on your pellet grill.
Materials
Lighting the Firebox
Start your pellet grill as you usually would, let it run through the startup cycle, and set it to the temperature you want to cook your food. While it is preheating, you can light the firebox.
Because you will need the lid open on the grill you are using to light the charcoal in the smoker box, we do not recommend lighting it on your pellet grill or you will lose all of your heat waiting for the smoker box to get started.
We recommend lighting the firebox on a separate grill. We use a small charcoal grill.
Place a fire starter in the bottom of a disposable aluminum foil loaf pan. The pan makes it easy to move the firebox around and prevents charcoal and wood ash from falling on the grill grates.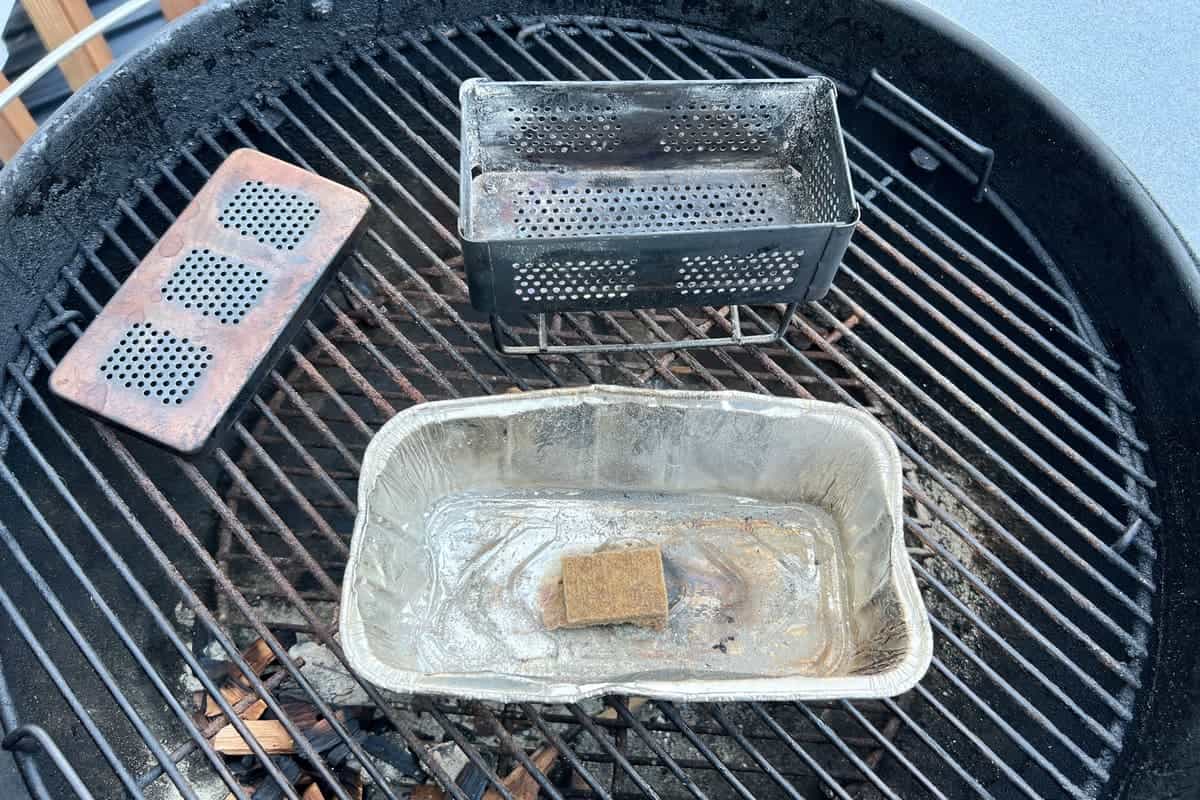 The sides of the pan help direct the heat up toward the charcoal and block out wind from extinguishing the fire starter.
You also can use a cast iron loaf pan.
Use a wand lighter to ignite the fire starter cube.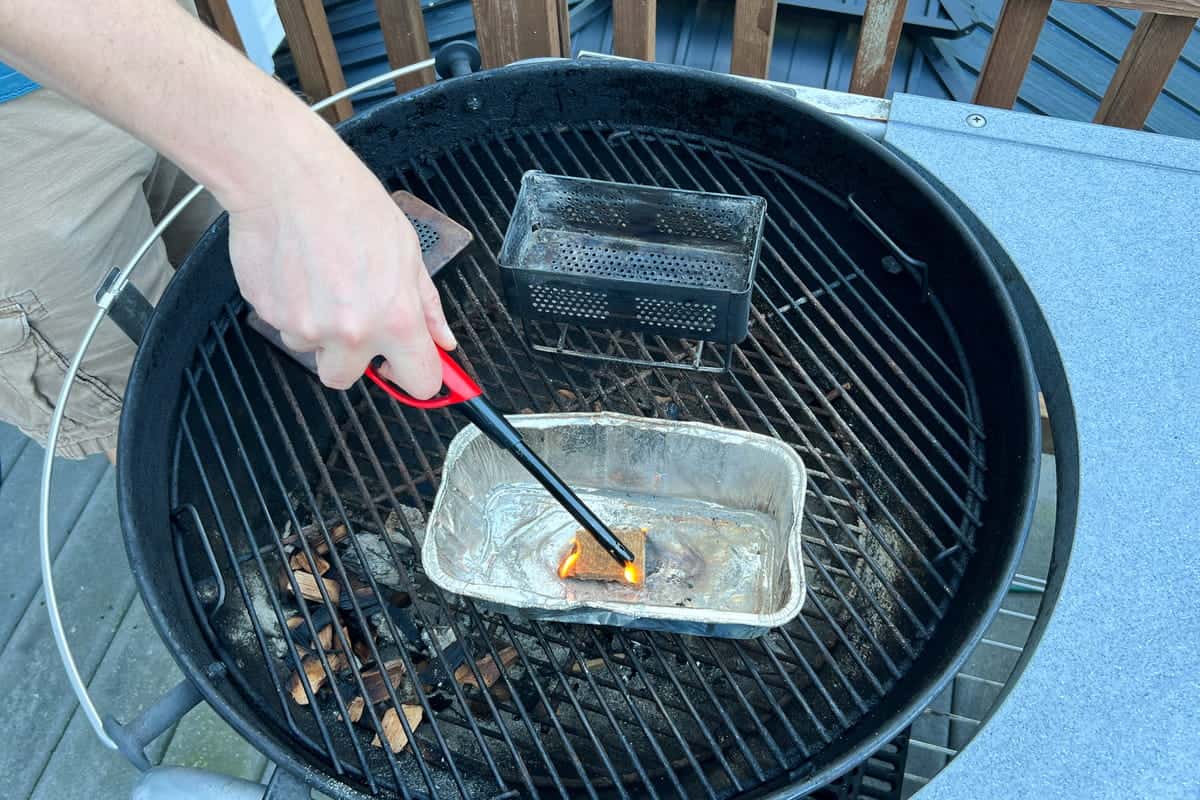 Allow the cube to start burning.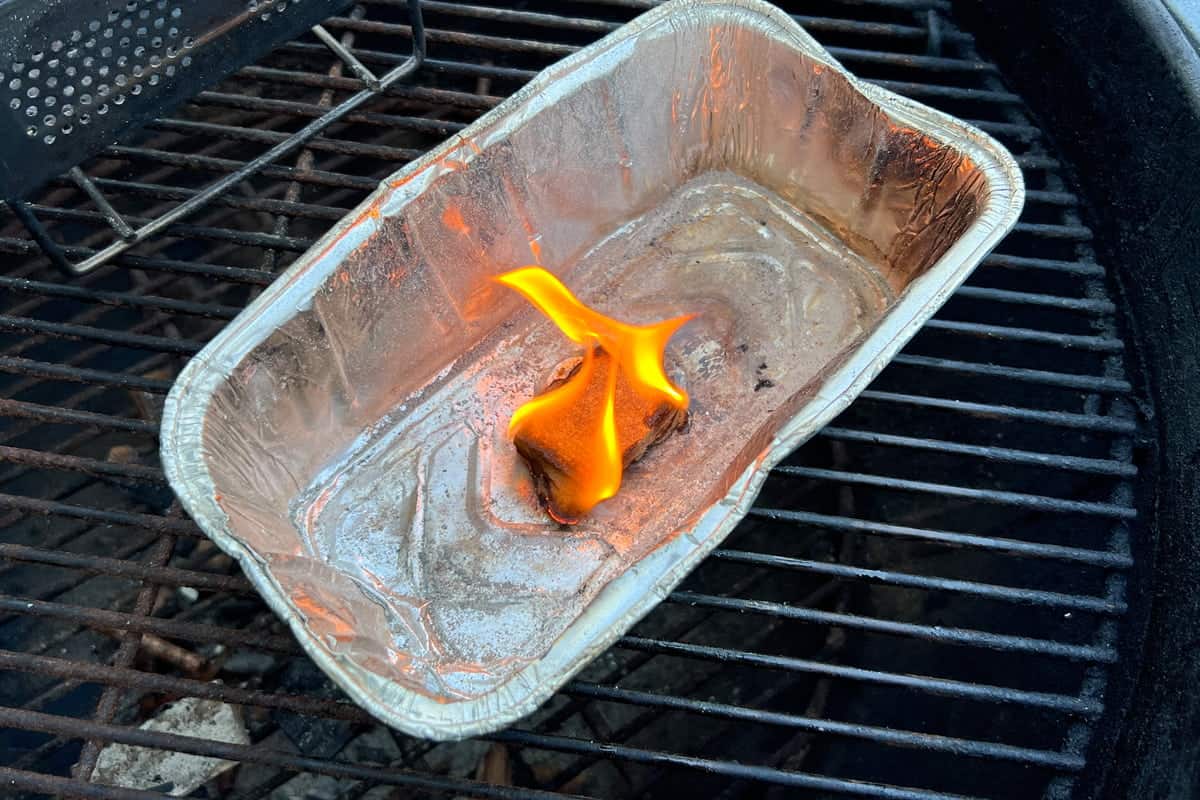 Place three charcoal briquettes inside the smoker box, with one down flat and the other two tilted against it so they are very close.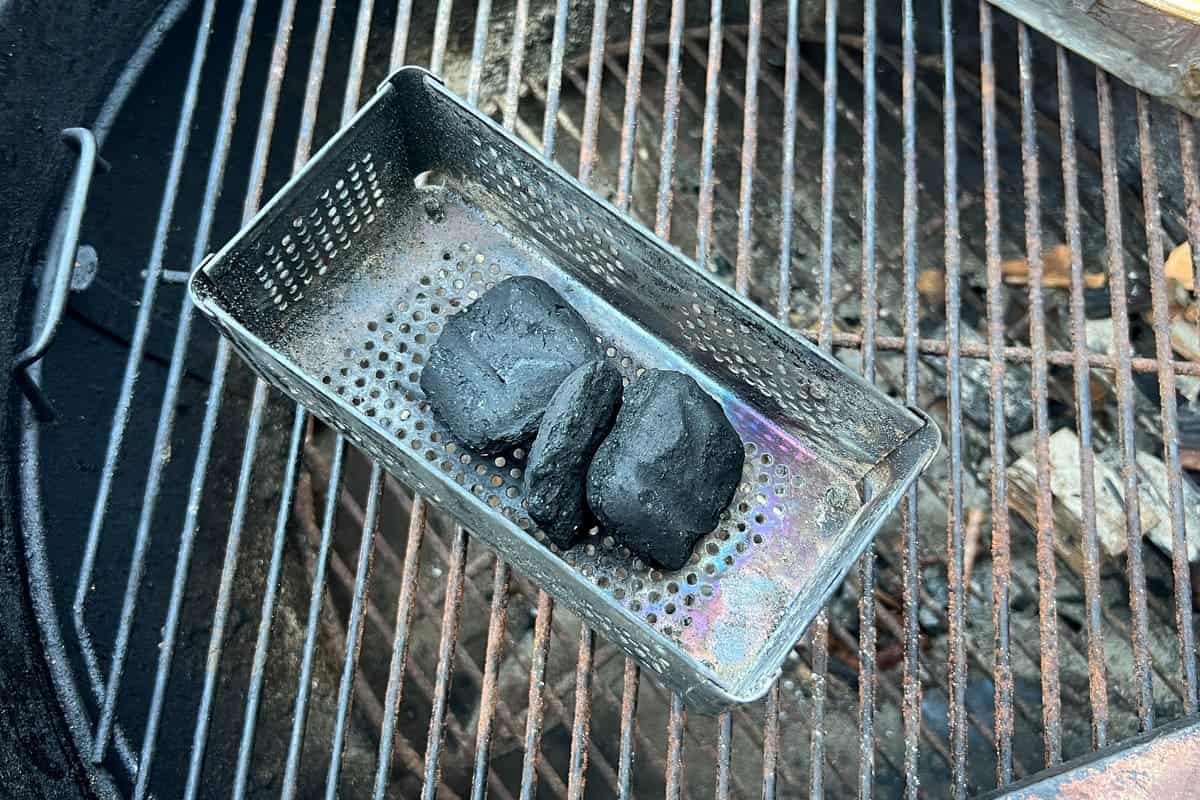 Briquettes burn at around 800-1000°F, the exact temperature range we want our smoking wood to reach. They work better for our purposes than lump charcoal, which can reach temperatures of up to 1400°F and burn out rather quickly, 
Using heatproof gloves, place the smoker box and stand in the loaf pan. Our gloves protect up to 1472°F!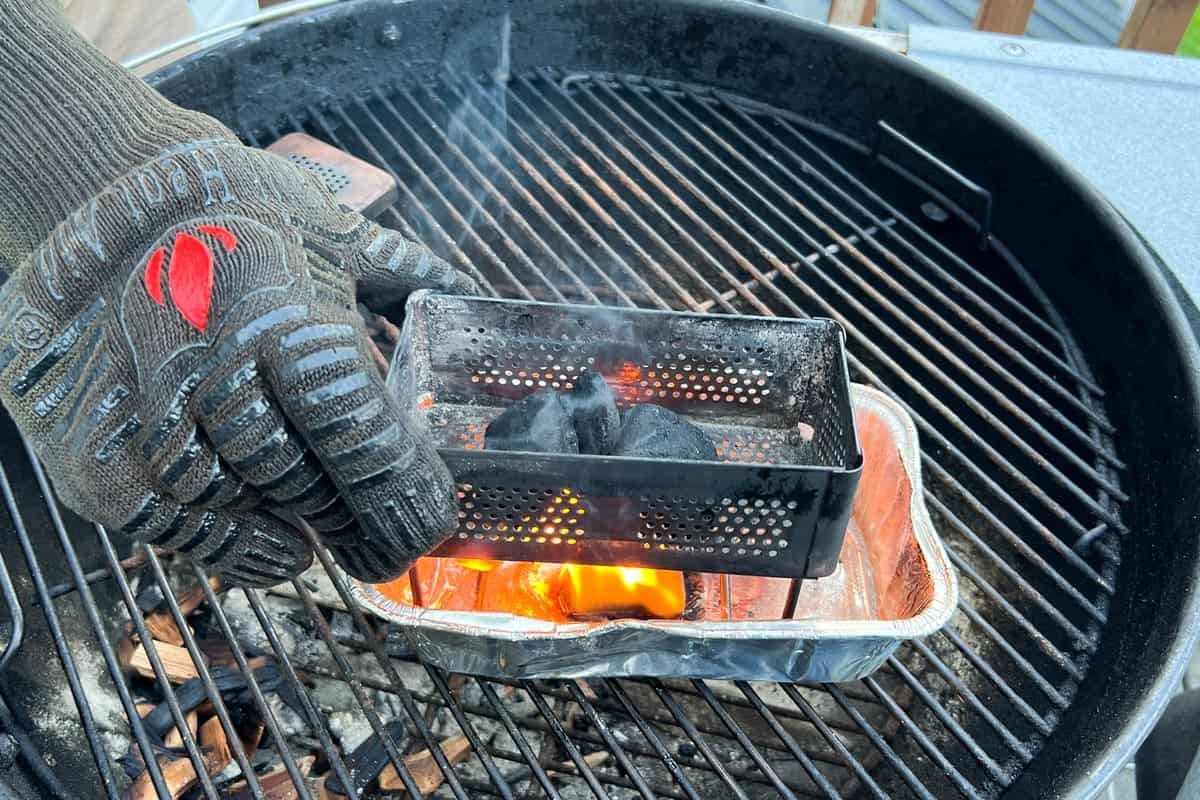 Keep an eye on the briquettes to see when they start to ignite. It will take about 10 minutes.
You will know the briquettes are well lit once the flames below go out and the bottoms of the briquettes are ashed over.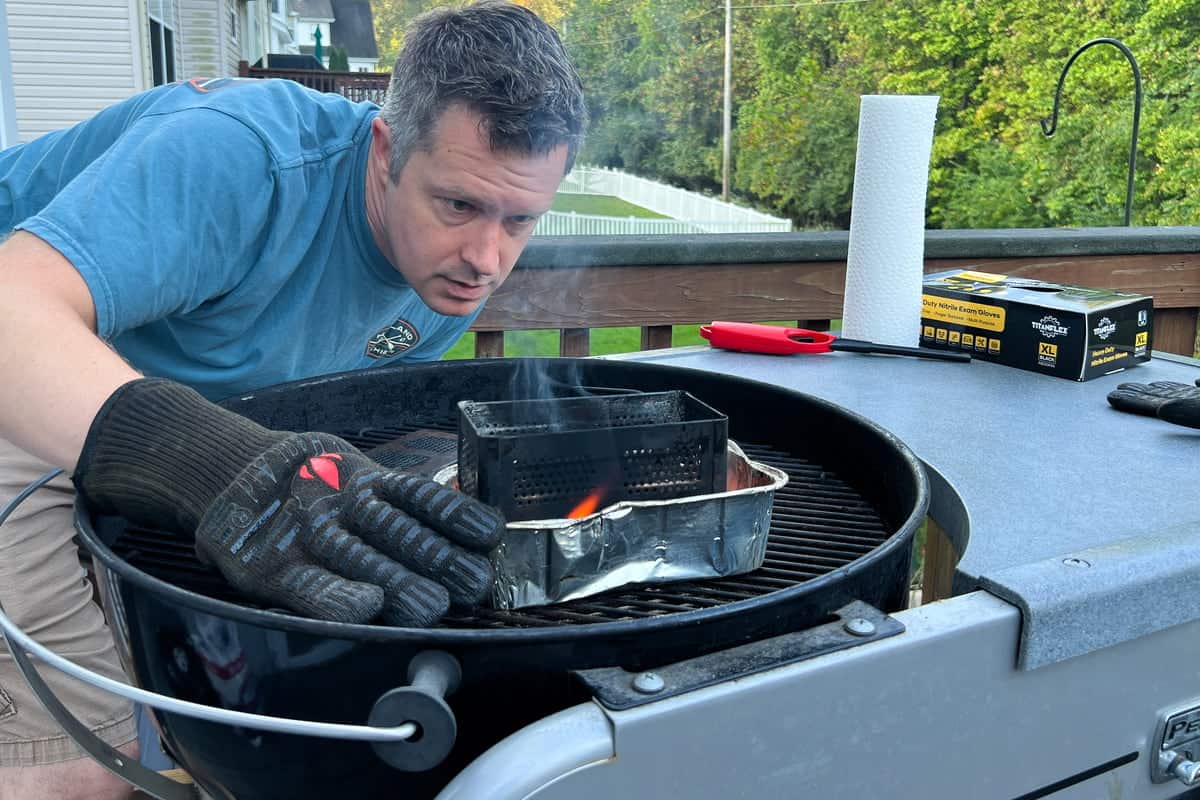 Using long handled BBQ tongs, flip the lit briquettes and spread them out so that the hot sides of each piece of charcoal are facing up.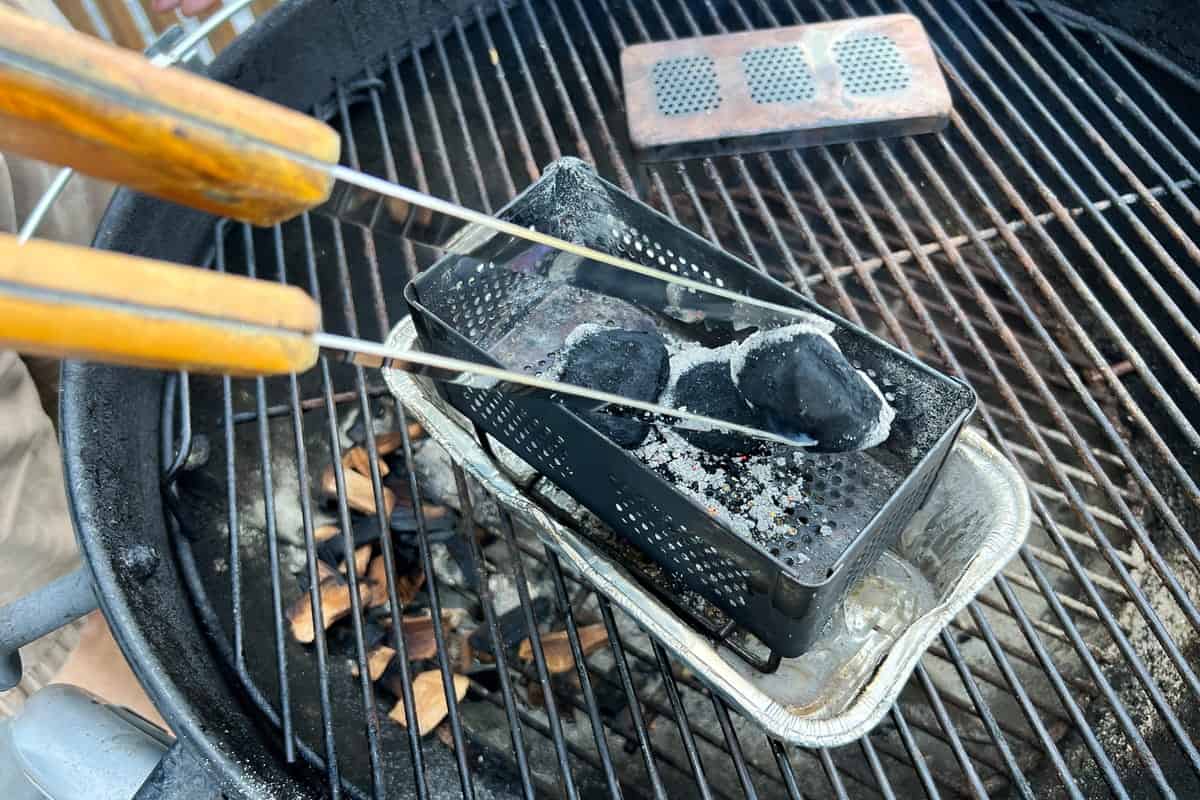 Then, add wood chunks on top of the hot charcoal.
Some brands of wood chunks are very large, so you want to make sure you're buying a brand that uses relatively small chunks that will fit inside this box. Weber brand wood chunks are a good size.
Allow the wood to ignite and start producing smoke, about 5 to 10 minutes.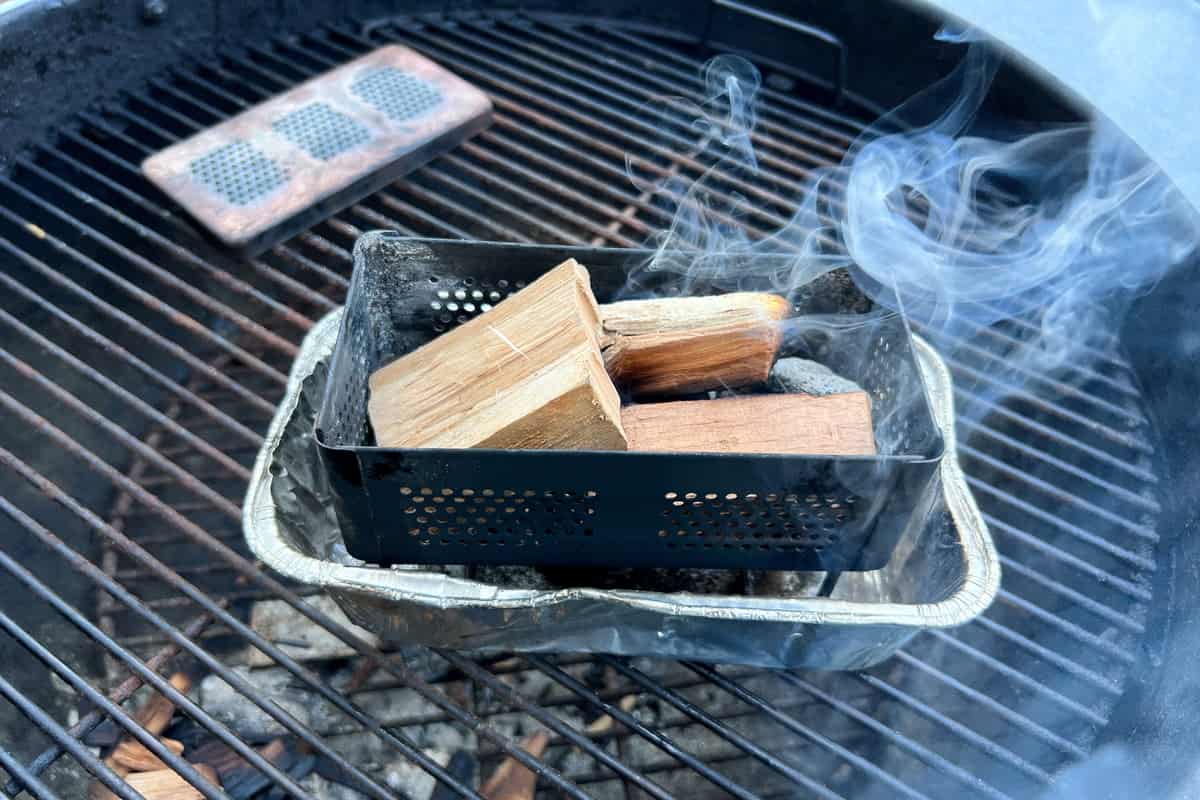 Once the wood is creating a decent amount of smoke, it is time to place the lid on top carefully. Leaving the lid off for too long will cause the wood to ignite into flames, which is not what we want.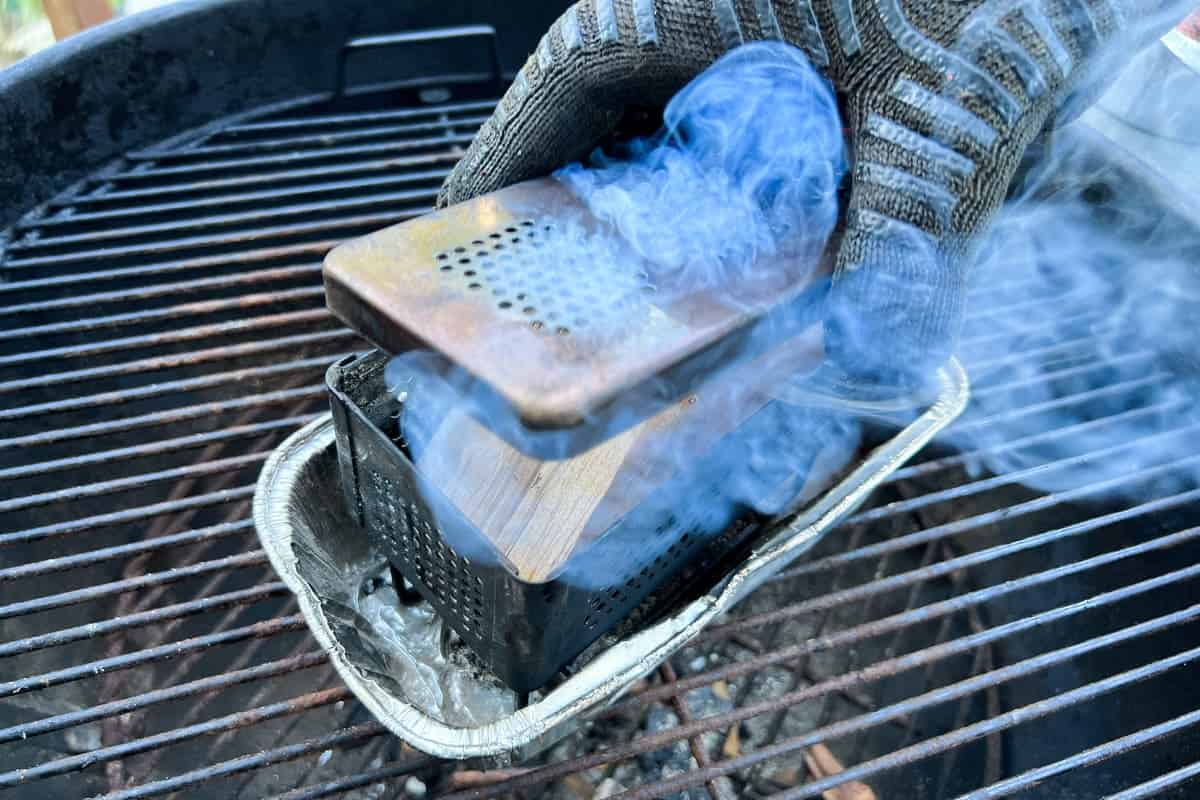 If you notice that your lid is not resting flat on top of the box, you can remove the lid and use the tongs to rearrange the wood.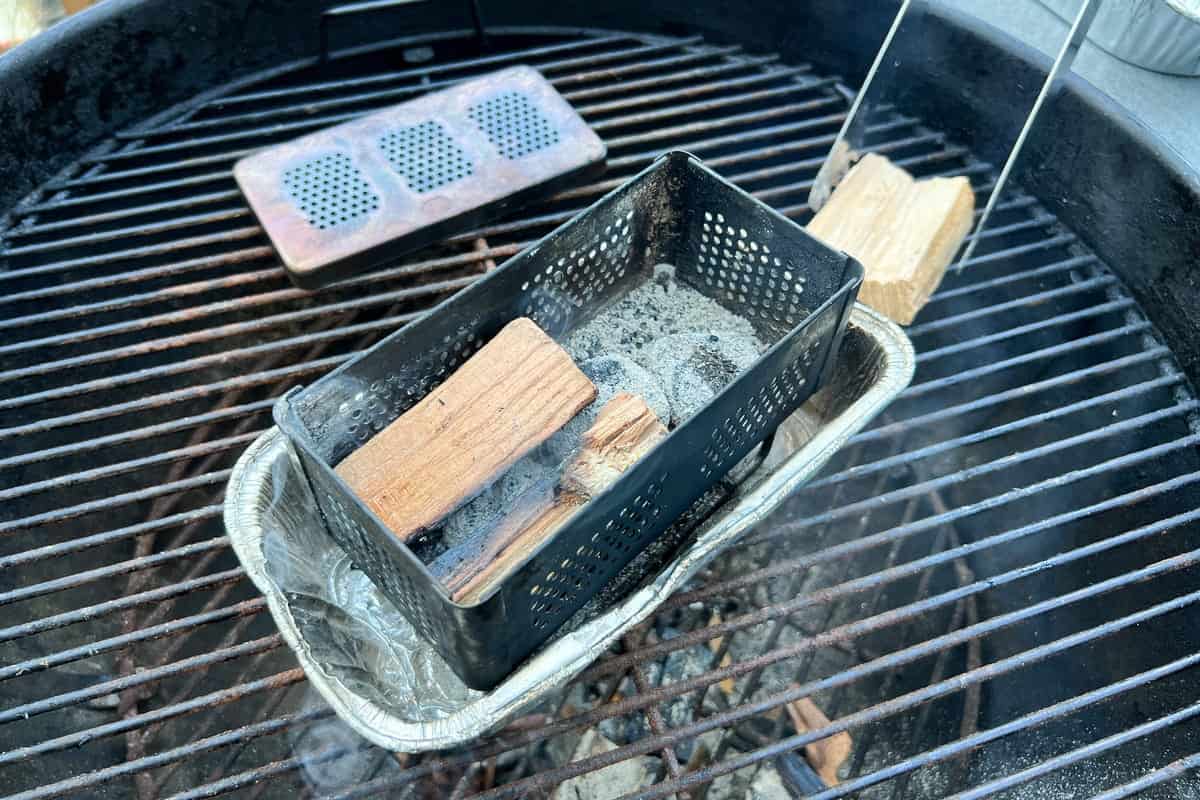 You are aiming for the wood to make maximum contact with the hot briquettes.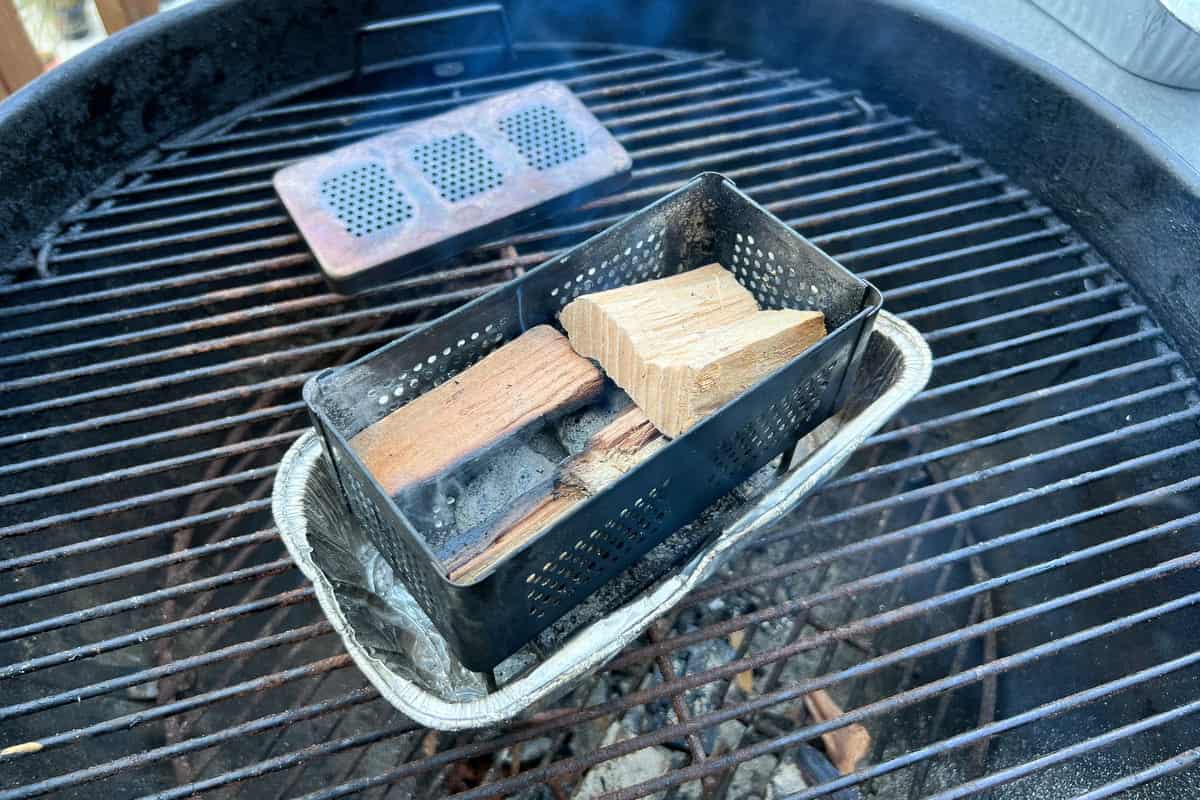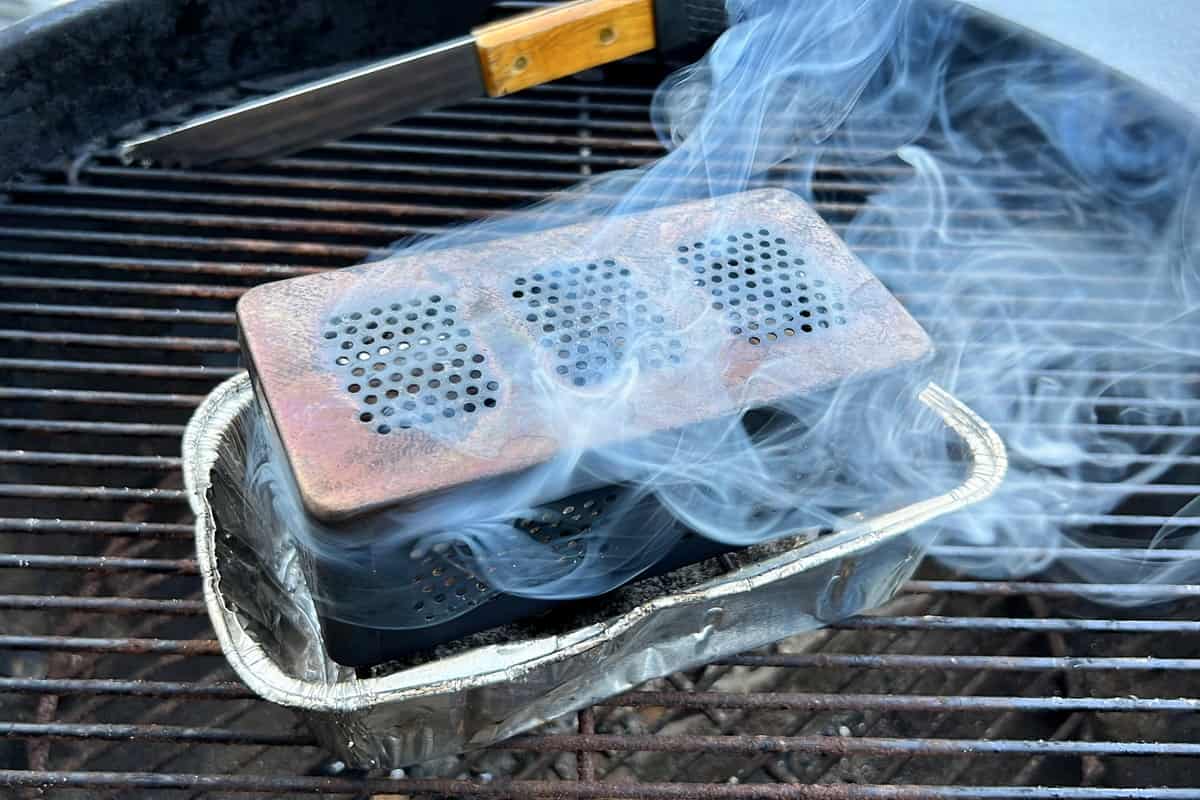 At this point, your pellet grill should be preheated to your chosen temperature and you can place the firebox in your grill.
Positioning the Firebox on the Pellet Grill
One concern we had when we first tried this technique was that the heat of the charcoal would make the inside of the pellet grill chamber too hot and affect how the food cooks.
We found that by using just three charcoal briquettes, rather than lump charcoal, had a negligible effect on the cooking temperature.
The biggest impact on the ambient temperature was on the top rack, which makes sense because heat rises.
We prefer to use water pans to help stabilize the temperature and shield from the heat emanating from the firebox. How you position your food will depend on what you are cooking.
For a larger food like a turkey breast that will not fit on the upper rack, we position the firebox on the same lower rack but have the turkey suspended over a water pan.
You can leave the firebox on the stand in the aluminum foil loaf pan so ash will not fall onto the grates. Just like with the pellet tube smoker, we position it away from the grill temperature probe so as not to throw off the reading.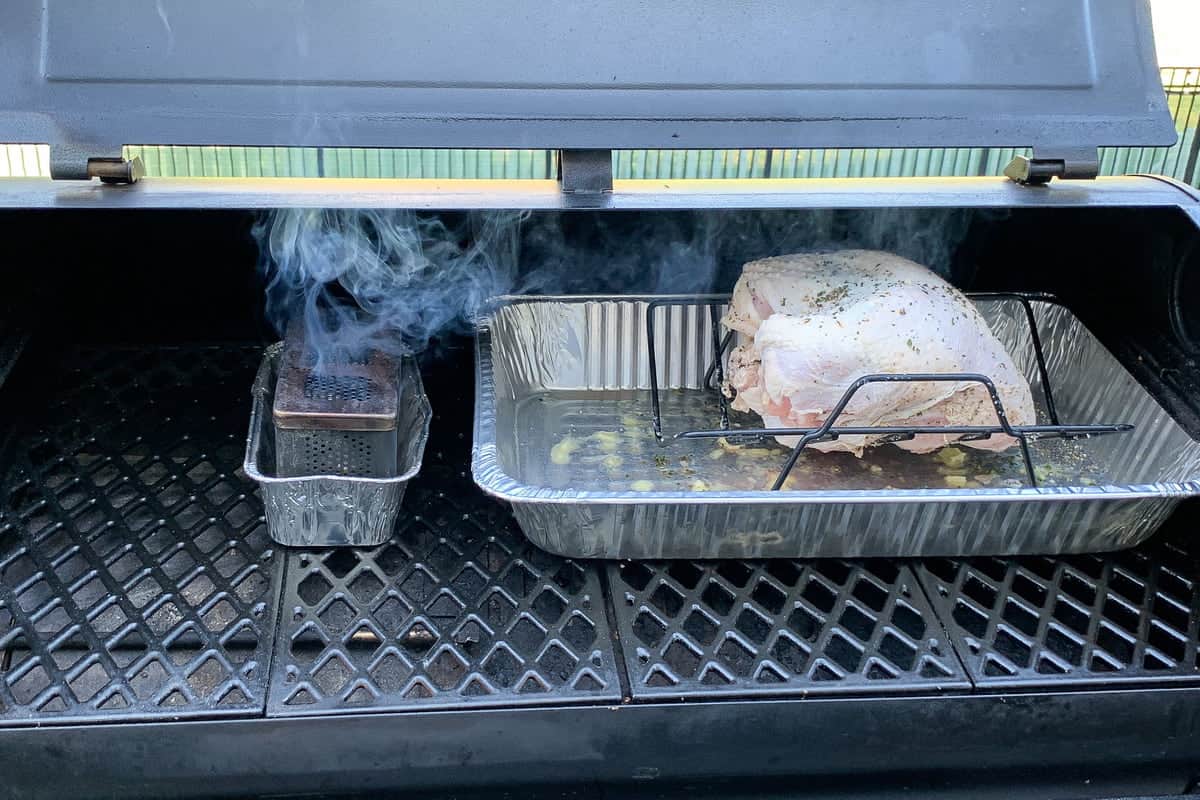 For something small like smoked salmon, which we cook on the top rack low and slow, we position the firebox toward the back right, not too close to the pellet grill temperature probe.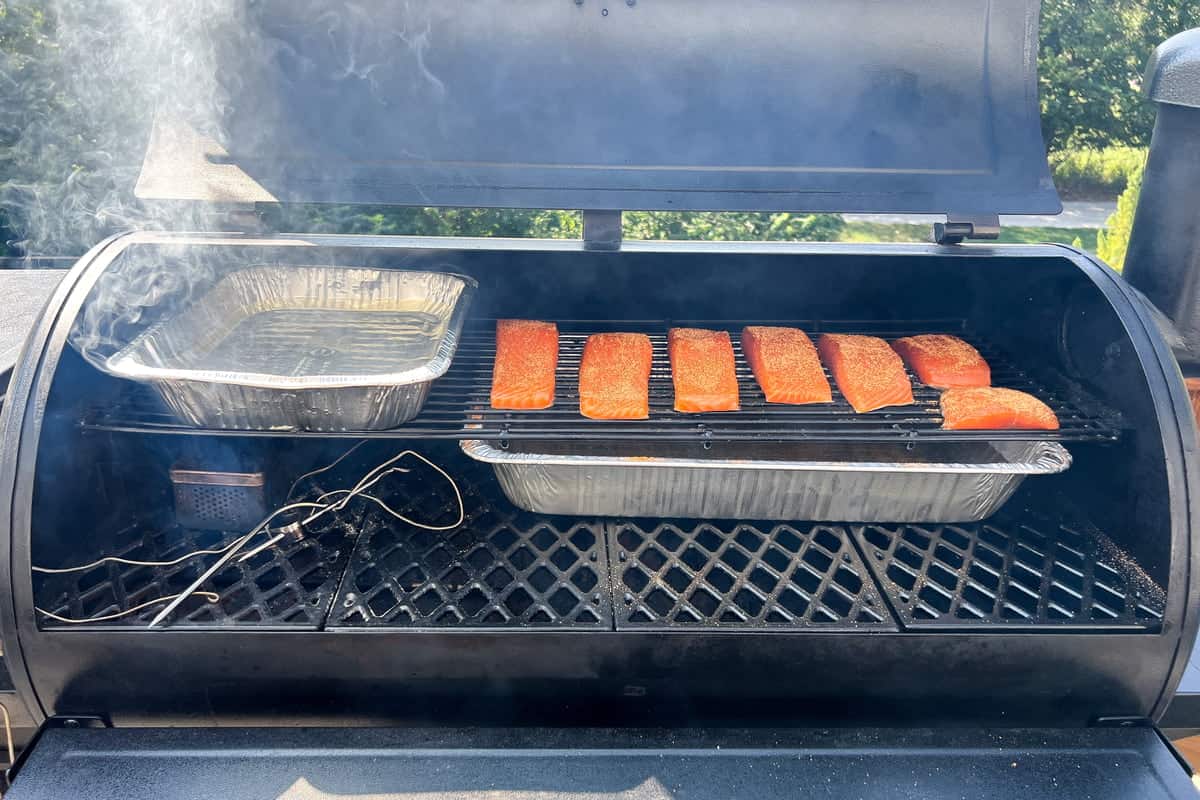 The firebox with the stand will not fit under the top rack, so the stand can be removed and the firebox placed directly on the lower grates.
We place a small water pan on the top rack directly above the firebox to buffer the heat rising from the box, as well as a large water pan on the bottom right racks underneath the food to help stabilize the cooking temperature inside the chamber.
Reloading the Firebox
If you're using a couple good sized wood chunks, you should get smoke from your firebox for about an hour before you need to reload.
If you want more smoke after an hour and it's starting to die down in the firebox, you can push things around with your barbecue tongs, add another piece of charcoal if needed, and another chunk or two of wood. 
Replace the lid and reposition the box in the back of the smoker. Keep repeating this as long as you need smoke to be generated in the firebox.
Remember, meat absorbs the most smoke in the very beginning when it's still cold so that's when you really want to focus on getting as much smoke flavor as possible.
You do not want to OVER smoke your food and ruin it, so test out how much smoke flavor you really like before you add hours and hours of smoke to your food.
Safety Concerns
Never leave the grill unattended: Always stay near the grill while it's in use for both safety and accurate monitoring of the cooking process.
Keep a fire extinguisher handy: In case of any unexpected flare-ups or grill mishaps, have a fire extinguisher nearby to react quickly.
Avoid using excessive charcoal: Using more charcoal than needed can cause unsafe temperatures and increase the risk of fire. Stick to the recommended three briquettes mentioned above.
Final Thoughts
In conclusion, using the flip smoker box with charcoal and wood chunks is an efficient way to introduce wood-burning smoker flavors in your food while maintaining the temperature control features of a pellet grill.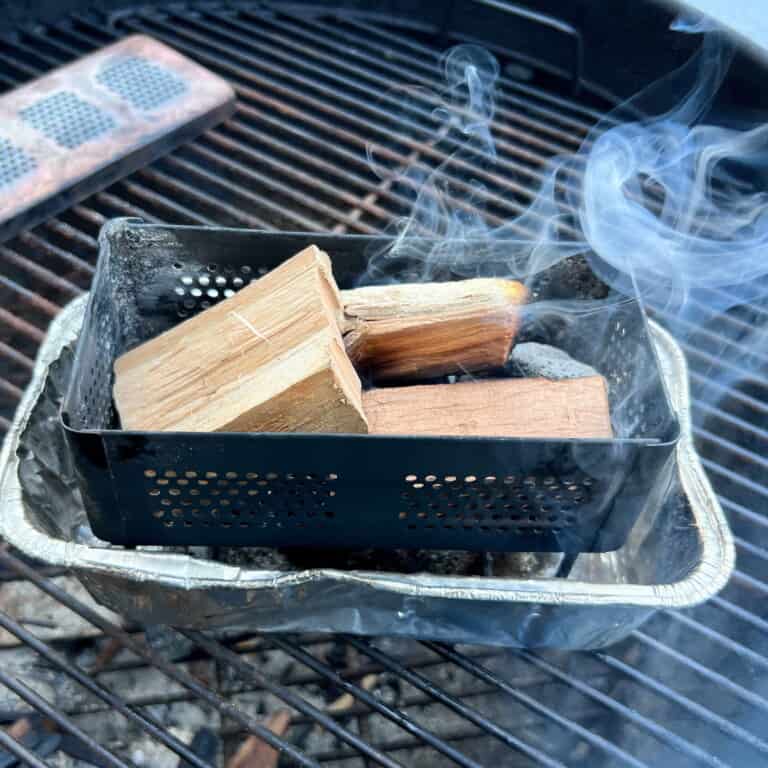 How to Get More Smoke Flavor on a Pellet Grill using Real Wood
Get stick burner flavor on your pellet grill by following these simple steps to create a firebox that burns charcoal and real wood chunks.
Ingredients  
1

Flip Smoker Box

3

Charcoal Briquettes

1

Aluminum Foil Loaf Pan

1

Fire Starter Cube

1

Wand Lighter

3-6

pieces

Wood Chunks

1

set

Long Handled BBQ Tongs

1

set

Heat Resistant BBQ Gloves
Instructions 
Preheat your pellet grill like you normally would, setting it to your desired temperature.

Place one fire starter cube in the bottom of a loaf pan..

Light the fire starter with a wand lighter and allow it to ignite fully.

Add three charcoal briquettes inside the smoker box. Make sure the stand is installed on the bottom of the box.

Place the smoker box in the loaf pan on top of the lit fire starter. Allow the charcoal to ignite.

Using long handed tongs, flip the charcoal briquettes over to ignite the other side of each.

Add the wood chunks on top of the lit charcoal. Arrange the pieces so that the lid will fit on top of the box. Allow the wood to start smoldering.

Wearing heatproof gloves, carefully place the lid on top of the smoking wood.

If cooking on the bottom grates without the top rack installed, place the loaf pan containing the lit smoker box on the grates of the grill, preferable toward the back left side but away from the grill temperature probe.

If cooking on the top rack, remove the stand from the firebox and place it directly on the grill grates toward the back left side, not too close to the grill temperature probe.

Add your food to the smoker and cook according to your recipe.