Want to get some charcoal started fast but don't own a charcoal chimney?
No worries!
We've got 3 Great Options for making your own DIY Charcoal Chimney Starter. Get your charcoal started fast and easy using one of these creative homemade methods!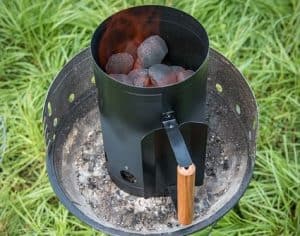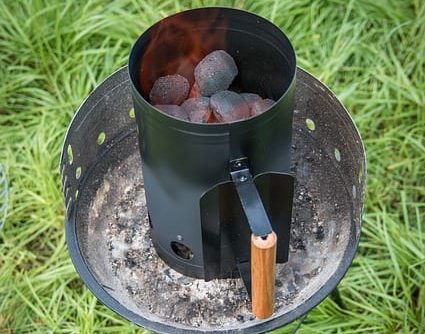 What is a Charcoal Chimney?
Charcoal chimneys are an easy way to get a big batch of charcoal fully lit in a relatively short period of time.
Whether you are firing up the charcoal grill, smoker, or outdoor cooking pit, you need a chimney to get your charcoal going fast.
Heat and flames travel upwards, so by stacking your unlit charcoal in a vertical container you take full advantage of how the fire naturally wants to travel and light the coals.
A charcoal chimney generally has a grated bottom to hold the coals while still allowing maximum airflow. Holes are placed along the sides to get plenty of air moving throughout the chimney as well.
How to Use a Standard Charcoal Chimney
So how does a charcoal chimney work?
Most people light a crumpled newspaper (soak it in vegetable oil so the pieces don't fly away as they burn) underneath a chimney full of coals to get the fire started.
Here's an even better option: I like to use firestarter cubes made specifically for lighting charcoal chimneys. They are convenient, easy to light, and you don't have to worry about flaming pieces of newspaper flying everywhere!
Prices pulled from Amazon Product Advertising API on:
Product prices and availability are accurate as of the date/time indicated and are subject to change. Any price and availability information displayed on [relevant Amazon Site(s), as applicable] at the time of purchase will apply to the purchase of this product.
Once you have a fire going under the coals, all you have to do is sit back and wait for the flames to work their way up the chimney and get all the coals lit. Usually this takes about 20-30 minutes.
Benefits of Using a Charcoal Chimney Starter vs. Other Methods
Electric Charcoal Starters
Electric Charcoal starters work by positioning them right up against the coals and then letting them get REALLY hot.
The problem with most electric charcoal starters is the limited surface area of charcoal they can come into contact with.
Char-Broil Electric Charcoal Starter
Generates 550 watts at 120 volts for lighting briquette piles

No matches or fluid needed

Get hot coals in minutes

No lighter fluid taste

Measures 17.5 L x 4.5 w x
Prices pulled from Amazon Product Advertising API on:
Product prices and availability are accurate as of the date/time indicated and are subject to change. Any price and availability information displayed on [relevant Amazon Site(s), as applicable] at the time of purchase will apply to the purchase of this product.
You then have to wait for those coals to get hot enough to light other coals around them, usually in a horizontal fashion, which is not ideal for heat transfer.
Charcoal Lighter Fluid
Ahhh lighter fluid. Who among us doesn't have fond memories of their mom or dad dousing a big pile of unlit charcoal with lighter fluid, then throwing a match and running for the hills?
Unfortunately, the only thing that usually burns in that situation is, well…the lighter fluid.
And fast.
Too fast to get any significant heat transfer to the charcoals and get them fully lit before the fluid burns off.
How to Make your Own DIY Charcoal Chimney Starter
Ok, so I've sold you on WHY charcoal chimneys are such a great option.
But what if you want to get some charcoal lit this way but you don't own a charcoal chimney?
I would suggest ordering one, as it is a relatively inexpensive investment to greatly improve your outdoor cooking.
Here are some of my favorite charcoal chimneys:
Chimney
Brand
Description
Price
Prime
Buy

Top

Top

Weber
Weber 7429 Rapidfire Chimney Starter, Silver

Prime

Eligible

Buy on Amazon

Top

Kingsford
Kingsford Quick Start Charcoal Chimney Starter (BBP0466)

Prime

Eligible

Buy on Amazon

Top

Lodge
Lodge Chimney Charcoal Starter, 12 inch

Prime

Eligible

Buy on Amazon

Top

REDCAMP
REDCAMP Collapsible Charcoal Chimney Starter for Lawn and Patio,Silver

Prime

Eligible

Buy on Amazon

Top

Oklahoma Joe's
Oklahoma Joe's 9848125R04 Half-Time Charcoal Starter XL, Brown/A

Prime

Eligible

Buy on Amazon
Prices pulled from the Amazon Product Advertising API on:
But if you really want to create your own DIY charcoal chimney, here are some easy options for how to make one at home:
Coffee Can Charcoal Chimney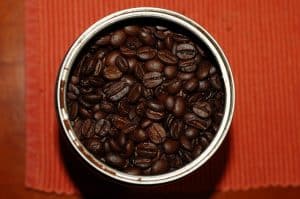 Take a large empty coffee can and poke some holes in the bottom using a can opener. While you're at it, poke some holes in the sides as well to allow for maximum airflow.
You want a lot of holes to allow for airflow WITHOUT allowing any hot charcoal to fall through, so don't make the holes too big.
Be EXTRA cautious when transferring the hot coffee can, using only very long tongs as well very well insulated grilling gloves like these ones I prefer:
For a list of our favorite insulated BBQ grilling gloves, check out our complete list here.
Even the best insulated BBQ gloves in the world cannot stand up to a stray lit charcoal briquet for very long if at all.  So always use long handled tongs to move hot items. These accessories work great for managing things around your firepit as well.
The benefit of an actual charcoal chimney starter is the extended handle positioned away from the hot coals.
Aluminum Foil Charcoal Chimney Starter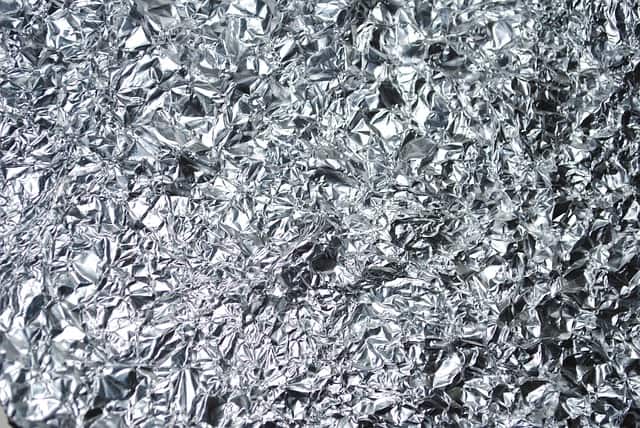 Another interesting idea is to create a large foil "bag" full of charcoal and shape it as vertically as you can, much like a cylindrical charcoal chimney.
To start, layer (2) 3' sheets of aluminum foil on top of each other in one direction, then 2 more sheets on top of those but perpendicular in a "t" or cross like fashion. Then shape all 4 ends of the foil up into a bag-like shape.
You can wrap rubber bands or tie twine around it to help it hold its cylindrical shape. Slowly add the charcoal as you shape it up and add more rubber bands or twine.
Poke holes throughout the bottom and sides and leave the top open to air.
Place the foil bag right in your grill and light a fire underneath it.
The nice thing about the foil is as the charcoal burns, you can use tongs to tip the bag over or open it up, and then leave the foil RIGHT in your grill!
No need to mess with transferring a hot chimney or coffee can.
Orange Juice or Milk Carton Charcoal Chimney Starter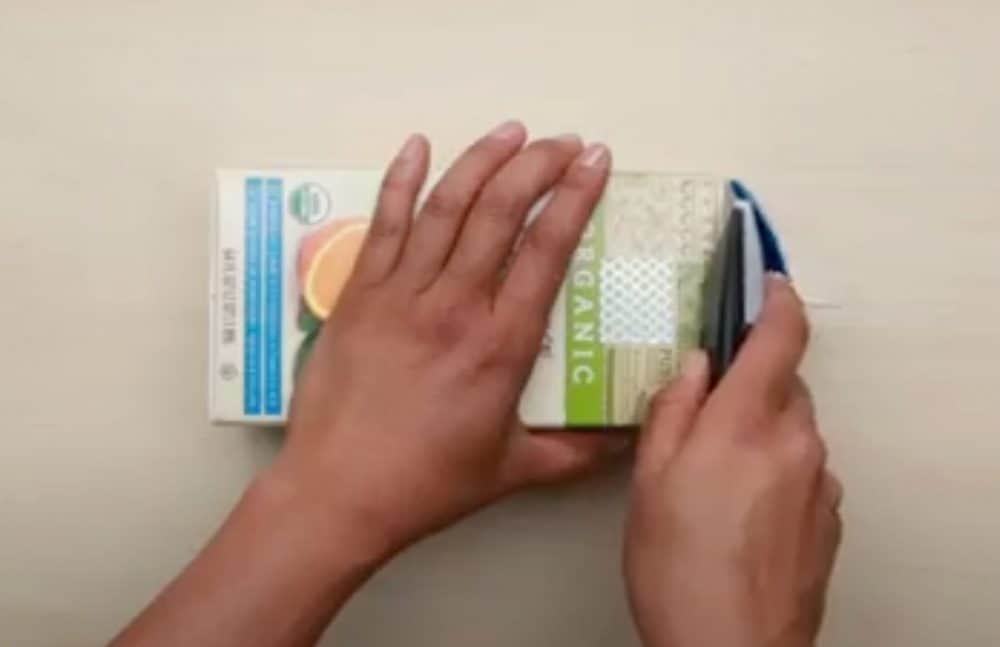 Finally, another disposable option is the empty orange juice or milk carton.
Open up the top of the carton so that it is now a rectangular container with an open top. Poke your holes in the bottom and sides to allow for airflow and fill with your unlit charcoal.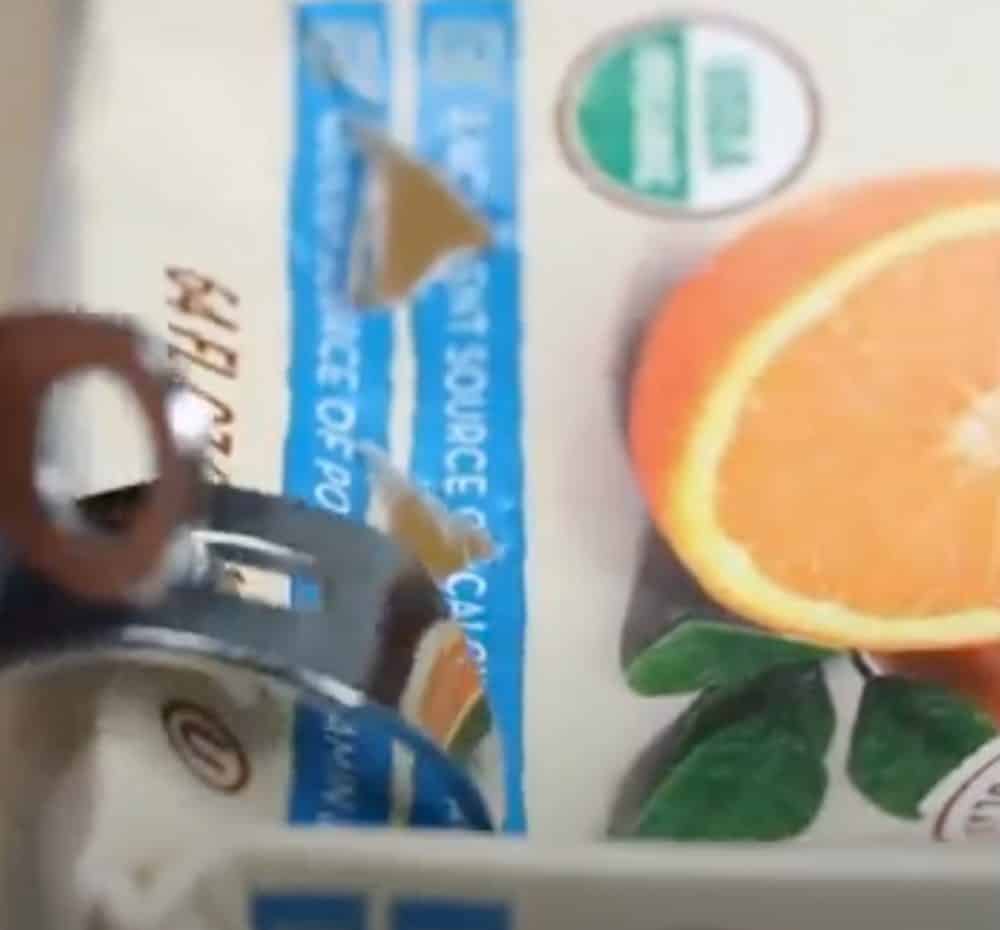 Light it up underneath with newspaper or a firestarter cube, and let the carton work like a disposable chimney!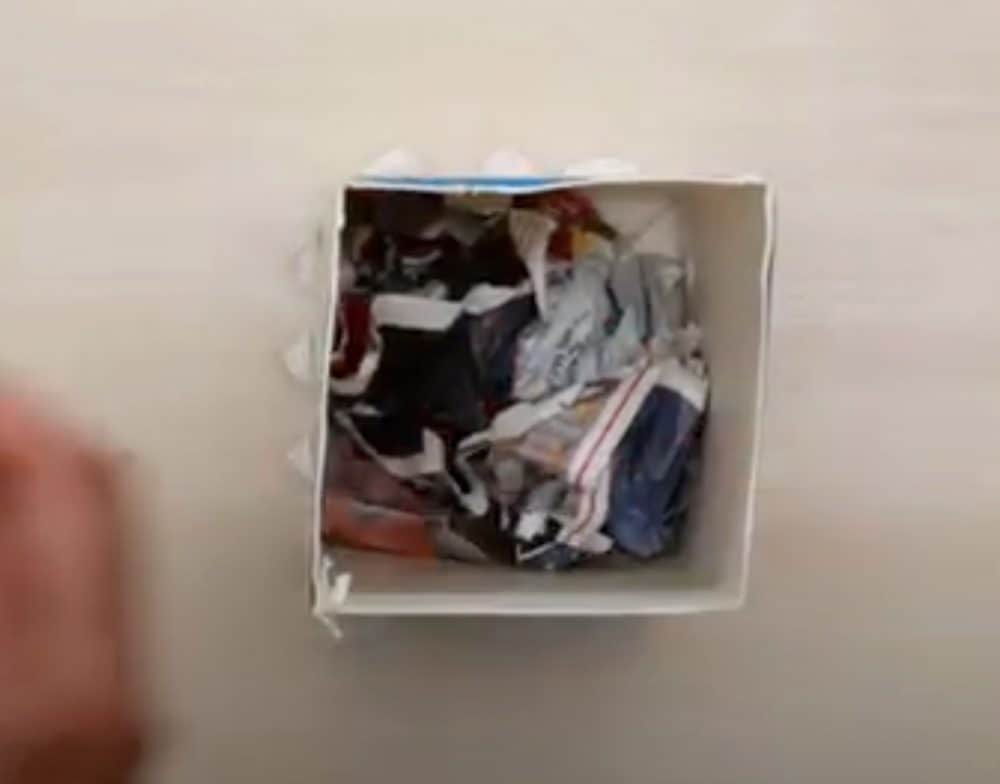 While this is another disposable solution, there is a downside.
The problem with this method is that your paper carton may not last as long as needed to get all the charcoal lit before it goes up in flames itself.
Make sure to check what the carton is really made out of as well. Avoid cartons that are heavily made of plastic.
Of the three methods, I prefer the first two, but if you're really "squeezed", use the OJ carton. 😉
Next Steps: Our Favorite Recipes
Smoked Pork, Turkey, and Chicken
Smoked Seafood
Smoked Beef
Smoked Lamb
Other Odds and Ends
Trash Can Turkey – OK, technically not made on a pellet grill or smoker but one of the most fun ways there is to cook a Turkey…at over 700 degrees in only 2 hours! 
You've got to check it out!
Looking for Grills, Smokers, and Accessories to Add to your Collection?
Check out some of our favorite brands and styles of grills, smokers, and cooking accessories to add to your list!
Smokers
Grills
Accessories
How to Make a DIY Charcoal Chimney Starter
Learn how to make an inexpensive and disposable DIY charcoal chimney starter using only an orange juice or milk carton.
Equipment
Can Opener or Scissors

Utility Knife or Scissors

Lighter

BBQ Tongs
Ingredients  
1

Empty Orange Juice or Milk Carton

cleaned out

Crumpled Newspaper

Charcoal
Instructions 
Cut the top off your OJ or Milk carton

Clean and wipe out the inside with a paper towel

Punch or cut small holes around the perimeter of the base of the carton, about 3-4 on each side.

Place some crumpled newspaper at the bottom of the carton

Fill on top of the newspaper with dry, fresh charcoal

Place the filled carton on your grill and light the newspaper through one of the holes with the lighter.

Let the entire carton and newspaper burn away as the chimney lights, about 15 minutes.

Spread the lit charcoal around using BBQ tongs.
Video
Notes
Video courtesy of Buzzfeed Nifty