Learn everything you need to know about how to make smoked peaches! 
Peaches are a great fruit to smoke, especially when they are perfectly ripe in the heart of the summer. Best of all, it's REALLY easy to do! 
Whether you've got a Weber gas grill, a Traeger or Pit Boss pellet grill, or even a Masterbuilt electric smoker, we've got you covered!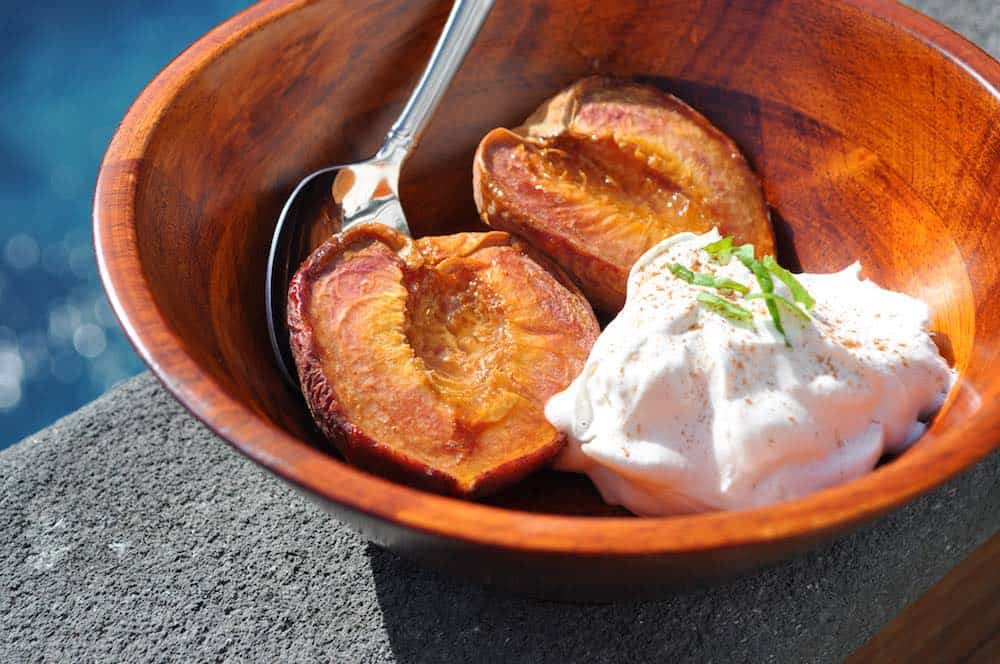 Why Smoked Peaches?
Smoked peaches go great at a BBQ and pair well with all sorts of other foods you might make on your smoker from pulled pork to pork chops or ribs, or even ham or chicken.
Smoking the peaches brings out many more complex flavors than you get eating them raw and gives you a warm, juicy, delicious treat to serve right alongside the rest of your food or even as a dessert!
And best of all, smoked peaches are easy to prepare and we cook them low and slow so you can throw them on ANY grill or smoker right next to your other "low and slow" meats you may be cooking that day.
So let's dive in to show you exactly how we prepare, season, and smoke our own smoked peaches!
Best Woods for Smoking Peaches
Cherry, Maple, Apple, and even Pecan are great wood choices that work wonderfully for smoking peaches.
Stay away from very distinctive flavored woods like Mesquite and Hickory when smoking fruit.
We liked using this Cherry Blend of pellets from Pit Boss because it contains both Cherry AND Maple wood.
These woods also work great on fish, chicken, turkey, pork butt, and ribs.  So no need to use different woods if you are smoking your peaches alongside your main protein.
You can impart A LOT of distinctive smoke flavor in a relatively short period of time.
How to Prepare Peaches for Smoking
Slicing the Peaches
It's pretty easy to prep your peaches for smoking on a grill or smoker.
Make sure to give your ripened peaches a good rinse under cold water and then dry them well.
Slice them in half down the same line the crease around the stem makes.
You'll hit the pit about half way through, so then start rotating the peach to slice from outside to center from all sides.
Then carefully given the peach a gentle pull and twist to separate the two halves from each other.
We actually found our meat slicing knife from Mairico to work the best for this task and helped us get nice clean slices and kept the peach from tearing around the pit as we separated the halves from each other.
Then take a spoon and remove the peach pit from whichever half of the peach it stayed stuck to.
Repeat with the rest of your peaches.
Seasoning the Smoked Peaches
You've got a number of seasoning options for your smoked peaches.
Our favorite flavors to put on smoked peaches for the family are are cinnamon and honey, but if you want to make them a little more "grown-up", you can add some bourbon as well.
If you want A LOT of bourbon flavor, you can even inject the peaches with the bourbon before you smoke them to make sure it infuses deep into the center of the fruit.
Always use a good quality meat injector like our favorite from JY Cookment.
For our recipe below, we actually found waiting until near the end of the cook to baste the smoked peaches with a honey and cinnamon mixture worked the best.
Otherwise, most of those flavors just melted right off the peaches as they warmed up and got juicy in the smoker.
Basting fruit works best, and is easiest to clean up afterwards, if you use a good silicone basting brush like these ones we use.
Best Times and Temperatures for Smoking Peaches
Best Temperature to Smoke Peaches
When choosing what temperature to smoke the peaches it's important to know the temperature at which sugar burns.
Even if you don;t baste with honey, there is A LOT of sugar in peaches, and we want those sugars to gently warna and caramelize, not burn.
Because sugar begins to burn and develop a bitter flavor when cooked above 350°F,  you will want to keep your smoker temperature below 350°F, probably below 325°F to be safe.
For our recipe below, we smoked our peaches down at 250°F to give them plenty of time to absorb smokey flavor and also plenty low enough to not have worry about any sugar buring.
If you're smoking your peaches alongside a meat anywhere in the 225-300°F range, with INDIRECT heat, you should be fine.
How Long Does it Take to Smoke Peaches?
If you are using a grill, make sure to set it up for INDIRECT cooking with all the charcoal or burners lit on the opposite side of the peaches.
Grilled peaches cooked over direct heat are great, but they cook in a just few minutes and will not develop any smoky flavor, so not what we are going for here.
Safety Tip: Make to sure to never position your smoked veggies, fruit and sides UNDER any meat you are cooking in order to avoid dripping and possible salmonella contamination.
If you set up your smoker at 250° F like we are, it will take about 90 minutes to smoke the peaches and develop a nice dark color and smoky flavor without drying them out.
How Can You Tell When Smoked Peaches are Finished Cooking?
Unlike many of the meats we smoke around here, where you have to watch the internal temperature like a hawk, you have some pretty good leeway with smoking peaches.
You don't want to go TOO long and have them start to dry out on the outside or get mushy on the inside, but you DO have a fair amount of leeway in how long you let them smoke.
After about 60 minutes on the smoker or grill, take a peek to see how they are looking.
It is normal for them to start looking more juicy as the juices inside expand and make their way to the top of the smoked peach halves.
This is a great time to start basting with some honey and cinnamon mixed with a little water to thin it out
Setting up your Grill or Smoker for Smoked Peaches
New to smoking?
Check out our Complete List of the Best Entry Level Smokers for Beginners Here.
You'll need to set up your grill or smoker a little different depending on whether you are using a grill, smoker, or a pellet grill like a Traeger or Pit Boss.
Here are the best instructions for setting up different types of grills and smokers to make smoked peaches so go ahead and skip down to the type you are using!
Smoked Peaches in a Vertical or Offset Charcoal Smoker
Fill your firebox or lower charcoal basin with about a chimney's worth of unlit charcoal and create a small hollowed out depression in the center where you can add your lit briquets.
If your smoker comes with a water pan, like the Weber Smokey Mountain, don't bother with filling it.
Light a charcoal chimney a quarter of the way with charcoal and wait about 15 minutes for it to fully ignite.
Once lit, add the briquets to the center depression you created.
Keep the dampers about ½ way to ¾ open until the temperature is in the 225°F range.
Add 1 chunk of smoking wood once the smoker is up to temperature, clean and oil the grates, and put your peach halves on with the skin facing DOWN.
Then slowly close down the top and bottom dampers to about ⅓-1/4 open until you are maintaining a temperature of 250°F.
Want to see a list of our FAVORITE Vertical Smokers for 2021?  Check it out here!
Smoked Peaches in an Electric Smoker
Propane and electric options are some of the easiest smokers for beginners to start with.
Debating whether to buy a propane or electric smoker?  Check out our COMPLETE Comparison Guide HERE.
For Propane: Open your gas valve and light the bottom burner. Adjust it to keep the temperature constant at 250° F.
Need a refresher? Check our our Complete Guide to How to Use a Propane Smoker HERE.
For Electric: Plug your electric smoker in, open the vents, and turn the temperature to 250° F.
While it comes up to temperature, add smoking wood chips, not pellets, to the smoking wood tray.
Place your peach halves directly on the racks, skin side DOWN, and close the door.
You will need to refill the wood chips every 30 minutes or so as they smolder out in the chip loader, which will end up being about 3 times during the 90 minute cook.
Refilling wood chips is one of the major drawbacks, besides tray size, of electric smokers compared to pellet grills like Traegers and Pit Bosses.
However, we recently found a great solution.
If you are tired of having to reload fresh wood chips into your electric smoker, especially on longer cooks like pork butt and brisket, then check out this Masterbuilt Automatic Slow Smoker Attachment.
It basically burns new fresh wood chips at a constant rate, much like how a pellet grill works, freeing you up to do other things while getting your food nice and smokey!
Smoked Peaches on a Pellet Grill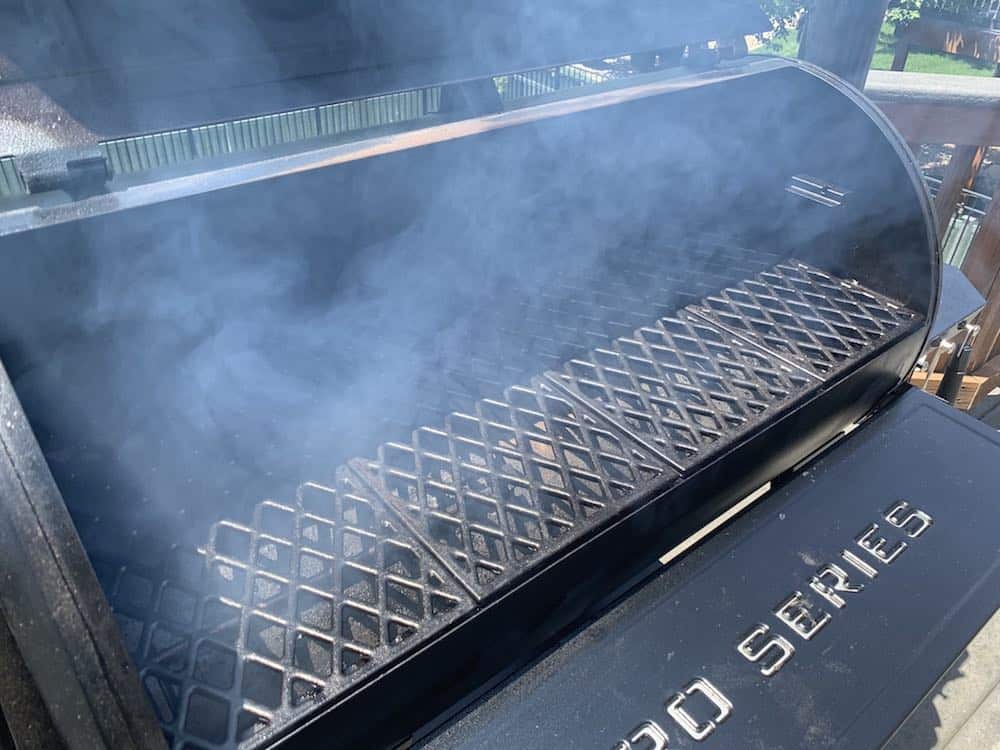 Fill the pellet hopper with your choice of smoking wood pellets, preferably cherry, apple, maple, pecan, or a blend of those woods.
Plug in the pellet grill and turn the temperature to 250°F.  Make sure you have the pellet grill set up for INDIRECT cooking.
For instance, on a Pit Boss and camp Chef pellet grills there is a special lever to pull to switch from DIRECT to INDIRECT heat.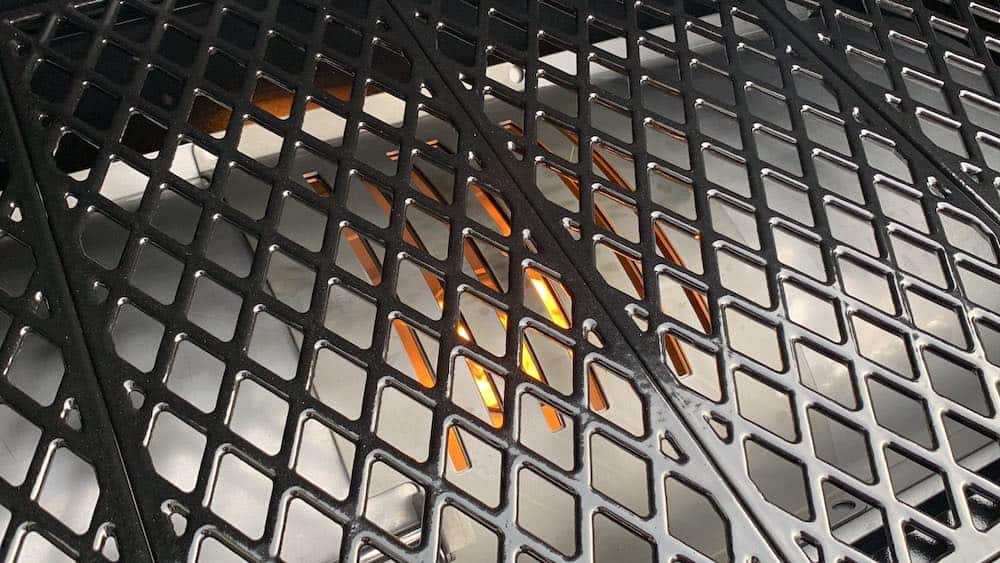 You want the flame broiler CLOSED for INDIRECT heat.
Let the pellet grill run through its start up process.
When the pellet grill has come up to temperature, clean and oil the grates and place your peaches on the grill with the skin side DOWN and close the lid.
Never used a pellet grill before?  Read our Ultimate Guide to Pellet Grills to learn why they are so easy and how to set one up for success every time.
Here is also a list of our Favorite Pellet Grills Priced UNDER $500
Smoked Peaches on a Gas or Charcoal Grill
On a gas or charcoal grill you will likely need to use a smoker box filled with wood chips, or a pellet tube smoker filled with wood pellets.
Think you need a fancy smoker to smoke food at home? 
Think again.
Great smoked food can be made right on your current gas or charcoal grill.
Check out our Ultimate Guide to Smoking on a Gas Grill HERE.
If you are unfamiliar with these gas grill smoking devices mentioned above, no worries, we have you covered!
Read Everything You Need to Know about how to use Smoker Boxes here, and see a selection of our Favorite Pellet Tube Smokers here.
Or check out this handy comparison between smoker boxes and pellet tube smokers if you can't decide which is right for you.
In the case of smoked peaches, we would opt for the pellet smoker tube since we need longer than the 30 minutes one batch of wood chips in a smoker box will last us.
This will save you the hassle of having to refill the smoker box multiple times while smoking the peaches.
Set up your gas or charcoal grill for indirect cooking with the burners or a small amount of lit briquets on one side and plan for your peaches to be on the other side.
Remember, we are smoking the peaches INDIRECTLY, like an oven, not DIRECTLY over the burners or coals.
While the charcoal is igniting, or before you turn on the gas grill burners, light up the end of your pellet smoker tube with a good butane torch (you can't use a regular lighter for pellets) and place it in the grill as well to add smoky flavor while the peaches cook.
Let the pellets ignite for about 5 minutes than blow out the flame and lay the pellet tube smoker down on the grates next to the peaches and close the lid.
Continue bringing the temperature up to 250°F and smoke your peaches on the garets with the skin side DOWN.
Best Ways to Serve Smoked Peaches
After about 60 minutes of smoking, you can baste the peaches with honey and cinnamon like we do in the recipe below.
Or you can use bourbon, maple syrup, or even a spicy BBQ rub or hot sauce if you want a sweet and savory flavor profile.
Once the smoked peaches looks sufficiently smoked and caramelized after about 90 minutes, carefully remove them from the grill or smoker and place on a cutting board or baking rack to cool.
The smoked peaches can be served as an accompaniment to your meat, such as with smoked ham or pork chops in particular, you can serve them as an appetizer, in a fruit salad, or even for dessert!
Top the smoked peaches with some whipped cream or vanilla ice cream for a great dessert to finish off a great smoked meal!
Now, if you are ready to take your peach smoking to the NEXT level, make sure to check out our out of this world Smoked Peach Cobbler!
And if you are looking for another fun fruit to smoke, check out our Maple Glazed Smoked Pineapple!
📖 Recipe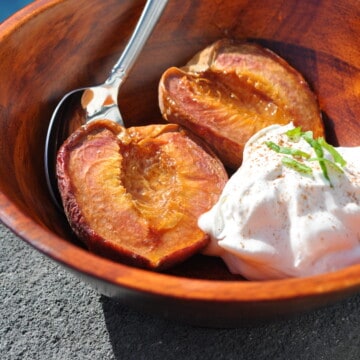 Easy Smoked Peaches
Learn how to make smoked peaches on ANY grill or smoker! First we slice the peaches in half and them smoke them low and slow with indirect heat before finishing with a baste of honey, cinnamon, and optionally, bourbon.Whether you've got a Weber gas grill, a Traeger or Pit Boss pellet grill, or even a Masterbuilt electric smoker, we've got you covered!
Equipment
A Smoker or Pellet grill -OR-

A Gas or Charcoal Grill setup for indirect heat

Fruitwood (Apple or Cherry) or Maple pellets, woodchips, or chunks

Cutting Board

Slicing Knife

Small Spoon

Small Whisk

Basting brush

Grilling Tongs
Ingredients  
6

Peaches

Whole, fresh, ripened

2

tablespoon

Honey

1

pinch

Cinnamon

1

tablespoon

Warm Water

1

tablespoon

Bourbon Whiskey

(optional)

Whipped Cream

to top (optional)

Vanilla Ice Cream

to top (optional)
Instructions 
Prepare the Grill or Smoker
Preheat the smoker, or grill setup for indirect cooking, to 250°F. If using a pellet grill, load the hopper with your chosen pellets, turn on the grill, and set the temperature for 250°F.
Prepare the Peaches for Smoking
Wash and dry the whole peaches and place on a cutting board

Slice the peaches in half following the crease line near the stem down to the pit and gently pull and twist the halves apart from each other. Repeat on each peach.

Remove the peach pits with a small spoon.

In a small bowl, whisk together the honey, cinnamon, warm water or optionally, the bourbon. Set aside.

2 tablespoon Honey,

1 pinch Cinnamon,

1 tablespoon Warm Water,

1 tablespoon Bourbon Whiskey
Smoke the Peaches
If using a grill, once it is near its temperature, add your wood chips, wood chunks, or light the pellets in a pellet tube smoker and close the lid.

Once the grill or smoker is up to 250°F and producing smoke, clean and oil the grates and place the peach halves in the grill or smoker with the skin sides DOWN.

If using a grill, make sure the peaches are away from the direct heat of the coals or burners. Rotate the peaches as necessary for even cooking but do not turn upside down or you will lose a lot of juices.

After about 60 minutes of smoking, baste the tops of the peaches with the honey and cinnamon mixture. You can repeat this a few ries over the nxt 30 minutes while they finish cooking.
Serve the Smoked Peaches
Carefully remove the smoked peaches from the grill or smoker using BBQ tongs and place on a cutting board or wire rack to cool for 5-10 minutes before serving.

Lastly, sprinkle a little more cinnamon on top and serve warm with whipped cream, vanilla ice cream, or both!

Whipped Cream,

Vanilla Ice Cream
Nutrition