Learn everything you need to know about how to make smoked broccoli! 
Whether you've got a gas grill, a Traeger or Pit Boss pellet grill, or even a Masterbuilt electric smoker, we've got you covered!
And it can easily be made Keto friendly!  Let's Go!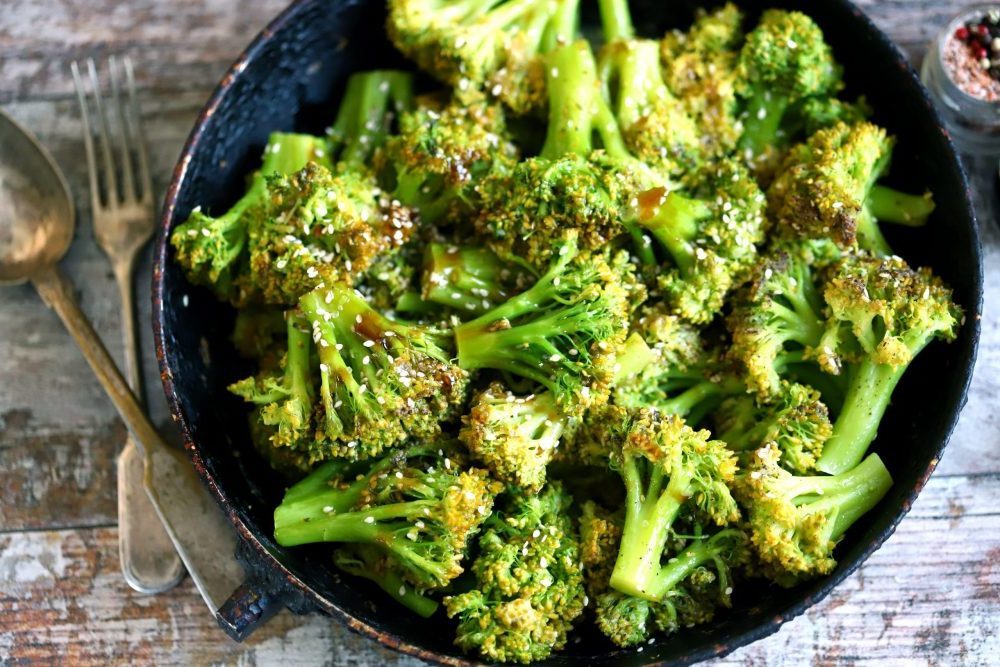 Why Smoked Broccoli?
Ok, let's face it.
Broccoli, like its close cousin cauliflower who we recently did up nice for the smoker, doesn't usually get a whole lotta love at your typical backyard BBQ.
However, we know that roasted broccoli, when done right, is absolutely delicious.  It's also great to grill over direct heat, so why not smoke it?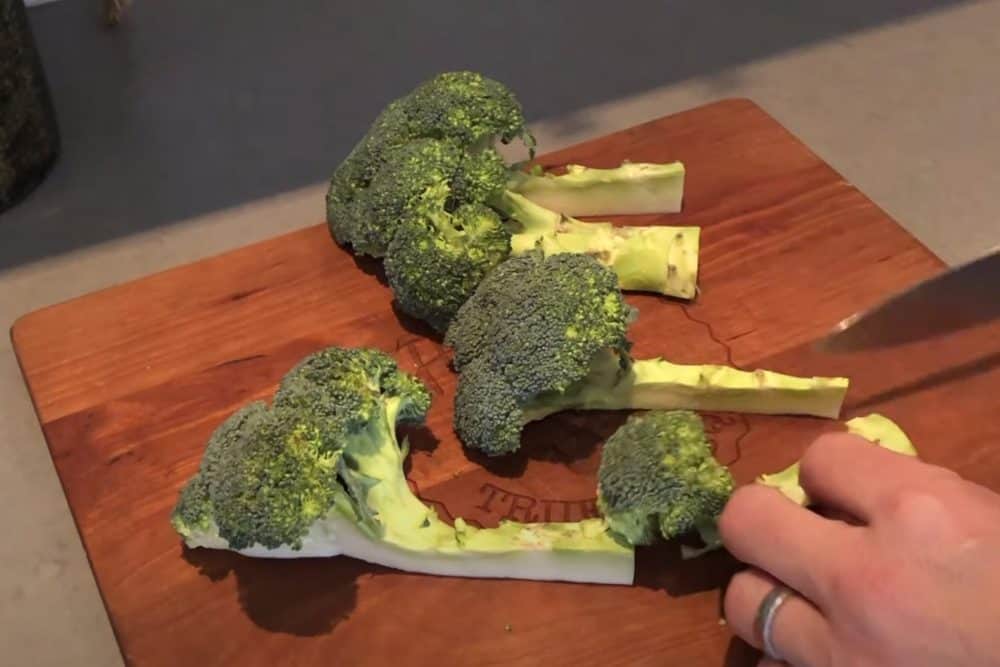 It's easy to work with on the grill, and when seasoned properly and smoke roasted, can deliver some fantastic flavors and textures to accompany the rest of your meal.
Plus its a healthy accompaniment to that smoked tilapia or mahi mahi you are trying out this year after a holiday filled with roasts, hams, and turkeys.
Smoked broccoli is also a great option for vegetarians and folks following the popular Ketogenic Diet since you don't need a sugary BBQ rub to make it taste good, but more on that below.
Best Wood for Smoking Broccoli
Hickory, Cherry, Oak, and Apple are great wood choices that pair wonderfully with most vegetables, including smoked broccoli and cauliflower.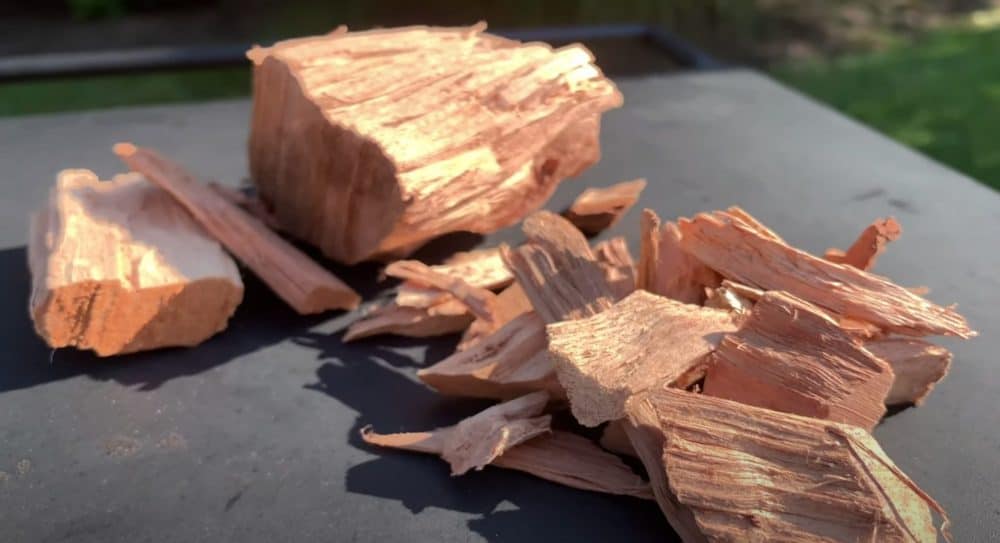 You can choose one or the other or mix them together!  These woods also work great on fish, chicken, turkey, pork butt, and ribs.
So no need to use different woods if you are smoking your broccoli alongside your main protein.
You can impart A LOT of distinctive smoke flavor in a relatively short period of time.
How to Prepare Broccoli for Smoking
Cleaning and Prepping
Make sure to give the broccoli a good rinse and shake and pat it dry.
After all, these things grow on the ground and there's a lot of little nooks and crannies where dirt can hang out.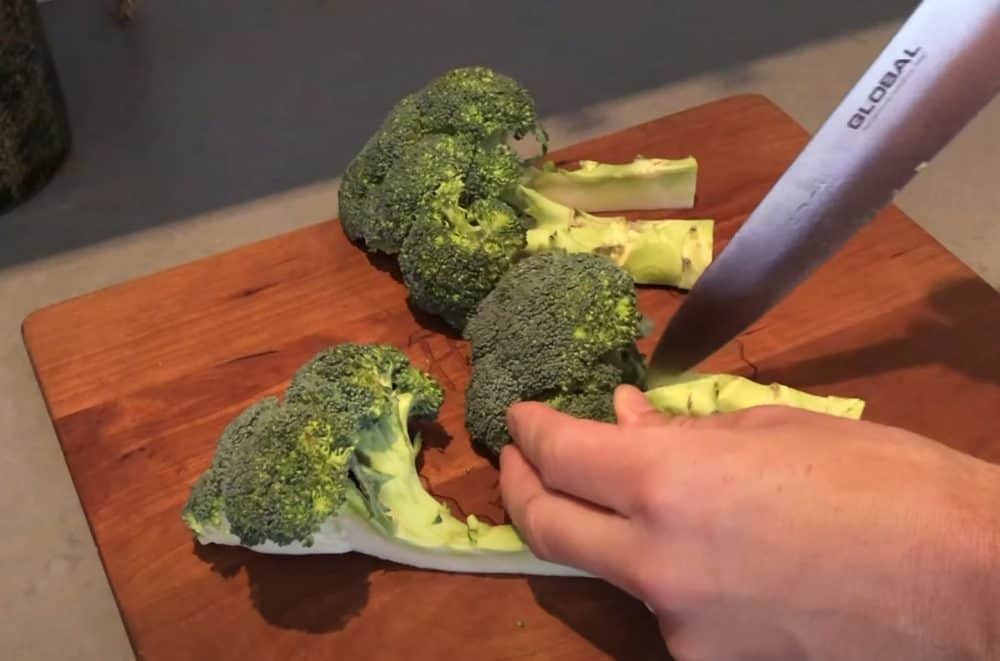 Now, you have a few options for how to slice the broccoli before smoking it.
In our opinion, the best way to smoke broccoli is to cut it your broccoli up into just the florets.  Or just start with (thawed and dried) frozen broccoli florets!
The smoked broccoli will cook quicker and more evenly than if left whole or in slices. It's easier to get each peice well seasoned, and you won;t need to do any chopping after they cook!
Use a Grill Basket or Phat Mat
Because broccoli florets are small and likely to fall through your grill or smoker grates, you may be more successful if you place them in a grill basket rather than directly on the grill grates of your grill or smoker.
We are particular fans of the ORDORA Portable Grill Basket because it comes with its own handle, making it much easier to manage and move lots of delicate food, even shrimp, scallops, and asparagus around with one quick motion.
Another option is to use a grill mat, which are becoming increasingly popular in many BBQ circles, especially for delicate veggies and small seafood like oysters.
Our personal favorite is the PhatMat Non Stick Grill Mat.
Just throw it down on your grill to keep your smoked broccoli (or any other food) from falling through.
It keeps your grates really clean, and when you are done, you just throw it right in the dishwasher!
PhatMat Non Stick Grill Mats Mesh - Set of 2
? GRILL LIKE A BOSS - Our heavy duty mesh design allows your barbeque masterpiece to fully absorb those awesome smoky flavors.

? NO MESS - Never grill on a nasty grill grate again! These bbq mats for grill keeps all your barbecue creations from falling through the grates! Nonstick, easy clean up, reusable, washable and dishwasher safe!
Seasoning
Like our smoked asparagus, you can go as big and bold or as simple as you want with seasoning your smoked broccoli.
If you are trying to avoid sugar or following the Ketogenic diet, we recommend Bad Byron's Butt Rub.  We love using it on brisket and steak as well.
Make sure to toss the broccoli in a little olive oil, or better yet, a higher smoke point oil like avocado oil first so that rub adheres well.
Another option we like is to simply season the broccoli florets in salt and pepper and throw a couple lemons sliced in half on the smoker next to the broccoli.
The lemons will also absorb a nice smokey flavor which you can then squeeze over the broccoli after they cook.
Optionally finish with a sprinkling of finely grated parmesan cheese.
Best Times and Temperatures for Smoking Broccoli
Best Temperature to Smoke Broccoli
When choosing what temperature to smoke the broccoli take into consideration what kind of seasoning you used.
If your seasoning has no sugar, you are good to go to smoke your broccoli at higher temperatures .
But because sugar begins to burn and develop a bitter flavor when cooked above 350°F,  you will want to keep your smoker temperature below 350°F, probably below 325°F to be safe, if you used a sugar based BBQ rub.
(And by the way, this is true for ALL BBQ temperature selection when using sugary rubs.)
Our recipe below uses only salt, papper, smoked paprika, and lemon, so we are going to set the temperature of the grill or smoker to 375°F.
How Long Does it Take to Smoke Broccoli?
If you are using a grill, make sure to set it up for INDIRECT cooking with all the charcoal or burners lit on the opposite side of the broccoli.
Now, your smoked broccoli will still come out delicious if cooked at a lower temperature, especially if the meat you are cooking it alongside requires a lower smoking temperature, it just takes longer.
Safety Tip: Make to sure to never position your smoked vegetables and sides UNDER any meat you are cooking in order to avoid dripping and possible salmonella contamination.
And since there is no fat or connective tissue to breakdown like say a brisket or rack of ribs, there is no reason to cook it "low and slow" unless you have a lot of sugar in your rub.
So if you set up your smoker at 375° F like we are doing, it will take about 15-20 minutes to smoke your broccoli florets.
If your smoker is in the 225-275°F range due to the meat you're cooking, expect the smoked broccoli to take closer to 1 hour to soften up and get nice and roasty.
When in doubt, try a small floret and see if it tastes cooked enough!
How Can You Tell When Smoked Broccoli is Finished Cooking?
Unlike many of the roasts we smoke around here, where you have to watch the internal temperature like a hawk, you have some pretty good leeway with smoking cruciferous vegetables like broccoli.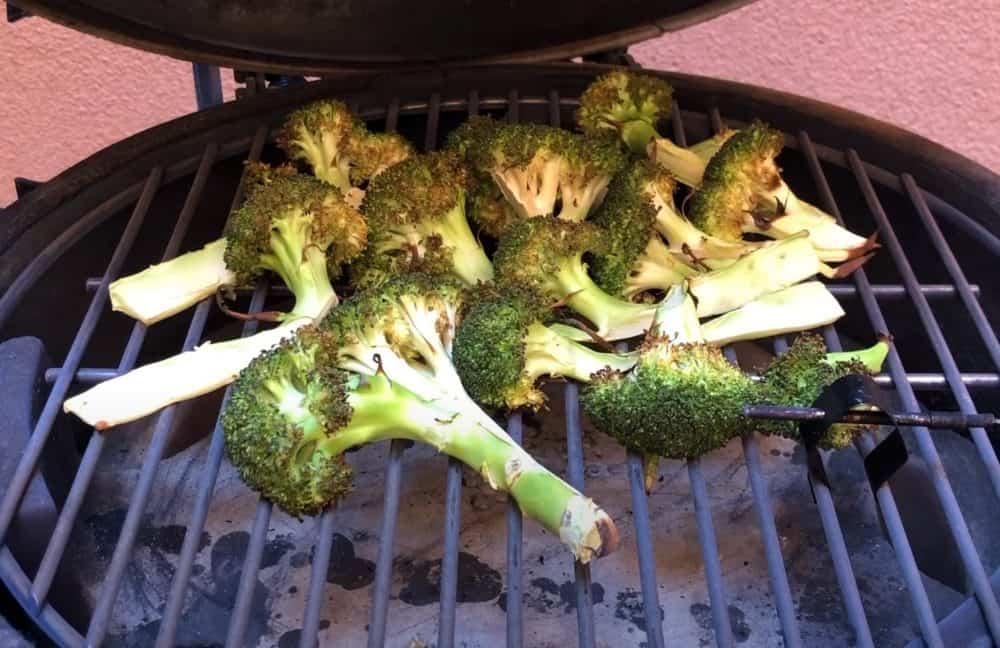 You don't want to go TOO far and have it start to burn on the outside or get mushy on the inside, but you DO have a fair amount of leeway in how long it smokes.
After about 15-20 minutes on the smoker or grill, use a long fork or knife to poke a couple of the florets.
If you feel a lot of resistance, they still needs some more time.
If it slides in and out effortlessly, then your smoked broccoli is likely done cooking.
Setting up your Grill or Smoker for Broccoli
New to smoking?
Check out our Complete List of the Best Entry Level Smokers for Beginners Here.
Like we said, you are most likely setting up your smoker to cook a main dish for the smoked broccoli to accompany, and if so, make sure to follow THOSE instructions for setting up your smoker.
If, however, you are just in the mood for smoking some broccoli by itself, here are the best instructions for setting up different types of grills and smokers to do just that.
Smoked Broccoli in a Vertical or Offset Charcoal Smoker
Weber Smokey Mountain on Amazon
Fill your firebox or lower charcoal basin with about a chimney's worth of unlit charcoal and create a small hollowed out depression in the center where you can add your lit briquets.
If your smoker comes with a water pan, like the Weber Smokey Mountain, don't bother with filling it.
Light a charcoal chimney all the way with charcoal and wait about 20 minutes for it to fully ignite.
Once lit, add the briquets to the center depression you created.
Keep the dampers about ½ way to ¾ open until the temperature is in the 375°F range.
Add 1 chunk of smoking wood once the smoker is up to temperature and put your seasoned broccoli on.
Then slowly close down the top and bottom dampers to about ⅓- ¼ open until you are maintaining a temperature of 375° F.
Want to see a list of our FAVORITE Vertical Smokers for 2021?  Check it out here!
Smoked Broccoli in a Propane or Electric Smoker
See Masterbuilt Reviews on Amazon
Propane and electric options are some of the easiest smokers for beginners to start with.
Debating whether to buy a propane or electric smoker?  Check out our COMPLETE Comparison Guide HERE.
For Propane: Open your gas valve and light the bottom burner. Adjust it to keep the temperature constant at 375° F.
Need a refresher? Check our our Complete Guide to How to Use a Propane Smoker HERE.
For Electric: Plug your electric smoker in, open the vents, and turn the temperature to 375° F, or as high as it will go if it does not go up to 375°F.
While it comes up to temperature, add smoking wood chips, not pellets, to the smoking wood tray.
Do not bother to fill the water tray if there is one.
Place your oiled and seasoned broccoli florets fillets either directly on the rack, or in a grill basket, or on a Phat Mat, and close the door.
Refilling wood chips is one of the major drawbacks, besides tray size, of electric smokers compared to pellet grills like Traegers and Pit Bosses.
However, we recently found a great solution.
If you are tired of having to reload fresh wood chips into your electric smoker, especially on longer cooks like pork butt and brisket, then check out this Masterbuilt Automatic Slow Smoker Attachment.
It basically burns new fresh wood chips at a constant rate, much like how a pellet grill works, freeing you up to do other things while getting your food nice and smokey!
Masterbuilt Slow Smoker Accessory Attachment
Continuous smoke when cold smoking or hot smoking up to 275˚F

Ideal for smoking cheese, fish, bacon, and jerky

Automatically heats wood chips with the push of a button

Continuous wood feed system provides up to 6 hours of continuous smoke without reloading
Smoked Broccoli on a Pellet Grill
Check out Traeger Pellet Grills on Amazon
Fill the pellet hopper with your choice of smoking wood pellets, preferably apple or hickory.
Plug in the pellet grill and turn the temperature to 375°F.  Make sure you have the pellet grill set up for INDIRECT cooking.
Let the pellet grill run through its start up process. When the pellet grill has come up to temperature, place your broccoli on the grill, preferably in a grill basket, or on a Phat Mat, and close the lid.
Never used a pellet grill before?  Read our Ultimate Guide to Pellet Grills to learn why they are so easy and how to set one up for success every time.
Here is also a list of our Favorite Pellet Grills Priced UNDER $500
Smoked Broccoli on a Gas or Charcoal Grill
Check out this Weber Grill on Amazon
On a gas or charcoal grill you will likely need to use a smoker box filled with wood chips, or a pellet tube smoker filled with wood pellets.
Think you need a fancy smoker to smoke food at home? 
Think again.
Great smoked food can be made right on your current gas or charcoal grill.
Check out our Ultimate Guide to Smoking on a Gas Grill HERE.
If you are unfamiliar with these gas grill smoking devices mentioned above, no worries, we have you covered!
Read Everything You Need to Know about how to use Smoker Boxes here, and see a selection of our Favorite Pellet Tube Smokers here.
Or check out this handy comparison between smoker boxes and pellet tube smokers if you can't decide which is right for you.
In the case of smoked broccoli, we would opt for the smoker box since we are only smoking for about 30 minutes at the most.
Set up your gas or charcoal grill for indirect cooking with the burners or a small amount of lit briquets on one side and plan for your broccoli to be on the other side.
Remember, we are smoking the broccoli INDIRECTLY, like an oven, not DIRECTLY over the burners or coals.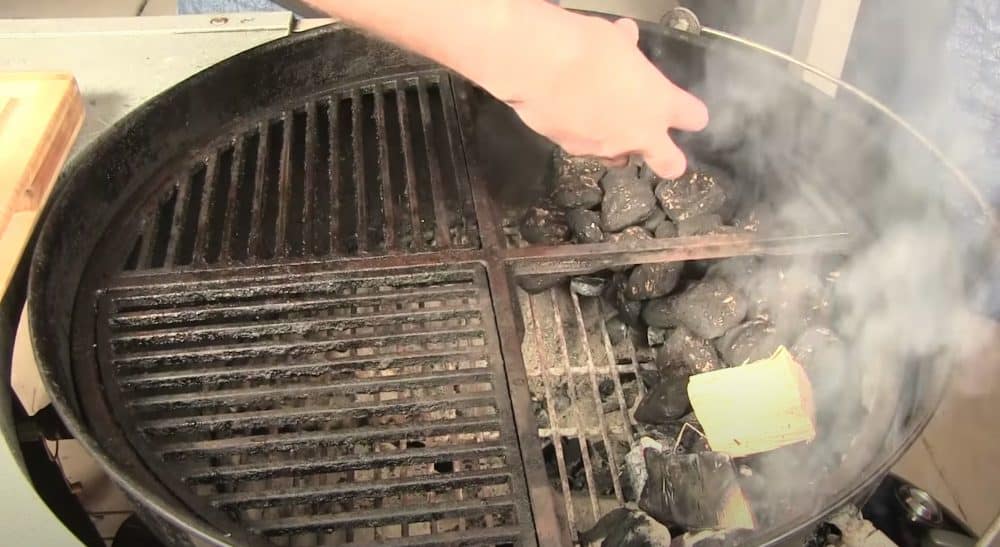 Once the temperature of your grill is around 325°F, place your smoker box or pellet tube smoker over the lit burners or charcoal and once smoke begins coming out, place your broccoli on the opposite side.
Continue bringing the temperature up to 375°F.
Check out our Favorite Gas Grills priced UNDER $200 Here.
Best Ways to Serve Smoked Broccoli
We like to finish with some lemon juice, either smoked or fresh, and a little parmesan cheese.
But it all depends on the protein you are serving the smoke broccoli alongside.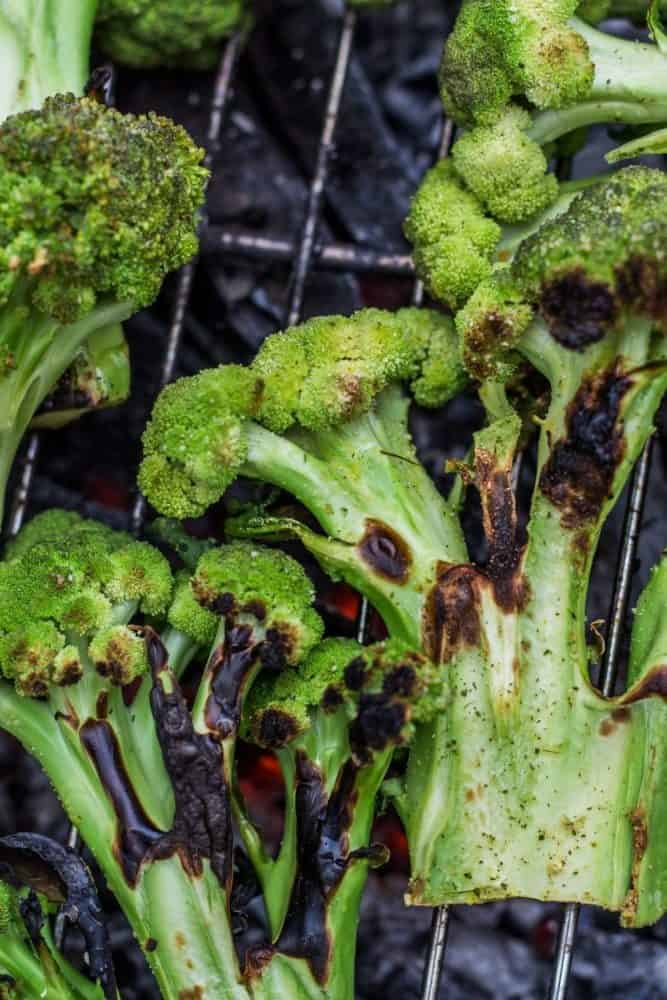 Another fun option is to use your smoked broccoli in a batch of smoked broccoli cheddar soup!
Just use smoked broccoli instead of smoked cheddar.
What Other Foods Can I Smoke?
Looking for some more smoky inspiration?
You've come to right place!
Seafood
Beef
Pork
Poultry
Lamb
Other Odds and Ends
📖 Recipe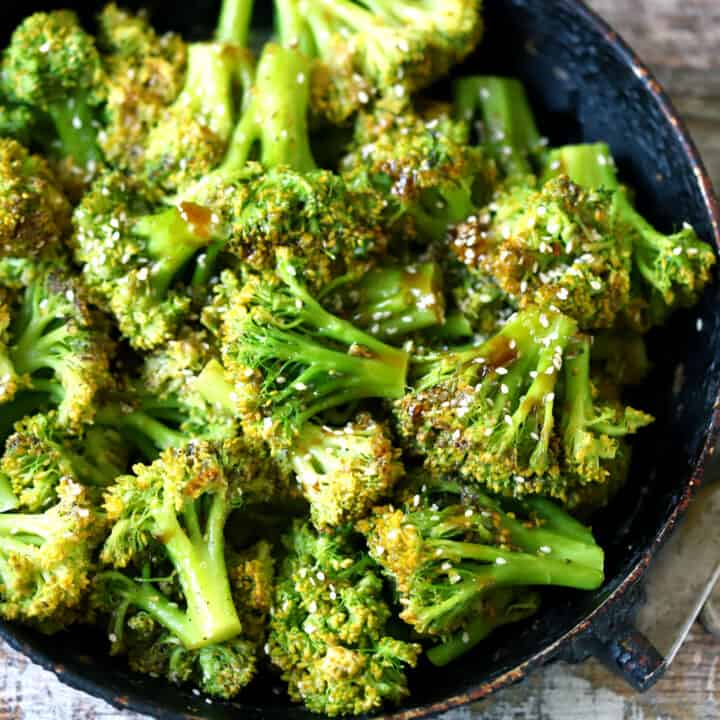 Easy Smoked Broccoli
Perfectly wood smoked broccoli florets that can be made on any grill, pellet grill, or smoker, no matter whether its a Traeger, Pit Boss, Camp Chef or Masterbuilt.
Seasoned simply and finished with smoked lemon and a sprinkle of parmesan cheese.
Equipment
A Smoker or Pellet grill -OR-

A Gas or Charcoal Grill setup for indirect heat

A Knife

A Large Mixing Bowl

A Grill Basket or Phat Mat

or you can use a wire rack on top of a baking sheet if you don't own either of those.

Hickory or Fruitwood pellets, woodchips, or chunks
Ingredients  
2

lbs

Broccoli florets, rinsed, dried, and cut individually

or you can used thawed and dried frozen broccoli florets

2

tablespoon

Olive Oil

2

tablespoon

Kosher Salt

1

tablespoon

Fresh Cracked Black Pepper

1

tablespoon

Smoked Paprika

1

Lemon

optional

¼

Cup

Freshly Grated Parmesan cheese

optional
Instructions 
Prepare the Grill or Smoker
Preheat the smoker, or grill setup for indirect cooking, to 375°F. If using a pellet grill, load the hopper with your chosen pellets, turn on the grill, and set the temperature for 375°F.

Once the grill or smoker is near its temperature, add your wood chips, wood chunks, or pellets into a pellet tube smoker and place over the direct heat and close the lid.
Prepare the Broccoli
If your broccoli is fresh and in a whole bunch, cut the florets from the stalk and then cut them up into individual florets.

Rinse and dry the broccoli florets well.

If you are using frozen broccoli, thaw them it in the microwave and then pat dry very well with paper towels.

Toss the broccoli in a large mixing bowl with the olive oil taking time to coat every side and in all the nooks and crannies.

Toss in your Salt, Pepper, and Smoked Paprika and coat the broccoli well.

Spread the broccoli florets out on a wire rack on top of a baking sheet or grill basket or grill mat before placing in the grill or smoker.
Smoke and Serve the Smoked Broccoli
Once the grill or smoker is up to 375°F and producing smoke, place the basket of broccoli florets into the smoker, or on the cool side of the grill.

Cut you lemon in half and place one half of the lemon the smoker along with the broccoli. Close the door or lid.

After 20 minutes, check for doneness by piercing the broccoli with a knife or fork checking for tenderness. Continue to smoke for 5-10 minutes more if needed.

Remove the smoked broccoli and lemon from the grill or smoker using oven safe BBQ gloves and place spread out on a baking sheet or wire rack to cool for 5 minutes to cool before serving.

Toss the broccoli with the freshly grated parmesan cheese and optionally squeeze a combination of the smoked and remaining fresh lemon juice as well.

Toss to incorporate and serve in a large serving bowl with salad tongs.
Notes
Video from Hank's True BBQ
Nutrition