Learn step-by-step how to smoke cheese in a masterbuilt electric smoker!
It's not hard to do at all with a Masterbuilt electric smoker and you'll be enjoying perfectly smoked cheese in no time.
Let's go!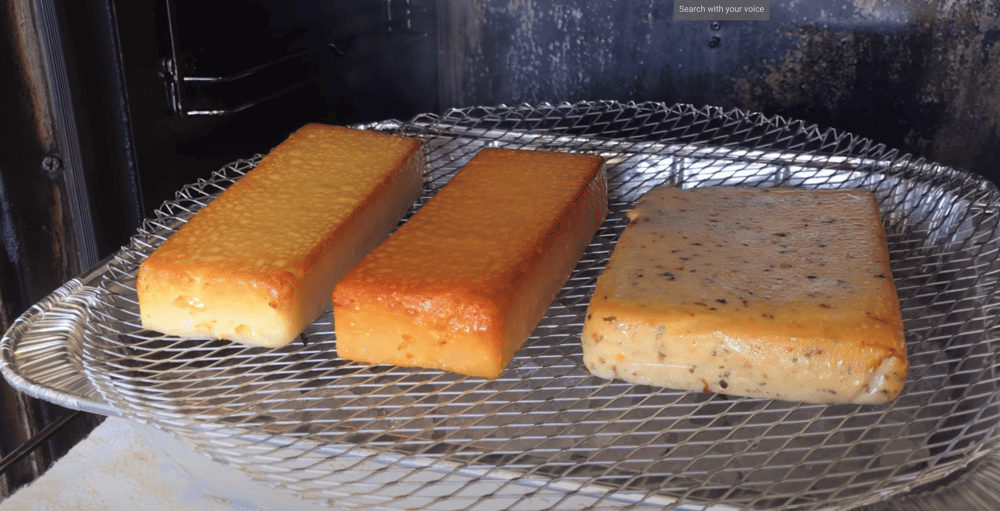 The trick to smoking cheese correctly at home is in the temperature.
You need the smoking environment to be relatively COLD compared to how we smoke other foods like fish, pork, and beef, or obviously the cheese will melt.
Luckily, with a Masterbuilt electric smoker, it's pretty simple.
The temperature is to be kept below 90°F (32°C) to prevent this from happening, and you must make sure that it stays below that threshold during the 3 to 4 hours it will take to absorb the smoke.
Here, the Masterbuilt Electric Smoker comes in quite handy, allowing for precision of temperature to keep that cheese nice and solid while smoking.
How to Choose the Right Cheese for Cold Smoking
Even though you'll be using a cold smoker, you still need to choose a cheese that has a higher melting point than the rest.
Solid milk fat in cheese traditionally begins to melt at 90 degrees Fahrenheit, so choosing a cheese that has a melting point lower than this will make the task even harder.
Cheddar, halloumi, gouda, and mozzarella are all great cheeses to choose from due to their higher melting points.
Additionally, don't feel as though you need to buy premium cheese for smoking. Even inexpensive supermarket cheese will work fine and becomes delicious after being smoked.
Use a Mesh Wire Rack
Now, it IS possible to use the regular wire shelves in your Masterbuilt electric smoker, but, many have found they begin to dig into the cheese as it softens and sinks a little during the smoking process,
A pan is not a great option either because it completely blocks smoke penetration on the entire bottom surface of the cheese.
The best compromise is putting the cheese on a good wire rack, preferably a mesh wire rack, the smaller and thinner the better.
This way you distribute the weight of the smoked cheese better so it's less likely to sink into the rack as it softens.
You also might get some nice crosshatch marks on your smoked cheese rind making it look more professionally smoked and appetizing.
Best Wood Choices for Smoked Cheese in a Masterbuilt Electric Smoker
When it comes to selecting the wood chips you want to use in your Masterbuilt electric smoker, the choice is really up to you to experiment, have fun, and find what favors you like the best.
Gouda pairs nicely with milder woods like apple and oak, while cheddar can hold up to stronger flavors like hickory.
Jax Smok'in Tinder - Fine Wood Chips Sampler Pack (Apple, Post Oak, Pecan, Hickory, Cherry, Mesquite)
Jax Smokin Tinder Fine Wood Chips are from Colorado and Texas. Try our wood and see why our customers keep coming back for more.

Jax Smokin Tinder sells Premium BBQ Wood Products. We guarantee the finest or your money back.

The Jax Smokin Tinder Variety Pack is perfect when you are trying out wood smoke flavor for the first time or making your own flavor combinations or when you just cant decide which flavor you like bes
Prepare your Cheese and your Masterbuilt Electric Smoker
Clean the Smoker
Before we get into how cold smoking works, take some time prepping the smoker.
Make sure you clean the racks properly so that any flavor from previous smoking doesn't overwhelm the cheese.
Place your mesh wire rack either right on top of the wire shelves already in the smoker, or on top of an ice filled aluminum pan. (More on that below if you are smoking cheese on a hot day.)
Rub just a little bit of cooking oil on the mesh wire rack so that the cheese doesn't stick.
Prepare the Cheese for Smoking
If your cheese comes with wax or a rind on the exterior it will need to be removed before you begin smoking it. 
If you don't take this off, the wax or rind may prevent the smoke from being able to penetrate the cheese properly and you won't get as rich of a flavor. 
If the rind is just on the edge of cut wedges then dont worry about removing it, only if you have an tire wheel do you generally need to do this part.
To Cut or Not to Cut
At this point you can cut your cheese into smaller pieces if you wish to smoke it faster and aren't worried about presentation. (Such as if you are going to melt it later for a smoked gouda mac and cheese).
If, however, you are going to serve it on a charcuterie board, then we advise you leave it in as big of pieces as possible.
The smoke WILL penetrate to the interior once you've let the cheese mellow for a couple weeks after smoking it.
More on that below.
How Long do You Cold Smoke Cheese in a Masterbuilt Electric Smoker?
Most people cold smoke their cheese anywhere from 1-3 hours in their Masterbuilt.
However, as always, there are some things to consider:
The thicker your block or wheel of cheese, the longer you will need to smoke it.  Again, if you aren't worried about presentation, you can cut it into 1-2 inch cubes and be done in an hour.
The harder and denser your cheese, the more smoke you will need to expose it too as well vs a softer cheese.
If this is your first time smoking cheese, or smoking a certain VARIETY of cheese, go easy on the smoke time until you learn how it tastes.
Quick Tips
Take some notes so you remember in 2 weeks how long you smoked your cheese, what kind of wood you used, etc.
If you have enough cheese on hand, you can also start several blocks at the same time.  Then remove them in 30 or 60 minute intervals as an experiment to see how much smoke exposure you end up liking the best.
Controlling the Temperature of the Masterbuilt Electric Smoker When Cold Smoking Cheese
"This should be easy, my Masterbuilt has a temperature control right on the top!"
Yes and No.
Remember, you need to use your Masterbuilt electric smoker outside, and if it is hot and humid with the sun beating relentlessly down on that classic Masterbuilt black finish, the inside of your smoker is going to get HOT.
Obviously set your Masterbuilt electric smoker to the lowest temperature setting possible, which on many models is 80-100°F.
Regardless of what you set the temperature to, you'll need to ensure that the temperature inside of your smoking device does not in reality exceed 90°F.
This is the temperature at which most harder cheeses begin to melt.
To make this job a little easier, you can leave a temperature probe inside the smoker near your cheese so that you can easily monitor the true ambient temperature around your cheese.
We use this one from ThermoPro almost every time we smoke anything.
ThermoPro TP08S Wireless Digital Meat Thermometer for BBQ with Dual Probe
300ft remote range and hassle-free setup: Wireless meat thermometer monitors your food and grill temp up to 300 feet away

Dual probes for food and BBQ: Meat thermometer oven safe with highly accurate stainless steel food probe and oven/ grill/ smoker temperature probe.

300ft remote range and hassle-free setup: Wireless meat thermometer monitors your food and grill temp up to 300 feet away giving you the freedom to tend to more important matters while cooking unlike with bluetooth meat thermometers which limited range of only 100ft; BBQ thermometer is pre-synchronized, simply insert batteries and the smoker thermometer is ready for use

Dual probes for food and BBQ: Meat thermometer oven safe with highly accurate stainless steel food probe and oven/ grill/ smoker temperature probe, to allow you to monitor both food and ambient temperature simultaneously, making the turkey thermometer especially suitable for long smokes or grilling sessi
To help with keeping the temperature below 90°F, an easy tip is to cold smoke your cheese when it is cool outside. 
Try smoking your cheese:
In the Winter
In the morning or evening when it is cooler outside
In the shade
With an ice bath placed underneath it.
You can place an aluminum foil pan of ice underneath the mesh wire rack the cheese is sitting on to help keep the ambient temperature down around the cheese.
Additionally you can place 2-3 pans if ice on the other shelves of the smoker below the cheese, and even fill your Masterbuilt water pan with ice water.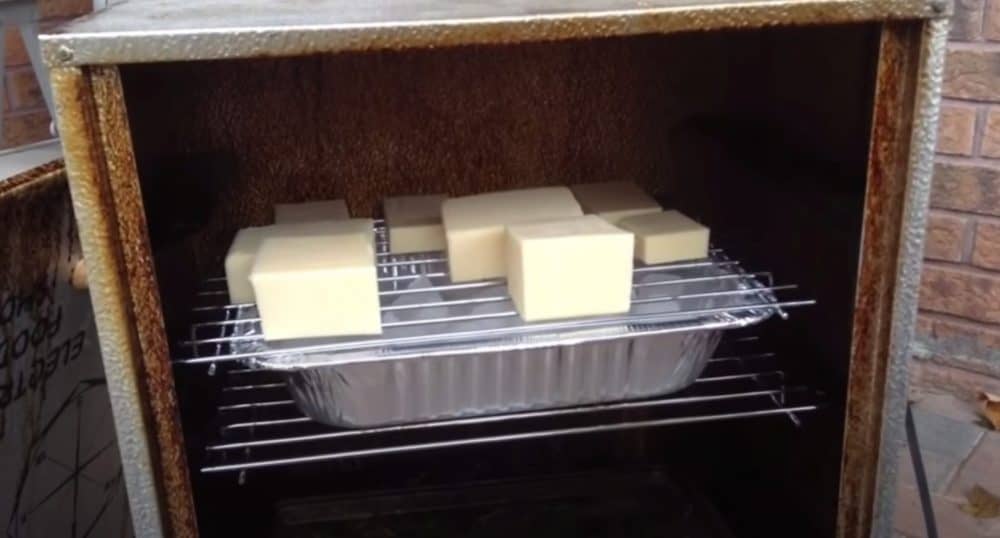 Let the Smoked Cheese Mellow
Refrigerate in Parchment Paper for 24-48 Hours
Smoking cheese is different from smoking meat as you will NOT be eating the cheese right after you smoke it.
If you take a bite out of some freshly smoked cheese, all the smoke flavors will still be concentrated right on the surface of the cheese and taste acrid and bitter.
The center will have no smoke flavor.
After you remove the cheese from the smoker, wrap it in a cloth or some parchment paper and to let it "breathe" and refrigerate it for 24-48 hours.
Vacuum Seal for 2 Weeks Before Serving
Next comes the hardest part about smoking cheese...the waiting.
After you have let your cheese breathe for 24-48 hours in the refrigerator you need to let it "mellow."
You will need to place it in an airtight container such as a zip lock bag, or better yet, a vacuum sealed bag and put it back in the refrigerator for at least 2 WEEKS.
We know, it's hard to wait and you want to try it now, but trust us, it will be sooooo much better in a couple weeks.
This will give the smoke flavors that accumulated on the outside of the cheese time to permeate into the rest of the cheese and also mellow out in flavor.
Vacuum Sealer Machine, Automatic Food Sealer for Food Savers w/Starter Kit
The automatic vacuum sealer can keep the freshness of cheese, fruits, nuts, meat, sweets, and vegetables, preventing foods from getting freezer burned, molded, and spoiled, reduces spoilage and food waste.
What Other Food Can I Smoke in my Masterbuilt Electric Smoker?
Looking for some more smoky inspiration for your Masterbuilt Electric Smoker?
So glad you asked.
Check out some of our other great recipes of smoked food that can easily be modified to work in a Masterbuilt electric smoker!
Beef
Poultry
Pork
Seafood
Lamb
Other Odds and Ends
Other Masterbuilt Electric Smoker Resources
How-to's
How to Season a Masterbuilt Electric Smoker: Step-by-Step
How to Use the Top and Back Vents on an Electric Smoker
How to Clean an Electric Smoker
How to Use Wood Chips in an Electric Smoker: Step by Step
FAQ's
Can You Use an Electric Smoker Indoors?
Can You Use an Electric Smoker in the Rain?
Can You Use Pellets In An Electric Smoker?
📖 Recipe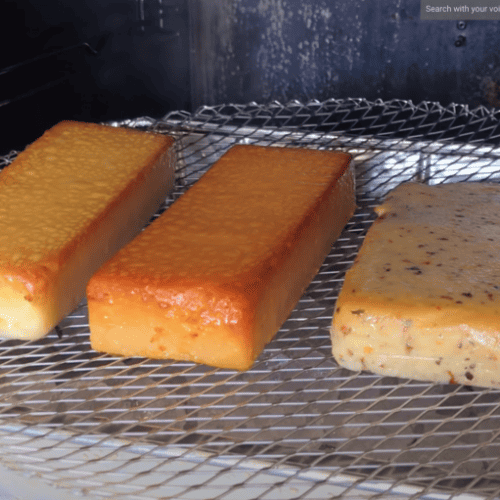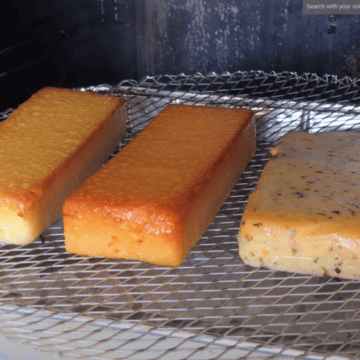 Smoked Cheese in a Masterbuilt Electric Smoker
Learn how to smoke great cheese in a Masterbuilt electric smoker.
Equipment
Masterbuilt Electric Smoker

Mesh Wire Rack

Several aluminum foil pans

BBQ Temperature Probe Thermometer

Parchment paper

Ziploc bags or a vacuum sealer.
Ingredients  
2

lbs

Cheese to Smoke

preferably Houli, gouda, or cheddar

1

Bag of Wood Chips

Lots of Ice
Instructions 
Prepare the Smoker and the Cheese
Choose a cold day or plan to smoke your cheese early in the morning in a shaded area to keep the smoker temperature down.

Fill your wood chip loader with your chosen smoking wood chips.

Turn on the smoker, open the vents, and set it to smoke at its lowest possible temperature which on many Masterbuilt Electric Smokers is 100°F.

Remove any wax paper or rind from the cheese to allow the smoke to penetrate it.

Once the smoker is producing smoke, fill the water tray with ice or ice water. Also place aluminum pans filled with ice on several of the shelves including the top shelf where you will smoke your cheese.
Smoke the Cheese
Place the mesh wire rack on top of the top pan of ice, wipe it with a little bit of cooking oil, and then place the cheese on top of the rack.

Place your temperature probe right next to the cheese.

Smoke your cheese for 1-3 hours, watching the temperature closely to make sure it does not rise above 90°F.

If the temperature rises too much, open the door to let some heat out, dump the water out of the aluminum pans and refill with more ice.
Let the Cheese Mellow
Once the cheese as smoked, remove it from the smoker and wrap it loosely in a cloth or parchment paper, allowing it to breathe, and place it in the refrigerator for 24-48 hours

Then vacuum seal the cheese or place it tightly in some large ziplock bags with all the air squeezed out and put it back in the refrigerator for 2 weeks.

Do not serve for 2 weeks as the smoky flavor needs time to mellow and permeate throughout the entirety of the cheese.

After 2 weeks, you can serve as is or use in any other dish you wish!
Notes
Video courtesy of J.P. BBQ
Nutrition