In this article we dive DEEP into comparing some of the best woods for smoking pulled pork, and what to consider when choosing the best smoking wood for this BBQ classic.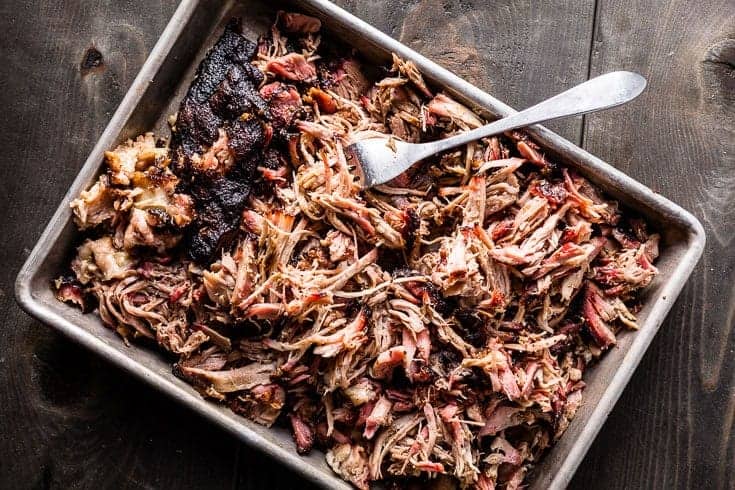 When it comes to smoking meat for your barbeque, one of the most essential ingredients is the wood you are smoking it with.
That's right. In BBQ, it's all about the wood.
One of the most fun things about BBQ is EXPERIMENTATION.  No two cooks are ever need to be exactly the same. And one of the most fun things to experiment with is your choice of smoking wood.
Choosing Wood to Smoke Pulled Pork
Pulled pork is one of those classic BBQ meats renowned for its texture and flavor.
Hard to screw up, easy to prepare, it is a BBQ staple across America for many solid reasons.
Starting with an 8-12 lb Pork Butt (which is actually from the shoulder of the pig...go figure) after a day of low and slow smoking, you will have a fall-apart-tender piece of meat that can be pulled apart to feed an army of hungry guests.
But what smoking woods are the best to use for pulled pork? 
After buying a whole pork butt and investing an entire day of smoking, you want to make sure you it comes out great, and choosing the right smoking wood can have a lot to do with it.
What properties does each wood have and what will they add to your pulled pork? 
Don't worry, aspiring pit masters, help is at hand.
We have compiled a comprehensive list of some of the best woods to cook pulled pork with, how they affect the meat in their own unique way and what flavors you can expect to get out of it at the end.
We've then followed this up with a handy buyer's guide and some frequently asked questions.
So let's take a look at our top 5 best kinds of wood to smoke pulled pork with!
How to Smoke Pulled Pork
Want to check out an overview of how to smoke pulled pork before choosing your smoking wood?  Then check out this great video from Meater!
Top 5 Best Woods For Smoking Pulled Pork
Zorestar Apple Wood Chunks for Smokers - 15 lb
Apple wood chunks are perfect for cooking/smoking poultry, pork, beef, salmon or other kinds of meat or fish. Smoker chunks give a mild smokey flavor to your food.

All natural wood chunks for smokers with no chemicals. These are the best cooking wood chunks as they are not treated with any pesticides therefore it is safe for your health.

The size of grill wood chunks from apple is about 2-3 inches each which is ideally suited for charcoal grills and other smokers.
Our first wood is one from a fruit that is commonly associated with pork - you may have had roast pork served with applesauce - as it is said to contrast the sharpness of the pork with a much sweeter and subtler flavor - apple wood.
Apple wood is a very mild and forgiving wood that will perfectly complement the meat without overpowering it. 
Apple also accompanies many other kinds of meat, such as pork butt, chicken, beef ribs and wild fowl. This is also a great wood if you're thinking about serving your meat with barbeque sauce.
Pros:
This wood is perfect for those who want that traditional sweet flavor to their pulled pork. The sweetness of the wood will give your pork that faintly sour tinge once smoked.

This wood comes highly rated on Amazon - going to show that this is a very trusted way of preparing your pork.

This versatile wood can be used to smoke a host of other meats, so you can use one pack for cooking multiple types of meat.
Cons:
A packet of apple wood is slightly more expensive, although it will last you a while if you're mixing it in with another cheaper base wood, such as oak.

This wood might be slightly lacking for those who want a punchier smoke flavor for their pulled pork.
This next wood is a lesser-known as a pork pairing, although it does actually contain a similarly subtle flavor palette to apple wood - introducing pecan wood.
Pecan wood can be used to cook pork, ribs and bacon.
You might have heard of people adding maple syrup to their bacon to complement the saltiness of the meat with the sweetness of the syrup. Pecan operates on a very similar principle.
However, unlike apple wood, the pecan will give your pulled pork that extra nutty taste that is not overbearing like other woods such as hickory and oak.
This is also another great wood to have if you're thinking of serving your pulled pork with barbecue sauce.
A tip we would offer those smokers looking for a more complex and interesting palette - try mixing your pecan wood with something more fruity like apple or orange wood.
The nut and the fruit will really compliment each other as well as the pork itself. However, if you prefer a more grounded, earthy taste, try mixing it with hickory or oak.
Pros:
Pecan is a great wood to use if you want to give your pulled pork that nutty edge.

This wood is also very versatile and can be mixed with fruit or plain wood chips to create unique new flavor combinations.
Cons:
Much like apple wood, pecan might not give you the kick in the tastebuds you're looking for.
Western Premium BBQ Products Maple BBQ Smoking Chips, 180 cu in
Maple BBQ Smoking Chips for a charcoal, gas, or electric grill. See description for cooking instructions.

Use to make a variety of maple smoked meat. Delicious with Beef Sirloin or Filets, Salmon or Trout, Braised Brisket, or Pork Loin.

Try Western Premium BBQ Products Maple BBQ Smoking Chips with these American favorites: Hamburgers, Whole Chicken, BBQ Smoked Wings, or Baby Back or Spare Ri
This next wood is another sweet and fruity wood and one traditionally associated with saltier meats such as pork and bacon - maple wood.
Maple wood is much trickier to source at a local market or high street store, so you'll probably find yourself having to scour the online stores for chips like these (luckily, we've found a link for you).
Much like the pecan wood, this is a relatively inexpensive wood  and you can mix it with several fruity or earthy kinds of wood to achieve different levels of intensity if you don't want TOO much maple flavor.
Pros:
For those who want a nutty and sweet flavor complement to their pulled pork, maple is the perfect fuel source to use.

Much like the pecan wood, these chips are relatively inexpensive to purchase and can be mixed in with more common woods like oak and hickory.

Mix maple wood with apple or peach to achieve a rich, fruity finish to your pork that won't overwhelm the palette.
Cons:
Like the pecan and apple woods, the maple might have the strength of flavor that people with a higher taste threshold might be seeking.
Peach wood is favorite of many famous competitive pit masters including Myron Mixon, and for good reason. 
It has a fruity, full-bodied texture with a floral hint, although it isn't as acidic as woods like orange and apple.
This wood is perfect for those who might want a lighter and more delicate flavor to their pulled pork.
The peach wood would also be good for smoking meats like ham and bacon.
If you want to WOW your guests with an interesting flavor, you can't go far wrong with including peach wood in your barbecuing arsenal.
Because of the softness of the peach, you can also combine this with other types of wood to create a unique flavor blend - however, be careful of the balance, as stronger flavors might completely overwhelm the lighter peach.
Pros:
The peach wood has a citrus flavor like no other, the lightness of it will make your meat taste much brighter and less earthy.

Mix and match the peach wood with pecan or maple to achieve that unique combination of taste and texture.
Cons
If you aren't a fan of the fruiter smoke flavors, you will certainly want to steer clear of the peach.

This is an extremely light flavor, even barbecue sauce will overpower the final infusion.
Western Premium BBQ Products Post Oak BBQ Cooking Chunks, 570 cu in
Wood cooking chunks for smoking made from real post oak wood for charcoal, gas, or electric grills, as well as personal and larger smokers. See description for cooking instructions.

570 cubic inches of large sized post oak chunks per package.

Use to make a variety of post oak smoked meat with charcoal or with chunks alone. Delicious with Beef Sirloin or Filets, Salmon or Trout, Braised Brisket, or Pork Loin.
We'll finish on a wood that certainly has a more conventional reputation, sitting somewhere between apple and hickory in terms of potency and flavor - it's oak wood.
Oak wood can pretty much be cooked with a wide range of meats, not just pork. You can use this to cook sausages, beef, brisket and lamb. This makes it a very versatile wood if you're cooking more than one meat at a time in a large vertical or barrel style smoker.
Because it has an earthy flavor, you can mix this wood with other woods such as peach or maple to achieve complex flavor patterns that will have your guests smiling as they dive into their pulled pork sandwich.
Pros:
When cooked on its own, oak wood will give your pulled pork that earthy, slightly bitter flavor. However, you can choose to lighten the tone of it with some peach or apple wood.

This is perfect for those who want a nice, strong flavor to their pulled pork, resulting in that deep-smoke taste that will appeal to most smoked meat aficionados.

This diverse wood comes highly rated by users and is relatively inexpensive to purchase - grab a bag of these with another complementary wood and start smoking exotic new flavors for your meats!
Cons:
The oak wood might result in a pulled pork flavor that might be a little intense for people who prefer a lightness of touch when it comes to smoked meats.
Buyer's Guide to Wood for Pulled Pork
Traditionalists in the BBQ game create their fires in a smoker using hardwood logs that have been burned down to coal and then thrown into the smoker.
However, this lengthy process is not possible for all but the most serious of smoker enthusiasts, as budgets and materials are limited for your average barbecuer.
For the average backyard smoker, you are going to be choosing from using wood chunks with charcoal, wood chips in a smoker box or wood pellets in a pellet tube smoker on a gas grill.
For best results, use a dedicated smoker like a propane, electric, charcoal, vertical, or offset barrel style smoker.
If you are unfamiliar with how to set up a gas grill for smoking, you can check out our recent in depth article on the subject here.
If sing charcoal, to avoid charcoal briquets that have potentially toxic additives such as lighter fluid, which could easily ruin the flavor of your pulled pork.  Instead choose a natural lump charcoal brand.
Woods to Avoid with Pulled Pork
Try and avoid woods like mesquite and alder as they can overpower the original flavor of the pork.
Alder is usually used to infuse robust meats such as beef with a distinct flavor, and usually for shorter periods of time than an all day smoke session.
Because pork is cooked for longer, mesquite and alder will simply give off a lot more flavor than the pork can handle.
Temperature
You should ideally set the temperature of your smoker to around 225 deg F. when cooking a pork shoulder, although the fattiness of the pork will let you get away with higher temperatures.
Professional pitmasters will tell you that most of the smoke flavor absorption is done within the first few hours of cooking while the meat is still relatively cool.
So make sure your smoker is preheated and producing smoke BEFORE you put your meat on to absorb the maximum smoke flavor.
Frequently Asked Questions about Smoking Pulled Pork
At What Point Should You Pull The Pork?
Check the temperature of the inside of the pork regularly as you're cooking it.
When it reaches an internal temperature of 195-203 degrees Fahrenheit, then it is ready to be pulled.  Always use a good internal temperature probe like our favorite from ThermoPro.
Remove it from the smoker and let it rest for AT LEAST 20 minutes before pulling to allow the internal temperatures to even out.
While it can feel painstakingly slow waiting for the internal temperature rise up to this level, it is of utmost importance not to pull it off the cooker too early. 
Anything less than 190 deg internal temperature and the meat will be tougher and more difficult to pull. 
Hams for instance are removed around 175 deg F because they are sliced rather than pulled. 
Make sure you pull the meat in a large aluminum foil pan with heat resistant gloves to keep all the pieces and juices contained.  Use different gloves than the insulated BBQ gloves you use to touch the hot parts of your grill.
We like these from Rappicca for actually pulling meat:
Heat Resistant BBQ Gloves, 14" Long Sleeve, Extra Large Textured Grip to Handle Wet, Greasy or Oily Foods
VERSATILE & MULTIPURPOSE: These gloves protect whenever you need protection from fire, heat, smoke or steam, like tending campfires, frying turkeys, dying yarn or brewing beer. With the oil & grease proof textured hands, you can easily handle and pull pork, beef and more!

WATERPROOF & FIRE PROOF: Each glove is heat resistant up to 932 degrees and features added heat insulation for superior comfort. With 14 or 18 inches of extra protection, your forearms are covered as well. Great for outdoor and indoor use for barbecue or fryer.
To make life even easier, try these bear claws next time for pulling a large pork shoulder apart in a matter of a few minutes.
Once that is done, check if the meat needs extra salt or cider vinegar (for acidity to counteract the fattiness of the meat), add as in small amounts as necessary, re-taste, and then you should be ready to serve!
It is more polite and customary to keep the BBQ sauce on the side to let guests add as much or as little as they like, rather than mixing it into the entire batch.
What Other Woods Can You Use For Pulled Pork?
If you are in the mood for a left-field option, try some orange wood next time you make pulled pork, which is another citrusy wood, like peach, but one that is not too sickly and won't overpower the flavor of your meat.
You can match up orange wood with hickory or oak to give it that rich, earthy taste.
Pear wood also has a similar flavor to orange and apple wood, with comparatively mild intensity.
Cherry wood is always a great "go-to" wood for smoking pork, providing a very rich and recognizable flavor.
Try blending cherry with hickory to even out the richness of the flavor.
Can You Oversmoke Pulled Pork?
A common error that a lot of people new to smoking make is that they oversmoke their meat, which can lead to a horrible pure bitter and acrid taste that is impossible to get rid of.
As a general rule, you don't usually need to smoke the meat for longer than half the time it takes for you to cook it. 
Pork will generally be more forgiving to oversmoking than say cheese, seafood, or poultry, but it IS still possible to overdo it.
Smoking is all about adding hints of flavor to meat, but it won't carry the whole meal. 
Make sure to research the best rubs, injections, and sauces as well to completely round out the flavor profile of your pulled pork!
However, nothing is stopping you from experimenting with your smoking techniques. Do some research into the flavors that certain woods bring and blend them with other woods to tone down the richness or heighten the earthiness.
Blending woods is a lot like blending spices in a rub - there is potentially an infinite number of combinations!
What Other Food Can I Smoke?
Looking for some more smoky inspiration?
Check out some of our other great recipes of smoked and grilled food to try out at your next outdoor BBQ!
Trash Can Turkey - OK, technically not made on a grill but one of the most fun ways there is to cook a Turkey...at over 700 degrees in only 2 hours!  You've got to check it out!