Learn how to make smoked mackerel on ANY grill or smoker, whether its a Traeger or Pit Boss pellet grill, a Masterbuilt electric smoker, or just a simple Weber kettle!
Mackerel is such an easy fish to learn how to smoke and is even better when brined overnight and then smoked with our balsamic-maple glaze.
Let's get started!
Preparing your Mackerel for Smoking
Fillet the Mackerel
If you are preparing a whole mackerel or king mackerel to smoke, we recommend filleting it first rather than smoking it whole.
What you may lose in "authentic presentation" you more than make up for in flavor and ease of eating.
If you are starting with a whole mackerel, make sure to filet it using a good fish filet knife like this one we like from KastKing and don't forget to also remove all the bones.
Here is a great tutorial if you need one.
Brine the Mackerel Overnight
Now, the BEST way to prepare mackerel for smoking is to brine it for at least 4 hours, but preferably 8 hours overnight in a mixture that always includes, salt, sugar, and your prefered seasonings.
We like to include garlic, shallots and bay leaves and also use some pineapple juice although none of these are mandatory.
The sugar and salt not only flavors the mackerel really well throughout but really prepare it perfectly absorb the maximum amount of smokey flavor and keep the fish from drying out while it cooks low and slow.
You will need:
A covered baking dish or large sealable plastic bag(s)
2 Quarts cold water
1/2 Cup Brown Sugar
1/3 Cup Kosher Salt
4 Cloves Fresh Minced Garlic
1 Shallot peeled and minced (or 1/2 a small onion)
2 Bay Leaves
2 Tbsp Fresh Ground Pepper
Small 6 oz can of pineapple juice
Mix the brine mixture ingredients together well and pour over the mackerel fillets in a large sealable bag, a brining bucket, or a covered baking dish.
You may need to scale up the amount of brine depending on how much smoked mackerel you are preparing.
Brine the mackerel fillets for at least 4 hours in the refrigerator but preferably 6-8 hours overnight.
Rinse and Dry the Mackerel Before Smoking
Take the mackerel fillets out of the bag, bucket, or baking tray and rinse them off really well under cold running water, pat dry with paper towels, and place them on a wire rack to air dry.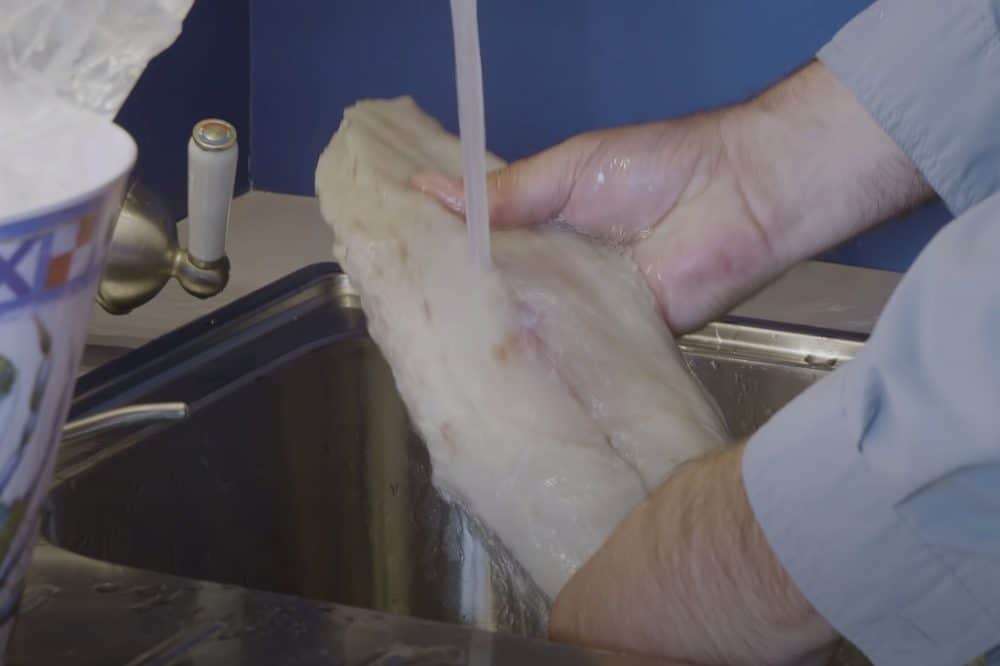 Keep them on the wire rack for about 1-2 hours in the refrigerator while you start to get your grill or smoker ready.
Over the course of an hour or so the brined mackerel will form what is known as a pellicle on the exterior.
This is just a fancy term for a sticky layer that forms as some of the salt and sugar that infused last night makes its way to the surface.
The pellicle is the ideal surface to absorb smokey flavor and form a delicious crust on the mackerel as it smokes, so give it time to form.
Seasoning your Smoked Mackerel
Now that we've brined the mackerel for smoking its time to start thinking about the flavors for the exterior, or crust.
You will NOT need a lot of salt because the mackerel has already absorbed a fair amount form the brine.
In our recipe below, we make a simple balsamic maple glaze that also includes dijon mustard for some savory notes.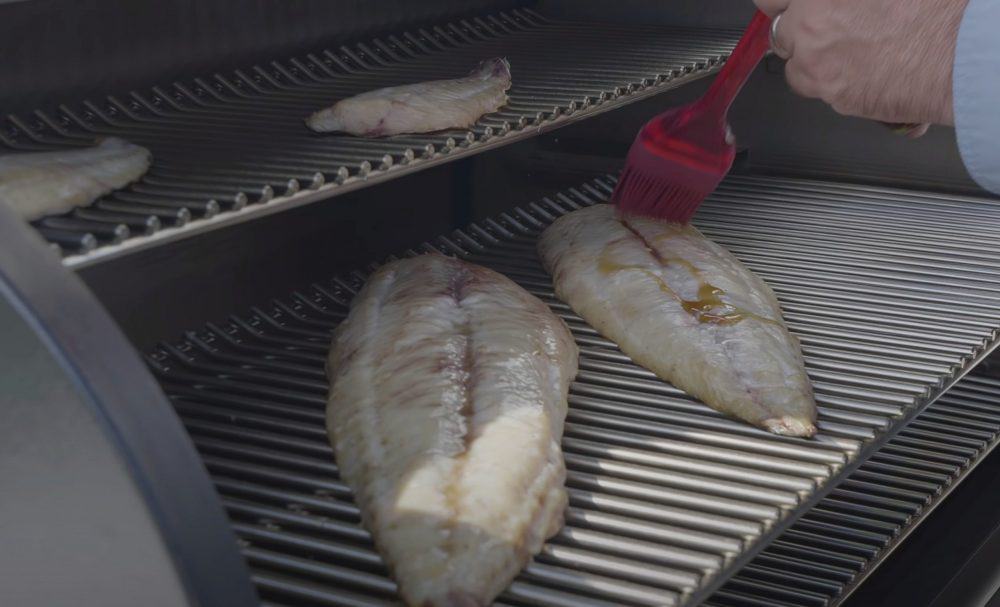 You can use a simple seafood or BBQ rub if you don't care for the maple glaze, the choice is yours, just go easy on the AMOUNT you use unless you skipped the brining step above.
Best Wood Choices for Smoked Mackerel
Because we are only smoking the mackerel fillets for such a short period of time, you can really get away with any kind of smoking wood of your choosing.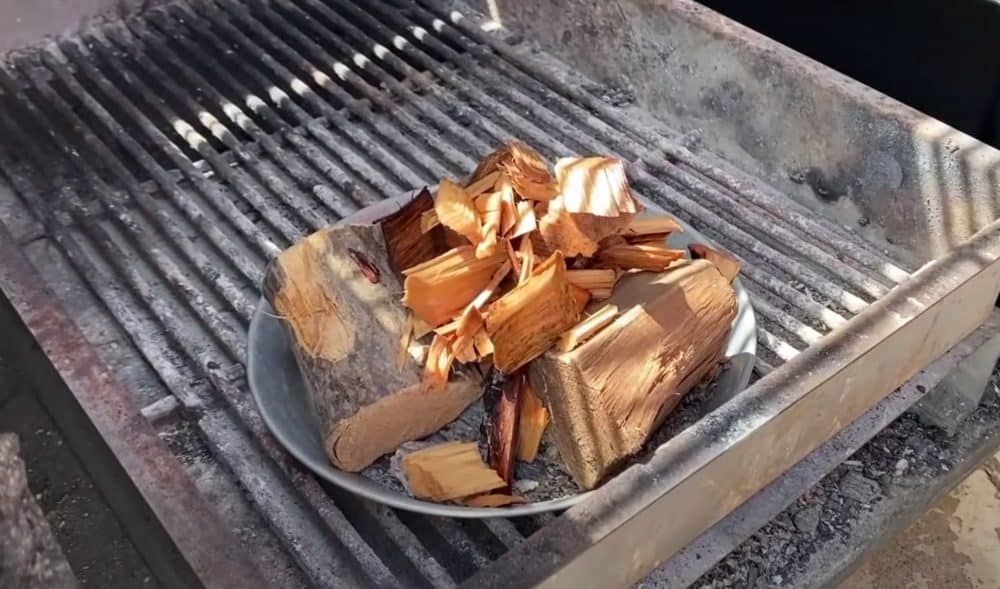 If you want to keep it simple and straightforward, choose a lighter smoking wood like oak, apple, or peach.
Middle of the road?  Try hickory or cherry.
And if you want a full in your face mesquite flavor, well, use mesquite.  But prepared for it to possibly overpower the mackerel a little bit.
If you want to straddle that line then go lighter with some conventional wood choices and just mix in a touch of the heavier flavors.
You can also experiment with cooking your mackerel on cedar planks for added wood-ey flavor.
Check out our complete guide on how to grill with cedar planks HERE.
Best Times and Temperatures for Smoked Mackerel
What is the Best Temperature to Smoke Mackerel?
We are going to set up the smoker for indirect cooking at 225°F.
Mackerel is an oilier fish and can hold up to being in the smoker longer than say tilapia or halibut which have almost no fat content and will quickly dry out if smoked longer than an hour.
So we are going to bring the cooking temperature down to 225°F and give the fatty mackerel fillets plenty of time to slow cook and absorb that smoke.
Another reason to keep the temperature low is that we also don't want to burn our maple glaze and sugar starts to burn when you cook higher than 300-325°F.
So keep it in the 200-300°F range at most.
Target Internal Temperature for Smoked Mackerel
You HAVE to use a good instant read meat thermometer to know where the internal temperature is of your mackerel or king mackerel filets, especially because they will cook relatively FAST!
We are particular fans of this one from ThermoPro because of its durability and affordable price.
We are targeting a final internal temperature of 145°F on the mackerel know that it is finished cooking. 
Your smoked mackerel may continue to rise in temperature another 3-5°F after you pull it from the smoker, especially if you are smoking larger king mackerel fillets.
So keep this in mind when deciding when it is done.
How Long Does it Take to Smoke Mackerel?
At 225°F, the fatty smoked mackerel may take up to 2-3 hours to cook and come up to 145°F internally.
It will really all depend on the thickness of your mackerel.
So make sure to use your instant thermometer regularly to monitor your internal temperature.
Setting up your Smoker for Mackerel
Optional: Use a Grill Basket
Like other fish, you may be more successful if you place the smoked mackerel fillets in a smoker basket rather than directly on the grill grates.
We are particular fans of the ORDORA Portable Grill Basket because it comes with its own handle, making it much easier to manage and move lots of delicate food around with one quick motion.
Another option is to use a grill mat, which are becoming increasingly popular in many BBQ circles.
Our personal favorite is the PhatMat Non Stick Grill Mat.
Just throw it down on your grill to keep your fish (or any other food) from falling through. It keeps your grates really clean, and when you are done, you just throw it right in the dishwasher!
PhatMat Non Stick Grill Mats Mesh – Set of 2
? GRILL LIKE A BOSS - Our heavy duty mesh design allows your barbeque masterpiece to fully absorb those awesome smoky flavors.

? NO MESS - Never grill on a nasty grill grate again! These bbq mats for grill keeps all your barbecue creations from falling through the grates! Nonstick, easy clean up, reusable, washable and dishwasher safe!
Alternatively, you can put the mackerel directly on the grill grates, skin side down if they still have skin on.
Vertical or Offset Charcoal Smoker
Read Char-Broil Reviews on Amazon
Fill your firebox or lower charcoal basin with a few handfuls of unlit charcoal and create a small hollowed out depression in the center where you can add your lit briquets.
If your smoker comes with a water pan, like the Weber Smokey Mountain, fill the water pan as well to help stabilize the temperature and add moisture to the cooking chamber.
Light a charcoal chimney about 1/4 way with charcoal and wait about 15 minutes for it to fully ignite.
You will not need too many briquets here because we are only smoking the mackerel for about 2-3 hours at the most.
Fill your water pan first, then add the lit briquets to the center depression you created.
Keep the dampers about 1/2 way to 3/4 open until the cooking chamber temperature reaches about 200°F.  Then slowly close them down until they are just barely open and you are maintaining a temperature of 225° F.
Place 1 chunk of your chosen smoking wood on top of your lit charcoal once the smoker is up to temperature and put your mackerel on once the smoker is actively producing smoke..
Want to see a list of our FAVORITE Vertical Smokers for 2021?  Check it out here!
Propane or Electric Smoker
See Masterbuilt Reviews on Amazon
Propane and electric options are some of the easiest smokers for beginners to start with.
For Propane: Open your gas valve and light the bottom burner. Adjust it to keep the temperature constant at 225° F.
Need a refresher? Check out our Ultimate Guide to using a propane smoker here.
For Electric: Plug your electric smoker in and turn the temperature to 225° F.
While it comes up to temperature, add smoking wood chips, not pellets, to the smoking wood tray.
Fill the water tray if there is one.
Place your mackerel filets on the rack and close the door.
Debating whether to buy a propane or electric smoker?  Check out our COMPLETE Comparison Guide HERE.
Pellet Grill
Check out this Z Grills Pellet Grill on Amazon
Pellet grills like the ones from Traeger and Pit Boss are great for smoking mackerel.
Fill the pellet hopper with your choice of smoking wood pellets.
Plug in the pellet grill, turn it on and let it run through its start up process.
Then turn the temperature to 225°F.
When the pellet grill has come up to temperature, place your mackerel directly on the grill grates or in a grill basket.
Never used a pellet grill like a Traeger or a Camp Chef before? 
Read our ultimate guide to pellet grills to learn why they are so easy to use and how to set one up for success every time.
Here is also a list of our Favorite Pellet Grills for 2021 priced under $500!
Gas or Charcoal Grill
Check out the Weber Spirit on Amazon
On a gas or charcoal grill you will likely need to use a smoker box filled with wood chips, or a pellet tube smoker filled with wood pellets.
Think you need a fancy smoker to smoke food at home? 
Think again. Great smoked food can be made right on your current gas or charcoal grill!
Check out our Ultimate Guide to Smoking on a Gas Grill HERE.
If you are unfamiliar with these gas grill smoking devices mentioned above, no worries, we have you covered!
Read everything you need to know about smoker boxes here, and see a selection of our favorite pellet tube smokers here.
In the case of mackerel, we would opt for using the smoker tube filled about half way with pellets since we will be cooking for much longer than the 20-30 minutes a smoker box full of wood chips will last.
Set up your gas or charcoal grill for indirect cooking with the burners or a small amount of lit briquets on one side and plan for your ackerel to be on the other side.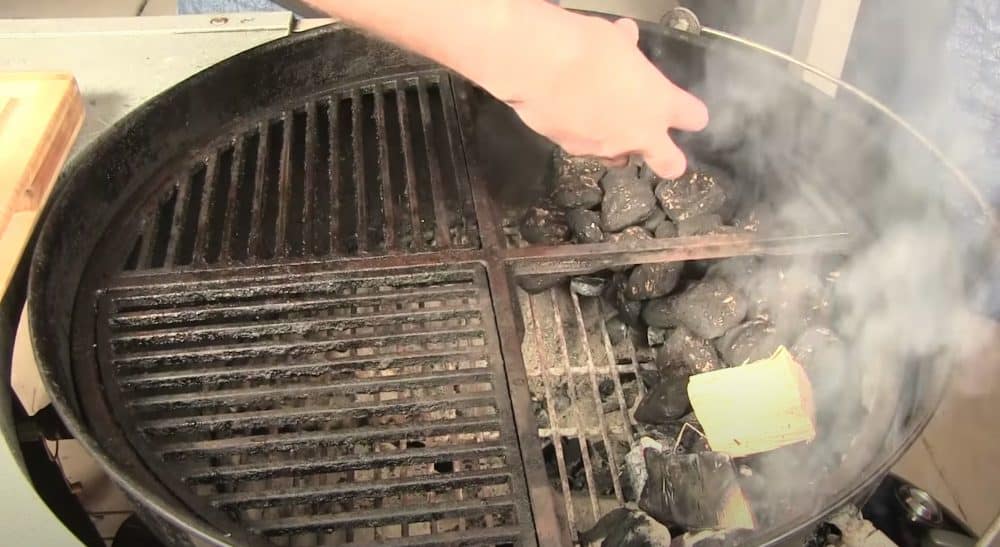 Once the temperature of your grill is around 225°F, place your smoker box or pellet tube smoker over the coals or lit burners and once smoke begins coming out, place your mackerel, skin side down, on the opposite side of the heat.
Make sure to oil both the mackerel skin AND the grates on the indirect side well so that the fish does not stick.
Monitor your Grill Temperature
Almost every grill and smoker will have some sort of temperature gauge on them.
Now, if you are using a pellet grill or electric smoker, you should be able to pretty accurately dial in your desired temperature of 225°F with the turn of a dial.
This is what makes them so convenient.
If, however, you are using a charcoal or propane grill/smoker, you can't rely on the cheap lid mounted temperature gauge that come installed on them.
We have found these can sometimes be up to 30˝F off from what the true actual temperature of your smoker at the grill grate level is.
This is unacceptable.
This is why you will always see competition cooks, and backyard chefs who know their stuff, using wireless digital probe thermometers to keep track of both their meat AND their cooking chamber.
And even if you have a fancy pellet grill like a Traeger or even an electric smoker, it can't hurt to double check how accurate your temperature settings are to the true temperatures you are getting.
We are big fans of the ThermoPro Wireless Digital Meat Thermometer series.
ThermoPro TP08S Wireless Digital Meat Thermometer
300ft remote range and hassle-free setup: Wireless meat thermometer monitors your food and grill temp up to 300 feet away

Dual probes for food and BBQ: Meat thermometer oven safe with highly accurate stainless steel food probe

Food and ambient temp alarm: Set your desired food temp and HI/LOW temp range for your grill or smoker to know when to add more fuel
Best Ways to Serve Smoked Mackerel
Your mackerel fillets should be served immediately after removing them from the smoker.
No need to rest or wait to eat.
For drinks, a rich white wine like a white burgundy or sauvignon-blanc pairs nicely with the meaty smoked mackerel.
If you are more of a beer drinker, try a bold American Pale Ale or Belgian Lager with enough carbonation and brightness to cut through the oiliness of the smoked mackerel.
What Other Foods Can I Smoke?
Looking for some more inspiration for things to smoke?
Check out some of our favorite recipes below that can easily be modified to be done on any grill or smoker.
More Seafood
Beef
Pork
Poultry
Trash Can Turkey – OK, technically not made on a grill or smoker but one of the most fun ways there is to cook a Turkey…at over 700 degrees in only 2 hours! 
Lamb
Other Odds and Ends
Smoked Mackerel with a Maple Balsamic Glaze
Mackerel or King Mackerel Fillets brined overnight then slow smoked and brushed with a balsamic-maple-dijon glaze to finish.
This smoked mackerel can be made on a gas grill, a pellet grill like a Traeger, Pit Boss or Camp Chef, or in any kind of electric smoker such as a Masterbuilt.
Equipment
Gas Grill, Pellet Grill, or Smoker

Wood pellets, chunks, or a pellet tube smoker with pellets or a smoker box with wood chips

Cutting Board and Knife

Paper Towels

Baking Dish or Large Sealable Plastic Food Storage Bags

Wire Rack

Instant Read Thermometer

Basting brush

Grill Mat (optional)
Ingredients  
4

8 oz

Mackerel or King Mackerel Fillets
Mackerel Wet Brine
2

Quarts

Cold Water

½

Cup

Brown Sugar

⅓

Cup

Kosher Salt

2

Tbsp

Pepper

4

cloves

Garic

minced

1

Shallot

minced

2

Bay Leaves

whole

8

oz

Can of Pineapple Juice
Maple Balsamic Glaze
¼

Cup

Maple Syrup

gently warmed in microwave

2

Tbsp

Dijon Mustard

1

Tbsp

Balsamic Vinegar

1

Tsp

Salt

½

Tsp

Black Pepper

¼

Tsp

Cayenne Pepper

(optional for heat)
Instructions 
Fillet the mackerel with a good fish fillet knife if necessary into 8 oz portions. Remove any bones.

Rinse the mackerel under cold running water.
Brine the Mackerel Overnight
Mix the brine mixture ingredients together well and place some in the bottom of the covered baking dish, brining bucket or large plastic food storage bag.

Place the mackerel fillets in the container and then pour more brine mixture until the fillets are mostly submerged.

Place the container of brining mackerel in the refrigerator for at least 4 hours, but preferably 6-8 hours overnight.
Rinse and Dry the Brined Mackerel
After the mackerel is finished brining, take the fillets out and rinse them off really well under cold running water.

Pat the mackerel fillets dry with paper towels, and place them on a wire rack to air dry.

Keep them on the wire rack and place them back in the refigerator for about 1-2 hours while you start to get your grill or smoker ready.
Set up your Grill or Smoker
Light or turn on your smoker, grill or pellet grill and set up the temperature to 225°F. If using a grill, only light a small amount of charcoal or light a single burner on one side for indirect cooking

Brush the grill grates with oil to keep the mackerel from sticking. Ideally use a grill mat.

Add your wood chunks directly to the firebox of a smoker, or use chips in a smoker box, or pellets in a tube smoker or pellet grill.

Once smoke is being produced and the grill or smoker is at 225°F, put your mackerel on the indirect side, skin side down.
Smoking the Mackerel
Once the mackerel is on the grill or smoker, prepare your maple balsamic glaze by mixing those ingredients well in a small microwave safe bowl.

Let the mackerel smoke at 225° for about 30 minutes before applying any glaze. Then brush a thin coating on every 20 minutes until the mackerel is finished smoking. You may need to microwave for 10-15 seconds occasionally to make the glaze thinner to brush on.

Continue smoking the mackerel, skin side down, until the internal temperature of your mackerel fillets reach 140-145°F internally.

Remove the smoked mackerel from the smoker and serve immediately.
Video
Notes
Video courtesy of On the Water Media
Nutrition