Learn how to smoke and cook a turkey breast using a pellet grill, and why it is one of the easiest and tastiest ways to smoke a turkey breast!
Whether you've got a Traeger, Pit Boss, Camp Chef, Yoder, or any other type of pellet grill, we've got you covered!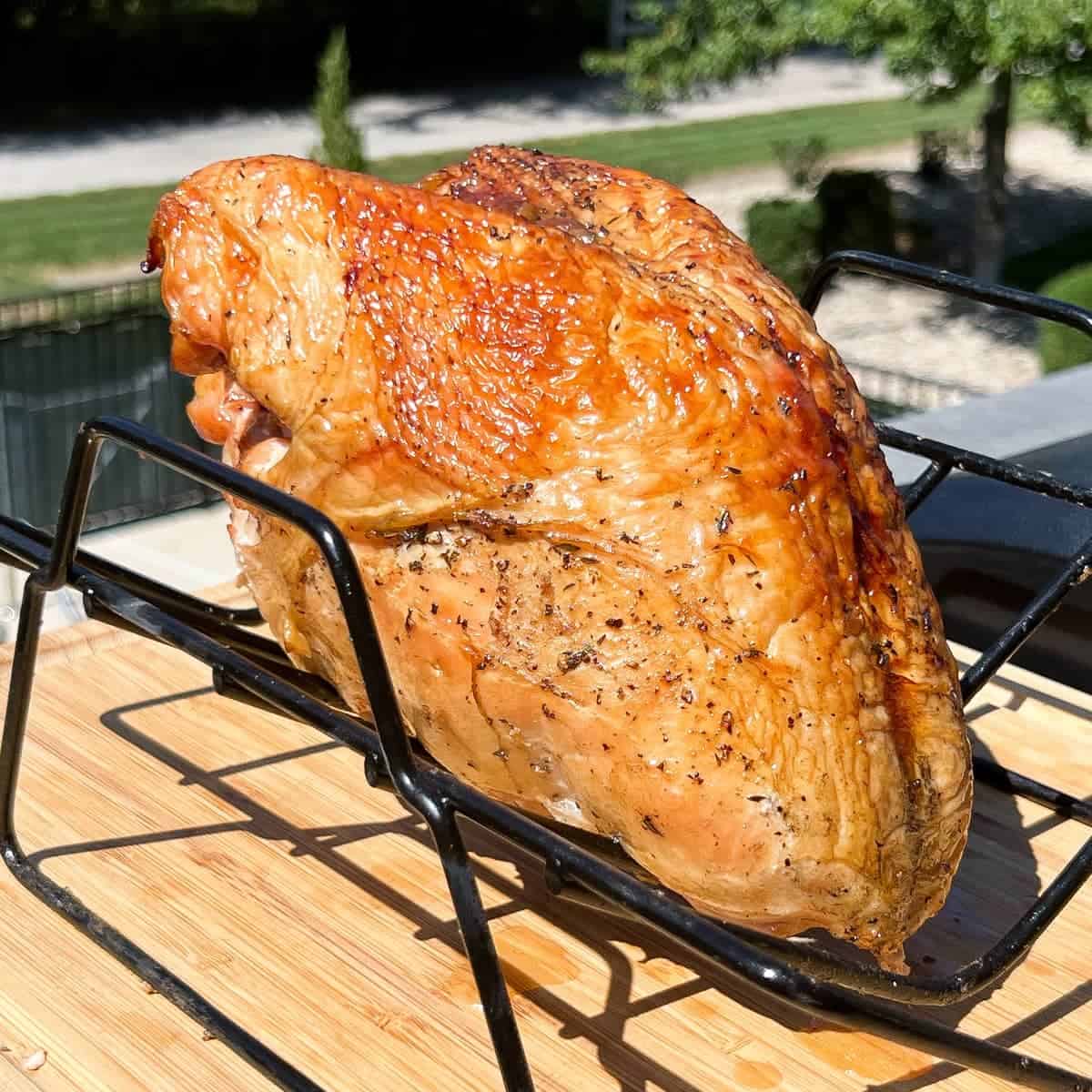 Jump to:
If you've ever smoked a whole turkey on a pellet grill, you know that it's an amazing way to prepare what can otherwise be a pretty lackluster meat.
But sometimes, you want to cook some turkey without making the whole bird, and that's why cooking a turkey breast is such a convenient option, especially on a pellet grill!
We love cooking on pellet grills for their temperature control and convenience.
While electric smokers do offer "set it and forget it" convenience, they can be a little limited on space and available temperature range.
Many typical Masterbuilt electric smokers only go up to about 275°F. 
Great for low and slow BBQ, but not as good for crisping up the skin on a turkey breast like you can a pellet grill.
So let's jump in and look at the best ways to cook a turkey breast on a pellet grill!
Choosing a Turkey Breast
Your first task is choosing the turkey breast that you are going to smoke on your pellet grill.
When it comes to choosing a turkey breast to smoke, bigger isn't always better.
Poultry is incredibly lean and does not have nearly the amount of fat that you would find in other large cuts of meat like a brisket or a pork butt.
The larger the turkey breast you choose, the MORE done the OUTSIDE of the breast will be by the time the INSIDE is finished cooking.
This is fine on large fatty cuts of meat because the extra fat keeps the meat tender and moist. 
On a turkey breast, the higher the meat temperature gets, the more it dries out.
Don't worry, there are some fun things we can do to keep the smoked turkey breast from drying out too much which we will discuss below.
But it starts by not selecting the biggest breast in the case to begin with.
Video
Rather Watch than Read? 
Check out our video for Garlic Butter Turkey Breast on a Pellet Grill over on our YouTube Channel!
Bone-in vs. Boneless Turkey Breast
If you DO want to cook a large turkey breast, we suggest finding one that is a "bone-in" double turkey breast where the breast bone is still running down the center.
Bone-in meat tends to retain more of its juices naturally and not dry out as much since the bone acts as kind of a heat sink inside the meat.
Just keep in mind any bone-in version of ANY meat will take longer to fully cook than its boneless counterparts.
If you are looking for a simple and easy boneless turkey breast recipe check out either our Pit Boss Smoked Boneless Turkey Breast Recipe or our Traeger Smoked Boneless Turkey Breast Recipe.
Ingredients
Bone-in double turkey breast
Butter
Garlic
Kosher salt
Pepper
Fresh Herbs, such as Sage and Thyme
Clean and Trim the Turkey Breast
Take some time to rinse and dry your turkey breast after removing it from the package.
Flip it over and remove any excess fat or skin hanging off near the corners and edges.
You can do this with a boning knife or some kitchen shears.
There should not be too much trimming to do, but it doesn't hurt to clean it up a bit before you start injecting, brining, or seasoning.
Usually we just remove the extra skin around the neck cavity.
Injecting with Butter
A great way to add seasoning and moisture to your turkey breast is to inject it with a flavorful solution.
You can use a mixture of turkey stock, melted butter, Cajun spices, your favorite BBQ rub, or any other herbs and spices you want to use to flavor your turkey breast.
We prefer a simple melted garlic butter to add a little flavor but mostly for moisture.
We are big fans of the Ofargo Stainless Steel Meat Injector.
You get a variety of tip and injector sizes so you can inject larger things like herbs and minced garlic right into the turkey breast!
Ofargo Stainless Steel Meat Injector Syringe Kit
✅KITCHEN BBQ TOOL =100% SAFE & HEALTHY: 304 stainless steel for meat injector barrel/syringe plunger/meat needles; safe silicone for BBQ brush and O-ring seals; 100% food safe for parts touching marinade/food ingredients, to keep your family safe and healthy.
Make sure to put the turkey breast in an aluminum pan to catch the runoff and inject every 2-3 inches across and around the surface of the meat at varying depths.
You can let the injection diffuse throughout the turkey breast in the refrigerator for about 1-2 hours or overnight before putting it on the pellet grill.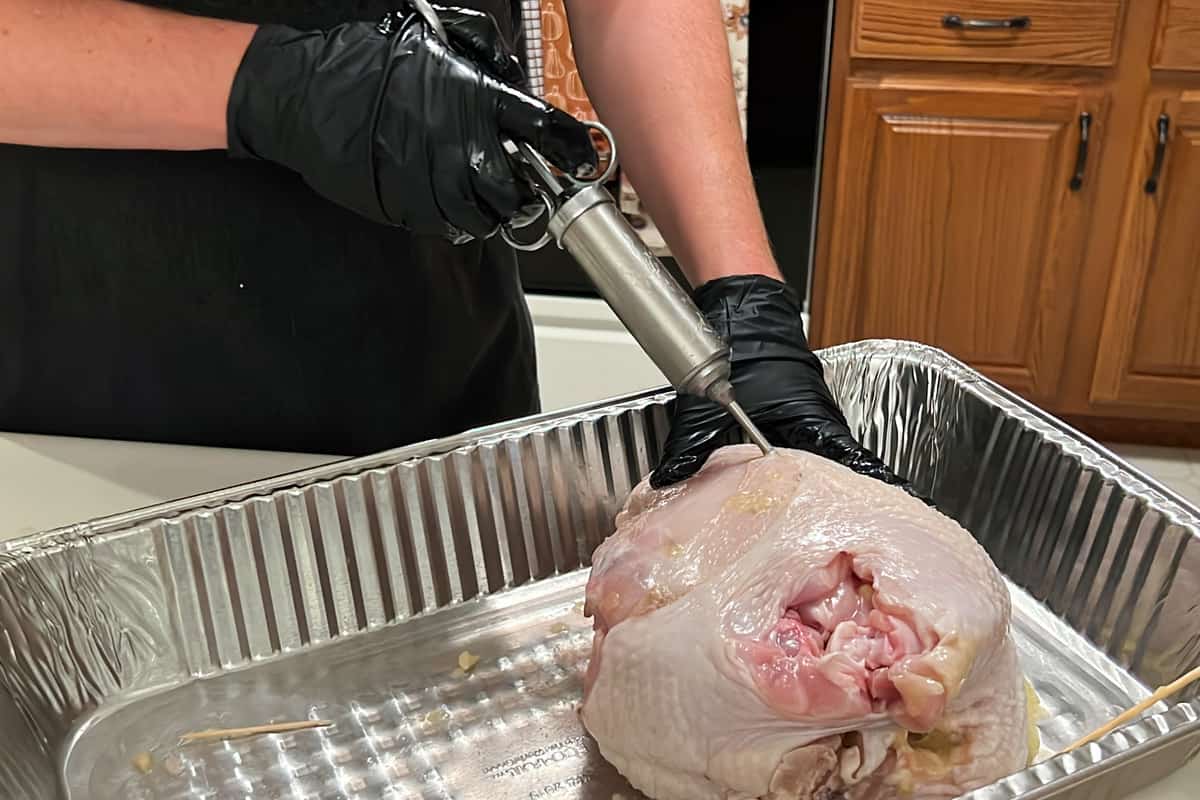 Brining
Another turkey breast prep method you'll read about a lot is brining.
You can do a wet brine or a dry brine.
At its most basic, wet brining is just soaking the turkey breast overnight in a solution that includes salt, water and possibly some aromatics.
The salt naturally penetrates overnight and helps to not only flavor the meat but help it retain moisture throughout the cooking process.
You can use one of the many brining recipes online (Alton Brown's is a classic) or save a bit of effort with a premade turkey brining solution.
This Brine Kit from San Francisco Salt Co. is an easy-all in-one solution.  It also pairs well with apple wood smoke.
Organic Turkey Brine Kit - 16 oz. Apple Sage
A JUICY, FLAVORFUL TURKEY STARTS WITH A GREAT BRINE - Brining adds moisture and flavor, yielding a tender and delicious turkey

ORGANIC & KOSHER CERTIFIED - Apple Sage Turkey Brining Kit is Certified Organic and Kosher and does not contain any MSG, Soy, Gluten, Dairy, or anti-caking agents.

BPA FREE BRINING BAG - 16oz Brining Kit is ideal for Turkeys 18-22lbs.
Brining for a good 24 hours before you smoke it will yield a more flavorful, juicier bird, so the time in the brine can be worth it.
If you want to skip the mess of wet brining, try DRY brining instead.
This is our favorite way to brine a turkey breast or a whole turkey.
And it works well in tandem with injecting our butter mixture too.
Simply coat the inside and outside of the rinsed and dried breast with kosher salt and pepper and store it on a drying rack set on top of a baking sheet in the refrigerator overnight.
Alternatively, use a V shaped rack set inside an aluminum foil pan.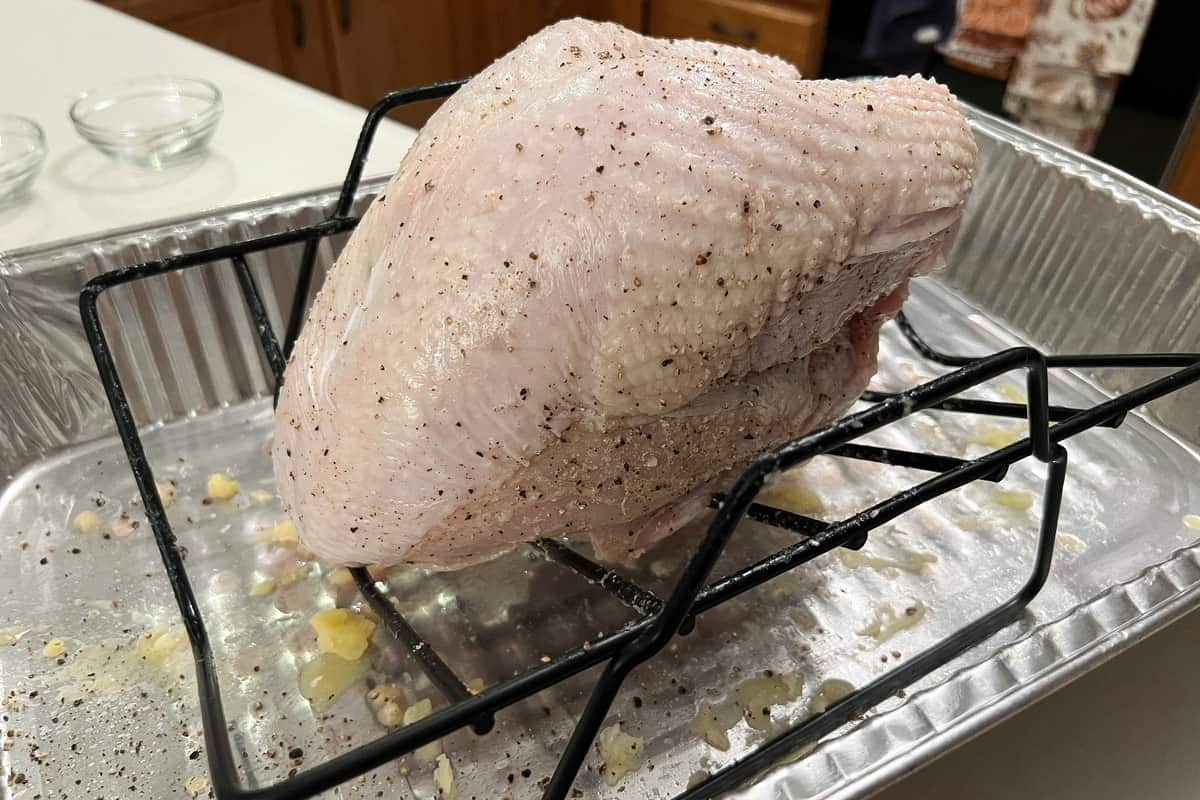 With dry brining, you get all the benefits of salt penetration and moisture retention without having to deal with a giant bucket of salty raw turkey water when you're done!
One other benefit is that the salt dries out the skin overnight, causing it to brown and crisp up much better while cooking on the pellet grill than it otherwise would have.
Seasoning the Exterior
If you already dry brined, go easy on adding any additional salt on the exterior, but you can add some fresh or dried herbs or a low salt BBQ rub if you wish.
We like to add some chopped fresh sage and thyme.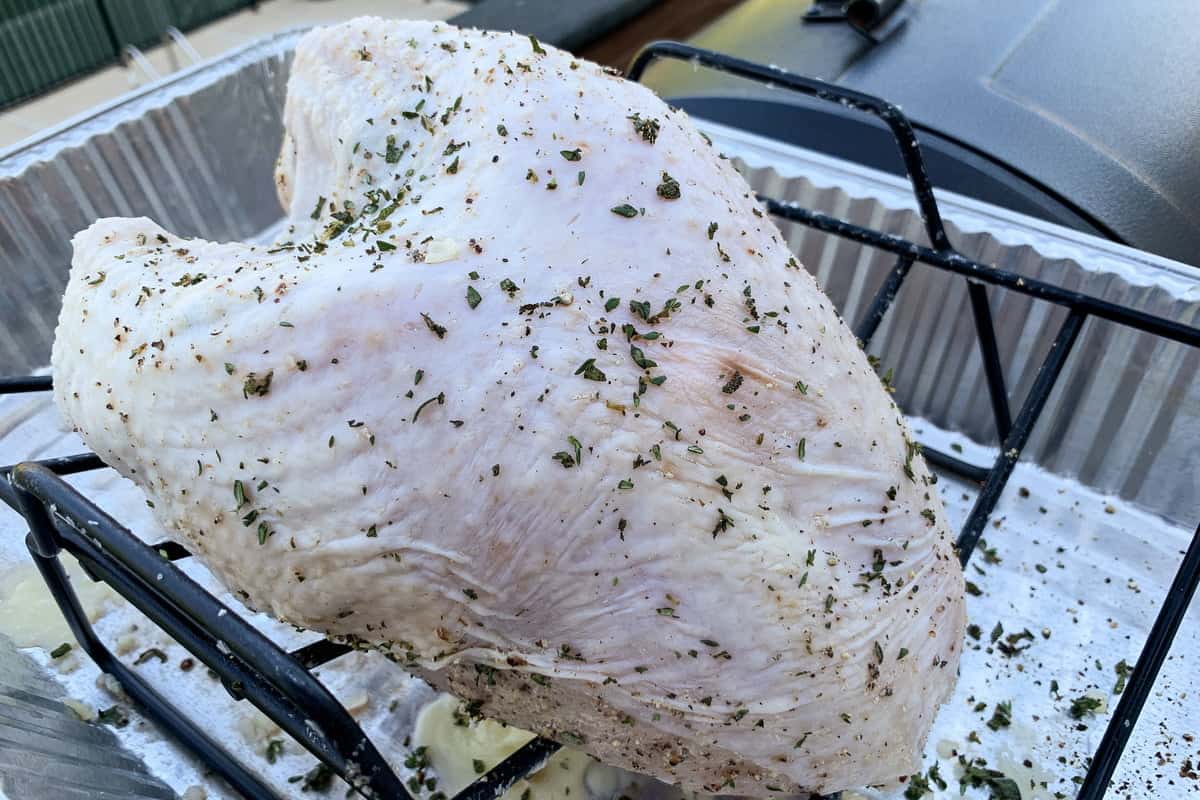 If you only injected the breast but did not brine, then you can use a saltier rub on the skin at this point, or even a Cajun or spicy seasoning if you want some bolder flavors for your turkey.
For the crispiest skin possible, dry brine the turkey overnight and don't add ANY oil or butter to the skin before putting it on the pellet grill.
The Best Wood Pellets and Chunks
You have a lot of freedom when it comes to choosing the right wood pellets to cook your turkey breast on a pellet grill.
Mesquite and hickory will give very distinctive smoke flavors.
Alternatively, you can also go for a milder smoke flavor by choosing oak or fruitwood pellets.
Pecan, apple, beech, alder, and cherry all give great results.
For fun, you can choose your woods seasonally, using beech and cherry in spring and summer and pecan and apple into the fall and winter.
Also there's no reason you can't mix a few different kinds together on a pellet grill.
Make sure you purchase pellets that are sized correctly to work in the hopper of your particular pellet grill.
We have started adding a specially sized smoker box to our pellet grill cooks to add more wood smoke flavor to our meat.
Check out our full video to show you exactly how to set it get it started.
We like to use apple wood chunks for smoking turkey breast.
Setting Up the Pellet Grill
With a pellet grill, this is the easy part!
Just add your chosen pellets to the hopper, plug in and start the pellet grill.
Let the pellet grill go through its start up process and once it has come up to temperature and stopped producing the thick white "start- up" smoke, put the turkey breast on the grill.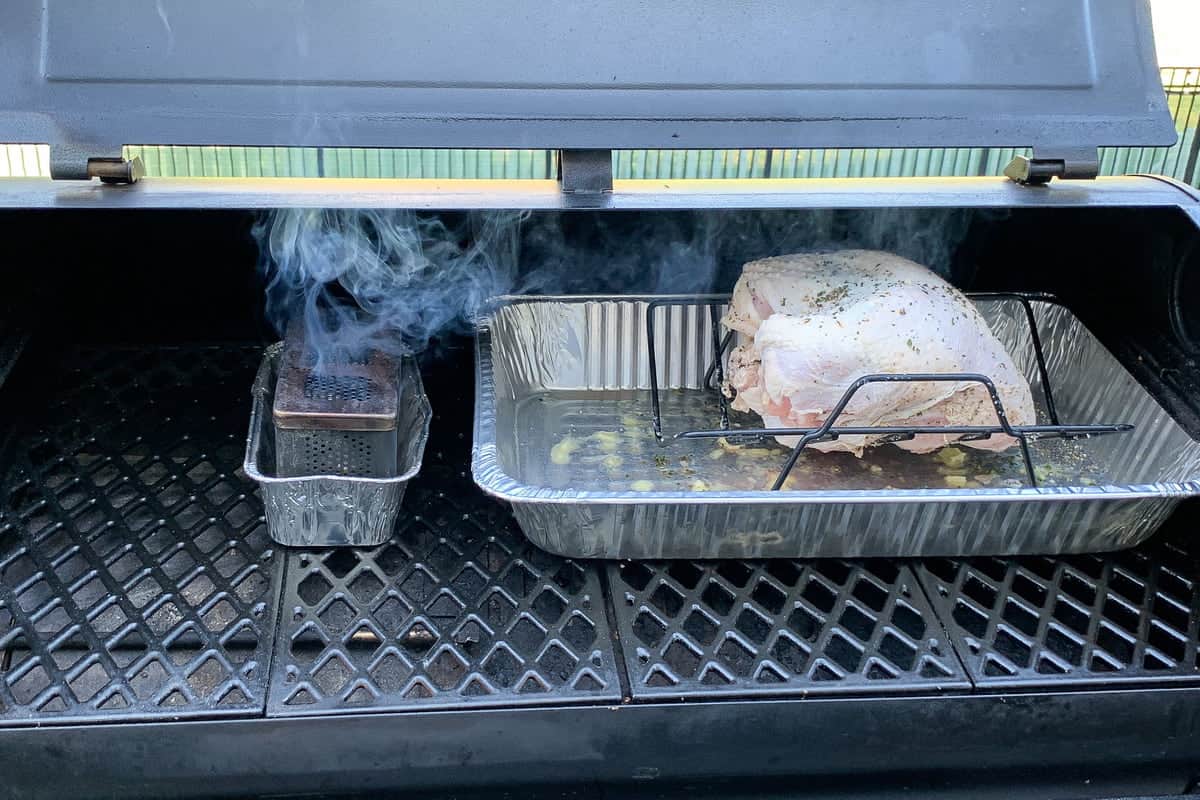 We like to add a smoker box inside an aluminum foil loaf pan to the pellet grill grates to the left of our turkey breast.
This gives us extra real wood smoke flavor.
Smoking Temperature
Set the temperature to 325°F, and let the pellet grill come up to temperature.
While you technically CAN cook your turkey "low and slow" at 225-250°F like traditional pork and brisket barbecue, you will never get crispy skin because the fat underneath it will not render at those low temperatures before the meat is finished cooking.
Also avoid using BBQ rubs with lots and lots of sugar if you are going to cook any higher than 300-325°F because the sugar can burn and carbonize.
If you want to be extra cautious with a sugary BBQ rub, drop the cooking temperature on the pellet grill to 300°F.
Cooking Time
Set your turkey breast in the cooking chamber and let the pellet grill do its thing!
You can place the turkey breast on a V-shaped roasting rack to make it easier to manage inside the grill.
We like this one from Norpro because its rectangular bottom rests easily on the grill grates without falling between them.
Alternatively, if you want to collect the drippings from your smoked turkey breast to make a pan sauce or gravy, elevate the turkey breast on V shaped rack or a grilling rack inside of an aluminum foil roasting tray.
We add water to the bottom of the pan until it reaches about ¼-inch high, just to prevent the drippings from burning.
The rack will allow for air and smoke circulation around the turkey and help the skin crisp up while still retaining the drippings.
Make sure to use good insulated grill gloves when rotating or flipping the turkey breast or moving the roasting rack.
For maximum dexterity, we prefer using black nitrile gloves on top of cloth liners like the BBQ pros do.
The cloth provides heat protection, while the nitrile gloves can be changed out multiple times throughout the cook to prevent cross contamination.
TitanFlex Disposable Nitrile Exam Gloves, 6-mil, Black,
LATEX-FREE: These disposable gloves contain no natural rubber latex, and are non-irritating and hypoallergenic, offering superior strength and snug comfort - perfect for users with allergic skin reactions.

FOOD-SAFE: HD20K disposable rubber gloves are rated food-grade and can be used as disposable food gloves, cooking gloves, food handling gloves, or food service gloves. The textured fingers add extra slip resistance in wet or greasy conditio
Rotate and flip the breast hourly for even cooking.
A turkey breast will take approximately 15 minutes per pound to fully cook in and OVEN according to Loaves and Dishes.
Anticipate more time on a pellet grill due to the increased convection (airflow and evaporative cooling).
If the turkey breast is bone-in add more time.
If you used a water pan under the turkey breast, add more time
If you injected the turkey breast, add more time.
If you're constantly openign the lid and looking at it, add more time.
You get the idea, it may take longer than you expect.
For this 6 lb bone-in turkey breast in the picture below that we injected with butter, it took just over 2 hours for our turkey breast to reach an internal temperature of 145°F, at which point we turned the heat up to 350°F to crisp up the skin.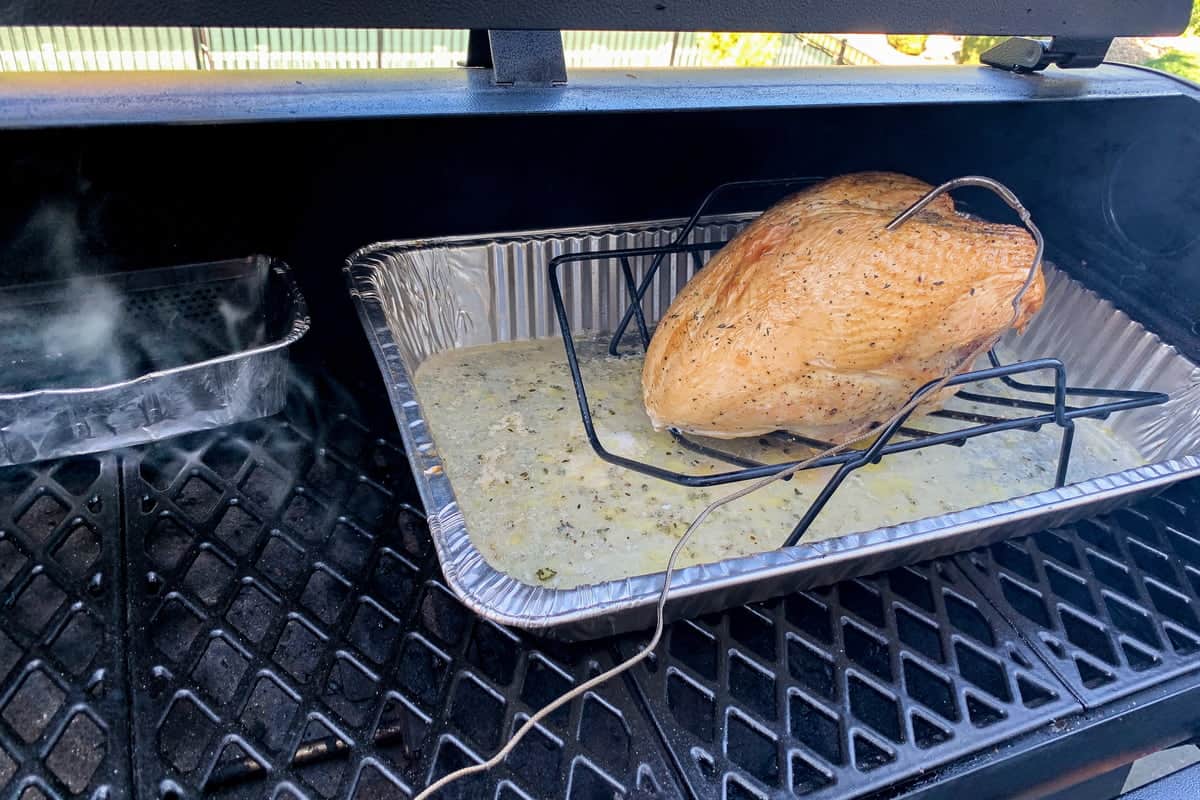 It took another 1 hour for the turkey breast to finish cooking.
If you want the crispiest skin possible, avoid brushing or basting the turkey breast with anything while it is cooking on the pellet grill.
Target Internal Temperature
You'll want to check the internal temperature of the turkey breast periodically for doneness and to know when to turn the heat up to crisp the skin.
Your turkey breast is ready to eat when you hit an internal temperature of 165°F on your instant read thermometer.
Some people like to take the turkey breast off at 160°F and let it rest to reach a final internal temperature of 165°F.
We like to cook the turkey breast at 325°F until the internal temperature reaches about 135-145°F and then turn the grill up to 350°F to crisp up the skin until the internal temperature reaches 160°F, then remove the breast to rest to a final temperature of 165°F.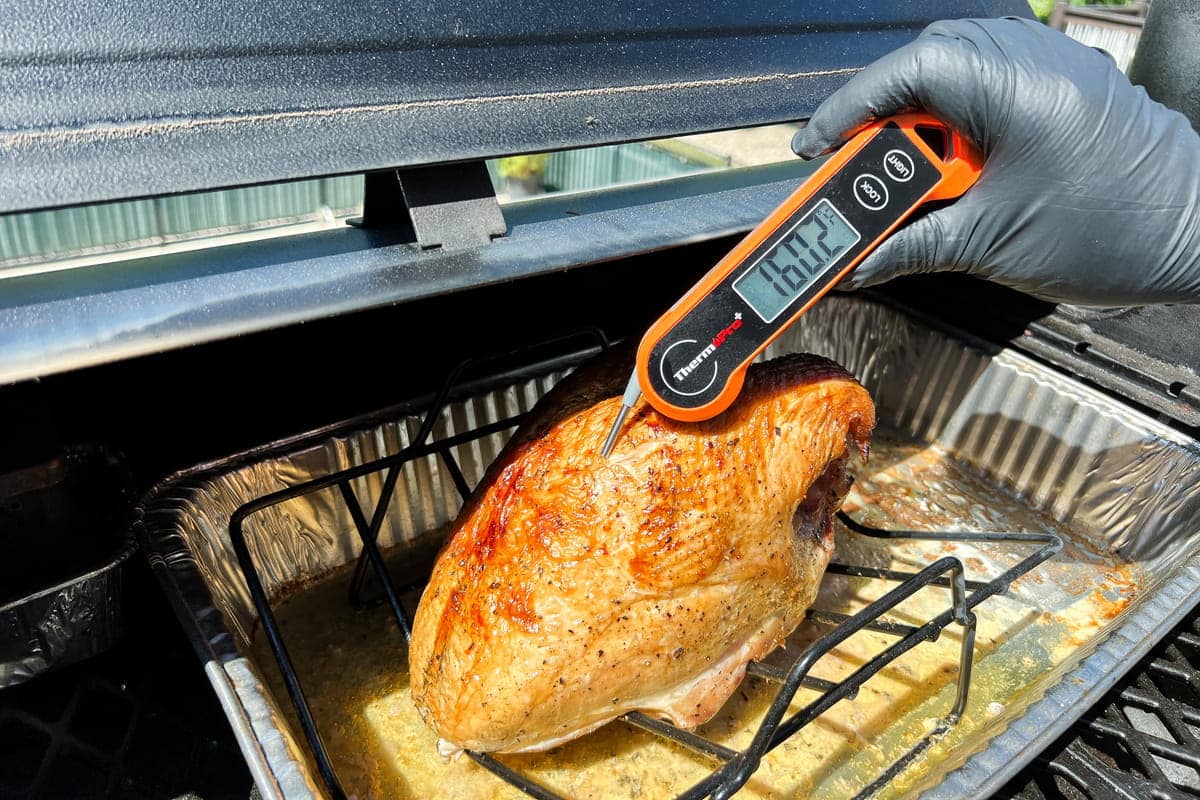 If you don't yet own an instant read thermometer, it's going to be hard to really know exactly when that turkey breast is done cooking on the pellet grill.
One of our go-to and very affordable favorites is this waterproof model made by Thermopro.
ThermoPro TP19H Digital Meat Thermometer
2.0 inches large auto-rotating backlit display: Candy thermometer has a 180° auto-rotating backlit display, making this kitchen thermometer perfect for left-hand users and allows you to use it in low light conditi
Another great option if you would rather use a leave in thermometer you can just monitor from your phone is the MEATER leave in thermometer.
It is extremely accurate and has an incredible 165 foot Bluetooth range and works right with your smartphone so you don't need to carry a separate controller around with you like many other remote thermometers require.
It's got a great free app that is constantly being updated and even has an algorithm to predict how much longer your type of meat will take to cook based on cooking temperature, target temperature, and current internal temperature.
It's like a GPS for your meat!
Carving
Let the turkey breast rest for about 15-30 minutes before carving and serving so that the juice stays in the meat where you want it.
The easiest way to carve the turkey breast is to wear the cloth liners underneath nitrile gloves to protect your hands from the hot meat and juice.
For a bone-in double breast, cut down along one side of the bone with a chef's knife.
You may need to break apart a little bone that is inside to pull the breast meat away from the bone.
Then flip it over to use the knife to cut the intact breast away from the bone.
Once you have finished removing one breast, repeat the process on the other side to remove the second breast.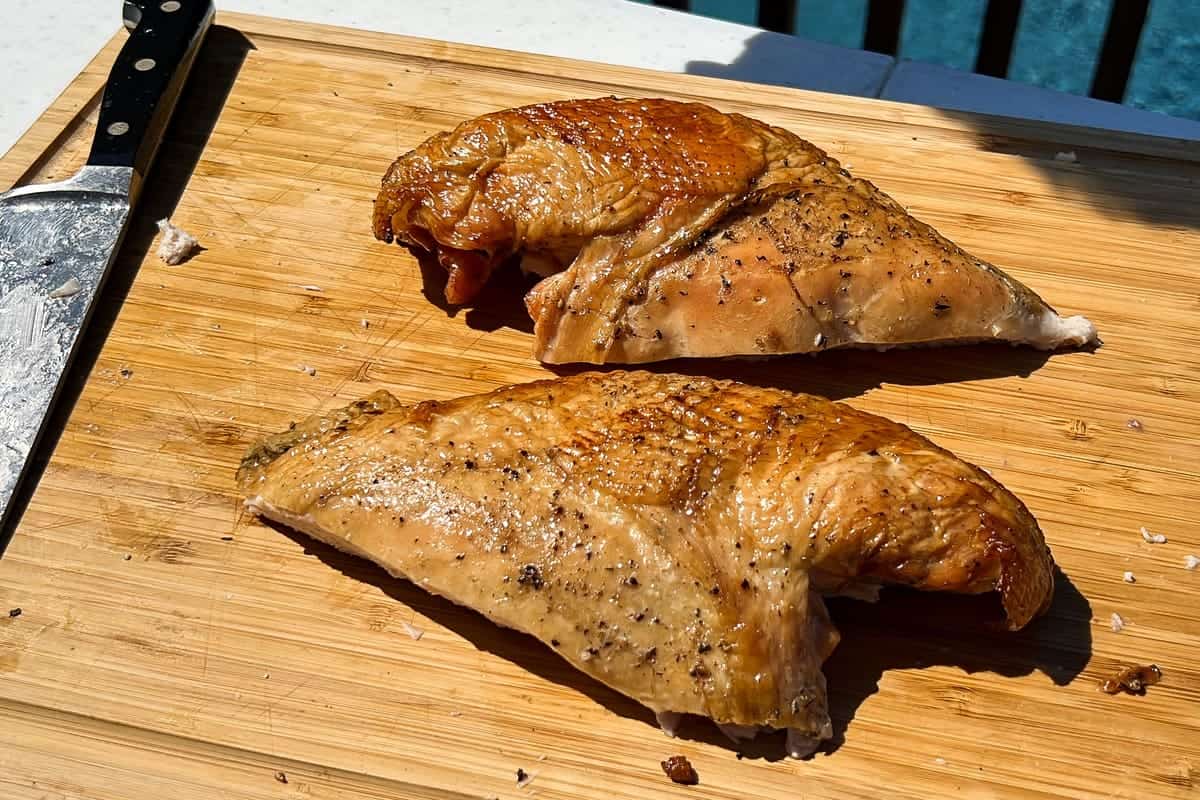 We like to slice the breast meat into thick slices using a serrated knife, allowing each person to receive a slice of turkey with some skin on it.
Sprinkle with chopped fresh herbs for a nice presentation.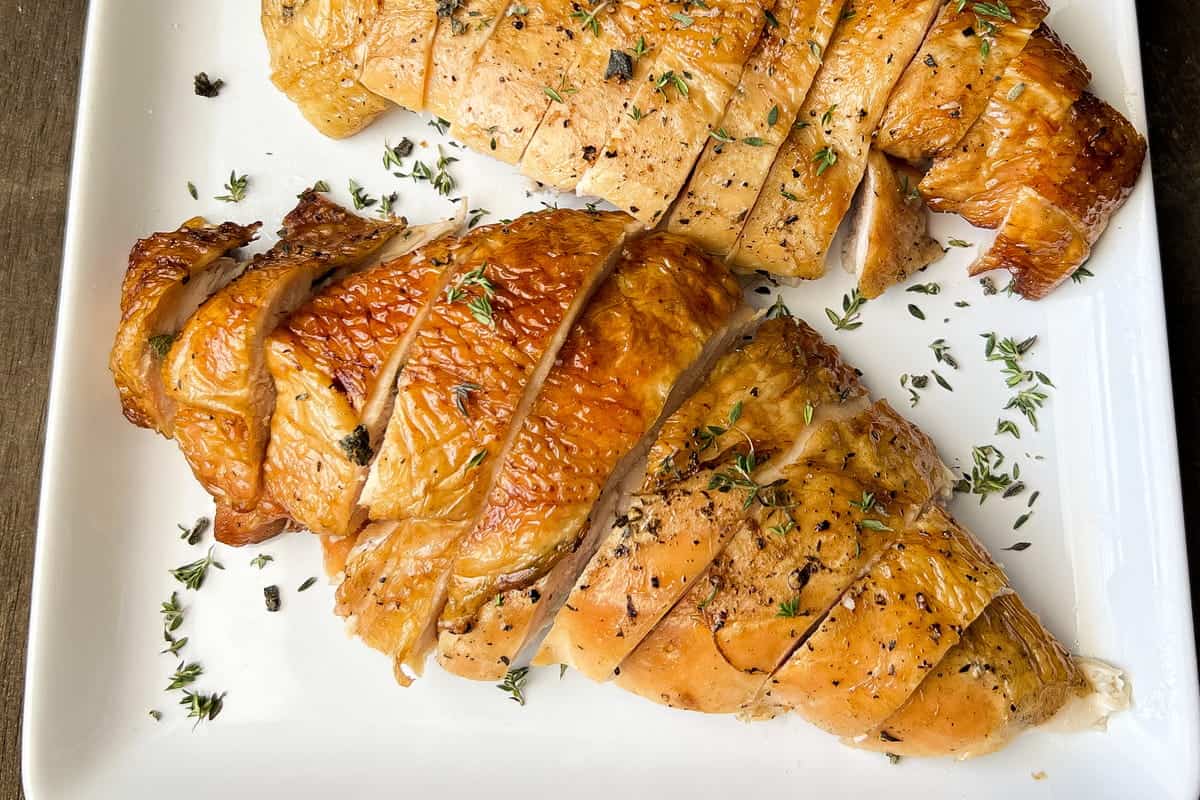 Serving Suggestions
Turkey breast can be delicious anytime of year, but it's especially popular around Thanksgiving.
If you're like us, you think all year long about the turkey you'll put on the table for Thanksgiving dinner.
Plan well ahead and do a test run or two in the summer and early fall with a couple turkey breasts on the pellet grill so that everything goes great on the big day.
Try some different rubs, injections, and wood pellets to dial in the perfect flavor for the big day.
In the fall, consider brining with seasonal flavorings like sage and thyme.  Add a little bit of apple cider to your turkey injection.
Then smoke with some mild fruitwood pellets like pecan or apple to round out the flavor.
Our favorite smoky sides to go with turkey are smoked mashed potatoes, smoked sweet potatoes, smoked mac and cheese, and smoked cornbread!
Looking for another FUN way to make Turkey?
Check out this RIDICULOUSLY FAST AND FUN method for cooking a full sized turkey in only 2 hours! 
📖 Recipe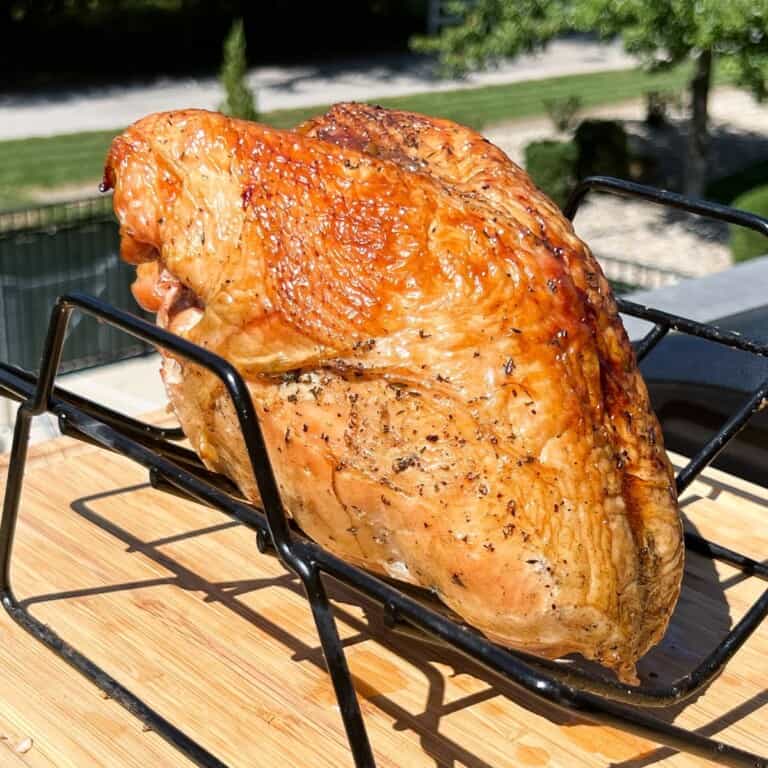 Pellet Grill Smoked Turkey Breast
A double turkey breast injected with a garlic butter marinade, seasoned with your favorite herbs or BBQ rub and smoked and cooked to perfection on a pellet grill.
Whether you've got a Traeger, Pit Boss, Camp Chef, Yoder, or any other type of pellet grill, we've got you covered!
Equipment
Pellet Grill

Aluminum foil pan

Flat or V Rack for turkey breast

Meat Injector

Wood Pellets - Hickory, Oak, or Fruitwood

Internal Meat Thermometer
Ingredients  
1

Whole Bone-in Double Turkey Breast
Garlic Butter Injection
1

stick

Salted Butter

½ Cup

1

clove

Garlic

minced
Dry Brine
¼

Cup

Kosher Salt

or your favorite BBQ rub

1

teaspoon

Freshly Ground Pepper
Exterior Seasoning
1

tablespoon

Fresh Sage

minced, plus extra for garnish

1

tablespoon

Fresh Thyme

minced, plus extra for garnish
Instructions 
Prepare the Garlic Butter Injection
Heat 1 Stick of the salted butter over medium heat in a medium saucepan or in a microwave. Stir continuously until the butter has melted.

Add the garlic and mix until completely incorporated.
Prepare Turkey Breast
Clean, rinse, and pat dry turkey breast well with paper towels

1 Whole Bone-in Double Turkey Breast

Trim any excess skin or fat off of turkey breast
Inject the Turkey Breast
Using a meat injector, once the melted butter mixture has cooled to room temperature, inject throughout the turkey breast at varying depths every 2-3 inches all over the surface.

Keep the turkey breast in the aluminum pan to catch the runoff. Wipe off the excess butter from the turkey skin and proceed to season the outside.
Add the Dry Brine
Apply kosher salt, pepper or BBQ rub to the exterior of the turkey breast.

1 teaspoon Freshly Ground Pepper,

¼ Cup Kosher Salt

Place the seasoned turkey breast on a grilling rack or a V shaped rack inside of an aluminum foil tray

Place in the refrigerator for 2-3 hours or overnight to allow the injection and the exterior rub to penetrate the meat.
Cook the Turkey Breast on the Pellet Grill
Fill hopper with pellets, start up pellet grill, and preheat to 325°F.

Add fresh herbs to the exterior of the turkey breast, if using.

1 tablespoon Fresh Sage,

1 tablespoon Fresh Thyme

Place the turkey breast on the pellet grill, either on the grilling rack in the pan it was in the refrigerator to catch any drippings, or on a V shaped roasting rack on the pellet grill. If using a smoker box, place it on the grates to the left of the turkey pan.

Place an internal temperature probe if you have one into the center of one of the breasts.

Close the lid, cook the turkey for about 2 hours, or 15 minutes per pound. Flip the breast every 45 minutes and also rotate occasionally for even cooking and moisture distribution.

When the internal temperature of the turkey breast reaches 145°F, turn the pellet grill up to 350°F to finish cooking and crisp up the skin.

When the internal temperature of the turkey breast has reached 160°F in the thickest part of the meat, remove from the pellet grill. Make sure to check multiple areas on the breast with an instant read thermometer to ensure proper temperature.

Let the turkey breast rest for 15-30 minutes before carving to allow the juices to distribute and for it to reach a final internal temperature of 165°F.

Carve the turkey breasts off of the bone, slice into thick slices, plate, sprinkle with fresh herbs if desired. Serve immediately.
Nutrition