Learn how to put out a Solo Stove Bonfire the RIGHT way and which accessories can speed up the process! 
We also look at how NOT to extinguish a Solo Stove Bonfire so that you don't end up damaging it.
Let's Go!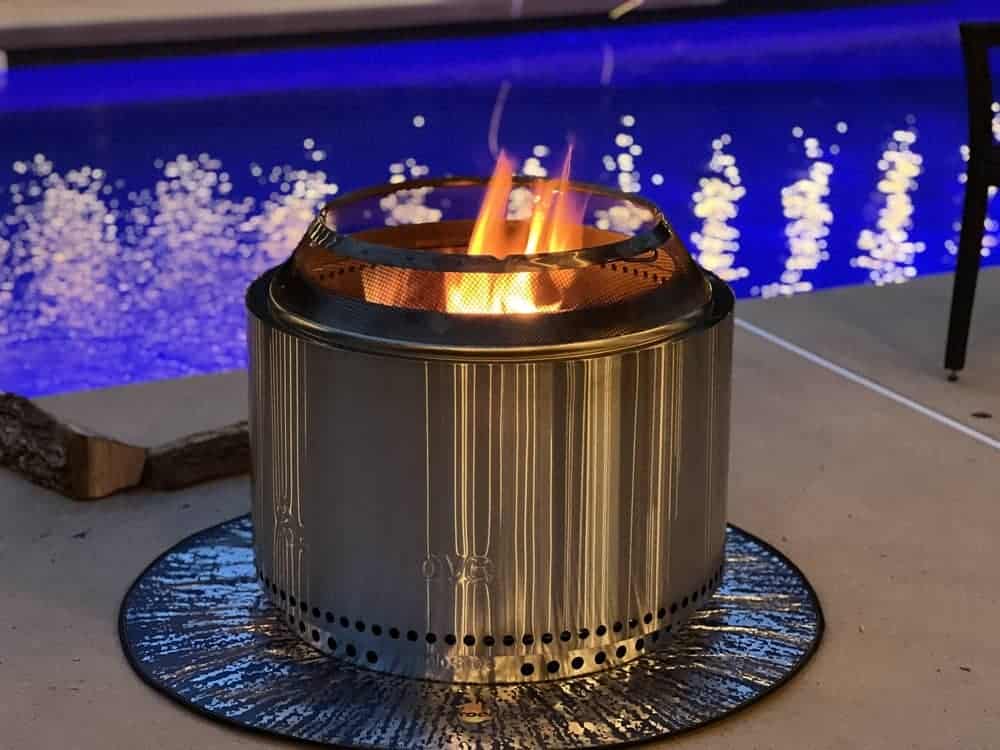 The Solo Stove Bonfire is a uniquely designed fire pit and, with its range of accessories, is an easy and efficient way to enjoy a bonfire or some outdoor cooking, but you may be wondering how do you put one out safely?
The Solo Stove is definitely a top of the line fire pit and outdoor cooking product, and if you don't extinguish your Solo Stove Bonfire correctly, you could be making a costly mistake.
Ok, let's get down to the bottom line first:
The absolute best way to put out a Solo Stove bonfire is to let the wood burn out naturally until it is cool to the touch and then cover and store it.
Stop adding logs to the Solo Stove Bonfire about 60 minutes before you plan on wrapping up your gathering.
Once all the active flames have died down, you can throw on the super handy Solo Stove Bonfire Lid to not only keep stray embers from flying out and but further reduce the oxygen supply to the fire.
Solo Stove Bonfire Lid Stainless Steel
304 STAINLESS STEEL- Just like Bonfire, Lid is made with durable 304 stainless steel

PROTECT- Use to cover your warm fire pit at the end of a burn.

SIMPLE BY DESIGN- Place on top when the fire has died down but your Solo Stove is still warm
Let's take a look more in-depth at the best way to extinguish a Solo Stove fire, as well as some other methods that are NOT recommended, and the reasons behind them.
Thinking about buying a new Solo Stove Fire Pit or Camp Stove? 
Make sure to check out our Ultimate Comparison Guide to Solo Stoves first!
What Is The Best Way To Put Out A Solo Stove Bonfire?
According to Solo Stove themselves and many other experts on this product and fire pits in general, the best way to extinguish a Solo Stove Bonfire to let it burn out naturally.
This is by far the safest method for both you and the Solo Stove as there is zero risk of any damage to either of you.
It may take a little forward planning, but allowing the fire to burn out and die will keep your Solo Stove in the best condition.
Rather WATCH than read? Check out our YouTube video below which will show you step-by-step How to safely put out a Solo Stove fire pit.
How Long Does It Take For A Solo Stove To Cool Down?
Depending on the amount of fuel you've loaded and the size of your model, the Solo Stove will take anywhere from 2-4 hours to cool down from roaring fire to a touch-safe temperature.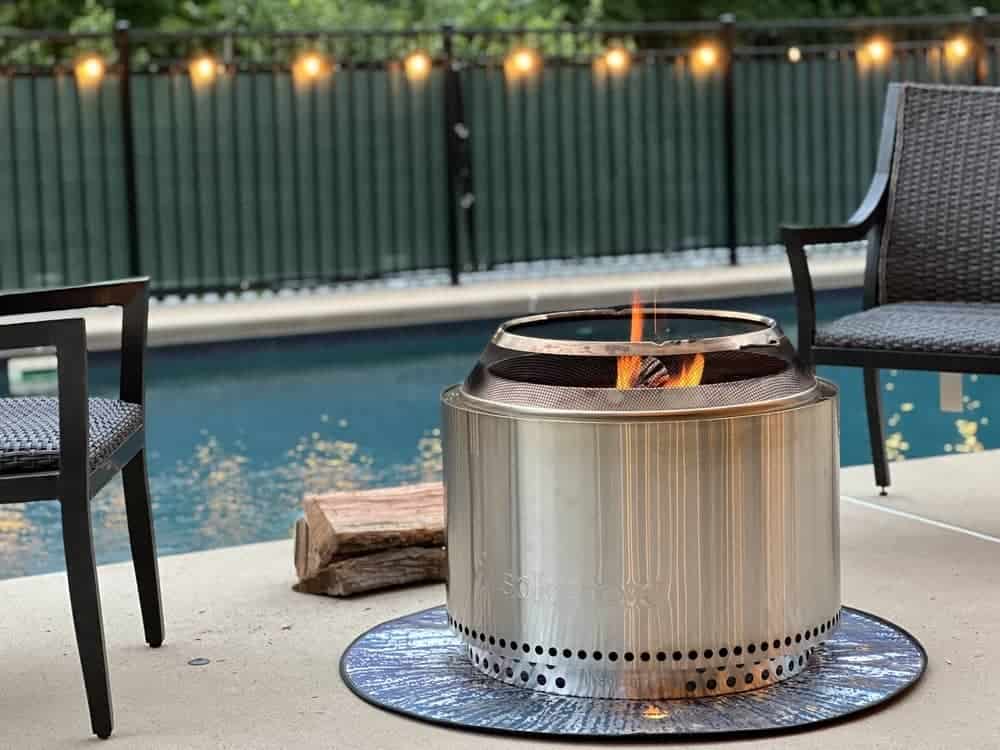 So you need to plan when you want to have it out and then work it backwards to when you would add the last fuel.
Once you have added your last log to the fire, it will start to burn down, and within an hour or so, the flames will have subsided, but this doesn't mean that it is cool and safe to handle yet- not by a long way.
Make sure to always use flame retardant and heat proof gloves when moving the Solo Stove or handling its accessories. These gloves go up to 1472°F!
What About the Solo Stove Shield?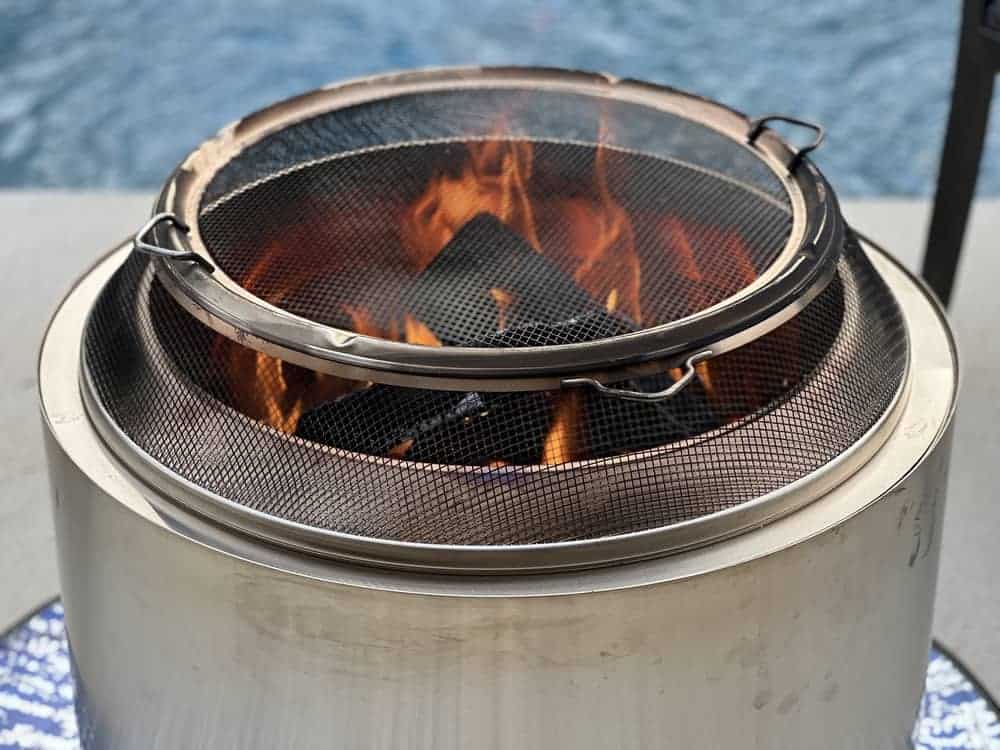 You should be able to distinguish between a few Solo Stove accessories:
They should be used in this order when putting out a Solo Stove Bonfire with the cover going on absolutely last.
NEVER put your Solo Stove Cover on while the firepit still has burning embers or is hot to the touch!
The Solo Stove Shield is used as screen and can be put on at ANY time once the Solo Stove fire has been started.
The shield will prevent sparks and embers from exiting the Stove while still allowing you to see and enjoy the fire.
Solo Stove Stainless Steel Bonfire Pit Spark Screen
HEAVY DUTY- Includes two stainless steel heady duty guild sticks enable easy removal of the top half of the shield

304 STAINLESS STEEL- Made from 304 Stainless Steel these essential fire pit accessories will ensure quality, maximum use and protection for your Solo Stove Bonfire Fire Pit
You will need to have a place to set your hot shield after removing it. Placing it directly on concrete or grass can cause it to damage the surface. We use a large oil drip pan to protect our concrete from the hot shield.
When To Add The Solo Stove Lid and Cover
The Solo Stove Lid is a great accessory to have for when you are wrapping up the party.
While Solo Stove doesn't promise the Lid it will "Snuff Out" your fire, by adding the lid you are decreasing the oxygen flow to your fire and speeding to process of cooling it down along.
You will also be more comfortable leaving the fire pit unattended while you go do something else  knowing its covered and no stray embers can fly out.
Fast forward another hour or two, and the temperature inside the Solo Stove will likely have dropped significantly, and you can probably handle it safely.
Once the Solo Stove has no more burning embers and is completely cool to the touch, you can leave the lid on or take it off and place a good weatherproof cover over the Stove.
We like this one from Tiga because of its heavy duty material and drawstring feature.  It also won't fade from UV exposure because it is already white.
Tiga Fire Pit Cover for Solo Stove Bonfire, Waterpoof Cover with Drawstring, Heavy Duty 600D Polyester Oxford
Made of high quality marine grade 600D fabric, super practical for indoors and outdoors. double stitching and better UV protection ensure durability over time, which can also prevent your bonfire from unwanted scratch and bumper.

【WEATHERPROOF】The drawstring around the bottom of cover allows cover to be tighten securely on the mower, the windproof buckle can also prevent the cover from blowing away. Waterproof nylon fabric can keep your mower from snow, rain and dust, etc.
Letting the Solo Stove Bonfire burn out naturally, followed by the Solo Stove Lid, is by far the best way to put out the Solo Stove.
Now, let's look at other options and whether you should use these to put out your Solo Stove Bonfire.
Can You Use Water To Put Out A Solo Stove Bonfire?
Using water to douse a bonfire will be effective, of course, but as extinguishing methods go for a Solo Stove, it is NOT recommended at all, and there are some very good reasons for this.
Pouring cold water on a hot contained fire like the Solo Stove will cause high-temperature steam to form almost immediately, and this can scald or seriously burn people around the fire.
The sudden and severe temperature change can cause the stainless steel to warp, which would damage your Solo Stove and would probably not be covered under warranty.
Water mixing with ash will cause ash soot, and this grimy, almost cement-like mixture, can clog up the Solo Stove air vents at the base of the firepit.
Ash soot can also contain moisture, and this can expose the Solo Stove to corrosion and rust, which you definitely don't want.
Bottom line – never use water to put out your Solo Stove Bonfire.
If you suddenly suffer an unexpected downpour and you can't move the Stove out of the rain, don't worry too much as the Stove is very durable and designed to handle occasional rain.
Can You Use Sand To Put Out A Solo Stove Bonfire?
Sand would be a better option than water, but the issue you have is that it can clog the air vents at the bottom of the fire pit and be more difficult to clean out than the ash alone from the fire.
So if you do this, get ready to do some cleaning of the Solo Stove once it's cooled off.
You would still need to wait until the Stove has cooled down completely to handle and cover it, so it's a lot more convenient to just use the Solo Stove Lid when you are ready to start putting out the fire.
Use A Coal Shovel To Remove Coals And Embers
OK, this is all well and good, but what if you are truly in a hurry and need to put out your Solo Stove Bonfire quickly?
If you are looking for a way to put out your Solo Stove Bonfire fast while still protecting it, try this method:
Stop adding logs and let the active flames subside to just burning coals and embers.
Then use a long handled coal shovel to remove the larger burning pieces and put those into a separate steel ash bucket to then cover tightly with a lid or extinguish with sand or water.
Any tiny remaining embers inside the Solo Stove will burn out much quicker, and this way, you are not risking any damage to the Stove or yourself!
How to Put out a Solo Stove Bonfire: The Verdict
When looking to put out a Solo Stove Bonfire, the best and safest way is to allow the Stove to burn out by itself and use the recommended accessories such as the Solo Stove Lid to aid the burning out process.
When working with fire, always be safe as the very high temperatures involved can easily lead to severe burns if you are careless or cavalier.
With a little planning, you won't have to stress about putting the fire out, and you relax and enjoy it knowing that Mother Nature and Solo Stove will take care of it for you.
More Solo Stove Resources from Mad Backyard
How to Put Out a Solo Stove Bonfire
Learn how to put out a Solo Stove Bonfire the RIGHT way and which accessories can speed up the process! 
Equipment
1 Solo Stove

1 Solo Stove Lid

1 Solo Stove Cover

Long Handled Fire Pit Tongs

Heat Resistant Gloves

Long Handled Coal Shovel

optional

Separate Ash Can with Lid

optional
Instructions 
Stop adding logs about one hour before you want the flames to die down.

After active flames have subsided, add the Solo Stove Lid to keep embers from flying out and help speed up putting out the fire.

After another 1-2 hours the Solo Stove should be cool to the touch. You can now put on the cover.

Speed up the process by transferring the remaining hot embers in step 2 to an ash can using a long handled coal shovel. Snuff out or extinguish the hoat coals with water or sand in the ash can, NOT the Solo Stove.