Learn how to make the best smoked chicken tenders on ANY grill or smoker.
Whether you are using a pellet grill like a Traeger, Camp Chef, or Pit Boss, an electric smoker like a Masterbuilt, or just a conventional propane grill like a Weber, we've got you covered!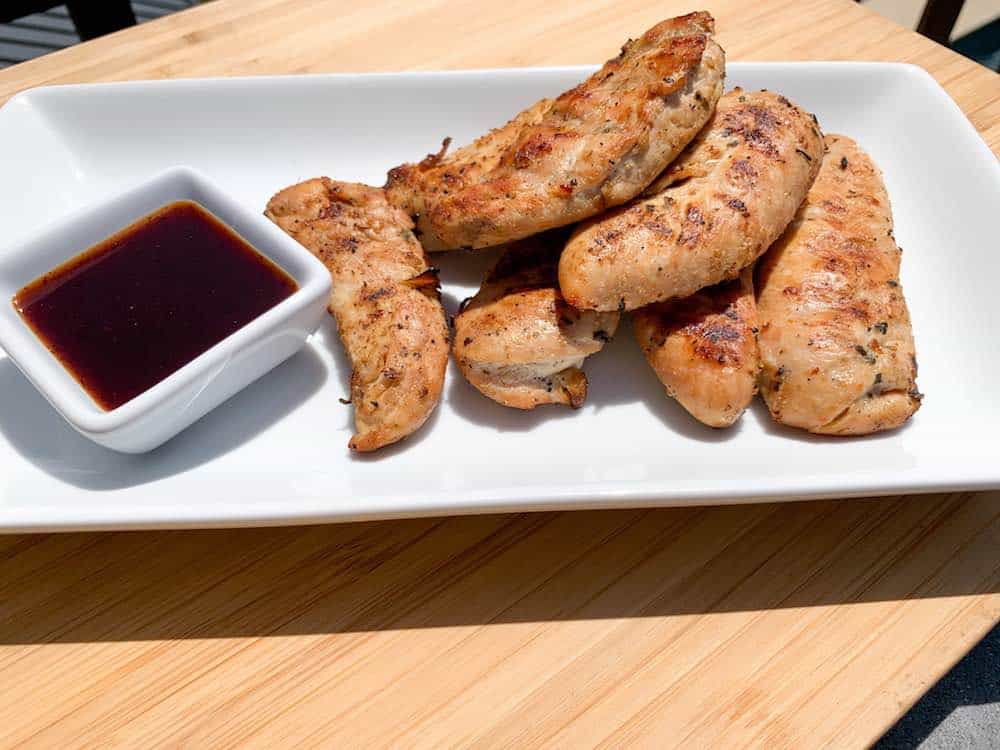 Everyone knows we love smoking chicken around here.
We've done our fair share of Whole Chickens, as well as Spatchcocked Chickens, Smoked Chicken Leg Quarters, Easy Boneless Skinless Chicken Thighs, and the always fun and popular Beer Can Chicken.
We've also shown you in-depth how to not only smoke, but get crispy skin, using a dry brine technique on bone-in, skin on, thighs, breasts, legs, and wings.
Today we are keeping it simple and doing some easy and fast cooking smoked chicken tenders.
Rather than picking up and unhealthy fried and breaded version at your local fast food chain, you can quickly smoke some healthier, white meat chicken tenders right at home on your own grill, pellet grill, or smoker!
We season ours with an easy to make, overnight italian dressing marinade to not only flavor the smoked chicken tenders, but help keep them moist while they cook.
You can substitute in your own seasonings or a favorite BBQ rub and the cooking times and temperatures will all still be the same.
Let's jump in and look at how we made our own smoked chicken tenders!
Prepare the Chicken Tenders for Smoking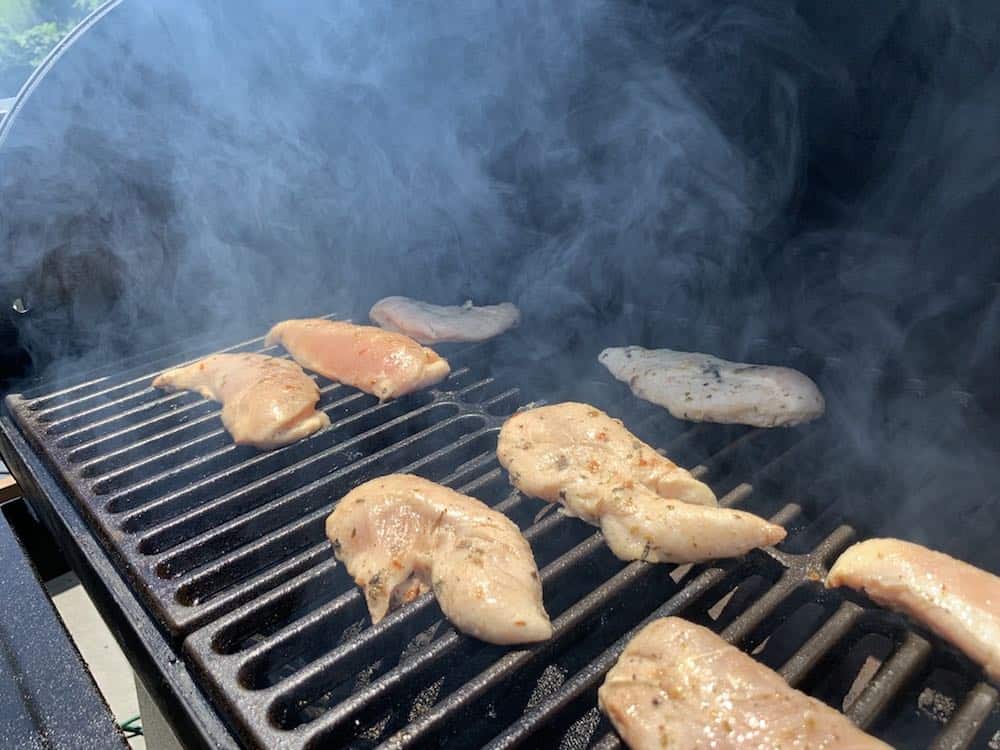 Buying Chicken Tenders to Smoke
You shouldn't need to do ANY trimming if you are buying a package of boneless skinless white meat chicken tenders.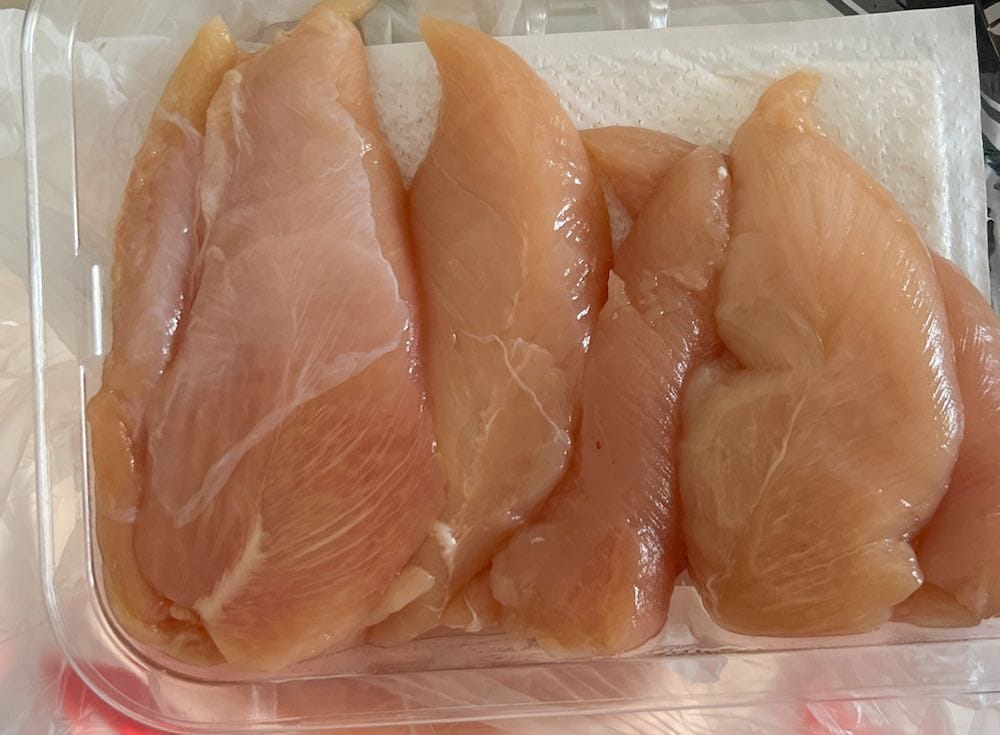 They may be labeled "Tenderloins" or "Chicken Breast Tenders", as they are essentially sliced up chicken breasts.
There are usually about 5-6 in a one pound package
Take them out of the package and give them a quick rinse in the sink.
Lay them out on a cutting board or in an aluminum pan and dry them well some paper towels.
Marinating the Chicken Tenders
For small white meat pieces of chicken like this that can dry out quickly, we actually prefer to marinate them in a homemade italian dressing.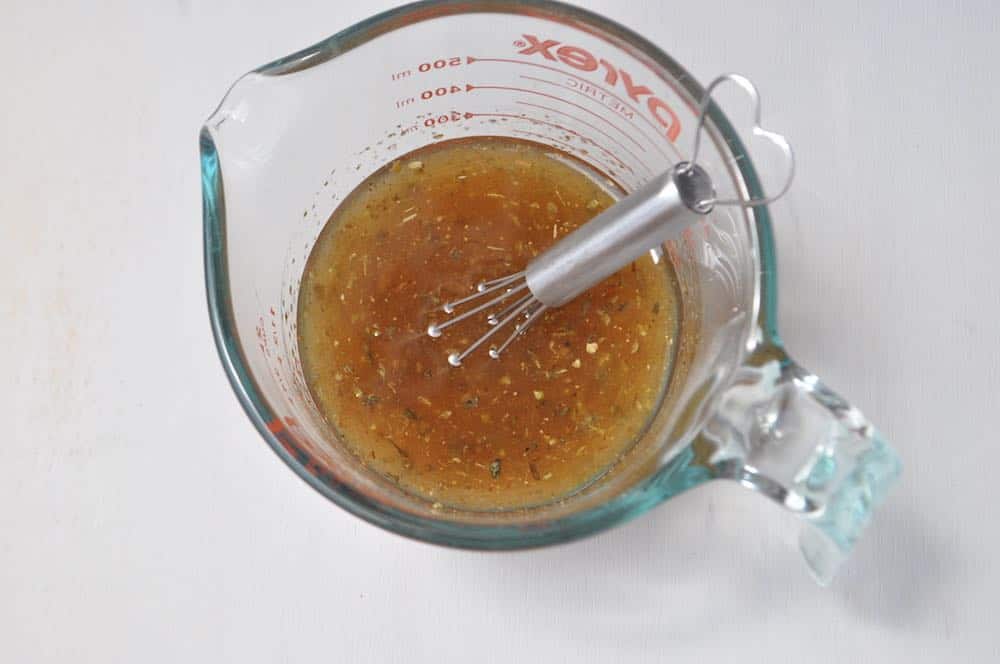 This gets great flavor deeper into the meat and helps them retain moisture on the grill or smoker.
You can also use a store bought italian dressing but if you want a better tasting homemade option, you will need:
This is enough marinade for up to about 2 lbs or raw chicken tenders.
Combine all these ingredients in a bowl or large measuring cup and whisk together.
Put your chicken in a gallon size resealable storage bag and pour the marinade over the chicken.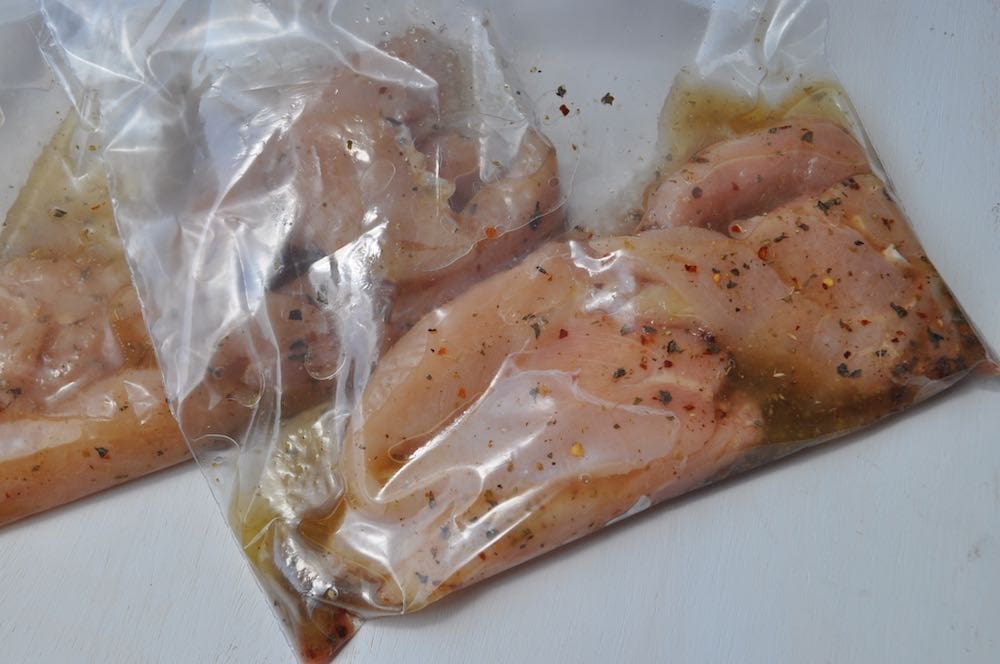 Close the bag and work it around the chicken to make sure you are covering all the meat with marinade.
Place the bag in refrigerator and marinate the chicken tenders for at least a few hours or overnight.
If you don;t want to mess with the marinade, You can simply season the chicken tenders before you put them on the smoker.
We'd recommend one of our favorite BBQ rubs such as the classic Three Little Pigs or try Bad Byron's Butt Rub if you a more savory rub with NO sugar.
If you decide to add a BBQ rub or more seasoning after you marinade but before you smoke the chicken tenders, go easy so that you don't risk oversalting the meat.
Best Wood Choices for Smoked Chicken Tenders
Poultry, like fish, absorbs smoke very quickly and a little goes a long way.
The best woods for smoking chicken tenders include the fruitwoods like apple, cherry, and peach, but also the milder smoking woods like pecan, oak and alder.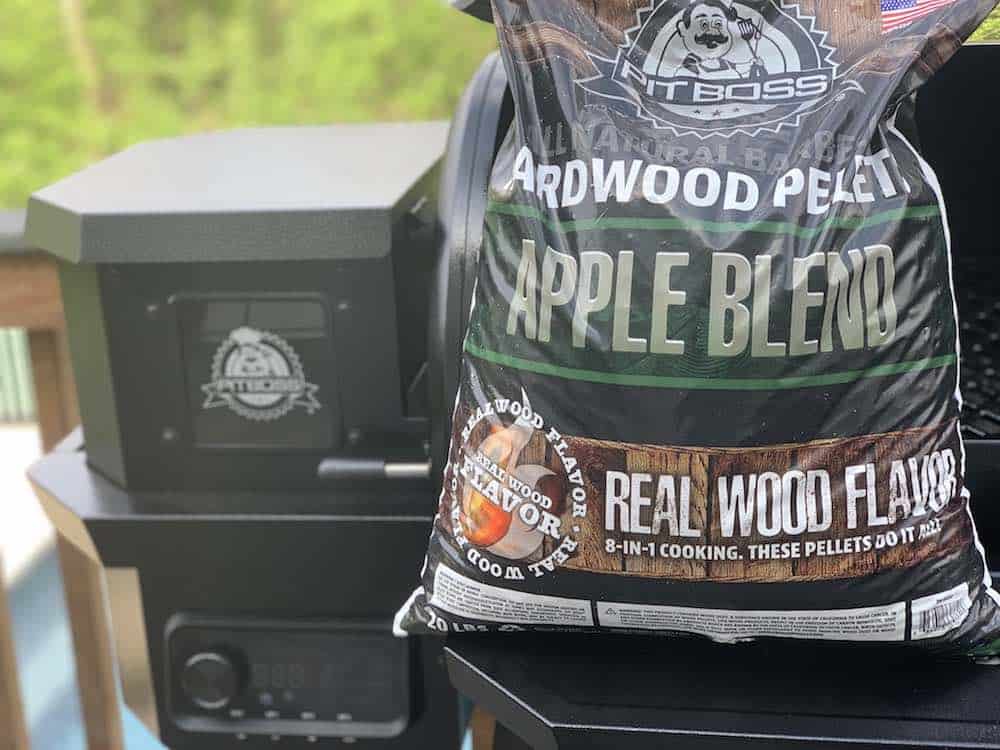 While mesquite and hickory will give a more aggressive smoke flavor, they CAN be used here because the chicken tenders will only be smoking for a relatively short period of time.
If you want to keep it simple and straightforward, choose a lighter smoking wood like oak, apple, or peach.
Pit Boss 20 lb Apple Blend Hardwood Pellets
100% all natural hardwood pellets

The flavor is mild and fruity with a subtle sweetness that taste best with poultry, pork, seafood and lamb

Free of artificial flavors, spray scents, glues, or chemicals
For the best results, if you are using a pellet grill or pellet tube smoker, store your unused pellets in a sealed room temperature container like this 20 lb pellet container rather than in the hopper outside.
Pellets do not last forever, but will definitely last a LOT longer if stored indoors in a quality, airtight container.
Oklahoma Joe's Pellet Bucket Kit, Black
Store up to 20 pounds of hardwood pellets in the heavy-duty plastic pellet bucket.

Weatherproof, airtight lid protects pellets from the elements, keeping them fresh and dry

Wire-mesh filter separates wood dust from the pellets for a clean burn

Heavy-duty plastic scoop to easily transfer pellets
Best Times and Temperatures for Smoked Chicken Tenders
What is the Best Temperature to Smoke Chicken Tenders?
We are going to set up the grill or smoker for medium level indirect cooking at 300°F.
Why 300°F?
You can get away with smoking boneless chicken thighs for longer periods at 250°F because they are dark meat have higher fat content.
But with very lean white meat chicken like breasts and tenders, the meat risks drying out at lower smoking temperatures before it is finished cooking.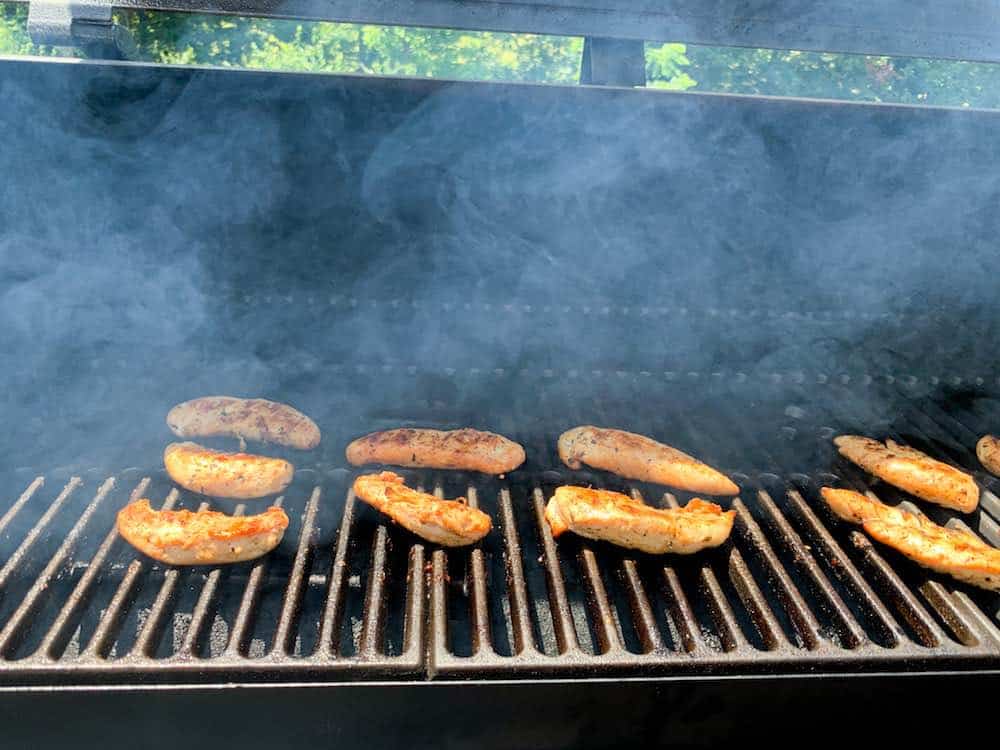 Another option, if you want to get some grill marks and extra color on them, is to smoke the chicken tenders low (maybe around 225°F) for the first 30 minutes or so to partially cook and add smoke flavor, and then crank the heat up to 350°F for the last 10 minutes.
Target Internal Temperature for Smoked Chicken Tenders
Regardless of what temperature you choose smoke your chicken tenders, you HAVE to use a good instant read meat thermometer.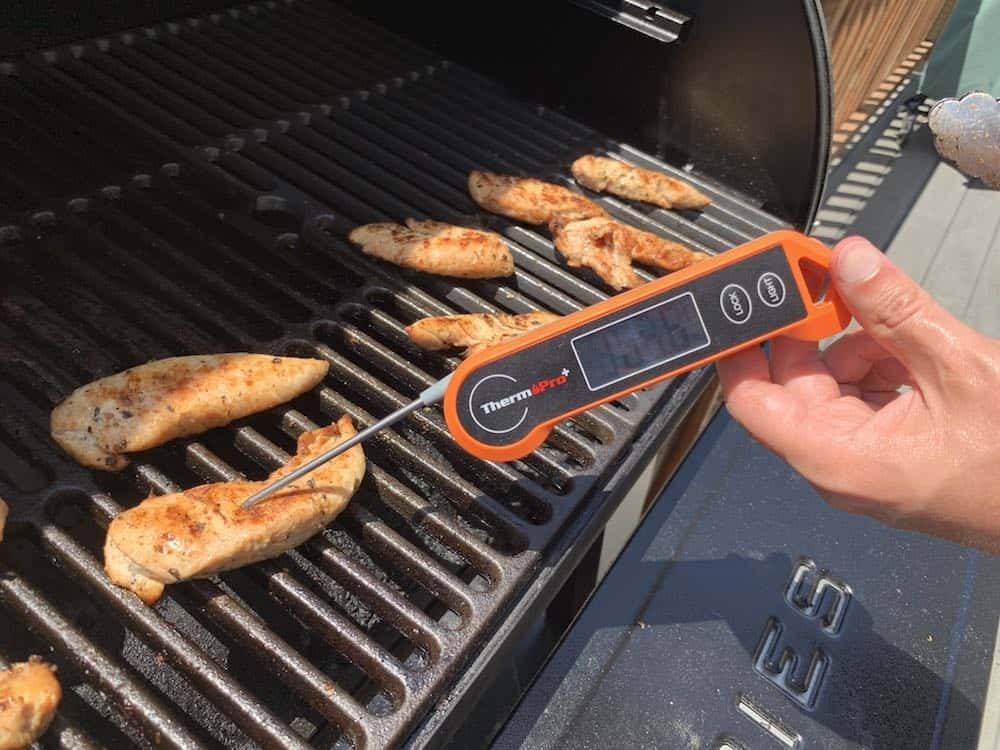 Some tenders may be different sizes, some spots on your grill or smoker will be hotter than others, and white meat chicken is notorious for drying out if cooked to too high of an internal tempertaure.
So always cook to temperature, not time.
We are particular fans of this instant read thermometer from ThermoPro because of its durability and affordable price.
We are targeting a final internal temperature of 165°F on the smoked chicken tenders to know that they are safe to eat and finished cooking. 
How Long Does it Take to Smoke Chicken Tenders?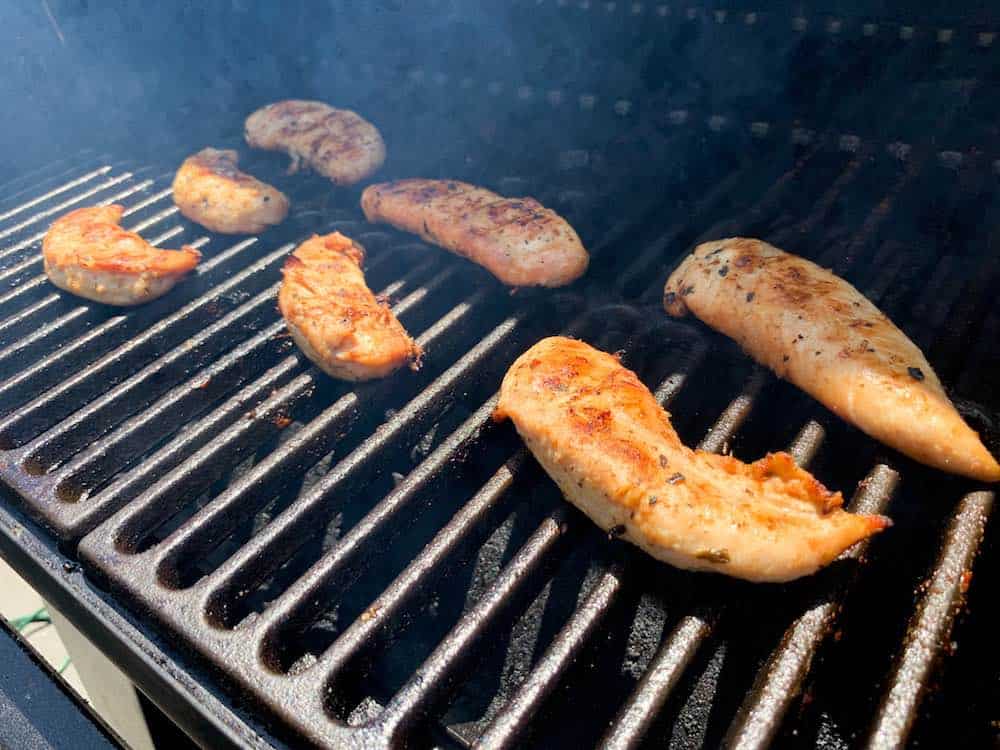 At 300°F, our smoked chicken tenders will take about 30-40 minutes to cook and come up to 165°F internally.
This timeframe may be shorter or longer depending on whether your grill or smoker runs hot and how big your chicken tenders are.
That is why you need a good instant read thermometer and again, why we always cook to TEMPERATURE, not TIME.
Setting up your Grill or Smoker for Smoked Chicken Tenders
Ok, we have marinated our chicken tenders for smoking and know all our times and temperatures.
Now it's time to get down to the business of setting up the grill or smoker to cook these smoked chicken tenders.
(Feel free to jump to the section with the kind of grill or smoker you own, or skip ahead to the recipe card at the bottom of the article if you are already comfortable setting up your grill or smoker.)
Vertical or Offset Charcoal Smoker
Read Char-Broil Reviews on Amazon
Fill your firebox or lower charcoal basin with about half a chimneys worth of unlit charcoal and create a small hollowed out depression in the center where you can add your lit briquets.
If your smoker comes with a water pan, like the Weber Smokey Mountain, fill the water pan as well to help stabilize the temperature and add moisture to the cooking chamber.
Light a charcoal chimney about 1/4 way with charcoal and wait about 15 minutes for it to fully ignite.
Fill your water pan first, then add the lit briquets to the center depression you created.
Keep the dampers about 1/2 way to 3/4 open until the cooking chamber temperature reaches about 275°F.  Then slowly close them down until they are just barely open and you are maintaining a temperature of 300° F.
Make sure to clean and oil the grates so that the chicken does not stick.
Place 1 chunk of your chosen smoking wood on top of your lit charcoal once the smoker is up to temperature, and put your chicken tenders on once the smoker is actively producing smoke..
Want to see a list of our FAVORITE Vertical Smokers for 2021?  Check it out here!
Propane or Electric Smoker
See Masterbuilt Reviews on Amazon
Propane and electric options are some of the easiest smokers for beginners to start with.
Debating whether to buy a propane or electric smoker?  Check out our COMPLETE Comparison Guide HERE.
For Propane: Open your gas valve and light the bottom burner. Adjust it to keep the temperature constant at 300° F.
Need a refresher? Check our our Complete Guide to How to Use a Propane Smoker HERE.
For Electric: Plug your electric smoker in, open the vents, and turn the temperature to 300° F.
While it comes up to temperature, add smoking wood chips, not pellets, to the smoking wood tray.
Fill the water tray if there is one and oil up the racks so the chicken does not stick.
Place your chicken tenders directly on the racks and close the door.
You will likely not need to refill the wood chips since the chicken tenders will be done smoking after about 30-40 minutes.
Refilling wood chips is one of the major drawbacks, besides tray size, of electric smokers compared to pellet grills like Traegers and Pit Bosses.
However, we recently found a great solution.
If you are tired of having to reload fresh wood chips into your electric smoker, especially on longer cooks like pork butt and brisket, then check out this Masterbuilt Automatic Slow Smoker Attachment.
It basically burns new fresh wood chips at a constant rate, much like how a pellet grill works, freeing you up to do other things while getting your food nice and smokey!
Masterbuilt Slow Smoker Accessory Attachment
Continuous smoke when cold smoking or hot smoking up to 275˚F

Ideal for smoking cheese, fish, bacon, and jerky

Automatically heats wood chips with the push of a button

Continuous wood feed system provides up to 6 hours of continuous smoke without reloading
Pellet Grill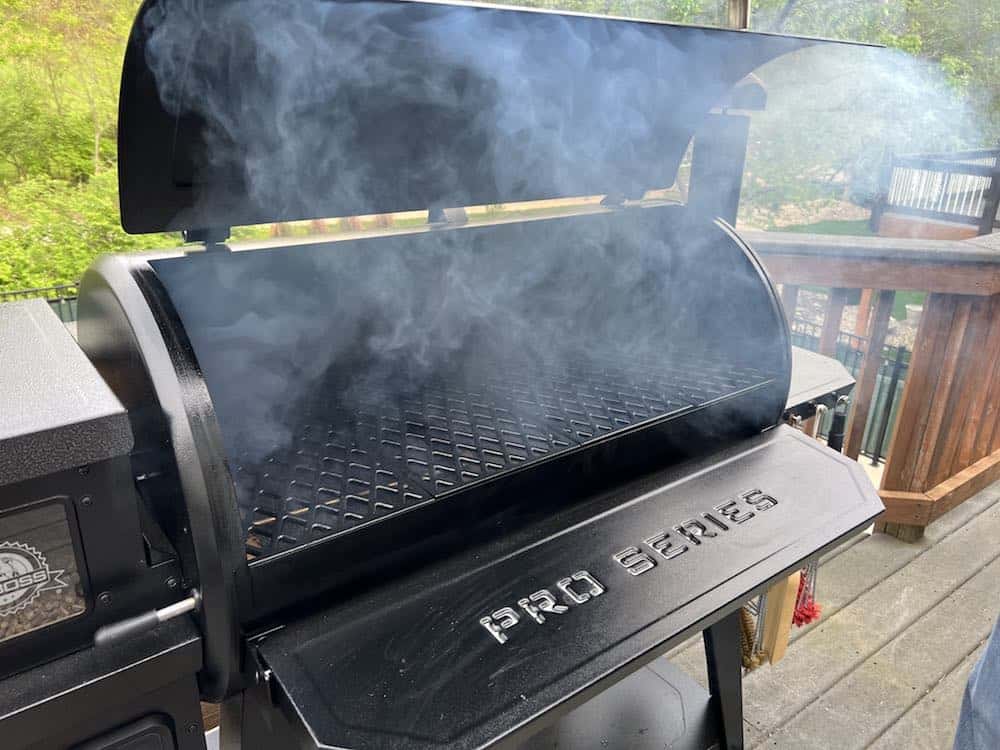 Pellet grills like the ones from Traeger and Pit Boss are great for smoking chicken tenders.
Fill the pellet hopper with your choice of smoking wood pellets.
Plug in the pellet grill, turn it on and let it run through its start up process.
Then turn the temperature to 300°F.
When the pellet grill has come up to temperature, oil up the grates and place your chicken tenders on them.
Close the lid and monitor the internal temperature occasionally as the chicken tenders smoke.
You may need to flip and rotate their positioning after about 15 minutes to make sure the chicken tenders cook evenly on the pellet grill.
Never used a pellet grill like a Traeger or a Pit Boss before? 
Read our ultimate guide to pellet grills to learn why they are so easy to use and how to set one up for success every time.
Here is also a list of our Favorite Pellet Grills for 2022 priced under $500!
Gas or Charcoal Grill
Check out the Weber Spirit on Amazon
On a gas or charcoal grill you will likely need to use a smoker box filled with wood chips, or a pellet tube smoker filled with wood pellets.
Click HERE to learn the all differences between smoker boxes and a smoker tubes.
And if you need a full lesson on how to smoke on a gas grill the RIGHT way, check out our Ultimate Guide to Smoking on a Gas Grill HERE.
Lastly, see a selection of our favorite pellet tube smokers HERE.
In the case of smoked chicken tenders, we would opt for just using the smoker box filled with wood chips since we will only be cooking the chicken tenders for about 30-40 minutes
Set up your gas or charcoal grill for indirect cooking with the burners or a small amount of lit briquets on one side and plan for your chicken tenders to be on the other side.
Gas Grill
For a 300°F cooking temperature, light just one or maybe 2 burners on one side if using a gas grill.
Once the grill is up to temperature, place the closed smoker box full of DRY wood chips over the lit burners and close the lid.
Wait about 10 minutes for the smoker box to start producing smoke.
Clean and oil the grates on the other side of the grill and place your chicken tenders on.
Charcoal Grill
If using a charcoal grill, put about half a chimney's worth of unlit charcoal in the base, pushed to one side.
Then light about 1/4 chimney's worth of charcoal and pour it in a small pile on top of the unlit coals.
Put the lid on the grill.
Open the vents about halfway and then close them down to a 1/4 open once the grill is up to 275°F and place your smoking wood chunk on top of the lit coals.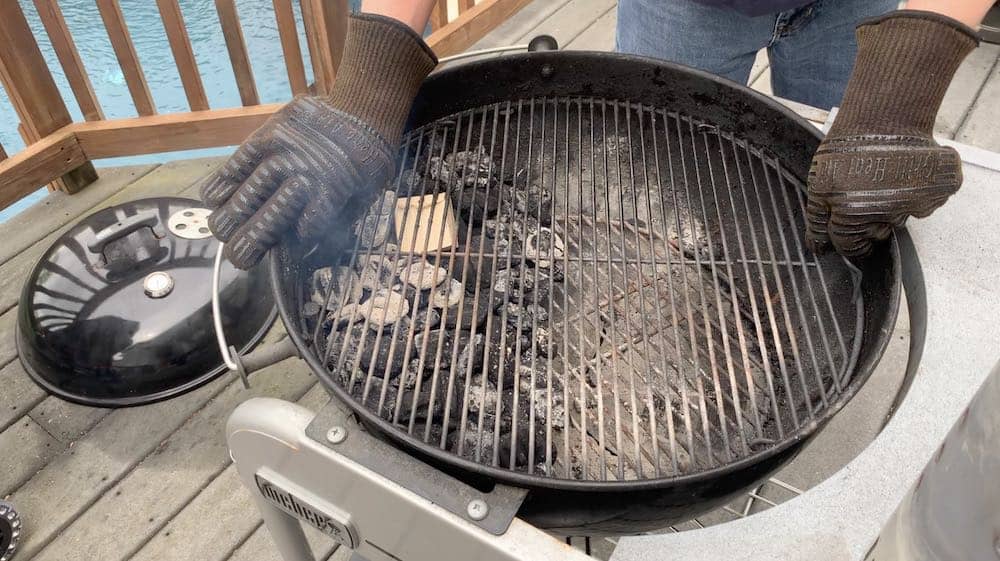 Make sure to clean and oil the grates on the indirect side well so that the chicken tenders do not stick.
Once the grill is making smoke and the  temperature is near 300°F, place the chicken tenders on the indirect side and put the lid back on.
Adjust the vents as needed to maintain your cooking temperature.
Monitor your Grill Temperature
Almost every grill and smoker will have some sort of temperature gauge on them.
Now, if you are using a pellet grill or electric smoker, you should be able to pretty accurately dial in your desired temperature of 300°F with the turn of a dial.
This is what makes them so convenient!
If, however, you are using a charcoal or propane grill/smoker, you can't rely on the cheap lid mounted temperature gauge that come installed on them.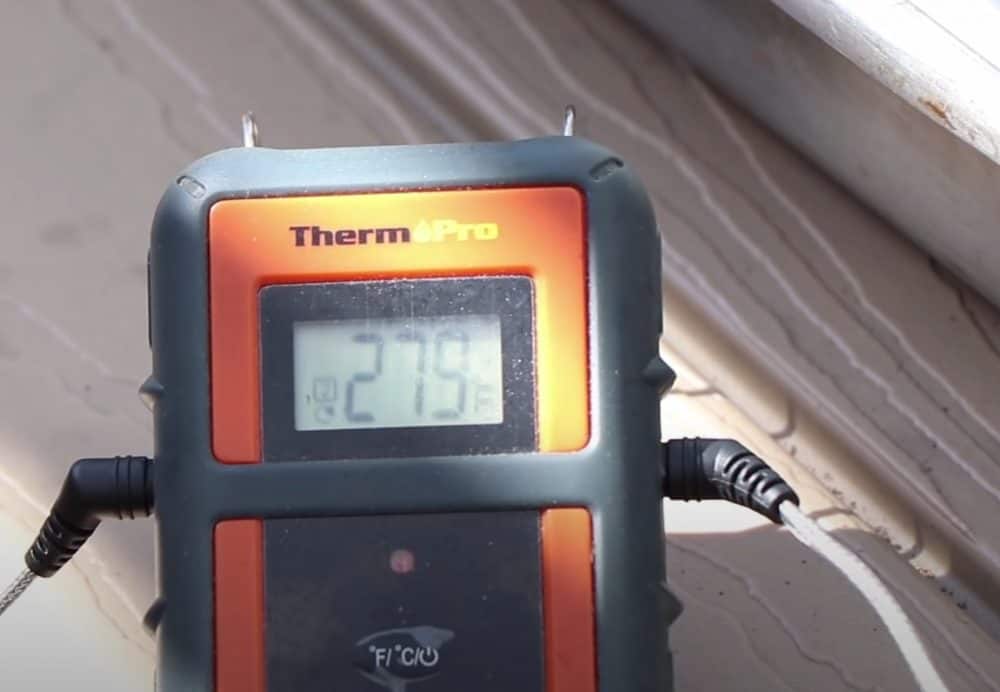 We have found these can sometimes be up to 30°F off from the true actual temperature at the grill grate level!
This is unacceptable.
This is why you will always see competition cooks, and backyard chefs who know their stuff, using wireless digital probe thermometers to keep track of both their meat AND their cooking chamber.
And even if you have a fancy pellet grill like a Traeger or even an electric smoker, it can't hurt to double check how accurate your temperature settings are to the true temperatures you are getting.
We are big fans of the ThermoPro Wireless Digital Meat Thermometer series for doing this.
ThermoPro TP08S Wireless Digital Meat Thermometer
300ft remote range and hassle-free setup: Wireless meat thermometer monitors your food and grill temp up to 300 feet away

Dual probes for food and BBQ: Meat thermometer oven safe with highly accurate stainless steel food probe

Food and ambient temp alarm: Set your desired food temp and HI/LOW temp range for your grill or smoker to know when to add more fuel
While we have used and recommended ThermoPro for years, lately we have also become big fans of the MEATER leave in thermometer.
It is extremely accurate and has an incredible 165 foot bluetooth range and works right with your smartphone so you don't need to carry a separate controller around with you like many other remote thermometers require.
It's got a great free app that is constantly being updated and even has an algorithm to predict how much longer your type of meat will take to cook based on cooking temperature, target temperature, current internal temperature.
It's like a GPS for your meat!
Anyways, back to our smoked chicken...
Again, we are going to bring the internal temperature of our smoked chicken tenders up to 165°F.
Serving the Smoked Chicken Tenders
One of the best things to do with smoked chicken tenders is dip them!
You can serve your smoked chicken tenders with BBQ sauce, ranch dressing, honey mustard, or any other sauce you can think like!
Food Safety Tip: Never baste the chicken tenders with the raw marinade you used to initially season them. Once the chicken goes on the grill or smoker, the marinade needs to be discarded.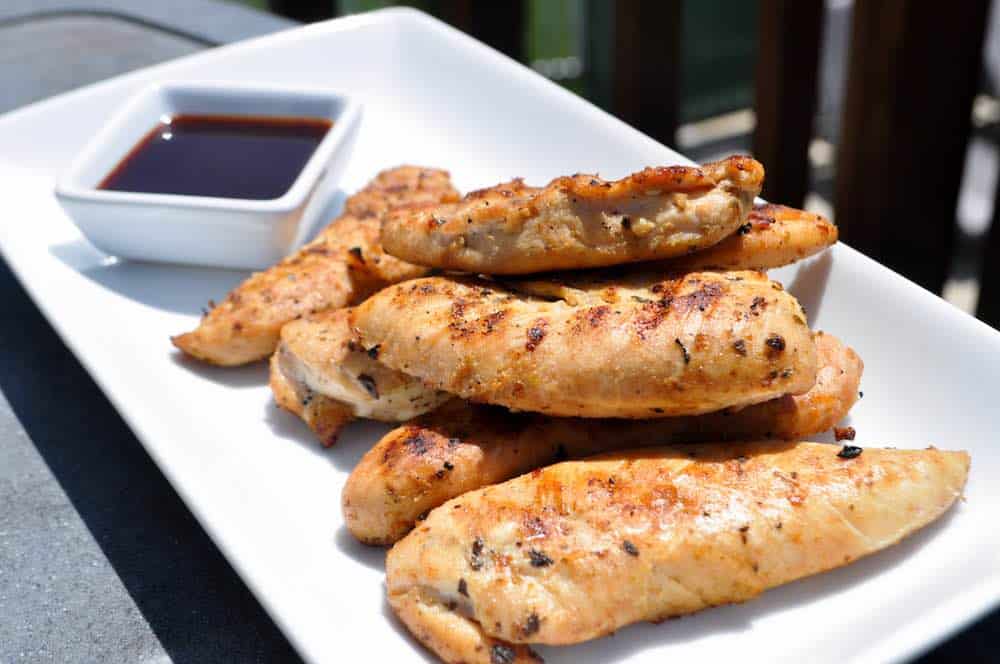 Smoked chicken tenders are great on their own, or you can pair them with our smoked peaches or maple bourbon smoked pineapple for a summery theme.
Smoked broccoli, smoked asparagus, smoked carrots, and even smoked cauliflower are great options if you're eating healthy.
If you want something a little richer, check out our Smoked Baked Potatoes, Smoked Baked Beans, or our Buttery Smoked Sweet Potatoes to cook and serve right alongside your smoked chicken tenders.
Enjoy!
What Else Can I Smoke?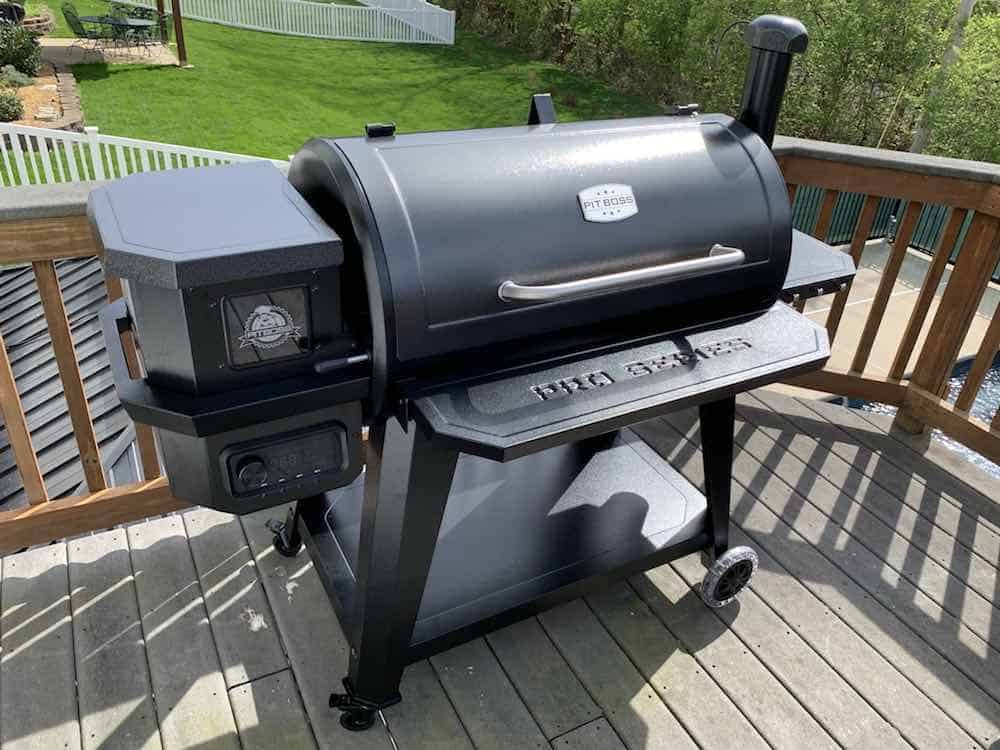 Looking for some more smoky inspiration?
You've come to right place!
Pork
Beef
Seafood
Poultry
Lamb
Sides and Desserts
Smoked Chicken Tenders
Learn how to make the best smoked chicken tenders on ANY grill or smoker.We start with an overnight homemade italian dressing marinade and then simply smoke the chicken tenders with medium indirect heat.Whether you are using a pellet grill like a Traeger, Camp Chef, or Pit Boss, an electric smoker like a Masterbuilt, or just a conventional propane grill like a Weber, we've got you covered!These smoked chicken tenders are even low carb and Keto friendly!
Equipment
Gas Grill, Pellet Grill, or Smoker

Wood pellets, chunks, or a pellet tube smoker with pellets or a smoker box with wood chips

Mixing Bowl or Large Measuring Cup

Small Whisk

Gallon-Size Resealable Bag

Instant Read Thermometer

Grill Tongs
Ingredients  
2

lbs

Raw Chicken Breast Tenders

Or "tenderloins". Boneless, skinless.
Homemade Italian Dressing Marinade
¾

cup

Olive Oil

not extra virgin

¼

cup

Red Wine Vinegar

can substitute white wine vinegar if desired

1

tsp

Garlic Powder

1

tsp

Dried Oregano

1

tsp

Dried Basil

½

tsp

Onion Powder

½

tsp

Crushed Red Pepper Flakes

¾

tsp

Salt

½

tsp

Pepper
Instructions 
Prepare the Overnight Marinade
Whisk all the Marinade ingredients together in a bowl or measuring cup, set aside.

¾ cup Olive Oil,

¼ cup Red Wine Vinegar,

1 tsp Garlic Powder,

1 tsp Dried Oregano,

1 tsp Dried Basil,

½ tsp Onion Powder,

½ tsp Crushed Red Pepper Flakes,

¾ tsp Salt,

½ tsp Pepper

Rinse the chicken tenders under cold running water and pat dry with paper towels.

2 lbs Raw Chicken Breast Tenders

Put the chicken tenders in a gallon size resealable storage bag and pour the marinade over the chicken.

Close the bag and work it around the chicken to make sure you are covering all the meat with marinade.

Place the bag in refrigerator and marinate the chicken tenders for at least a few hours or ideally overnight.
Set up your Grill or Smoker
Light or turn on your smoker, grill or pellet grill and set up the temperature to 300°F. If using a grill, only light a medium amount of charcoal or light one or two burners on one side for indirect cooking

Brush the grill grates with oil to keep the chicken from sticking.

Add your wood chunks directly to the firebox of a smoker, or use chips in a smoker box, or pellets in a tube smoker or pellet grill.

Once smoke is being produced and the grill or smoker is at 300°F, put your marinated chicken tenders on the COOL side of the grill.
Smoking the Chicken Tenders
Smoke the chicken tenders for about 30-40 minutes, flipping and rotating occasionally, until the internal temperature reaches 165°F using an instant read thermometer. DO NOT baste with the marinade mixture that the raw chicken was in.

Remove the smoked chicken tenders from the grill or smoker and serve with a sauce for dipping such as barbecue, ranch, or honey mustard.
Nutrition