Learn everything you need to know about how to make smoked sweet potatoes! 
Whether you've got a Weber kettle, a Traeger or Pit Boss pellet grill, or even a Masterbuilt electric smoker, we've got you covered!
We fan them out for maximum flavor and smoke absorption, then continue to baste with butter, brown sugar, and your favorite sweet BBQ rub until smoked to perfection.
Let's Go!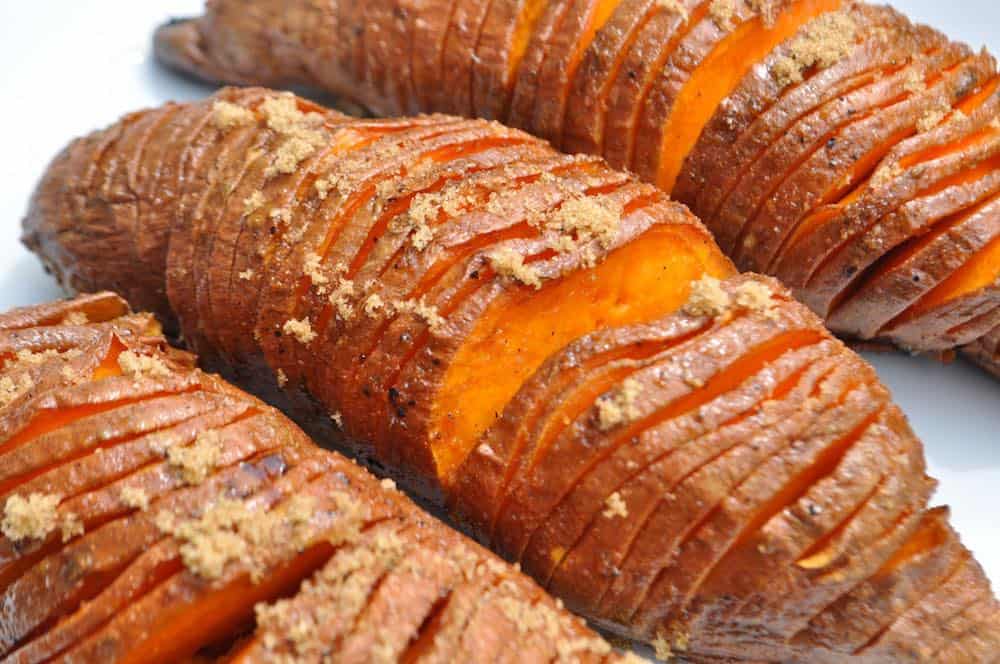 Why Smoked Sweet Potatoes?
Sweet potatoes are a fun side dish to throw on the smoker alongside your Thanksgiving turkey or standing ribeye roast, especially around the holidays.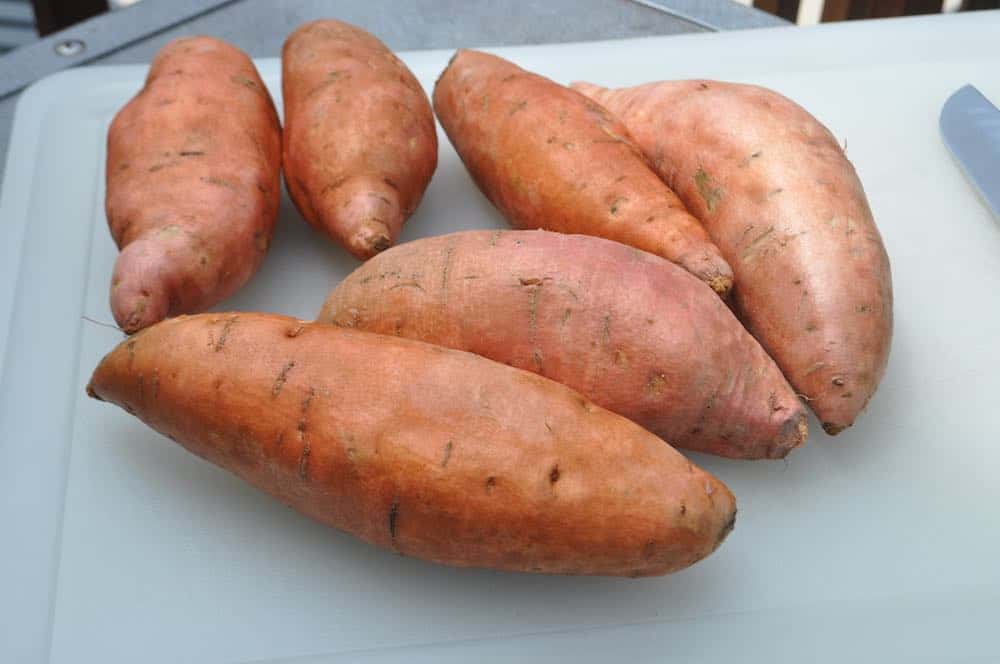 Or you can just smoke your sweet potatoes them by themselves to accompany literally ANY other meat.
They absorb some great smoke flavor without getting overpowered, and are finished in just about an hour if you fan them out like we do and cook them with some high heat!
Best Wood for Smoking Sweet Potatoes
Hickory, Maple, and Apple are great wood choices that pair wonderfully with sweet potatoes.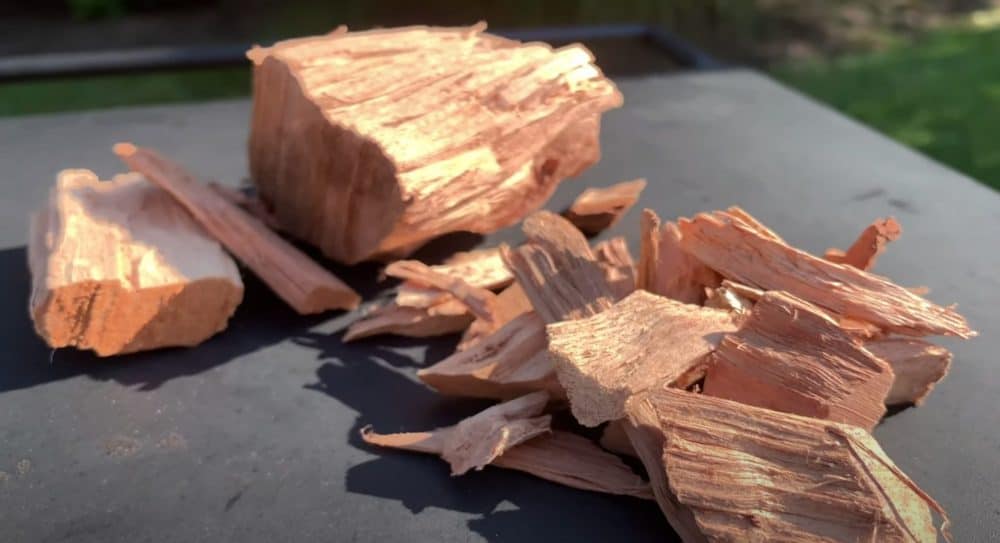 You can choose one or the other or mix them together!  These two woods also work great on chicken, turkey, and most beef, lamb, and holiday meats.
You can impart A LOT of distinctive smoke flavor in a relatively short period of time.
How to Prepare Sweet Potatoes for Smoking
Our favorite way to prepare smoked sweet potatoes is by fanning them out and basting them with butter and BBQ rub while they cook.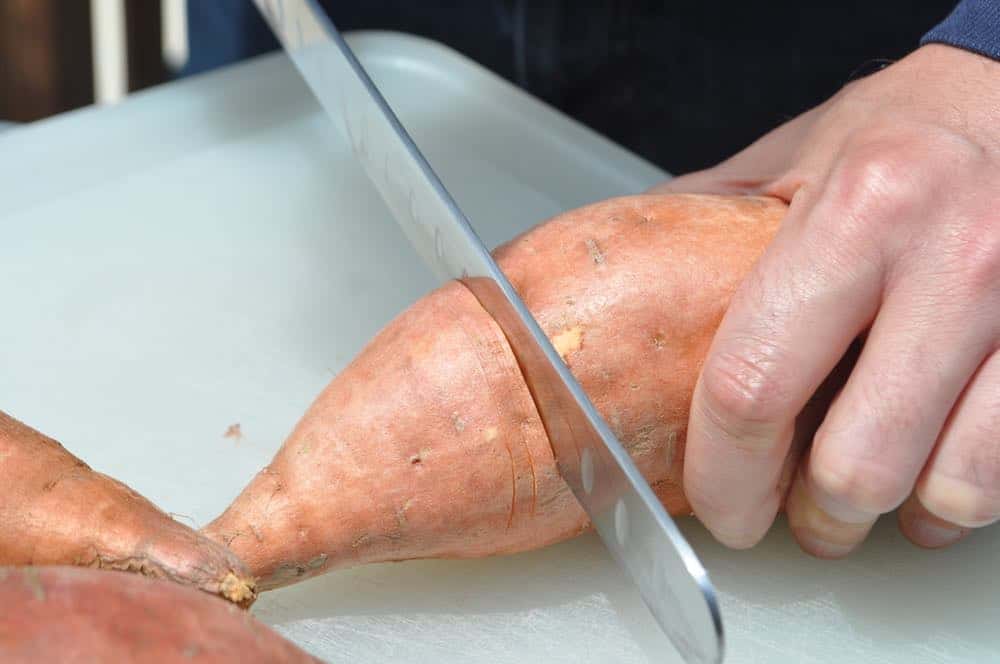 The trick is to slice about every 18/ to ¼ inch or so and only about ⅔ of the way down so that the potato stays intact.
Sweet potatoes are notoriously hard to slice when they are raw and we found our Mairico meat slicing knife to actually work the best for the job.
The sweet potatoes will open up and fan out while they smoke.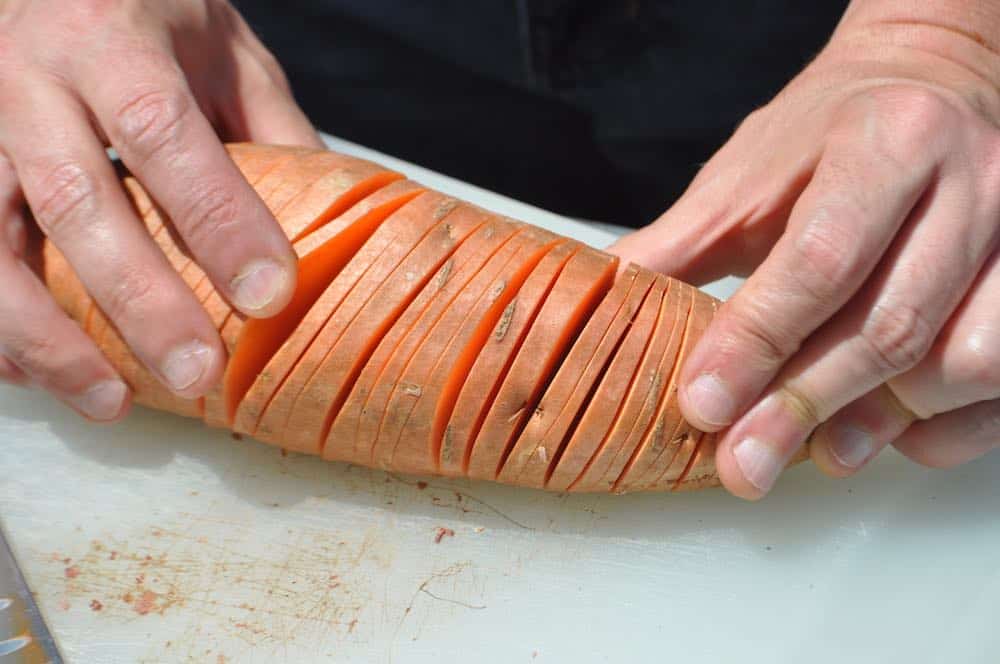 By doing this fan technique, you get the MAXIMUM surface area for basting them with more butter and sugar while they cook.
You also get more surface area for smoke absorption vs. cooking them whole or just punching them with forks.
Once you have the sweet potatoes sliced, you will mix up a little softened butter, brown sugar, and your favorite BBQ seasoning (we like Three Little Pigs) to baste on top.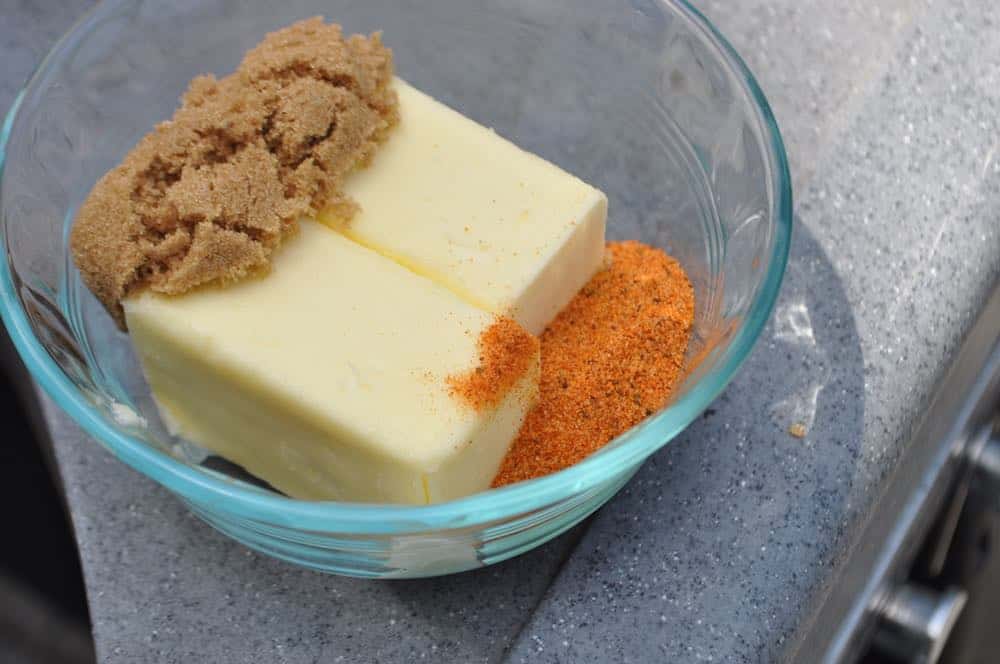 Make sure to set aside about half of this mixture to continue  basting while they cook.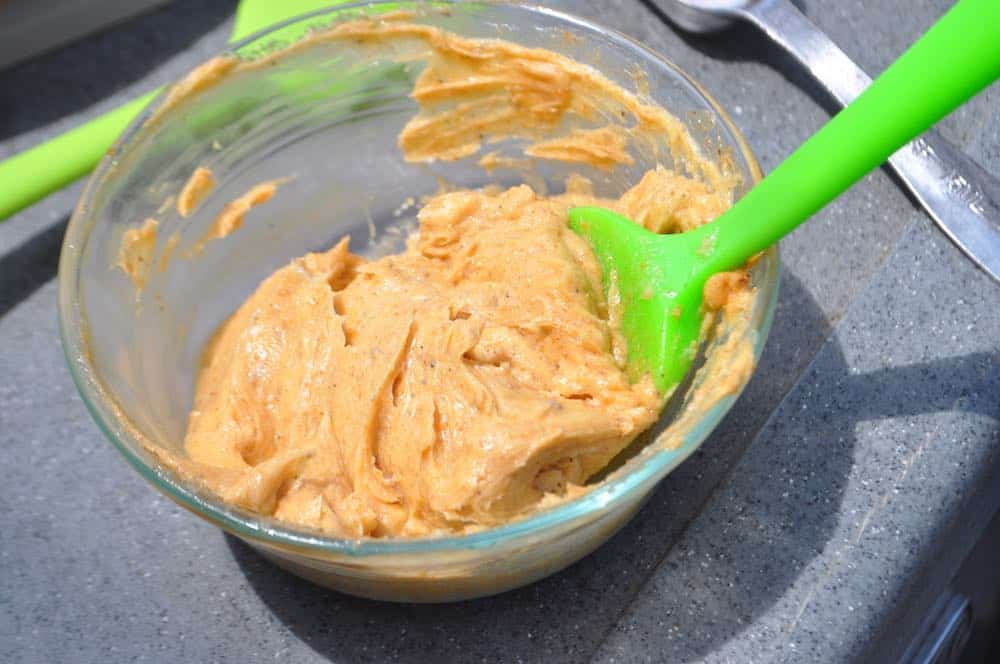 This works best, and is easiest to clean up afterwards, if you use a good silicone basting brush like these ones.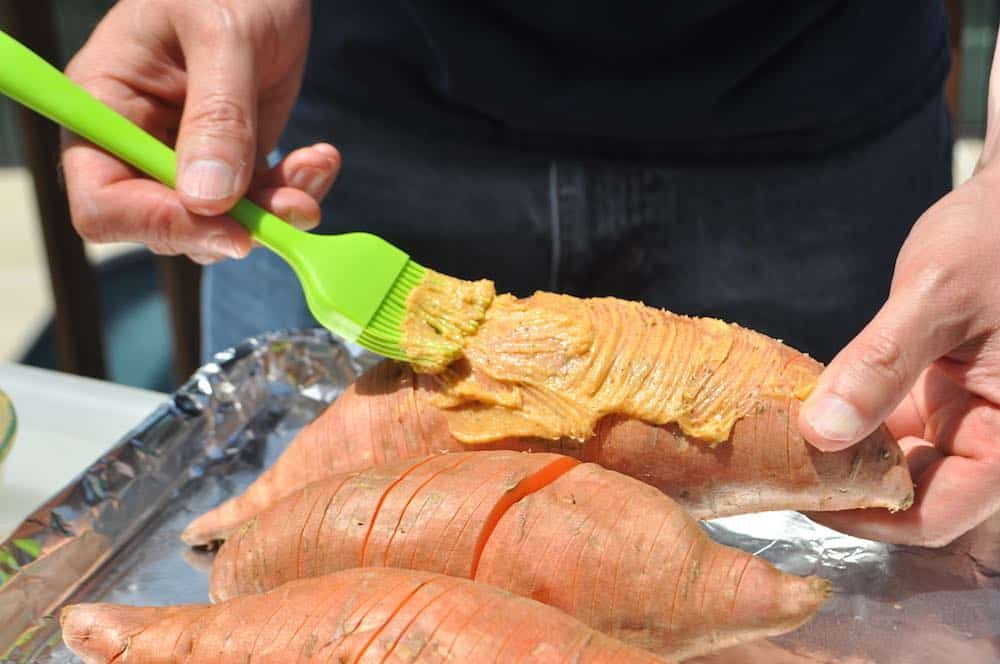 You end up with a sticky, tasty, glaze that also absorbs lots of smoke flavor throughout the cook.
Don't worry if it's hard to initially get the butter mixture inside all the crevices, this will be easier as the sweet potatoes smoke and soften and open up more.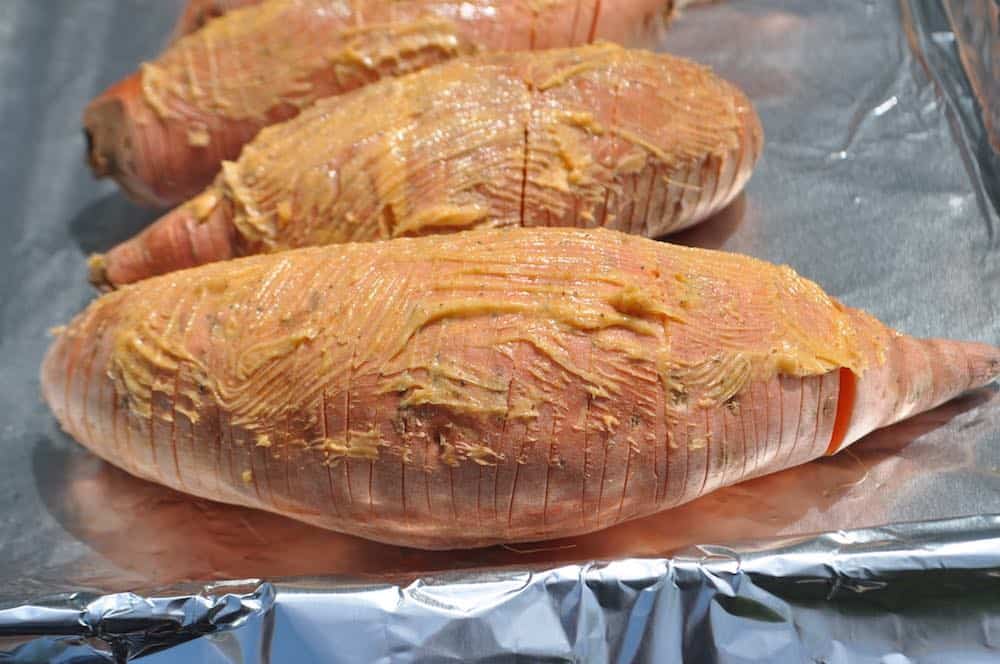 Once your sweet potatoes are sliced and basted, it's time to get them in the grill or smoker.
Keep them on an aluminum foil lined baking sheet so that you can keep basting with the melted butter and don't lose all of your mixture down into the grill or smoker.
Best Times and Temperatures for Smoking Sweet Potatoes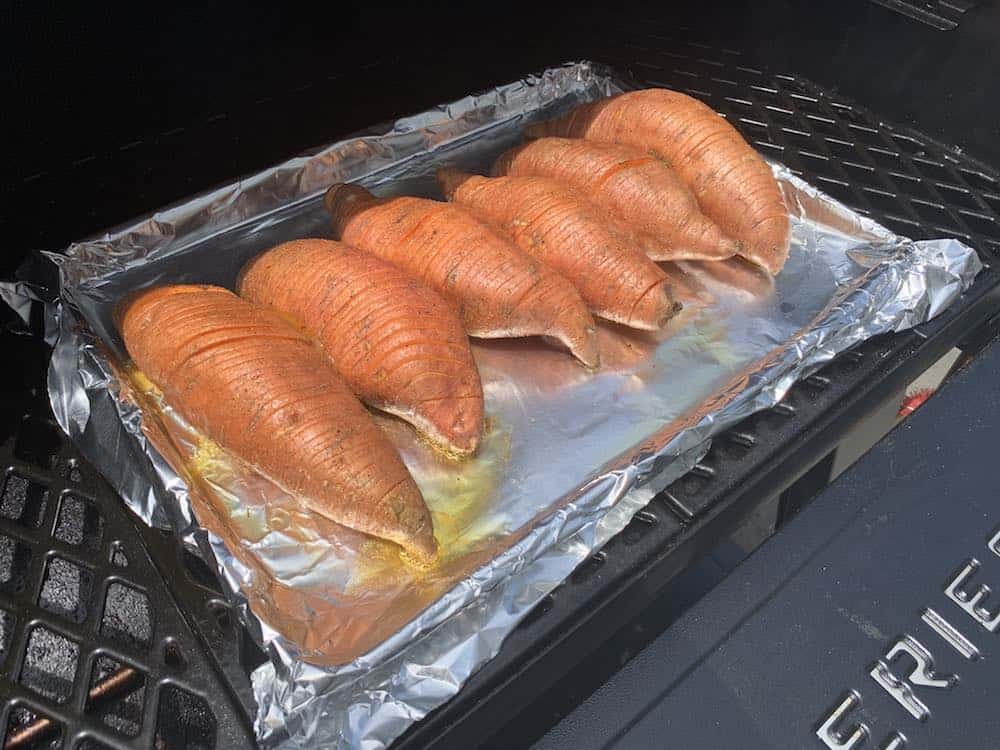 Best Temperature to Smoke Sweet Potatoes
We are going to set the temperature of the pellet grill or smoker to 325°F.
If you are using a grill, make sure to set it up for INDIRECT cooking with all the charcoal or burners lit on the opposite side of the sweet potatoes.
Now you CAN smoke them at a lower temperature, especially if the meat you are cooking them alongside requires a lower smoking temperature.
Just realize they WILL take quite a bit longer to cook, so get them on the grill or smoker early!
How Long Does it Take to Smoke a Sweet Potato?
Fanned out at 325°F, your smoked sweet potatoes will take about 2 hours to fully cook.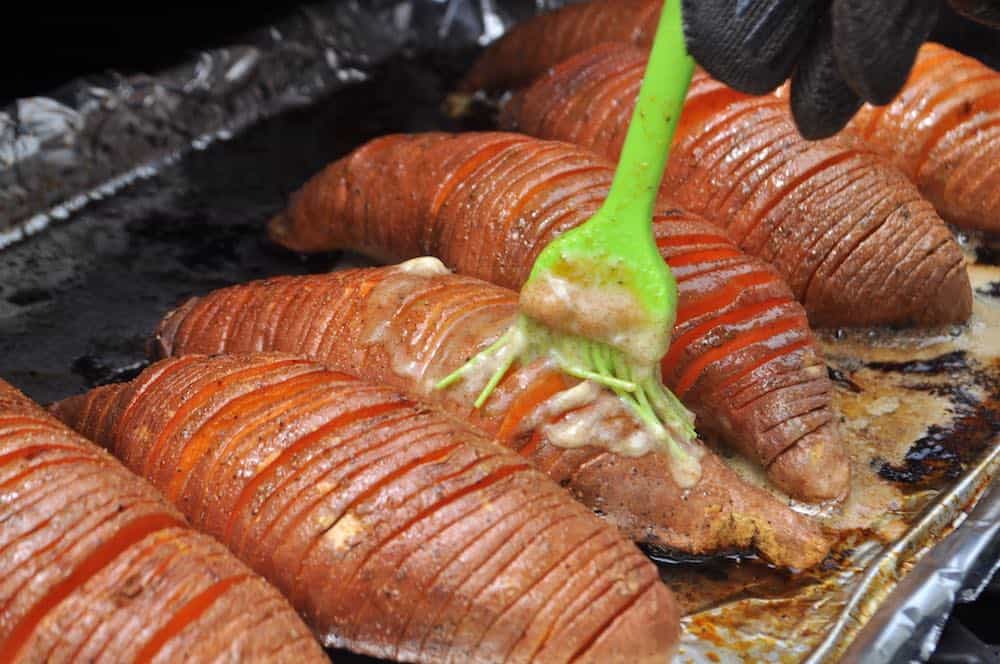 If you're cooking them at maybe 250°F or 275°F because of the meat, plan on them taking closer to 3 hours.
Make sure to brush them every once in awhile with more of the butter, sugar, rub mixture as the cook and open up so you can get that flavor down in each of the crevices with your silicone brush.
How Can You Tell When Smoked Sweet Potatoes are Finished Cooking?
Unlike many of the roasts and steaks we smoke around here, where you have to watch the internal temperature like a hawk, you have some pretty good leeway with smoking sweet potatoes.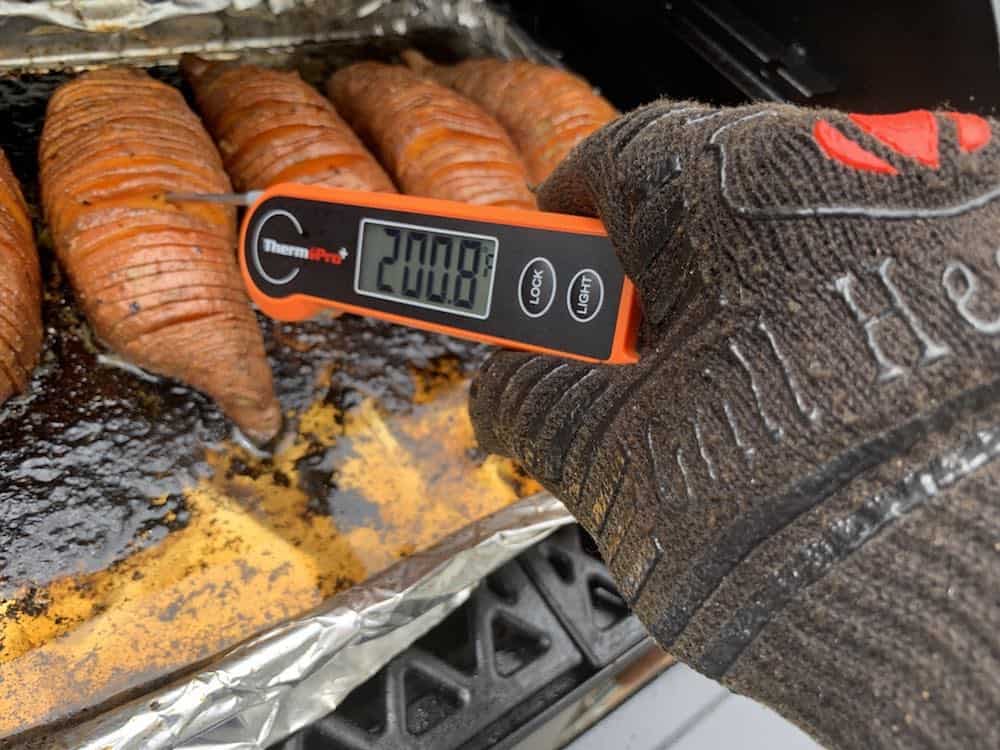 After about an hour and a half on the grill or smoker, start checking every 15 minutes or so.
You can use a fork or knife to check if they slide through effortlessly in the middle.
But if you want to be more accurate about it, use a good instant thermometer like our favorite from Thermopro.
When they get to about 200°F degrees internally, you'll know for sure they are done smoking.
Setting up your Smoker for Sweet Potatoes
New to smoking?
Check out our Complete List of the Best Entry Level Smokers for Beginners Here.
Like we said, you are most likely setting up your smoker to cook a main dish for the sweet potatoes to accompany, and if so, make sure to follow THOSE instructions for setting up your smoker.
If, however, you are just in the mood for smoking some sweet potatoes by themselves, here are the best instructions for setting up different types of grills and smokers to do just that.
Vertical or Offset Charcoal Smoker
Weber Smokey Mountain on Amazon
Fill your firebox or lower charcoal basin with about three chimneys worth of unlit charcoal and create a small hollowed out depression in the center where you can add your lit briquets.
If your smoker comes with a water pan, like the Weber Smokey Mountain, don't bother with filling it.
Light a charcoal chimney about half way with charcoal and wait about 20 minutes for it to fully ignite.
Once lit, add the briquets to the center depression you created.
Keep the dampers about ½ way to ¾ open until the temperature is in the 275-300°F range.
Add 1-2 chunks of smoking wood once the smoker is up to temperature and put your sweet potatoes on, preferably in a foil lined pan to catch all the melting butter.
Then slowly close down the top and bottom dampers to about ⅓- ¼ open until you are maintaining a temperature of 325° F.
Want to see a list of our FAVORITE Vertical Smokers?  Check it out here!
Smoked Sweet Potatoes in an Electric Smoker
Masterbuilt Electric Smoker on Amazon
Plug your electric smoker in and turn the temperature to 325°F.  If it does not go this high, set it for its maximum temperature
While it comes up to temperature, add smoking wood chips, not pellets, to the smoking wood tray.
Place your sweet potatoes on a foil lined baking tray and place them in the smoker.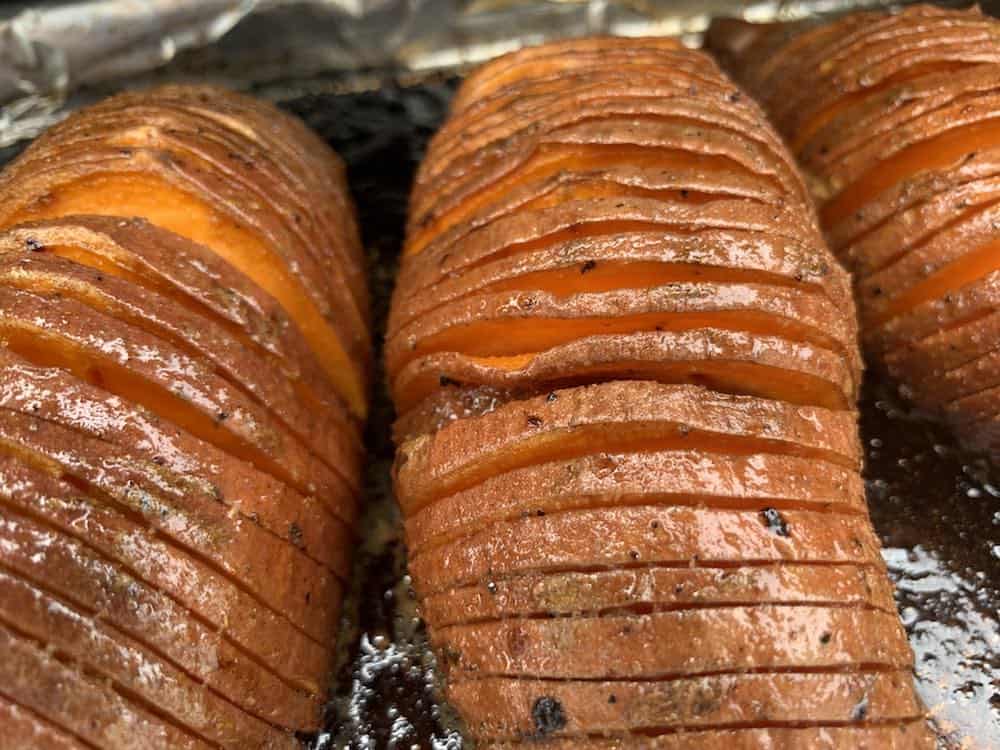 Debating whether to buy a propane or electric smoker?  Check out our COMPLETE Comparison Guide HERE.
You will need to refill the wood chips every 30 minutes or so as they smolder out in the chip loader, which will end up being about 4-5 times during the 2 hour cook.
Refilling wood chips is one of the major drawbacks, besides tray size, of electric smokers compared to pellet grills like Traegers and Pit Bosses.
However, we recently found a great solution.
If you are tired of having to reload fresh wood chips into your electric smoker, especially on longer cooks like pork butt and brisket, then check out this Masterbuilt Automatic Slow Smoker Attachment.
It basically burns new fresh wood chips at a constant rate, much like how a pellet grill works, freeing you up to do other things while getting your food nice and smokey!
Masterbuilt Slow Smoker Accessory Attachment
Continuous smoke when cold smoking or hot smoking up to 275˚F

Ideal for smoking cheese, fish, bacon, and jerky

Automatically heats wood chips with the push of a button

Continuous wood feed system provides up to 6 hours of continuous smoke without reloading
Smoked Sweet Potatoes on a Pellet Grill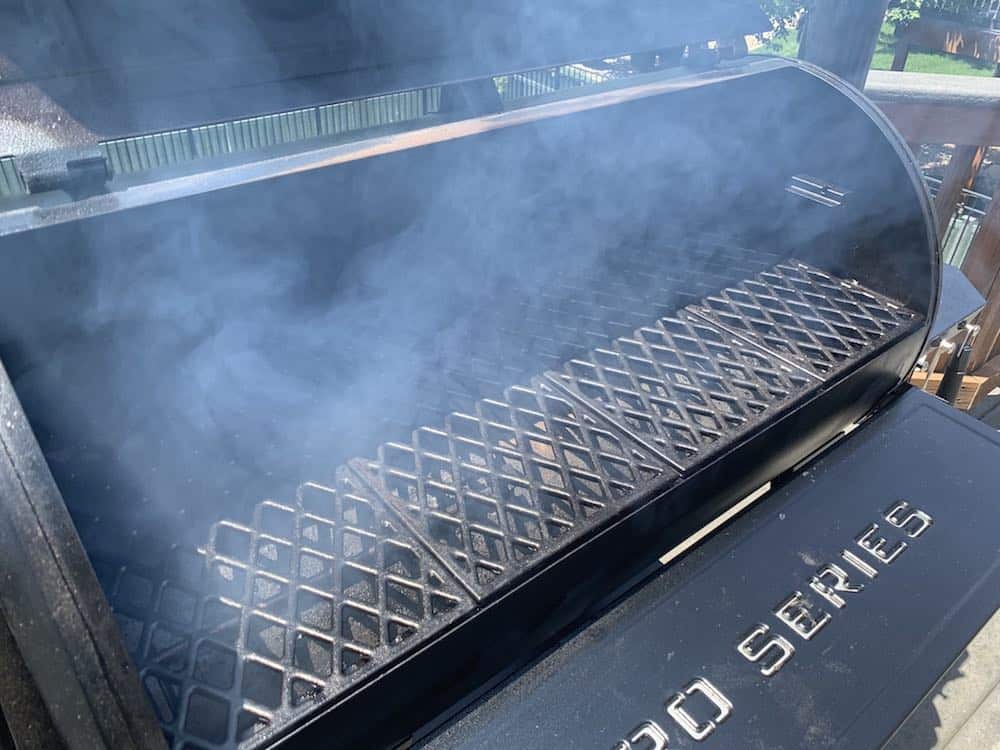 If you've got a pellet grill like a Pit Boss or Traeger model, smoking your sweet potatoes should be a breeze.
Fill the pellet hopper with your choice of smoking wood pellets, preferably apple, maple, or hickory.
Plug in the pellet grill and turn the temperature to 325°F.
Make sure any flame broiler doors are closed so that you are getting INDIRECT heat like an oven.
Let the pellet grill run through its start up process. When the pellet grill has come up to temperature, place your sweet potatoes on the grill, preferably on a foil lined baking tray to catch the melting butter for basting during the cook..
Never used a pellet grill before?  Read our Ultimate Guide to Pellet Grills to learn why they are so easy and how to set one up for success every time.
Here is also a list of our Favorite Pellet Grills Priced UNDER $500
Gas or Charcoal Grill
Check out this Weber Grill on Amazon
On a gas or charcoal grill you will likely need to use a smoker box filled with wood chips, or a pellet tube smoker filled with wood pellets.
Think you need a fancy smoker to smoke food at home? 
Think again.
Great smoked food can be made right on your current gas or charcoal grill.
Check out our Ultimate Guide to Smoking on a Gas Grill HERE.
If you are unfamiliar with these gas grill smoking devices mentioned above, no worries, we have you covered!
Read Everything You Need to Know about Smoker Boxes here, and see a selection of our Favorite Pellet Tube Smokers here.
In the case of sweet potatoes, we would opt for the smoker tube with wood pellets since the smoker box usually only lasts about 30 minutes.
This will save you the hassle of having the refill.
Set up your gas or charcoal grill for indirect cooking with the burners or a small amount of lit briquets on one side and plan for your sweet potatoes to be on the other side.
Remember, we are cooking the sweet potatoes INDIRECTLY, like an oven, not DIRECTLY over the burners or coals.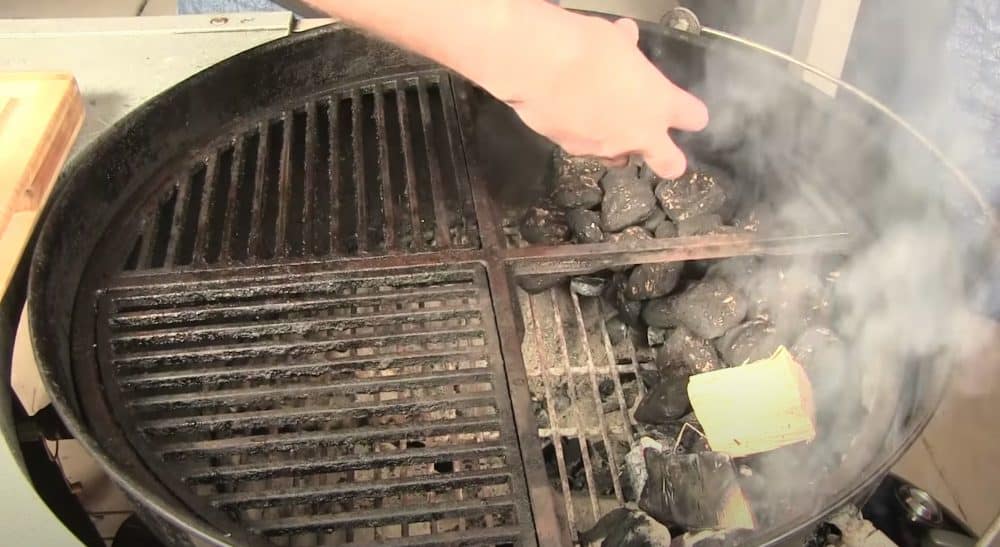 Once the temperature of your grill is around 275°F, place your lit pellet tube smoker in the grill or place your smoker box over the lit burners and once smoke begins coming out, place your potatoes on the opposite side.
Continue bringing the temperature up to 325°F.
Check out our Favorite Gas Grills priced UNDER $200 Here.
Best Ways to Serve Smoked Sweet Potatoes
You can have fun with this recipe and add maple syrup or even use pumpkin pie spices in place of the BBQ rub, depending on the occasion and time of year.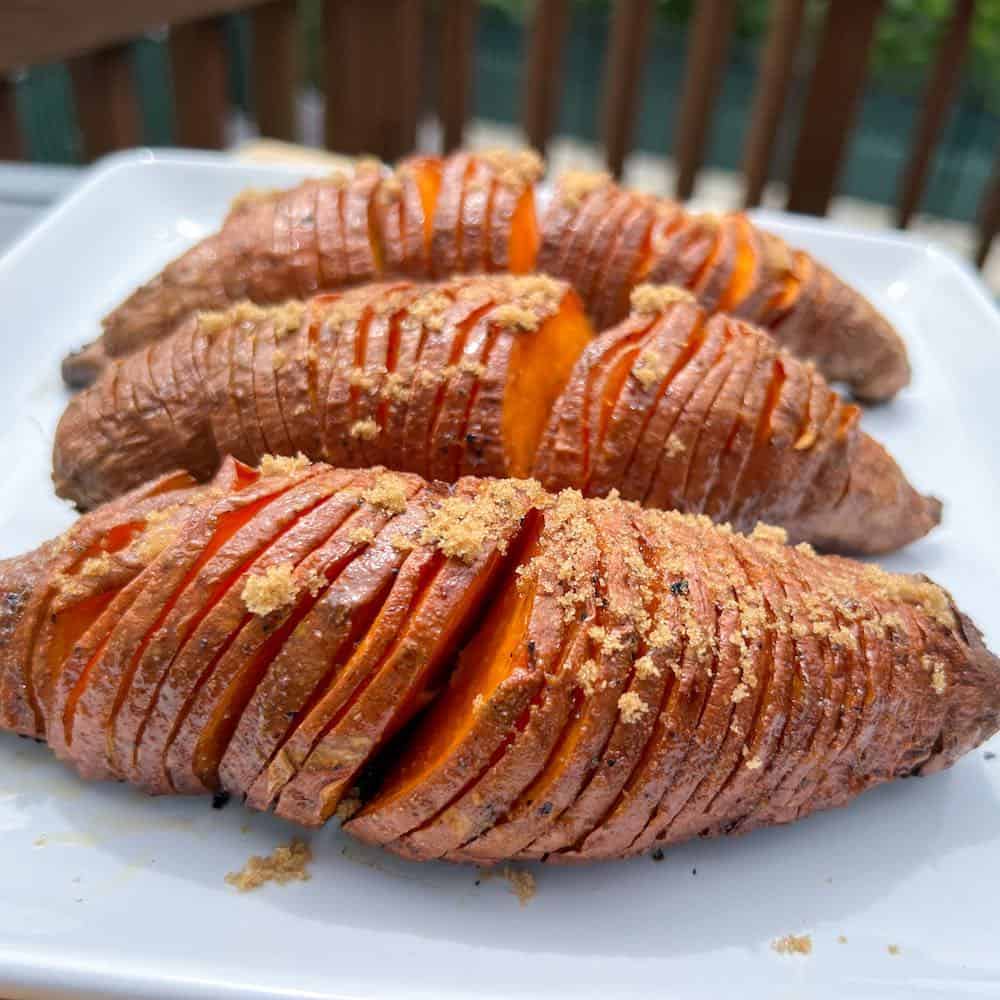 You can remove the skins and mash up the smoked sweet potatoes into a smoked sweet potato casserole if you wish, or just serve them fanned out as is.
After that long smoke, the skin is delicious and edible now as well.
We like them sprinkled with a little extra brown sugar at the end, and of course, you can always add more butter!
Serve them alongside your full Smoked Thanksgiving Turkey or with just a simple Smoked Boneless Turkey Breast.
Smoked sweet potatoes also go great with ham, prime rib, or even barbecued pork ribs!
And if you need more side and dessert options, make sure to check out our Smoked Baked Beans, Smoked Green Beans, and of course our Smoked Peach Cobbler!
Enjoy!
📖 Recipe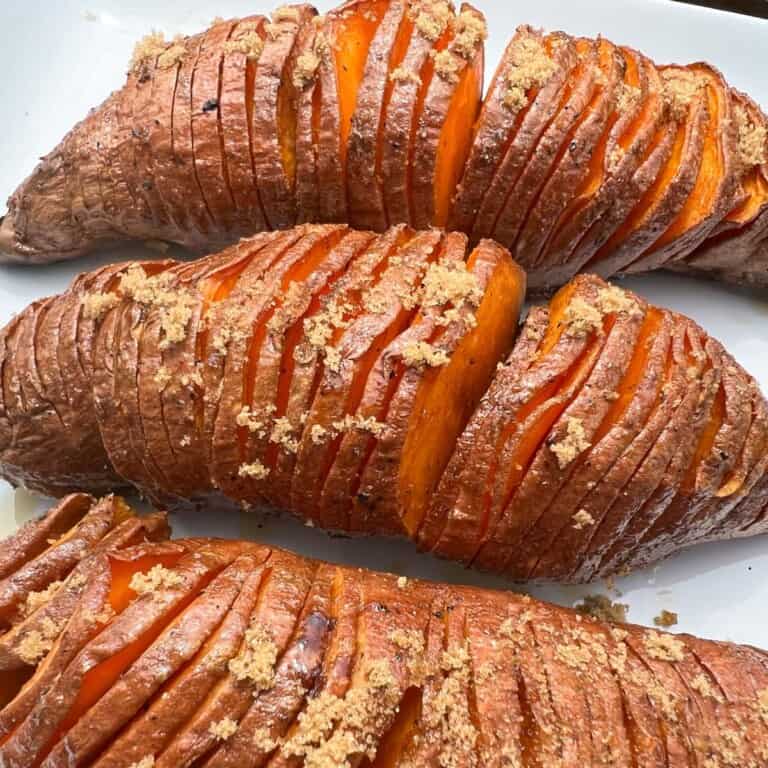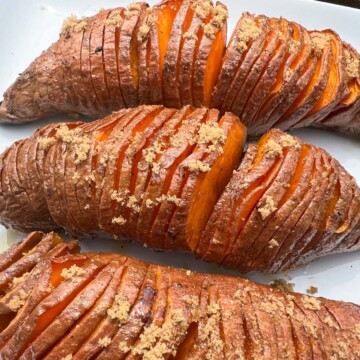 Smoked Sweet Potatoes
Sweet potatoes fanned out and basted with butter and a sweet BBQ rub. Then smoked with high indirect heat until caramelized and tender on any grill, pellet grill, or smoker.
Whether you've got a Weber kettle, a Traeger or Pit Boss pellet grill, or even a Masterbuilt electric smoker, we've got you covered!
Equipment
A Smoker or Pellet grill -OR-

A Gas or Charcoal Grill setup for indirect heat

A Foil Lined Baking Tray

A Meat Slicing Knife

A Basting Brush

Hickory, Maple, and/or Apple pellets, woodchips, or chunks
Ingredients  
6

Medium Sweet Potatoes

1

stick

Salted Butter

softened

½

cup

Dark Brown Sugar

Your Favorite Sweet BBQ Rub
Instructions 
Preheat the smoker, or grill setup for indirect cooking, to 325°F. If using a pellet grill, load the hopper with your shosen pellets, turn on the grill, and set the temperature for 325°F.
Prepare the Sweet Potatoes
Slice the potatoes about ⅔ of the way through, every ⅛ of an inch from one end to the other, creating a "fan"

Soften half a stick of the butter in the microwave but do not melt. Add about half the dark brown sugar and a tablespoon of your favorite sweet BBQ rub and mix together with the softened butter.

1 stick Salted Butter,

½ cup Dark Brown Sugar,

Your Favorite Sweet BBQ Rub

Place the potatoes on a foil lined baking tray and baste them with the butter/rub mixture using a basting brush. Try and make sure to get the mixture in between every slice.
Smoke the Sweet Potatoes
Once the grill or smoker is near its temperature, add your wood chips, wood chunks, or pellets into a pellet tube smoker and place over the direct heat and close the lid.

Once the grill or smoker is up to 325°F and producing smoke, place the entire baking tray with the sweet potatoes into the smoker, or on the cool side of the grill.

Every 30 minutes, baste the smoked sweet potatoes with more softened butter, sugar, and rub. You can also baste the melted butter that has collected at the bottom of the pan. Make sure to get in between each slice. Then close the lid again. Smoke for about 2 hours total.

Check for doneness by piercing the potato with a knife or fork. It should pass through effortlessly when they are finished. Or you can use an instant read thermometer and look for an internal temperature of 200-210*F.

Remove the tray from the grill or smoker using oven safe BBQ gloves and place somewhere to cool for 10-15 minutes before serving. Sprinkle with more dark brown sugar once cooled if you wish.
Notes
Video example from Grilla Grills
Nutrition