Our 5 favorite stylish rectangular fire pits so that your guests can enjoy your outdoor space well into the cool evening hours.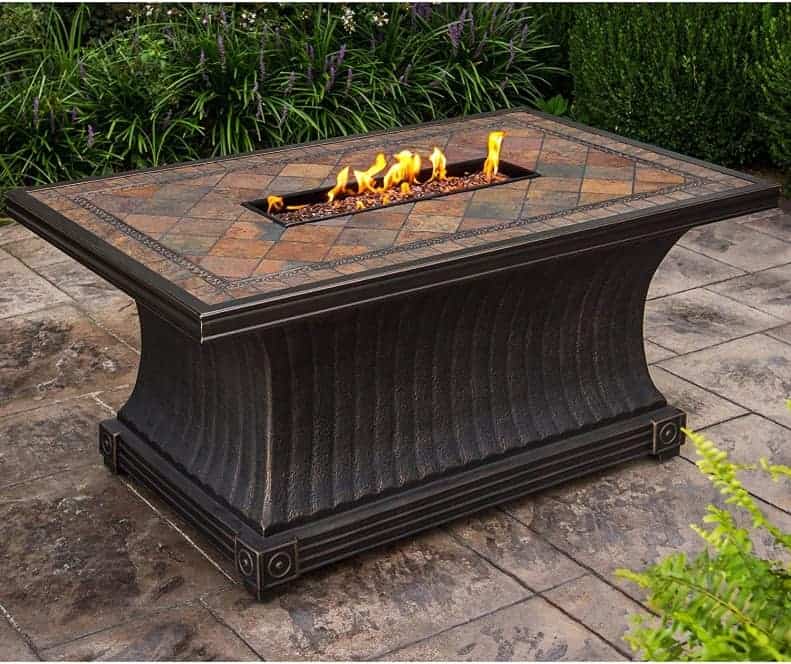 You throw a mean winter party, complete with electric heaters, wine, music, and fondue, but can't help but feel a little perturbed by the sight of guests heading indoors to warm up.
A guest-warming fire pit has become a new necessity, that's a foregone conclusion, but there is one more aspect you may have to consider: What shape should it be?
There is a general consensus that rectangular structures are more accommodating than square or even round ones, which could be why it's the most preferred shape for dining room tables.
Apply the same logic here, and you will realize why a rectangular fire pit could work better for a patio or lawn party where all your friends are invited.
Lets take a look at some of the best ones out there.
Our Top 5 Rectangular Fire Pits
A potent combination of form and functionality, this steel fire pit from Endless Summer promises to compete with your patio cooler for attention at your patio party.
Powered by propane, it lets out clean yet dazzling flames that can warm up to six people seated around it.
When not in use, the Endless Summer outdoor fire pit doubles as a quaint table that guests would fawn at anyway.
Pros
Faux wood tabletop makes the fire pit look classy
Propane cylinder can be safely hidden inside
Doubles as a drinks table when not in use
Responsive customer service
Cons
Around 3 feet long, it may be inadequate for large gatherings
Instructions for assembling the fire pit may be a little hard to follow
Specifications
Material: Steel
Burner capacity: 40,000 BTUs*
Fuel: Liquid propane
When your patio has a wicker theme going, there's no reason why your fire pit should stick out like a sore thumb.
Behold the Wicker Fire Pit Table from Best Choice, a piece of art that promises to give your patio a much-needed touch of elegance while retaining its outdoorsy flavor.
This product comes with a removable glass wind guard that fits perfectly on the aluminum tabletop, protecting its brilliant propane-powered 50,000-BTU flame from the elements.
And if you notice the propane running out, simply pull out its conveniently positioned gas tank holder for quick replacement.
Pros
Made of weather-resistant wicker woven over a sturdy aluminum frame
Measuring nearly 4.5 feet, fire pit doubles as a dinner table
Pullout gas tank holder for easy propane cylinder replacement
Comes with a durable fabric cover to protect the fire pit from the elements
Cons
Some users found the fire pit table difficult to assemble
Product arrived damaged in a few cases
Specifications
Material: Aluminum and wicker
Burner capacity:50,000 BTUs
Fuel: Liquid propane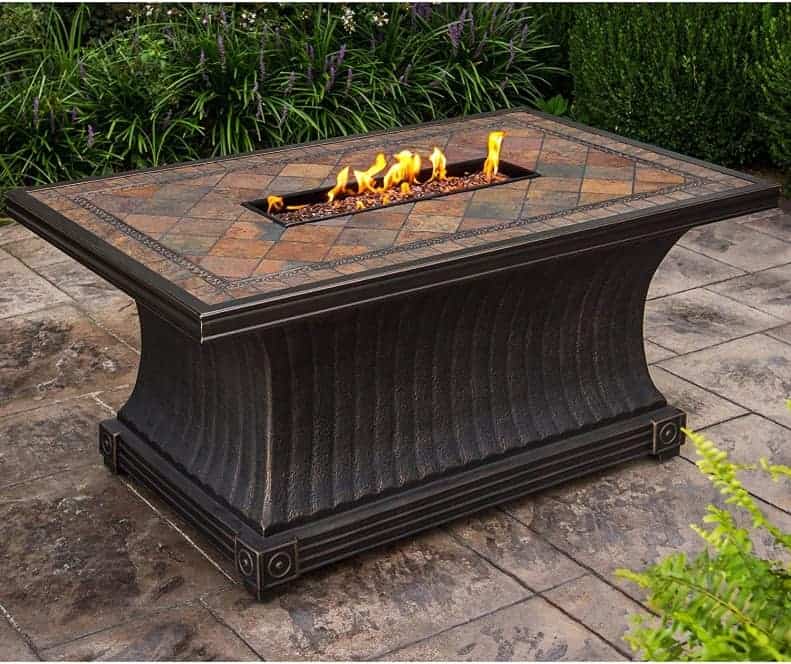 Exotic with a decidedly Targaryen flavor, the Cascadian Slate Topped Firepit Table looks as warm as the fire burning at its center.
While the body is made of rust-free aluminum and the tabletop of elegant slate, at its heart lies a stainless-steel liquid propane burner capable of unleashing over 40,000 BTUs of heat.
So, fill the tray with lava rocks, set the controls at full blast, and watch the dragon breathe new life into your party.
Pros
Made of rust-resistant aluminum for maximum durability
Doubles as a table with an elegant rectangular slate top
Concealed knob helps control the intensity of the flames
Comes with natural gas conversion kit and fabric weather cover
Cons
Expensive compared to other fire pit tables
Specifications
Material: Aluminum and slate
Burner capacity: 40,000 BTUs
Fuel: Liquid propane
If you don't really care for propane-fueled flames dancing daintily to the strains of Moonlight Sonata on a gilded tabletop, Landmann has just the thing for you.
A wood-burning fire pit of the no-nonsense kind, its sturdy pan can hold enough firewood to keep your campfire party going through the night.
While a handy ash grate enables clean combustion, a durable guard screen prevents sparks from wafting towards unsuspecting revelers.
Want to roast marshmallows? Go ahead. Nobody's judging!
Pros
High-heat finish and durable spark guard for optimal safety
Full-perimeter handle for easy transport, wherever your campsite may be
Multipurpose tools for tending and stoking the fire included
Handy ash grate ensures optimal airflow for cleaner burning
Cons
Cooking grate covers only one-third of the fire pit
Some difficulty in the air reaching the bottom
Specifications
Material: Steel
Burner capacity: N/A
Fuel: Wood
This one may be right up your alley if you like the look of weathered steel.
The Bentintoshape Rectangular Fire Pit is made of 11-gauge Corten steel to bring about maximum durability as well as that rustic feel you have always wanted for your backyard.
Extending over four feet long, it is equipped with a 36-inch burner ring capable of emitting up to 75,000 BTUs of heat.
Comes in wood-burning, liquid propane, and natural gas variants.
Pros
Corten steel does not require painting
Arrives fully assembled, so no fumbling with tools
Equipped with a high-capacity burner ring
Great for larger patios
Cons
Not everyone considers weathered steel aesthetically pleasing
Does not include lava rock, glass media or fire pit cover
Specifications
Material: Corten steel
Burner capacity: 55-75,000 BTUs
Fuel: Liquid propane, natural gas, and wood
Other Factors to Consider
You may have decided on the shape of your next fire pit, but there's more to it than that. We answer a few commonly asked questions to help you decide on your purchase.
Should I get a fire pit that runs on natural gas or propane?
Well, it depends.
Because both come with their own advantages and drawbacks.
The flame produced by propane beats natural gas in terms of brightness and heat (generating approximately 2,500 BTUs as compared to the latter's 1,000).
Fire pits that run on propane also enjoy higher mobility, as opposed to natural gas-powered units that have to remain attached to fixed piped sources.
Natural gas has the advantage of unlimited supply (so long as the bills are paid) and much lower pricing.
Are there any disadvantages to wood-burning fire pits?
As wood does not burn very efficiently, it emits up to 28 pounds of toxic emissions into the atmosphere at a single go.
It also leaves behind a lot of soot and ash, which have to be removed from the fire pit regularly.
Although wood-burning fire pits are traditionally cheaper than gas-powered ones, continued spending on firewood builds up costs over time.
Rectangular Fire Pits: The Verdict
Rectangular fire pits can be of any design or kind, and something perfect for one person may not seem as alluring to another.
If you want your patio to have that Gothic touch, you could go for the Cascadian Slate Topped Firepit Table, but if the color of rust is your thing, Bentintoshape's rectangular offering may be just what you need.
Your guests are sure to love any choice you make, so long as it whips up enough warmth for the next patio party.
* BTU, or British Thermal Unit, is defined as the amount of heat required to raise the temperature of one pound of water by one-degree Fahrenheit.