Learn whether you can safely use the Solo Stove on a deck, whether wooden or composite, or a concrete patio.
Whether you have the Solo Stove Bonfire, Yukon, or Ranger, we've got you covered.
Let's go!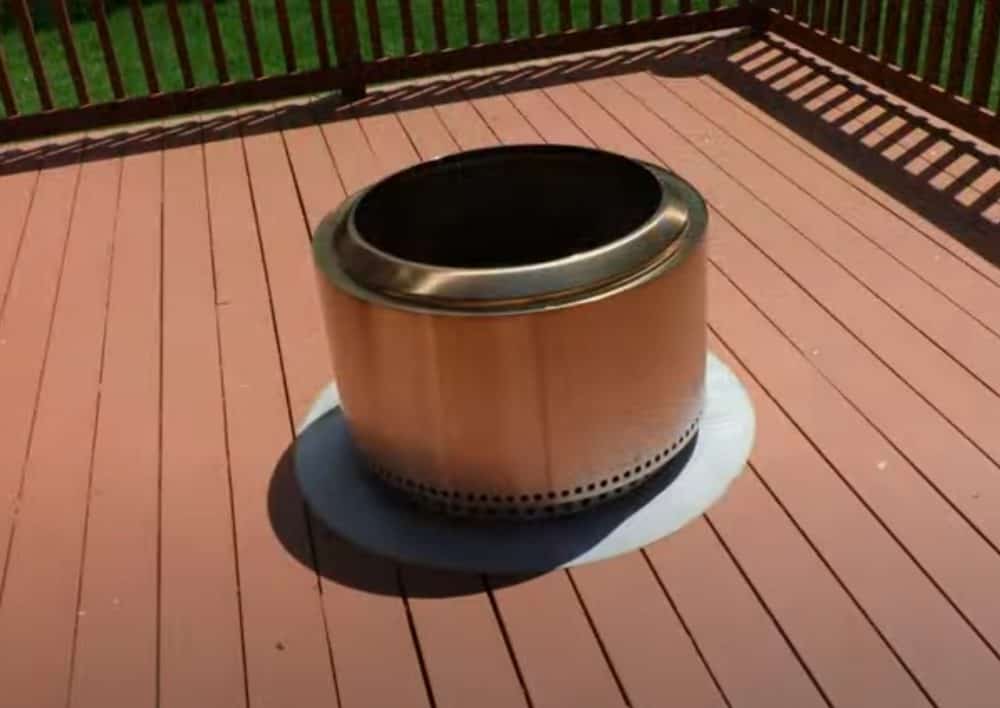 The Solo Stove Fire Pit is fast becoming very popular as high-quality stainless steel warmer and cooker, but with the heat this Stove emits, many people ask whether it is safe to use a Solo Stove on concrete or a deck.
You can use the Solo Stove on a deck and concrete, as long as you use a Solo Stove Stand and a heat resistant barrier for a fire pit underneath it to protect the surface.
The Solo Stove will get extremely hot while burning, and for softer materials like composite decking, it's advisable to have some additional protection.
Let's look closer at using the Solo Stove on these two different surfaces and better understand how to use it without damaging the decking, concrete, or the Solo Stove itself.
Thinking about buying a new Solo Stove Fire Pit or Camp Stove? 
Make sure to check out our Ultimate Comparison Guide to Solo Stoves first!
What To Consider When Using The Solo Stove On A Deck
There are few things better in life than sitting outside on a wooden or composite deck (like Trex) with a warm roaring fire in a fire pit, roasting marshmallows, and relaxing, and the Solo Stove Fire Pits certainly come to the party there.
When it comes to wooden decking, though, we are still talking about wood, heat, and flame, and those elements, when not combined safely, can lead to some unpleasant problems.
And when it comes to composite decking, you have to understand most composite decks like a Trex deck are made from a blend of plastics which can melt and warp when subjected to the intense heat of a Solo Stove fire pit.
There are a few factors to consider when using the Solo Stove fire pit on your deck.
First and most important, the radiation of downward heat is important as this can heat the wood or composite decking below and cause it to warp as it gets hotter.
The other consideration is that the fire may spit sparks and throw out other hot material, and if this lands on a wooden or composite deck, will leave a pattern of scorch marks on the deck.
How to use a Solo Stove Safely on a Deck
Fire pits can reach temperatures of 1000℉ or more.
While the Solo Stove may not get quite that hot, even at 800℉, any material that is not significantly resistant to temperatures of that intensity will burn.
Though most heat will radiate upwards and outwards, some heat will radiate downwards, and to prevent damage to your deck; it's wise to have some air space between the Solo Stove fire pit and the deck.
The same would apply to the burning or smoldering embers that get ejected from the fire, as you don't want those landing on a wooden deck still glowing hot as this will damage the wood.
Of course, the simple way to avoid all of this is to move the the Solo Stove fire pit to a cleared grass area, concrete, or gravel away from the deck, but that detracts from the experience.
So to protect your deck, we recommend using the Solo Stove Stand along with a good heat deflecting fire pit mat to help reflect some of that that radiate heat back upwards.
Can You Use The Solo Stove On A Composite Deck?
Composite PVC decks like those made from Trex, Nexsan, Versadeck, and Azek are made with fire-resistant gradings categorized from A-C, with A being the highest fire-resistant grade available.
While this material is designed to withstand heat, it would still be advisable to use the Solo Stove Stand and a heat deflecting fire pit mat with your Solo Stove fire pit.
Even with highly rated composite decking, continued exposure to temperatures around 1000℉ will still damage it.
Can You Use The Solo Stove On Concrete?
Concrete will only melt at temperatures of over 1000℉, and even under normal usage conditions of burning for 3-4 hours, concrete would not suffer any adverse effects from using the Stove.
It would be advisable to remember that if you are going to be using the Solo Stove on stained, stamped or painted concrete, that could pose a risk of damage to the surface covering, and again, when using fire, rather be safe and utilize both a high heat resistant fire pit mat and the Solo Stove Stand.
What Accessories Could You Use For Your Solo Stove On a Deck or Concrete?
Now, all that said, if you really want to set up that Solo Stove on a deck or concrete, there are a couple accessories you should definitely use along with it to make it safer and help keep your surface from getting damaged.
The Solo Stove Stand
One option to help keep SOME of the heat away from your deck or concrete is to get the Solo Stove Stand.
The Solo Stove Stand fits on the bottom of the Stove and lifts the firepit off the surface so it is not making direct contact with the deck or concrete.
We recommend you still use a good heat deflecting fire pit mat below it though.
The Solo Stove Stand accessory does three things:
First, it allows proper airflow through the bottom of the Solo Stove for better burning.
Solo Stove's core design revolves around their revolutionary 360° Air Flow and secondary burn vents, so when there is not enough airflow, your Solo Stove will make too much smoke and struggle to burn properly.
Second, it will stabilize it more safely than using say bricks or plywood , and third, it will prevent the base from making direct contact and burning or staining the deck or concrete as easily when in use.
Solo Stove themselves recommend ALWAYS using the Stand when you are burning a fire.
The Solo Stove Shield
Another very useful accessory that would reduce the risk of ejecting embers from the fire is the Solo Stove Shield.
It is constructed of the same 304 stainless steel as the Stove itself, the Shield fits the top of the Stove above the upper vents, and the stainless-steel mesh prevents the fire from throwing out embers, sparks, or other hot material that may damage or mark up your deck or concrete.
Combine this with the Solo Stove Stand, and your Solo Stove is a lot safer to use in any area with less risk of capsizing or eruption of embers onto ground.
How to Use a Fire Pit Barrier Mat with a Solo Stove
A good quality heat-resistant fire pit mat barrier will add another layer of protection to your deck or concrete.
They are many available from Amazon in various sizes and shapes from various manufacturers to suit your size Solo Stove fire pit.
After measuring the diameter of your Solo Stove Bonfire, Ranger, or Yukon, make sure to choose a Fire Pit Mat Barrier that is about twice this size to allow plenty of space for embers to land that may come out.
We especially like the ones from Fireproof Pros.  They come in a variety of sizes, have great heat resistant and deflection materials that deflect up to 1800°F, and also a non-skid surface to keep the fire pit from sliding.
More Solo Stove Resources from Mad Backyard
Must Read Solo Stove How-To's
Other Common Solo Stove Questions Answered