We found the best electric patio heaters available today, and put together this quick guide to help you choose which one will work best in your space, no matter your style.
Choose from freestanding, tabletop, ceiling mounted and under-umbrella options!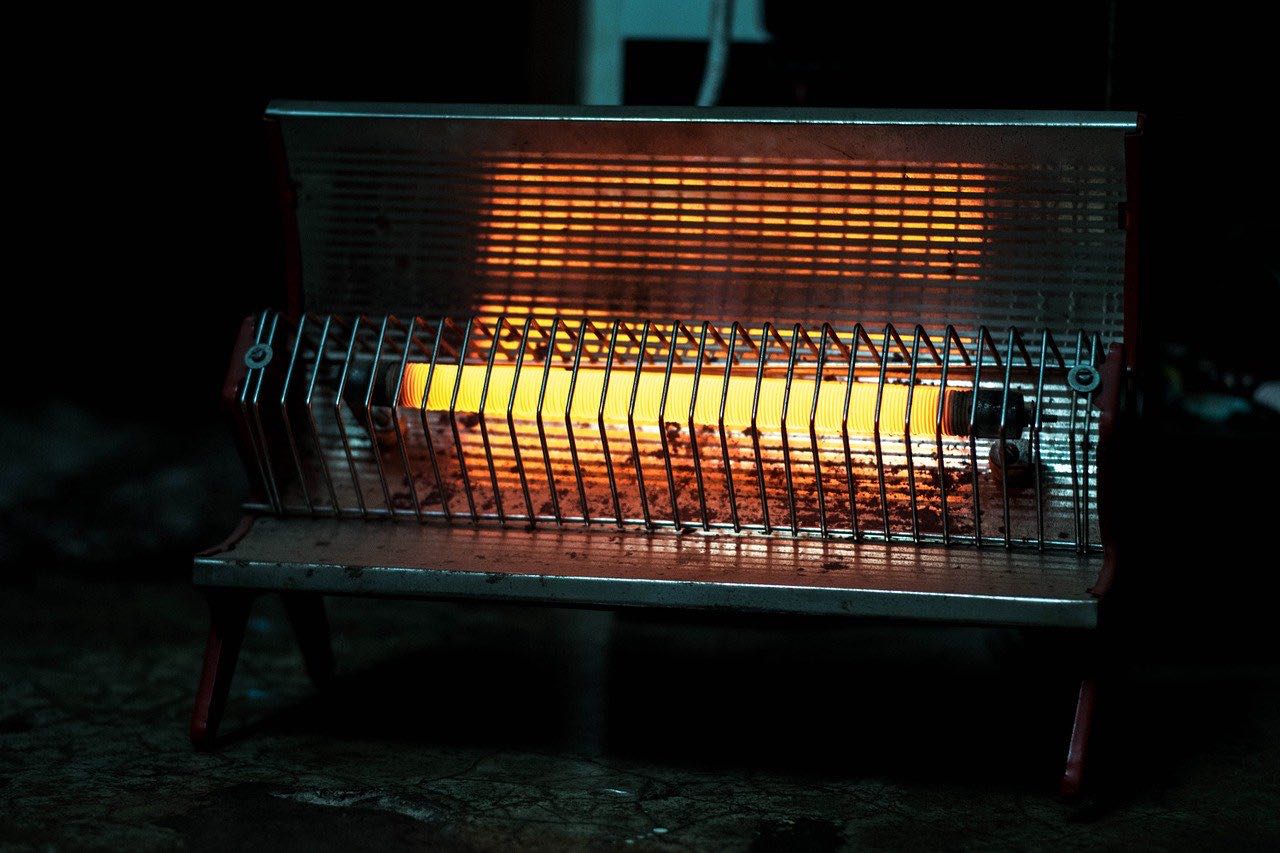 Heater on, chills gone!
Whether you want to cozy up on a brisk summer night or utilize your backyard space into the winter months, an electric patio heater will keep you warm and toasty while you're outside — no matter what season it is.
Here's our how-to guide on how to pick out the best one for your outdoor heating needs.
Types of Electric Patio Heaters
Free Standing
The free standing outdoor electric heater is ideal for someone with a large patio space, both for the reason that it can heat up a larger area and that it takes up more room than some of the other options.
Table Top
Table top electric heaters are smaller, and ideal for a tinier patio space or an apartment deck. Their small size makes them a less expensive option, so consider one if you don't want to make a long-term investment!
Under-Umbrella
The umbrella heater is perfect for those patio nights where you sit out with a drink in hand! It fits neatly under the umbrella on your patio furniture set, making it easy for you to simply add it to the decor you already have.
Ceiling
Electric ceiling heaters are a powerful way to keep your patio toasty into the night! These heaters can be installed either on your ceilings or wall, which gives you another space-saving option to choose from.
Features to Consider When Buying an Electric Patio Heater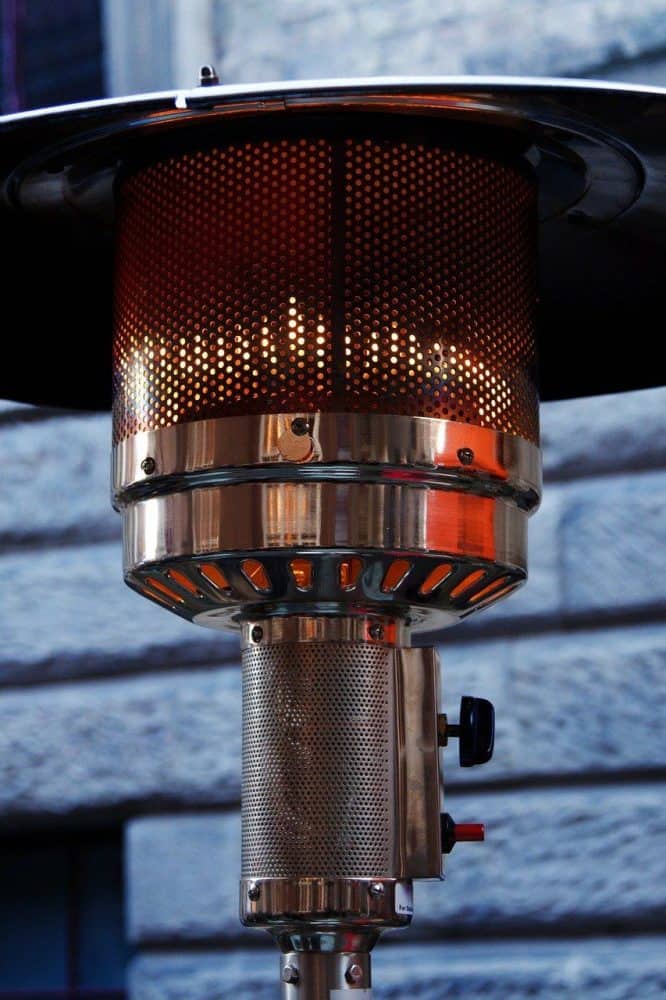 Size
How much room can your patio spare for a new outdoor heater?
Some electric heaters can be small enough to place on a table, while others can be large enough to practically be their own piece of decor in your outdoor space.
Just like when selecting the right size cooler or dining set, it's vital that you think about what size of heater will work best in your space.
Placement
Where is the heater going? Will you put it on a patio table or a side table, or do you want something that's so out of the way that people won't even notice it? Figure out where your heater will be placed before you make your purchase.
Heat Output
Heaters have BTU (British Thermal Unit) measurements, which essentially tell you the amount of space they can reasonably warm up in a given amount of time. We'd highly recommend first figuring out the needed BTU measurement for your space with this online calculator before you start shopping.
Efficiency
Lucky for you, electric patio heaters are more energy efficient than their gas or propane counterparts! But depending on how much space you're planning on heating and how often you'll be using your heater, it's important to determine if picking a more efficient electric option than others is right for you.
Our Top 10 Electric Patio Heaters
This outdoor infrared heater is truly a jack of all trades! It's able to be mounted on a wall, or set up on an optional tripod stand.
This portability makes it the perfect option if you're looking for a heater that's multi-use, as you can also use it in your shed, garage or anywhere else you might need heating.
And with it's rain-resistant protective layer, you'll be able to use it rain or shine!
This outdoor heat lamp is another staple that can be mounted on your wall or used with a stand.
This one can warm up areas as large as 11 x 11 feet, ensuring that you can be cozy without needing to be next to your heater at all times.
It's made from all recyclable materials, doesn't produce any greenhouse emissions, and can be used for up to 5,000 hours!
Sign us up.
Fire Sense 02117 Telescoping Offset Pole Mounted Infrared Patio Heater With Wheels
🔥 FIRE SENSE 02117 ELECTRIC PATIO HEATER: Our patented heavy duty Stainless Steel Offset Infrared Patio Heater introduces a new revolution in outdoor heating.

🔥 STAINLESS STEEL TELESCOPING OFFSET POLE MOUNTED INFRARED PATIO HEATER: Operating at 90% heating efficiency, this infrared patio heater runs on regular household electric current and is substantially less expensive to operate than propane patio heaters.
Now that we've seen a few mountable heaters, we thought we should show one that already comes with a pole!
This mounted heater rests on top of a stainless steel, telescoping pole that can be aimed at whatever area of your patio space that needs heating.
The pole can adjust from being 71 inches tall all the way up to 92 inches, and can cast out a blanket of heat of 9 feet across your patio area.
It can be used indoors or outdoors, making it a stellar option if you're looking for a heater for a screened porch!
This is a prime example of another easy to hide away heater!
This umbrella heater fits neatly underneath your patio furniture umbrella, making it convenient to stay warm without bringing in any extra furniture or accessory pieces to your backyard decor.
It's easy to set up, and can even be stored away with your patio umbrella when it is folded.
This heater has three different settings, which allows for you to use it any time of year with an adjustable temperature to compensate for whatever the outside weather is throwing at you that day!
Lasko Designer Series Ceramic Space Heater
Adjustable Thermostat - allows you to adjust the heaters 1500 watt ceramic heating element. With easy to read LED temperature settings you can select temperatures from 60F to 85F or select max heat for maximum warmth

Built-in Timer - can be programmed from 1 hour to 7 hours. Simply press the timer button on the digital control panel to easily program the timer in 1 hour intervals. Once the timer is set the heater will automatically shut off after the programmed time
For a heater that works well while looking good, look no further!
This one can function as a table top electric heater, or just be placed next to your potted plants as decor.
Your guests will never know the difference until you whip out the remote and turn it on!
A dual purpose heater? Don't mind if I do! We love how this heater can inconspicuously keep you warm WHILE also holding your favorite adult beverage. Sleek, stylish and super warm!
Westinghouse Infrared Electric Outdoor Heater, Oscillating With Remote, Radiant Heating with Auto Shut-Off
POWER ADJUSTABLE CARBON HEATING ELEMENT - Designed with a highly efficient power adjustable 600 or 1200 Watt infrared heating element and a highly rated aluminium reflector, it distributes heat evenly to provide optimum heating for any terrace or outdoor space with its oscilating base feature.

TIMER FEATURE - The timer feature lets you program how long you want ot run the heater. If you are having a party and head in the house, not to worry the heater will shut itself off after the programmed time setting. You can set it to: half, 1, 2 or 4 hours. You can also leave it to run without the timer. No worrying about the cost because the heater is only pennies per hour to operate!

REMOTE CONTROL - The handy remote control lets you manage all of the features at a distance. Set the timer, adjust the heat intensity, turn the oscillatiion feature on or off, and even shut off the heater. The only feature you need to do on the heater itself is turn it on. For safety you cannot activate the heater from the remote, but you can turn it off. The handy LCD screen will show you the features as you activate th
Here's a sleek and simple outdoor electric heater that will fit in on any patio, large or small!
This freestanding heater comes in a simple black design, ensuring that it won't stand out against any of your other patio decor.
It can stand up to rain or snow, so no worries about leaving it out all year round either!
With this heater, you'll be good to go out to your patio whenever you feel like it.
Hiland HLDS032-B Portable Table Top Patio Heater, 11,000 BTU
Hiland 38-Inch tall portable patio heater. CSA Approved

All AZ Patio Heaters products include a one year warranty against manufacturer defects. We are one of the only suppliers in the US to maintain a complete line of replacements parts and a full service repair cen
This tabletop patio heater might be small, but it packs a lot of power!
Next time you want to head out to the porch but don't want to grab a blanket or sweater, just turn on this little guy instead and sit back while your space becomes toasty and warm within minutes.
Ener-G+ Indoor/Outdoor Ceiling Electric Patio Heater with LED Light and Remote Control, Black
Radiant and quiet heater: gold tube technology will deliver heat more efficiently from a distance. The Red hot Bulb filament lasts up to 5, 000 hours. Produces an output of 1500 watts. Heater can also connect into a standard 110 volt 60 Hz wall outlet. Bulb is replaceable.

TOTAL CONVENIENCE: Hands free remote control to allow you to control heat setting and on/off swit
Looking for a light to hang from the ceiling under your deck or roof of your gazebo?
Why not get an outdoor light/heater combo?
This heater hangs from the ceiling of your porch or patio area, and can function like both an outdoor light and a heating unit at the same time!
FDW Outdoor Patio Heater Tall Standing Hammered Finish Garden Outdoor Heater Propane
Ⅰ 【EASY TO ASSEMBLY:】All parts of the patio heater present, unit well packed and undamaged. All the holes lined up well, and the bolts all fit well, the outdoor heater is easy assembly, follow the starting directions and you will finished it less than hour. gas patio heater is sturdy if put together properly and looks great.Patio Heater outdoor heaters gas patio heater lp patio heater

Ⅱ 【PUT LOTS OF HEATER:】The patio heater's high output is 41000BTU, use it out on the patio at night in the late fall/winter time, the outdoor puts out a lot of heat, it's a suggestion that start out with the gas patio heat on high but usually turn it down after the area heats up, a tank of propane lasts a couple of weeks.outdoor heaters gas patio heater lp patio heater Patio Hea
Finally we have the FDW outdoor heat lamp.
With an adjustable height pole and angle options, you'll always be able to aim the warm air towards wherever you are cozying up outside.
It can last for up to 6,000 hours, ensuring that you'll be able to spend hours upon hours outdoors without having to worry about catching a chill.
Best of all, the efficient halogen heating unit within ensures that you'll be able to save some major cash on your electricity bills!