Learn how to clean a brick patio in no time. We explore multiple products, techniques, and chemicals to clean your brick patio both safely and effectively.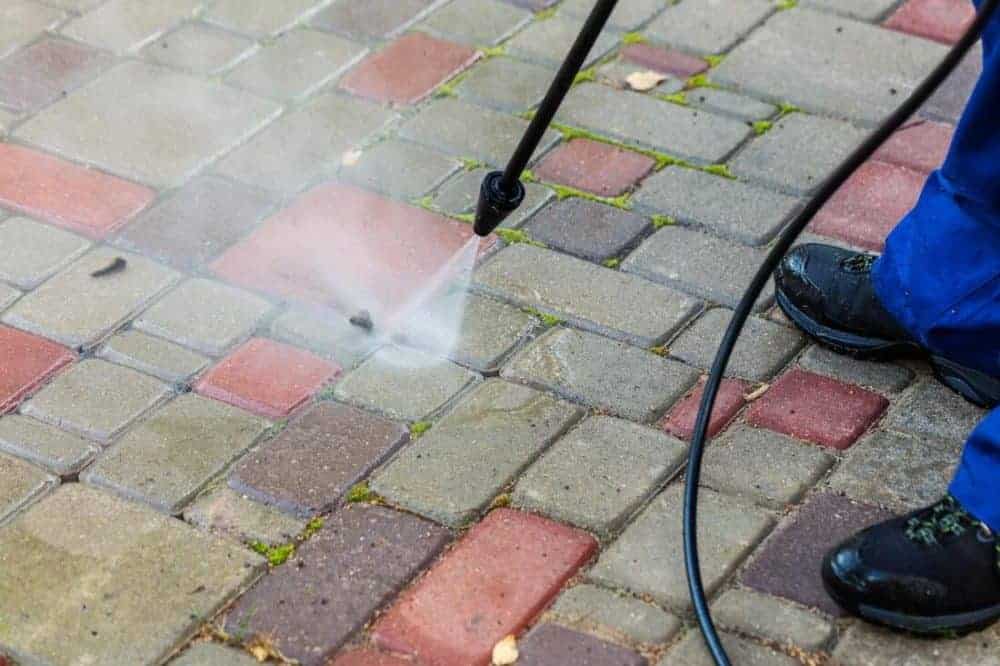 Want to bring that dirty brick patio back to life with a good cleaning?
We looked at some of the best methods for how to clean a brick paver patio without damaging the brick pavers or the surrounding plant life in your yard and gardens.
Make sure to remove all your furniture and plants from the brick patio before getting started!
Sweep and Remove Weeds from the Brick Patio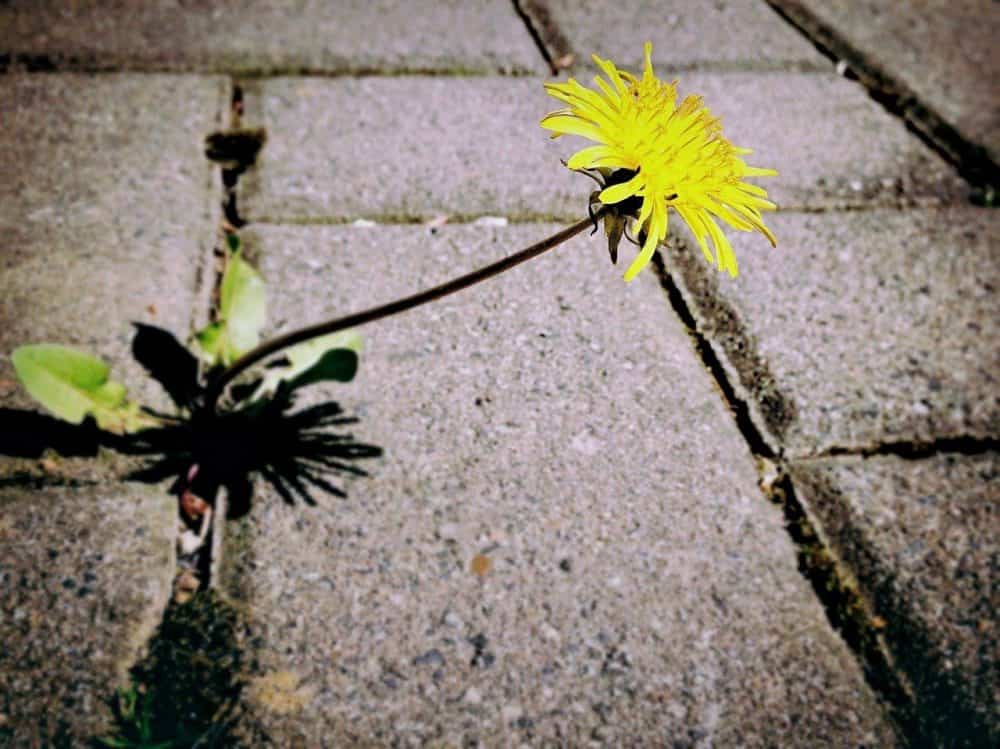 Before you get down to the heavy-duty cleaning, you will want to give your brick patio a good sweeping to clear off any surface debris.
If you have weeds growing between your pavers you can either pull them or use a weed trimmer to cut them down very short.
Use a leaf blower to remove the trimmed debris and then hose off any loose surface dirt with a standard garden hose sprayer.
Now you will be able to see how much your brick is stained and which areas will need the most thorough cleaning.
So how do you clean the moss, mold, mildew, algae, and grease stains that remain off your brick patio floor?
Let's take a look at some of the products, techniques, and chemicals you can use to tackle those tough brick stains.
Power Washing Brick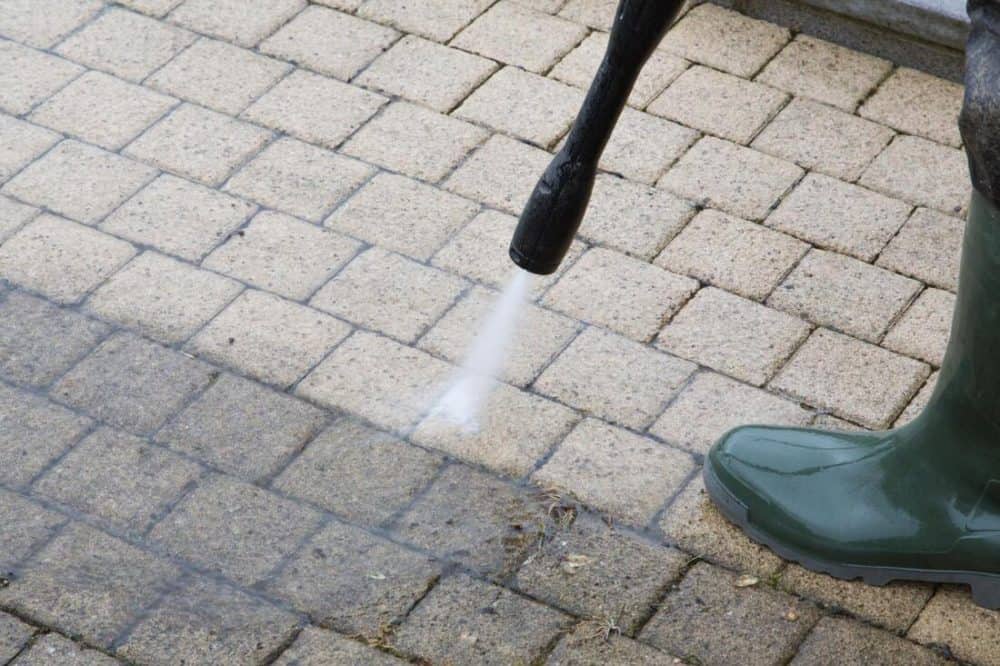 One of the quickest ways to tackle cleaning that old red brick patio is with a power washer.
However, be sure to use a low-pressure soft wash system that is safe for both your brick and any mortar and will not etch the pavers or cause other damage.
Bobvila.com recommends to never use anything over 3,000 PSI on concrete and brick, and nothing over 2,000 PSI on your actual house exterior.
In our experience, we've found that most consumer grade power washers in the 1,250-1,500 PSI range still work just fine for applications such as this.
Home Power Washers
There are many safe and easy to use home power washing systems available to the DIY homeowner.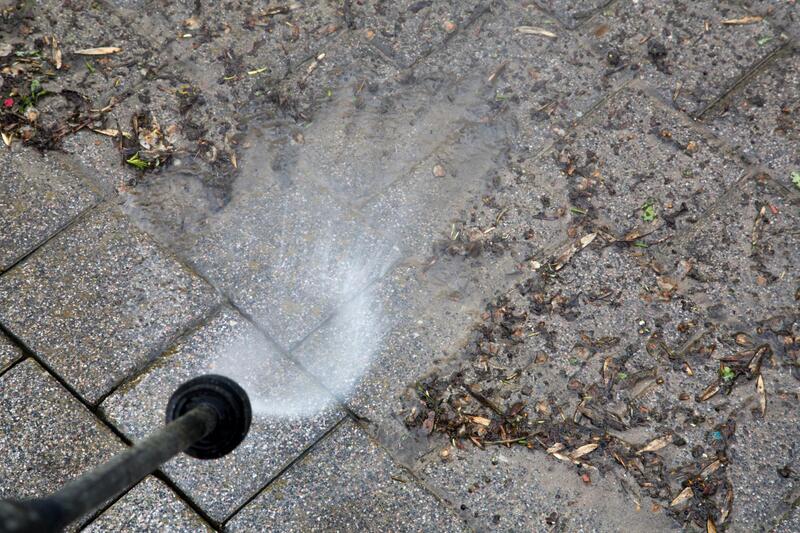 One of our favorites in this category is the Sun Joe line of products, particularly the Sun Joe SPX3001 2030 PSI 1.76 GPM 14.5 AMP Electric Pressure Washer coupled with the 10 inch Patio Cleaning Brush Attachment they offer as well.
The Sun Joe used by itself gives you multiple nozzles to use that change the angle of spray and therefore the PSI coming out of the hose, up to as high as 2,030 PSI, which is really good for an entry level electric pressure washer.
How far you hold the nozzle away from the surface will also impact how much pressure you are applying to the pavers.
Always start with the widest-angle nozzle first and only progress to higher PSI nozzles if you are unable to clean effectively with the one you are using.
The nice thing about the Brush Attachment is that it keeps the water at a constant distance away from the brick while you sweep it back and forth across the patio, resulting in a nice, even cleaning. See our results with the Sun Joe Brush Attachment at How to Clean a Concrete Patio.
Because of the 10" head on it you can also cover a lot of surface area fairly quickly and evenly.
Professional Power Washing
Be cautious of using professional grade pressure washers as many of these are designed to clean at VERY HIGH PSI levels.
You do not want to crack your brick or leave etching and other unsightly marks in the surface of your patio.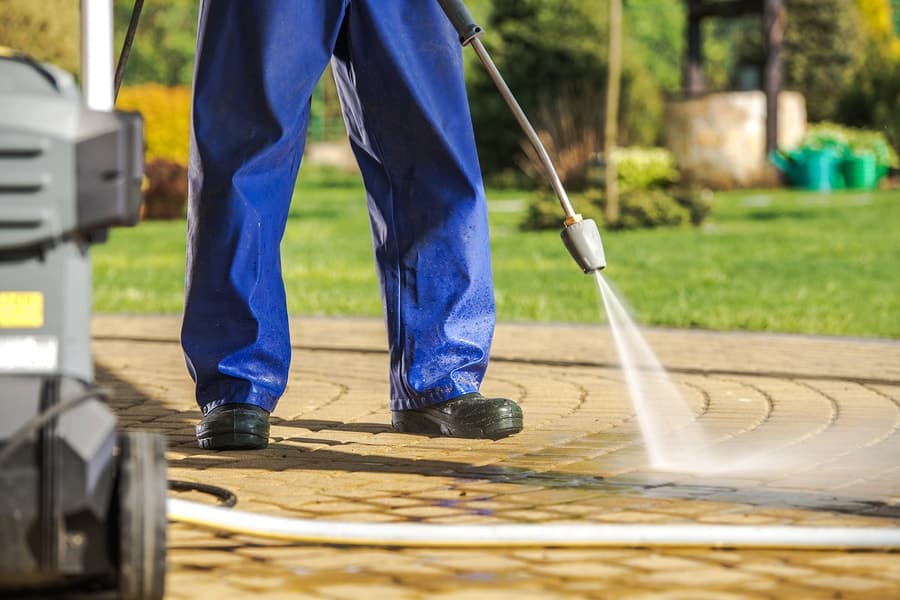 If you are calling a professional pressure washing company make sure to ask them how high a PSI they use on brick patios.
If they can't answer this question or tell you anything above 3,000 PSI, politely hang up.
Also make sure to ask about what chemicals they use.
Many commercial pressure washing companies use highly concentrated bleach solutions that may work well on light vinyl siding but could quickly stain your red brick patio, especially if they use the wrong kind of bleach.
If they DO use bleach, ask what KIND of bleach they use, and if they say CHLORINE Bleach, or worse, "I don't know," politely hang up the phone.
More on that below.
As we discuss below, we recommend using a simple vinegar solution rather than bleach.
Vinegar will go to work on those though mold and mildew stains and help remove stubborn moss from your brick.
Scrubbing a Brick Patio by Hand
If you have a smaller patio to clean, or just enjoy getting a workout and scrubbing by hand, you will want to make sure you are at least using a really good brush.
We like the Old City Moss Removal Deck Crevice Cleaning Tool.
This nifty...yes we are breaking out "nifty" on this one...little scrub brush not only has the hard wire bristles to really clean your brick pavers, but also attaches to any standard push broom pole so you can work while standing up!
Now you can go to town on those dirty brick crevices without breaking out the knee pads!
Chemicals to Clean a Brick Patio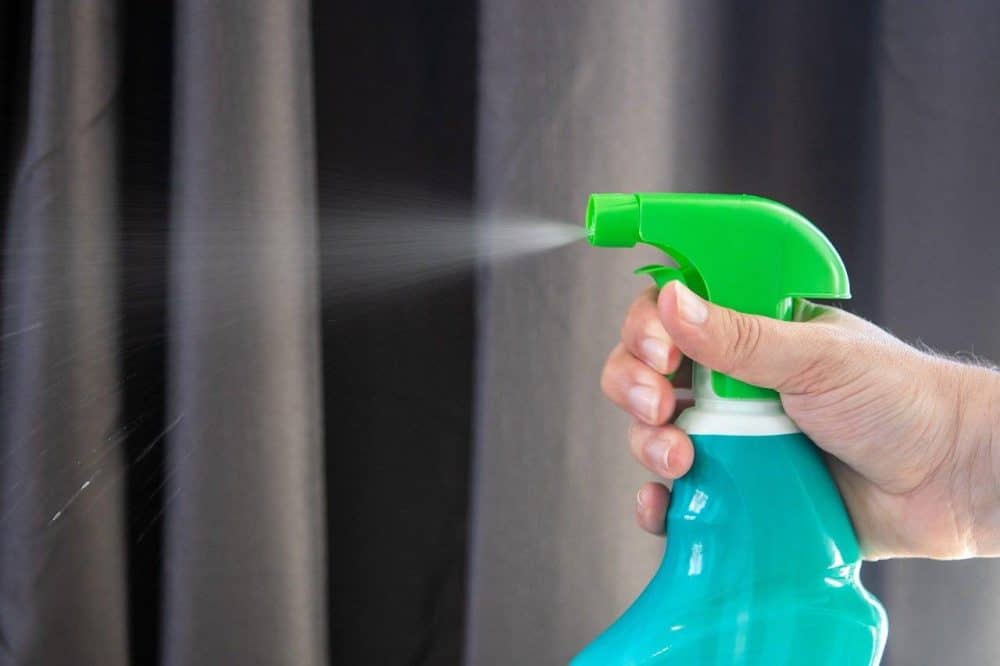 You may need to treat the surface with a mild detergent or vinegar in order to kill any organic matter that had managed to stain your brick before scrubbing or power washing.
Borax
Borax is a great all purpose cleaning agent to use on brick.  Like any household chemical, make sure to wear cleaning gloves, protect your skin and eyes, and dilute it appropriately.
Mix 1 tablespoon Borax with 1 gallon of warm water in a large bucket. Scrub back and forth making sure to get into all the crevices.
Rinse with clean water and repeat. Make sure to rinse quickly so that you do not leave any streak marks.
Vinegar
Mix 1 part vinegar with 15 parts warm water. You can apply this by scrubbing in and let it soak before scrubbing some more.
Your power washer may also have a tank to hold some vinegar and incorporate it it into your spray. Be careful not to spray it near any plants or landscaping beds though.
Make sure to rinse the patio well well after using the vinegar solution.
Bleach
If you are going to use bleach, make sure to use the RIGHT KIND of BLEACH.
CHLORINE bleach is very toxic for your soil and according to this Washington Post article can damage plants and trees up to 20 yards away.
While vinegar may kill any immediate plant life it comes into contact with, it is also quickly broken down and does not linger in the soil.
Chlorine bleach on the other hand does not break down, will work its way into the groundwater and eventually poison any nearby ponds, lakes, trees, and wildlife if used in large enough quantities.
If you really want to use a bleach solution on those tough brick stains, make sure to use OXYGEN Bleach, which is usually a powder mixed with water.
Oxygen Bleach has all the stain fighting properties you are looking for without removing the color from your brick and without any toxicity to local plant life.
Follow the directions on the packaging for the appropriate dilution.
Muriatic Acid
Muriatic Acid is known to work great on tough brick stains, however, it is very strong, can easily burn your skin and has terrible vapors.
We prefer using a brick and masonry cleaner such as this kind by MasonrySaver.
Make sure to follow the directions on the bottle for how much to dilute the solution before applying to your brick.
Always apply to an inconspicuous spot first to make sure there are no unwanted staining affects before scrubbing your whole patio with it.
Weed and Moss Prevention on Brick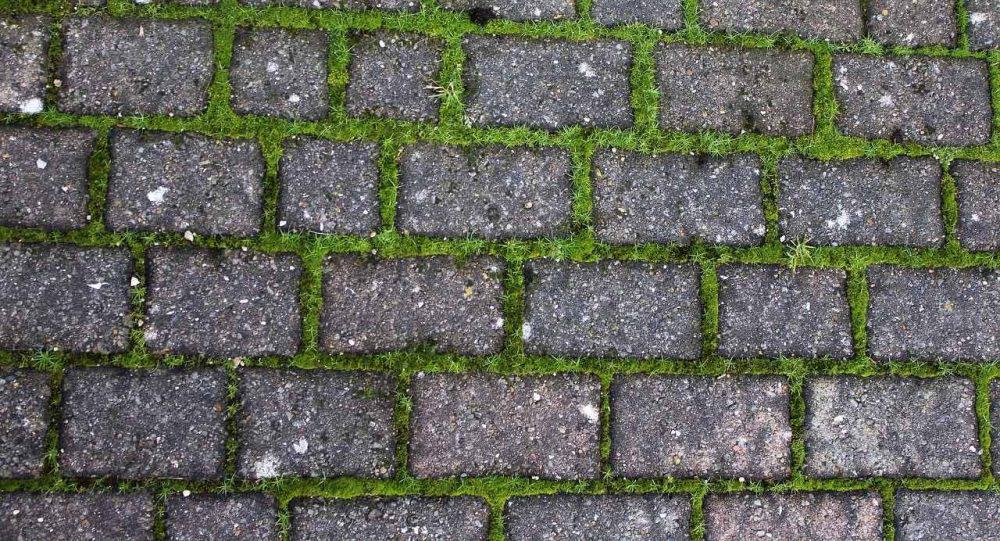 Salt and Vinegar
Salt and Vinegar are both wonderful non-toxic weed killers and preventers to use on paver patios where pesky weeds and moss grow in the cracks.
If you want to keep your red brick paver patio weed free without spraying toxic commercial herbicides try a homemade solution of water, salt, and vinegar that you can spray periodically with a simple garden pump sprayer.
Keep in mind that this salt and vinegar solution is non-selective, meaning it will kill ANY and ALL plant life it comes in contact with.
So be sure to only spray in the cracks of your bricks and nowhere near any other wanted vegetation.
Goodhousekeeping.com recommends this horticultural 20% acetic acid solution if you want to buy something very strong and pre-made.
Make sure to wear protective clothing, gloves and goggles when handling this solution as it is very acidic.
Polymeric Sand
To create a physical barrier, you can also pour some sand into the crack between your bricks.  While traditional sand will work ok, polymeric sand may be a much better solution.
Polymeric sand is blend of regular sand along with some special additives designed to reduce weed and insect penetration and prevent rain washout over time.
Make sure to compact the sand as best you can to keep the weeds from penetrating and follow all directions on the packaging when applying.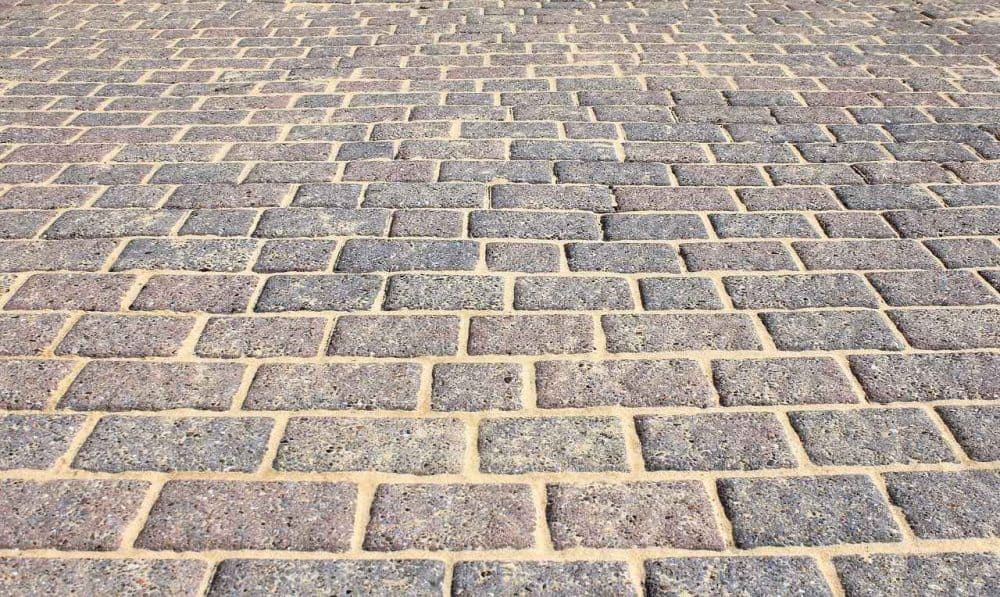 Sealing your Brick Patio after Cleaning
Once you brick is cleaned and dry you may want to add a masonry sealer to prevent further staining and make future cleaning easier.
We like using a water based, low gloss sealer like this one from Masonry Defender.
Again, always apply a small amount to an inconspicuous section of brick first to make sure you like how it looks and feels once it dries.
You don't want to go through all that work cleaning your brick patio only to hate the color the sealer turns it after it dries.
Also check how the sealer feels on the brick after it dries, especially when its wet. You also don't want a slippery patio every time it rains or after every morning dew.
If you are happy with it, apply the sealer with a simple pump-up garden sprayer in 2 thin coats and keep off of it until it is completely dry.
All you have left to do now is put the furniture back, fill up the cooler, and invite everyone over for your next big patio party!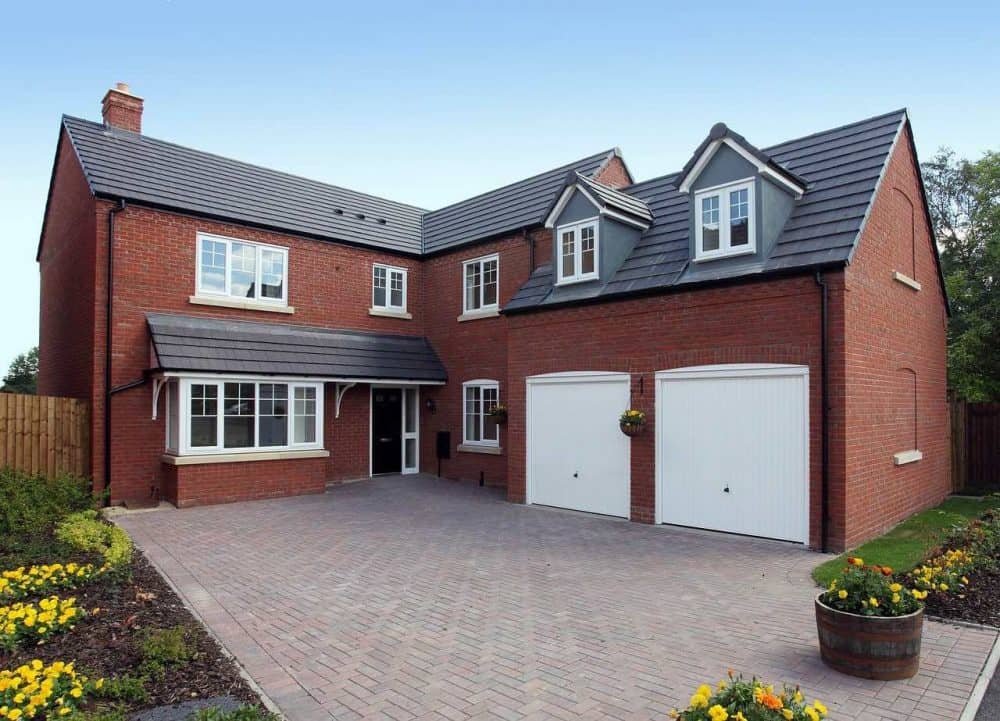 More Inspirational Patio Ideas
Need some more inspiration for your deck or patio?
Check out a collection of our favorite lists and How-to's to make sure have the coolest patio (or deck) on the block!
Furniture and Accessories
How to Choose the Best Patio Lounge Furniture for Your Outdoor Space
Buying Modern Patio Furniture? A Guide to Fabrics and Materials That Will Last Past Labor Day
10 Best Patio Coolers
Choosing the Best Outdoor Bench with Storage Options: 6 Great Finds!
Choosing the Best Wood for Outdoor Furniture: Top 5 Wood Types & Care Tips
Coverings
Backyard Shade Ideas: 6 Fun Shade Solutions For Your Deck or Patio
Our Review of the 7 Best Hardtop Gazebos
Aluminum vs Wood Patio Covers: What are the Differences?
Building an Outdoor Cooking Station? 12 Items to Consider
Heaters and Firepits
10 Best Electric Patio Heaters
The Best Natural Gas Patio Heaters
The Best Wood Fired Pizza Ovens
The Best Fire Pit Accessories You Need for Your Backyard
Natural Gas Fire Pits You'll Love: Our Top 5 Picks
Rectangular Fire Pit Buying Guide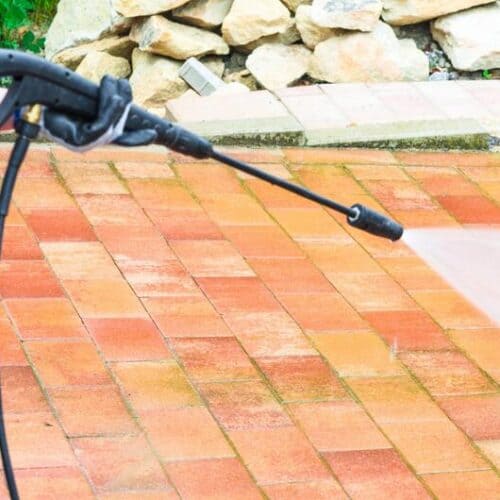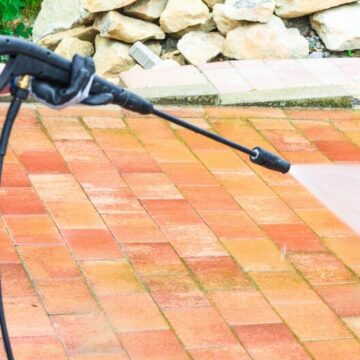 How to Clean a Brick Patio
Learn how to easily clean a brick patio with these simple step by step instructions
Equipment
Broom or Leaf Blower

Power Washer or Scrubbing Brush
Ingredients  
Borax

Vinegar

Oxygenated Bleach

Muriatic Acid

Polymeric Sand

Patio Paver Sealant
Instructions 
Move all your patio furniture and plants aside.

Sweep debris and remove any weeds.

Hose off any surface dirt.

Choose a chemical cleaning agent such as Borax,vinegar, or oxygen bleach to remove tough mildew stains.

Power wash or scrub by hand with a stiff wire brush.

Spray a salt and vinegar solution in the cracks to prevent further weed growth.

Lay down compacted polymeric sand to create a physical barrier to weed growth in the cracks.

Seal your cleaned bricks with a low glosswater-based sealant
Notes
Video courtesy of Handyman Magazine.