Learn how to bake frozen hamburger patties in the oven without needing to defrost AND without making a giant mess.
Get dinner going and the family fed with these oven cooked burgers!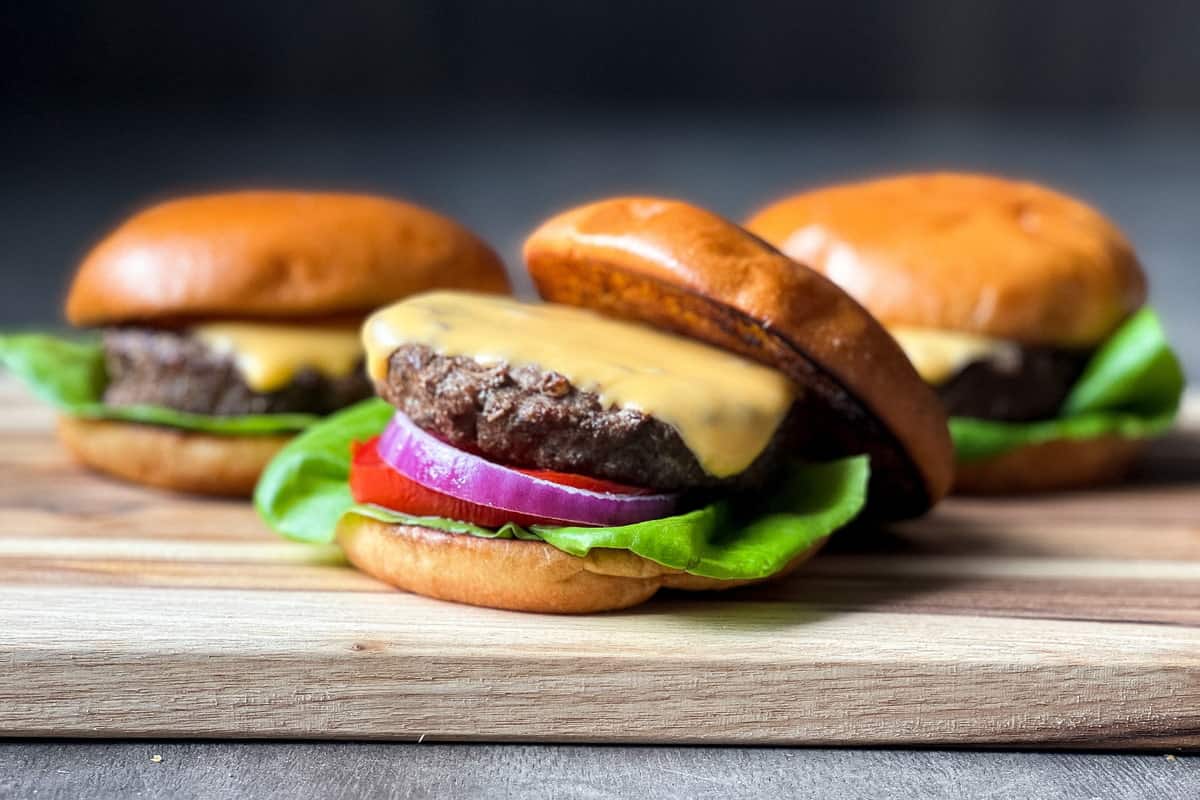 So, its later in the evening, the kids are hungry, and you are looking in the freezer at those frozen hamburger patties.
Rather than fire up the grill or dirty a skillet and smoke up the house, you may be wondering whether you can just throw them in the oven and get them cooking.
But will they cook through? Should you defrost them first?
Well, some nights you just don't feel like waiting to defrosting meat, much less firing up the grill for those burgers, and trust us...we get it.
That's why we have explained in detail below the BEST way to bake frozen hamburger patties.
And they are not only convenient, they taste pretty good too!
Jump to:
Many people assume that you have to allow time for your frozen hamburger patties to defrost before you cook them, when in fact they can be safely baked right from frozen!
Step 1: Preheat the Oven
First, you will need to preheat your oven. This will ensure that your oven has reached the correct temperature you need before baking.

We recommend that you preheat your oven to 400°F to 425°F.
Step 2: Prepare the Hamburger Patties
While your oven is preheating, take out the following:
The frozen hamburger patties

Aluminum foil 

A metal wire cooling rack like the kind used to cool cookies when they come out of the oven.
To make cleanup easier later, put a layer of aluminum foil down on the baking tray first.
Then place the metal wire rack on top of the tray. We like this wire rack/baking sheet combo.
We use it for resting seared steaks and burgers and for dry brining poultry like chicken wings and turkey.
Keeping the frozen hamburger patties elevated off the baking tray will not only keep them from swimming in the excess liquid that will come out when they are cooking, but also prevent them from spitting grease all over the inside of the oven once they get hot.
This will let them cook evenly and brown rather than turning gray and meatloaf textured.
Leave a gap in between each patty on the rack so they are not touching and spread them out evenly.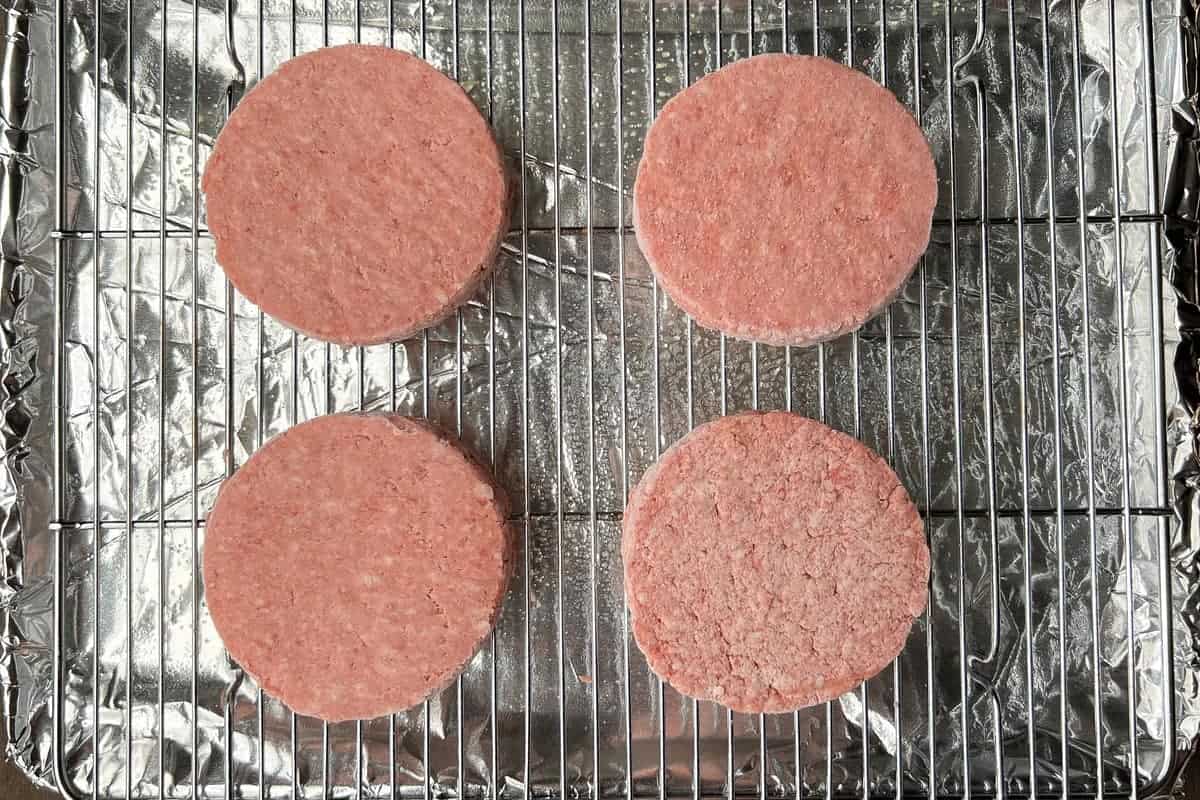 Remove any wax paper pieces that may have been separating the frozen patties from each other in the packaging.

Check whether the brand of frozen hamburger patties are already seasoned.  If not, you can add some salt, pepper, or other seasonings such as a BBQ rub, garlic, or onion powder now. 
Step 3: Bake
Once your oven has preheated fully, you will want to place your baking tray and hamburger patties in the oven.
Be sure to always use heat proof oven gloves when placing trays in or out of the oven.
In total, your frozen hamburger patties should take around 30 to 40 minutes to bake thoroughly from frozen, depending on their thickness. 
Please be aware that the temperatures may also vary according to the appliance you own.
The temperatures and cooking guidelines we have provided are a rough estimate.
You will need to ensure your patties are cooked thoroughly using an instant read meat thermometer before taking out of the oven.
Feel free to extend the length of time in the oven if needed.

As you are cooking the hamburger patties straight from the freezer, they will take slightly longer to bake than a fresh patty. Though this method is still far quicker than waiting for your patties to defrost completely before baking.
Step 4: Turn the Patties
As your frozen hamburger patties start to bake, you will need to ensure that you turning them 2-3 times during the cook. This will help to cook the patty thoroughly and keep each side evenly cooked.

Turning your patties every five minutes is best and at around the twenty-five-minute mark, feel free to add any cheese you would like to melt onto your hamburger patties.
Optional: Finish with the Broiler
If you want your frozen hamburger patties to have a bit of a chargrilled flavor and sear on them when they are done, try placing them under the broiler for the last 6-7 minutes of cooking.
Once your patties are about ¾ of the way cooked (about 20-25 minutes at 425°F), turn the oven to BROIL and move the oven rack and tray up close to the broiler.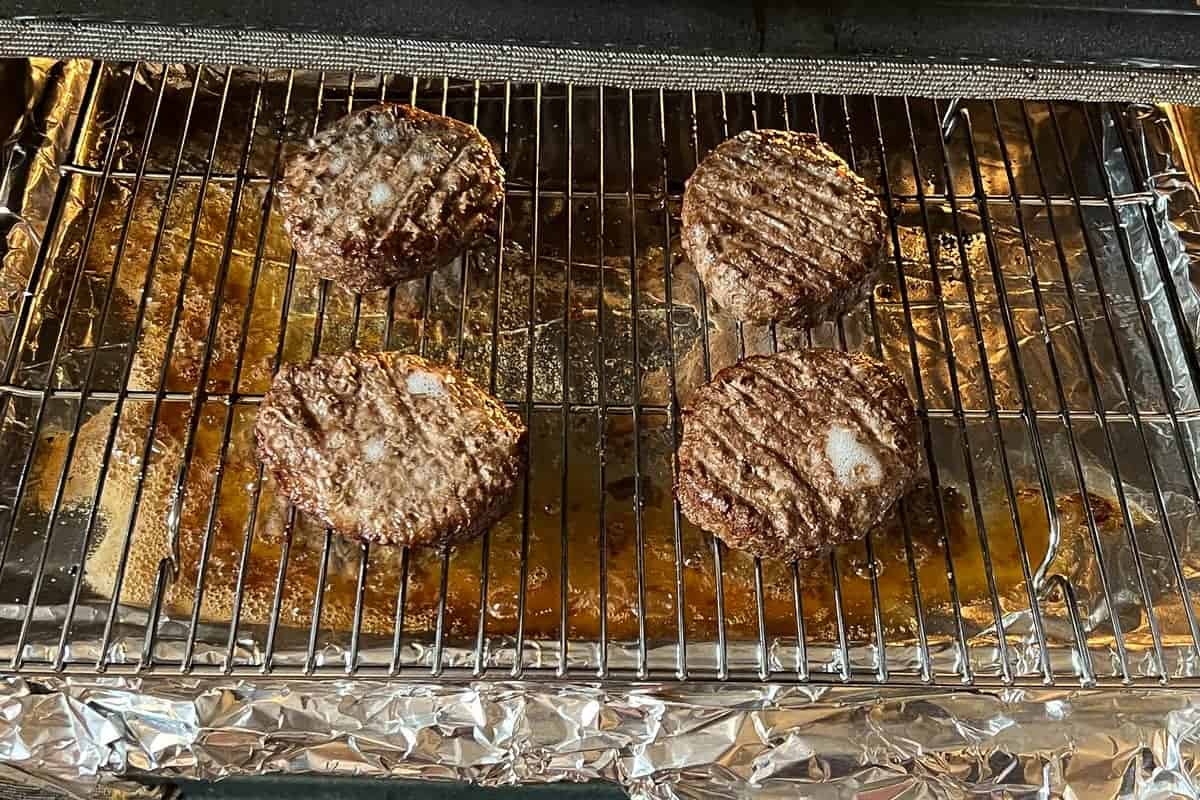 You will need to keep a close eye on them at this point because the broiler will get HOT fast and your patties will begin to sizzle and sear on the exposed side.
After about 3 minutes, or once the UP side of the patty looks brown and well cooked, flip them over and cook for another three minutes on the opposite side.
Turn off the broiler before adding your cheese or the cheese will burn.  You can move the tray back down to a lower rack and let the residual heat of the oven melt your cheese.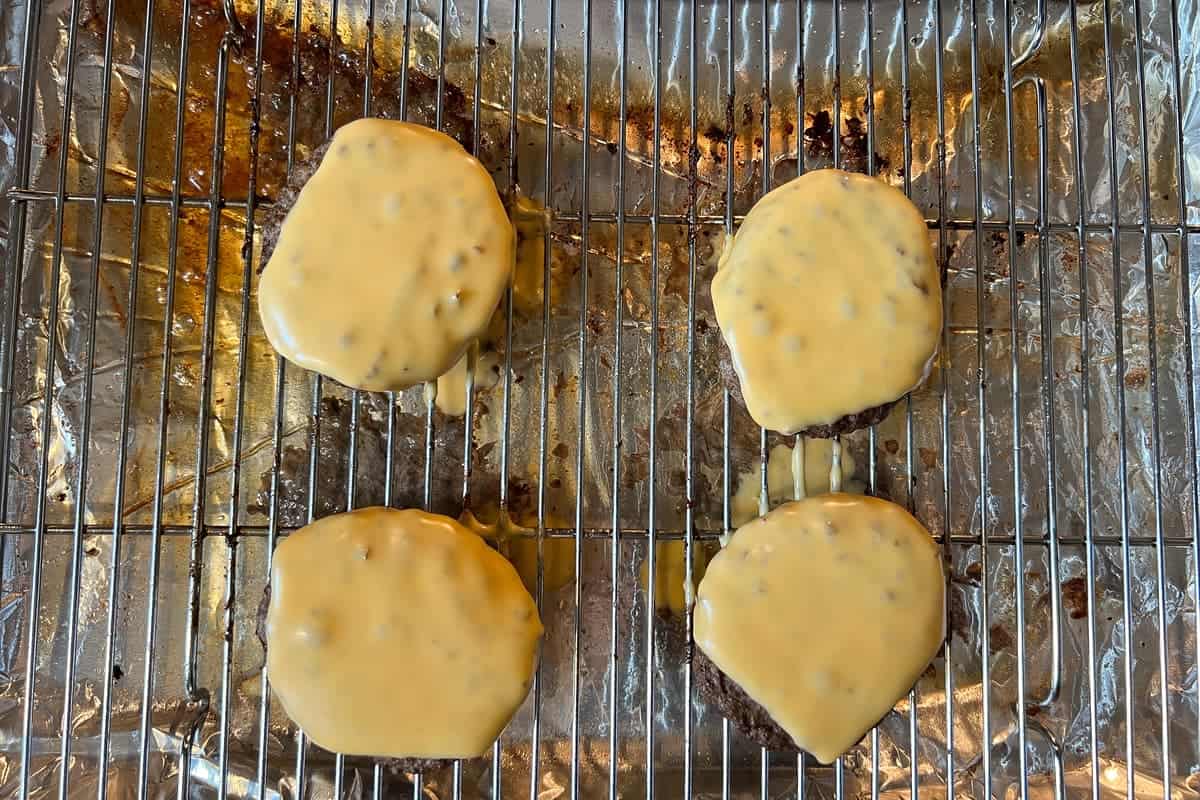 Step 5: Remove
Before taking your hamburger patties out of the oven, you will need to ensure they are thoroughly cooked through.
To do this, we recommend using an instant read meat thermometer. This is the best way to ensure that the patties are baked correctly as it measures their internal temperature.

The ideal temperature for cooked hamburger patties should be at least 160°F. If the temperature of your patties is any lower than this, you will need to keep baking them until they reach the required temperature.
A well-cooked hamburger patty should not be burnt, it should be juicy and brown. It will also smell delicious!

Once you are satisfied that your hamburger patties are cooked to perfection, take the baking tray out of the oven using your heat proof oven gloves. Place the patties on a plate to rest and cool for about 5 minutes and then you can serve them!

So there you have it, that is our five simple steps on how to bake frozen hamburger patties. As you can see, it is really easy to do and will save you time instead of waiting for your patties to defrost.
The Importance of Baking Hamburgers Thoroughly
As with any type of meat, the hamburgers must be baked thoroughly before consuming them.
If the hamburger patties are not cooked correctly, you increase your chances of developing food poisoning.

Ground meat must be cooked thoroughly.
Unlike with steaks where bacteria only grow on the surface of the beef, bacteria are spread throughout ground beef.
This means that all of the meat needs to be completely cooked to eliminate any foodborne illnesses and to kill the bacteria completely. Hamburgers should be cooked until they reach 160°F internally, or higher.
What to Serve with Baked Hamburgers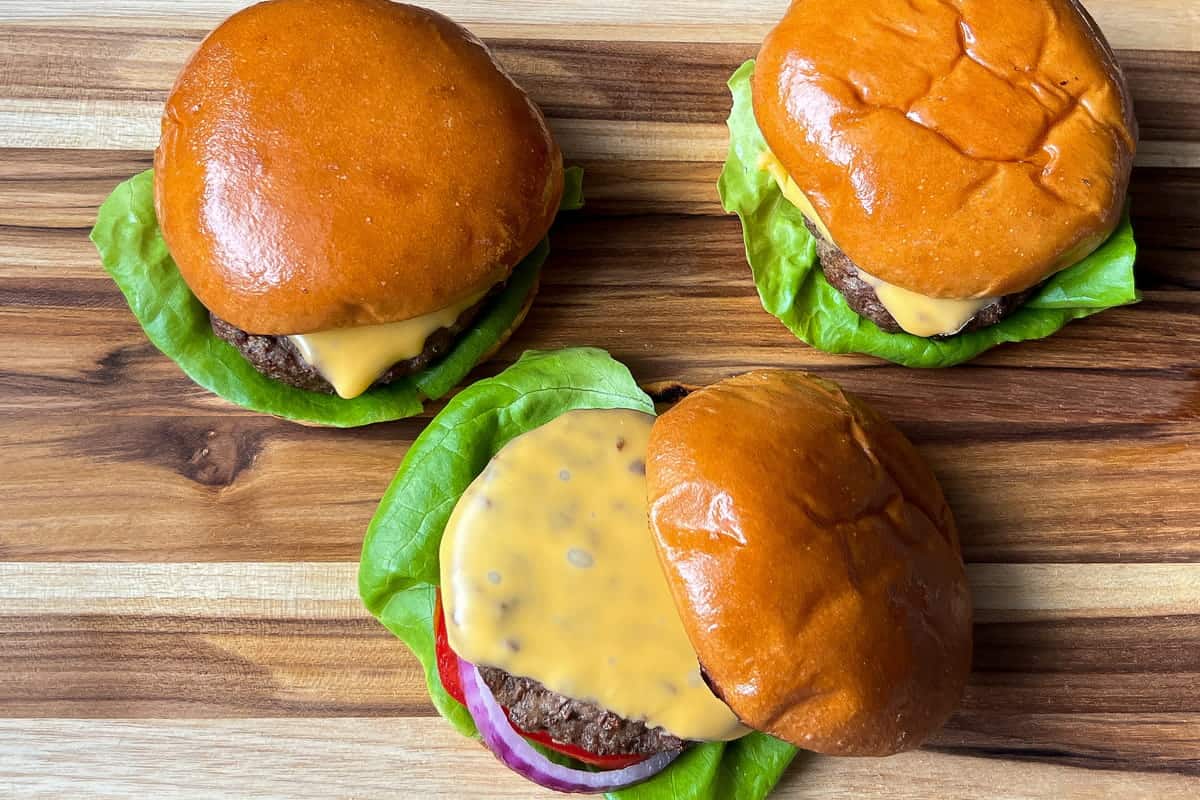 This is entirely up to you. You could add onions, mustard, pickles, and ketchup to it for a tasty treat! 
Why not bake some frozen French fries to serve with them too? Simply place them in the oven on the other rack and cook them at the same time!
If you would prefer to eat the patties without a bread bun, you could serve them with a side salad and vegetables instead.

📖 Recipe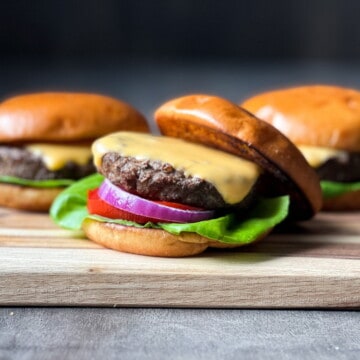 How to Bake Frozen Hamburger Patties
Learn how to bake frozen hamburger patties in the oven without needing to wait around for them to defrost.
Equipment
Oven (Broiler Optional)

Baking Tray

Metal Wire Cooling Rack

Aluminum Foil
Ingredients  
4

Frozen Hamburger Patties

Salt

Pepper

and any additonal seasoning

4

slices

Cheese

(optional)
Instructions 
Baking Frozen Hamburger Patties
Preheat the Oven to 425° F.

Cover your baking tray in aluminum foil and place the wire rack on top. Spray with Cooking Spray to keep hamburger patties from sticking.

Place frozen hamburger patties on the metal wire rack, evenly spaced.

Add a pinch of salt and pepper to each side of each hamburger patty.

When oven is preheated, place the tray in the oven on a middle rack.

Cook for about 30-40 minutes until the center reads at least 160°F on an instant read thermometer and is no longer pink.

Add cheese during the last 5 minutes to melt.
Optional Broil
About ¾ of the way through cooking, turn the oven to BROIL and move the tray and oven rack up the uppermost setting in the oven right under the broiler.

Broil on each side for roughly 3 minutes until brown and sizzling.

Move back to middle rack position and turn off the broiler before adding the cheese or it will burn.

The residual heat in the oven will melt the cheese over the next few minutes.
Remove from Oven and Cleanup
Remove the tray from the oven when the burgers have reached an internal temperature of 160°F. Place the hamburgers on a plate.

Let rest for 5 minutes to cool and then serve on buns with condiments.

Once the metal wire cooling rack has cooled, place it in the dishwasher and then throw away the foil liner.
Nutrition