Learn how to make smoked hot dogs on ANY grill or smoker!
We are going to spiral slice and slow smoke these hot dogs to take them to another level.  You've never had hot dogs like these!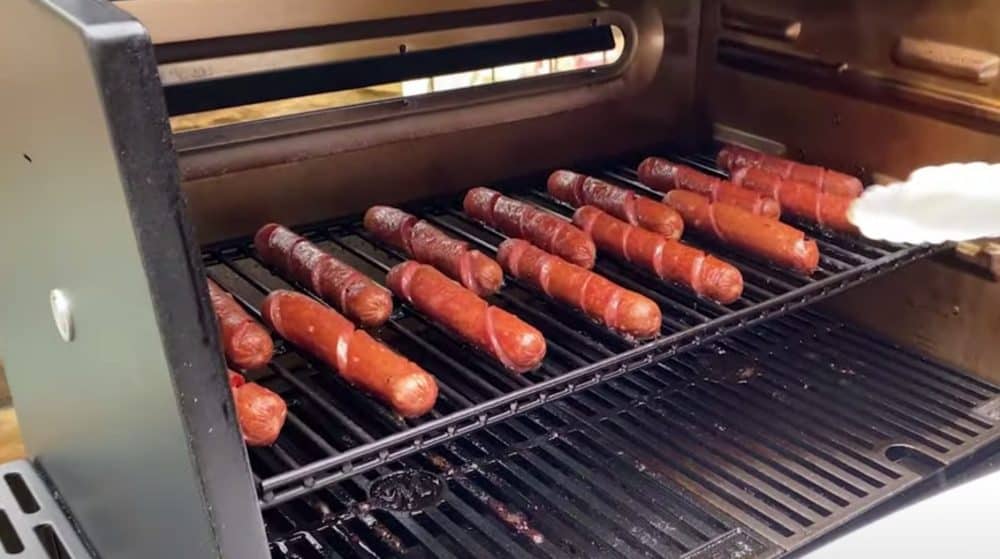 Whether you are using a pellet grill like a Traeger, Camp Chef, or Pit Boss, an electric smoker like a Masterbuilt, or just a conventional propane grill like a Weber, we've got you covered. 
Let's get started!
Choosing your Hot Dogs for Smoking
The best hot dogs are generally all beef Kosher hot dogs.
You will get the meatiest flavor with the fewest…let's say…"non-natural" ingredients.
And they aren't that much more expensive than regular run of the mill hot dogs so they are totally worth it.
We are big fans of the Hebrew National brand of hot dogs for smoking, especially the Jumbo versions.
How to Spiral Slice Hots Dogs for the Grill or Smoker
In order to get maximum smoke flavor into the meat of the hot dog and also help them crisp up a little for extra texture and flavor, we are going to spiral slice the hot dogs before putting them on the grill or smoker.
This is a great practice to try out even if you are just straight up grilling your hot dogs without any smoke, and its really easy to do.
Put the hot dog on a cutting board and hold your knife near one end of the hot dog at a 45 degree angle.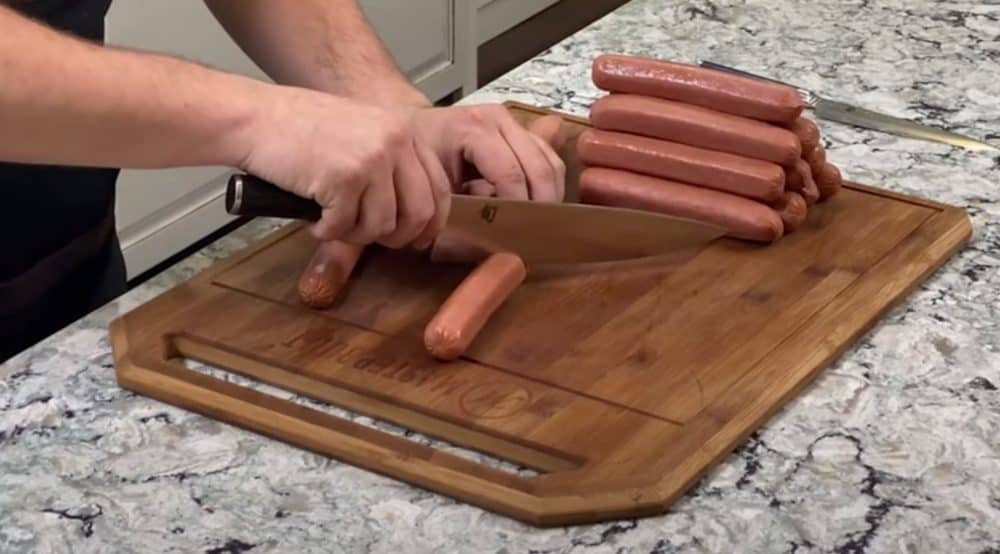 Then roll the hot dog forward and let your knife run along the hot dog creating a spiral pattern from one end to the other.
You only need a little bit of pressure to cut through the skin, don't go TOO deep into the hot dog or it will fall apart.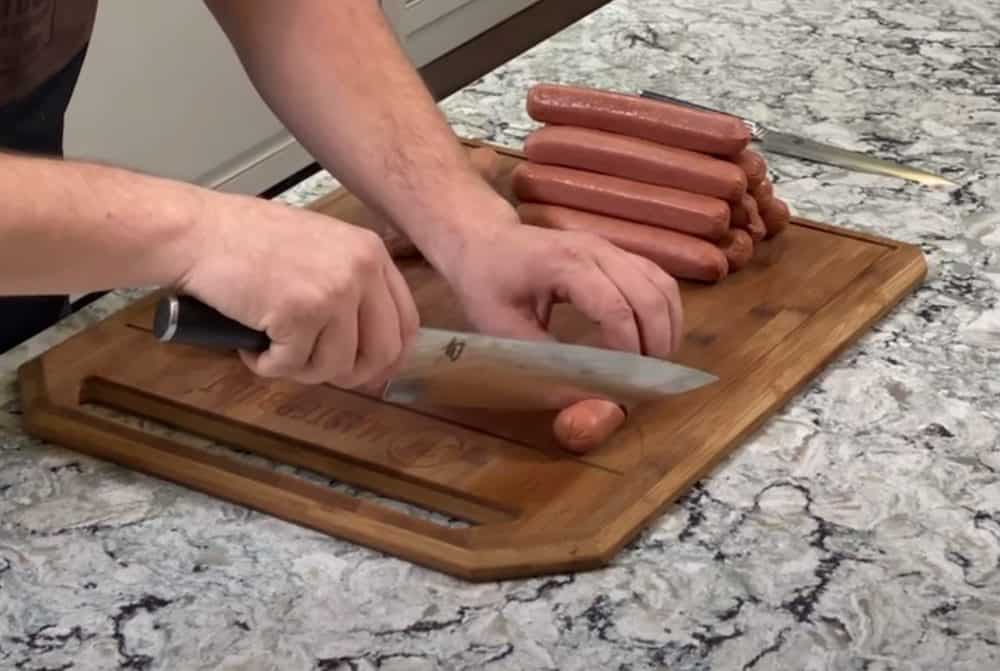 Check out the technique in the video below!
Best Wood Choices for Smoked Hot Dogs
We are only go to smoke our hot dogs for about 40 minutes, and the strong meaty flavor of hot dogs can stand up to almost any type of wood smoke, so take your pick, mild or bold!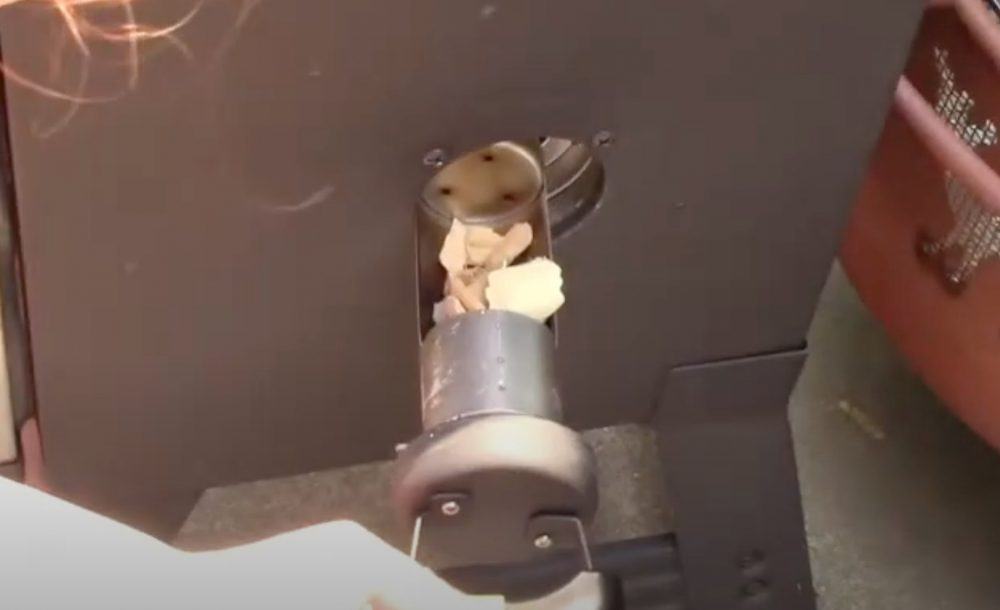 If you want to keep it simple and straightforward, choose a lighter smoking wood like oak, apple, or peach.
Middle of the road?  Try hickory or cherry.
And if you want a full in your face mesquite flavor, well, use mesquite.
For our smoked hot dogs we particularly like the way cherry and apple work wth the flavor of the meat.
Best Times and Temperatures for Smoked Hot Dogs
What is the Best Temperature to Smoke Hot Dogs?
We are going to set up the grill or smoker for indirect cooking at 275°F.
This will cook the hot dogs in about 40 minutes, giving them time to absorb just the right amount of smoke flavor.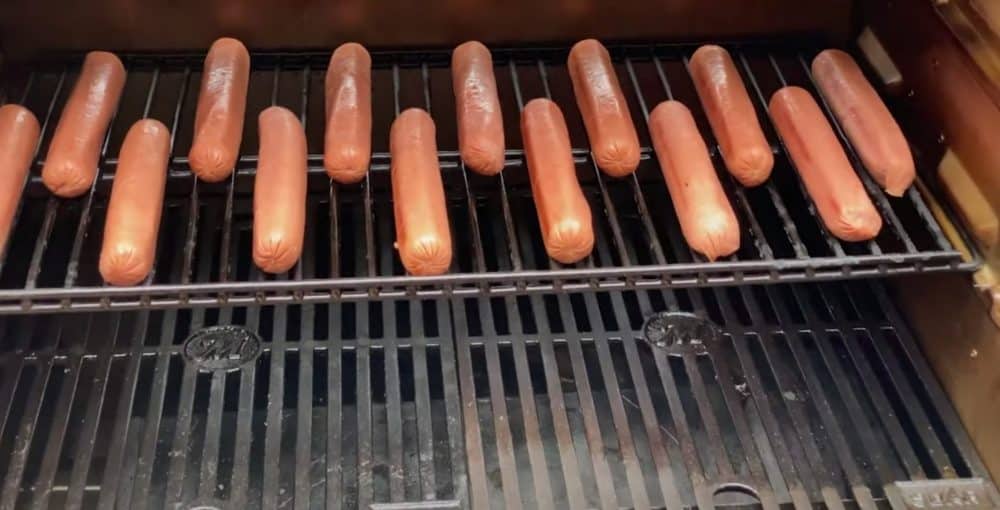 How Long Does it Take to Smoke Dogs?
At 275°F, it will take about 40 minutes to cook your hot dogs, letting them absorb some smoke flavor and getting the spiral cut skins nice and crispy and dark.
Setting up your Grill or Smoker for Smoked Hot Dogs
Vertical or Offset Charcoal Smoker
Read Char-Broil Reviews on Amazon
Fill your firebox or lower charcoal basin with a few handfuls of unlit charcoal and create a small hollowed out depression in the center where you can add your lit briquets.
No need to fill your water pan on this cook, we want the outside skins to crisp up and don't want too much humidity.
Light a charcoal chimney about 1/4 way with charcoal and wait about 15 minutes for it to fully ignite.
You will not need too many briquets here because we are only smoking the hot dogs for 40 minutes or so.
Keep the dampers about 1/2 way to 3/4 open until the cooking chamber temperature reaches about 250°F.  Then slowly close them down until they are just barely open and you are maintaining a temperature of 275° F.
Place 1 chunk of your chosen smoking wood on top of your lit charcoal once the smoker is up to temperature and put your hot dogs on once the smoker is actively producing smoke..
Want to see a list of our FAVORITE Vertical Smokers for 2021?  Check it out here!
Propane or Electric Smoker
See Masterbuilt Reviews on Amazon
Propane and electric options are some of the easiest smokers for beginners to start with.
For Propane: Open your gas valve and light the bottom burner. Adjust it to keep the temperature constant at 275° F.
Check out our Step-by-Step instructions for how to use a Propane Smoker HERE.
For Electric: Plug your electric smoker in and turn the temperature to 275° F.
While it comes up to temperature, add smoking wood chips, not pellets, to the smoking wood tray.
Place your spiral sliced hot dogs on the rack and close the door.
Debating whether to buy a propane or electric smoker?  Check out our COMPLETE Comparison Guide HERE.
Pellet Grill
Check out this Z Grills Pellet Grill on Amazon
Pellet grills like the ones from Traeger and Camp Chef are great for smoking hot dogs.
Fill the pellet hopper with your choice of smoking wood pellets.
Plug in the pellet grill, turn it on and let it run through its start up process.
Then turn the temperature to 275°F.
When the pellet grill has come up to temperature, place your hot dogs directly on the grill grates.
Never used a pellet grill like a Traeger or a Camp Chef before? 
Read our ultimate guide to pellet grills to learn why they are so easy to use and how to set one up for success every time.
Here is also a list of our Favorite Pellet Grills for 2021 priced under $500!
Gas or Charcoal Grill
Check out the Weber Spirit on Amazon
On a gas or charcoal grill you will likely need to use a smoker box filled with wood chips, or a pellet tube smoker filled with wood pellets.
Think you need a fancy smoker to smoke food at home? 
Think again. Great smoked food can be made right on your current gas or charcoal grill!
Check out our Ultimate Guide to Smoking on a Gas Grill HERE.
If you are unfamiliar with these gas grill smoking devices mentioned above, no worries, we have you covered!
Read everything you need to know about smoker boxes here, and see a selection of our favorite pellet tube smokers here.
In the case of smoking hot dogs, we would opt for just using the smoker box filled with wood chips since we will only be smoking our hot dogs for about 40 minutes.
Set up your gas or charcoal grill for indirect cooking with the burners or a small amount of lit briquets on one side and plan for your hot dogs to be on the opposite side.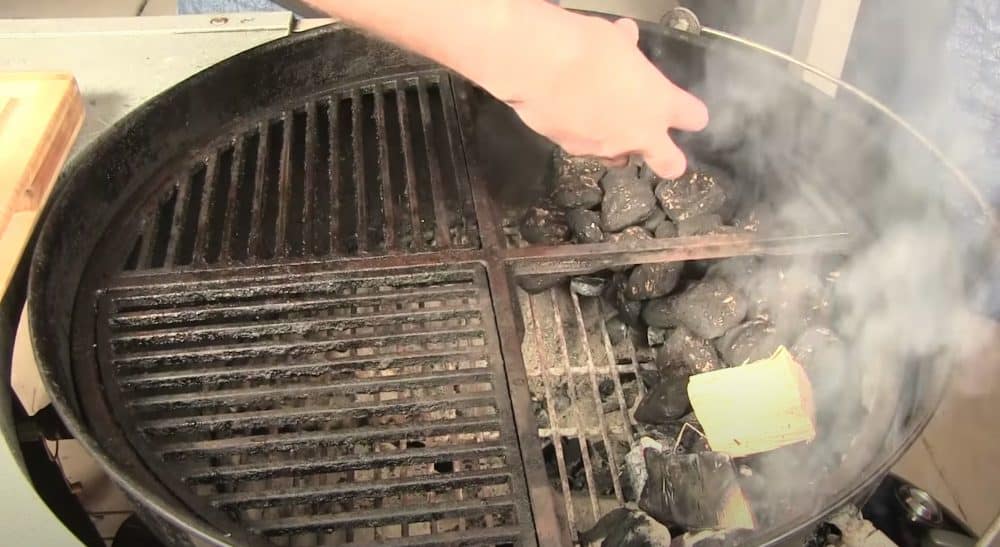 Once the temperature of your grill is around 275°F, place your smoker box or pellet tube smoker over the coals or lit burners and once smoke begins coming out, place your hot dogs on the opposite side of the heat.
Monitor your Grill Temperature
Almost every grill and smoker will have some sort of temperature gauge on them.
Now, if you are using a pellet grill or electric smoker, you should be able to pretty accurately dial in your desired temperature of 275°F with the turn of a dial.
This is what makes them so convenient.
If, however, you are using a charcoal or propane grill/smoker, you can't rely on the cheap lid mounted temperature gauge that come installed on them.
We have found these can sometimes be up to 30°F off from what the true actual temperature of your smoker at the grill grate level is.
This is unacceptable.
This is why you will always see competition cooks, and backyard chefs who know their stuff, using wireless digital probe thermometers to keep track of both their meat AND their cooking chamber.
And even if you have a fancy pellet grill like a Traeger or even an electric smoker, it can't hurt to double check how accurate your temperature settings are to the true temperatures you are getting.
We are big fans of the ThermoPro Wireless Digital Meat Thermometer series.
ThermoPro TP08S Wireless Digital Meat Thermometer
300ft remote range and hassle-free setup: Wireless meat thermometer monitors your food and grill temp up to 300 feet away

Dual probes for food and BBQ: Meat thermometer oven safe with highly accurate stainless steel food probe

Food and ambient temp alarm: Set your desired food temp and HI/LOW temp range for your grill or smoker to know when to add more fuel
Optional: Baste with BBQ sauce while Smoking your Hot Dogs
Once fun thing to do if you like BBQ sauce, or giving your smoked hot dogs a sweeter flavor is to brush them with your favorite BBQ sauce while they are smoking.
Do this near the beginning or middle of the cook so that the sace will caramelize a little bit while they are cooking.
Best Ways to Serve Smoked Hot Dogs
After about 40 minutes, your smoked hot dogs should be a darker brown color and the skin should look nice and crispy where you made your spiral cuts.
Go ahead and remove the smoked hot dogs form the grill or smoker and serve immediately while they are still hot.
Now, you obviously have plenty of options when it comes to how to serve your smoked hot dogs.
You can go traditional with a little mustard and relish, or do it up big with some cheese, chili, and onions to make the BEST game day chili dogs you've ever had.
Some folks even wrap their smoked hot dogs in BACON while they are cooking!
The sky's the limit, have fun, after all we are smoking hot dogs here so don't take it too seriously!
Thanks for stopping by and enjoy!
What Other Food Can I Smoke?
Looking for some more smoky inspiration?
So glad you asked.
Check out some of our other great recipes of smoked and grilled food to try out at your next outdoor BBQ!
Trash Can Turkey – OK, technically not made on a grill but one of the most fun ways there is to cook a Turkey…at over 700 degrees in only 2 hours!  You've got to check it out!
Perfect Smoked Hot Dogs
Kosher All Beef Hot dogs spiral sliced and smoked on any grill or smoker for a deliciously cispy and smokey flavor.
Whether you are using a pellet grill like a Traeger, Camp Chef, or Pit Boss, an electric smoker like a Masterbuilt, or just a conventional propane grill like a Weber, we've got you covered. 
Equipment
Grill or Smoker

Wood chunks or a pellet tube smoker with pellets or a smoker box with wood chips

Grill Tongs

Basting brush (optional)
Ingredients  
10

Hot Dogs

preferably all beef kosher

Your favorite BBQ sauce

optional
Instructions 
Light or turn on your smoker and set up the temperature to 275°F. If using a grill, set up the burners or charcoal for indirect cooking.
Spiral Slice the Hot Dogs
Place each hot dog on a cutting board. Hold your knife near one end at a 45 degree angle to the hot dog.

Roll the hot dog forward while letting the knife run from one end of the hot dog to the other creating a spiral slice just slightly through the skin and into the hot dog.

Repeat with the remaining hot dogs.
Smoke the Hot Dogs
Add your wood chunks directly to the firebox of a smoker, or use chips in a smoker box, or pellets in a tube smoker on a gas grill.

Once smoke is being produced, put your hot dogs in the smoker on the grates.

Cook the hotdogs at 275°F for 40 minutes until hot and they have turned a darker brownish color.

Optional: Brush with BBQ sauce about 15 minutes into the cook.

Remove from the smoker when done and serve immediately.
Video
Notes
Video courtesy of Masters of Smoke
Nutrition