Learn exactly how much to slope a patio for drainage so that you don't end up with water accumulating against your house!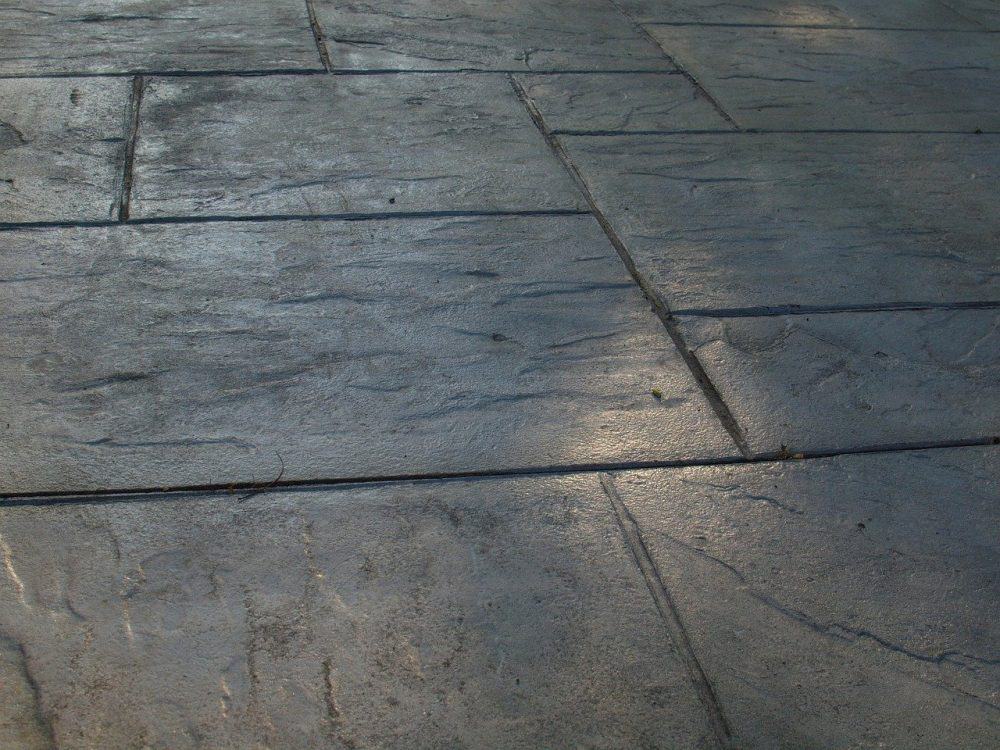 Why Does Patio Slope Matter?
You have probably noticed that most roofs have slopes.
Why?  Well the answer is obvious right?
To drain rain water off of them.
But did you know the same concept holds true for your patio?
When there's a lot of rain or snow, water is going to accumulate at the lowest point thanks to gravity.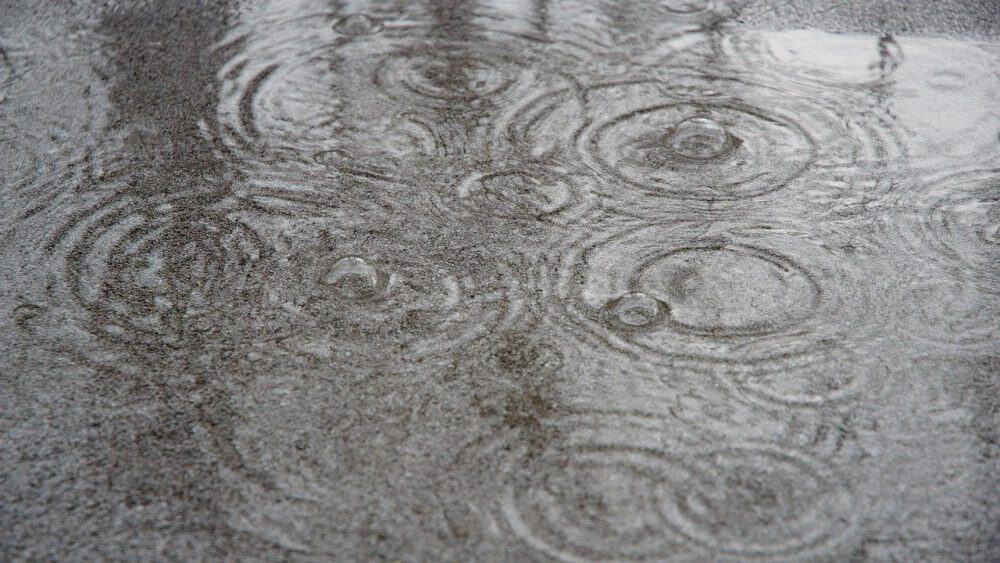 If you have flat roofs and flat patios, water will pool up and create a really heavy load for the structure.
Did you know water weighs about 62 pounds for every cubic foot that accumulates?
Rather than making super heavy-duty reinforcements for patios and roof structures, builders decide to slope the surface.
These sloped surfaces help rainwater slide away from your home and avoid pooling.
Additionally, a pool of water can cause a lot of damage.
As it freezes and melts or simply soaks into the material around it, water will damage whatever it comes in contact with over time.
Since concrete doesn't absorb any water, slopes are used to get water away from your home.
How Much Should A Patio Slope for Drainage?
Whether your patio is made of brick, concrete, or fancy stone pavers, it needs to slope...
AND in the right direction...
AND by the right amount.
Thankfully, In the world of patio slopes, there's a standard in place.
The rule of thumb is that you should have a quarter-inch drop for every foot of length.
So for for a patio that extends X feet away from your house, you would need a drop of ¼ of X, but in INCHES.
If you have a 10-foot patio, then your drop will be 2.5 inches. A 25-foot patio would need a drop of 6.25 inches, and so on.
X FEET extending from the house = (¼ of X) INCHES of drop.
Which Way to Slope a Patio
The patio should always slope away from the structure and out toward the grass, or a step down, or a drain .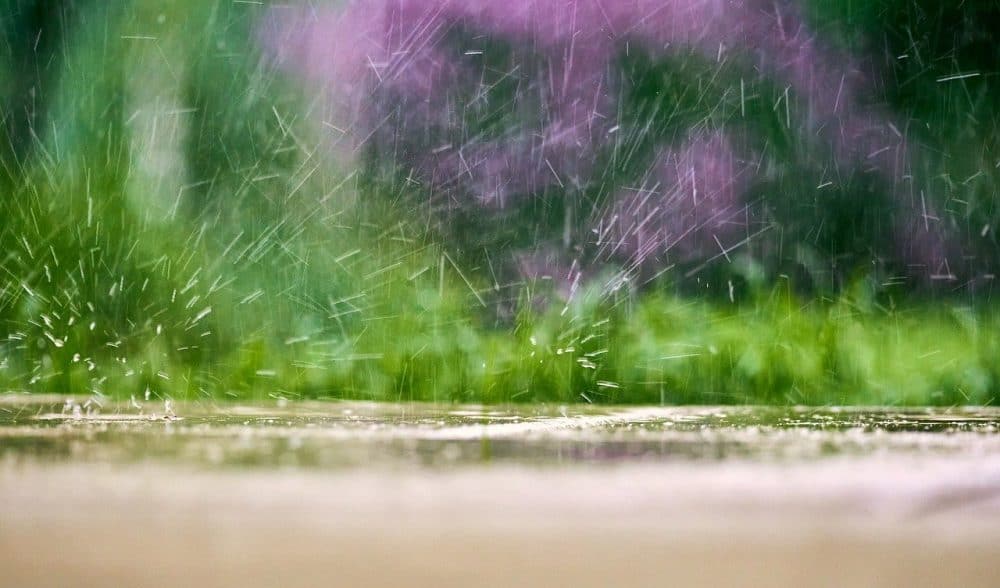 In most cases, you're probably wondering about a patio that's connected to a home.
You want the highest point of the patio to be closest to your home. As rain falls down, it will drain away from your home.
If you do it backward, you'll wind up with pools of water seeping into your home or foundation.
Special Situations
Just like any other rule of thumb, there are special situations where the ¼ inch rule doesn't apply.
Patio Slope in Dry Climates
If your patio is in an especially dry climate, you can get away with ⅛ inch drop per foot of length.
Patio Slope in Wet Climates
Wet climates? You'll probably want to use a ⅜ inch drop per foot of length.
Patios with Lots of Sunlight
Additionally, if your patio sees a lot of sunlight and you're in a hot area, you might wind up with a less-sloped patio.
This is because the hot air and sun will dry the patio quicker which means you have less of a need for a slope.
Channel Drains and Sloping Patios with Obstacles
There are some instances where obstacles will get in the way of a traditional slope.
The best slope is always perpendicular to your home – but what if a neighbor's home, or some other structure like a shed or detached garage is in the path of where you will be draining the water?
In some circumstances you may need a channel drain in the middle where the patio slopes in like a "V" from both sides and the water is carried away to another location.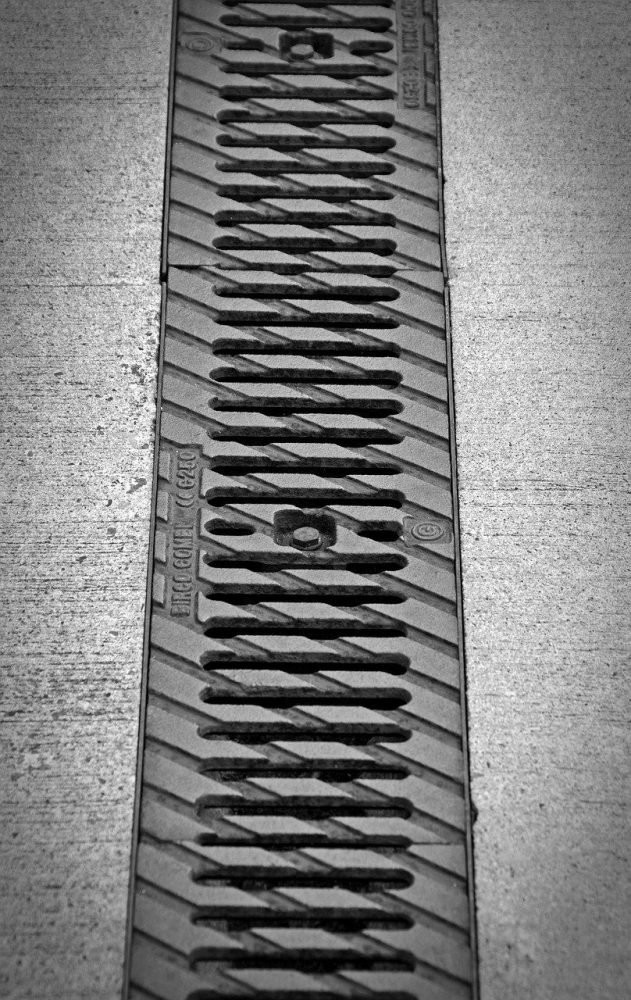 This is a common solution for pool deck drainage where you want the water that accumulates on the patio to drain away from both the house AND the pool.
A good landscaper or drainage expert will tell you the perfect way to slope any patio.
You might wind up sloping at an obscure angle to get the best drainage and avoid any obstacles that are perpendicular to your home.
More Inspirational Patio Ideas
Need some inspiration for that new patio?
Check out a collection of our favorite lists and How-to's to make sure have the coolest patio (or deck) on the block!
Furniture and Accessories
How to Choose the Best Patio Lounge Furniture for Your Outdoor Space
Today's Most Popular Modern Patio Furniture 
10 Best Patio Coolers for 2021
Choosing the Best Wood for Outdoor Furniture
Coverings and Shade Ideas
Backyard Shade Ideas: 6 Fun Shade Solutions For Your Deck or Patio
Our Review of the 7 Best Hardtop Gazebos for 2021
Aluminum vs Wood Patio Covers: What are the Differences?
Building an Outdoor Cooking Station? 12 Items to Consider
Heaters and Firepits
10 Best Electric Patio Heaters for 2021
The Best Natural Gas Patio Heaters for 2021
The Best Wood Fired Pizza Ovens for 2021
Natural Gas Fire Pits You'll Love in 2021
Rectangular Fire Pit Buying Guide
How To's
How To Hang String Lights Without Nails