Learn the basics of building a patio cover with a corrugated metal roof. 
One of the simplest and most affordable ways to add some shade and cover to your outdoor space.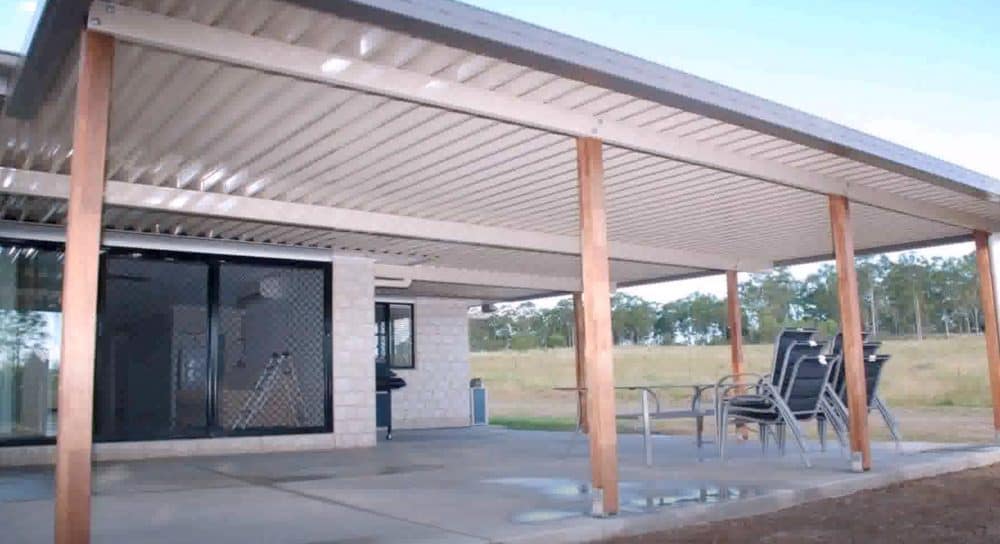 One of the most basic and cost effective ways to create a great shady covered area for your patio space is a patio cover made with a corrugated metal roof.
The corrugated metal is inexpensive to purchase, lightweight to install, and provides a sturdy way to keep both the rain and hot sun off your patio.
The corrugations naturally channel the water downward along the slope of the roof either into a gutter or into the landscaping, much in the same way a sloped patio channels water away from your foundation.
Safety Note
The following tips can't act as a replacement for professional engineering designs and professional installation.
You should have a good understanding of both carpentry and pouring concrete footers, or enlist the help of someone who does.
This is not a step-by-step how-to because every backyard, patio, and homeowner's need are going to be slightly different.
We are simply giving you some pointers and inspiration about how to build a patio cover with a corrugated metal roof.
What You'll Need to Build your Patio Cover
The quantity of material is going to vary depending on the size and final design of your build.
In general, you'll need:
4×4 braces
4×6 posts (treated)
4×6 beams
Corrugated metal sheets
2×6 rafters (or joists)
Concrete
Post Hole digger
Ties, hangers, straps, and fasteners
How to Pick the Material
Because you are building your corrugated metal roof patio cover from scratch, you have a lot of options when it comes to the material you choose.
Roofing Material
We chose corrugated metal for a lot of reasons. It's sturdy, low-cost, easy to work with, and it's versatile enough to reduce the roof pitch.
On top of that, corrugated metal is really light while still being able to withstand high winds.
Most corrugated metal sheets are lightweight enough for a single person to carry up a step ladder and move into position.
All in all, it checks every box you need when it comes to a high quality lightweight roofing material for your patio cover.
Lumber Considerations
You also want to make sure that the lumber you use fits local code.
If you want to beef up the beams or joists for whatever reason, then just make sure that your structure is sturdy enough to handle the added weight.
This project can cost upwards of a thousand dollars, and the lumber is the biggest item on the ticket.
You might want to shop around with different lumber stores and see where you can get the best deal.
Fasteners and Hangers
You'll have to find the right fasteners and joist hangers for the lumber you pick out.
A knowledgeable lumber store associate should be able to go through your plans and make a good recommendation.
Equally, a designer or engineer should spec out this material in their drawings.
Deck screws cost more than framing nails, but they'll support a much heavier load.
Small considerations like this need to be made, so make sure you are choosing the right fasteners for the size and weight of your project
Design your Patio Cover
If you have a designing background, you can put together your own designs.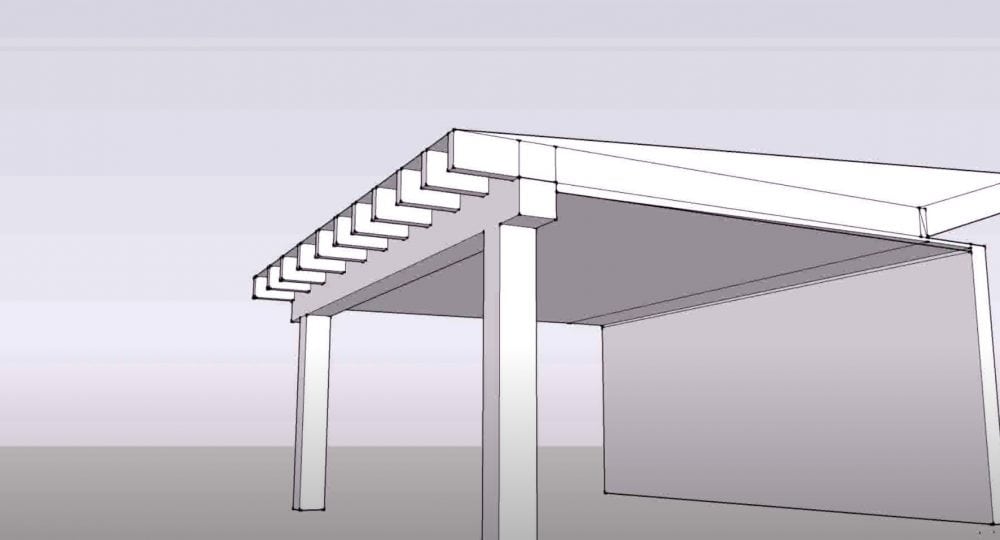 Make sure you put them down on graph paper or use a CADD program to do the designs. This helps keep track of everything and gives you reference material for when the project starts.
Otherwise, make sure you find a reliable engineer that can do the work for you.
The more detailed you can be with your design will not only help you get a permit, but also make building the patio cover a lot easier later on.
It will also help you understand exactly what materials you will need so that you don't overspend on lumber.
Getting a Building Permit for your Patio Cover
"It's just a simple patio cover with a corrugated metal roof…I don't need a permit right?"
Wrong.
A building permit is legally required if you want to put together a patio cover, or any permanent outdoor structure on your property for that matter.
It is another step to make sure everything is done safely and it gives your town a record of the work you're doing.
A permit doesn't raise your taxes nor does it require a licensed contractor to apply for.
Take your drawings and plans to your local permit and licensing office. They'll have some papers for you to fill out and a small fee to pay (typically under $100).
Many times you can find these online at your county or city's website and fill them out ahead of time.
A building inspector and structural expert will review the plans and your current structure.
They'll make recommendations and finally stamp your drawings. Only with a stamp can you start building.
If you start building without a permit and an inspector drives by or a neighbor calls it in, the county can come make you tear the whole thing down and charge you a hefty fine on top of it.
So better to get your paperwork in order beforehand.
How to Build a Patio Cover With a Corrugated Metal Roof
The following steps will outline how to put together a freestanding patio cover.
There will be connections between the cover and your roof, but the patio cover will not be structurally supported by your house's roof.
For this you will need concrete footers like you would for a deck or gazebo.
Tweak the design to make sure it fits your needs and be sure to involve an engineer and designer through the process.
Step #1: Getting Started
The first step is arguably the most important. These components go into starting the build.
This assumes that you already have your building permit and subsequent drawings and plans for the build.
Install the Ledger Board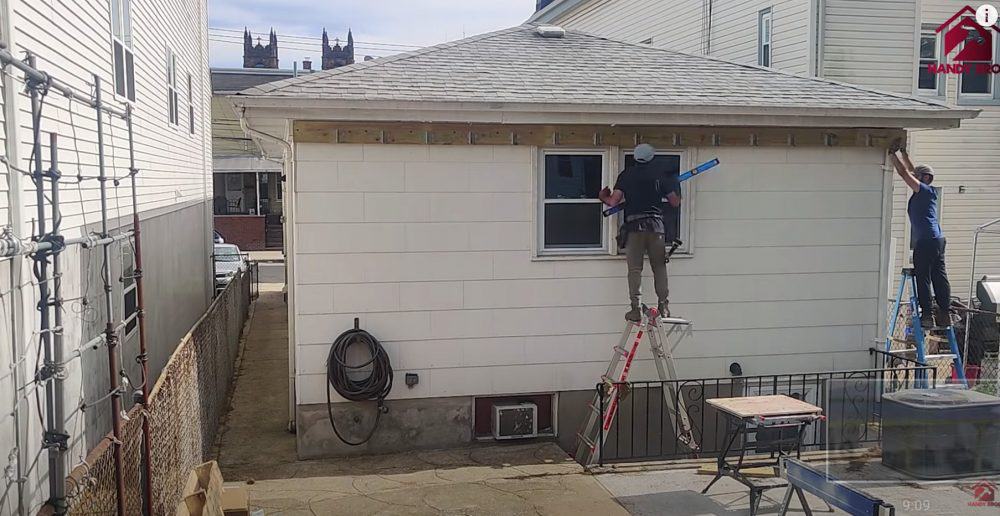 The first thing to do is to install a ledger board. Find the framing under the fascia and dressing of your home's exterior.
Some areas require a 2×6 ledger board here. This is going to be the only connection between your home and your patio cover.
To save some time, you can pre drill 1/8" holes along the ledger board before mounting.
Space them about 6 inches apart. If there are internet, phone, or cable lines running along this area of your phone, use a staple gun to fasten them to the rear face of your ledger board.
Use decking screws or equivalent to fasten the ledger board to your home's framing.
Dig Post Holes
With the ledger board up, it's time for the post holes. If you have a post hole digger, break it out, or you can rent one from your local hardware store.
Otherwise, time to grab a shovel and do some stretching. You can't build a patio cover with a corrugated metal roof, no matter how small, without digging some post holes.
Finding the exact location of the postholes is a little tricky.
Here is the shovel he uses in the video:
Another quicker manual option for digging post holes is this:
Your designs will tell you how far you want them from the edge of your roof, but it will be hard to get a clean measurement from your roof.
What you can do is stand up a post at your roof's edge. Use a level to ensure it's perfectly upright. From the base of this post, measure the distance from the roof that you need for the post holes.
Indicate this point with a 10-foot beam. Square the edges and ensure it's parallel with your home.
Find the location for all of your post holes by using this 10-foot beam. Mark the locations and double-check the measurements.
You'll want the holes to be as wide as they are deep.
If you need 18-inch deep holes, then you can mark 18-inch diameters around the locations for your postholes. When you're happy with the locations, start digging.
Step #2: Frame Assembly
The next step is assembling and installing the framework. The best way to put your framework together is to lay it on the ground.
It beats trying to balance lumber while precisely nailing or screwing the fasteners.
Cut the Braces
Start by cutting four braces at 45-degree angles.
The actual dimensions will come from your initial plans, but a little bit of math and trig will come into play here. The braces are the angled gusset supports in either corner of your design.
You can use a single 2×10 to cut these braces.
Assemble the Frame
The biggest key to assembling your frame is to make sure everything is square. Lay the framework on the ground and position it how it will be installed.
Pre-drill screw holes so no pieces crack or chip while you assemble it.
Start using screws to assemble the framework. Every time you fasten two pieces together, check to ensure they're square before moving to the next piece.
You might want to attach the joist hangers to your ledger board at this point to save you some headache in a minute.
It's really tough to try to keep the framework in place while you fasten the hangers.
Step #3: Finishing the Job
Everyone's favorite part of the job is finishing it. This is the final step of the project.
Installing the Framework and Joists
Grab some help and raise the framework so it's upright in front of the ledger board.
The other section of the framework should be raised in such a way that they fall naturally into the post holes you dug previously.
With the framework in place, attach the joists (or in our case, they are known as rafters).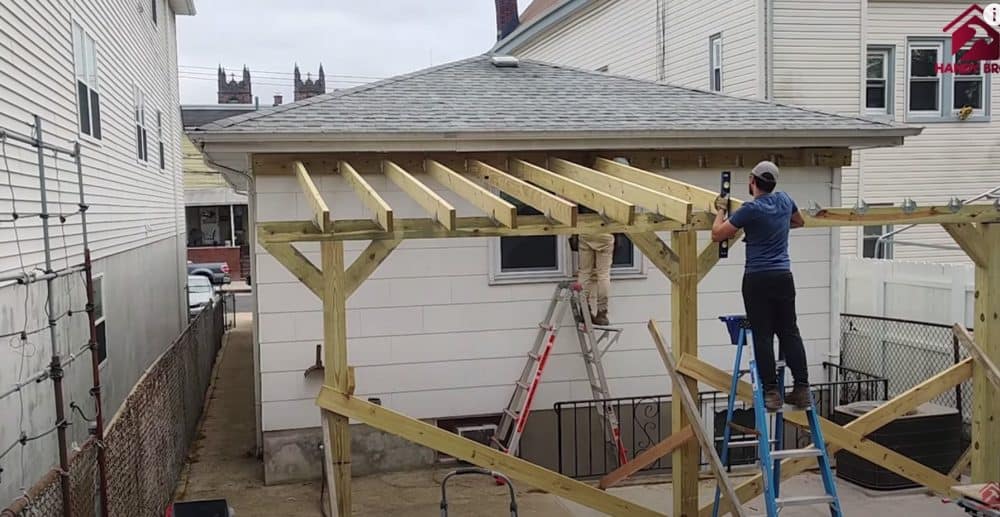 Ensure you have the right angle and double-check to make sure you're installing the cover in accordance with the building permit you have.
Connect the Joists to the Ledger Board
The joists should also be attached to the ledger board on your home.
Here are the joist hangers he uses in the video if you are using 2×6 sized joists:
Use lag bolts or similar to catch the pre-drilled holes you made to the ledger board in step 1. This is the only location that will connect the patio cover to your home.
Level the Frame
When you're happy with how it looks, it's time to break out the concrete.
Use post-set concrete from your favorite hardware store. It's sold in massive bags and just needs water and time to cure into concrete.
If the bubble level isn't perfect on your frame, you can throw some dry concrete into the post holes to raise the frame.
Wait a half-hour to give the soil time to settle. Check the level again. When everything is level, you're ready for concrete.
Pour the Concrete
The bags of post set concrete should have steps for how to properly mix and make the concrete, but the general formula looks like this: pour the concrete into a wheelbarrow or big bucket.
Pour in water until the concrete becomes a muddy consistency.
Stir the whole time with a hoe or large stick, or better yet, a concrete mixing paddle drill attachment.
Pour the concrete mixture into the post holes or use a shovel to scoop it in.
You want to move relatively quickly so the concrete doesn't set and harden in the bucket or wheelbarrow. Make sure you stir the mixture a little each time you take a scoop.
You want equal levels in each posthole. The final batch that you stir should be thicker (by adding less water). You want it to be closer to the consistency of cookie dough.
Scoop out the concrete and form a dome at each post's base.
This ensures that water doesn't pool on the surface of your concrete and ruin your hard work.
Add Boards and Corrugated Metal
Finally, add 1×6 boards on top of the joists running perpendicular to the joists and screw the corrugated metal into them.
Use a little sealer between layers to prevent water from leaking through the seams.
After that you are pretty much done!
Now it's just time to clean that patio, find some great patio furniture, a cooler, an outdoor cooking station, an inexpensive grill, a wood fire pizza oven….
Additional Resources
https://www.mycarpentry.com/building-a-patio-cover.html
https://topreveal.com/how-to-build-patio-with-corrugated-metal-roof