Plunge Pools are a popular new trend for those looking to enjoy all the benefits of a private swimming pool without the size, costs and headaches associated with a typical pool.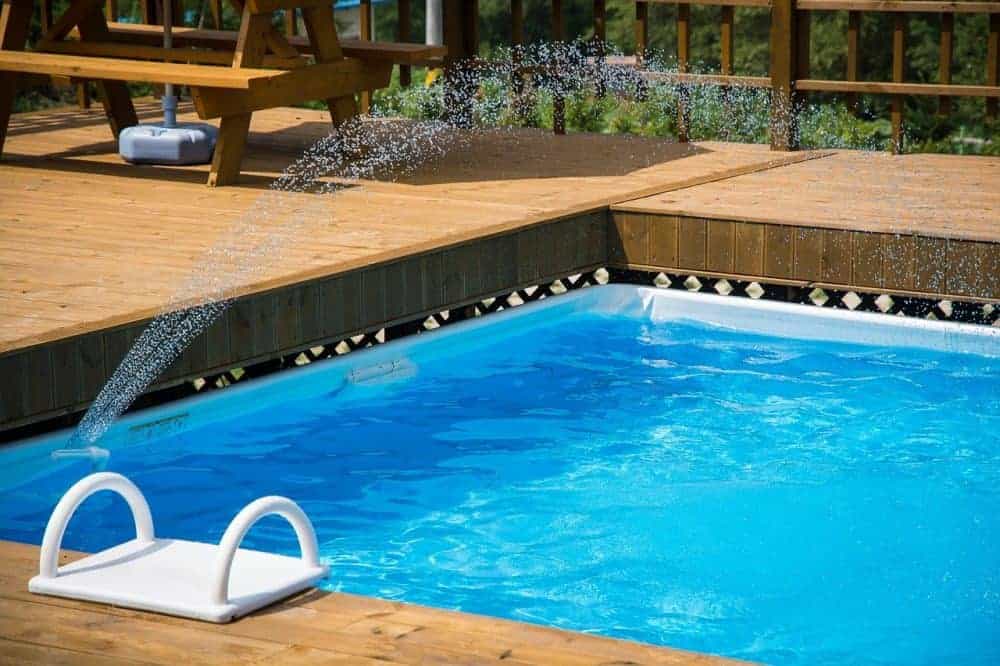 Looking for a small inground pool idea?
How about a shallow exercise pool, or a pool that will even fit in your sunroom?
Maybe your concerned about the cost to build, or how much space a conventional swimming pool will take up in your backyard.
You might want to take a look at getting a plunge pool.
Plunge pools are a hot trend today for many homeowners looking to maximize their space and budget, while still enjoying the benefits of a private swimming pool for their home.
What is a Plunge Pool?
The typical plunge pool, or lounge pool, these days is usually a shallower, compact version of a regular swimming pool.
However, they can be made shallow, deep, indoors, outdoors, inground, semi above ground, or even above ground in a hot tub style.
The average plunge pool ranges from small square pools that are 6'x6' to rectangles around 7' by 12'.
The idea is for these small swimming pools to be enjoyed by 1-4 people at a time, much like a hot tub, making them ideal for single people or couples that want a small pool just for themselves.
Types of Plunge Pools
Plunge Pools can be customized in many different ways, including their shape and depth.
Some people prefer a shallow pool just for lounging or for standing aquatic exercise, while others prefer a deep plunge pool to enjoy total body submersion.
While the standard depth of a plunge pool runs from 51" to 60", asking "How deep is a plunge pool?" is kind of like asking "What color is a car?".
With a custom plunge pool installation, the choice is entirely up to you!
Indoor and Outdoor Plunge Pools
For many homeowners the idea of installing a standard swimming pool indoors is completely out of the question. But not necessarily with a small indoor plunge pool!
Because many small plunge pools are no bigger than a spa or hot tub, they are an ideal choice for an indoor pool you can enjoy year-round!
Their modular construction makes them ideal for installing in spaces of your house that no other pool could ever go.
Pieces can be brought in individually and then assembled onsite as the pool is constructed.
Not sure you want a pool indoors?
Small inground or above ground plunge pools can also be installed in a sunroom or on a covered patio in order to enjoy them semi-outdoors in any type of weather.
Benefits of a Plunge Pool
Small plunge pools can be purposed for many things including hydrotherapy, aquatic exercise, or simply relaxation by yourself or with a few close friends.
Plunge pools are particularly popular among athletes who use them as part a post-workout recovery.
The small amount of water used relative to a typical swimming pool makes them much faster and cost effective to heat and cool to your desired temperature.
Cold plunge pools are a hot new trend for reducing muscle soreness and inflammation after a vigorous workout.
Many senior citizens also enjoy the ease of entry and lower maintenance demands of a small plunge pool.
Because of the buoyancy and hydrostatic effects provided by water, plunge pools offer convenient options for low impact exercise for those suffering from arthritis and joint pain.
The last and most obvious benefit is the reduced cost to build and maintain a plunge pool.
By decreasing the size of the pool and the amount of water and chemicals needed to maintain it, overall costs to build a plunge pool drastically decrease as well.
What Does it Cost to Build a Plunge Pool?
Ok, so how much is a plunge pool?
How much a plunge pool costs to install will depend on a variety of factors including:
Your Local Market
The size and depth of the pool
Indoor vs. outdoor installation
How much control you wish to have over the temperature of the plunge pool
Concrete vs Modular
Because of their compact size, concrete plunge pools can sometimes be delivered in one piece for faster installation outdoors.
Modular designs are more customizable and also more easily installed indoors. You will need to contact a local pool installation company for specifics and to find out what variations of small plunge pools they offer.
Cost to Build a Plunge Pool
As a general rule, while the typical custom inground swimming pool can cost upwards of $60,000 or more, expect a plunge pool to be closer to $20,000 depending on features, size, and where it is being installed.
Costs to Maintain a Plunge Pool
While a full-size swimming pool can hold anywhere from 15-25,000 gallons of water or more, the average plunge pool may only hold as little as 1-2,000 gallons.
So the cost to heat, treat, and maintain these pools is significantly lower in the long run.
Other Small Inground Swimming Pool Ideas
Looking for something bigger than a plunge pool but limited on space? Here are some other ideas to consider:
Follow the Contour of your House
Lose the idea that you need a big patio or seating area outside and build the pool closer to your home.
Follow the contour of your home to create the shape so that you don't have wasted grassy or concrete areas that could otherwise be used for swimming.
Incorporate a Wall
Many people think that you need decking to run completely around the perimeter of the pool, but this is not the case.
By building a wall as one side of your pool you can maximize the space to swim, and even incorporate a fun feature like a waterfall!
Turn Stairs into a Tanning Ledge
Stairs can take up a lot of valuable real estate in s small swimming pool.
A popular trend today is to turn your top step into a tanning ledge for you to catch some rays, or allow the little ones to stand and play in the pool.
By incorporating the tanning ledge, you get more usable area that would have otherwise been taken up by the stairs.
Looking for Other Great Pool Ideas?
Check out some of our most popular other articles below:
More Inspirational Patio Ideas
Need some more inspiration for your deck or patio?  Check out a collection of our favorite lists and How-to's to make sure have the coolest patio (or deck) on the block!
Furniture and Accessories
How to Choose the Best Patio Lounge Furniture for Your Outdoor Space
Buying Modern Patio Furniture? A Guide to Fabrics and Materials That Will Last Past Labor Day
10 Best Patio Coolers for 2022
Choosing the Best Outdoor Bench with Storage Options: 6 Great Finds!
Choosing the Best Wood for Outdoor Furniture: Top 5 Wood Types & Care Tips
How To Hang String Lights Without Nails: 5 Simple Ideas
Coverings
Backyard Shade Ideas: 6 Fun Shade Solutions For Your Deck or Patio
Our Review of the 7 Best Hardtop Gazebos for 2022
Aluminum vs Wood Patio Covers: What are the Differences?
Building an Outdoor Cooking Station? 12 Items to Consider
Heaters and Firepits
10 Best Electric Patio Heaters for 2022
The Best Natural Gas Patio Heaters for 2022
The Best Wood Fired Pizza Ovens for 2022
The Best Fire Pit Accessories You Need for Your Backyard
Natural Gas Fire Pits You'll Love in 2022: Our Top 5 Picks
Rectangular Fire Pit Buying Guide
Cleaning