Learn step by step how to make a smoked pork loin, or tenderloin, on a Traeger pellet grill and why this is such a great way to prepare this ultimate smoked pork roast.
Let's go!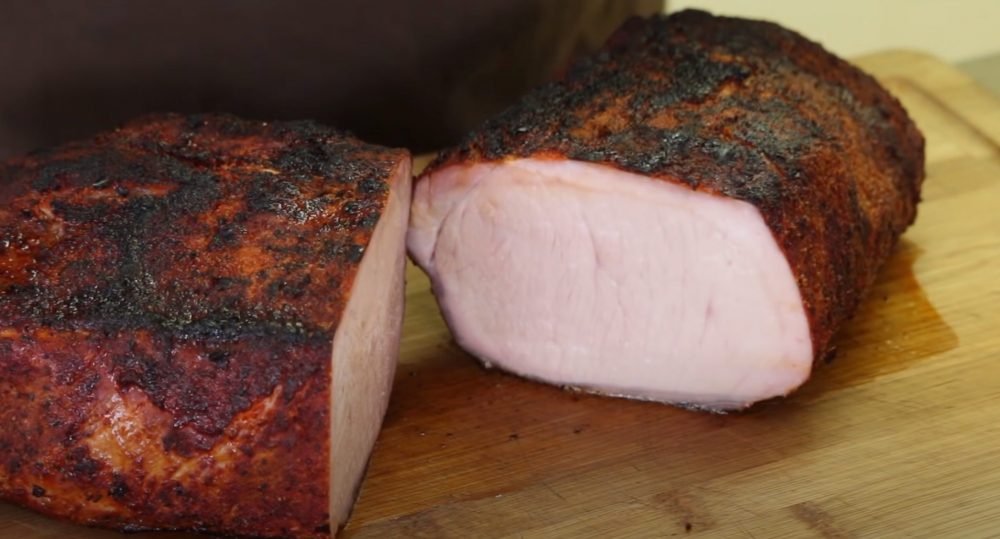 How to Prepare a Pork Loin for the Traeger Pellet Grill
You shouldn't have to trim too much fat or connective tissue if you bought a pork tenderloin to smoke on the Traeger.
Unlike the pork shoulder, or pork butt, which is full of fatty connective tissue to make pulled pork, the pork loin (or tenderloin) is very lean and meant to be cooked and sliced like a typical roast.
In the same way beef filets come from sliced beef tenderloins, pork chops come from sliced pork tenderloins.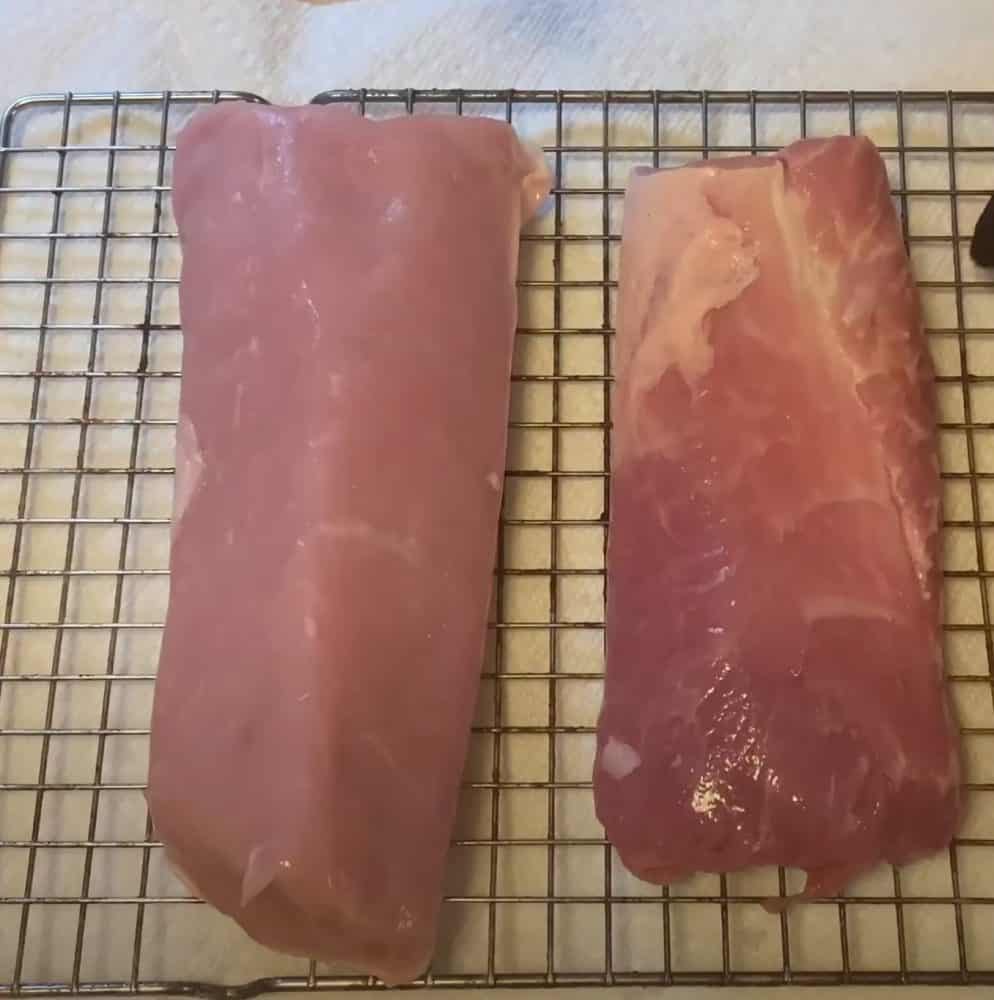 The tenderloin is generally the 1 lb center section of the full 3 lb boneless pork loin that usually contains the best meat.
Depending on your tastes, your crowd, and your budget, you can either buy multiple tenderloins or a single loin to smoke in your Trager.
Other than the time it takes to cook, all our directions below will apply to either choice!
Trim the Pork Loin
If you bought a nicely trimmed pork tenderloin, great, likely no trimming necessary!
If however, you have a full pork loin with some fat and connective tissue, you'll need to do a little trimming before seasoning it and throwing it on the Traeger.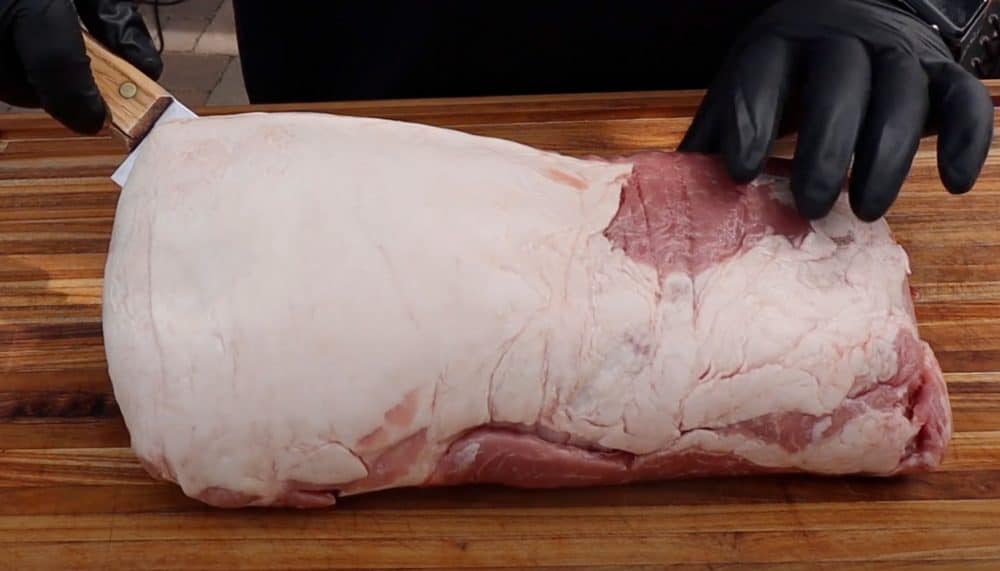 Use a good boning or filet knife like our favorite one from iMarku to first remove any excessive fat that is attached to your pork loin.
You do not need to completely remove the exterior fat like we did with our Traeger Smoked Beef Tenderloin.
Instead, if there is a little fat cap you can trim it down and then score or crosshatch it to help the fat render more and allow our rub to penetrate deeper into the meat.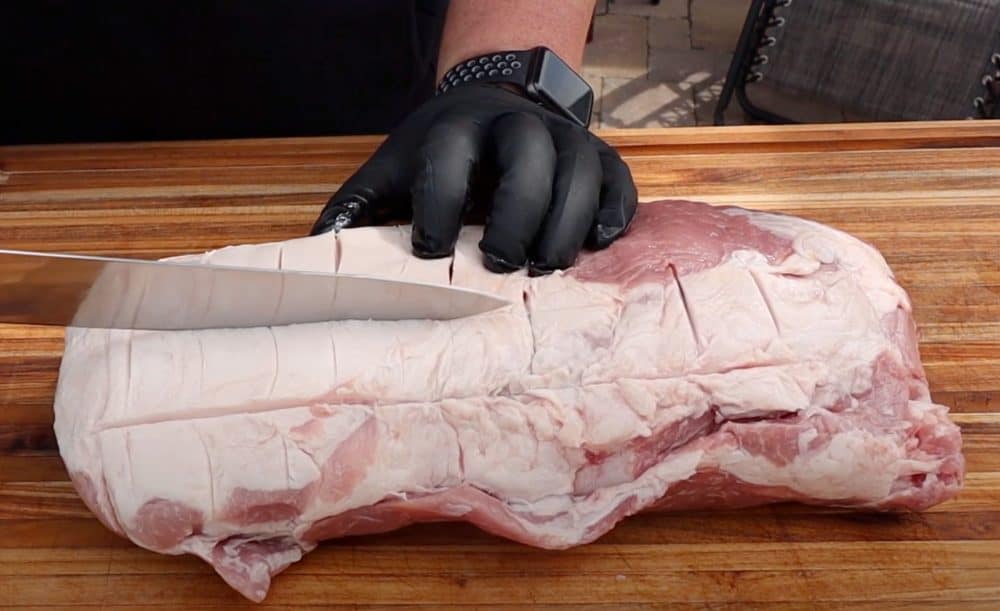 The Best Seasonings for Smoking Pork Tenderloin on a Traeger
Unlike our Traeger beef tenderloin, we are going to go for a more sugary rub like traditional pork butt and ribs might call for.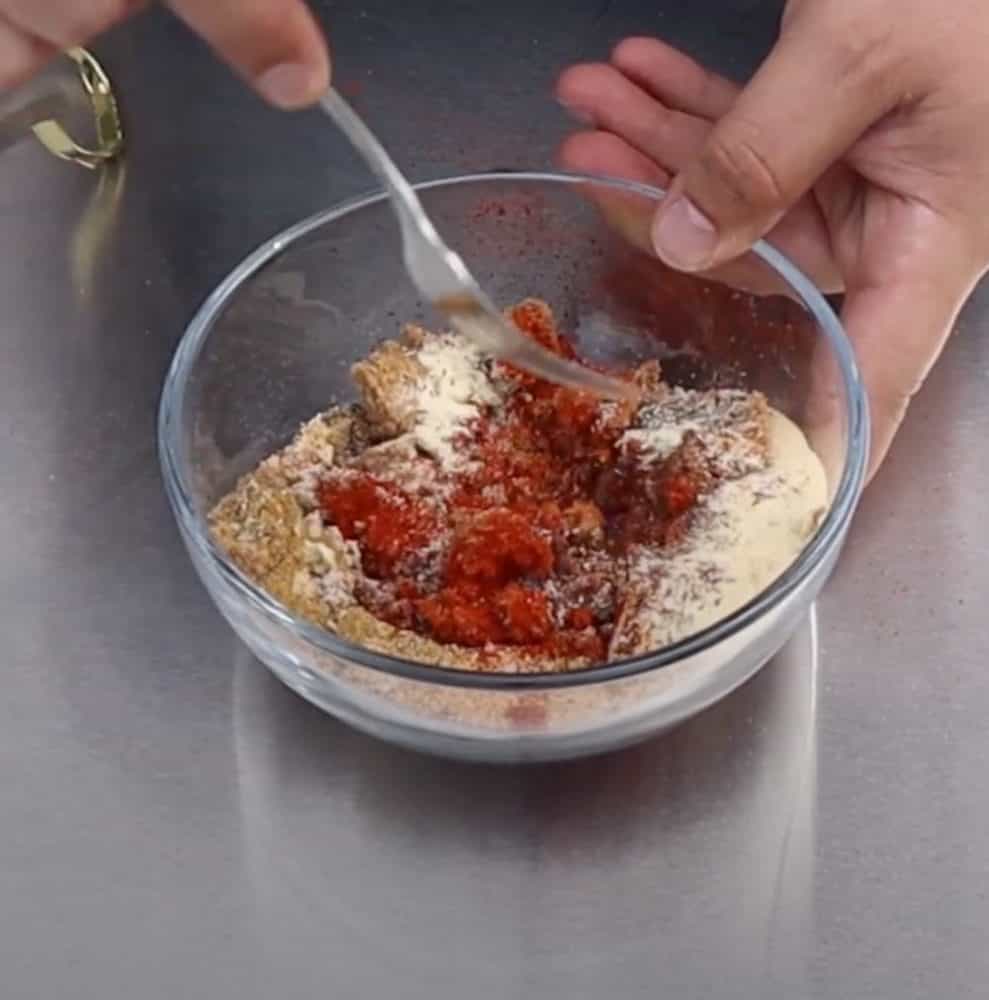 Pork pairs so well with sweeter rubs and traditional BBQ seasonings.
Our recipe below uses a mixture of:
Brown Sugar
Smoked Paprika
Chili Powder
Onion and Garlic Powder
Cumin
Salt and Pepper
If you don't feel like making your own rub, our favorite off the shelf brand for smoked pork loin is Three Little Pigs, particularly Three Little Pigs Touch of Cherry on pork.
It's got a fantastic traditional sweet (but not overly sweet) flavor profile with a little heat and garlic kick at the end.
We use it all the time on ribs, pork butt, and chicken.
If you want to use a quality rub without the sugar, we are big fans of Bad Byron's Butt Rub Seasoning on smoked pork loin because it is heavy on flavor, and has no sugar.
It also works great anytime you are reverse searing.
We aren't going to reverse sear our smoked pork loin today, just let it cook low and slow on the Traeger and let that sugary rub caramelize on the outside.
But if you DO want to cook it at a higher temperature and not have to worry about burning your sugary rub, then go with something like Bad Byron's.
The Best Wood Pellets for Smoking a Pork Loin on a Traeger Pellet Grill
You have a lot of options when it comes to choosing the right wood pellets to smoke your pork loin on a Traeger pellet grill.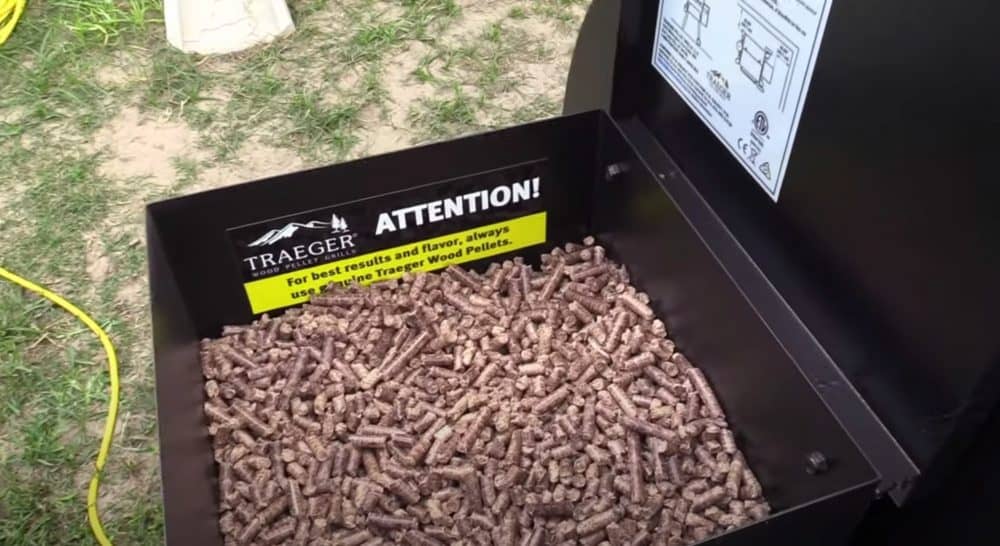 Mesquite and hickory will give a very aggressive smoke flavor to the lean pork loin, usually a little too much, if used solely on their own rather than mixed with a milder fruitwood or blend.
Pecan, apple, beech, alder, and cherry pellets all give great results on pork when cooked on a Pit Boss.
However, our hands down, can't go wrong, favorite is straight up Traeger Apple 100% All-Natural Hardwood Pellets.
Prices pulled from the Amazon Product Advertising API on:
Product prices and availability are accurate as of the date/time indicated and are subject to change. Any price and availability information displayed on [relevant Amazon Site(s), as applicable] at the time of purchase will apply to the purchase of this product.
Especially with leaner pork cuts like pork loin and pork tenderloin, you can't go wrong with that mild apple wood smoke.
For the best results, store your unused pellets in a sealed room temperature container like this 20 lb pellet container rather than in the Pit Boss hopper outside.
Traeger pellets do not last forever, but they will definitely last a LOT longer if stored indoors in a quality airtight container.
Oklahoma Joe's Pellet Bucket Kit, Black
Store up to 20 pounds of hardwood pellets in the heavy-duty plastic pellet bucket.

Weatherproof, airtight lid protects pellets from the elements, keeping them fresh and dry

Wire-mesh filter separates wood dust from the pellets for a clean burn

Heavy-duty plastic scoop to easily transfer pellets
How a Traeger Pellet Grill Works
In order to cook ANYTHING well on a Traeger pellet grill, you need to first have a basic understanding of how a pellet grill works.
***Completely New to Using a Traeger Pellet Grill?  No Worries!****
We've previously covered how to start a Traeger, how to season a Traeger, how to change the pellets in a Traeger, and even how to troubleshoot a Traeger that won't ignite.
Or hop over and check out this Complete Guide to Understanding How a Pellet Grill Works first if you are interested in learning more.  We'll be here when you get back!
Add your Hardwood Pellets
First, you add hardwood pellets into the side hopper.
The Traeger pellet grill automatically feeds these small wood pellets via an auger mechanism to a fire pot where they are burned up, providing both heat and smokey flavor.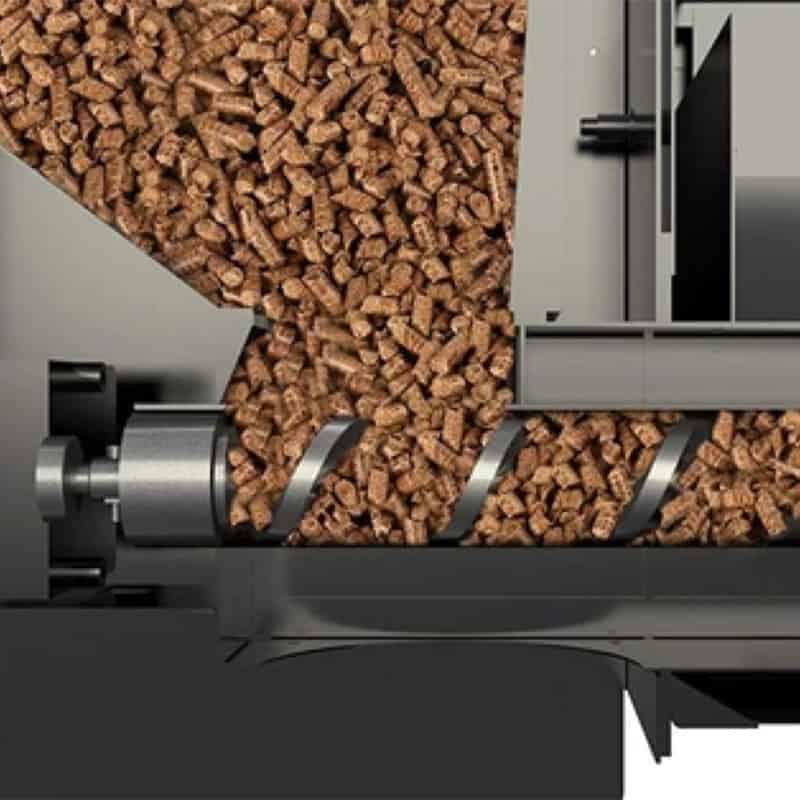 The pellet grill automatically controls the flow of pellets depending on your temperature setting so that you maintain an even temperature throughout the entire cook.
How to Start up the Traeger
There is a specific start up process for the Traeger brand pellet grills you can read all about in depth here if you aren't sure how to fire it up the first time.
Otherwise, here is the basic process for how to start a Traeger before throwing on your food:
Plug in the grill.
Flip the power switch to ON and turn the dial to "Smoke".
You will hear the fan kick on and the auger start to move and begin to kick pellets into the fire pot.  Your fire rod will begin to heat up as well.
Leave the lid open for about 5-7 minutes until you start to see white billowing smoke come out of the grill.  This happens when the pellets are first igniting.
Once a smoke is being produced, close the lid and change the temperature dial to your desired temperature setting.
Allow about 10-15 minutes to preheat the grill.
While you are waiting, make sure you've got the drip pan in place and the grease bucket hanging to catch any grease that comes out during the cook.
Put your grates on if they aren't already in place.
Using a good bristle free grill brush, clean off the grill grates if there is any leftover stuck on food from the last cook.
Why Bristle Free Grill Brushes? 
Check out our Ultimate Guide to How to Keep your Family Safe by using ONLY Bristle Free Grill Brushes, along with a selection of some of our favorites!
How to Smoke a Pork Loin on a Traeger Pellet Grill
What Temperature do you Smoke a Pork Loin on a Traeger Pellet Grill?
We recommend setting up the Traeger to cook your smoked pork loin at 250°F.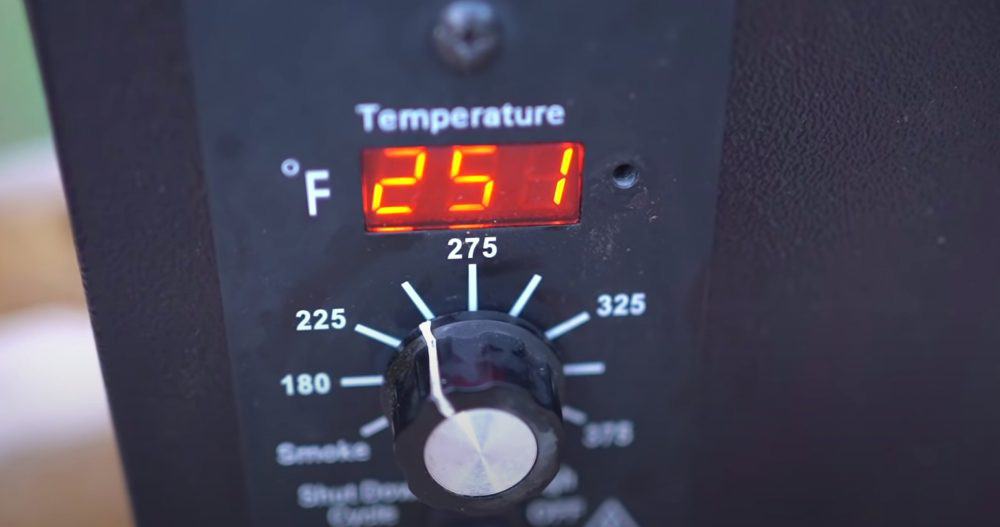 This seems to be the sweet spot where its low enough that the outside doesn't overcook and our sugary pork rub forms a nice bark without burning.
But, it's also high enough that the smoked pork loin doesn't cook for so long that it dries out.
Watch the Internal Temperature Closely
You HAVE to use a good instant read meat thermometer to know where the internal temperature is of your smoked pork loin while it's cooking on the Traeger.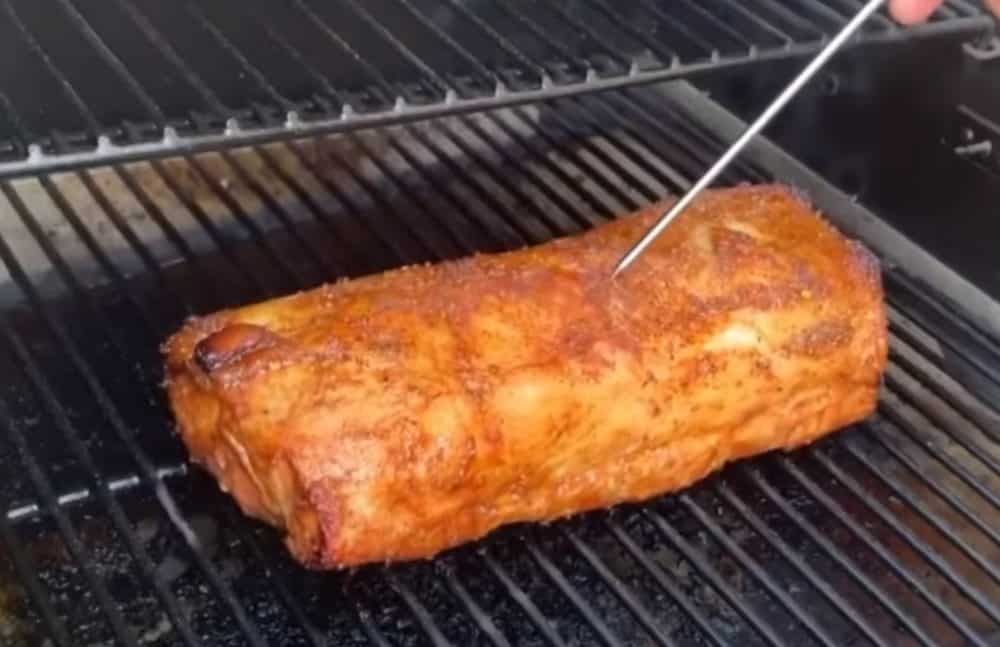 Ideally you want a good leave in probe thermometer like the Thermopro as well as a second instant read to spot check different points of thickness along the pork roast.
While we have used and recommended ThermoPro for years, lately we have also become big fans of the MEATER leave in thermometer.
It is extremely accurate and has an incredible 165 foot bluetooth range and works right with your smartphone so you don't need to carry a separate controller around with you like many other remote thermometers require.
In fact, the thermometer itself is COMPLETELY WIRELESS, so no more awkward wires running out of the side of your smoker!
It's got a great free app that is constantly being updated and even has an algorithm to predict how much longer your type of meat will take to cook based on cooking temperature, target temperature, and current internal temperature.
It's like a GPS for your meat!
Anyways, back to our Traeger smoked pork loin…
We are going to slowly bring the internal temperature up to about 145°F, then remove it from the Traeger and let it rest before slicing.
How Long Does it Take to Smoke a Pork Loin on a Traeger Pellet Grill?
A full size 3-4 lb pork loin will take roughly 2.5 – 3 hours to reach 145°F internal temperature when cooked at 250°F.
A smaller 1 lb pork tenderloin may only take an hour to an hour and a half.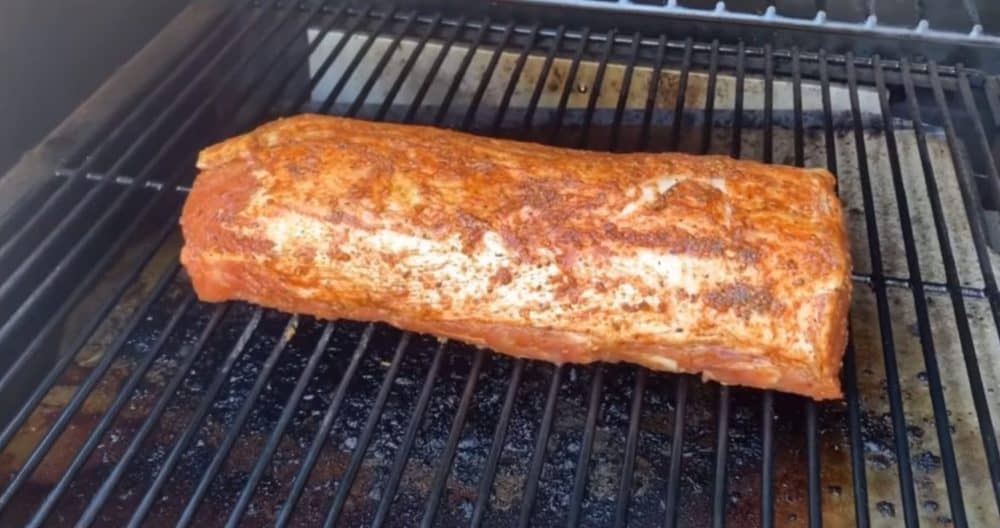 This is why it is so important to use a good instant read thermometer like we talked about above.
Then you will need to let the pork loin rest for about 15-20 minutes after smoking it before carving.
Unless you want those delicious juices running all over your cutting board instead of staying in the meat where you want them, you need to set aside time for the meat to rest!
How to Carve and Serve a Traeger Smoked Pork Loin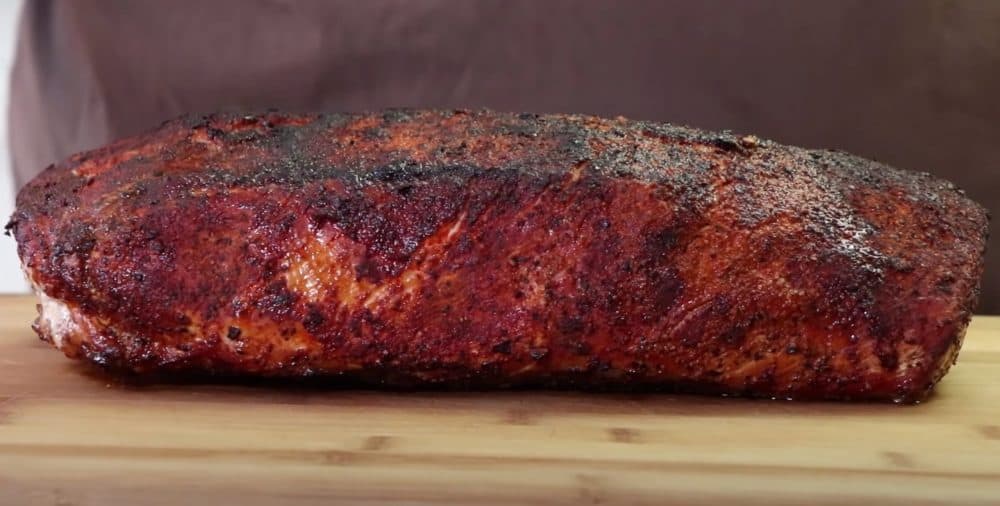 You will then remove the smoked pork loin or tenderloin from the hot Traeger and let it rest.
Let the pork roast rest for 20-30 minutes before carving.
Carving the Smoked Pork Loin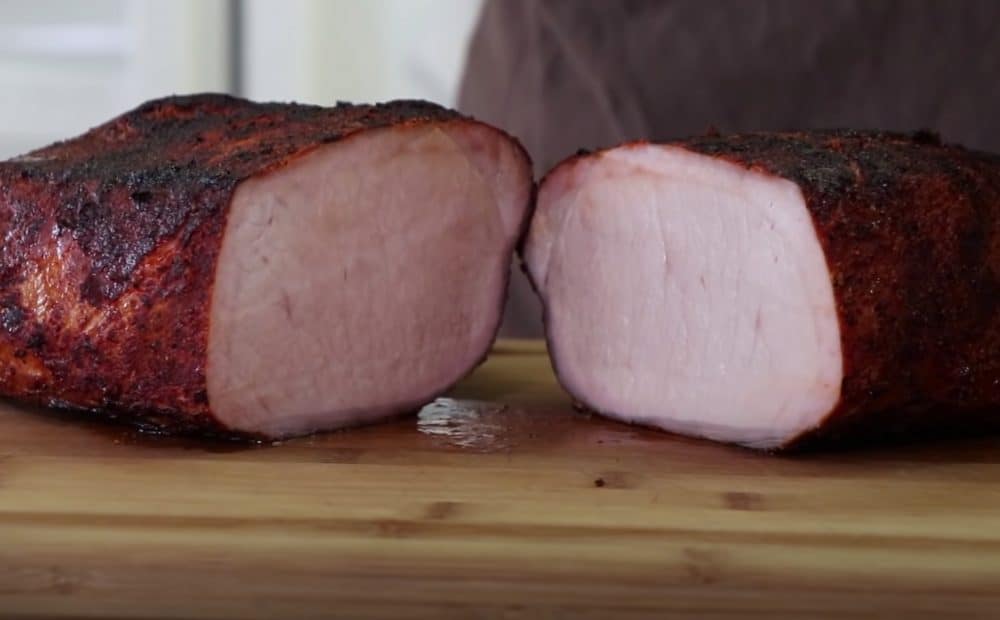 Use a good meat slicing knife and cut the Traeger smoked pork loin into nice thick slices based on how many guests you are serving.
We particularly like this meat slicing knife from Mairico.
Want to review our 5 FAVORITE Meat Cutting knives of the past year? Check out this Complete List HERE!
Serve your Traeger smoked pork loin alongside some smoked vegetables, apples, sweet potatoes or even smoked pineapple for a tropical theme!
More Traeger Recipes
Looking for some more inspiration for things to smoke on that fancy Traeger?
Check out some of our favorite recipes below that can easily be modified to be done on any grill or smoker.
More Pork Recipes
Looking for some more great pork recipes?  Check out some of our favorites!
Other Holiday Favorites
Traeger Smoked Pork Loin
This pork loin (or tenderloin) is rubbed with a traditional sweet homemade BBQ rub and then slow smoked on a Traeger pellet grill to perfection. One of the easiest ways to make a Traeger smoked pork roast!
Equipment
Pit Boss Pellet Grill

Pellets for smoking preferably apple or cherry

Boning or Fillet Knife

Dual Probe Thermometer

Instant Read Thermometer

Cutting Board

Meat Slicing Knife
Ingredients  
1 3-4

lb

Pork Loin or several smaller pork tenderloins but adjust cooking time

2

Tbsp

Olive Oil
BBQ Pork Rub
½

Cup

Brown Sugar

2

Tbsp

Smoked Paprika

2

Tbsp

Chili Powder

1

tsp

Onion Powder

1

tsp

Garlic Powder

1

tsp

Cumin

1

tsp

Pepper

1

tsp

Sea Salt adjust with more as preferred
Instructions 
Trim and Score the Pork Loin
Use a good boning or filet knife first remove any excessive fat from the top and sides of the pork loin

If there is a fat cap, trim it to about 1/4 inch thickness and then score it with crosshatch marks.
Season the Pork Loin
Place the pork loin on a cutting board or wire rack on top of a baking sheet. Rub with olive oil on all sides.

Mix the BBQ Pork Rub ingredients together well in a small mixing bowl

Apply the rub generously to all sides of the pork loin. You can let it rest and absorb the rub wrapped in plastic wrap in the refrigerator for anywhere from 30 minutes to overnight while you prepare the Traeger.
Start the Traeger Pellet Grill
Load the hopper of the Traeger with your chosen wood pellets.

Turn on the Traeger and move the dial to the "Smoke" setting.

Leave the lid open for 5-7 minutes until you start seeing white billowing smoke coming out of the grill. This means the initial pellets are igniting.

Close the lid and turn the temperature dial to 250°F. Allow 10-15 minutes for the grill to come up to temperature.

If you want to add extra moisture, fill an aluminum pan with water and place it on the far left side of the Traeger pellet grill. Place a disposable bucket liner in the grease bucket as well if you want to limit cleanup later.
Smoke the Pork Loin on the Traeger
Once the temperature of the Traeger reaches 250°F, place the seasoned pork loin in the cooking chamber with the thickest part facing towards the hotter right side. Place a temperature probe into the center.

Close the lid and cook at this temperature until the internal temperature of the pork reaches 145°F, about 1 hour per pound.
Remove, Rest, and Slice the Smoked Beef Tenderloin
Remove the smoked pork loin and let it rest on a cutting board, uncovered for 20-30 minutes.

Slice the pork in thick 1 inch slices for each guest starting at the thinnest end and working your way to the center. Only slice what you plan to serve immediately so that the pieces do not dry out.

Serve immediately with warmed BBQ sauce optionally.
Video
Notes
Video example from Jodin's Kitchen
Nutrition